NVIDIA Reflex is a must-have in games, reducing system latency so your actions occur quicker, giving you a competitive edge in multiplayer matches, and making single-player titles more responsive and enjoyable. NVIDIA Reflex is now used by over 50 million players each month, is available in 9 of the top 10 competitive shooters, including Counter-Strike 2, and is activated by 90% of GeForce gamers in over 80 supported titles.
NVIDIA Reflex is synonymous with responsive gaming, and can be found in the latest and greatest games. Counter-Strike 2 and Overwatch 2 Season 7: Rise of Darkness are reducing system latency with Reflex today, and Warhammer: Vermintide 2 adds support in the coming days.
Read on for all the details.
Overwatch 2 Season 7 Available Now
NVIDIA Reflex enables GeForce gamers to play with minimal system latency in Overwatch 2's highly competitive multiplayer matches. Overwatch 2 Season 7: Rise of Darkness is now live. Defeat powerful bosses and level up your hero in the new Trials of Sanctuary game mode. Travel to a tropical paradise with the new Samoa map. Try out Sombra's new ability kit and look out for Roadhog's rework later in the season. Explore seasonal cosmetics in the shop or earn them with the Battle Pass.
Using NVIDIA Reflex on a GeForce RTX 40 Series GPU, your actions have improved responsiveness, occurring virtually without delay, and performance is so high that you'll see the action at its best with maximum clarity.
Counter-Strike 2 Available Now For All, Featuring NVIDIA Reflex
In case you missed the news, Counter-Strike 2 has been officially released, and we've worked closely with Valve to integrate NVIDIA Reflex for reduced system latency. If you've got a GeForce GTX 900 Series or newer GPU, you can reduce system latency by up to 35% by simply enabling NVIDIA Reflex.
Coupled with a GeForce RTX 40 Series GPU, gamers can hit sub 15 ms latency, which is why Counter-Strike 2 GeForce gamers have overwhelmingly adopted Reflex, with over 90% of them playing with Reflex enabled.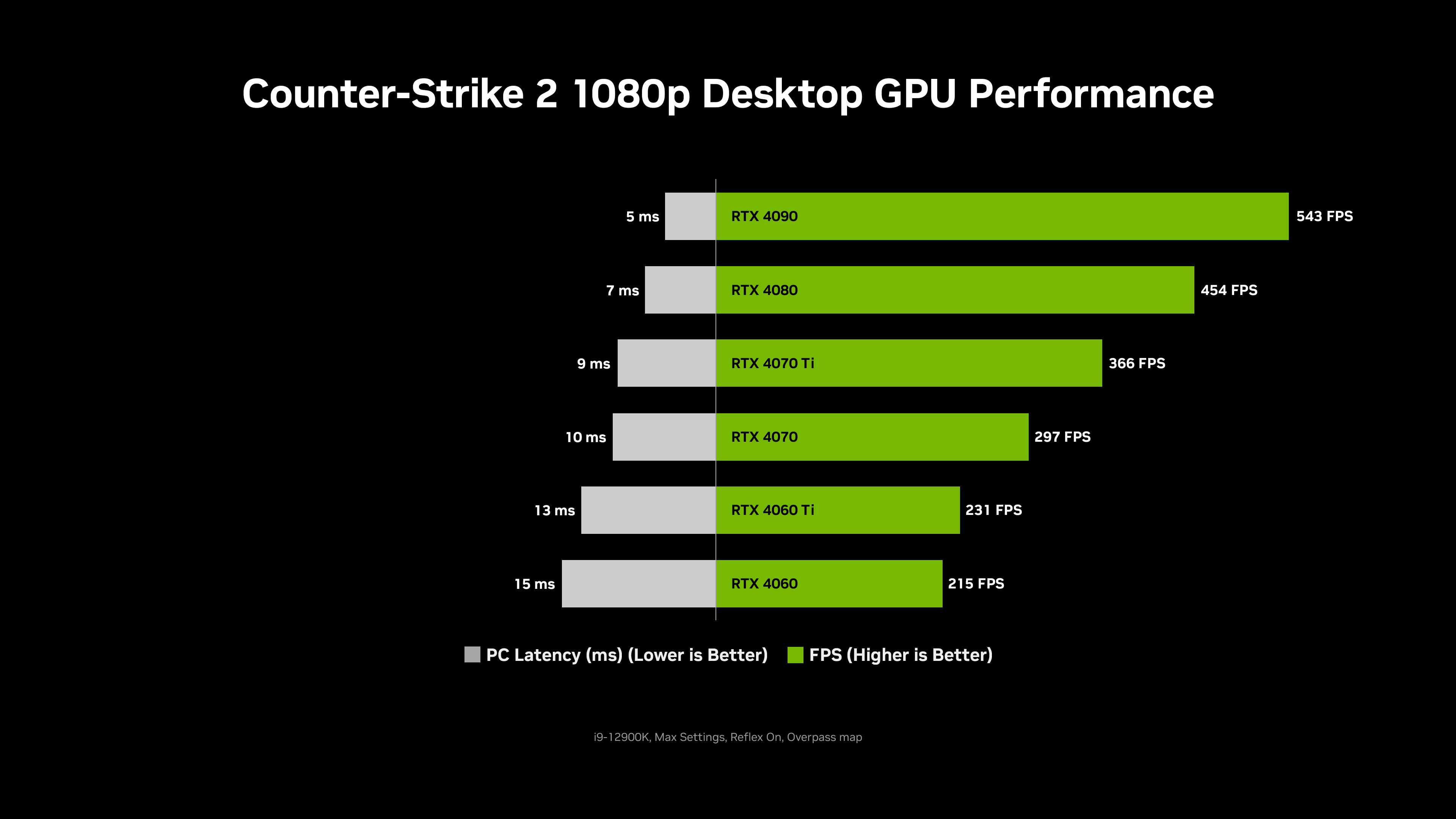 Activating Reflex lowers system latency, allowing you to acquire targets faster, react more quickly, and increase aim precision in Counter-Strike 2:
Learn more in our Counter-Strike 2 NVIDIA Reflex launch article, and further reduce your system's latency by following our Counter-Strike 2 Reflex Steam guide.
Warhammer: Vermintide 2 Adds DLSS 3 & Reflex On October 19th
Fatshark's enormously-popular co-op action game, Warhammer: Vermintide 2, is introducing support for DLSS 3 on October 19th! Warhammer 40,000: Darktide launched with Reflex and DLSS 3, and now our game-changing technologies are coming to their critically acclaimed Warhammer Fantasy Battles melee-focused game.
With the addition of NVIDIA Reflex, GeForce gamers can reduce system latency by up to 31%, making battles against hordes of flesh-eating, super-sized rats even more responsive, giving you a great chance of victory at the toughest difficulties.
Learn more about the new update, which also introduces the new Necromancer career for Sienna, on the official Warhammer: Vermintide 2 website.
New Mouse With NVIDIA Reflex Analyzer Support Available Now
Reflex is present in the best competitive games, G-SYNC Monitors with Reflex have the highest refresh rates with excellent image clarity, and Gaming Mice with Reflex are primed to up your game. To fully measure end-to-end system latency, from click to game, to display, you need a Reflex game, monitor, and mouse.
This month sees the launch of a new NVIDIA Reflex mouse, the GALAX HOF ACE M2, with a 1,000 Hz polling rate, and a DPI of up to 38,000 Hz via software enhancements.
To learn more about measuring system latency with compatible NVIDIA Reflex accessories, follow our guide here.
More To Come Soon
Even more new NVIDIA Reflex games, plus Reflex-compatible mice and monitors are on their way, so stay tuned to GeForce.com to learn more when the news drops; check out the complete list of currently supported games and devices on our NVIDIA Reflex website.