NVIDIA DLSS has revolutionized graphics rendering, using AI and GeForce RTX Tensor Cores to boost frame rates while delivering crisp, high quality images that rival native resolution. And DLSS 3 adds new Frame Generation technology, along with NVIDIA Reflex, to multiply performance for the fastest and most responsive gaming possible.
Following the launch of DLSS 3 in Cyberpunk 2077, Dying Light 2 Stay Human, HITMAN World of Assassination, Dakar Desert Rally, Deliver Us Mars, Marvel's Midnight Suns, and PERISH, GeForce gamers can multiply performance with DLSS 3 in 26 games right now, with the number rapidly increasing.
Gamers and press agree that DLSS 3 is a game-changer in Cyberpunk 2077, multiplying performance and giving GeForce RTX 40 Series owners an even faster, better experience:
"Nvidia's RTX And DLSS 3 Cyberpunk Support Demonstrate Why These Features Are The Future Of Gaming" - Forbes

"It's amazing." - Digital Foundry

"I can confirm that the results are mind-blowing" - TweakTown

This month, DLSS arrives in another 7 games, including Atomic Heart, Blood Bowl 3, Hello Neighbor 2, PlanetSide 2, Returnal, Sons of the Forest, and Wanted: Dead.
Altogether, there are over 270 released DLSS games and apps, giving GeForce RTX GPU, desktop and laptop users significantly faster performance and the best possible image quality, for the definitive experience in every supported title.
And new titles regularly join the party. To learn more about all of the new games adding DLSS support this month, keep reading.
NVIDIA DLSS 3 Multiplies Frame Rates
Powered by new hardware capabilities of the NVIDIA Ada Lovelace architecture, DLSS 3 generates entirely new high quality frames, rather than just pixels.
Through a process detailed in full in our NVIDIA DLSS 3 article, DLSS 3 combines DLSS Super Resolution technology and DLSS Frame Generation to reconstruct 7/8ths of the displayed pixels, accelerating performance.
In GPU-limited games, DLSS 2 Super Resolution technology can increase your frame rates by up to 2X. With DLSS 3, we can multiply performance.
Certain games make extensive use of the CPU which can limit performance. DLSS 3 operates on the GPU, bypassing CPU bottlenecks and boosting frame rates. In Microsoft Flight Simulator, for example, DLSS 3 boosts frame rates by up to 2X.
DLSS 3 games are backwards compatible with DLSS 2 technology - developers simply integrate DLSS 3, and DLSS 2, also known as DLSS Super Resolution, is supported by default. Additionally, integrations of DLSS 3 also include NVIDIA Reflex, reducing system latency for all GeForce RTX users, making games more responsive.

Atomic Heart Available Now With DLSS 3
In Mundfish's Atomic Heart, humans live in a utopia full of wonders, in harmony with their loyal and fervent robots. But with the upcoming launch of a new neural network version allowing them to control robots just mere days away, terrifying machines, superpowered robots and mutated creatures rise up against their creators, and only you can save Atomic Heart's idealized world.
Using the combat abilities granted by your experimental power glove, and your arsenal of blades and cutting-edge weaponry, fight for your life in explosive and frenetic encounters. Adapt your fighting style to each unique opponent. Combine your skills and resources, and upgrade your equipment to overcome challenges and fight for good.
Atomic Heart is now available and its beautifully rendered madcap world is made even better on GeForce RTX graphics cards thanks to the inclusion of performance-accelerating NVIDIA DLSS 3.
When DLSS 3 is enabled, 4K performance with a GeForce RTX 4090 will be boosted by 90% to 184 FPS, and with a GeForce RTX 4080 increased by 80% to 146 FPS. With a GeForce RTX 4070 Ti at 1440p, DLSS 3 increases performance by 62%, running at max settings at over 160 FPS. DLSS 3 can also help boost performance in CPU bound scenarios.
If you don't have a GeForce RTX gaming PC or laptop, you can still experience Atomic Heart by streaming it from the cloud on NVIDIA GeForce NOW. Play at up to 4K and 120 FPS on PC and Mac with support for DLSS 3 and RTX ON via the new Ultimate Membership with GeForce RTX 4080 performance.
Returnal Available Now With DLSS 2 & Ray Tracing
Returnal, Sony and Housemarque's critically acclaimed third-person roguelike shooter, is now available on PC with a feature-packed conversion courtesy of Climax Studios. After crash-landing on a shape-shifting world, players must guide astronaut Selene through the barren landscape of an ancient civilization for her escape. Isolated and alone, she finds herself fighting tooth and nail for survival. Again and again, she's defeated – forced to restart her journey every time she dies.
Through fast, relentless gameplay, you'll discover that just as the planet changes with every cycle, so do the items at your disposal. Every loop offers new combinations, empowering you to push your boundaries and approach combat with a different strategy each time.
Brought to life by stunning visual effects, the dark beauty of the decaying world around you is packed with explosive surprises. From high stakes, bullet hell-fuelled combat, to jaw-dropping twists and turns set across stark and contrasting environments. You'll explore, discover and fight your way through an unforgiving journey, where mystery stalks your every move.
GeForce RTX gamers can accelerate performance in Returnal with NVIDIA DLSS 2, and can ensure the ray-traced shadows and new PC ray-traced reflections run at the highest possible frame rates thanks to the dedicated RT Cores found in every GeForce RTX GPU. GeForce GTX users, and players with other GPUs, can scale image quality with NVIDIA NIS, an open source, cross-platform, best-in-class spatial upscaler and sharpening algorithm.
When DLSS 2 is enabled, 4K performance with a GeForce RTX 4090 will be boosted by 65% to 136 FPS, with a GeForce RTX 4080 it's increased by 77% to 113 FPS, and with a GeForce 4070 Ti it's increased by 89% to 96 FPS.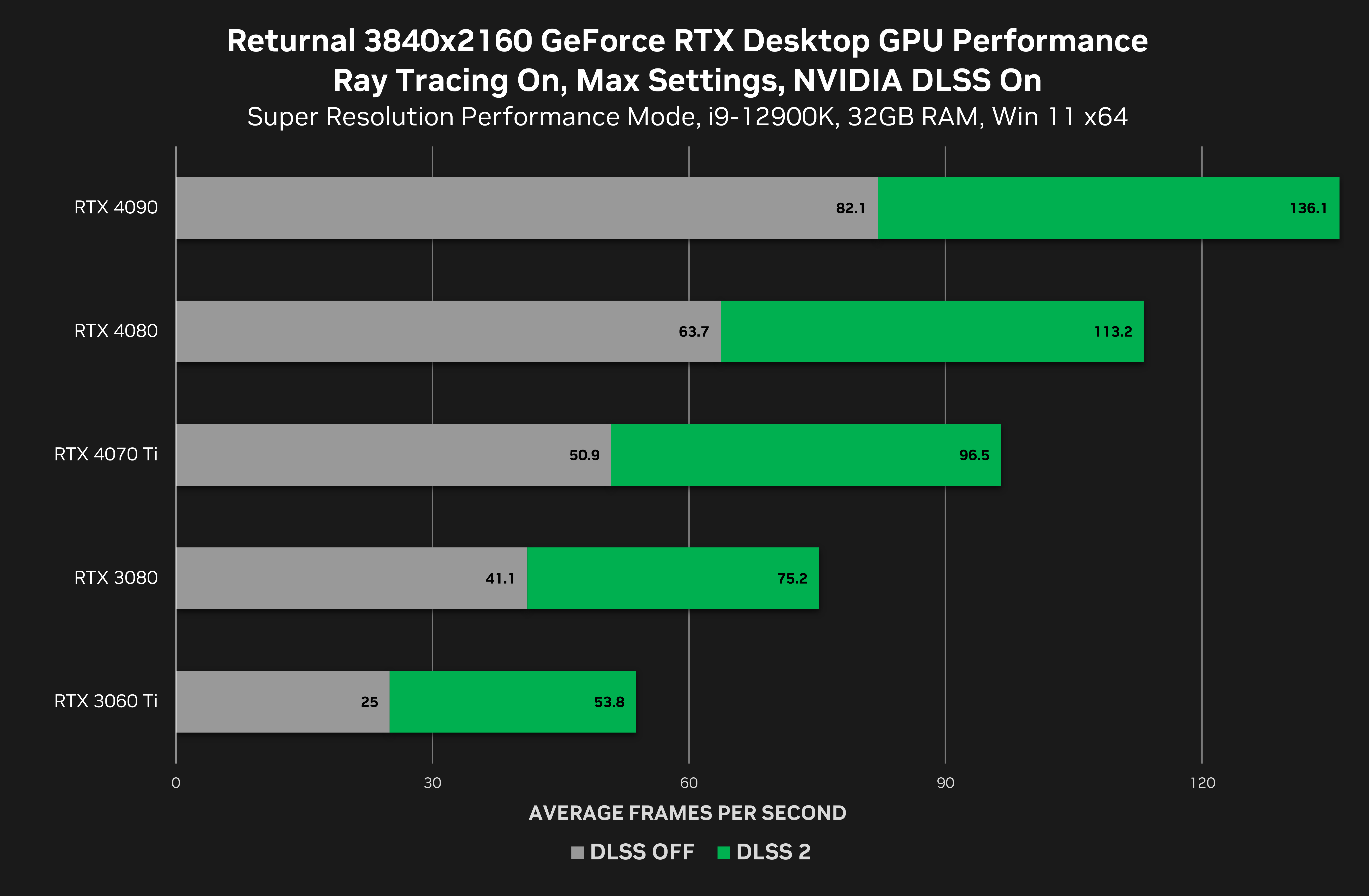 Gamers with 21:9 and 32:9 monitors will benefit from native support, and by plugging in a DualSense controller via USB, you can experience Returnal's incredible haptic feedback and dynamic trigger effects. And to monitor performance, the PC edition of Returnal includes in-game overlay displaying FPS, GPU and CPU usage, and other helpful metrics. For further details, head to the game's Steam store page.
Hi-Fi RUSH Available Now With DLSS 2
Hi-Fi RUSH from Tango Gameworks and Bethesda Softworks was shadow dropped late last month, becoming an instant hit with gamers and reviewers. Feel the beat as wannabe rockstar Chai and his ragtag team of allies rebel against an evil robotics enhancement megacorp with raucous rhythm combat! Time your moves to pull off flashy Beat Hits, hard-hitting special abilities and even combination attacks with your allies. Want to show off? Go further and tap into the beat to amp up your skills and earn those covetous S-rank scores.
Hi-Fi RUSH rocked out of the gate boasting launch-day support for both NVIDIA DLSS 2 and NVIDIA Reflex, giving GeForce RTX gamers the fastest possible frame rates, and the lowest system latency, making Hi-Fi RUSH even more enjoyable to play, thanks to unprecedented smoothness and near-instantaneous control responsiveness.
Hello Neighbor 2 Available Now With DLSS 2 & Ray Tracing
Hello Neighbor from developer Dynamic Pixels has spawned an incredibly popular franchise that boasts spin-offs, merchandise, and even an animated series. The premise is simple: use stealth to discover what your creepy neighbor's hiding in his basement. As you play, the AI adapts to your actions, presenting a continuous challenge that fans of the franchise adore.
In December, the long-awaited sequel Hello Neighbor 2 launched, bringing improvements to every facet of the game, a ton of new features, and a whole load of surprises.
Hello Neighbor 2's latest update is available now, introducing support for DLSS 2, RTXGI, ray-traced shadows, and ray-traced reflections, giving GeForce RTX gamers a more immersive experience. See it in action in our exclusive new RTX On trailer:
PlanetSide 2 Is Now Available With DLSS 2
Rogue Planet Games and Daybreak Games' PlanetSide 2 has been entertaining players with its all-out planetary war for over a decade, with thousands of players battling as one across enormous continents to gain control. Utilize infantry, ground and air vehicles, and teamwork to destroy enemies from your two rival factions, and participate in massive battles that'll tax your system.
Following the launch of a new update mere days ago, PlanetSide 2 now supports NVIDIA DLSS 2, which can significantly boost performance on GeForce RTX GPUs, enabling players to participate in big battles with much smoother frame rates.
Wanted: Dead Available Now With DLSS 2
Wanted: Dead is a new hybrid slasher/shooter from Soleil Ltd. and 110 Industries SA, featuring talent behind the much-loved Ninja Gaiden and Dead or Alive games. Wanted: Dead launched yesterday and has players taking control of Lt. Hannah Stone, a hard-boiled Hong Kong cop in the Zombie Unit, an elite Hong Kong police squad that's currently on a mission to uncover a major corporate conspiracy.
If you dive into Wanted: Dead on a GeForce RTX PC or laptop, you'll discover support for NVIDIA DLSS 2, giving you an even better experience.
Blood Bowl 3 Launches With DLSS 2 On February 23rd
Cyanide Studio and Nacon return with Blood Bowl 3, their third video game adaptation of Games Workshop's popular board game. Take charge of a team from amongst the 12 available races, each with unique characteristics, and stop your opponents from advancing by carefully positioning your players. Dodge or mercilessly eliminate whoever gets in your way and reach the end zone to score the decisive touchdown!
For the best Blood Bowl 3 experience, accelerate your frame rates with DLSS, giving you the headroom to crank up the resolution and detail levels on your GeForce RTX graphics PC or laptop.
Sons Of The Forest Enters Early Access On February 23rd With DLSS 2
Endnight Games' The Forest is an incredibly popular open-world survival and crafting game. On February 23rd, their highly anticipated follow-up, Sons Of The Forest, enters Early Access on Steam. Sent to locate a missing billionaire on a remote island, you instead find yourself in a cannibal-infested hellscape. Craft, build, and struggle to survive, alone or with friends, in this terrifying new open-world survival horror simulator.
At launch, Sons Of The Forest will include DLSS 2 support, enabling GeForce RTX gamers to accelerate performance at the highest detail levels and resolutions.
As Always, There's More To Come
NVIDIA DLSS is now supported in over 270 released games and apps, and each month that number grows ever higher.
Now, there's NVIDIA DLSS 3 and its new Optical Multi Frame Generation technology that multiplies performance, whether bottlenecks are a result of the CPU or GPU. With DLSS 3, you'll have ultimate performance in every supported game.
Stay tuned to GeForce.com for further information about the release of NVIDIA DLSS for the latest and greatest games, because there are many more to come in the near future.