CD PROJEKT RED's Cyberpunk 2077 is already one of the most technologically advanced games available, using several ray tracing techniques to render its neon-illuminated environments and vast Night City visuals at incredible levels of detail. Now, a new Cyberpunk 2077 update has hit the streets, featuring the technology preview of the Ray Tracing: Overdrive Mode, which enhances the game's already-amazing visuals with full ray tracing, otherwise known as path tracing.
Full ray tracing accurately simulates light throughout an entire scene. It is used by visual effects artists to create film and TV graphics that are indistinguishable from reality, but until the arrival of GeForce RTX GPUs with RT Cores, and the AI-powered acceleration of NVIDIA DLSS, real-time video game full ray tracing was impossible because it's extremely GPU intensive.
Previous techniques separately addressed ray-traced shadows, reflections and global illumination for a small number of light sources. Full ray tracing models the properties of light from a virtually unlimited number of emissive sources, delivering physically correct shadows, reflections and global illumination on all objects.
For even more info on the making of the new Ray Tracing: Overdrive Mode, check out our interview with CD PROJEKT RED
The technology preview for Cyberpunk 2077's Ray Tracing: Overdrive Mode is a sneak peek into the future of full ray tracing, and we are working with CD PROJEKT RED on further full ray tracing enhancements, bug fixes, and performance optimizations.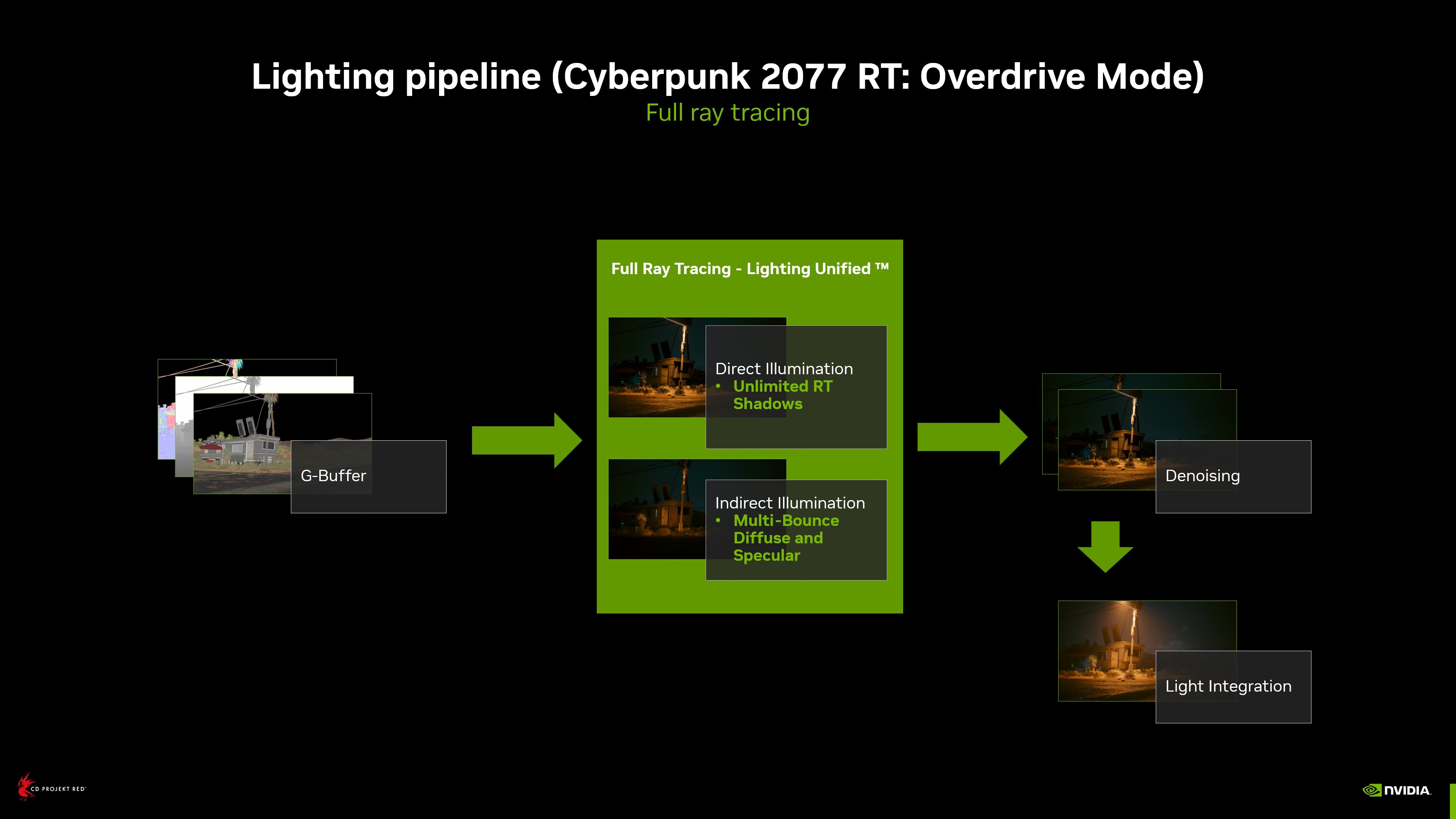 Rasterization based lighting pipelines rely on many independent subsystems. It's not uncommon that they can create unbalanced lighting in more complex scenarios. Ray tracing significantly improved overall quality and some of the main pain points of each subsystem. The unified fully ray-traced pipeline builds on these advances and completely removes the need for extensive per-scene tweaking, delivering amazing and predictable results each time, while also improving image quality, immersion, and realism.
One of the most impactful additions in the technology preview of Cyberpunk 2077's Ray Tracing: Overdrive Mode is NVIDIA RTX Direct Illumination (RTXDI), a free SDK that enables developers to closely replicate the appearance of light in scenes with numerous light sources. With RTXDI, thousands of objects can emit ray-traced light.
In Cyberpunk 2077, each neon sign, street lamp, LED billboard, car headlight, and other source of light is now ray-traced, bathing objects, walls, passing cars and pedestrians in accurate lighting.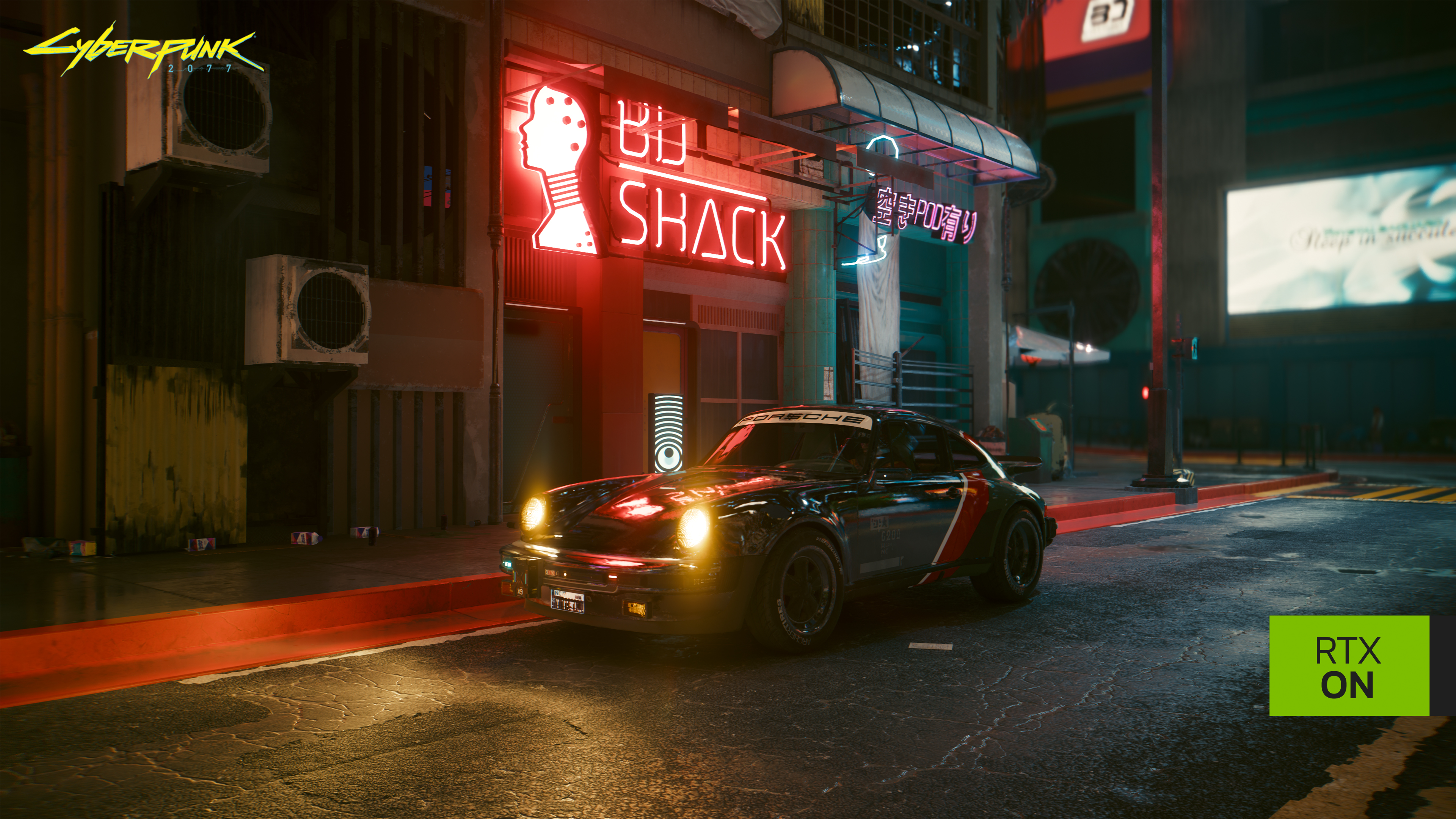 Full ray tracing helps with grounding objects within their surroundings, like the car above. Click here to view the comparison in 4K
With full ray tracing and RTXDI, now practically all light sources cast physically correct soft shadows, a feat previously unimaginable using previous approaches. Players will experience enhanced shadowing, with better depth, detail and realism.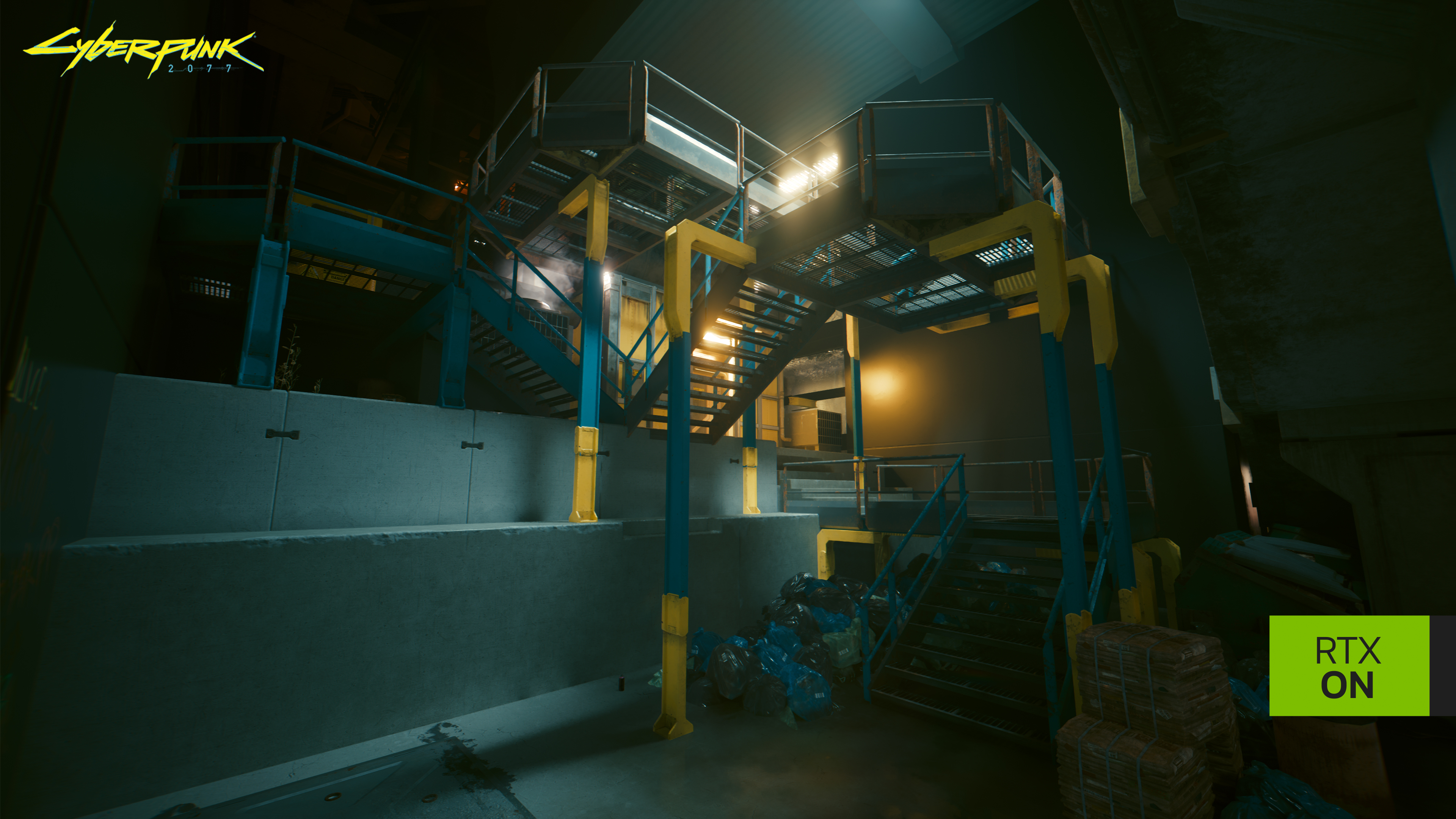 No matter how geometrically complex a scene gets, pipes, rails, staircases, and other objects will now get proper shadows from all the shadow casting lights in their vicinity. Click here to view the comparison in 4K
Cyberpunk 2077 features a full day-night cycle. To upgrade indirect lighting from all emissive sources, including the sun and moon, Global Illumination (GI) needed to be path traced, too. Rendering techniques including Screen Space Reflections, Screen Space Ambient Occlusion, and the existing GI solutions were replaced by a single unified algorithm that delivers more accurate lighting of scenes and objects.
With the Ray Tracing: Overdrive Mode enabled, natural colored lighting bounces multiple times throughout Cyberpunk 2077's world, creating more realistic indirect lighting and occlusion.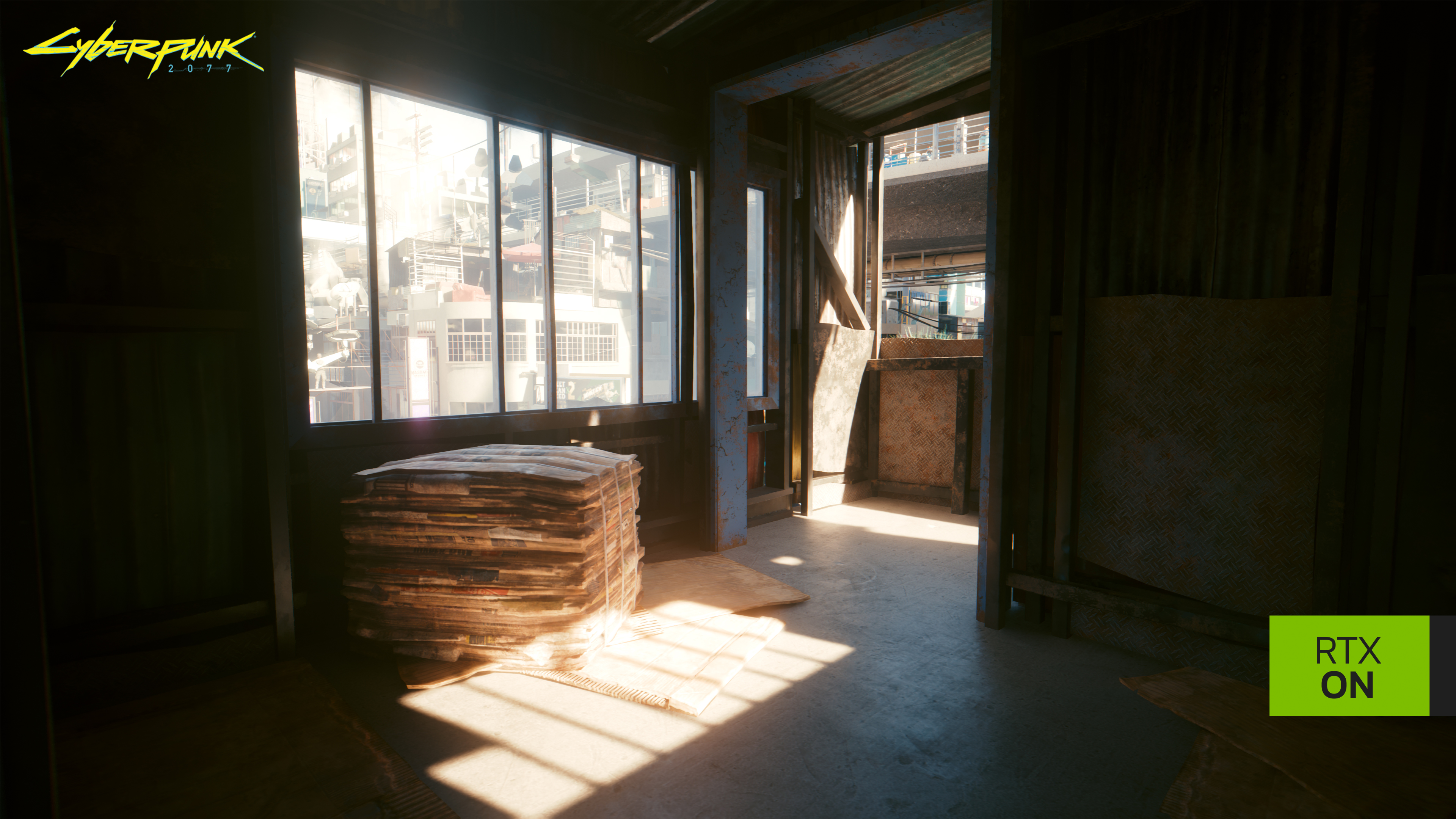 The sunlight bounces off the floor to indirectly light a cardboard stack for more realistic lighting and occlusion. Click here to view the comparison in 4K
Reflections now incorporate bounced detail, too, and are rendered at full resolution, accentuating the cyberpunk aesthetic and further heightening immersion.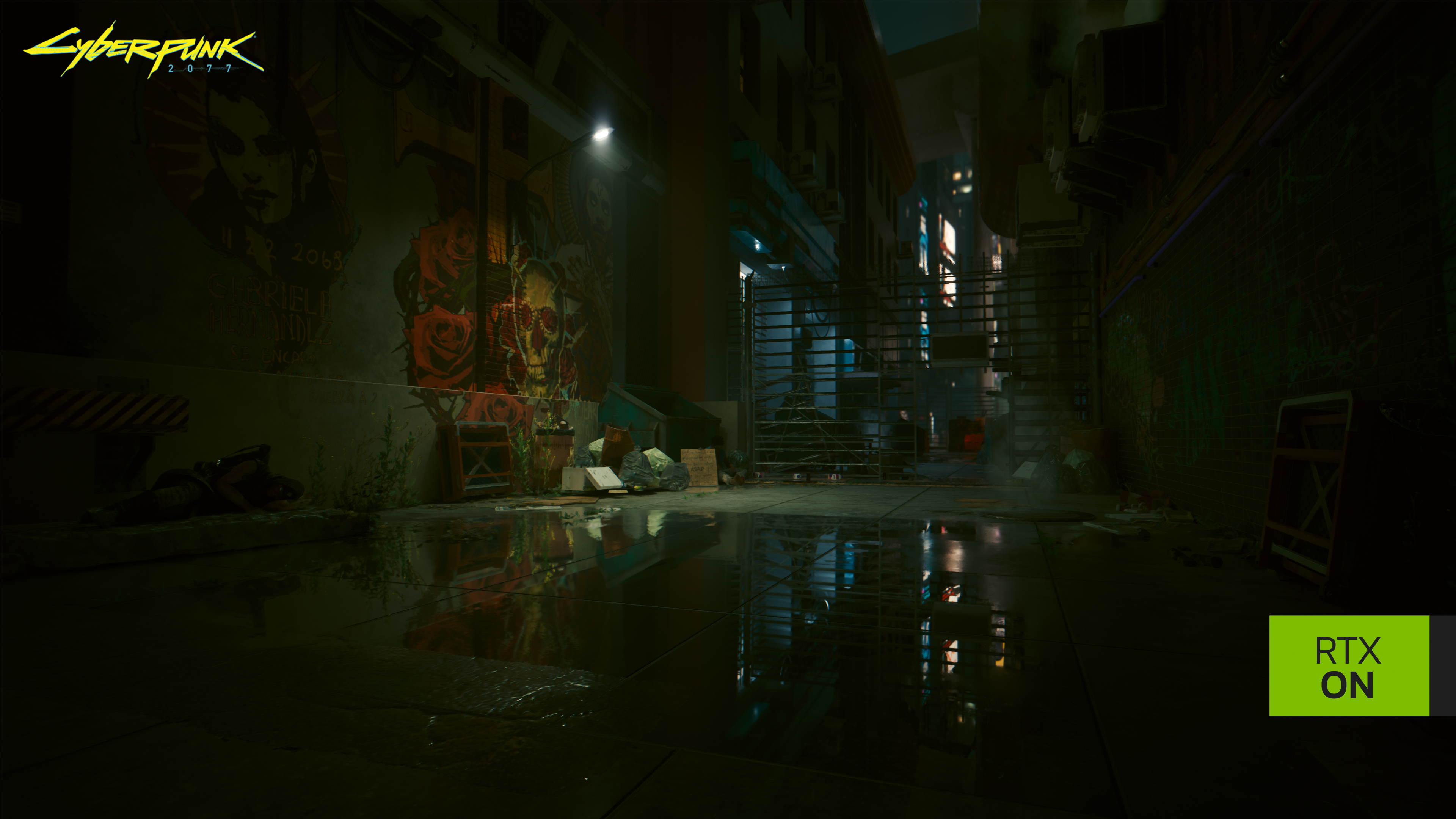 Full ray tracing helps to balance the diffuse and specular response of materials to the light, resulting in even more realistic reflections. Click here to view the comparison in 4K
Combined, the full ray tracing of direct and global illumination give gamers the most advanced real-time lighting seen to date in gaming, and a preview of how all games will look in the future.
To bring these incredible effects to life, at performant frame rates, CD PROJEKT RED and NVIDIA have worked hand in hand to introduce new optimizations for this entirely new fully ray-traced pipeline.
NVIDIA Shader Execution Reordering (SER) helps GPUs with executing incoherent workloads boosting performance, NVIDIA Real-Time Denoisers (NRD) have been leveraged to further improve performance and image quality, and our drivers have been specially tuned to optimize frame rates. So be sure to update to the Cyberpunk 2077 Ray Tracing: Overdrive Mode GeForce Game Ready Driver.
Together with NVIDIA DLSS 3, the performance multiplier, these technologies, tweaks and optimizations enable GeForce RTX 40 Series gamers to play Cyberpunk 2077 fully ray-traced with maximum performance.
With DLSS 3 activated, 4K performance on a GeForce RTX 4090 will be boosted by 4.6X to 103 FPS, and on a GeForce RTX 4080, performance leaps by 5X to 74 FPS.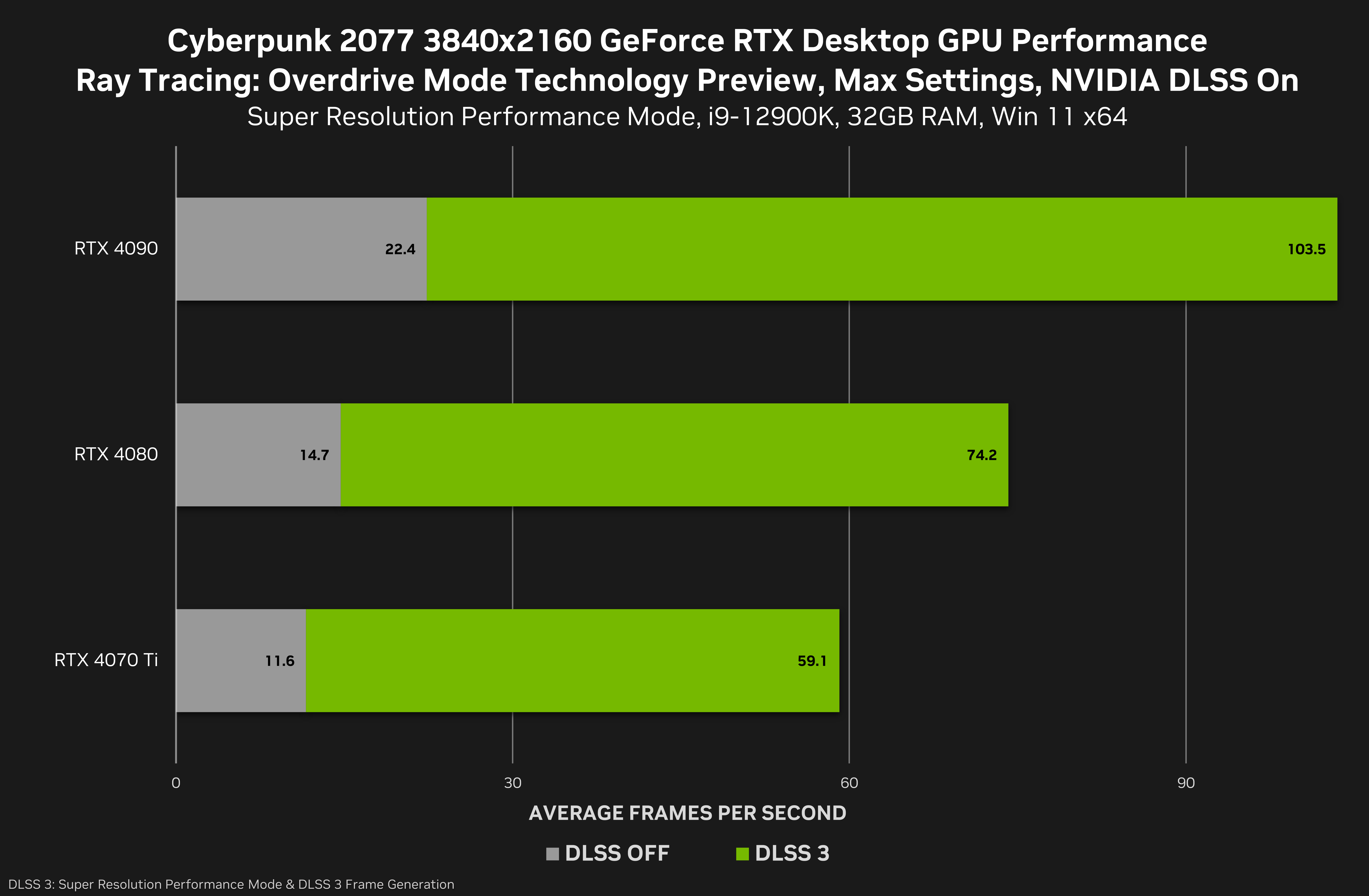 "Here at CD PROJEKT RED we are very proud to be technology innovators, and DLSS 3 gives us meaningful performance gains to tackle the addition of even higher levels of ray tracing to deliver a visually rich experience for our gamers." - Jakub Knapik, VP, Global Art Director, CD PROJEKT RED
At 1440p, GeForce RTX 4070 Ti performance increases by 3.1X using DLSS 3, to 80 FPS.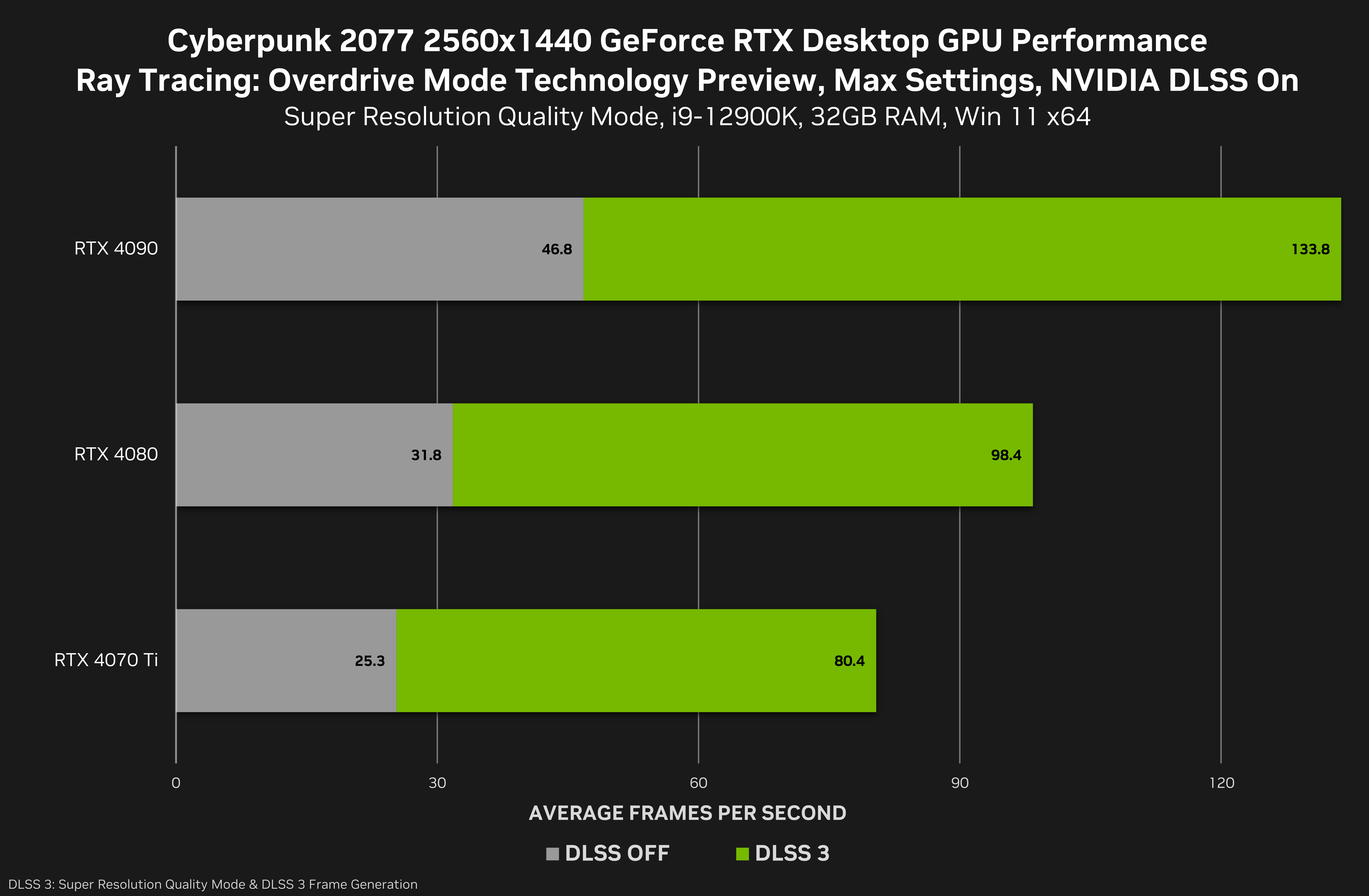 On recently-released GeForce RTX 40 Series laptops, DLSS 3 multiplies performance by 3X, enabling laptop owners to experience the fully ray-traced Night City anywhere in the world.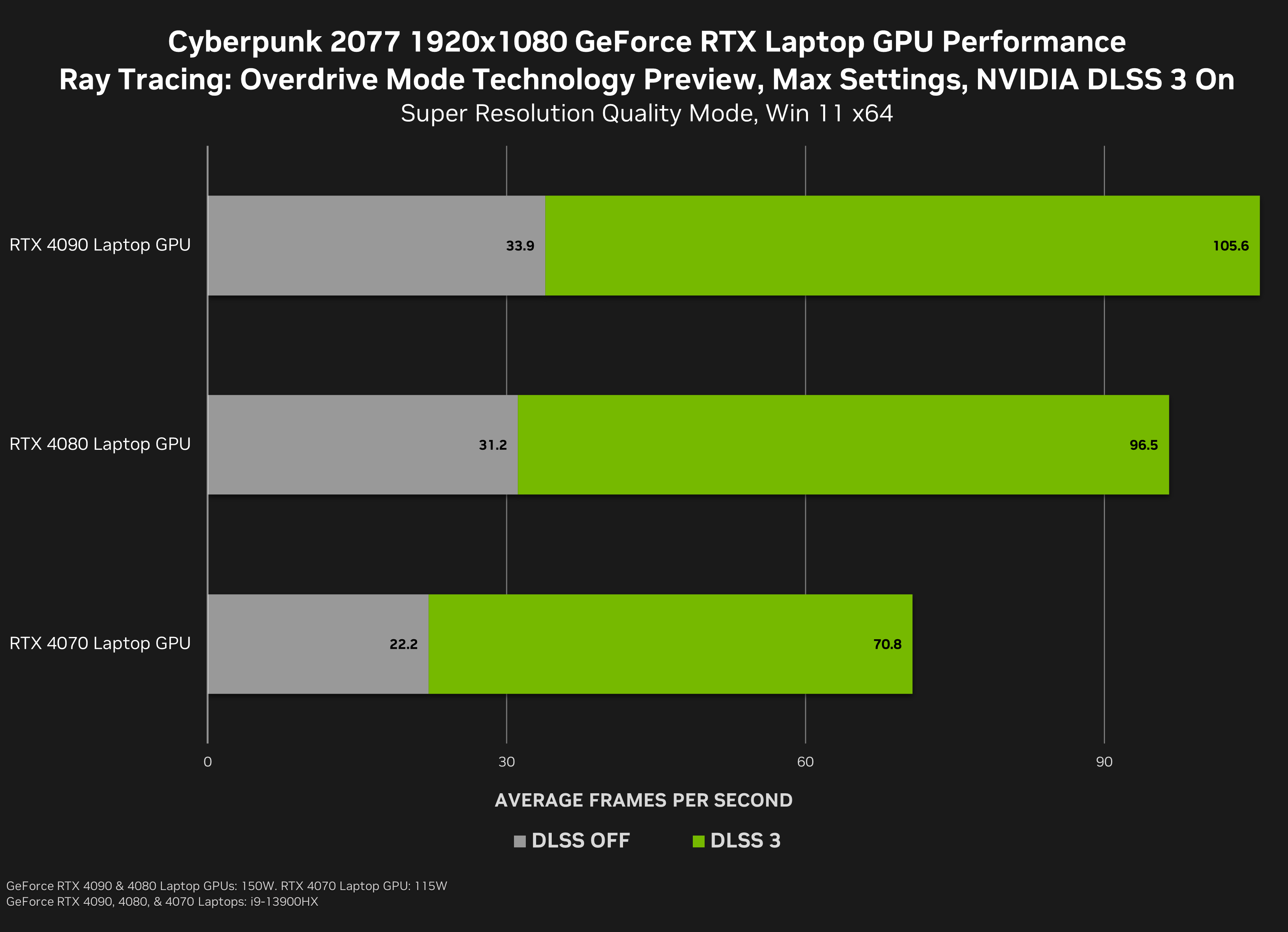 As you can see, full ray tracing is extremely GPU intensive. For the technology preview of Cyberpunk 2077's Ray Tracing: Overdrive Mode, we currently recommend a GeForce RTX 40 Series GPU and NVIDIA DLSS 3.
Those without a game-ready device can also experience Cyberpunk 2077 with DLSS 3 and full ray tracing in the new Ray Tracing: Overdrive Mode by streaming it from the cloud with a GeForce NOW Ultimate membership, which gives you the power of a GeForce RTX 4080-class PC in the cloud.
For the very best experience with Cyberpunk 2077's new fully ray traced mode, download our latest Game Ready Drivers for your PC or laptop from GeForce.com or GeForce Experience. And for more on all the other fantastic games featuring ray tracing and DLSS, head here.