Each week we're bringing you the latest news on games launching with NVIDIA DLSS and advanced ray tracing. Last week, the list of supported DLSS games and apps surpassed 290, and this week we're adding even more games!
Today, Returnal upgrades its DLSS integration to DLSS 3, giving GeForce RTX 40 Series players even higher frame rates in the fast-paced shooter, The Lord of the Rings: Gollum™ shows off its DLSS and ray tracing tech in a new trailer, and another 3 games add support for DLSS 2. Read on to learn more.
Returnal: DLSS 3 Upgrade Launches Today
Returnal, Sony and Housemarque's critically acclaimed third-person roguelike shooter, launched on PC in February, featuring out of the box support for DLSS 2 and ray tracing. After crash-landing on a shape-shifting world, players must guide astronaut Selene through the barren landscape of an ancient civilization for her escape. Isolated and alone, she finds herself fighting tooth and nail for survival. Again and again, she's defeated – forced to restart her journey every time she dies.
Brought to life by stunning visual effects, the dark beauty of the decaying world around you is packed with explosive surprises. From high stakes, bullet hell-fuelled combat, to jaw-dropping twists and turns set across stark and contrasting environments. You'll explore, discover and fight your way through an unforgiving journey, where mystery stalks your every move.
Today, Returnal is being updated with support for DLSS 3, multiplying performance. On the GeForce RTX 4090 frame rates increased by 2.2X, giving players over 180 FPS in our benchmark. On the GeForce RTX 4080, DLSS 3 delivered a similar uplift, enabling gameplay at over 140 FPS. And on other GeForce RTX 40 Series GPUs, DLSS 3 makes 90 FPS+ gameplay at 4K a reality, with every setting and ray tracing maxed out.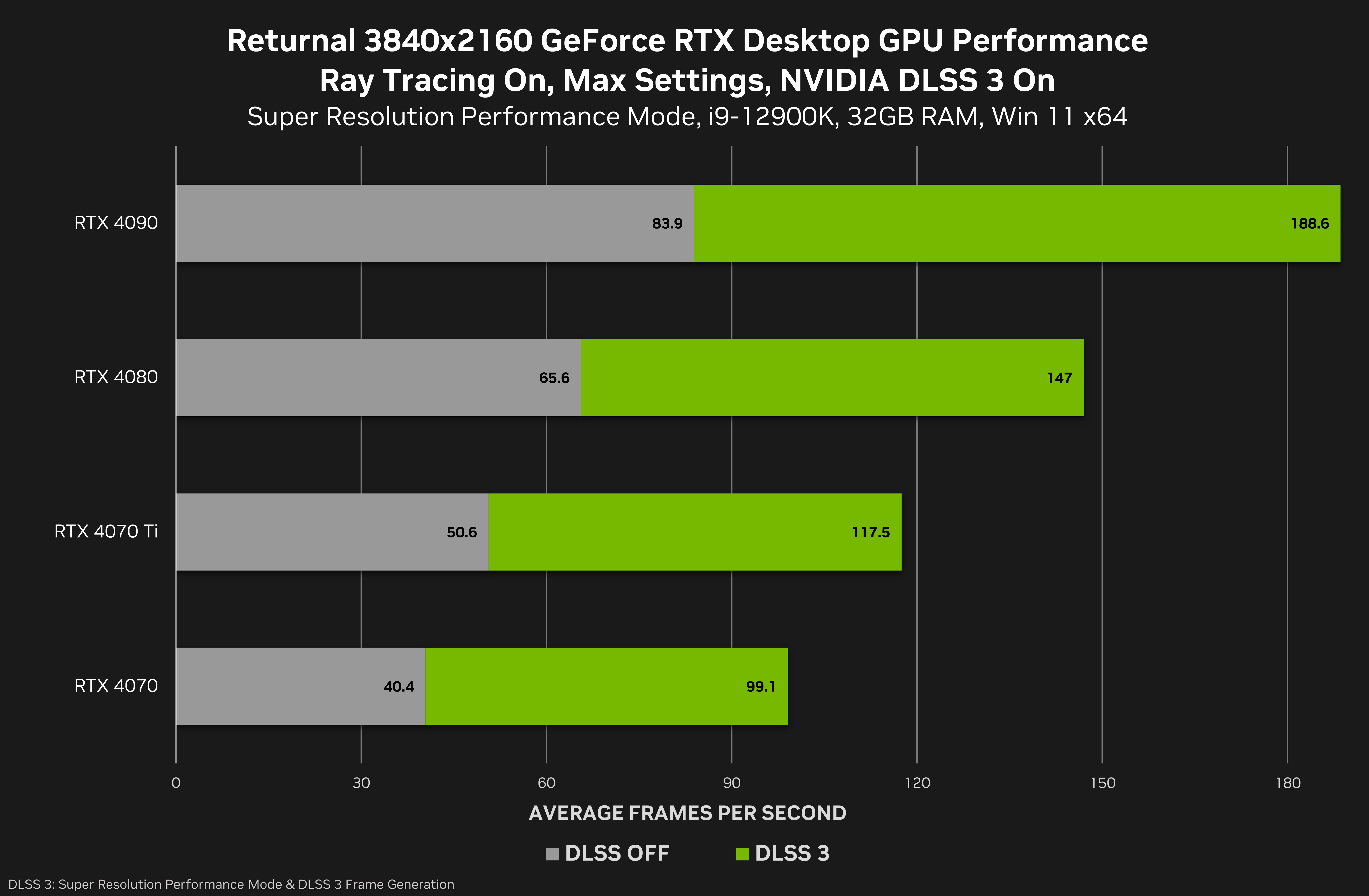 With support for DLSS 3, DLSS 2, Reflex and ray tracing, Returnal is experienced at its very best when you play on a GeForce RTX GPU or laptop.
New #RTXON The Lord of the Rings: GollumTM Trailer Released
Based on the books by J. R. R. Tolkien, The Lord of the Rings: Gollum™ is a story-driven stealth adventure game from Daedalic Entertainment, creators of Deponia and many other highly regarded titles. Take on a perilous journey as the deformed and twisted Gollum, chasing the only thing that's precious to him: the One Ring.
When The Lord of the Rings: Gollum™ launches on May 25th, PC gamers with GeForce RTX hardware can accelerate performance with DLSS 3 and DLSS 2, and enjoy the ray-traced reflections and shadows at the highest possible frame rates. Additionally, all GeForce gamers can reduce system latency with NVIDIA Reflex, and GeForce GTX players can increase performance with our best-in-class platform-agnostic NVIDIA Image Scaling (NIS) spatial upscaler and sharpening algorithm.
Ahead of the game's release, we're excited to share a new #RTXON The Lord of the Rings: Gollum™ gameplay trailer:
For more details on the technology and DLSS-accelerated performance of The Lord of the Rings: Gollum™, stay tuned to GeForce.com. And below, you can see the game's recommended specs for #RTXON gameplay:
Monster Energy Supercross - The Official Videogame 6 DLSS 2 Update Released
Live all the emotions of the Monster Energy Supercross 2022 Championship with the official bikes, riders, and tracks, in Milestone's Monster Energy Supercross - The Official Videogame 6.
On April 20th, Milestone added DLSS 2 support to their thrilling dirt bike racer, enabling GeForce RTX gamers to crank up the visuals, and take on the competition at the highest possible frame rates.
GUN JAM Available Now With DLSS 2 Support
Inspired by retro shooters and arcade games, GUN JAM is a rhythm-action FPS where you must shoot, dash and kick to the beat to survive. It features a unique beat-pattern shooting mechanic, a multi-genre OST, custom music and firefights with hordes of enemies in a vibrant world. Prepare to obliterate enemies whilst blasting to the beat.
When GUN JAM launched last week, players with a GeForce RTX GPU discovered day 0 support for NVIDIA DLSS 2, ensuring the rhythm action ran at its absolute best.

STRANGER OF PARADISE FINAL FANTASY ORIGIN Now On Steam, Accelerated By DLSS 2
Developed in cooperation between Square Enix and Team NINJA (Koei Tecmo Games), and now available on Steam, STRANGER OF PARADISE FINAL FANTASY ORIGIN is a hard-core action RPG that takes the FINAL FANTASY series in a new direction. Experience the boldest and most merciless battles in FINAL FANTASY history.
Dive into the action on a GeForce RTX GPU, for the definitive experience, accelerated by NVIDIA DLSS 2.
Check Back Next Week For More
DLSS is continuously being added to the newest blockbusters and latest indie games. Check back next week for a rundown of the next DLSS games, and head here to see the complete list of over 290 DLSS-enhanced games and apps.