Our newest driver is Game Ready for the long awaited, much anticipated Diablo IV, which launches June 6th with day-1 support for NVIDIA DLSS 3 and NVIDIA Reflex.
And we're also Game Ready for the DLSS 2-enhanced remake of System Shock.
To download and install, head to the Drivers tab of GeForce Experience or GeForce.com, and read on for further details.
Game Ready For Diablo IV
The demon Lilith and the angel Inarius united to create the world of Sanctuary in their desire to escape the Eternal Conflict between the High Heavens and Burning Hells. But now, decades after the events of Diablo® III: Reaper of Souls®, they are bitter enemies who have resorted to war against each other with their respective followers. The lands of Sanctuary have become plagued with ceaseless demons, and only the most steadfast of heroes will be able to hold strong in the face of darkness in Diablo® IV.
Diablo IV officially launches June 6th, though Digital Deluxe and Ultimate Edition buyers can begin playing up to four days early*. To give GeForce gamers the definitive PC experience, Blizzard and NVIDIA have partnered to bring our game-changing technologies to Diablo IV.
GeForce RTX 40 Series gamers can max out frame rates with NVIDIA DLSS 3 Frame Generation, and other GeForce RTX users can accelerate performance with DLSS 2's critically acclaimed Super Resolution technology.
In Diablo IV, DLSS 3 helps GeForce RTX 40 Series gamers multiply performance at 4K by an average of 2.5X. In our action-filled benchmark, performance on the GeForce RTX 4090 increased by 2.4X, enabling us to play at 229 frames per second with every single setting maxed out. The GeForce RTX 4080 hit 177 FPS, the GeForce RTX 4070 Ti ran Diablo IV at 139 FPS, and the GeForce RTX 4070 113 FPS.
At 2560x1440, DLSS 3 enables the GeForce RTX 4070 to play Diablo IV at over 170 frames per second, with frame rates hitting 335 FPS on the GeForce RTX 4090. And at 1920x1080 all GeForce RTX 40 Series graphics cards can play at over 200 FPS.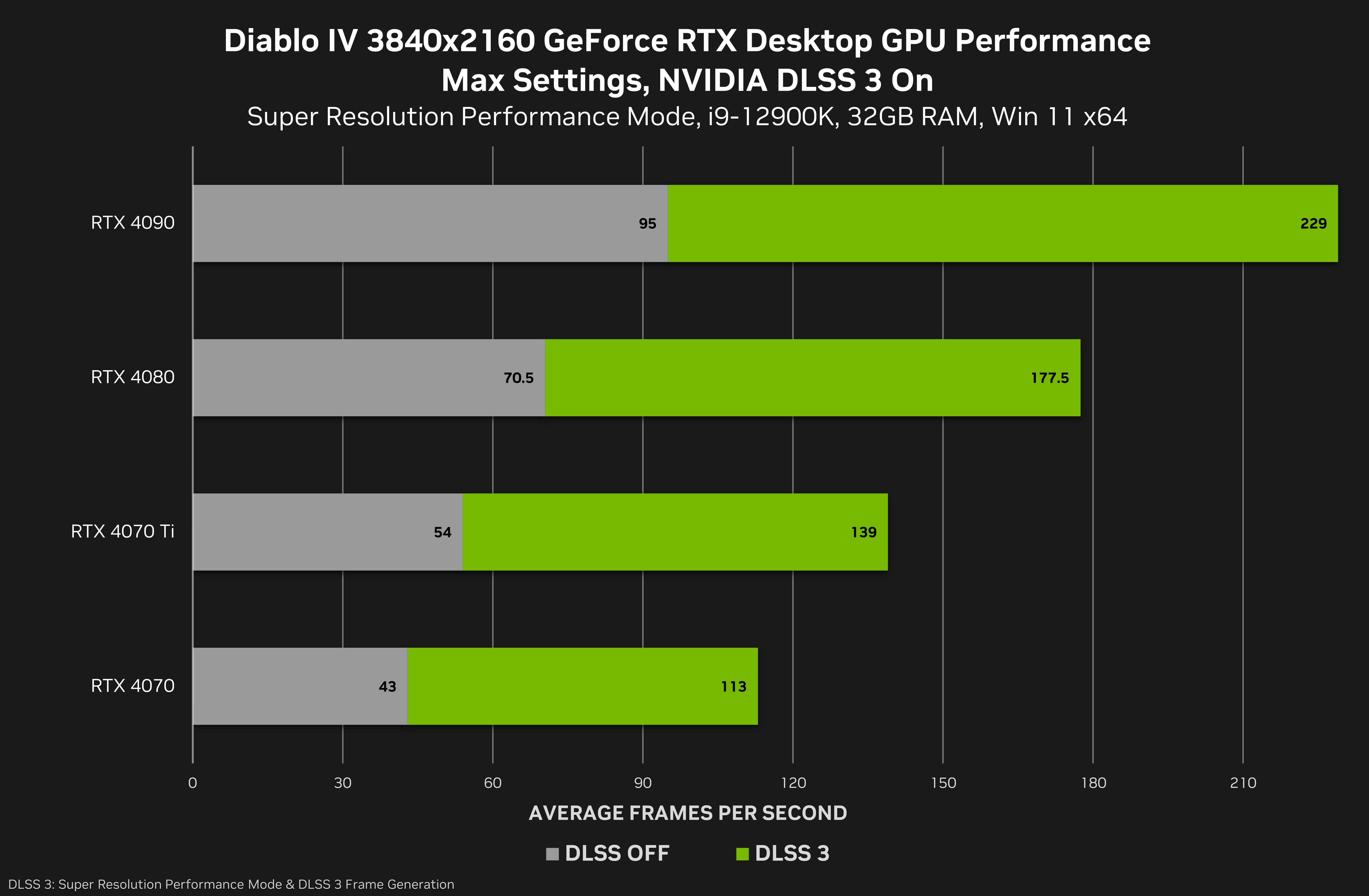 On GeForce RTX 40 Series laptops, DLSS 3 improves performance by an average of 1.8X at 2560x1440, enabling all laptop GPUs to play Diablo IV at over 80 FPS with max settings enabled. At 1080p, DLSS 3 helps all laptop GPUs to run at over 120 FPS, with the power house GeForce RTX 4090 Laptop GPU topping 280 FPS.
GeForce gamers can improve responsiveness in Diablo IV by enabling NVIDIA Reflex. NVIDIA Reflex is a must-have in games, reducing system latency so your actions occur quicker, giving you a competitive edge. Reflex is available in many single-player games and 9 out of 10 of top competitive shooters, is used by over 50 million players each month, and is activated by 90% of GeForce gamers in the 70+ supported titles.
Using Reflex, system latency is reduced by up to 67% in Diablo IV, helping you vanquish the forces of evil, delivering responsiveness in intense battles, helping you stay alive in Hardcore mode, and providing you the ultimate experience against human foes in PvP.
Additionally, we can confirm that ray tracing will come to Diablo IV at a later date, enhancing Sanctuary's detailed world, and making battles even more spectacular.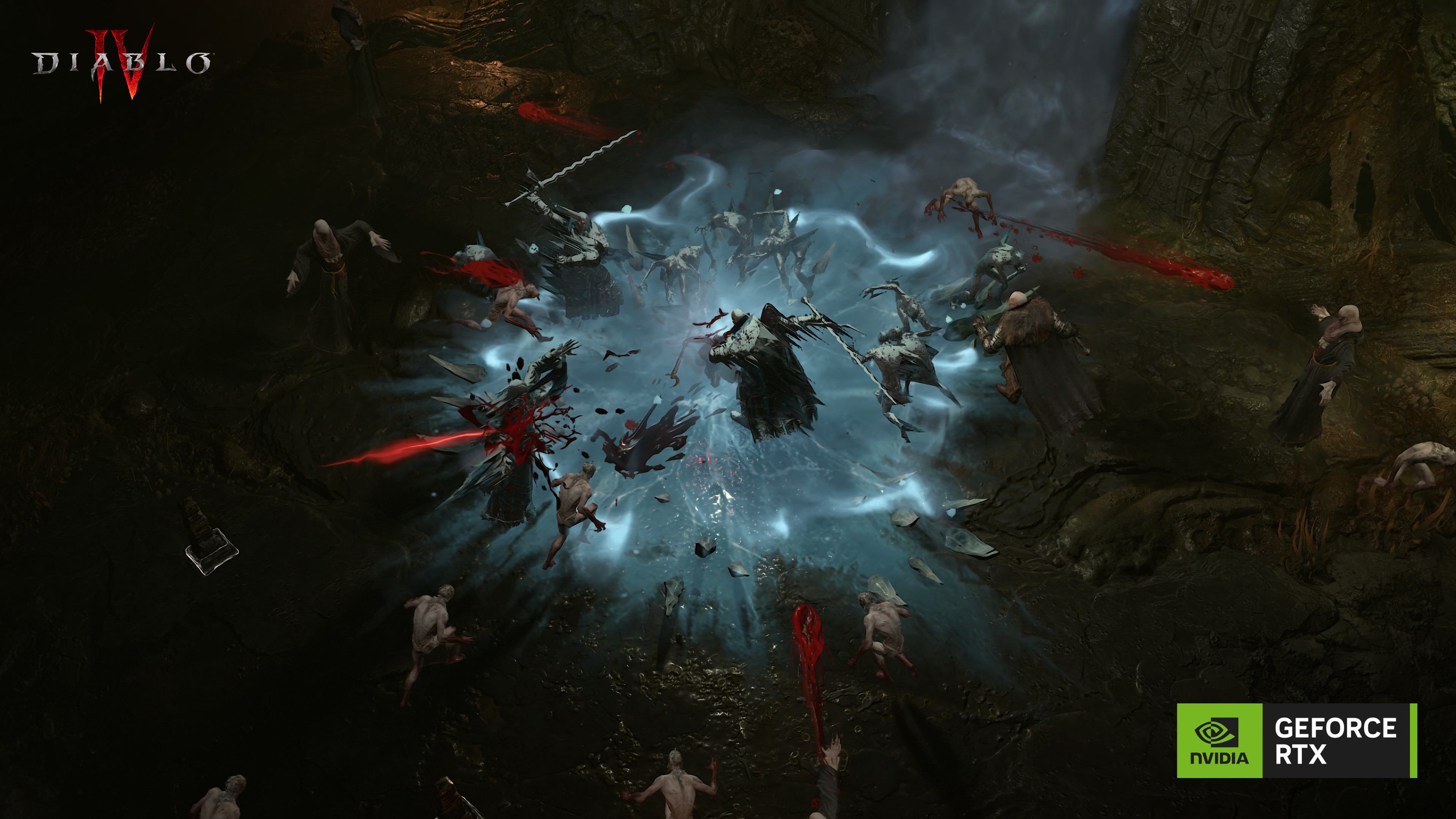 If you intend to upgrade your system for Diablo IV, act fast: the Diablo IV GeForce RTX 40 Series Bundle is only available until June 13th. Buyers of eligible GeForce RTX 4070, 4070 Ti, 4080 and 4090 graphics cards and desktop PCs from select retailers and etailers will receive a Battle.net copy of Diablo IV and four cosmetic items. Learn more here.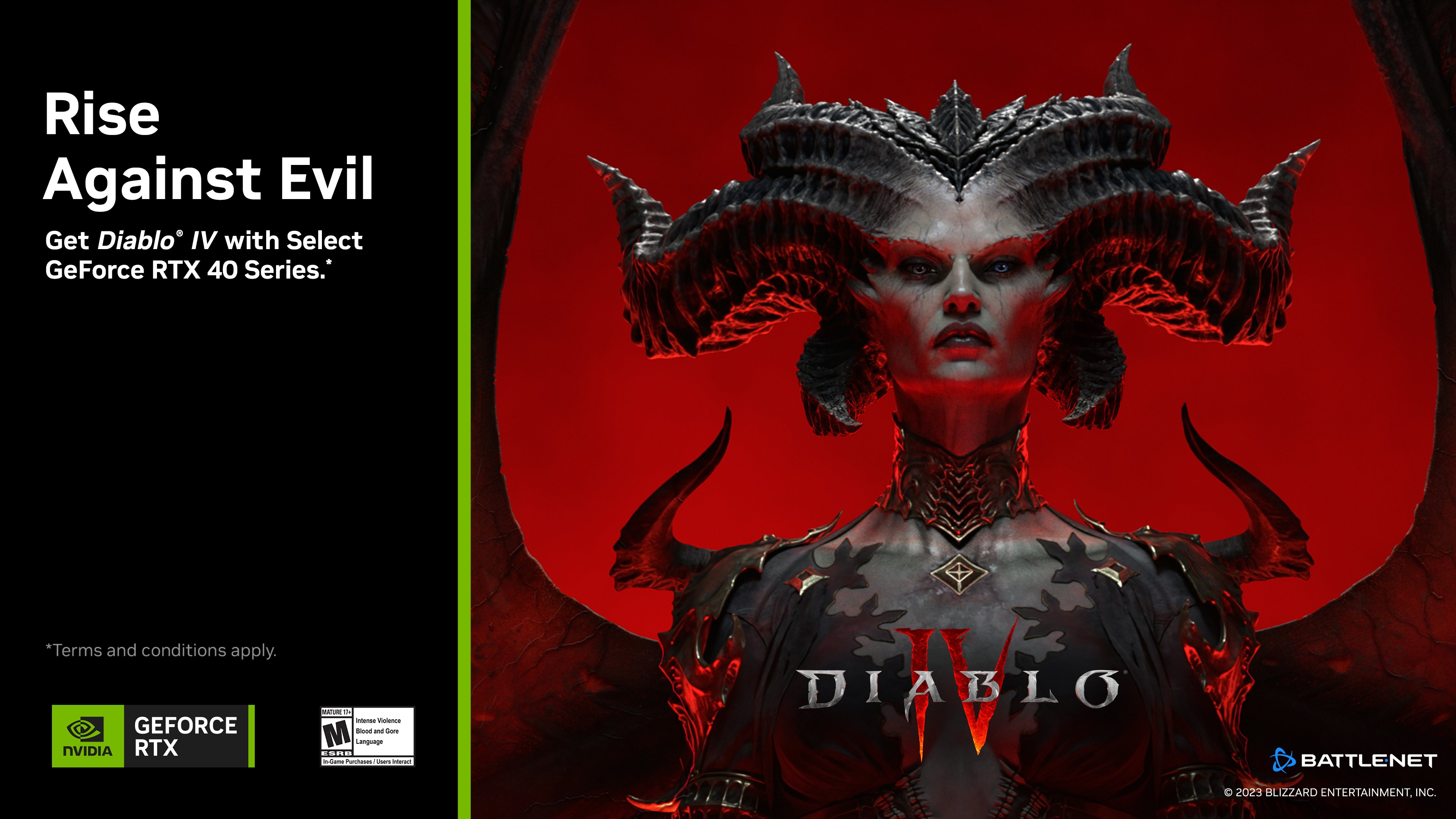 Game Ready For System Shock
1994's System Shock is one of the most influential 'immersive sim' first person games of all time, leading to the creation of popular franchises such as Deus Ex, Prey, Thief and BioShock. Set in a space station governed by SHODAN, a sinister AI, System Shock was an amazing, transformative experience.
Nightdive Studios has remade the entirety of System Shock in Unreal Engine 4, so a new generation of players can try to topple SHODAN - doing so on a GeForce RTX GPU unlocks support for DLSS 2, which can more than double your frame rate at 4K max settings.
System Shock launches today, so you won't have long to wait to experience one of gaming's classic titles in an entirely new light.
GeForce Game Ready Driver - Download Now
Learn more about GeForce Game Ready Drivers here; download the new GeForce Game Ready 535.98 WHQL driver through GeForce Experience.
If you experience any technical issues with the new Game Ready drivers please post a detailed report on the GeForce.com Driver Feedback Forum, where our Customer Care team can better assist you. And if you're looking for a full list of fixes in this driver, for previously-reported issues, head here.
*Up to 4 days based on estimated access; actual play time subject to possible outages and applicable time zone differences.