Each week we're bringing you the latest news on games launching with NVIDIA DLSS and advanced ray tracing. Last week, Returnal upgraded to DLSS 3, and even more games added support for DLSS 2.
This week, Redfall launches with NVIDIA DLSS 3 and Reflex, and later this month Daydream: Forgotten Sorrow, Showgunners, and System Shock are launching with day-1 support for DLSS 2, giving GeForce RTX gamers the fastest frame rates possible.
For all the details, read on.
NVIDIA DLSS 3 Multiplies Frame Rates
Powered by new hardware capabilities of the NVIDIA Ada Lovelace architecture, DLSS 3 generates entirely new high quality frames, rather than just pixels.
Through a process detailed in full in our NVIDIA DLSS 3 article, DLSS 3 combines DLSS Super Resolution technology and DLSS Frame Generation to reconstruct 7 out of every 8 of the displayed pixels, multiplying performance.
In GPU-limited games, DLSS 2 Super Resolution technology can increase your frame rates by up to 2X. With DLSS 3, we can increase performance even further with new frames - in the technology preview of Cyberpunk 2077's full-ray traced Overdrive Mode, performance is multiplied by up to 5X!
Other games make extensive use of the CPU, which can limit performance. DLSS 3 operates on the GPU, bypassing CPU bottlenecks and boosting frame rates. In Microsoft Flight Simulator, for example, DLSS 3 boosts frame rates by up to 2X.

DLSS 3 games are backwards compatible with DLSS 2 technology - developers simply integrate DLSS 3, and DLSS 2, also known as DLSS Super Resolution, is supported by default. Additionally, integrations of DLSS 3 also include NVIDIA Reflex, reducing system latency for all GeForce RTX users, making games more responsive.

Redfall Available Now With NVIDIA DLSS 3 & Reflex
NVIDIA and Bethesda have partnered to bring our full slate of game-changing technologies to Redfall, an open-world, co-op FPS from Arkane Austin, the award-winning team behind Prey and Dishonored. In Redfall, the island town is under siege by a legion of vampires who have blocked out the sun and cut the citizens off from the outside world. Explore the open world, ally yourself with a handful of survivors against the creatures threatening to bleed the town dry, and immerse yourself in a deep story campaign as you unravel the mystery behind the vampires' appearance.
Redfall has launched today, and GeForce GeForce RTX 40 Series gamers can multiply performance with NVIDIA DLSS 3. All other GeForce RTX gamers can accelerate frame rates with DLSS 2, and increase game responsiveness using NVIDIA Reflex.
Activating NVIDIA DLSS 3 sees performance accelerate by 71% on the GeForce RTX 4090, enabling owners to game at up to 188 FPS at 4K, with every setting maxed out. Other GeForce RTX 40 Series GPUs scale similarly, enabling GeForce RTX 4070 and up desktop GPUs to game at over 100 FPS at 4K, with frame rates peaking at 148 FPS on the RTX 4080.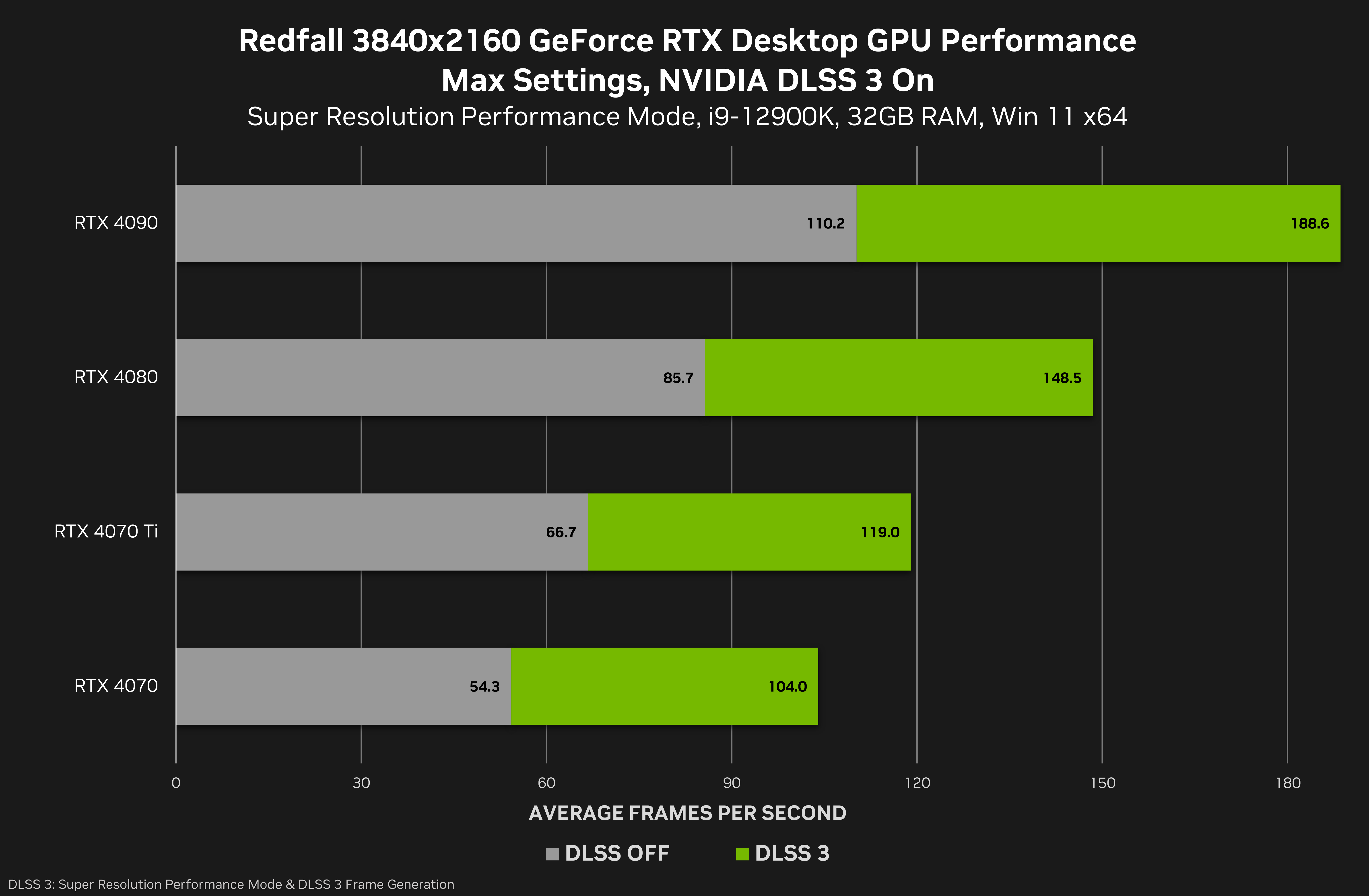 Redfall is available now on the Windows Store, Xbox PC Game Pass, Steam, and the Epic Games Store. For the very best experience in Redfall, download our latest Game Ready Driver for your PC or laptop from GeForce.com or GeForce Experience. Dive in and save Redfall alone or with up to three friends.
Showgunners Launches Today, Enhanced With DLSS 2
In a dystopian future where corporations rule, a brutal reality show is the hottest entertainment property in town. In Artificer and Good Shepherd Entertainment's Showgunners, you play as Scarlett Martillo, a contestant out for revenge. To win, you must navigate dangerous urban arenas packed with lethal traps and face off against hordes of heavily-armed enemies in tactical turn-based combat.
Showgunners launches today with support for DLSS 2, giving all GeForce RTX gamers an even better experience.
System Shock Launches May 30th With DLSS 2
1994's System Shock is one of the most influential 'immersive sim' first person games of all time, leading to the creation of popular franchises such as Deus Ex, Prey, Thief and BioShock. Set in a space station governed by SHODAN, a sinister AI, System Shock was an amazing, transformative experience.
Night Dive Studios has now remade the entirety of System Shock in Unreal Engine 4, so a new generation of players can try to topple SHODAN. Better yet, you can download a demo today, which has been enhanced with DLSS 2 to more than double your frame rate at 4K. Be sure to check out the demo, and then the full game when System Shock launches May 30th.
Daydream: Forgotten Sorrow Available May 24th With DLSS 2 & Ray Tracing
Daydream: Forgotten Sorrow is an atmospheric puzzle platformer game starring Griffin, a little boy who struggles to face his fears. Together with his alive teddy bear named Billy he has to explore a wonderful world, escape from various monsters and solve many mysteries and puzzles.
At launch on May 24th, GeForce RTX gamers can experience Daydream: Forgotten Sorrow at its best, with DLSS 2, ray-traced ambient occlusion effects, ray-traced shadows, and ray-traced reflections. Before launch, you can also play Daydream: Prologue for free, with all of these features activated on your GeForce RTX GPU.
Check Back Next Week For More
As you can see, there are even more DLSS integrations dropping into the newest blockbusters and latest indie games. Check back next week for a rundown of the next DLSS games, and head here to see the complete list of over 290 DLSS-enhanced games and apps.