NVIDIA Reflex is a must-have in games, reducing system latency so your actions occur quicker, giving you a competitive edge in multiplayer matches, and making single-player titles more responsive and enjoyable. NVIDIA Reflex is now used by over 50 million players each month, is available in 9 of the top 10 competitive shooters, including the Counter-Strike 2 beta, and is activated by 90% of GeForce gamers in 70+ supported titles.
NVIDIA Reflex is synonymous with responsive gaming, and can now be found in the latest and greatest games, including Ratchet & Clank: Rift Apart, launching in July with out of the box support.
For gamers playing at home, new seasons for Fortnite, Overwatch 2, and other Reflex-enabled games offer a perfect opportunity to jump back into the action. And for the most competitive players, new G-SYNC Ultra Low Motion Blur 2 (ULMB 2) gaming monitors deliver a significant upgrade. Having debuted the displays at COMPUTEX 2023, see what monitor experts thought of the next evolution in competitive gaming.
Ratchet & Clank: Rift Apart Available July 26 With NVIDIA Reflex, DLSS 3 & Ray Tracing
The Ratchet & Clank franchise recently celebrated its 20th anniversary, and on July 26th PC gamers can experience the action and humor of the franchise for the first time with the PC release of the critically acclaimed Ratchet & Clank: Rift Apart. Help the beautifully-rendered duo take on an evil emperor from another reality as you jump between action-packed worlds and beyond in this spectacular action-adventure-platformer, developed by acclaimed studio Insomniac Games, and brought to PC by the one and only Nixxes Software.
Building upon their work on other Sony Interactive Entertainment PC conversions, Nixxes is loading Ratchet & Clank: Rift Apart with every possible technology, giving PC gamers an incredible experience that leverages the full capabilities of their systems.
GeForce RTX 40 Series graphics cards and laptops can multiply performance using NVIDIA DLSS 3, while GeForce RTX 20 and 30 Series users can accelerate frame rates with NVIDIA DLSS 2. All GeForce RTX gamers can maximize image quality with NVIDIA DLAA, for the highest possible picture quality. And GeForce GTX 900 Series and newer gamers can make Ratchet & Clank: Rift Apart gameplay even more responsive with NVIDIA Reflex.
Through a process detailed in full in our DLSS 3 article, DLSS 3 combines DLSS Super Resolution and DLSS Frame Generation to reconstruct 7/8ths of the displayed pixels, accelerating performance significantly.
In GPU-limited games, DLSS 2 Super Resolution technology can increase your frame rates by up to 2X. With DLSS 3, we can boost them by up to 4X (compared to brute-force rendering) in fully ray-traced worlds.
Certain games make extensive use of the CPU which can limit performance. DLSS 3 operates on the GPU, bypassing CPU bottlenecks and boosting frame rates.
DLSS 3 games are backwards compatible with DLSS 2 technology - developers simply integrate DLSS 3, and DLSS 2, also known as DLSS Super Resolution, is supported by default. Additionally, integrations of DLSS 3 also include NVIDIA Reflex, reducing system latency for all GeForce RTX users, making games more responsive.

Ratchet & Clank: Rift Apart also features ray-traced reflections with a variety of quality levels to choose from, as well as newly added ray-traced shadows, for natural light in outdoor areas. Gamers with GeForce RTX GPUs can enjoy these at the highest frame rates thanks to their dedicated ray tracing cores that greatly accelerate ray tracing performance.
Additionally, there's support for 21:9, 32:9 and 48:9 resolutions, and triple-monitor Surround gaming. There's the usual assortment of options to ensure you can play the way that best suits your style, and when using a DualSense controller on a wired connection, you can feel in-game actions coming to life in your hands with haptic feedback and dynamic trigger effects.
Ratchet & Clank: Rift Apart launches July 26th on PC - wishlist or pre-order now.
NVIDIA DLSS, Ray Tracing & Reflex Coming To EA SPORTSTM F1Ⓡ 23
On June 16th, racing fans can take their positions on the grid to rival the world's best drivers in EA SPORTS F1Ⓡ 23, the official video game of the 2023 FIA Formula One World Championship™.
F1Ⓡ 23 features all the teams, drivers and circuits for the 2023 FIA Formula One World ChampionshipTM, including the highly anticipated Las Vegas Grand Prix and Losail International Circuit, Qatar. The game also allows players to create headlines with the return of story-based Braking Point, the second chapter that takes players beyond the racing and gives them a closer look at the life of an F1 driver.
On PC, GeForce RTX graphics card and laptop owners can accelerate frame rates with NVIDIA DLSS 2 at launch on June 16. NVIDIA DLSS 3 will be coming in a post-launch update.
All GeForce RTX gamers will also receive the highest possible frame rates when activating immersive ray-traced reflections, shadows and ambient occlusion thanks to dedicated ray tracing cores on each GeForce RTX GPU. And GeForce GTX 900 Series and newer gamers can make F1Ⓡ 23's racing even more responsive with NVIDIA Reflex.
F1Ⓡ 23 launches June 16th - wishlist or pre-order now in the EA App, Epic Games Store, or Steam; F1Ⓡ 23 Champions Edition players can access the full game, starting on June 13th.

Party Animals Launching September 20th With DLSS 2 & Reflex
Battle with your friends as puppies, kittens and other cuddly creatures in Party Animals, developed by Recreate Games. Engage in paw-to-paw combat with your friends online. Interact with the world using a realistic physics engine and take advantage of interactive elements in each unique level to emerge victorious in every brawl.
When Party Animals is released on September 20th, GeForce RTX gamers can boost performance with DLSS 2 and reduce system latency with NVIDIA Reflex, giving them a competitive edge over other critters with less responsive systems.
Overwatch 2 Season 5 Begins Today
NVIDIA Reflex enables GeForce gamers to play with minimal system latency in Overwatch 2's highly competitive multiplayer matches. Today, Overwatch 2 Season 5 begins, giving players a mythic adventure and new events to enjoy this Summer.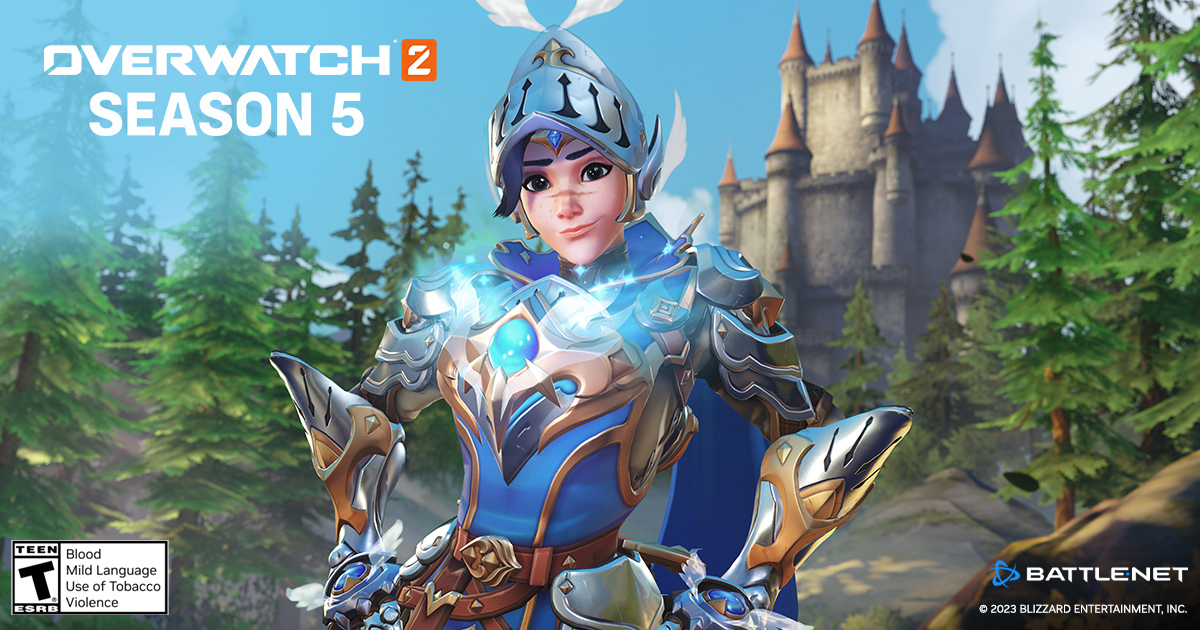 Using NVIDIA Reflex on a GeForce RTX 40 Series GPU, your actions have improved responsiveness, occurring virtually without delay, and performance is so high that you'll see the action at its best with maximum clarity.

The GeForce RTX 4060 Ti Is Perfect For Competitive Gamers
The GeForce RTX 40 Series family expanded recently with the release of the GeForce RTX 4060 Ti. For gamers playing competitive games, the GeForce RTX 4060 Ti can run the most popular esports titles at hundreds of frames per second at 1080p, with Reflex-optimized PC latency as low as 8 ms.


Starting at $399, the GeForce RTX 4060 Ti is great for competitive gamers. Additionally, you'll also have support for AV1 for better-quality streams, and support for DLSS 3, helping you hit high frame rates in single-player and co-op games.
There's so much more that's only possible on GeForce RTX GPUs - get the complete lowdown in our GeForce RTX 4060 Ti announcement article.
Fortnite Chapter 4, Season 3 Available Now & Optimized By Reflex
The WILDS await in Fortnite Battle Royale Chapter 4 Season 3. The center of the Island has collapsed, revealing a vast, hidden jungle with ancient secrets to discover. Ascend to canopies, ride raptors, and slide in the mud for speed and camouflage. Detect enemies with the Thermal DMR, skid on vines while firing the FlapJack Rifle, or transform opponents into spectators with the Cybertron Cannon.
Fortnite players can reduce their system latency and increase frame rates on GeForce RTX GPUs - by enabling NVIDIA Reflex, PC latency is reduced providing the best responsiveness. And with its NVIDIA Ada Lovelace architecture, GeForce RTX 40 Series GPU performance is greatly accelerated, enabling you to play up to 490 FPS at 1440p.
G-SYNC Ultra Low Motion Blur 2 Media Impressions
Since 2015, Ultra Low Motion Blur (ULMB) has delivered extra motion clarity for competitive gamers. At COMPUTEX 2023, we launched G-SYNC Ultra Low Motion Blur 2 (ULMB 2), featuring over 1000 Hz of effective motion clarity for the best motion blur reduction for competitive gamers. Compared to the original, ULMB 2 delivers full refresh rate backlight strobing, nearly 2x higher brightness, and has practically zero crosstalk.
Best of all, ULMB 2 is available now, for free, for capable monitors through a single-click firmware update.
Outlets specializing in high refresh rate gaming and competitive gaming have taken an in-depth look at ULMB 2. Here's a sampling of their expert opinions:
More To Come Soon
Even more new NVIDIA Reflex games, hardware, and ULMB 2 monitors are on their way, so stay tuned to GeForce.com to learn more when the news drops; check out the complete list of currently supported games and devices on our NVIDIA Reflex website.