G-SYNC's display technology has been delivering superior gaming experiences since 2013, and as we begin 2019 we have several exciting G-SYNC announcements to share.
Introducing "G-SYNC Compatible" Displays
In 2013 we released G-SYNC, a revolutionary monitor technology that introduced gamers to smooth variable refresh rate gameplay, with no screen tearing and no V-SYNC input lag. Before G-SYNC, gaming monitors had stagnated, using decades-old tech and the same-old features. But since G-SYNC's launch, gaming monitors have evolved rapidly, and we've helped guide their evolution with end-to-end development and certification testing, and more, ensuring each G-SYNC display delivers the best possible gaming experience out of the box.
The GeForce community loves G-SYNC, and many gamers have asked for a trimmed down, GeForce-compatible Variable Refresh Rate (VRR) experience. However, with a wide variety of VRR ranges and in some cases a narrow VRR operating range the VRR feature may only work when the game framerate is in a narrow, very specific range. Which is often not the case, as game frame rates vary significantly from moment to moment.
In addition, not all monitors go through a formal certification process, display panel quality varies, and there may be other issues that prevent gamers from receiving a noticeably-improved experience.
There are good monitors out there though, and so to bring these monitors to GeForce gamers, and expand the G-SYNC ecosystem, we're introducing "G-SYNC Compatible". We will test monitors that deliver a baseline VRR experience on GeForce GTX 10-Series and GeForce RTX 20-Series graphics cards, and activate their VRR features automatically, enabling GeForce gamers to find and buy VRR monitors that will improve their gaming experience.
G-SYNC Compatible testing validates that the monitor does not show blanking, pulsing, flickering, ghosting or other artifacts during VRR gaming. They also validate that the monitor can operate in VRR at any game frame rate by supporting a VRR range of at least 2.4:1 (e.g. 60Hz-144Hz), and offer the gamer a seamless experience by enabling VRR by default.
G-SYNC Compatible monitor support will begin later this month with the launch of our first 2019 Game Ready driver. Already, 12 monitors are G-SYNC Compatible, and we'll continue to evaluate monitors and update our support list throughout going forward.
For VRR monitors yet to be validated as G-SYNC Compatible, a new NVIDIA Control Panel option will enable owners to try and switch the tech on - it may work, it may work partly, or it may not work at all. To be sure, only purchase a monitor listed as "G-SYNC Compatible" on our site.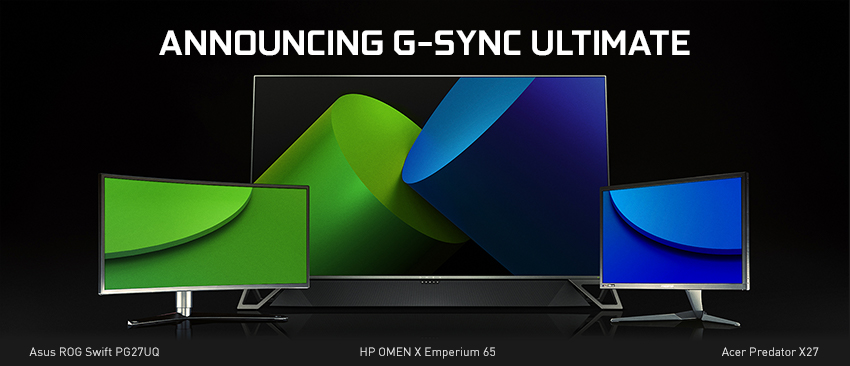 For the best gaming experience we recommend NVIDIA G-SYNC and G-SYNC Ultimate monitors: those with G-SYNC processors that have passed over 300 compatibility and quality tests, and feature a full refresh rate range from 1Hz to the display panel's max refresh rate, plus other advantages like variable overdrive, refresh rate overclocking, ultra low motion blur display modes, and industry-leading HDR with 1000 nits, full matrix backlight and DCI-P3 color.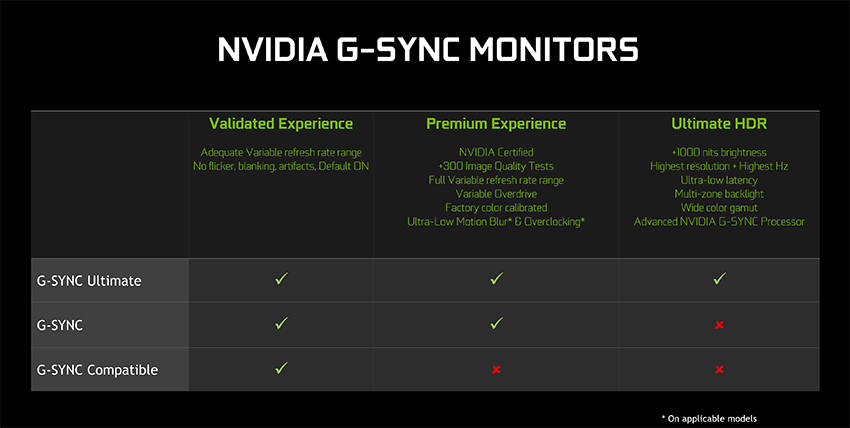 But if you're in the market for an entry level VRR experience, the G-SYNC Compatible program gives you a ton of new purchase possibilities, and the knowledge of which monitors will deliver baseline VRR benefits with your GeForce graphics card.
Big-Screen BFGDs Deliver The Ultimate PC HDR Gaming Experience, and Can Be Pre-Ordered Now
G-SYNC HDR monitors are the very best displays for HDR gaming on PC, with 4K panels, 1000 nit peak HDR brightness, 384-zone dynamic backlights, and DCI-P3 color. In other words, the best tech, the best brightness, the best colors, and the best contrast.
In February, G-SYNC HDR's award-winning tech will also be available in 65-inch super-sized BFGD G-SYNC HDR monitors, suitable for your living room and luxury gaming den.
The first of these will be from HP, who are launching the OMEN X 65, with a 120Hz refresh rate, 1000 nits of peak HDR luminance, all the other key HDR goodies, and a built-in NVIDIA SHIELD TV.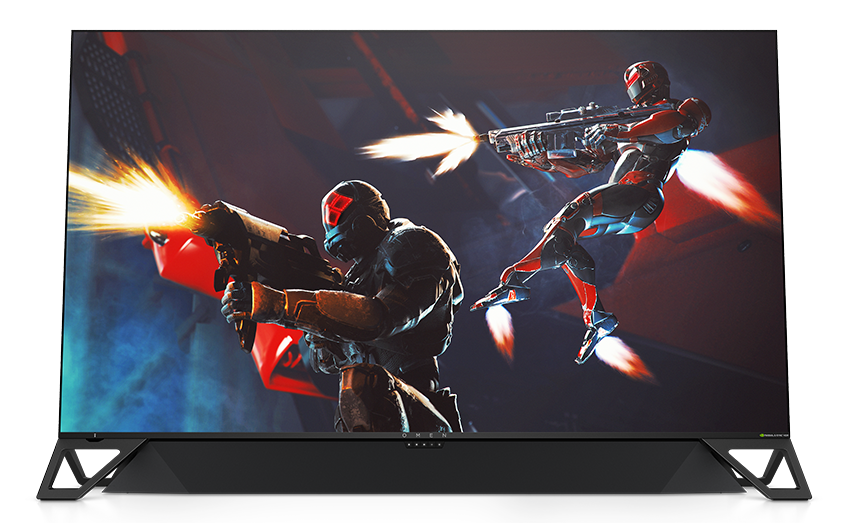 If you desire the biggest and best G-SYNC HDR PC gaming display, it's available for pre-order now, with other partners' pre-orders beginning as we approach the launch of BFGDs later this quarter.
New, Exciting G-SYNC Monitors
Last year we launched critically-acclaimed 27-inch G-SYNC HDR monitors, and later this quarter ASUS will unleash their curved 35-inch 3440x1440 G-SYNC HDR display. Like the 27-inchers, it reaches a brilliantly-bright 1000 nits, has 512 backlight zones, and best-in-class colour and contrast for the best possible HDR gaming experience.
LG has just started shipping their 34-inch 3440X1440 120Hz 34GK950G display, which is the first G-SYNC monitor to feature Nano IPS technology. Per LG, "Nano IPS involves the application of nanometer-sized particles to the screen's LED to absorb excess light wavelengths. It greatly enhances the intensity and purity of on-screen colors." This enables the monitor to have a color space 35% wider than RGB (98% DCI-P3), allowing more colors to be shown, and it absorbs unnecessary yellow and orange, for superior red color accuracy.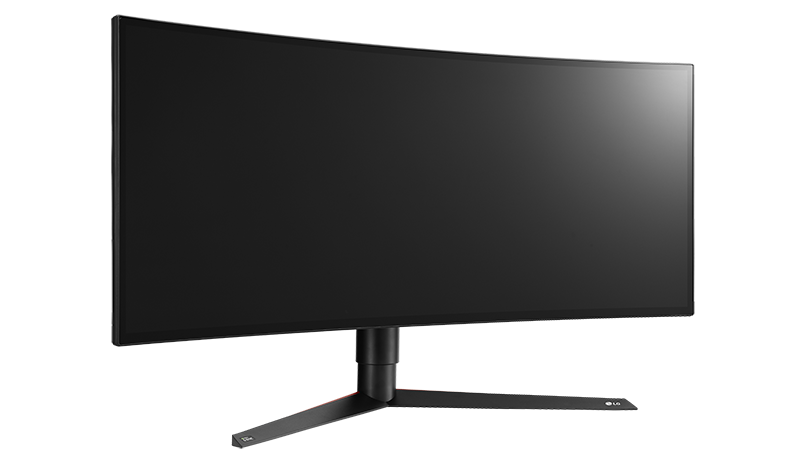 In addition, Acer will be launching a 27-inch 4K IPS 144Hz monitor, and Lenovo is giving eSports players and gamers who want high refresh rates a 27-inch 2560x1440 240Hz monitor.
Those, plus the many 1920x1080 and 2560x1440 models that are already available, mean there's a high-quality G-SYNC display for every gamer's needs. And new monitors are always launching every quarter.
GeForce RTX Laptops Debut, Some With G-SYNC
GeForce RTX graphics cards are the world's fastest, and now they're available in laptops, giving gamers the power to play any game anywhere, anytime.
There are more than 35 models in over 100 configurations launching January 29th, some of which will feature G-SYNC. Learn more in our GeForce RTX laptop article, and on the manufacturers' websites.

Expanding The G-SYNC Ecosystem With Numerous New Displays
Whether you want a 65" gaming den behemoth with all the latest tech, the best HDR PC gaming experience around, a G-SYNC laptop, a high-quality high refresh-rate desktop gaming display, or a baseline variable refresh rate monitor, there's now a G-SYNC display to cover every need.
For a list of G-SYNC Compatible monitors stay locked to this page, and stay tuned to GeForce.com for word on the release of the Game Ready driver that introduces G-SYNC Compatible support. And of course, for news on other G-SYNC developments and releases throughout 2019.