The world's biggest consumer technology show is this week in Las Vegas, and NVIDIA is there showing off a host of new GeForce gaming tech, including several features that we are delivering today via a new CES 2020 Game Ready Driver.
Variable Rate Supersampling will improve your VR gaming, a new Freestyle Splitscreen filter will let you further customize your creations, Max Frame Rate gives you an easy way to cap performance, and we've further improved our popular Image Sharpening feature.

In addition, the CES 2020 Game Ready Driver includes support for Wolfenstein: Youngblood's new update that adds ray tracing, NVIDIA DLSS and NVIDIA Highlights; support for Quake II RTX's latest update, which adds a cool new feature; and support for 8 new G-SYNC Compatible gaming monitors.
To download and install, simply fire up GeForce Experience and click the "Drivers" tab. And for all the details, read on.
Max Frame Rate: Cap Frame Rates, Save Power, and More
You asked for it - the number one community requested feature is here!
Now, you can set the max frame rate for a 3D application or game. This feature is particularly helpful when trying to save power, reduce system latency, or keep within a specific Variable Refresh Rate range on a G-SYNC or G-SYNC Compatible display.
Saving Power: Enable Max Frame Rate (NVIDIA Control Panel > 3D Settings > Max Frame Rate) and set your power management mode to "Optimal Power"(NVIDIA Control Panel > 3D Settings > Power Management Mode). While in this mode, GPU frequency is reduced and uses less power. For laptop users, Max Frame Rate also works alongside with Battery Boost and Whisper Mode. If either of these modes are enabled at the same time as Max Frame Rate, the NVIDIA Control Panel will cap the framerate to the lowest of the limits.
Reducing System Latency: Enable Max Frame Rate and set your power management mode to "Prefer maximum performance" to reduce latency. While in this mode, the GPU is kept at higher frequencies to process frames as quickly as possible. To maximize latency reduction in GPU bound scenarios where FPS is consistent, set Max Frame Rate to a framerate slightly below the average FPS and turn Low Latency Mode to Ultra.
Staying in VRR Range: Set the Max Frame Rate slightly below the maximum refresh rate of your display to stay within the Variable Refresh Rate range - providing a no-tear, low system latency experience! For the smoothest, no tear experience, set the low latency mode to Ultra and turn VSYNC on.
Variable Rate Supersampling: Improve Image Quality In VR
Variable Rate Supersampling (VRSS) is a new technique to improve image quality in VR games. It uses NVIDIA Variable Rate Shading (VRS), a key feature in NVIDIA's Turing architecture, to dynamically apply up to 8x supersampling to the center of the VR headset display, where the eye is generally focused. It intelligently applies supersampling only when GPU headroom is available in order to maintain the VR headset's fixed FPS and ensure a smooth VR experience.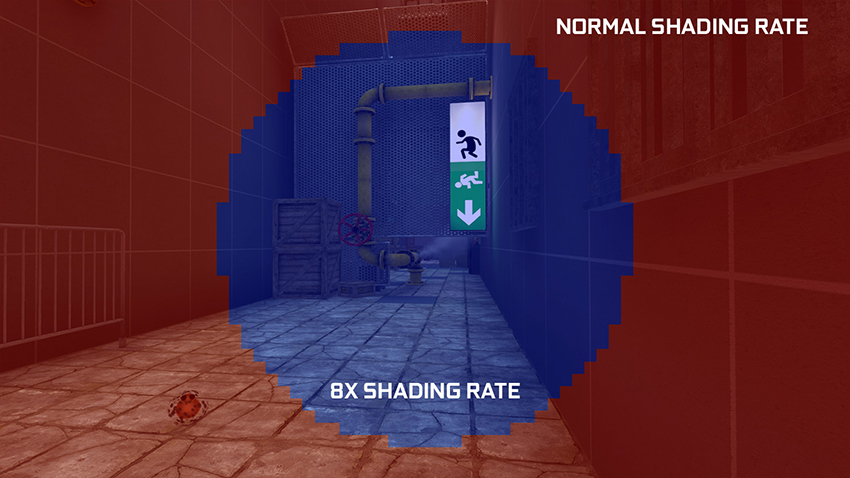 Compared to alternative techniques that supersample the entire screen with large hits to frame rate, VRSS's adaptive use of Variable Rate Shading boosts image quality while staying about the typical 90Hz fixed refresh rate of the VR headset. In the VR game Boneworks, VRSS keeps FPS above 90, whereas a fullscreen 4x supersample drops frame rates to unplayable levels.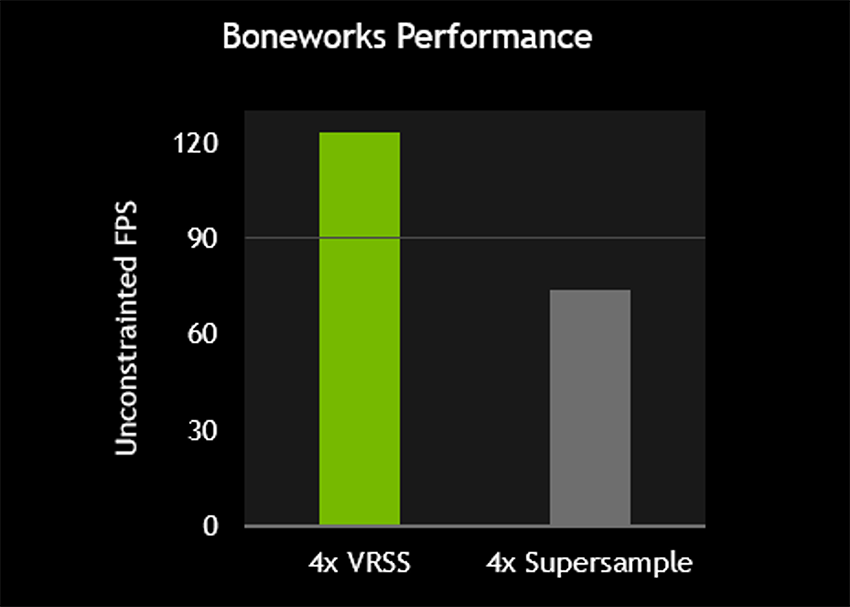 Tested on GeForce RTX 2080 Ti, Intel Core i7-6700K, 32GB, Windows 10, HTC Vive Pro, CES 2020 Game Ready Driver
To enable VRSS, open the NVIDIA Control Panel and select Manage 3D Settings, then scroll to Virtual Reality – Variable Rate Supersampling, and change the setting to "Adaptive".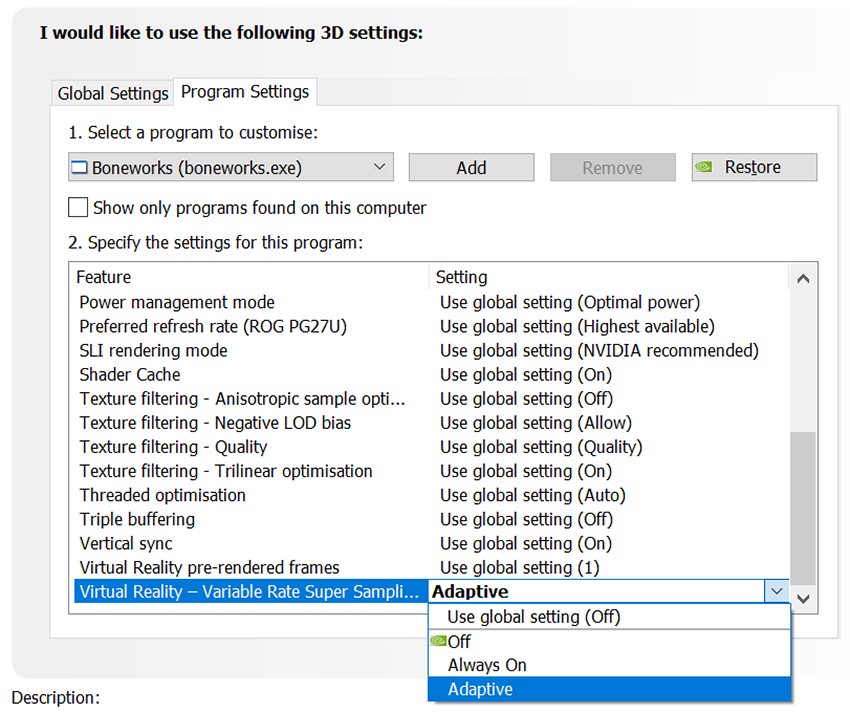 For advanced users, the Control Panel also offers an 'Always On' setting that applies up to 8x supersampling regardless of performance. Note, this may bring your frame rate below the VR headset's refresh rate and impact your experience.
VRSS is supported by the driver--no game integration required--and can be applied to DX11 VR games or application that have forward renderers and support MSAA, and have been tested by NVIDIA. At the time of writing, over 20 games meet this criteria, including:
Battlewake
Boneworks
Eternity WarriorsTM VR
Hot Dogs, Horseshoes and Hand Grenades
In Death
Job Simulator
Killing Floor: Incursion
L.A. Noire: The VR Case Files
Lone Echo
Mercenary 2: Silicon Rising
Pavlov VR
Raw Data
Rec Room
Rick and Morty: Virtual Rick-ality
Robo Recall
SairentoVR
Serious Sam VR: The Last Hope
Skeet: VR Target Shooting
Space Pirate Trainer
Special Force VR: Infinity War
Spiderman: Far from Home
Spiderman: Homecoming – Virtual Reality Experience
Talos Principle VR
The Soulkeeper VR
We'll continue to test more VR games and add them to future driver releases.
New Freestyle Splitscreen Filter To Showcase Your Creations
In over 700 games, you can press Alt+F3 to load NVIDIA Freestyle, a GeForce Experience feature that enables you to adjust the look and feel of your gameplay in real-time using post-process filters. And in any game with NVIDIA Ansel support, you can press Alt+F2 to frame and snap in-game photos with an incredible level of visual customization.
With our latest Game Ready Driver, we're releasing a new Splitscreen filter that allows you to showcase screenshots or videos of your creation with the modding community. You can split the screen, showcase a side-by-side comparison, or even blend filters using the gradient function.
Split the screen down the middle, or blend the two results together
You can also import hundreds of new customization filters from ReShade. Download our collection of curated ReShade filters, and extract into "Program FilesNVIDIA CorporationAnselCustom" (typically on your C: drive). If you install DCH drivers, instead of the standard Game Ready Driver, you may have to create this folder yourself. A larger selection of 'custom' filters can also be downloaded directly from ReShade's Github repository.
Image Sharpening Update Further Improves Your Experience
We recently introduced a standalone image sharpening filter built into the NVIDIA Control Panel, enabling you to improve image clarity in all DirectX 9-12, Vulkan and OpenGL games. Based on your feedback, now you can separately enable the GPU Scaling feature without image sharpening. Furthermore, custom resolutions are supported when you enable GPU Scaling.
To use image sharpening on your system, open the NVIDIA Control Panel and navigate to 3D Settings > Manage 3D Settings, select Image Sharpening, configure your options, hit OK, then click Apply on the bottom right of the Control Panel window.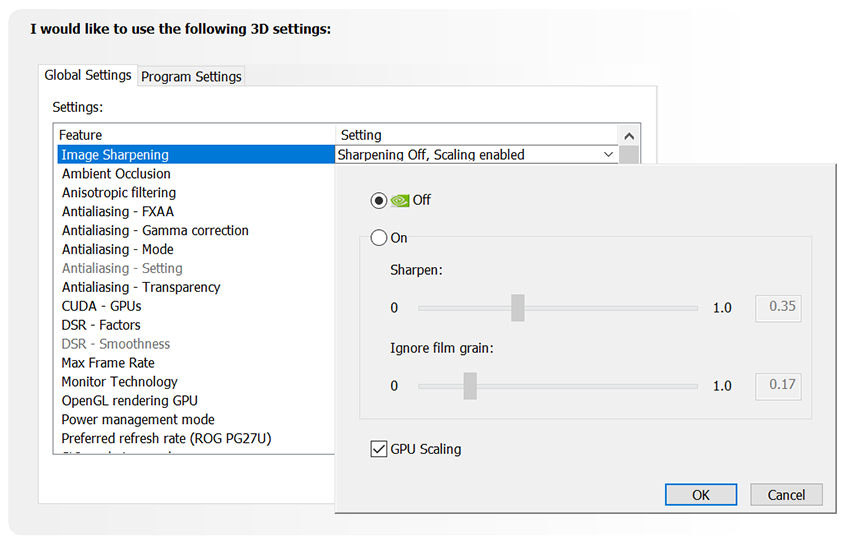 For further info about Image Sharpening, and to see how it can improve your gaming, head here.
Support For Newly Validated G-SYNC Compatible Displays
Our newest Game Ready Driver driver is adding support for an additional 8 G-SYNC Compatible displays, and we've announced future support for a further 17, including new LG OLED 2020 BFGD TVs. These gaming monitors and TVs deliver a baseline Variable Refresh Rate (VRR) experience that makes your gaming smoother, clearer, and more enjoyable.
With the new and upcoming additions announced today, there are now 90 G-SYNC Compatible displays total, across all resolutions, sizes and refresh rates, giving gamers tons of choice when searching for the perfect display. For instance, today's new monitors range in size from 24.5 inches, all the way up to LG's 88 inch Z9 BFGD behemoth, which will deliver a jaw-dropping big-screen OLED VRR gaming experience in your living room.
New G-SYNC Compatible Gaming Monitors, TVs and BFGDs

Gaming Monitors

Model
Size
Resolution
Game Ready Driver Support
Acer VG252QX
24.5"
1920x1080
Available now
Acer XB253Q GX
24.5"
1920x1080
Available now
Acer XV253QX
24.5"
1920x1080
Available now
ASUS VG259QM
24.5"
1920x1080
Coming soon
ASUS VG279QM
27"
1920x1080
Available now
ASUS PG43UQ
43"
3840x2160
Coming soon
Dell AW2521HF
24.5"
1920x1080
Coming soon
Dell AW2521HFL
24.5"
1920x1080
Coming soon
LG 38WN95C
37.5"
3840x1600
Available now
LG 28GN950
37.5"
3840x1600
Available now
LG 34GN850
34"
3440x1440
Coming soon
View Sonic XG270
27"
1920x1080
Available now

Big Format Gaming Displays (BFGDs)

LG 2020 BX
55" 65" and 77"
3840x2160
Later this year
LG 2020 CX
48" 55" 65" and 77"
3840x2160
Later this year
LG 2020 GX
55" 65" and 77"
3840x2160
Later this year
LG 2020 ZX
77" and 88"
7680x4320
Later this year
LG 2019 Z9
88"
7680x4320
Available now (TV firmware update required)
For a complete list of all 164 G-SYNC, G-SYNC ULTIMATE, and G-SYNC Compatible gaming displays, check out our handy and frequently updated G-SYNC page, and head on over to our CES 2020 G-SYNC article to learn much more about new LG G-SYNC Compatible BFGD TVs, the new G-SYNC Compatible gaming monitors, and other G-SYNC advancements and enhancements coming down the pipe.
Game Ready For Wolfenstein: Youngblood's Ray Tracing Update
Wolfenstein: Youngblood is receiving a large update later this week, that adds realistic ray tracing, performance-boosting NVIDIA DLSS, and NVIDIA Highlights, for automatically recording your best gameplay moments.
For a complete rundown of all the additions, and how they make your gaming experience better, check out our Wolfenstein: Youngblood article and the new video below.
And for full support for each feature, along with optimum performance, download and install our new Game Ready Driver.
Game Ready For Quake II RTX v1.3 Update
Quake II RTX is our ray-traced remaster of the beloved 1997 first-person shooter. In November, we introduced a ton of new features and enhancements, and now we're back with Quake II RTX v1.3. This introduces an awesome new photo mode for custom screenshots, such as the one below, along with a few further tweaks and improvements.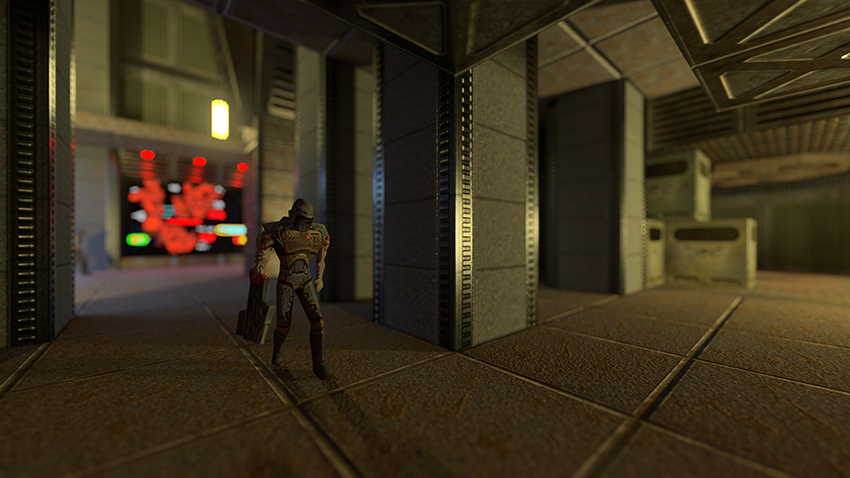 For all the details, and more Photo Mode screenshots, head to our CES 2020 article.
Optimal Playable Settings For More Games
As part of our Game Ready program, NVIDIA has recently added Optimal Playable Settings (OPS) for even more games, giving you one click setting recommendations for the latest and greatest releases.
Since our last driver release 14 new games now have optimal settings support, adding to our existing support for 800 other games:
Ashen
BONEWORKS
Borderlands 2 VR
Darksiders Genesis
Detroit: Become Human
Dragon Quest Builders 2
GTFO

Halo: The Master Chief Collection
MechWarrior 5: Mercenaries
Microsoft Flight Simulator X: Steam Edition
Transport Fever 2
Serial Cleaner
Vader Immortal
Wolfenstein: Youngblood (Updated)
To optimize your game, open GeForce Experience, click on the game tile in the Games Tab, and hit "Optimize".
GeForce Game Ready Driver - Download Now
You can download the new GeForce Game Ready 441.87 WHQL drivers through GeForce Experience, or via our website, and a list of fixes in this driver for previously-reported issues can be found here.
If you experience any technical issues with the new Game Ready drivers please post a detailed report on the GeForce.com Driver Feedback Forum, where our Customer Care team can better assist you. And if you have feedback on the new game and experience-enhancing features, please share it here.
© 1997 id Software LLC, a ZeniMax Media company. QUAKE, id, id Software, id Tech and related logos are registered trademarks or trademarks of id Software LLC in the U.S. and/or other countries. Bethesda, Bethesda Softworks, ZeniMax and related logos are registered trademarks or trademarks of ZeniMax Media Inc. in the U.S. and/or other countries. All Rights Reserved.
This product is based on or incorporates materials from the sources listed below (third party IP). Such licenses and notices are provided for informational purposes only.
Quake II: Copyright (C) 1997-2001 Id Software, Inc. Licensed under the terms of the GPLv2.
Q2VKPT: Copyright © 2018 Christoph Schied. Licensed under the terms of the GPLv2.
Quake2MaX "A Modscape Production": Textures from Quake2Max used in Quake2XP. Copyright © 2019 D Scott Boyce @scobotech. All Rights Reserved. Subject to Creative Commons license version 1.0. Roughness and specular channels were adjusted in texture maps to work with the Quake II RTX engine.
Q2XP Mod Pack: Used with permission from Arthur Galaktionov.
Q2Pro: Copyright © 2003-2011 Andrey Nazarov. Licensed under the terms of the GPLv2.