GeForce is out in force at CES 2020, unveiling new enhancements and innovations which will further improve your gaming experience. To learn about new Game Ready Driver features, G-SYNC gaming monitors, cutting-edge G-SYNC technology, the release of ray tracing for Wolfenstein: Youngblood, and a Quake II RTX update, read on.
New G-SYNC Innovations, Gaming Monitors and Big Format Gaming Displays At CES 2020
NVIDIA G-SYNC pioneered variable refresh rate gaming, and remains the leader in developing ever-better technology that gives gaming monitors faster refresh rates, better color accuracy, superior contrast, display overclocking, and the ability to run with VRR enabled at all framerates and refresh rates.
At CES 2020, 28 new displays have been announced and are on show. Leading the charge are our new 360Hz and Mini-LED gaming monitors, which feature new display innovations that can't be found anywhere else.
With our 360Hz technology, G-SYNC gaming monitors leap from 240Hz to a new, much higher refresh rate, which reduces latency and makes images crystal clear. For esports players and competitive gamers, this makes all the difference, enabling them to acquire targets faster and easier, and reduce the time it takes for their clicks to have an effect in-game.
Mini-LED, meanwhile, brings major improvements for 4K HDR G-SYNC ULTIMATE gaming. Primarily, the technology's smaller, more efficient LEDs allow us to ramp up the number of controllable LED local dimming zones to 1152, from 384 on previous-gen 4K G-SYNC ULTIMATE gaming monitors. This greatly increases color accuracy, brightness, contrast and general image quality, in ways that were previously impossible with prior LED tech.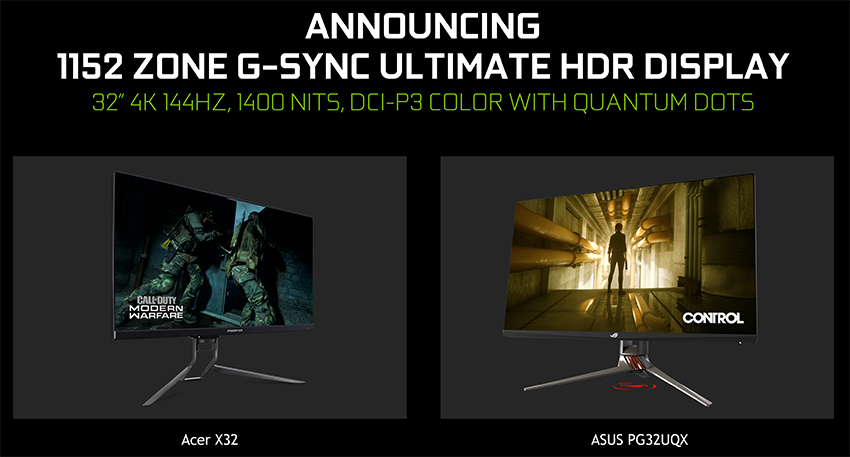 In November, LG became the first TV manufacturer to add G-SYNC Compatible support for their big-screen TVs, enabling GeForce gamers to enjoy stunning visuals and smooth variable refresh rate gaming on LG's best-in-class OLEDs. Now, LG has announced a new range of 2020 TVs, and all 12 have been validated as G-SYNC Compatible Big Format Gaming Displays (BFGDs), for the definitive big-screen living room experience, with stunning OLED picture quality, and smooth VRR gameplay.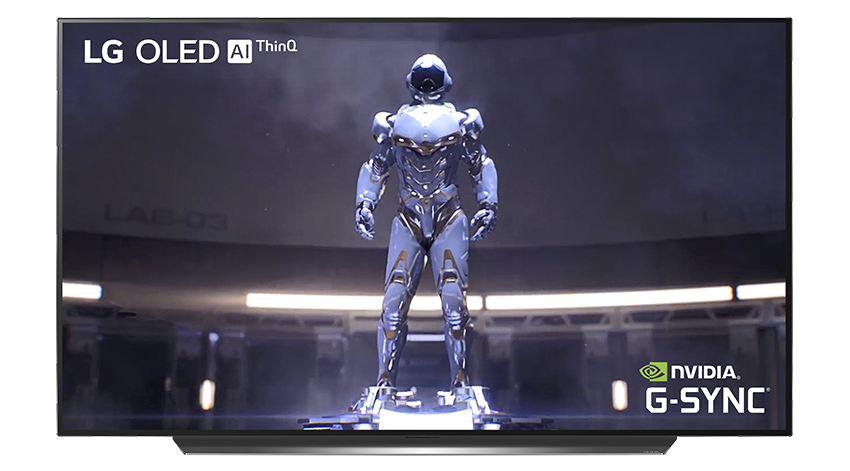 And finally, we announced support for over a dozen new G-SYNC Compatible gaming monitors, in numerous shapes, sizes and resolutions, giving prospective buyers even more choice when searching for the perfect monitor.
To learn more about the new displays, and about all of our CES 2020 G-SYNC announcements, head here.
New Game Ready Driver Brings New and Improved Features
If you fire up GeForce Experience right this second, you can download and install our latest Game Ready Driver. Included are our latest game optimizations, Game Ready support for the Wolfenstein: Youngblood and Quake II RTX updates, support for new G-SYNC Compatible gaming monitors, and several new and improved features.
Our first addition is one of the most requested NVIDIA Control Panel features: Max Frame Rate. This can save power, boost laptop battery life, and keep your framerate below a specified limit, which is useful for saving power while gaming on battery, or reducing latency with certain monitor configurations.
Also new to the table is Variable Rate Supersampling (VRSS), a technology that boosts image quality in the center of the VR display, where your eyes are focused, when performance permits (though power users can override this and have the tech always-on). VRSS can reduce aliasing, reduce shimmering and crawling, and boost detail, improving your VR experience.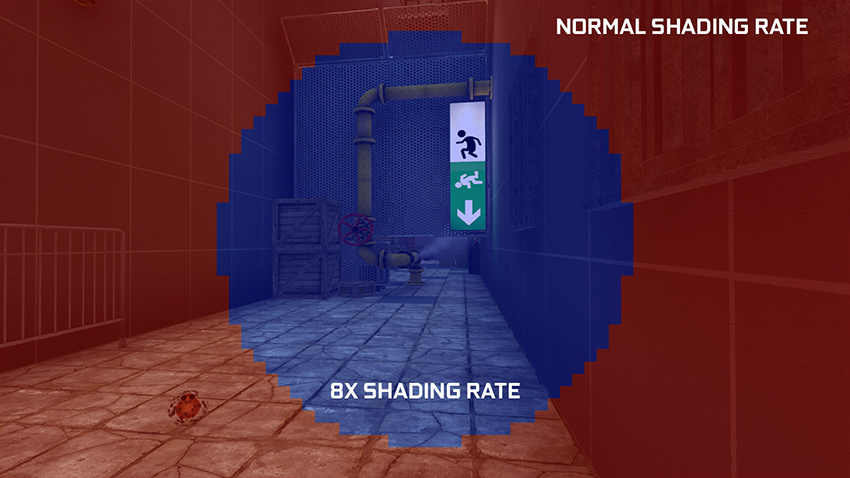 See VRSS in action, here
For folks who like to take and customize screenshots and videos, or adjust a game's image in real-time with NVIDIA Freestyle, we've launched a new Split-Screen filter. Using the intuitive on-screen controls, show the game's look before and after you've customized, or blend the two together to create entirely new looks.
One of the most popular Game Ready Driver additions of late has been the Image Sharpening tool, which improves clarity, and can upscale graphics using a high-quality filter. Following end-user feedback, we've improved this Control Panel feature to enable you to use upscaling without image sharpening, or vice versa, and to use Custom Resolutions in conjunction with the GPU-powered upscaler.
To learn more about each of these new features, and the other driver's other additions, head on over to our CES 2020 Game Ready Driver article.
GeForce Leads Way With Thinner, Lighter, More Powerful Gaming Laptops
NVIDIA and its partners have spent a decade making gaming laptops smaller than anyone thought possible. And now, at CES 2020, our friends at ASUS are debuting the ROG Zephyrus G14, the world's first 14-inch GeForce RTX laptop.
Packing a GeForce RTX 2060, the 18mm-thin Max-Q design Zephyrus G14 gives gamers the power to bring the very latest AAA games to life in all their ray-traced glory, from anywhere in the world, in a portable form factor that weighs just 1.6kg.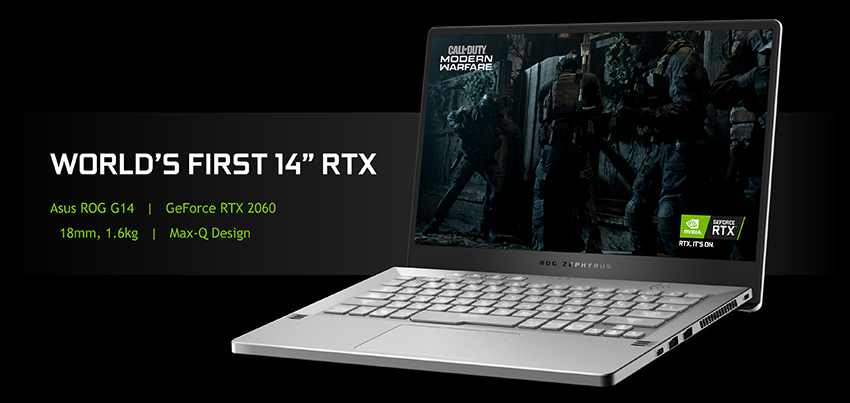 This combination of performance and portability is why NVIDIA GeForce GPUs now power a record number of laptops. More than 140 models alone are powered by our latest Turing GPU architecture, the most power-efficient GPU on the planet. And there are more than 60 models built around our Max-Q design, for the fastest, thinnest and quietest energy-efficient gaming laptops (Max-Q design has helped notebook manufacturers drive the size of the average 17-inch gaming laptop sold, down from 38mm in 2016 to just 20mm in 2019).
The result is unrivaled performance at killer prices, whatever your budget, with gaming laptops from every major manufacturer powered by GeForce. At the time of writing, laptops with the GeForce GTX 1650 start at just $799, and at $999 for the GeForce GTX 1660 Ti. That's for systems like the HP Pavilion Gaming 15, Lenovo Legion Y540, IdeaPad L340 Gaming, and ASUS TUF Gaming FX505.
Additionally, GeForce RTX 2060 systems, like ASUS TUF Gaming FX505, start at just $1199, for even more powerful gaming experiences on-the-go.

At CES 2020, our partners will be announcing many new laptops, so stay tuned to their websites and social feeds for info about each.
Wolfenstein: Youngblood Ray Tracing Update Coming This Week
Wolfenstein: Youngblood will be receiving a large update this week that adds realistic ray tracing, performance-boosting NVIDIA DLSS, and NVIDIA Highlights, for automatically recording your best gameplay moments.
With ray-tracing enabled, inaccurate cubemap reflections are replaced with realistic, real-time reflections, and entirely new reflections are seen on other metallic surfaces and reflective game elements. As you can see from the video below, this greatly enhances image quality and immersion, and improves the look and feel of combat, which now sees arcing electricity and other weapon effects reflected across surfaces, enemies, and even player characters.
By enabling NVIDIA DLSS, all GeForce RTX gamers can enjoy these ray-traced effects at 60 FPS+, with max settings enabled, for the definitive Wolfenstein: Youngblood experience.
For the full lowdown on the game's ray tracing, its performance-boosting NVIDIA DLSS tech, and NVIDIA Highlights' gameplay recording, check out our dedicated Wolfenstein: Youngblood article. And for full support for each feature, along with optimum performance, download and install our new Game Ready Driver.
Quake II RTX v1.3 Update Introduces Photo Mode, and More
Quake II RTX is our ray-traced remaster of the beloved 1997 first-person shooter. In November, we introduced a ton of new features and enhancements, and now we're back with Quake II RTX v1.3. This adds an awesome new photo mode for custom screenshots, along with a free camera and Depth of Field option for making cinematic-quality shots, such as the samples shown below.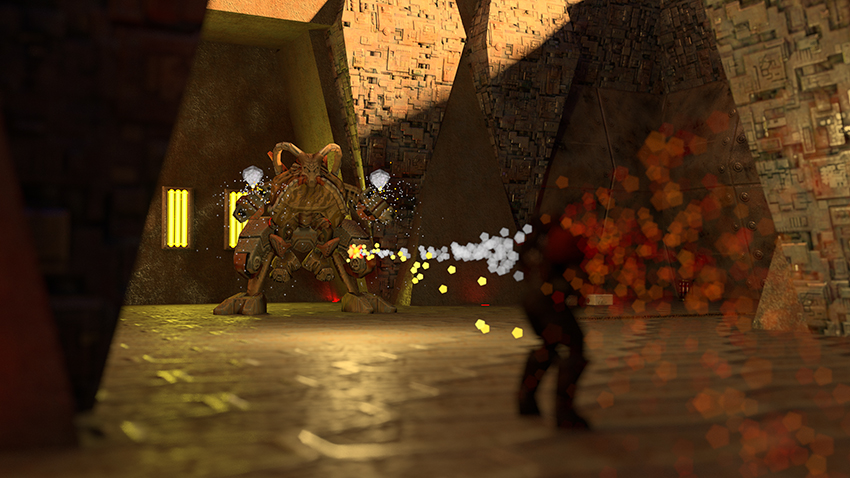 To use Photo Mode, simply pause the game with your keyboard's Pause key. Real-time rendering approximations and denoisers will be disabled, and the picture will instead be rendered using accumulation. This sees the engine render the same frame hundreds or thousands of times with different noise patterns, before averaging the results, for higher-quality screenshots.
To move the camera for unique in-game photos, use the W/A/S/D movement keys, plus Q/E to move up and down. Shift makes movement faster, and Ctrl makes it slower. To change the orientation of the camera, move the mouse while holding the left mouse button. To zoom, move the mouse up or down while holding the right mouse button. Finally, to adjust camera roll, move the mouse left or right while holding both mouse buttons.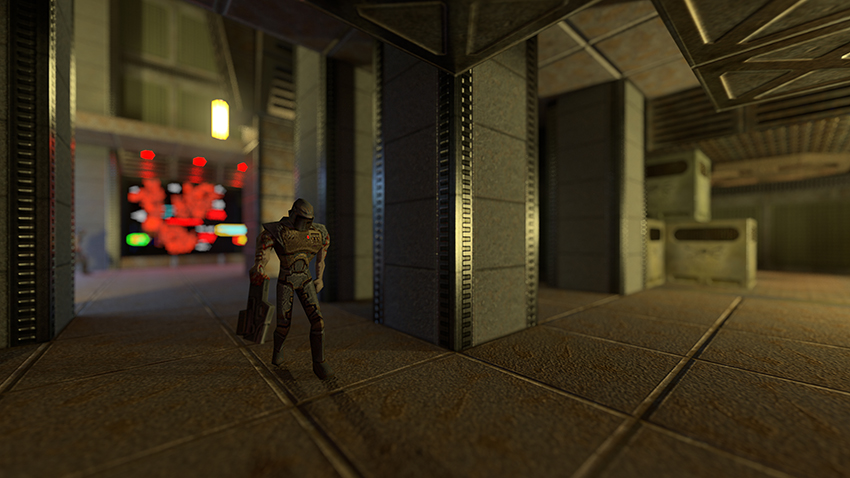 To add cinematic Depth of Field (DoF) effects to your photos, use the mouse wheel and Shift/Ctrl modifier keys: wheel alone adjusts the focal distance, Shift+Wheel adjusts the aperture size, and Ctrl/Ctrl+Wheel/Ctrl+Shift+Wheel makes the adjustments finer. In contrast with depth of field effects used in other real-time renderers, this implementation computes "true" depth of field, which works correctly through reflections and refractions, and has no edge artifacts. But to get those perfect results, accumulation rendering is required, which is why this effect remains exclusive to Quake II RTX's new Photo Mode.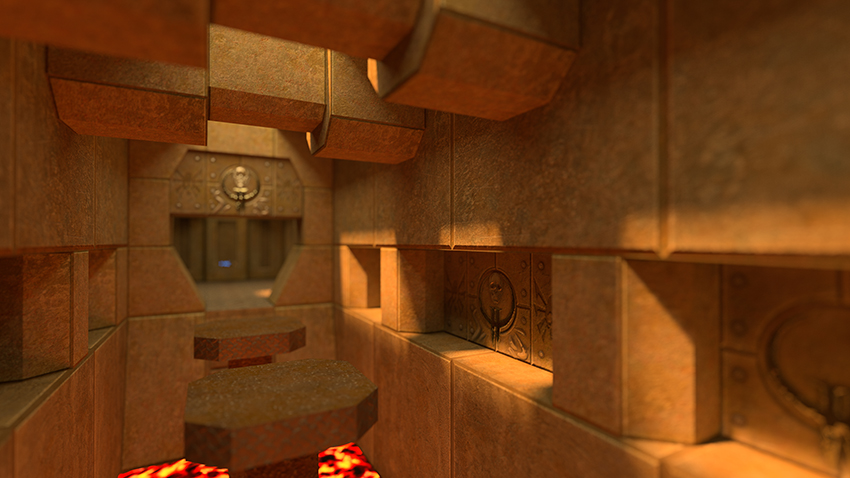 To save your screenshot, simply press F12 and navigate to C:\Program Files (x86)\Steam\steamapps\common\Quake II RTX\baseq2\screenshots.
Settings for all of the Photo Mode's features can be found in the in-game menus. To adjust the settings from the console, refer to pt_accumulation_rendering, gl_screenshot, screenshot, pt_dof, pt_aperture, pt_freecam, and other similar console variables in the Client Manual.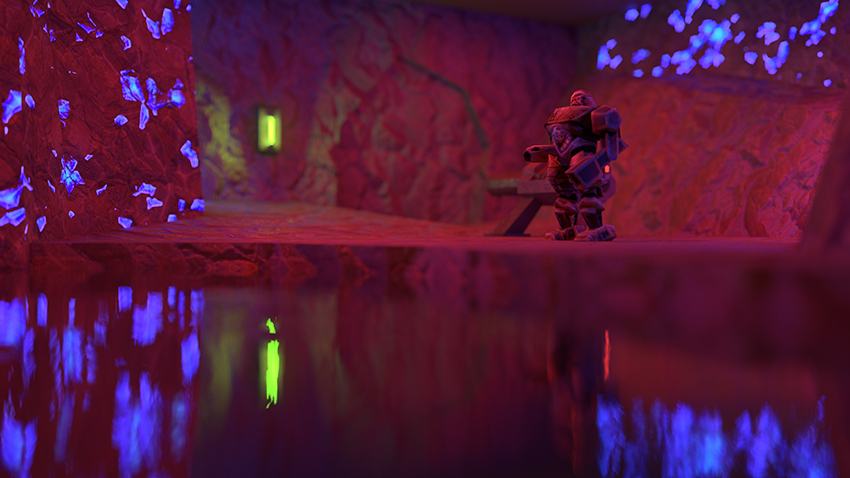 In addition to Photo Mode, we've introduced support for the campaign's cutscenes, which are missing from many total conversions, remasters and upgrades of Quake II. And have made various other changes, too - to read the full list in v1.3, head here.
If you have Quake II RTX on Steam, the v1.3 update will be automatically installed. If you have a standalone Windows or Linux copy, download the update here. And if you're interested in modding Quake II RTX, check out our modding guide.
If you don't own a copy of the game, you can still try the first three levels for free by downloading the standalone version. To get access to everything, buy a copy from Steam, GOG or Bethesda.net.
Starting 2020 With A Bang
Here at NVIDIA we're constantly optimizing, improving, enhancing, boosting your performance, bringing you new useful features, and advancing the game and tech industry with new innovations, like our 360Hz and Mini-LED G-SYNC tech.
As we begin a new year, we're demonstrating best-in-class performance, features and tech at CES 2020, and there's plenty more to come. Expect the year to be filled with exciting game integrations and new technologies that make your games and experiences better day in, day out.
For in-depth info about all of those, and everything GeForce, stay tuned to GeForce.com in 2020.
© 1997 id Software LLC, a ZeniMax Media company. QUAKE, id, id Software, id Tech and related logos are registered trademarks or trademarks of id Software LLC in the U.S. and/or other countries. Bethesda, Bethesda Softworks, ZeniMax and related logos are registered trademarks or trademarks of ZeniMax Media Inc. in the U.S. and/or other countries. All Rights Reserved.
This product is based on or incorporates materials from the sources listed below (third party IP). Such licenses and notices are provided for informational purposes only.
Quake II: Copyright (C) 1997-2001 Id Software, Inc. Licensed under the terms of the GPLv2.
Q2VKPT: Copyright © 2018 Christoph Schied. Licensed under the terms of the GPLv2.
Quake2MaX "A Modscape Production": Textures from Quake2Max used in Quake2XP. Copyright © 2019 D Scott Boyce @scobotech. All Rights Reserved. Subject to Creative Commons license version 1.0. Roughness and specular channels were adjusted in texture maps to work with the Quake II RTX engine.
Q2XP Mod Pack: Used with permission from Arthur Galaktionov.
Q2Pro: Copyright © 2003-2011 Andrey Nazarov. Licensed under the terms of the GPLv2.