Featured Stories
,
Guides
Metal Gear is one of gaming's longest-running franchises, but alas it was 2003 when gamers last experienced mainline Metal Gear on PC, in the form of Metal Gear Solid 2: Substance. Tomorrow, that changes with the release of Metal Gear Solid V: Ground Zeroes, a highly replayable prologue that sets the stage for next year's Metal Gear Solid V: The Phantom Pain.
Previously available on consoles, Ground Zeroes PC may be late to the party, but it was definitely worth the wait, brightening our Holiday break with enhanced graphics that are beyond the capabilities of current-generation consoles. In this article we'll examine those enhancements and other Ground Zeroes graphics settings, measure their performance, show comparisons that highlight their benefits, and offer optimal playable setting recommendations for GeForce GTX GPUs to get you the best balance between image quality and performance in Camp Omega, the prologue's fictional Cuban black site.
Article Contents:
System Requirements
Metal Gear Solid V: Ground Zeroes' official system requirements reflect the game's scalability, enabling you to reduce graphical detail to previous-generation levels, and up to and beyond the capabilities of current-generation consoles. For a clearer idea of performance on a range of GPUs, check out setting recommendations later in the article, or simply click here to sneak straight to them.
Minimum Specifications
OS: Windows Vista 64-Bit or later
Processor: Core i5 Sandy Bridge 4 Core (4 Thread) 2.7GHz or above
Memory: 4GB RAM or above
Graphics: GeForce GTX 650 or above
DirectX: Version 11 or above
Recommended Specifications
Processor: Core i5 Sandy Bridge 4 Core (4 Thread) 2.7GHz or above
Memory: 8GB RAM or above
Graphics: GeForce GTX 760 or above
Fox Engine
Kojima Productions spent much of the six-years between Metal Gear Solid 4: Guns of the Patriots and Metal Gear Solid V: Ground Zeroes developing the new Fox Engine, a multi-platform game engine and production pipeline that has enabled the introduction of modern graphical effects, and improved development processes that accelerate content creation. Such is the success of Fox Engine it has been adopted by other internal studios of publisher Konami, with outings to date in Pro Evolution Soccer and P.T., the playable Silent Hills teaser released earlier this year for PlayStation 4.
Like many modern engines, much of Fox Engine's image quality comes courtesy of Physically-Based Rendering (PBR), which in short enables materials, surfaces and objects to react realistically to lighting and shading in real-time, accurately reflecting their appearance in the real world. Famously, Kojima Productions teased their version of PBR by challenging gamers to correctly guess between a photograph of their conference room and an in-engine real-time PBR reproduction. The majority guessed incorrectly.
In addition to PBR, there's Subsurface Scattering for natural skin shading, deferred rendering for complex lighting, normal mapping for inexpensive simulated surface detail, a multitude of complementary techniques, and some rather nifty high-resolution face and full body capture that enables the rapid creation of detailed heads and character models. For further details on each, and every other element of Fox Engine, set aside 90 minutes and check out "Photorealism Through the Eyes of a FOX: The Core of Metal Gear Solid Ground Zeroes", Kojima Productions' GDC Fox Engine deep-dive.
Metal Gear Solid V: Ground Zeroes PC-Exclusive Graphics Enhancements
As we revealed last month, Ground Zeroes PC includes a number of improvements over previously-released editions of the Phantom Pain prologue. As one would expect there's shaper detail all round, plus welcome improvements to shading and character hair, in addition to numerous setting-specific enhancements that we detail below. Entirely-new Screen Space Reflections are along for the ride, too, and support is available out of the box for resolutions up to and including 3840x2160 (4K).
Before we begin with our in-depth examination of the PC version's enhancements, you can (re)familiarize yourself with our exclusive PC versus PS4 interactive comparison below.
Lighting Quality
Recent years have seen game engines gravitate towards deferred rendering and lighting, enabling the creation of realistically-lit scenes that contain more dynamic lights and improved lighting all round. As with almost everything newer and better, the performance impact is higher, especially when making full use of its capabilities. On consoles, the number of lights was limited, and when Snake scaled the cliff at the beginning of his mission only the nearest lights were visible. On PC, performance isn't an issue, enabling Kojima Productions to render all of Ground Zeroes' lighting simultaneously, greatly improving image quality when looking across Camp Omega.
This dramatic difference in quality can be clearly seen in the Konami-supplied images in our interactive PC vs. PS4 comparison above, and in our new PC images presented in the interactive comparisons below (High is equivalent to the PlayStation 4's settings).
Our comparison showing Very High vs. High demonstrates the massive gulf in quality, immersion, and image quality between the two highest detail levels on PC, and though the difference isn't as drastic from other viewpoints during the prologue, unlockable side-missions such as the one shown below also benefit greatly from the increased number of deferred lights.
At close range the difference between the two detail levels can be high on occasion, with reflective shine, lighting, and shadowing all suffering in our second set of interactive comparisons.
Performance: Perched atop the introductory cliff, we measured the performance impact of Lighting at 3840x2160 on a single GTX 980, with all other settings enabled and maxed out.
As you can see, the cost of enabling Extra High lighting is only a few frames per second in Ground Zeroes' most demanding scene, which features more lights, geometry, objects, detail, characters, shadows, and effects than any other point in the prologue. If you're struggling for performance, it is strongly recommended that you lower other settings before downgrading high-impact lighting, which offers considerable benefits above and beyond the obvious due to its influence on shading and shadowing.
Model Detail
Acting more like a Level of Detail setting, Model Detail adjusts the amount of visible geometry in a scene, the number of objects rendered, the quality of said objects, and the density of foliage. Across our screenshots and comparisons you'll see thinner tufts of grass, fewer cacti and bushes, fewer power lines, less detailed objects, and less detailed buildings, all at medium to long range distances. At close range, the occasional bush or piece of grass is thinned out, but on the whole Model Detail has a minor impact on image quality.
At 1920x1080, as shown here, you'd be hard pressed to spot the difference between settings, which include the removal of stones and small objects, the removal of some foliage, the reduction in quality of select objects, and the removal of some distant detail. At higher resolutions the changes are more evident, but compared to other settings the differences are still minor.
In most scenes, the only observable difference between detail levels at close range is the density of grass.
Performance: While the overall impact on image quality might be slight when lowering the Model Detail setting, you will encounter pop-in and fade-in as a result when objects and other affected items near. Your tolerance for this will likely dictate your choice of setting if you're in need of performance, but even looking out across Camp Omega you're only going to regain a few frames per second. Once you're past the gates, the performance impact lessens, and the frame rate improvements observed from the mission's entry point are diminished.
Screen Filtering
A more suitable name for Screen Filtering would be Post-Processing, seeing how it enables Bloom Lighting, Depth of Field, Post-Process Anti-Aliasing, and Screen Space Reflections.
Going up the detail levels: Low enables Bloom Lighting, most visible on fences directly illuminated by spotlights and static lights; High activates Depth of Field and Post-Process Anti-Aliasing; and Extra High enables Screen Space Reflections, which are exclusive to the PC. Across Ground Zeroes' key vista, the differences between Off and Extra High aren't evident. Instead, we need to focus on a variety of scenes to properly highlight the setting's high impact.
In our first set of interactive comparisons, Bloom Lighting is observed. On Low there's added intensity on the fence directly in front of the light, and when we hit Extra High Screen Space Reflections kick in, improving the appearance of extremely bright light cast by the spotlight.
Our second interactive comparison demonstrates the high impact of Post-Process Anti-Aliasing, which combats many of the game's heavily aliased edges.
An enlarged comparison better highlights the high degree of aliasing when Off and Low are used instead of High or Extra High.
Famed game director Hideo Kojima progresses Metal Gear stories with hours of Hollywood-style cinematics, and so to accurately represent cinema he makes extensive use Depth of Field, simulating the out of focus foregrounds and backgrounds seen in movies. For Ground Zeroes PC, Depth of Field has been upgraded from a 'gather' technique to a 'scatter' technique, enabling better transitions between focal areas, and variable blurring per frame. The resolution of the blur has also been greatly improved to reduce artifacts, and artist-controlled Bokeh effects are now included, enabling Kojima and co. to apply out of focus shapes to specific game details, as demonstrated below.
Using identical frames from the PlayStation 4 version of Ground Zeroes, we can better highlight the implementation of Bokeh, and are able to demonstrate the huge increase in Depth of Field fidelity on PC, too.
Depth of Field is focused and applied by the cinematic director, and without it the fidelity of cut scenes suffers greatly. Note also the reflection of the soldier on the helicopter, applied by the Extra High detail level.
A second comparison from the PlayStation 4 edition of Ground Zeroes further highlights the PC's massively improved Depth of Field effects, which apply less blur in the foreground, and higher quality blur in the background.
During gameplay, Depth of Field is used when aiming with weapons, when crouching, when driving and riding in vehicles, and to blur portions of the screen for stylistic effect, as the following interactive comparison demonstrates.
Screen Space Reflections are exclusive Ground Zeroes PC, adding real-time, screen-wide reflections to pools of water, puddles, and reflective materials when the Extra High detail level is selected.
These reflections accurately display all elements of a scene, including lighting and shadowing dynamic or otherwise, and impressively, light from reflections can also illuminate other scene elements. Their fidelity obviously falls short of reflections found in PC gaming's greatest linear showcases, but in the context of open-world games their addition is a step ahead of other titles employing fake cubemapped reflections and techniques with limited reflective properties.
Screen Space Reflections are a small feature in the grand scheme of things, but are a nice bonus nonetheless, adding that bit extra to Camp Omega's wet, muddy terrain.
Reflected details are nice to have, though the bigger benefit is the added illumination of scenes from reflective materials. Here, a spotlight illuminates a truck and building, with the light reflecting onto the ground outside of the confines of the puddle, which you'd expect to be the only surface capable of benefiting.
Even during the daytime reflections bolster image quality, though to a far lesser degree.
Performance: Screen Filtering is a far-reaching setting with a high impact on image quality, and unsurprisingly it has a high impact on performance, too. Higher than any other setting in Ground Zeroes, in fact.
As our performance chart shows, the biggest hit to performance comes from the addition of Depth of Field and Post-Process Anti-Aliasing when selecting High. Given their impact on fidelity, it would be preferable to lower other settings first when searching for performance.
Down in Camp Omega, crouched next to reflective surfaces, the cost of Extra High increases by an additional two frames per second, but due to the reduced view distance and fewer number of game elements, overall performance increases slightly. Therefore, when determining your own settings it's best to use the Camp Omega overview as your benchmark's starting point.
Screen Space Ambient Occlusion
Ambient Occlusion (AO) adds contact shadows where two surfaces or objects meet, and where objects block light from reaching another nearby game element. The AO technique used and the quality of the implementation affects the accuracy of AO shadows, and whether new shadows are formed when the level of occlusion is low. Without Ambient Occlusion, scenes appear flat and unrealistic, and objects float on surfaces. In Ground Zeroes we see Screen Space Ambient Occlusion (SSAO) employed.
While far from the best technique available, SSAO is nonetheless a welcome addition; without its inclusion image quality would be diminished as the following comparisons demonstrate.
At the mission's starting point SSAO has a moderate impact on image quality, but as we'll soon see it has far greater importance down in Camp Omega.
Our second set of comparisons expose the differences in AO fidelity between detail levels, and reveal that Snake receives additional shadowing from SSAO on Extra High.
During the daytime, we can clearly see the benefit SSAO has on image quality, and once again the difference in fidelity between Extra High and High is evident, especially on the stack of wood next to Snake.
Performance: SSAO's performance impact is second only to Screen Filtering in the wide vista of the opening scene.
If you're seeking extra performance, simply lower SSAO to High and regain a handful of frames per second; during gameplay you're unlikely to notice the difference in fidelity, especially during night ops.
Shadow Quality
Like Lighting and Screen Filtering, Shadow Quality has received a significant update for Ground Zeroes' PC release. Shadow resolution in particular is massively improved, with clear, well defined shadows visible on Extra High. Similarly, shadow filtering is bolstered, tackling the vast majority of shadow aliasing on max settings. Finally, the number of simultaneous shadows that can be rendered has been increased considerably, creating richer scenes full of dynamic shadows cast by Lighting's extra deferred lights.
Looking over Camp Omega the differences between detail levels appear minimal. Up close, however, we see a significant loss of fidelity as the detail level is lowered.
Furthermore, as the distance from the shadow caster increases, so does the quality between detail levels, exemplified by the comparison above. Here, even High looks bad.
Performance: A progressive reduction in shadow quality is observed as the quality level is reduced, and with each tick down there's a corresponding increase in performance.
If you're searching for extra performance, drop Shadow Quality to High, but we wouldn't recommend going any lower - on Medium there's an appreciable reduction in shadow quality in all scenes, and Low sees the complete loss of all shadow definition, harming image quality substantially.
Special Effects
The main mission of Ground Zeroes has little in the way of special effects until an in-game, non-interactive cutscene at its conclusion. Unlockable 'Side Ops' do make use of the setting, however, and during those missions we noted little impact on performance or image quality between the three available quality levels. Effects are larger, more detailed, and more explosive on Extra High as one would expect, but even on Low the quality remained acceptable.
The one Special Effect you will definitely encounter during the main mission is Ground Zeroes' persistent rain.
As the detail level is reduced, so are the number of rain drops. Drops that remain are stretched out to simulate the appearance of heavy rain, but unless you're looking up through a spotlight beam, as in our comparison, it's unlikely you'll notice the difference during gameplay.
Texture Filtering Quality
The Anisotropic Filtering introduced by Texture Filtering sharpens Ground Zeroes' textures ever so slightly in the majority of scenes, but occasionally clearly visible examples of its benefits can be found, as demonstrated by the interactive comparison below.
Note the quality of the mud on the left the picture near the tents. On Medium, fidelity is particularly low, harming overall image quality.
In other scenes, Texture Filtering reduces the fidelity of subtle details, like cracks and dents in concrete.
These enlarged comparisons better highlight the difference in quality between the three detail levels. Interestingly, the intensity of the light increase as the quality of filtering is reduced.
Performance: As in most games Texture Filtering has a minute cost and should be maxed out on all systems. Note, the addition of NVIDIA Control Panel Anisotropic Filtering had no noticeable impact on image quality.
Texture Quality
Ground Zeroes PC uses the same textures as Ground Zeroes PS4, though with the addition of improved Texture Filtering, higher display resolutions, improved Depth of Field, improved Post-Process Anti-Aliasing, and various other tweaks, they appear sharper and clearer on PC, further improving image quality.
Across all examples and comparisons, there are no perceptible differences between the High and Extra High detail levels. When we switch to Medium, however, we observe a large loss of detail on the wet mud near the tents, and on the ground texture to Snake's left. On Low, cliffs, rocks, foliage, and other game elements finally see the quality of their textures degraded, though Snake continues to remain unaffected thanks to his star billing.
Typically, Ground Zeroes' texture setting prefers to reduce the quality of distant textures before decreasing the quality of those most visible. Unfortunately, the distant mud near the tents is illuminated during Snake's night time mission, impacting image quality considerably; during the day, the difference is only discernible in Photoshop enlargements.
In our second set of comparisons, Snake is sat atop the mud that suffered so greatly in our original comparison, but as it's now in his immediate vicinity its quality is only reduced slightly even on the lowest setting. Instead, the mud further away between the two sets of tents sees a large loss of fidelity on Medium, followed by screen-wide reductions of varying degrees on Low.
Performance: Ground Zeroes' cross-platform textures aren't the sharpest or most detailed you'll see, though they are perfectly adequate. Helping matters, the many post-process effects in play obscure the occasional low-res object or surface, and with your eyes firmly locked on guard movements and enemy sight lines texture quality typically isn't an issue. And, as expected, Texture Quality has a negligible impact on performance, meaning there's no reason to use anything other than Extra High, assuming you have the necessary VRAM.
To determine if you have sufficient video memory (VRAM) here are our usage numbers following game restarts and a repeatable run through Camp Omega.
| | |
| --- | --- |
| Texture Quality | VRAM Usage (1920x1080) |
| Extra High | 2270MB |
| High | 2250MB |
| Medium | 1500MB |
| Low | 1480MB |
After our tests on a GeForce GTX 980 we reproduced the benchmark on a 2GB GeForce GTX 680, observing no additional pop-in or fade-in, and no VRAM stuttering, despite lacking 270MB of VRAM, suggesting the Fox Engine caches additional data to memory when available. It's possible extra pop-in occurs in Side-Ops when flying across Camp Omega on a 2GB card, but our highly trained eyes failed to detect such unsightly goings on. Whether this holds up for the far larger, open world Phantom Pain is anyone's guess, but until the release of the highly-anticipated follow-up you'll be AOK playing Ground Zeroes with Extra High textures on a 2GB GPU.
Determine how much VRAM your GPU has via our Hardware section.
NVIDIA Control Dynamic Super Resolution
Ground Zeroes benefits massively from higher rendering resolutions, more so than any other game in recent memory, as the display of many game elements is directly tied to the number of sample points: if an element isn't within a sufficient number of sample points it simply isn't rendered. By raising the resolution the number of sample points is increased, additional game elements are rendered, and overall fidelity greatly improved.
If this is the first you're hearing of sample points imagine your screen with a grid overlaid: each pixel of a game element, be that a blade of grass, a character, an object, or a building will fall within one or more of the grid's squares, and if half or more of a pixel is inside a square it is correctly rendered. In most instances fine detail is only affected to any great extent by this, with several pixels falling outside of squares, preventing them from being rendered. This leads to grass with visible gaps along the blades, and leaves with missing branches, to name but two examples. To rectify the problem the screen resolution can be increased, adding more squares to the grid, each smaller in size, giving fine detail a greater chance to fall sufficiently within a square and be rendered.
In the case of Ground Zeroes, we see the expected increase in detail as the resolution increases, but as it does we also see entirely new items rendered, most typically in the background where even guard towers and trees are comparatively small. The cause: certain game elements are required to be included in a specific number of sample points before being displayed. This makes sense at sub-HD resolutions as sub-HD players a) wouldn't be able to see the detail, and b) would have their performance improved by the removal of the extra polygons. However, even at 1920x1080 when running max settings at a locked 60 frames per second we still weren't seeing all Ground Zeroes had to offer, with new detail being introduced even at 3840x2160.
As you can see in our comparisons, large amounts of detail is continually added as the resolution is increased, improving the fidelity of Camp Omega when observed from any viewpoint or angle.
Thankfully, you no longer have to buy a 4K monitor, or dabble in the black art of Custom Resolutions to get a 4K-quality picture. Instead, simply activate NVIDIA Dynamic Super Resolution (DSR). How it works is simple: compatible games, such as Metal Gear Solid V: Ground Zeroes, are rendered at a higher, more detailed resolution, and the image intelligently shrunk back down to the resolution of your monitor using a custom-made filter, giving you up to 4K-quality graphics on your screen. The video explains more, and the images below show how to activate the setting in the NVIDIA Control Panel.
With DSR enabled textures are sharper and clearer, aliasing is reduced, objects have better definition, vegetation is more detailed and free of artifacts, and distant game detail is improved by the aforementioned increase in sample points. Below, additional interactive comparisons exemplify the massive increase in quality obtained from enabling 4K DSR in Ground Zeroes.
Ground Zeroes suffers greatly from sub-pixel artifacts, which can occasionally be seen even at close range at 1920x1080. By switching to a higher resolution artifacts are greatly reduced, or removed entirely, and detail is increased greatly.
At 1920x1080, the number of sample points is too low to render the chain links in many fences, resulting in patchy, transparent detail. At 4K, the increase in resolution benefits them massively, and as the detail is rendered it can also be lit during night missions, further improving image quality.
Snake understandably looks good at any resolution or detail level, but still, the upgrade to 4K adds extra sharpness to his textures and outfit, and as you'll be staring at him the entire time that's no bad thing.
Even at medium view distances objects appear from the ether when the resolution is increased. Here, building lights and a wooden pallet are only rendered at 2560x1440 and higher resolutions.
Larger scene elements can vanish, too. In this example, we observe a cliff line failing to render because of insufficient sample points.
And finally, texture clarity receives a visible boost at higher rendering resolutions.
The best way to examine these improvements, free from Photoshop scaling, is to download the source images below, open each in Windows Photo Viewer or a similar application, zoom in on specific portions, and compare side by side using Windows' half-and-half display mode.
And here is how Snake's night time entry point looks with the same Dynamic Super Resolution improvements.
As resolution increases, so does VRAM usage. Using the same tests as earlier, here's the usage observed on resolutions up to and including 3840x2160 with max settings enabled.
| | |
| --- | --- |
| Texture Quality | VRAM Usage |
| 3840x2160 | 3026MB |
| 3325x1871 | 2831MB |
| 2880x1620 | 2664MB |
| 2715x1527 | 2585MB |
| 2560x1440 | 2548MB |
| 2351x1323 | 2486MB |
| 2103x1183 | 2415MB |
| 1920x1080 | 2265MB |
Don't worry if you can't run at 4K, any resolution increase brings increased detail screen-wide and makes your experience that bit better. For the best DSR results download the GeForce Game Ready Metal Gear Solid V: Ground Zeroes 347.09 Drivers, and if you dislike configuring settings manually let GeForce Experience auto-configure Metal Gear Solid V: Ground Zeroes and DSR on your behalf.
Performance: At reference speeds, our GeForce GTX 980 ran at a locked 60 frames per second all the way up to 2880x1620 in our demanding benchmark run, which goes from the night time entry point to the Armory, where a reflective puddle awaits. Past the gates, performance at 3325x1871 was a hair's breath from 60 FPS, and with a small overclock we soon achieved a locked 60 across our entire run. 60 FPS at 3840x2160, however, remained out of reach, even with an overclock, requiring us to turn SLI on for maximum quality, max performance Metal Gear fun.
Ground Zeroes 4K Screenshot Gallery
You've seen the up-close benefits of Dynamic Super Resolution and 4K in our interactive comparisons above. Now, see the wider impact of higher rendering resolutions in our 4K screenshot gallery.
Game Ready Metal Gear Solid V: Ground Zeroes Driver
For the best Ground Zeroes experience we recommend updating to the new Metal Gear Solid V: Ground Zeroes GeForce Game Ready Drivers. Included are the latest performance optimizations and tweaks for Metal Gear Solid V: Ground Zeroes, and the previously-released Ground Zeroes SLI profile. Download from GeForce.com or via GeForce Experience.
GeForce Experience: Optimal Playable Settings With A Single Click
The best way to automatically configure and apply Metal Gear Solid V: Ground Zeroes' game settings for your specific system configuration is through GeForce Experience, an invaluable tool for all GeForce GTX users. In addition to optimizing over 200 games, the free GeForce Experience application can automatically update drivers and profiles, record and stream gameplay with ShadowPlay, and can wirelessly stream PC games, including Metal Gear Solid V: Ground Zeroes, to NVIDIA SHIELD devices.
Taking into account your GPU and CPU, as well as many additional factors, GeForce Experience's game recommendations can be applied with a single click, and are updated over time should developer patches and NVIDIA drivers improve performance further still. This one-click solution is perfect for gamers who wish to play instead of fiddling, and for those with little experience in configuring settings for an optimal experience.
Metal Gear Solid V: Ground Zeroes Optimal Playable Settings
If you do like fiddling, here are game setting recommendations for a vast array of NVIDIA GPUs, with the aim of maintaining a more than playable 40 FPS at all times at 1920x1080, the most popular gaming resolution. For newer configurations 60 FPS is observed at these detail levels, but on others 40 FPS with max settings is surely a better experience than 60 FPS with lower image quality. And remember, it's 40 FPS at the most demanding moment of the game; average FPS will be far higher.
Please note, our settings should be considered a starting point for your own personal config as we're unable to account for differing CPUs, factory overclocks, and user overclocks in these tables.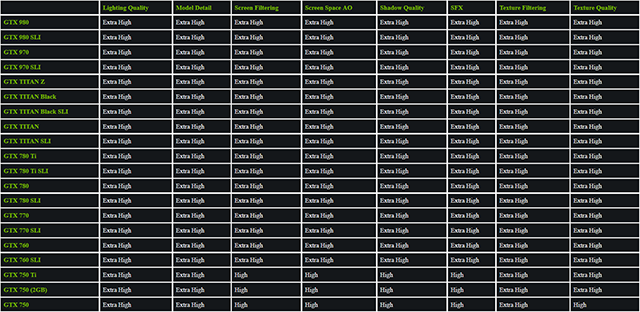 Click to enlarge GeForce GTX 900 and 700 Series recommendations.


Click to enlarge GeForce GTX 600 Series recommendations.
If you need extra performance, overclocking your GPU with an app like MSI Afterburner is the best way to increase frame rates in Metal Gear Solid V: Ground Zeroes. CPU overclocking, in contrast, will have little benefit other than to those on dual core CPUs, with little more than half usage noted on an i7-2600K.
Now Playing: The Definitive Metal Gear Solid V: Ground Zeroes Experience
With the unrestricted power of the PC, Kojima Productions is finally able to show the world Metal Gear Solid V: Ground Zeroes as originally intended. More detail, better lighting, richer shadows, longer draw distances, and improved cinematic effects expose Ground Zeroes' detail as originally designed, coming together to create the most graphically advanced and immersive Metal Gear seen to date, making the wait for Metal Gear Solid V: The Phantom Pain all the harder. With a massive open world, huge set pieces, and dozens of masterful in-game movies, the PC's capabilities will enable Kojima's forthcoming magnum opus to be seen without compromise.
So jump into Ground Zeroes tomorrow, experience its surprising amount of content, upload your 100% completed save file to Konami's servers for bonus Phantom Pain content, and then, finally, wait patiently for its release next year. We're sure it'll be worth it.
In the meantime, be sure to tell us of your daring Ground Zeroes exploits in the Comments section below.