Tom Clancy's The Division Graphics & Performance Guide
Featured Stories
,
Guides
,
NVIDIA GameWorks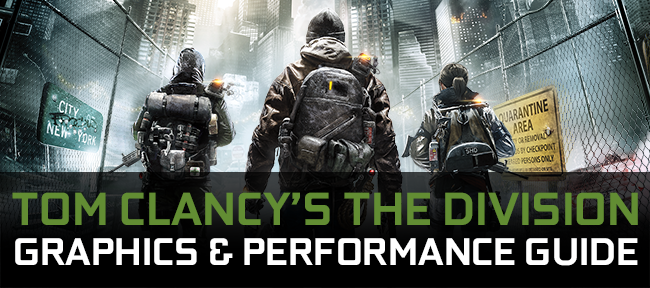 Tom Clancy's The Division is one of the year's most anticipated games, and it's now live on PC. Inside you'll find exclusive effects and features, more than 20 graphics settings with more than 90 options, support for higher rendering resolutions and uncapped framerates, and the inclusion of NVIDIA game-enhancing features such as DSR, G-SYNC, SLI, and Surround.
In this guide you'll learn about each feature, effect and enhancement as we examine The Division's many settings and PC-only upgrades. And we'll also show you comparisons highlighting their benefits, in addition to revealing their relative performance cost at 1920x1080, the most popular PC gaming resolution.
Guide Contents:
System Requirements
Our NVIDIA Tom Clancy's The Division GPU Recommendations recommend gamers equip their systems with a GeForce GTX 970 for High-quality, 60 FPS gameplay at 1920x1080. These settings deliver an excellent level of detail, and at 60 FPS it's a super smooth experience free from stuttering and stalls, translating to fluid, responsive gaming. Learn more here.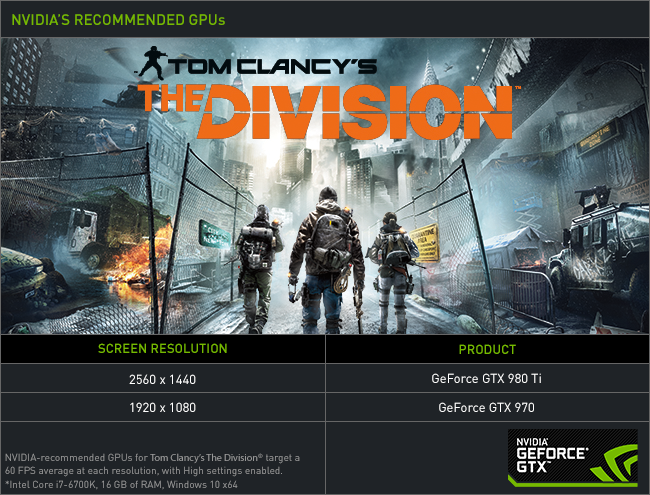 This being the PC, you can of course crank many of the settings to Ultra, bolstering graphical fidelity further still. To discover the system you'll require for a maxed out experience, skip to our settings summary.
The Division PC-Exclusive Graphics Enhancements
The Division is a looker on all platforms, but on PC the bar is raised for open world games with settings that go to Ultra and beyond, and exclusive visual effects and features you won't find anywhere else. Specifically, PC players can enable NVIDIA HBAO+ Ambient Occlusion shadowing, NVIDIA Percentage Closer Soft Shadows (PCSS), NVIDIA Hybrid Frustum Traced Shadows (HFTS), NVIDIA G-SYNC, NVIDIA SLI, and NVIDIA Surround. And of course, the resolution can be increased to 4K.
For detailed explanations of every NVIDIA visual enhancement, and demonstrations of their capabilities, keep reading. For a first look, check out the Tom Clancy's The Division Tech Trailer below:

Download a high-quality local copy here.
Ambient Occlusion
Ambient Occlusion (AO) adds contact shadows where two surfaces or objects meet, and where an object blocks light from reaching another nearby game element. The AO technique used and the quality of the implementation affects the shadowing's accuracy, and whether new shadows are formed when the level of occlusion is low. Without Ambient Occlusion scenes look flat and unrealistic, and objects appear as if they're floating.
In The Division, the Ambient Occlusion option enables players to choose between five increasingly-better versions of Massive Entertainment's custom Ambient Occlusion technique, and our own HBAO+ effect.
As you can see in our interactive comparisons below, HBAO+ delivers a much more accurate image compared to the Ultra option, which is itself a massive step up from "Off".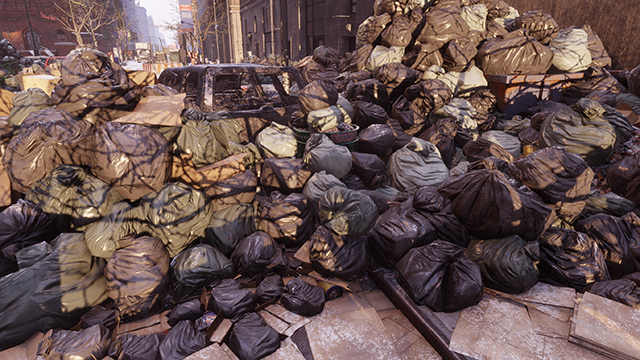 Whether the scene be full of garbage or looking out across a street, HBAO+ adds more realistic shadowing on, around and under objects, improving every inch of The Division.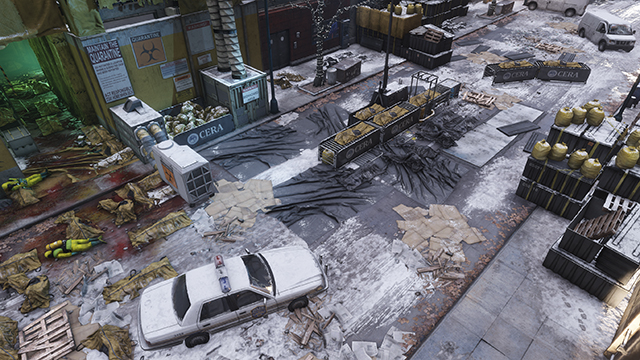 With the Sun streaking across the statue, HBAO+ provides an accurate approximation of shadowing, and in the background emphasizes that a sign was constructed of multiple slats, and that a toppled street lamp's shadow would be identical to the lamp itself.
HBAO+ is equally adept at shadowing artificially-lit objects at night, helping bring out the detail in the statue and its surroundings.
As the interactive comparisons and screenshots demonstrate, HBAO+ greatly improves upon the other in-game options, enabling even the smallest of details to be accurately shadowed.
Performance: In larger, more graphically intensive areas the Low-Ultra options cost between 1 and 3 frames per second to enable at 1920x1080, thanks to some nifty previous-frame reprojection and the use of Massive Entertainment's always-on Temporal Anti-Aliasing (more on that later). For consoles and low-power PCs, the efficient in-house Ambient Occlusion technique is an excellent option. For those with more power, HBAO+ delivers a richer, more realistic image, though understandably costs an additional 4.5 frames per second.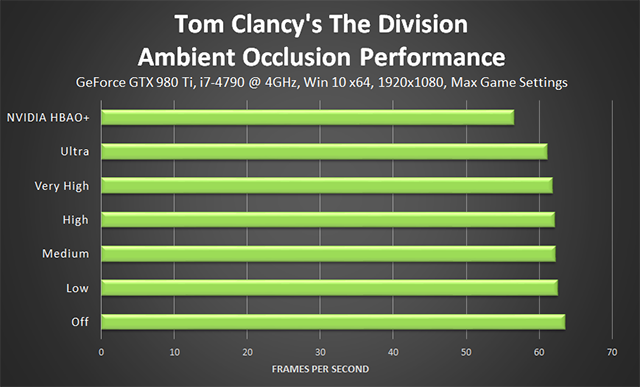 Anisotropic Filtering
Texture Filtering, Anisotropic Filtering, and other similarly named options affect the sharpness of textures, especially those seen in the distance, on oblique angles, or on the sides of the screen. Without Texture Filtering surfaces appear blurry, and image quality is significantly degraded.
In The Division players can choose between five Anisotropic detail levels, but really you should only pick 16X given the abundance of realistic surfaces that rely on Texture Filtering to avoid blurring. Note: Adjusting Anisotropic Filtering requires a client restart, and with the dynamic time of day and weather system capturing good comparison screenshots is next to impossible. Trust us though, 16X is what you want, as in every other game ever.
Performance: Anisotropic Filtering has a negligible performance cost on PC, with the delta being just 0.6 frames per second between 1x and 16x.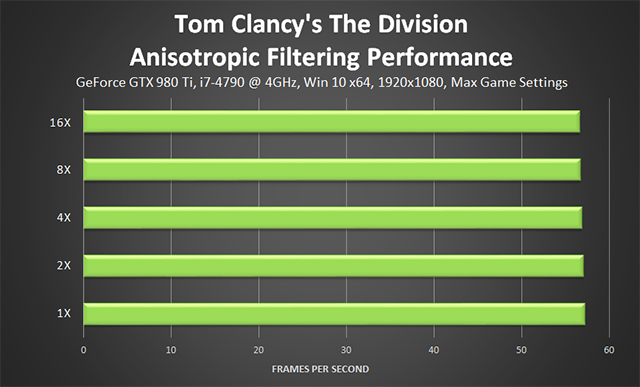 Chromatic Aberration
Chromatic Aberration is an age-old visual artifact associated with cheaper camera lenses and improperly taken photos. In recent years however Chromatic Aberration has grown popular with game developers, much to the dismay of gamers who prefer cleaner images free of unsightly distortion. In the context of a photographer, or a security guard viewing the game world through a cheap security camera, its use might make sense, but when playing in first or third person it merely suggests a trip to the optician is in order.
Thankfully, Massive Entertainment has made Chromatic Aberration an optional effect in The Division, ensuring a clean, clear image is obtainable.
When enabled, Chromatic Aberration distorts the picture slightly, but nowhere near the extent seen in other games featuring the effect. This doesn't really come through on screenshots, however, so we suggest you try it for yourself in-game.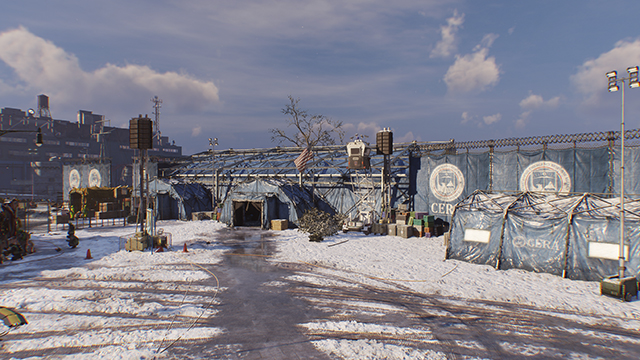 Contact Shadows
If you're reading this guide from top to bottom you may have noted that Ambient Occlusion already creates contact shadows, so why the need for a dedicated Contact Shadows setting? The technical answer: Contact Shadows are created when rays of light from the Sun, Moon and Spotlights are occluded, whereas Ambient Occlusion shadows are created from Global Illumination (bounced light), reflections, and lights that don't cast shadows.
Simply put, the two settings deal with different things to create two separate sets of shadows that maximize image quality.
As the name suggests, these specialized shadows are formed at the point of contact between the occluder and the surface, grounding an occluder to prevent them from appearing as if they're floating. This improves image quality and adds extra depth to scenes.
On offer are four options: "Off", "Sun Low", "All Low", and "All High". As you might have guessed, "Sun Low" applies lower-quality contact shadows to occluders in the path of sunlight (and moonlight, as the Moon takes the place of the Sun at night), while the two "All" settings also add contact shadows to occluders in the path of light cast by many of the game's artificial light sources.
In our first set of interactive comparisons note the debris between the two chairs, the shadows between the two stacked chairs, the counter and newspaper to the right, the straps to the left, the box in the foreground, and many of the other surfaces in the background. With Contact Shadows enabled the scene gains additional depth, and in the case of the debris we can now determine that it is a model with height, in comparison to the cigarettes which are flat decals placed on the floor.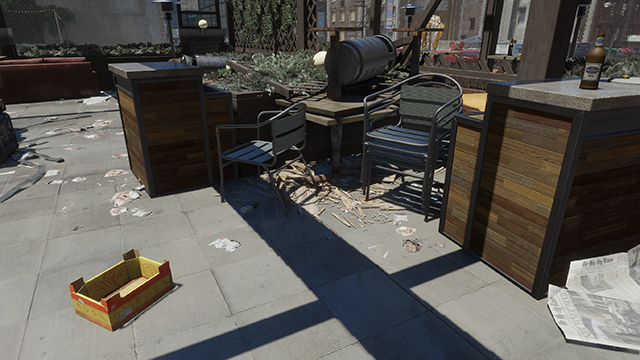 Turning the setting up ,the debris receives a more pronounced shadow, but otherwise the scene remains the same bar a few barely noticeable improvements. However, by enabling NVIDIA HFTS in concert with "All High" contact shadowing is dramatically improved, to the point where it's nearly perfect, as exemplified by the interactive comparison below: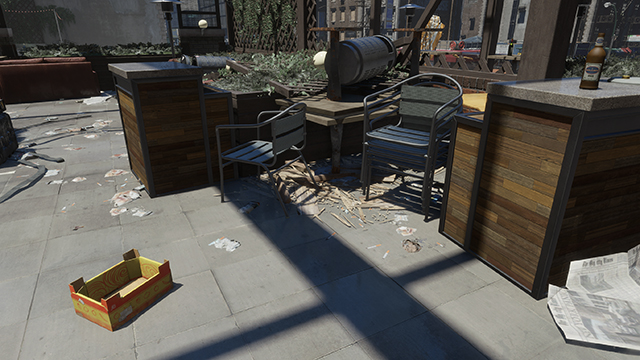 At night, powered-portions of the city are illuminated by artificial lights, enabling us to fully demonstrate the impact of the four detail levels in the Contact Shadow setting.
With "All High" note the improved shadowing on the layers of cardboard, around the trash bags, around the debris, and on the chain. And when looking at "Sun Low", observe the subtle shadowing from the moonlight around many pieces of debris and the trash bags.
Performance: The cost of Contact Shadows varies from location to location and with the width and depth of the scene you're viewing, and whether you're using NVIDIA HFTS or NVIDIA PCSS. Using High Shadow Quality we observe a 0.6 FPS cost for enabling "Sun Low", a 2.9 FPS cost for enabling "All Low", and a 6.5 FPS cost for enabling "All High". Switching to NVIDIA HFTS or NVIDIA PCSS, however, sees the cost per level sit around 2 FPS, for a total of 6 FPS when enabling "All High".
Contact Shadows look great in screenshots, but in-game you may fail to notice their often-subtle improvements. Therefore, if you need extra performance consider dialing the setting back to "All Low" or "Sun Low". And if you're truly struggling for performance switch them off completely.
Depth of Field
The Division's Depth of Field setting primarily adds out of focus blurring and diamond-shaped Bokeh effects to cutscenes and the wrist-mounted menu system characters use. Other times, Depth of Field can be seen when aiming down sights, and when viewing 'Echoes'.
On Medium, Depth of Field is rendered at quarter-resolution, and on High at full resolution, though the difference at any point in the game is impossible to detect in our experience.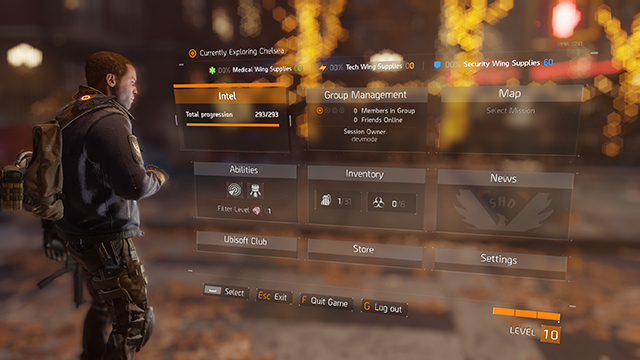 Performance: During gameplay, Medium is the recommended setting for most players given the cost of High and the imperceptible image quality improvement it adds.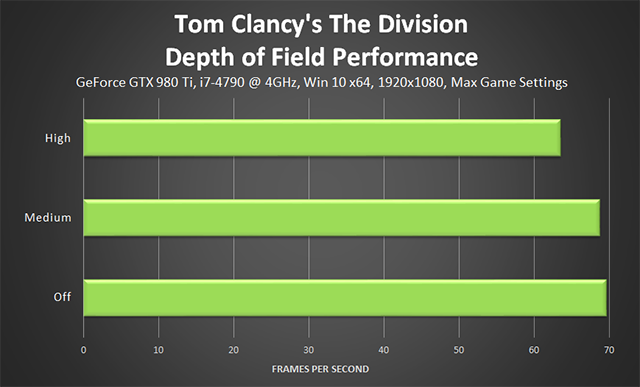 Enable Wind-Affected Snow
Contrary to the setting's naming wind and snow are always enabled, and snow is always blown by the wind, even if "Enable Wind-Affected Snow" is disabled. What it in fact does is enable a fluid simulation that makes snow particles flow and wrap around buildings, instead of carrying straight on down the street.
Performance: "Enable Wind-Affected Snow" is a subtle effect and not something you can demonstrate in comparison screenshots. And as snow particles don't follow a set pattern it's also a tough proposition to demonstrate in a brief comparison video or GIF. So when you're next in-game take a moment to watch the snow on the corner of a street, and you'll eventually notice the effect. If you're nonplussed about it, disable the option and regain 1 frame per second.
Extra Streaming Distance
"Extra Streaming Distance" functions similarly to a View Distance setting, adjusting the amount of detail that is rendered in the distance, and the quality of the detail that is seen. With a higher value selected more 'stuff' will be rendered in the distance, distant detail will be rendered at a higher quality, and there'll be less pop-in as you run through the environment, increasing immersion.
Landmarks and important game elements will always be rendered regardless of the detail level selected, though their fidelity will sometimes be reduced if you dial "Extra Streaming Distance" right back.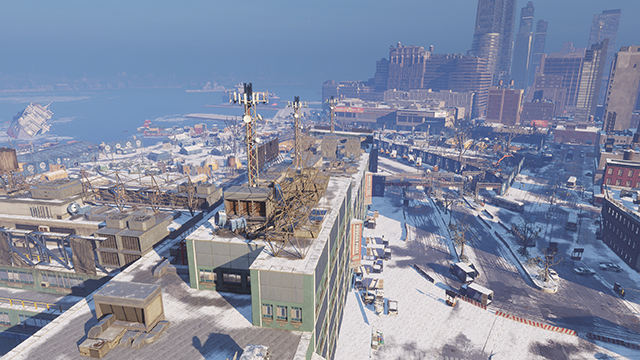 In a gameplay scenario, where massive amounts of detail can't be seen quite so clearly, the impact of the setting is less extreme.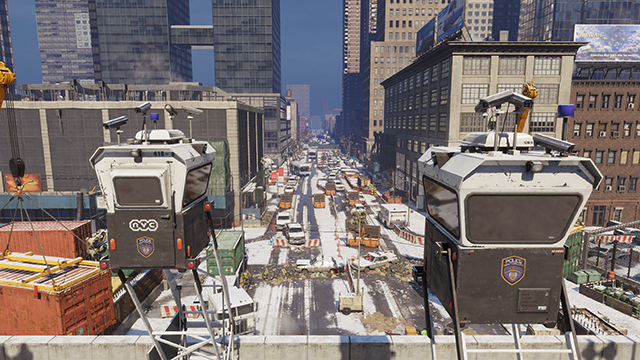 Performance: "Extra Streaming Distance" has a moderate impact on performance, costing up to 6.7 frames per second in gameplay scenarios, though it may have a greater cost for you if you have a slower CPU given the relatively high CPU impact of the setting. To determine if you're hitting the limits of your CPU you can download MSI Afterburner and monitor CPU utilization with the in-game overlay. If you do hit the limits, consider turning down "Extra Streaming Distance" and "Object Detail".
Similarly, if you hit the limits of your GPU's memory (VRAM), or encounter any pauses while VRAM is cleared for new data, you may wish to dial the setting back as it is one of the more memory-hungry settings in The Division.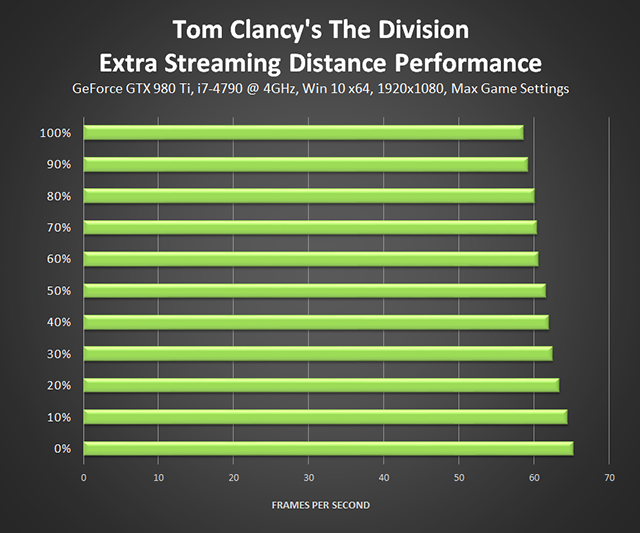 During gameplay "Extra Streaming Distance" is important for long-range detail, but more important for avoiding egregious levels of pop-in. Given the influence other effects and options can have on performance (they're drawn or not drawn depending on your view distance), some fiddling may be required to get the perfect balance between performance and image quality on your machine.
Contributing directly to the performance impact of "Extra Streaming Distance" is the "Object Detail" setting, which adjusts the detail level of select objects being streamed in. Head on over to the "Object Detail" section to learn more.
Lens Flare
With the power out in much of The Division's New York, backup floodlights and spotlights are employed to illuminate areas, generating plenty of lens flares.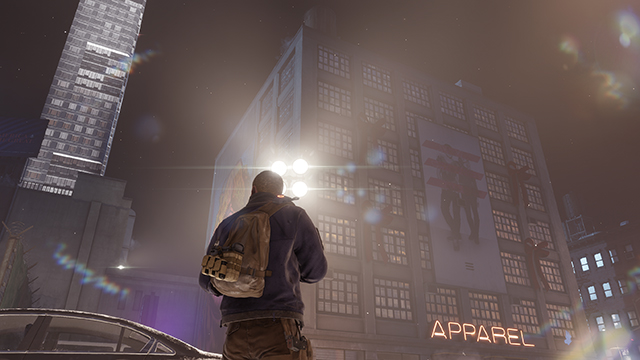 Brightly lit interiors and exteriors, as well as fires, visual effects, and the Sun can cast additional lens flares in the right conditions.
Performance: The Division's high-quality Lens Flare effects cost a few frames per second.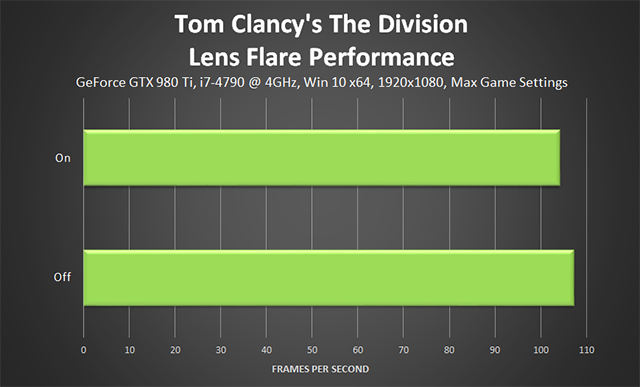 If you're in need of extra performance consider disabling Lens Flare as it is by no means crucial to achieving a high level of overall image quality.
Local Reflection Quality
The Division's world is filled with puddles and other reflective surfaces that reflect local characters, lights, objects, and scenery, substantially improving image quality throughout the game. Five detail levels enable you to adjust the quality of these reflections, or turn them off, though that isn't recommended.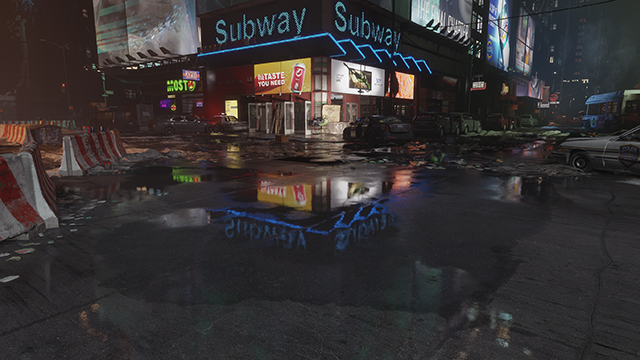 As you can hopefully ascertain from our interactive comparisons, Very High is the only detail level that reflects every element of the scene, and enables each letter of the Subway sign to reflect the light cast by its neighboring letters. In addition, the superior raycast and resolve quality of Very High enables substantially clearer and more detailed reflection of billboards and other signs, more accurate reflection of light, and reflections rendered further into the distance.
As the detail level is decreased a continual loss of accuracy and fidelity is noted until we reach "Off", where real-time Screen Space Reflections are replaced with high-quality Cube Maps, which are controlled by the "Reflection Quality" setting. While comparatively good compared to the Cube Maps in many other games, they're not a patch on the real-time Screen Space Reflections and should only be used as a last resort on minimum spec machines.
Performance: With a spread of 7.1 FPS separating Very High and Off, "Local Reflection Quality" is a moderately-expensive setting, though in our opinion the cost is well worth it given the importance of reflections to The Division's image quality and general 'look'.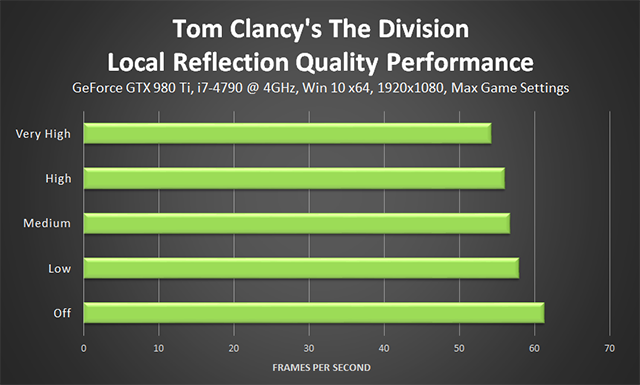 If Very High is too taxing for your system, try Low, and if you're still having issues consider dialing-back other settings to enable real-time reflections.
Object Detail
To adjust the draw distance and level of detail (LOD) of building details, road barriers, trash bags, debris, and other objects, players can scale the "Object Detail" setting anywhere from 0 to 100%.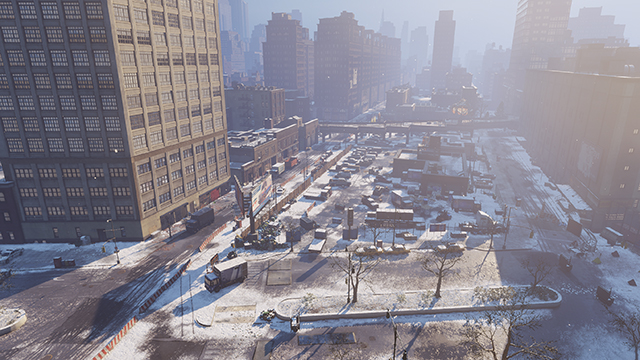 For those at 1920x1080, and other comparatively low resolutions, "Object Detail" is especially important as it enables far more detail to be rendered, as Massive Entertainment's Snowdrop Engine alters object mesh LOD by pixel size. At resolutions such as 4K, significantly more detail is rendered, lessening the influence of "Object Detail" on image quality, though it can still add extra detail to rendered objects, and will still remove detail on its lowest values.
At typical view heights and angles, the setting's impact on image quality isn't quite as pronounced at 1920x1080, although if you look careful you can still observe the loss of detail on many background objects.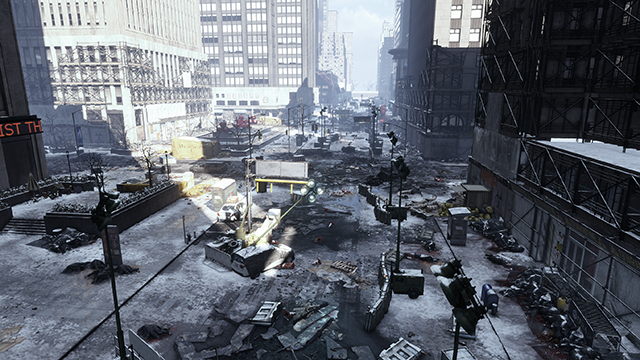 Combined with "Extra Streaming Distance", the fidelity of distant detail can be greatly improved in certain scenes, and moderately in most others.
Performance: With a distant view, "Object Detail" cost up to 11 frames per second in our tests, though it may have a greater cost for you if you have a slower CPU given the relatively high CPU impact of the setting. To determine if you're hitting the limits of your CPU you can download MSI Afterburner and monitor CPU utilization with the in-game overlay.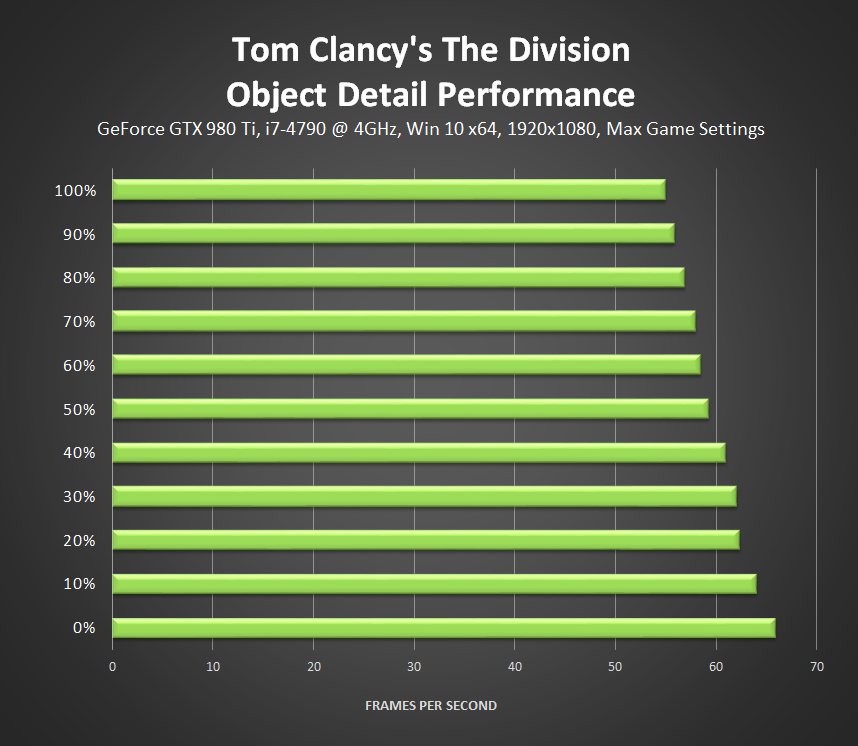 Parallax Mapping
If you wish to improve the visible detail of a surface, but don't want to add expensive geometry or less-expensive tessellation, you call on techniques such as Bump Mapping, Parallax Occlusion Mapping, and the superior but similarly named Parallax Mapping. These techniques add depth and detail to surfaces, but under close examination the added depth is found to be simulated, lacking genuine bumps that can affect casted shadows, shading, and other effects.
In the case of The Division, the massive world is filled with surfaces that can benefit from added detail, but to do it with added geometry or tessellation would simply be too expensive on current-day systems. And as players are in third-person and the camera's pulled back, most won't examine surfaces that closely, making Parallax Mapping the ideal technique for improving the fidelity of walls, windows, streets, and other game elements.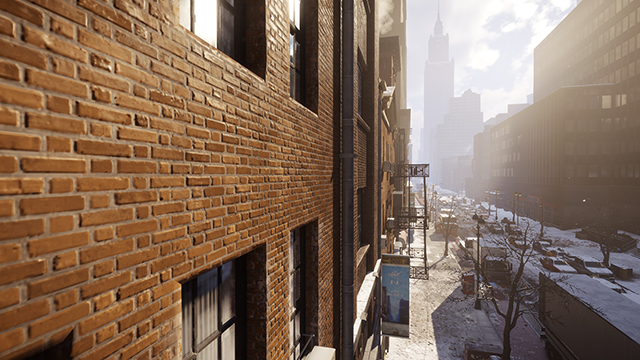 Parallax Mapping is most obviously applied to brick walls and other surfaces that you'd expect to be bumpy in real-life. In addition, it's also applied in some unexpected locations, as demonstrated below.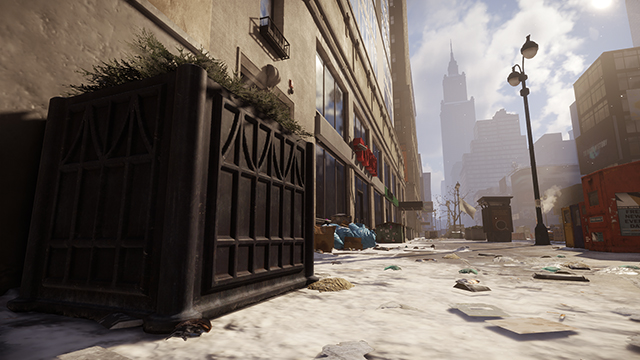 Performance: Parallax Mapping is an inexpensive setting, costing a few frames per second at most. Given the added detail it appears to add, it's well worth enabling.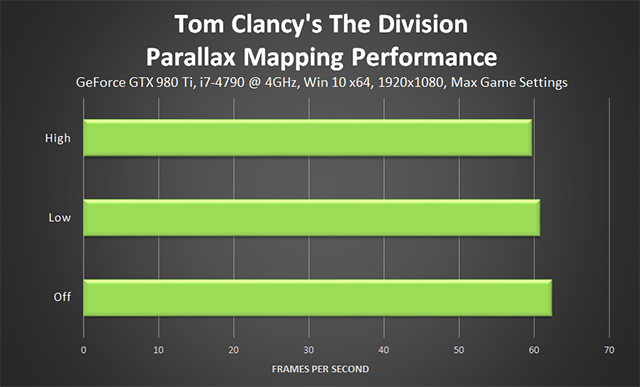 Particle Detail
Steam, smoke, embers and explosions are all comprised of particles in The Division, as are many other visual effects. With the "Particle Detail" setting the resolution of these effects can be adjusted, and the number of particles increased or decreased.
As ever, capturing the full impact of a dynamic particle effect is next to impossible in screenshots, though we can somewhat demonstrate the change to particle rendering resolution in the following set of interactive comparisons.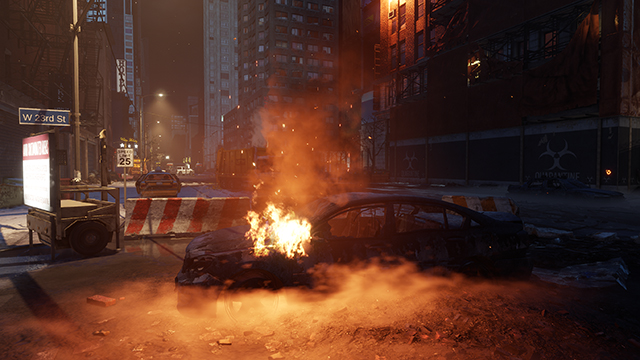 On "Ultra" everything is rendered at native resolution, and in motion you'd see extra particles that are also rendered on High. At lower detail levels particle resolution is gradually reduced before coming to a stop on "Low", where the resolution is one-quarter. As a result, the blending with background detail worsens, leading to the unsightly situation you can see in our "Low" screenshot.
Performance: Barrels, flamethrower enemies, burning wrecks, bonfires, manholes, and many other game elements emit particles. With "Particle Detail" cranked to the max these can take a heavy toll, especially during combat when several flamethrower enemies are setting fire to the environment before having their fuel tanks detonated by a well-placed sniper shot.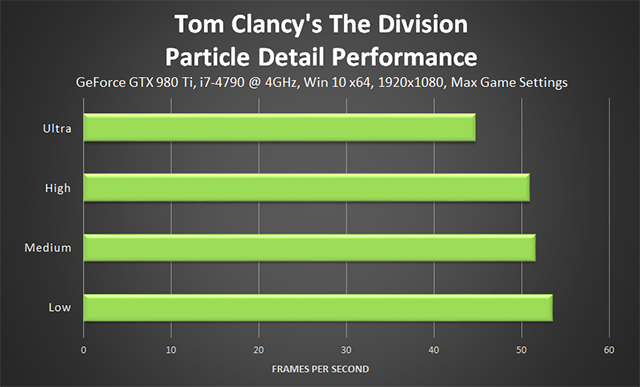 Given the blending issues that can occur on "Low", we recommend most players stick with "Medium" or "High" for higher-quality particle effects featuring additional particles.
Post FX AA
The Division utilizes Post-Process Anti-Aliasing to smooth jagged edges, and to anti-alias transparent textures, transparent surfaces, and particles. In addition, the always-on "Temporal AA" setting further improves the state of anti-aliasing, and does such a good job that Post FX AA is barely needed.
Under the microscope, and in interactive comparisons, the impact of adjusting the Post FX AA setting can just about be seen, although it is particularly subtle.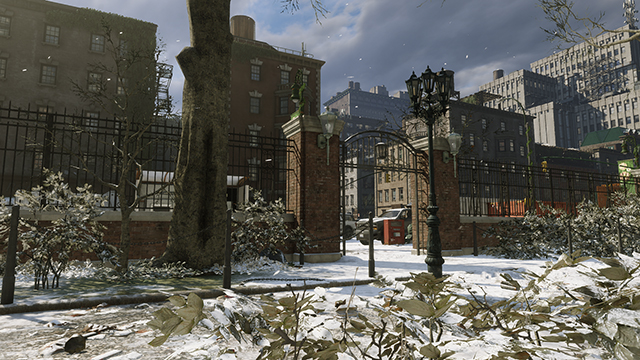 Performance: Massive Entertainment's high-quality SMAA implementation can cost up to 4 frames per second to activate, so if you're in need of performance dial the setting back down to Low and regain 2 FPS.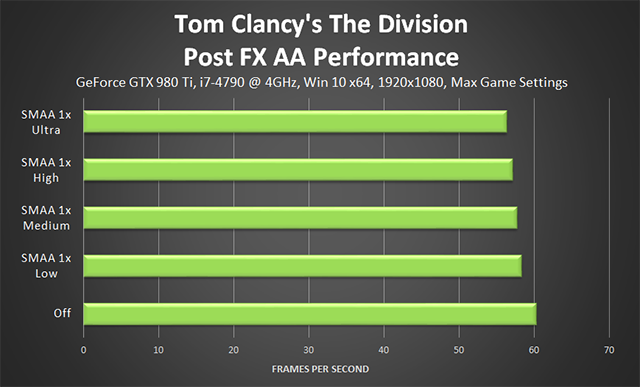 Reflection Quality
The vast majority of The Division's reflections come courtesy of "Local Reflection Quality's" real-time Screen Space Reflections. Those that don't are seen on shop and building windows, car windows, far off into the distance, or high in the sky on the sides of skyscrapers. As mentioned earlier, these are lower-quality, cheaper to render, static Cube Maps that are unable to reflect in-game action in real-time.
Unusually, The Division's Cube Maps are updated as needed if a player is moving around the environment, or every minute or so if they're stationary, roughly reflecting the detail behind the player. Furthermore, these Cube Maps can feature a basic reflection of larger particle effects, such as the continuous fire, smoke and steam effects. And as also mentioned earlier, if "Local Reflection Quality" is switched to "Off", any remaining reflections are switched to Cube Maps, increasing their importance.
The impact therefore of "Reflection Quality" varies substantially: if "Local Reflection Quality" is enabled there are few surfaces that will receive Cube Maps, and the changes applied by the setting's detail levels will likely go unnoticed. If however "Local Reflection Quality" is disabled, "Reflection Quality" will affect numerous highly visible reflections and surfaces.
In the following interactive comparisons the fidelity, accuracy, and coverage of these Cube Map reflections are highlighted (be sure to click on the Screen Space Reflection comparison, too, to see how the Cube Maps compare to Local Reflection Quality's real-time reflections).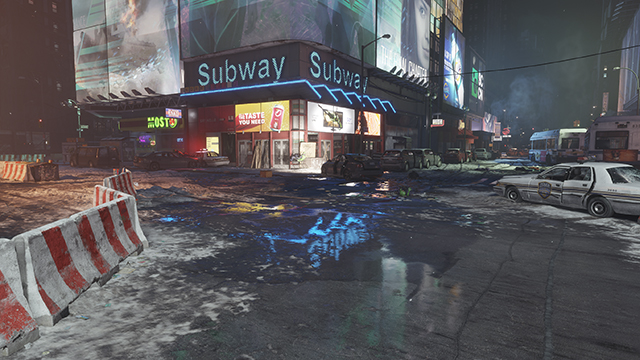 Up on skyscrapers real-time reflections are sparsely used, putting reflective surface fidelity squarely in "Reflection Quality's" court.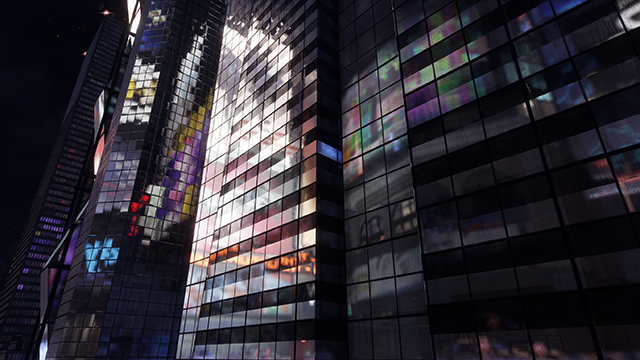 Finally, here's a look at the aforementioned Cube Map particle reflection that's active when High is selected.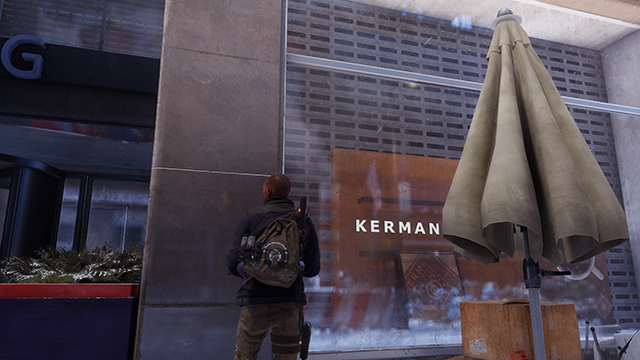 For reference, here's what the Cube Maps were attempting to reflect: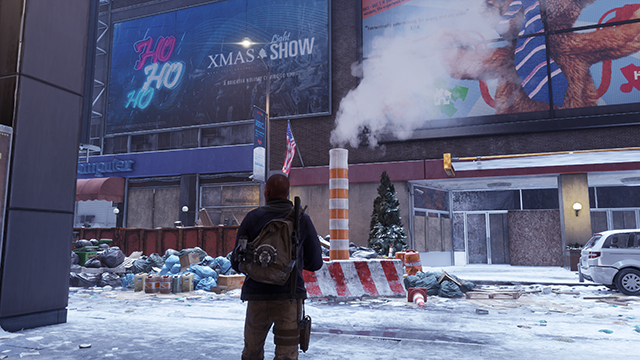 Performance: When Cube Maps aren't being refreshed "Reflection Quality" has zero performance impact. In the split second when they are refreshed, performance dips ever so slightly. And as the quality of the Cube Maps are increased these momentarily dips cost that bit more.
The exact cost is impossible ascertain however as Cube Maps refresh at their own pace, and the dynamic world can seemingly have a larger impact on performance than the "Reflection Quality" setting itself. Even in the in-game benchmark, over repeated runs, an exact cost remains unclear.
What we can confidently say is that "Reflection Quality's" performance cost is so small that it doesn't make a noticeable dent in any benchmark or test we've run. And as such, almost all systems can likely enable "High" without issue.
Shadow Quality
The Division today introduces the world to NVIDIA Hybrid Frustum Traced Shadows, henceforth referred to as "NVIDIA HFTS". This new, advanced shadow technique leverages hardware features of NVIDIA GeForce GTX 900 Series Maxwell graphics cards to create realistic geometrically-accurate hard shadows, that smoothly transition to soft shadows in real time. These shadows greatly improve upon those generated by existing techniques, delivering the highest-quality shadows seen to date in gaming, with near-perfect contact shadowing and vastly improved screen-wide shadowing.
To achieve this feat several technologies and techniques are utilized. The first and most important of these is Frustum Tracing, a form of Ray Tracing that runs far faster, yet is still highly accurate. This is a direct result of NVIDIA HFTS's Frustum Tracing utilizing Conservative Rasterization, a technology built into second generation GeForce GTX 900 Series, Maxwell-architecture GPUs.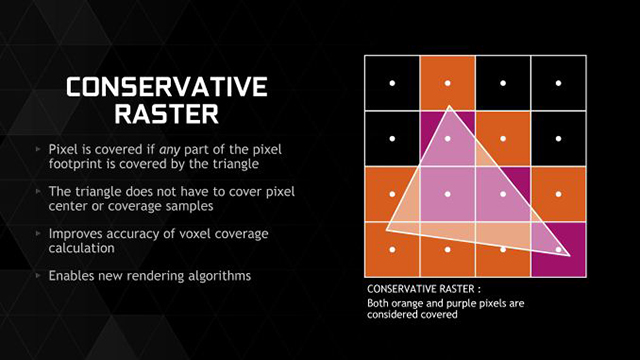 With Conservative Rasterization errors and missed details from the faster Frustum Tracing process can be corrected, delivering a shadow that's close to the quality of one created by Ray Tracing, but at a fraction of the performance cost. By drastically reducing this cost the technique becomes suitable for real-time, graphically-advanced games, something that can't be said for traditional Ray Tracing, which currently renders at only a few frames per second in heavily optimized, small-scale tech demos.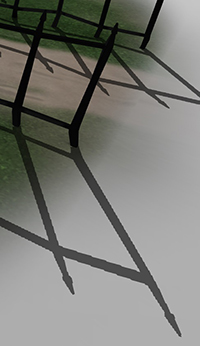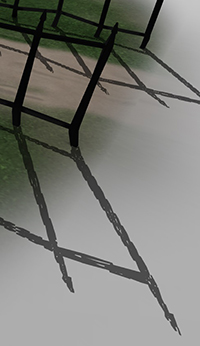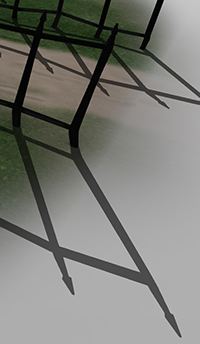 From left to right: a regular shadow map, as seen in most games; a Frustum Traced shadow; and a Frustum Traced shadow with Conservative Rasterization applied.
After Frustum Tracing has created a near-perfect 'hard' shadow, the shadow needs to be softened to mimic reality, where a 'hard' shadow transitions to a 'soft' shadow as the distance from the shadow caster increases. For that we employ Variable Penumbra Soft Shadow Filters, much the same as the ones employed by our Percentage Closer Soft Shadows (PCSS) technique, which has applied progressive softening to the shadow maps of several games.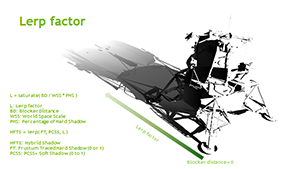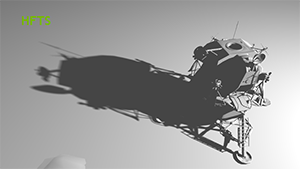 A look at how soft shadows are created with HFTS, and the final output as it would be rendered in a game.
Finally, we add low-cost Post-Process Anti-Aliasing to smooth the edges of the shadows. In Tom Clancy's The Division, this is handled by the "Post FX AA", which applies SMAA screen-wide.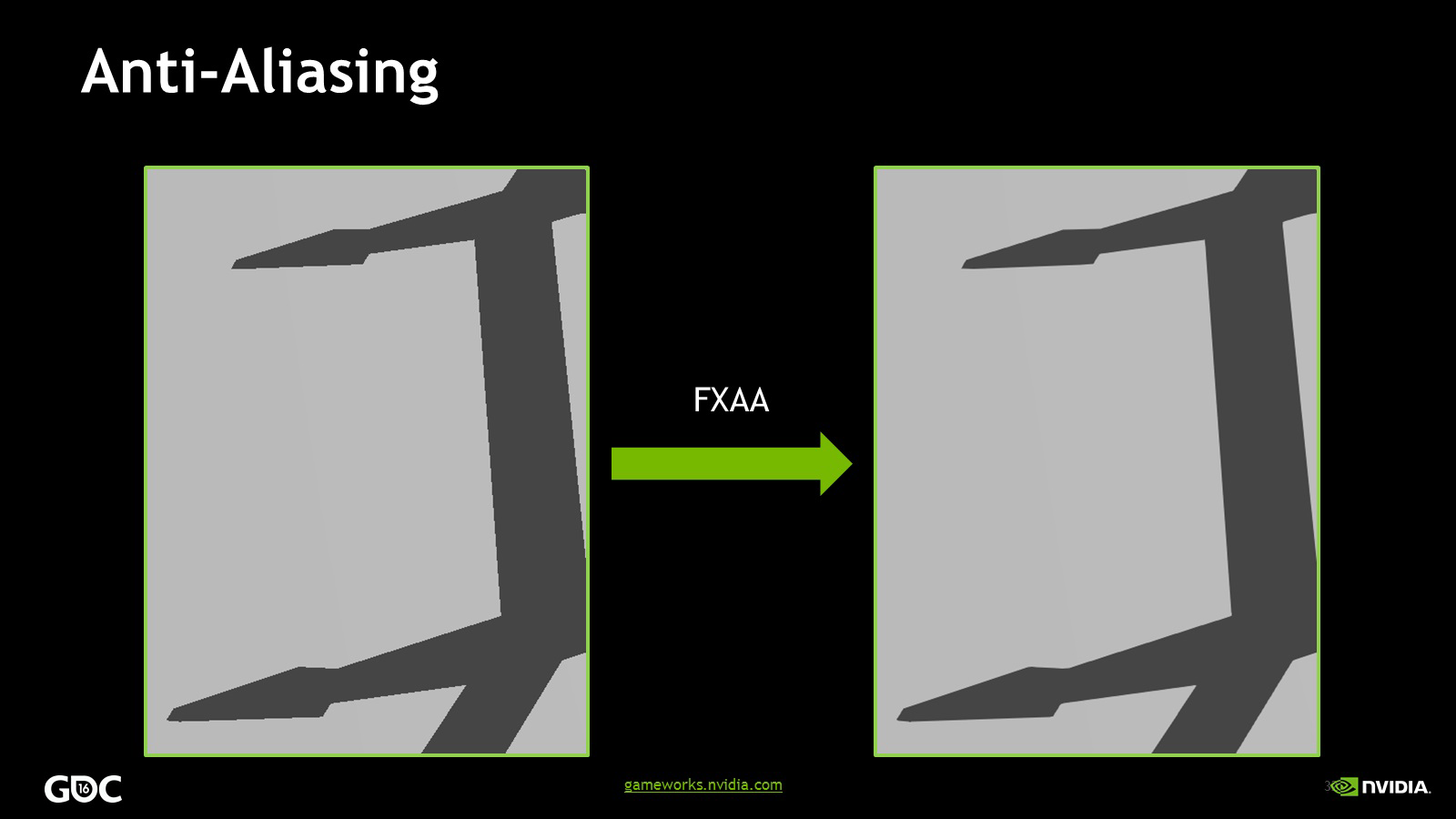 Together these techniques form NVIDIA HFTS, the highest-quality shadow rendering technology seen to date. Shadow detachment, aliasing, and interference from overlapping blockers are all overcome, creating near-perfect geometrically accurate and precise shadows, which soften as the distance from the shadow caster increases. For further information about HFTS's technology, including technical detail about Frustum Tracing, please check out our GameWorks development article.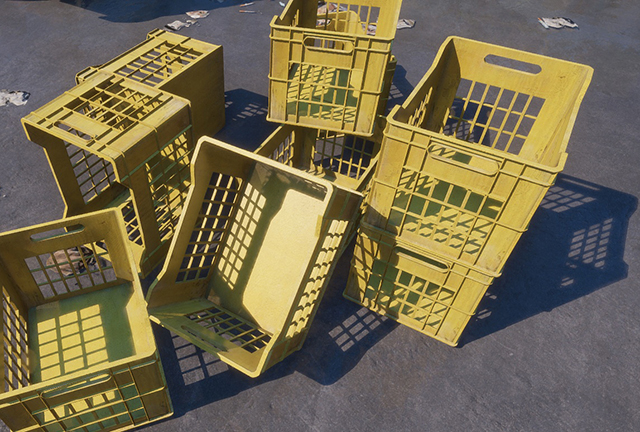 Click to load an interactive comparison exemplifying the massive advancements that NVIDIA HFTS's cutting-edge technology delivers.
For those lacking GeForce GTX 900 Series Maxwell graphics cards, which are required for NVIDIA HFTS to function, The Division also includes NVIDIA PCSS, a platform and hardware-agnostic DirectX 11 percentage closer soft shadow technique that improves upon the quality of shadowing offered by the game's "High" and "Low" options. This progressively softens shadows as the distance from the shadow caster increases, simulating the appearance of shadows in reality. In contrast, the game's default options only offer hard, unrealistic shadows that are clearly seen fifty feet from the shadow caster.
Below, sets of interactive comparisons demonstrate the strengths of NVIDIA HFTS and NVIDIA PCSS in comparison to the "High" and "Low" options.
In our first set, the level of fidelity offered by NVIDIA HFTS is clearly seen, with each individual spoke of the bike wheel clearly rendered, as are the numerous overlapping shadows cast by the street lamp, bike stand, and bike.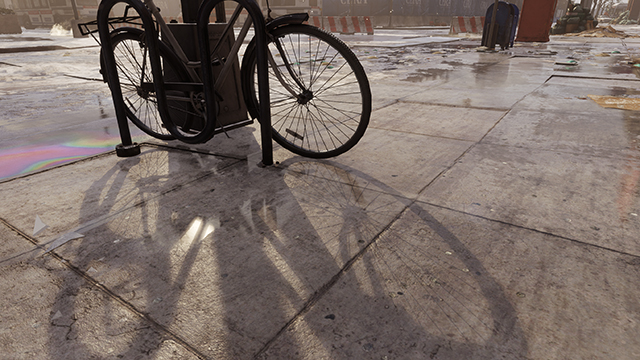 In our second set of comparisons NVIDIA HFTS's contact shadow improvements are exemplified, enabling accurate shadows on even the smallest details, such as the cash machine's lock and the security camera's lens.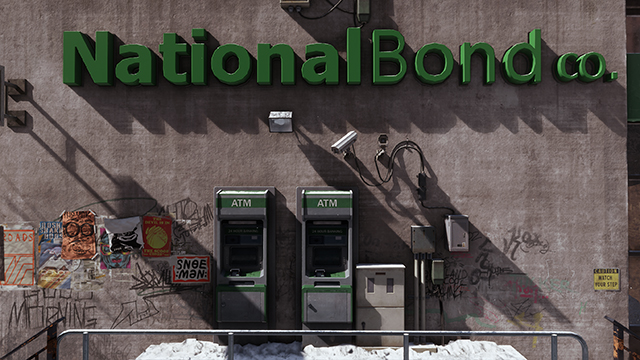 Below, a demonstration of natural shadow softening as the distance from the shadow caster increases.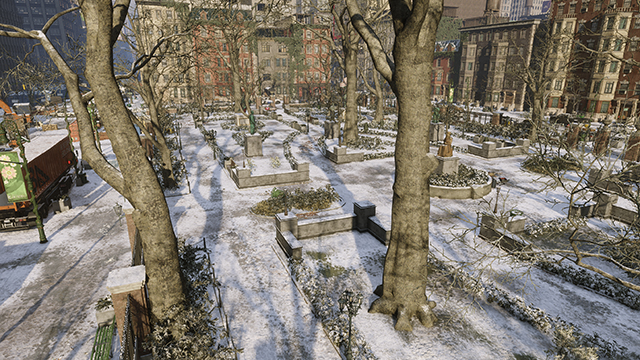 And finally, a look at how NVIDIA HFTS and NVIDIA PCSS affect shadow softness and fidelity during gameplay.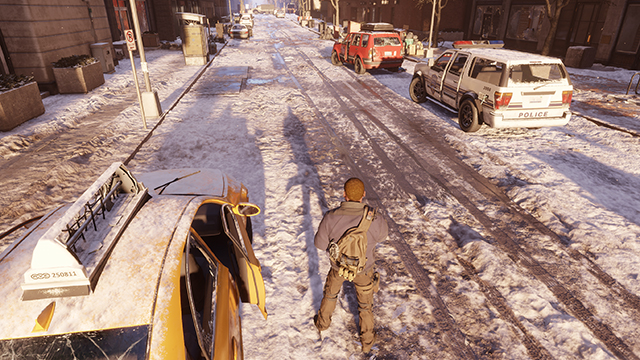 Please note, during evenings and nights NVIDIA HFTS is switched to NVIDIA PCSS to better cater for the more-diffuse lighting seen once the Sun goes down. Therefore, if you wish to benchmark NVIDIA HFTS, or capture NVIDIA HFTS screens and videos you'll need to do it during the day.
Performance: NVIDIA HFTS doubles the shadow resolution of shadows game wide, and implements a ton of cutting-edge shadow technology to deliver the most advanced shadowing seen in any game to date. Unsurprisingly then, the bar-raising shadow technique requires a few frames per second, though it is in our opinion well worth it on a high-end system.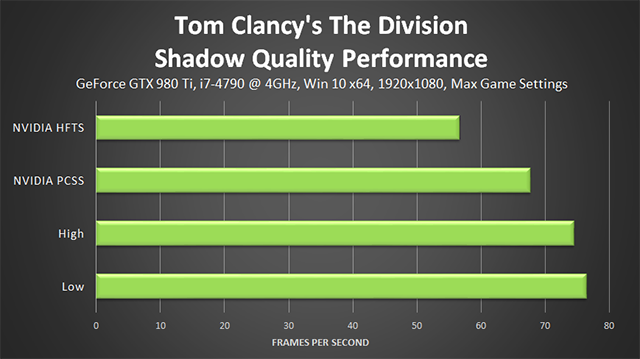 For those wanting a cheaper, yet still high-quality soft shadow option, select "NVIDIA PCSS". If you instead prefer your shadows crisp, select "High". 'Tis the joy of PC gaming!
Shadow Resolution
NVIDIA HFTS and NVIDIA PCSS control their shadow variables independent of the "Shadow Resolution" setting to ensure perfectly-tuned image quality. That leaves the dedicated "Shadow Resolution" setting to adjust the fidelity of the "High" and "Low" shadow techniques players select in the Shadow Quality option.
Shadow Quality High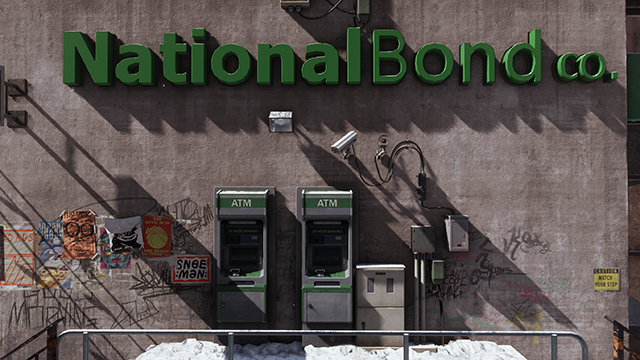 Shadow Quality Low
For reference, here are interactive comparisons showing Shadow Quality High with Shadow Resolution High, versus NVIDIA HFTS and NVIDIA PCSS.
Performance: If you're opting for High or Low "Shadow Quality" you should definitely pony up the performance for the highest quality "Shadow Resolution", to maximize the clarity of the two hard shadow techniques.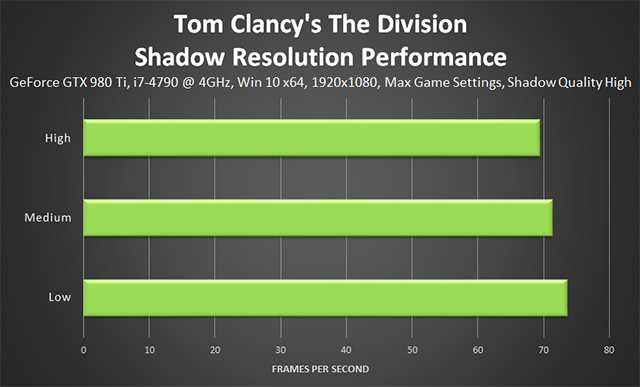 Sharpening
Post-Process Anti-Aliasing and Temporal Anti-Aliasing unavoidably soften the screen when doing their thing. Often enthusiasts will turn to tools like ReShade to counteract this softness through the injection of screen sharpening. This typically introduces additional aliasing or temporal aliasing, and in some cases can get players into hot water with anti-cheat tools in multiplayer games.
To save players the trouble of jumping through hoops, The Division includes an in-game Sharpening setting that goes from 0 to 100%.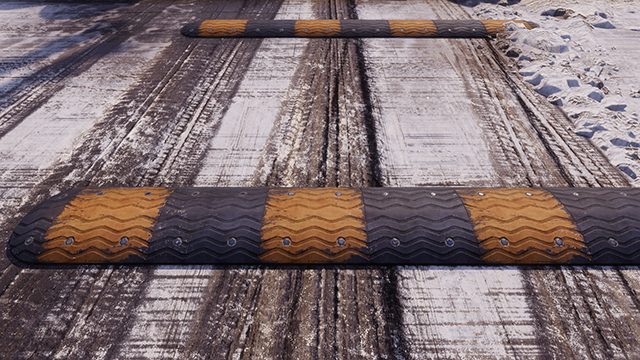 Sharpening will cost you a fraction of a frame per second, so simply set it to your tastes.
Spot Shadow Count
The shadows affected by "Shadow Quality" are ones cast by the Sun and Moon, and a few other sources. For shadows cast as a result of illumination from an artificial light, such as a spotlight, floodlight, street light, bedside lamp, and so on and so forth, we need to look to the "Spot Shadow Count" and "Spot Shadow Resolution" settings.
"Spot Shadow Count" dictates the number of shadows that can appear at any one time as a result of artificial illumination, with higher settings adding additional shadows further into the distance. To best demonstrate we took to the skies with the freecam: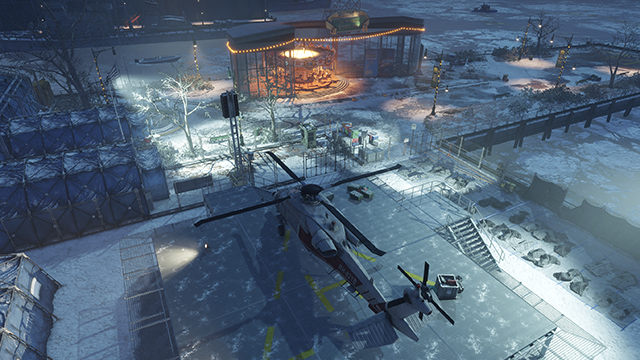 Performance: Cranking "Spot Shadow Count" to High will set you back 6.6 FPS, double the cost of Medium.
In gameplay scenes, where the affect of High isn't as visible, we'd instead recommend Medium as it offers a good balance between image quality and performance.
Spot Shadow Resolution
As with The Division's other set of shadows, this shadow resolution setting adjusts the clarity and detail of the shadows cast by its partnered setting, Spot Shadow Count.
On Ultra, all Spot Shadows are nicely defined, but as we drop down to High and then Medium clarity is gradually lost, as is the contact point with the shadow caster, causing our avatar to miraculously float on the carousel.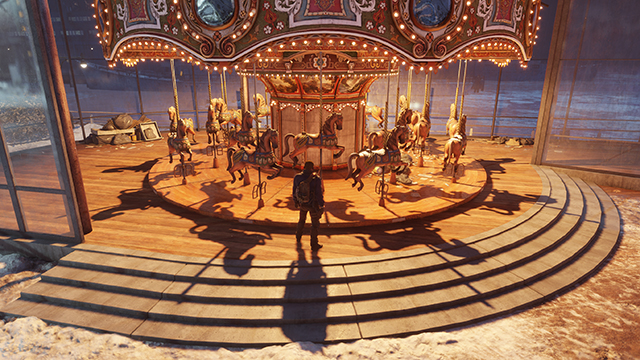 When it comes to smaller objects and finer detail, only Ultra is able to deliver clearly defined Spot Shadows.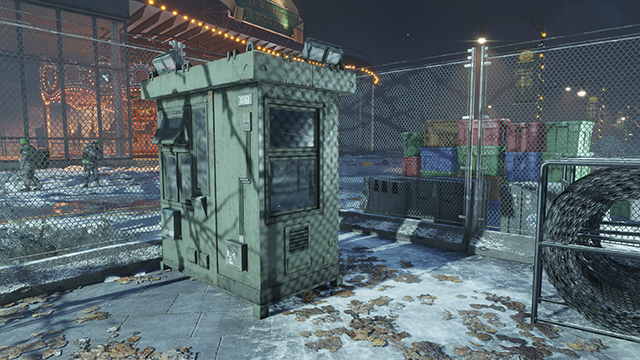 Performance: Maxing out the resolution of The Division's highly visible, pervasive Spot Shadows will cost you just under 5 frames per second.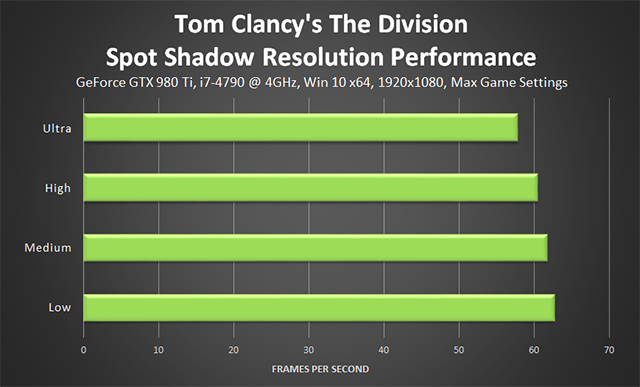 If you need to improve performance, consider lowering "Spot Shadow Resolution" to High, though we wouldn't recommend going any lower due to the aforementioned contact shadowing issues.
Sub-Surface Scattering
To accurately render skin in games, additional techniques and technologies are required. In real and virtual worlds light bounces from most objects and surfaces, which we can accurately and easily render with any number of technologies. In comparison, light striking skin is absorbed and diffused, with some rays being re-emitted, albeit at a lower intensity. Without a suitable technology simulating this effect character skin is uniformly lit, detracting from the quality of the picture.
In The Division, Subsurface Scattering (SSS or SSSSS) is employed to achieve the desired result. And, interestingly, to also replicate the reflection and refraction of light on snow and other materials.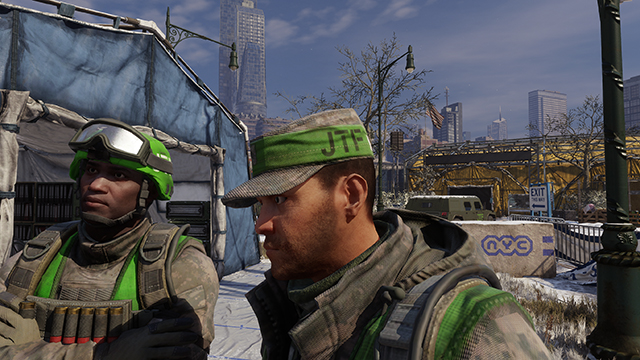 On characters you'll need to get particularly close to observe SSS in action. In contrast, SSS on snow is readily seen throughout the game.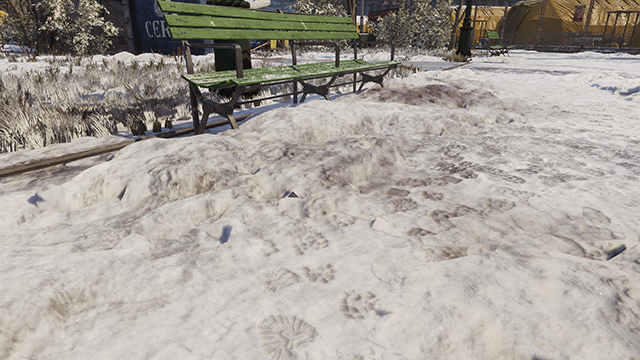 Performance: "Sub-Surface Scattering" costs around 2.5 frames per second, and is recommended for players wanting a more realistic image. Those who prefer a sharp image, with sharp shadows and Sharpening, may however prefer to disable the setting.
Temporal AA
Temporal Anti-Aliasing (TAA) tackles shimmering and flickering of anti-aliased edges when the camera or player's viewpoint is in motion, or game elements in the scene are moving. For instance, as each tree, branch, leaf, and blade of grass sways in the wind, temporal aliasing may be observed, greatly diminishing the quality of the picture.
Temporal Aliasing is also often exacerbated by Post-Process Anti-Aliasing, Sharpening, and low rendering resolutions, but in this case The Division doesn't suffer thanks to its always-on, high-quality Temporal Anti-Aliasing.
Why is it always on? Because Massive Entertainment can use TAA and its underlying tech to accelerate the rendering of other effects, reducing their performance cost. Case in point, Massive's Ambient Occlusion technique that costs just a single frame per second to enable, and 2.4 frames per second to max out.
This same speedup enables the TAA effect to be Supersampled by up to 8x at an additional performance cost of just 0.05ms, which almost entirely eliminates temporal aliasing in The Division. Furthermore, this Supersampled TAA helps to further reduce edge and transparency aliasing, improving image quality by an even greater degree.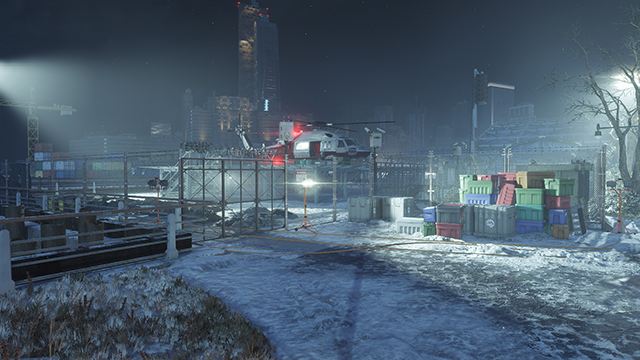 In static scenes some minor edge flickering may be observed. In our experience it was never noticeable during gameplay, but just in case it impacts your enjoyment of The Division Massive has included an alternative "Stabilization" setting that prevents flickering. You do however lose the image quality improvements granted by Supersampling, as you can observe above in our interactive comparison.
Performance: Stabilization runs fractionally faster than the default Supersampling option, which does a brilliant job at improving image quality through the removal of edge, transparency and temporal aliasing.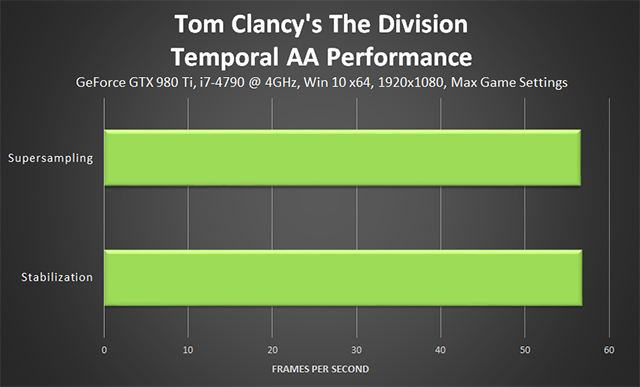 Texture Quality
You may have noticed that The Division lacks a Texture Quality option. Instead, Massive Entertainment's Snowdrop Engine dynamically streams content in and out as needed. Depending on your "Extra Streaming Distance" and "Object Detail" settings this may happen frequently, and there may be pop-in as new content is loaded.
Behind the scenes, Snowdrop aims to utilize 75% of your dedicated video memory (VRAM), leaving space for other GPU-accelerated, memory-consuming apps that may be running the background. Within this 75% block of memory, which may be exceeded, memory is earmarked for any settings you've enabled that use VRAM, and the rest divvied up between geometry, other necessary game elements, and textures required right this second. Any remaining memory is filled with additional textures for nearby areas, reducing the chance of pop-in and visible streaming as players travel through the world.
As such, users of GPUs with less than 6GB of VRAM may not receive maximum-quality textures at all times. Whether you do or don't is based on the selected screen resolution, the detail of the current area, and the quality selected for the many game settings.
If you do somehow fill your GPU's available VRAM, perhaps with a high resolution and max settings on a 4GB GPU, The Division will do its best to scale back detail to rectify performance. In some cases though you'll have to step in and dial back the aforementioned settings, or the resolution.
To avoid all VRAM concerns our testing reveals that a 6GB GeForce GTX 980 Ti will do the trick at 4K with max settings. And as we're sure you're interested to know, image quality and streaming behavior was identical to that of a 12GB GeForce GTX TITAN X.
At 1920x1080, the most commonly-used gaming resolution, 4GB of memory should suffice for max settings.
Vignette
An extremely subtle effect, Vignette slightly darkens the corners of the screen, at the cost of a fraction of a frame per second.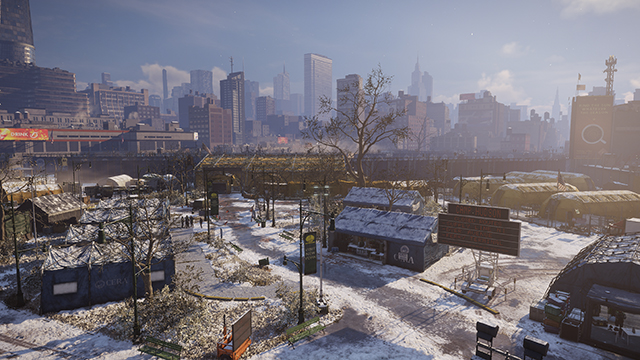 Volumetric Fog
Mist, fog, and other fog-like environmental conditions add a great deal to The Division's world, especially when lit by surrounding light sources. With the "Volumetric Fog" setting, the resolution of the volume maps can be adjusted.
Most typically, the only observable difference between detail levels comes from the lighting of fog volumes, which is more accurate and pronounced on High and Ultra, as demonstrated in the interactive comparisons below.
Performance: Activating Ultra-quality Volumetric Fog costs a fair few frames per second, I'm afraid, but even on "Medium" things still look pretty good. If you can though, select "High", which is pretty close to the quality of "Ultra".
Settings Wrap-Up
As you've likely gathered by now The Division can be quite demanding when every setting is maxed out. You don't have to run at max settings, but many an enthusiast desires that definitive level of detail. So for those that want to know, here is the GeForce GTX 900 Series benchmarked at three of the most popular resolutions, with max settings enabled: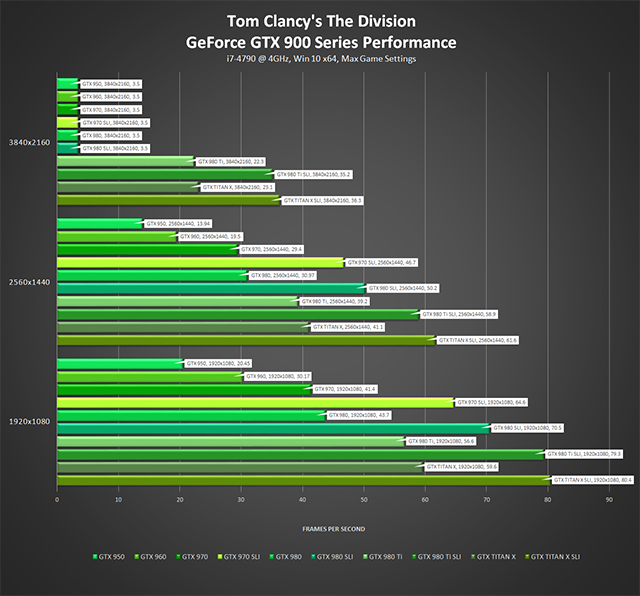 Click to enlarge. All GPUs running at reference speeds with stock coolers; 4GB GPUs out of memory at 4K with max settings.
If you want to improve performance, many settings can be dialed back a notch with only a small hit to image quality. In order, we'd turn down Particle Detail, Depth of Field, Volumetric Fog, Contact Shadows, Object Detail, Streaming Distance, and Spot Shadow Resolution. Beyond those settings, determine what features are more important to you and decrease as necessary until you're happy with your performance. Alternatively, try our one-click GeForce Experience Optimal Playable Settings.
NVIDIA Dynamic Super Resolution
To increase the quality of your graphics even further, activate Dynamic Super Resolution (DSR) to receive up to 4K-quality graphics on your HD monitor. How it works is simple: compatible games, such as The Division, are rendered at a higher, more detailed resolution, and the image intelligently shrunk back down to the resolution of your monitor using a custom-made filter, giving you up to 4K-quality graphics on your screen. The video below explains more, and the images show how to activate the setting in the NVIDIA Control Panel.
With DSR enabled aliasing is further reduced, objects have better definition, vegetation is more detailed, and distant game elements are clearer. Just like it when playing at 4K on a 4K monitor.
G-SYNC: Eliminating Stutters & Tearing For The Ultimate Experience
NVIDIA revolutionized computer displays in 2013 with the introduction of variable refresh rates, enabling gamers to enjoy highly responsive, tear-free, stutter-free experiences on G-SYNC monitors. Reviews are phenomenal, and gamers everywhere agree that it's painful to play on anything other than a G-SYNC display once you're used to the flawless experience it provides.
With The Division's and G-SYNC monitors, you can level, loot, explore and shoot in optical bliss with none of the artifacts or hang-ups associated with ordinary monitors or TVs.
Game Ready Tom Clancy's The Division Driver

For the best Tom Clancy's The Division experience we recommend updating to the new Tom Clancy's The Division GeForce Game Ready drivers. Included are the latest performance optimizations and tweaks for The Division, along with a bunch of other good stuff. Download now via GeForce Experience.
GeForce Experience: Optimal Playable Settings With A Single Click
The best way to automatically configure and apply The Division's 20-plus game settings for a smooth, enjoyable, 60 FPS experience is through GeForce Experience, an invaluable tool for all GeForce GTX users. In addition to optimizing over 300 games, the free GeForce Experience application can automatically update drivers and profiles, record and stream gameplay with ShadowPlay, and can wirelessly stream PC games, including The Division, to NVIDIA SHIELD devices.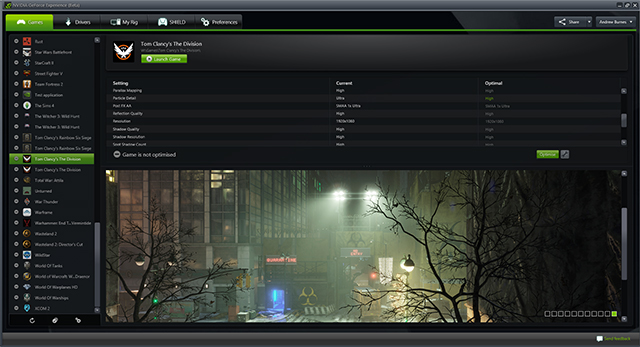 Taking into account your GPU and CPU, as well as many additional factors, GeForce Experience's game recommendations can be applied with a single click and are updated over time should developer patches and NVIDIA driver updates improve performance further still. This one-click solution is perfect for gamers who wish to simply play their games, and for those with little experience in configuring settings for an optimal experience.
Overclocking
For increased performance in The Division consider overclocking your GPU, as the game uses every ounce of power you can throw at it. And if you're using an older CPU consider overclocking it, too. Discover how with the help of our GeForce Garage guide.
The Definitive Tom Clancy's The Division Experience
With the addition of NVIDIA HFTS shadows, NVIDIA PCSS shadows, NVIDIA HBAO+ Ambient Occlusion, higher-quality visual effects, higher rendering resolutions, and other enhancements and features like DSR, G-SYNC, Surround, ShadowPlay and GeForce Experience, GeForce GTX gamers unquestionably receive the definitive Tom Clancy's The Division experience.
Graphics, framerates, features, and every other element of Massive Entertainment's massive game are at their best on PC. And with addictive RPG action, leveling, and looting many PC gamers will enjoy these things for a long time to come.
If you're looking for a new GPU so you can play Tom Clancy's The Division with all this goodness enabled, select GeForce GTX graphics cards are currently bundled alongside the game. Further details can be found here.