The GeForce RTX 4080 is out now from NVIDIA and top add-in card providers ASUS, Colorful, Gainward, GALAX, GIGABYTE, INNO3D, KFA2, MSI, Palit, PNY and ZOTAC, as well as from gaming system integrators and builders worldwide.
Boasting our 3rd generation RTX architecture, the GeForce RTX 4080 is beyond fast, delivering exceptional experiences in rasterized, ray-traced and AI-powered games and apps.;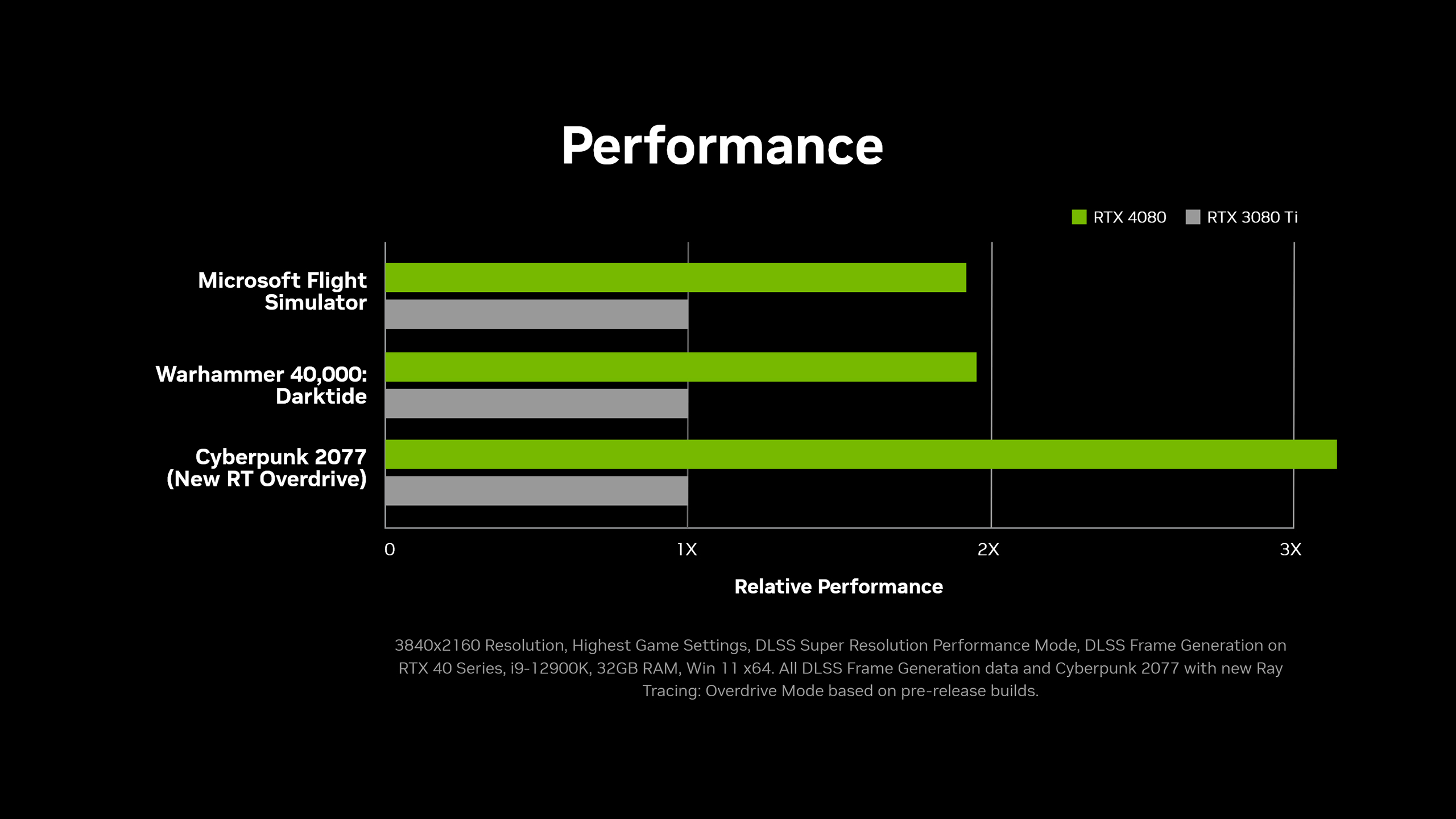 With its many technological enhancements, the GeForce RTX 4080 is twice as fast as the GeForce RTX 3080 Ti, and even faster still in fully ray-traced games.
The GeForce RTX 4080 has a TGP of 320W, but under most operating conditions, including many gaming workloads, it consumes significantly less power than the TGP. For average gaming (across 22 games at 1080p, 1440p, and 4K), the GeForce RTX 4080 uses only 251W on average, and on other day-to-day tasks like video playback, it uses as little as 14W. Learn more about the RTX 4080's power consumption in our other article here.
The GeForce RTX 4080 includes all the same advancements, enhancements, and innovations as the GeForce RTX 4090, meaning you can multiply frame rates with NVIDIA DLSS 3, encode video up to 2X faster with dual 8th gen NVIDIA Encoders, stream with 40% better efficiency using AV1, and chew through creative workloads in half the time, helping you get more done, faster.
Get the complete lowdown on the capabilities of new GeForce RTX 40 Series graphics cards in our deep dive article. And don't forget, every existing GeForce innovation and enhancement is available for buyers of GeForce RTX 40 Series graphics cards, including G-SYNC, GeForce Experience one-click overclocking and game optimization, Shadowplay recording and streaming, and so much more. See the full list here.
To get started with a newly-installed GeForce RTX 4080, download and install our new Game Ready Driver, and you'll be ready to enhance your games and accelerate your workloads with all of this tech.
GeForce RTX 4080 Reviews
YouTubers and the press have put the new GeForce RTX 4080 through their rigorous tests, and here's a sampling of what they had to say:
"...the RTX 4080 Founders Edition shows how ridiculously capable the Ada Lovelace architecture is at providing spectacular eye-candy at sky-high frame rates." - OC3D
"From a hardware and performance point of view, the GeForce RTX 4080 is downright fantastic." - Guru3D
"... I'm deeply in love with DLSS with Frame Generation." - PCGamer
"Indeed, the RTX 4080 solidifies itself as a true 4K gaming GPU, with almost every title we tested averaging above 60fps solidly with maximum settings." - MMORPG.com
"All in all, the RTX 4080 is exactly what I'd want from an RTX 3080 Ti successor. It's faster and has plenty of new features to make it a demonstrable leap from the previous cards." - Engadget
"NVIDIA's second outing of Ada Lovelace in the form of the GeForce RTX 4080 Founders Edition is another tour de force of GPU technology. Beats the RTX 3090 + RTX 3090 Ti, with less power and runs cooler... FTW. - TweakTown
GeForce RTX 4080 Available Now
If you want to add the GeForce RTX 4080 to your system, or want a pre-built with the beyond fast graphics card, head over to our Product Finder to see what's available in your region.
To put your upgraded system through its paces, try one of the new NVIDIA DLSS 3 games available this month and play competitive online games with the lowest possible system latency thanks to NVIDIA Reflex. For creators, unlock higher resolutions and crisper image quality with AV1 support integrated in NVIDIA Studio-partnered apps, and cut video export times nearly in half thanks to dual encoders, with support recently added to top video editing apps.
And to learn more about all the future games and apps adding support for RTX technologies, bookmark GeForce.com.