In Marvel's Spider-Man Remastered, the worlds of Peter Parker and Spider-Man collide in an original action-packed story. Play as an experienced Peter Parker, fighting big crime and iconic villains in Marvel's New York. On August 12th, 2022, Insomniac Games' critically acclaimed action adventure game, Marvel's Spider-Man Remastered, comes to PC with numerous PC features, courtesy of the experienced developers at Nixxes Software, who are now part of the PlayStation Studios family.
By playing Marvel's Spider-Man Remastered on a GeForce RTX graphics card, desktop or laptop, you'll experience the incredible game, enhanced with NVIDIA DLSS, NVIDIA DLAA, and upgraded ray-traced effects that run fastest on GeForce RTX thanks to the dedicated RT Cores found on each RTX GPU.
To demonstrate the full gamut of amazing extra features found in Marvel's Spider-Man Remastered for PC, PlayStation has released a PC Features Trailer below. For further information on many of the items, keep reading.
Marvel's Spider-Man Remastered PC Runs At Record Speed With NVIDIA DLSS
NVIDIA DLSS is our groundbreaking AI-powered tech that accelerates performance on GeForce RTX GPUs. Using dedicated GPU Tensor Cores, DLSS taps into the power of a deep learning neural network to boost frame rates and generate beautiful, sharp images in your favorite games.
To date, NVIDIA DLSS has accelerated performance by up to 2X in over 200 games and apps, enabling GeForce RTX players to play with maxed out graphics and high resolutions. When Marvel's Spider-Man Remastered launches on PC, you can use DLSS to boost your frame rate, allowing you to enjoy this amazing game with graphics maxed out.
If you already have excellent frame rates, you can instead enable NVIDIA DLAA, an AI-based anti-aliasing mode for users who have spare GPU headroom and want higher levels of image quality. DLAA uses the same technology developed for DLSS, but works on a native resolution image to maximize image quality instead of boosting performance. With NVIDIA DLAA, Marvel's Spider-Man Remastered will look even more detailed.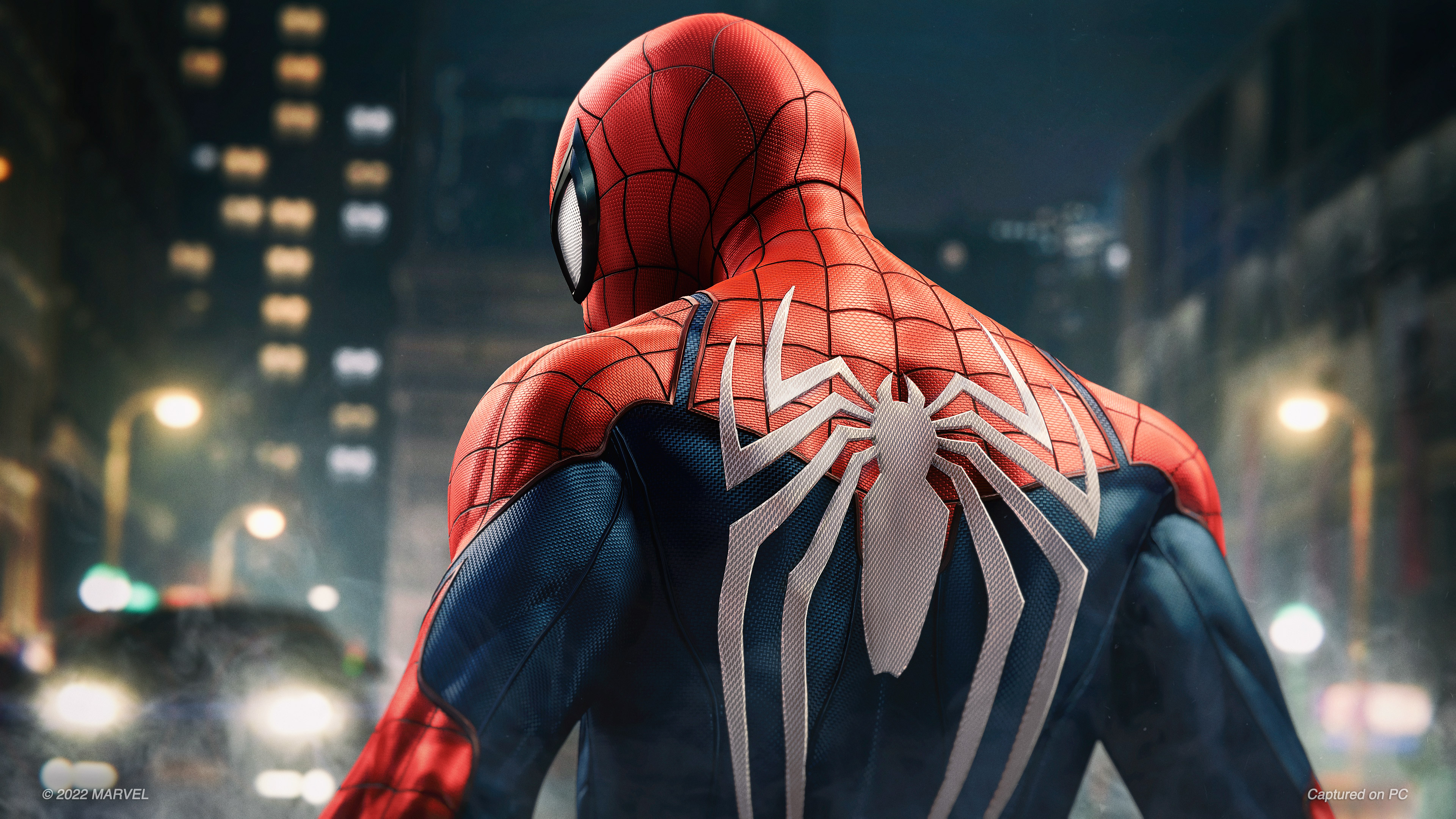 Marvel's Spider-Man Remastered Receives Ray Tracing Upgrades On PC
Marvel's Spider-Man Remastered includes ray-traced opaque reflections, enhancing Marvel's New York with high detail, physically accurate reflections that greatly improve image quality and immersion. For the new PC release, Nixxes Software has added settings to include full-quality building architecture and props in the outdoor city reflections.
To experience these ray-traced effects running at their highest settings, with other options cranked up, and the resolution maxed, you'll need a GeForce RTX graphics card, desktop or laptop. In addition to the aforementioned NVIDIA DLSS, which can accelerate performance, GeForce RTX GPUs also include dedicated RT Cores to crunch highly taxing ray tracing workloads, giving you the performance to enjoy ray-traced games at their best; a feature you won't find anywhere else.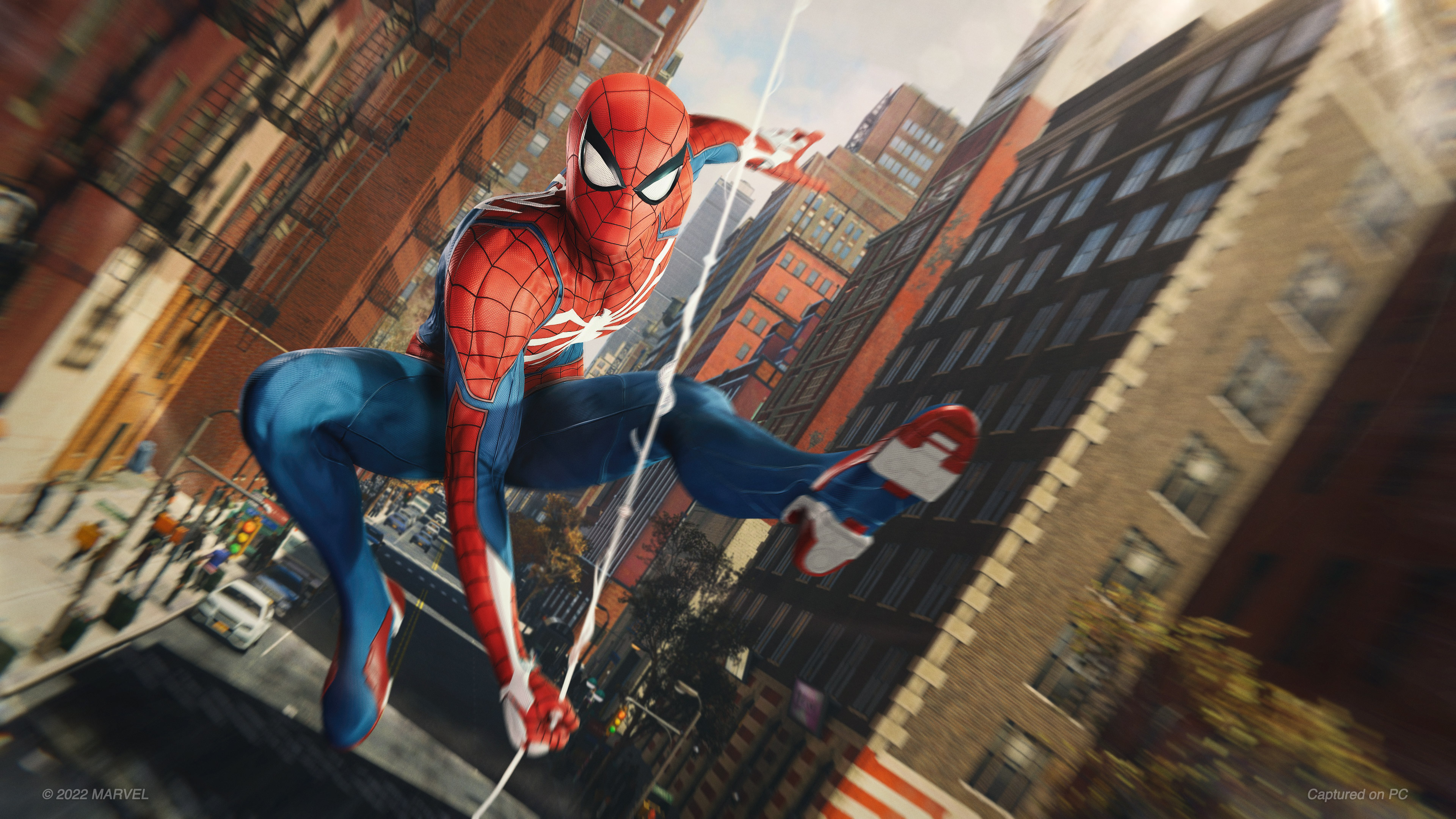 Marvel's Spider-Man Remastered On PC Boasts Enhanced Graphics and PC-Specific Features
In addition to all of the above, Marvel's Spider-Man Remastered on PC also boasts numerous graphical and experiential enhancements to make full use of the PC's capabilities. These include NVIDIA HBAO+, which improves the quality of ambient occlusion shadowing across the game, plus higher-resolution shadow maps, higher levels of detail, higher fidelity texture filtering, additional quality levels for numerous options, and much more, making the world of Marvel's Spider-Man Remastered look even more spectacular. Plus, the frame rate is unlocked, for a smoother, faster presentation.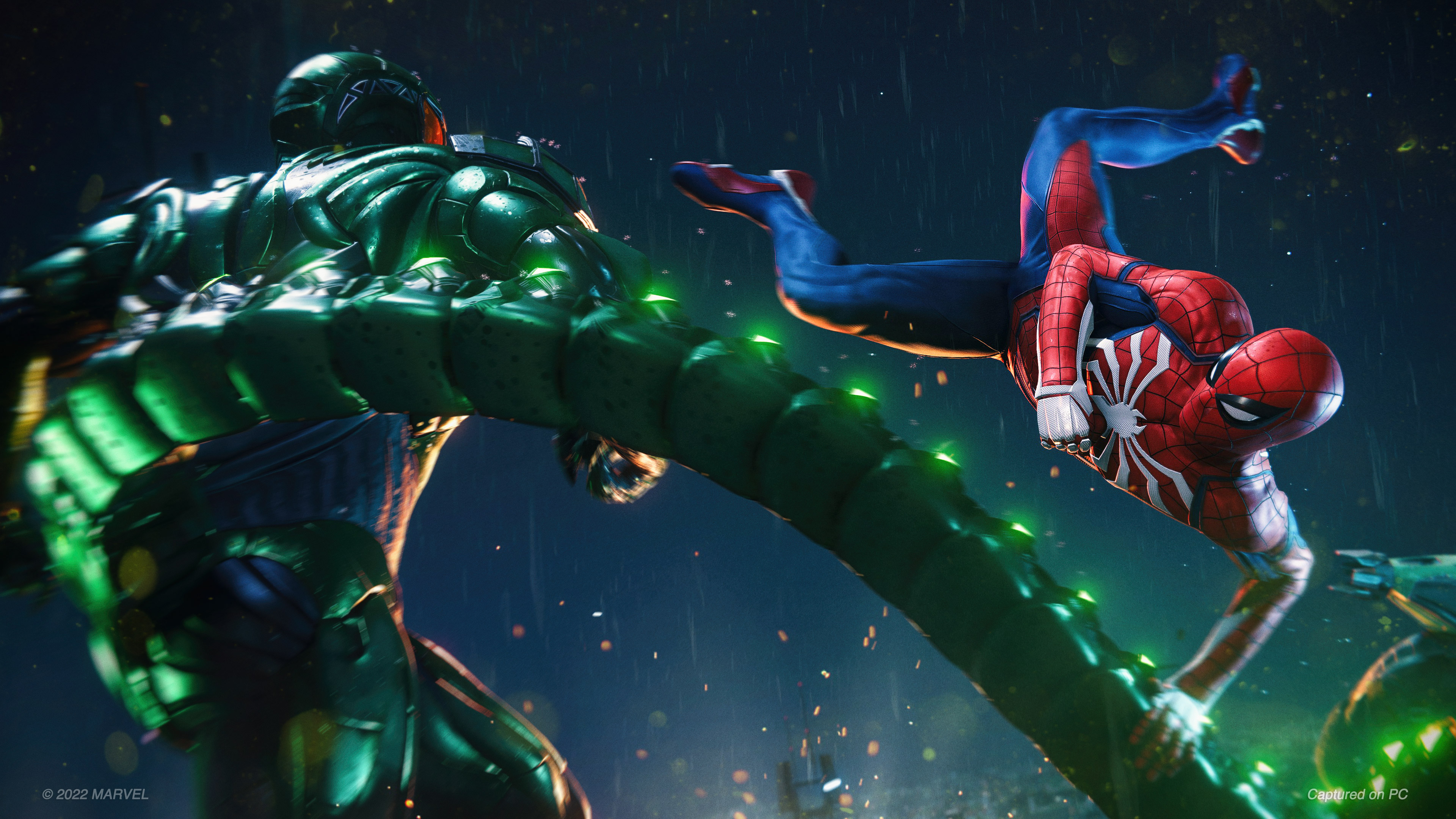 You can also play in HDR on G-SYNC and G-SYNC ULTIMATE gaming monitors, TVs and displays*, and in 21:9, 32:9, 48:9, and NVIDIA Surround panoramic ultra-widescreen resolutions**, for the most immersive experience possible.
There's also robust controller support and keyboard mapping customization. But if you would prefer playing on a controller, Nixxes has included support for the PlayStation DUALSENSE™ controller, which delivers the same amazing PS5 haptic feedback and adaptive trigger responses when connected to a PC via USB. Additionally, there's support for a wide range of other gamepads, and a full range of UI, system options, plus other expected PC settings.
*Compatible PC and HDR display device required
**Compatible PC and display device required
Marvel's Spider-Man Remastered PC System Requirements
Eager to experience Marvel's Spider-Man Remastered, with all the above enhancements enabled on your PC? Then check out the system requirements and recommendations chart below, and update your PC accordingly: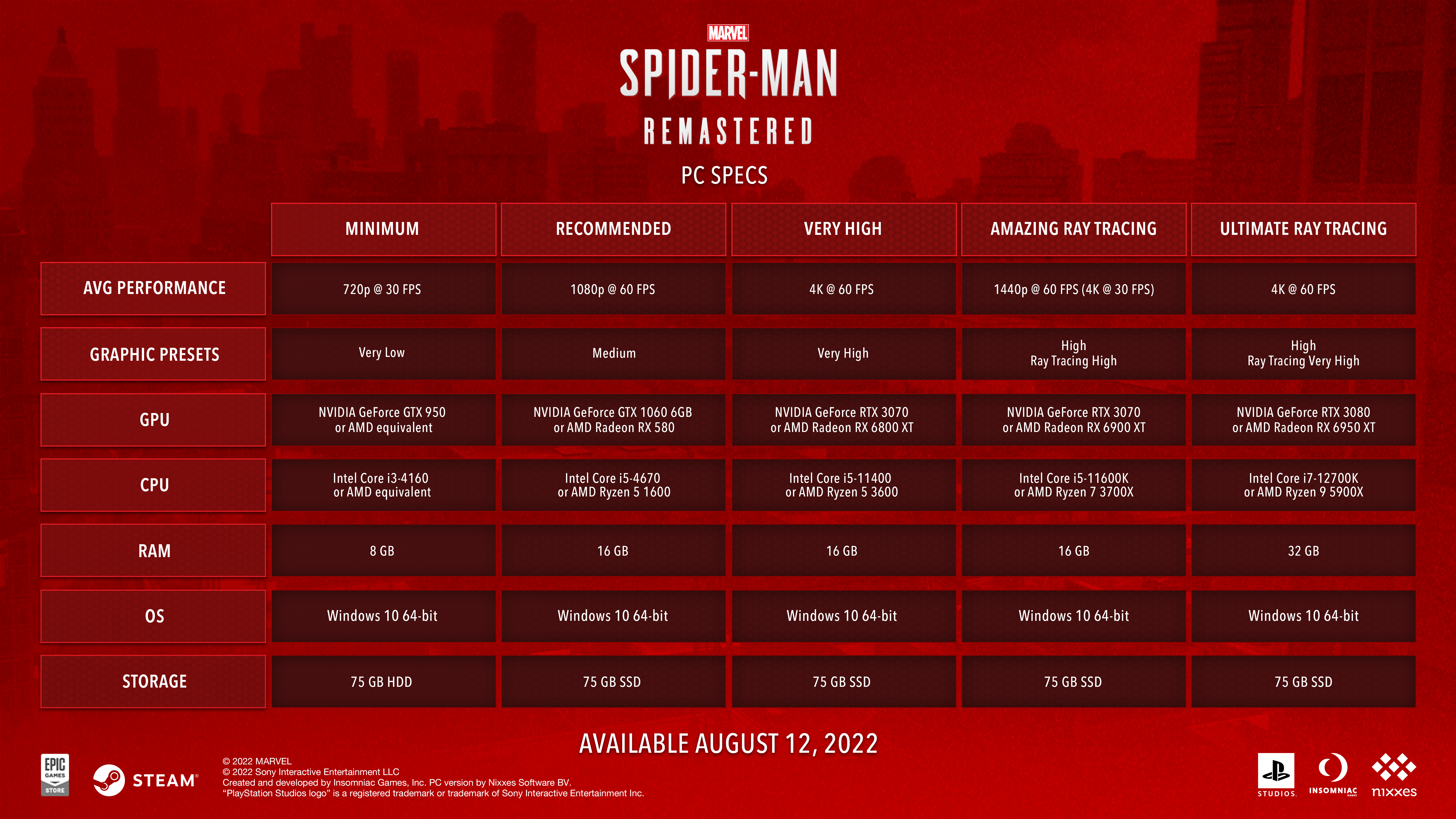 Marvel's Spider-Man Remastered Launches On PC August 12, 2022
We can't wait for gamers to try Marvel's Spider-Man Remastered on PC, and we're excited to collaborate with PlayStation, Insomniac Games and Nixxes Software to bring GeForce RTX gamers the definitive PC experience, enhanced with NVIDIA DLSS, NVIDIA DLAA, NVIDIA HBAO+, NVIDIA G-SYNC, NVIDIA Surround, and upgraded ray tracing.
When you pre-purchase Marvel's Spider-Man Remastered on PC from Steam or the Epic Games Store, you'll get the following perks:
Early unlock for three Spider-Man suits:

The tech-heavy Iron Spider Suit

The one-of-a-kind Spider-Punk Suit

The Original Velocity Suit

An early unlock of the Spider-Drone combat gadget

5 extra skill points to spend on Spidey upgrades
Over 200 DLSS games and apps are available now, and more are coming soon, including Marvel's Spider-Man Remastered on PC. Each month sees adoption of NVIDIA RTX expand, so be sure to head back to GeForce.com frequently to learn what's next for NVIDIA DLSS and ray tracing, and which games are going to add the game-changing technologies in the near future.
© 2022 MARVEL
© 2022 Sony Interactive Entertainment LLC
Created and developed by Insomniac Games, Inc. PC version by Nixxes Software BV.