CD PROJEKT RED's Cyberpunk 2077 is already one of the most advanced games available, using several ray tracing techniques to render a dense future city at incredible levels of detail. And today, Cyberpunk 2077 adds performance-accelerating NVIDIA DLSS 3 to its arsenal of cutting-edge technologies. See it in action in our new DLSS 3 performance comparison video:
"Playing Cyberpunk 2077 with the AI-powered performance of NVIDIA DLSS 3 is the best way to access the stunning visuals the game has to offer — this technology helps us take a new step toward combining unconstrained visual fidelity with exceptional performance."- Jakub Knapik, Global Art Director, CD PROJEKT RED
NVIDIA DLSS 3: Multiplying Cyberpunk 2077 Frames Rates
NVIDIA Deep Learning Super Sampling (DLSS) is a groundbreaking revolution in AI-powered graphics, increasing performance on GeForce RTX GPUs using dedicated Tensor Cores.
Powered by new hardware capabilities of the NVIDIA Ada Lovelace architecture, DLSS 3 generates entirely new high quality frames, rather than just pixels. Through a process detailed in full in our NVIDIA DLSS 3 article, DLSS 3 combines DLSS Super Resolution technology and DLSS Frame Generation to reconstruct 7/8ths of the displayed pixels with AI, accelerating performance to previously unimaginable degrees.
With DLSS 3, GeForce RTX 40 series gamers can enjoy Cyberpunk 2077 with every setting and ray-traced option maxed out for the best image quality, without compromising performance.
When DLSS 3 is enabled, 4K performance with a GeForce RTX 4090 will be boosted by 3.3X to 138 FPS, and with a GeForce RTX 4080 increased by 3.8X to 102 FPS. With a GeForce RTX 4070 Ti at 1440p, DLSS 3 increases performance by 2.8X and delivers 136 FPS.
DLSS 3 games are backwards compatible with DLSS 2 technology; developers simply integrate DLSS 3, and DLSS 2, also known as DLSS Super Resolution, is supported by default. DLSS 3 also incorporates NVIDIA Reflex, which synchronizes the GPU and the CPU, ensuring optimum responsiveness and low system latency.
DLSS Is Always Learning - New Improvements Come To Cyberpunk 2077
DLSS continues to improve through ongoing training on NVIDIA's AI Supercomputer, and a new update delivers improvements to DLSS Super Resolution, NVIDIA DLAA, and DLSS Frame Generation. Since DLSS 3 games are backwards compatible with DLSS 2 technology, all GeForce RTX gamers will also benefit. Today's new Cyberpunk 2077 update includes the following enhancements:
AI network enhancements for DLSS Frame Generation that better take advantage of game engine data, improving UI stability and image quality during fast movement.
Increased Power Efficiency In Cyberpunk 2077 With GeForce RTX 40 Series GPUs
Compared to previous generation GPUs, the Ada architecture is also more power efficient. This allows gamers to experience higher frame rates in Cyberpunk 2077 while also consuming less power: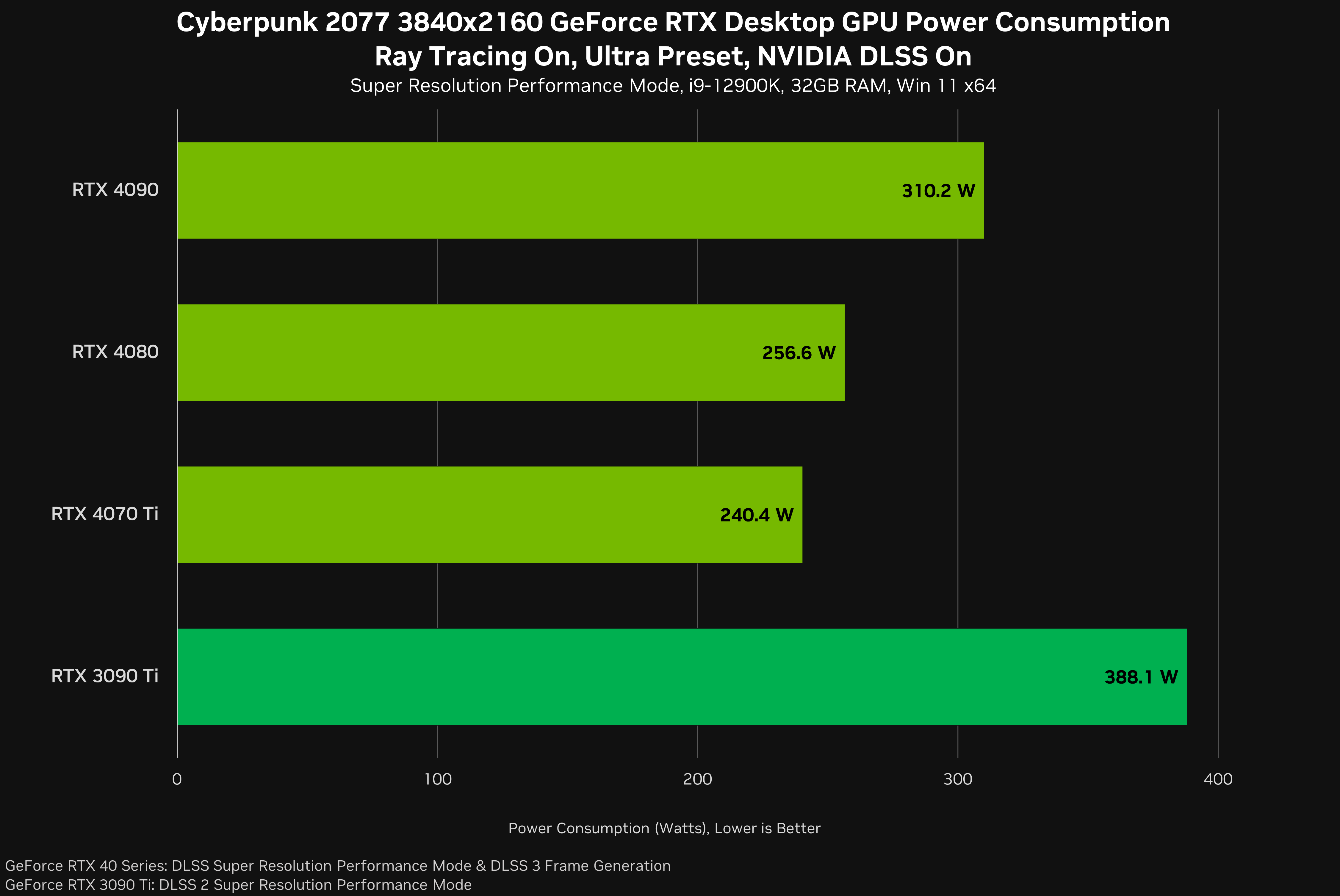 Cyberpunk 2077 Game Ready Driver is Available Now
To experience Cyberpunk 2077's DLSS 3 update at its very best, ensure you download and install our latest Game Ready Driver. Grab it from GeForce Experience or GeForce.com.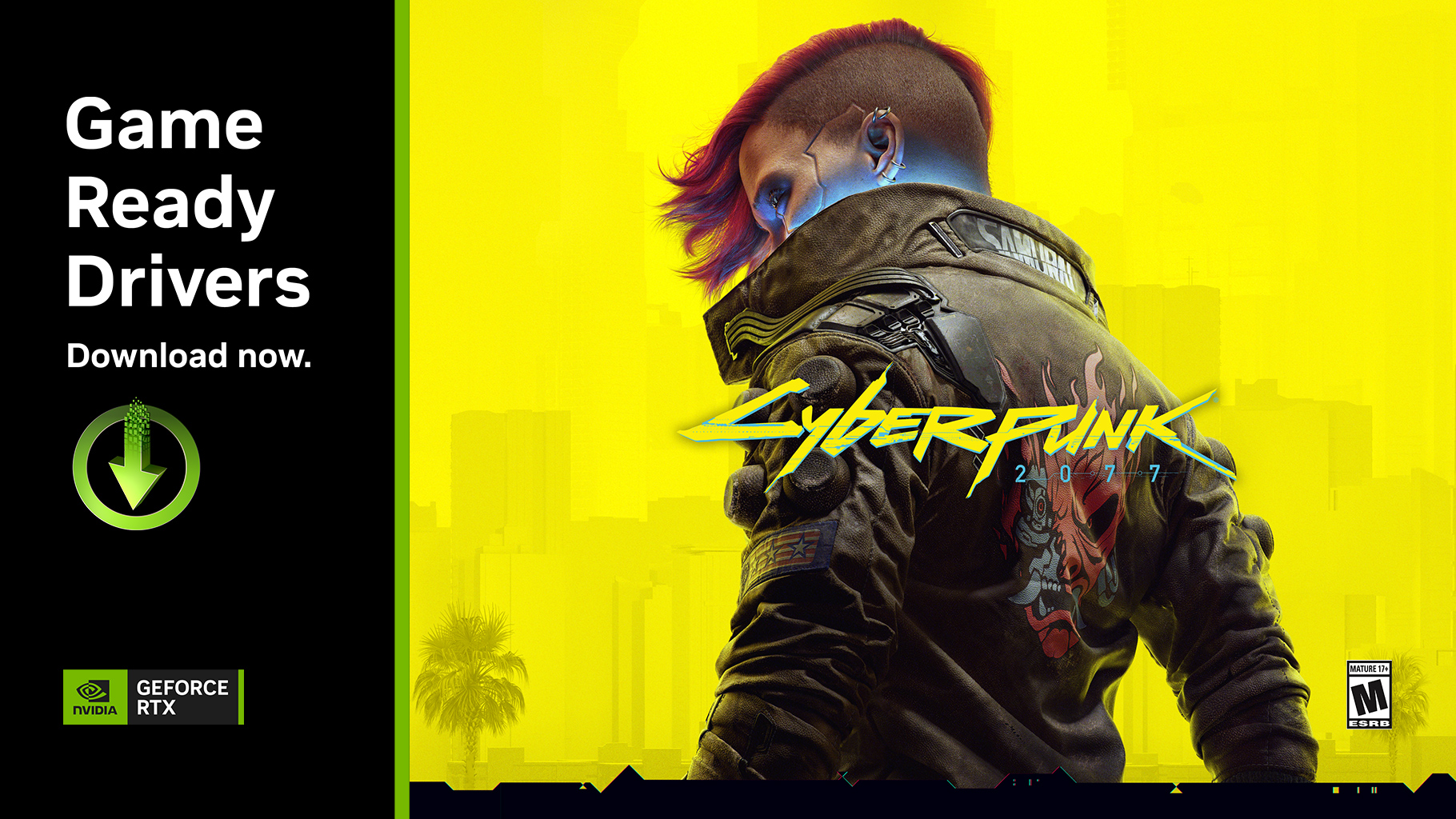 Cyberpunk 2077 with NVIDIA DLSS 3 is available now. Get the ultimate experience with our new, beyond fast GeForce RTX 40 Series graphics cards.
Cyberpunk 2077's Ray Tracing Overdrive Mode Update will arrive on PC later this year. Stay tuned to GeForce.com for future updates.