Each week we're bringing you the latest news on games launching with NVIDIA DLSS and advanced ray tracing. Last week, Sackboy: A Big Adventure multiplied performance with DLSS 3; this week we're celebrating the launch of the technology preview of Cyberpunk 2077's Ray Tracing: Overdrive Mode.
Additionally, High On Life and Like a Dragon: Ishin! have recently added DLSS 2 support, and there are even more games on the horizon with support for RTX technologies, so keep reading for all the details.
RTX ON: GeForce Gamers Embrace Ray Tracing & DLSS
In 2018, we began a gaming revolution with the launch of 1st generation GeForce RTX graphics cards. Since the release of the very first games decades ago, lighting had been faked, and various hacks employed to approximate shadows, reflections, and other real-world properties. GeForce RTX made real-time ray tracing a reality, enabling developers to realistically render reflections and lighting, making their games more immersive and enjoyable. And with DLSS 1.0, we invented a game-changing way for players to accelerate frame rates.
Back in 2018 there were 4 RTX games, 37% of GeForce RTX gamers enabled ray tracing, and 26% activated DLSS 1.0.
Five years later, we're at the 3rd generation of RTX with the release of GeForce RTX 40 Series graphics cards. Now, DLSS 3 multiplies performance with AI-accelerated Frame Generation in 30 games. DLSS 2 accelerates frame rates in over 280 games and apps with image quality that's as-good, or sometimes even better than native resolution TAA rendering. NVIDIA Reflex reduces system latency for a more responsive and enjoyable experience in over 70 games. And new technologies such as Shader Execution Reordering (SER), Opacity Micromaps (OMM), NVIDIA RTX Direct Illumination (RTXDI), and RTX Global Illumination (RTXGI) enable developers to create incredible ray-traced effects with performant frame rates and far less effort.
Among gamers, the massive strides RTX has made are well known, and the latest integrations are used by the majority of RTX owners. Of the millions of GeForce RTX desktop GPU owners, 83% of 40 Series gamers enabled ray tracing, and 79% of 40 Series gamers accelerated performance with DLSS in RTX capable games.
The popularity and adoption of ray tracing and DLSS has outpaced other advancements and technologies, such as 4K, which is used by 28% of gamers, and 144Hz+ high refresh rate gaming monitors, which are used by 62% of GeForce RTX 40 Series desktops GPU owners.
Cyberpunk 2077's Technology Preview of Ray Tracing: Overdrive Mode Is Available Now
CD PROJEKT RED's Cyberpunk 2077 is already one of the most technologically advanced games available, using several ray tracing techniques to render a massive future city at incredible levels of detail. Now, Cyberpunk 2077 has once again raised the bar with the release of the technology preview of Ray Tracing: Overdrive Mode, which introduces full ray tracing, otherwise known as path tracing.
The technology preview for Cyberpunk 2077's Ray Tracing: Overdrive Mode is a sneak peek into the future of full ray tracing, and we are working with CD PROJEKT RED on further full ray tracing enhancements, bug fixes, and performance optimizations. Check out our full ray tracing explainer video with CD PROJEKT RED.
Reflections, shadows, ambient occlusion, and much more are all improved, giving you a glimpse into the future of video game graphics. To make this possible, Cyberpunk 2077 uses NVIDIA DLSS 3 to multiply performance. With DLSS 3 activated, 4K performance on a GeForce RTX 4090 will be boosted by 4.6X to 103 FPS, and on a GeForce RTX 4080, performance leaps by 5X to 74 FPS.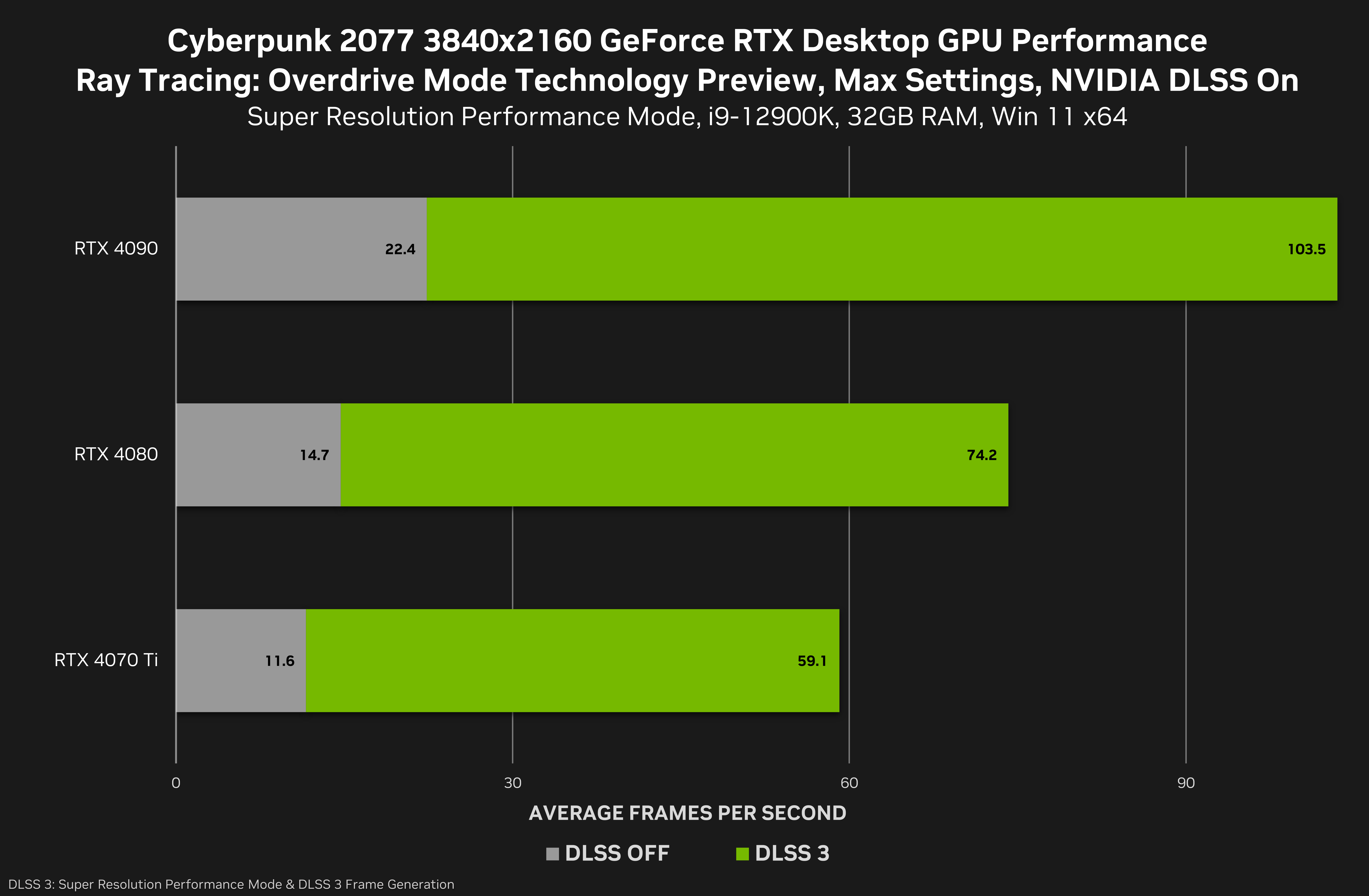 For all the details, check out our dedicated Cyberpunk 2077 Ray Tracing: Overdrive Mode article.
RTX Inside The Game Interview With CD PROJEKT RED
CD PROJEKT RED and NVIDIA are constantly pushing the boundaries of technology, and through our longstanding partnership, we've given PC gamers the definitive experience in Cyberpunk 2077 and The Witcher 3: Wild Hunt. In both, cutting-edge features have been employed to heighten immersion, increase image quality, reduce system latency, and accelerate performance. And with the release of the technology preview for Cyberpunk 2077's new Ray Tracing: Overdrive Mode, we're taking visuals, immersion, and our partnership to the next level.
To learn more about the new mode and DLSS 3, we spoke to Jakub Knapik, Vice President and Global Art Director at CD PROJEKT RED. To read the full interview, head on over to our Cyberpunk 2077 Ray Tracing: Overdrive - RTX Inside the Game article.
Everspace 2 Exits Early Access To Critical Acclaim
ROCKFISH Games' Everspace 2 added DLSS 2 back in May 2021 during Early Access. If you're unfamiliar with the game, it's a fast-paced single-player spaceship shooter with exploration in space and on planets, tons of loot, RPG elements, mining, and crafting. Players gave Everspace 2 great reviews during Early Access, and last week it officially launched to critical acclaim.
GeForce RTX gamers who dive into the game will discover a massive, graphically advanced universe, whose performance can be significantly accelerated with DLSS 2.
Like a Dragon: Ishin! Update Adds DLSS 2
1860's Kyo is plagued by widespread inequality, and one samurai will change the course of history in his search for justice, in Like a Dragon: Ishin!. Take up the sword of Sakamoto Ryoma and venture to Kyoto to find your father's killer, clear yourself of a framed murder, and restore your honor. In doing so, you will bring an end to the samurai era and forever change the future of Japan. Draw your blade, load your revolver, and join the revolution in this heated historical adventure that only the creators of Yakuza: Like a Dragon could produce.
In a recent game update, SEGA and Ryu Ga Gotoku Studio introduced DLSS 2 support, enabling GeForce RTX gamers to accelerate performance whilst maintaining the highest levels of image quality.
High On Life: Available Now With DLSS 2
Fresh out of high school with no job and no ambition, you've really got nothing going for you until an alien cartel that wants to get high off humanity invades Earth. Now, you and a team of charismatic talking guns must answer the hero's call and become the deadliest intergalactic bounty hunter the cosmos has ever seen. Travel to a variety of biomes and locations across the cosmos, go up against the nefarious Garmantuous and his gang of goons, collect loot, meet unique characters, and more, in the latest comedy adventure from Squanch Games!
Earlier this month, High On Life sent a new update hurtling across the cosmos onto players' PCs - for GeForce RTX gamers, there was an extra special treat, with the inclusion of NVIDIA DLSS 2 support.
DLSS 2-Enhanced LEAP Now Out Of Early Access
LEAP is a fast-paced, multiplayer first-person team-based shooter developed by Blue Isle Studios. LEAP pits players against one another in a variety of Competitive game modes featuring high-flying battles. Or, jump into the Special Operations mode and join forces with a team of up to 4 players to work cooperatively through a series of missions as you face off against hordes of enemies. Choose from one of 4 unique classes, each equipped with a powerful arsenal of weapons and game-altering abilities.
GeForce RTX gamers can jump into LEAP, now out of Early Access, with performance boosting NVIDIA DLSS 2 for maximum performance.
Check Back Next Week For More
DLSS releases are dropping into the newest blockbusters and latest indie games. Check back next week for a rundown of the next DLSS games, and head here to see the complete list of over 280 DLSS-enhanced games and apps.