NVIDIA Reflex is a must-have in games, reducing system latency so your actions occur quicker, giving you a competitive edge in multiplayer matches, and making single-player titles more responsive and enjoyable. NVIDIA Reflex is now used by over 50 million players each month, is available in 9 of the top 10 competitive shooters, including the Counter-Strike 2 beta, and is activated by 90% of GeForce gamers in 70+ supported titles.
Recent recipients of Reflex include Redfall, Returnal, and The Lord of the Rings: Gollum™. Next month, Reflex will be available at launch in Diablo IV, and is coming to Metal: Hellsinger by way of a game update.
NVIDIA Reflex also encompasses optimized mice and monitors, which contribute to your overall system latency. By working with manufacturers we have built reporting capabilities into products, enabling GeForce gamers to measure their end-to-end system latency, seeing where their system may be holding them back.
Today, we are launching NVIDIA G-SYNC Ultra Low Motion Blur 2 (ULMB 2). ULMB 2 delivers full refresh rate backlight strobing, nearly 2x higher brightness than the original ULMB, and nearly eliminates crosstalk. Together, these deliver incredible motion clarity for competitive gamers, helping them identify, track and target threats with greater ease, further increasing their competitiveness.
Additionally, four new GIGABYTE AORUS mice have added support for Reflex, along with a new LG UltraGear gaming monitor.
For all the details, keep reading.
Diablo IV Launches June 6th With Reflex & DLSS 3
The demon Lilith and the angel Inarius united to create the world of Sanctuary in their desire to escape the Eternal Conflict between the High Heavens and Burning Hells. But now, decades after the events of Diablo® III: Reaper of Souls®, they are bitter enemies who have resorted to war against each other with their respective followers. The lands of Sanctuary have become plagued with ceaseless demons, and only the most steadfast of heroes will be able to hold strong in the face of darkness in Diablo® IV.
On June 6th, Diablo® IV launches on Battle.net, boasting support for NVIDIA Reflex and NVIDIA DLSS 3, giving GeForce RTX gamers a superior experience. Using Reflex, system latency is reduced by up to 67%, helping you vanquish the forces of evil, and providing you the ultimate experience against foes at the hardest difficulties and in Hardcore mode. And with DLSS 3, desktop performance is multiplied by an average of 2.5X at 4K, and by an average of 1.8X on GeForce RTX 40 Series laptops at 1440p.
To celebrate Diablo IV's release, NVIDIA and Blizzard have launched the Diablo IV GeForce RTX 40 Series Bundle, available now until June 13th. Buyers of eligible GeForce RTX 4070, 4070 Ti, 4080 and 4090 graphics cards and desktop PCs from select retailers and etailers will receive a Battle.net copy of Diablo IV. Head here for further information.
Metal: Hellsinger Adding Reflex
Slay to the rhythm of metal and vengeance on an infernal journey through the eight Hells. Make Hell fear the beat. Funcom and The Outsiders' Metal: Hellsinger is an Overwhelmingly Positively-rated rhythm first-person shooter bursting with demons, badass weapons, and heavy metal music.
Metal: Hellsinger's hardest difficulties and toughest challenges demand precise timing - with the addition of NVIDIA Reflex, coming very soon, things will get slightly easier thanks to Reflex's 27% reduction to system latency.
Reflex Reduces Latency In Even More Games
Over 70 released games support NVIDIA Reflex, enabling GeForce players to reduce system latency significantly, for the most responsive gaming experience possible on any platform. Since our last Reflex update, even more titles have introduced Reflex technology for their players, giving over 50 million GeForce gamers each month a superior experience:
In each title, enter the video options and enable NVIDIA Reflex to reduce system latency on your system. For even lower latency, select "On + Boost", and optimize other parts of your system to further reduce system latency.
For a complete list of all 70-plus supported NVIDIA Reflex games, head here.
G-SYNC Ultra Low Motion Blur 2 Available Now
Since 2015, Ultra Low Motion Blur (ULMB) has delivered extra motion clarity for competitive gamers. Today, we're launching G-SYNC Ultra Low Motion Blur 2 (ULMB 2), with over 1000 Hz of effective motion clarity for the best motion blur reduction for competitive gamers. Compared to the original, ULMB 2 delivers full refresh rate backlight strobing, nearly 2x higher brightness, and has practically zero crosstalk.
Best of all, ULMB 2 is available now, for free, for capable monitors through a single-click firmware update! For a deep dive on G-SYNC Ultra Low Motion Blur 2, and details about the free upgrade process, head on over to our dedicated article.
New Overwatch 2 Slow Motion Video Exemplifies The Benefits Of High Refresh Rate 1440p Gaming
High refresh rate gaming on a high refresh rate 1440p monitor gives you several advantages against opponents on lower refresh rate displays. Namely:

Improved clarity from a reduction in blurring
Enemies will be seen sooner, enabling you to target and attack them sooner
Enemy character models will update more smoothly and frequently on your display, enabling easier and more precise attacks while they're moving
Your system latency will be reduced, further improving your competitiveness
Without seeing it for yourself, it's hard to visualize these benefits, which is why we've captured a slow motion video on a 1000 frames per second camera, exemplifying the benefits of high refresh rate gameplay in Overwatch 2:
If you want more examples of how Reflex improves your experience and makes you more competitive, check out our NVIDIA Reflex YouTube playlist, featuring Myth, n0thing, and other pro players.
GIGABYTE AORUS Mice With NVIDIA Reflex Analyzer Support Available Now
NVIDIA Reflex-compatible mice work in concert with GeForce Experience and NVIDIA Reflex gaming monitors to measure end-to-end system latency, from the click of a mouse, to the action occurring in the game, to that being shown on your display. Identify bottlenecks, minimize latency, and get the most responsive gaming possible, helping you maximize your potential.
This month sees the addition of 4 new NVIDIA Reflex-compatible mice, all from Gigabyte's AORUS range: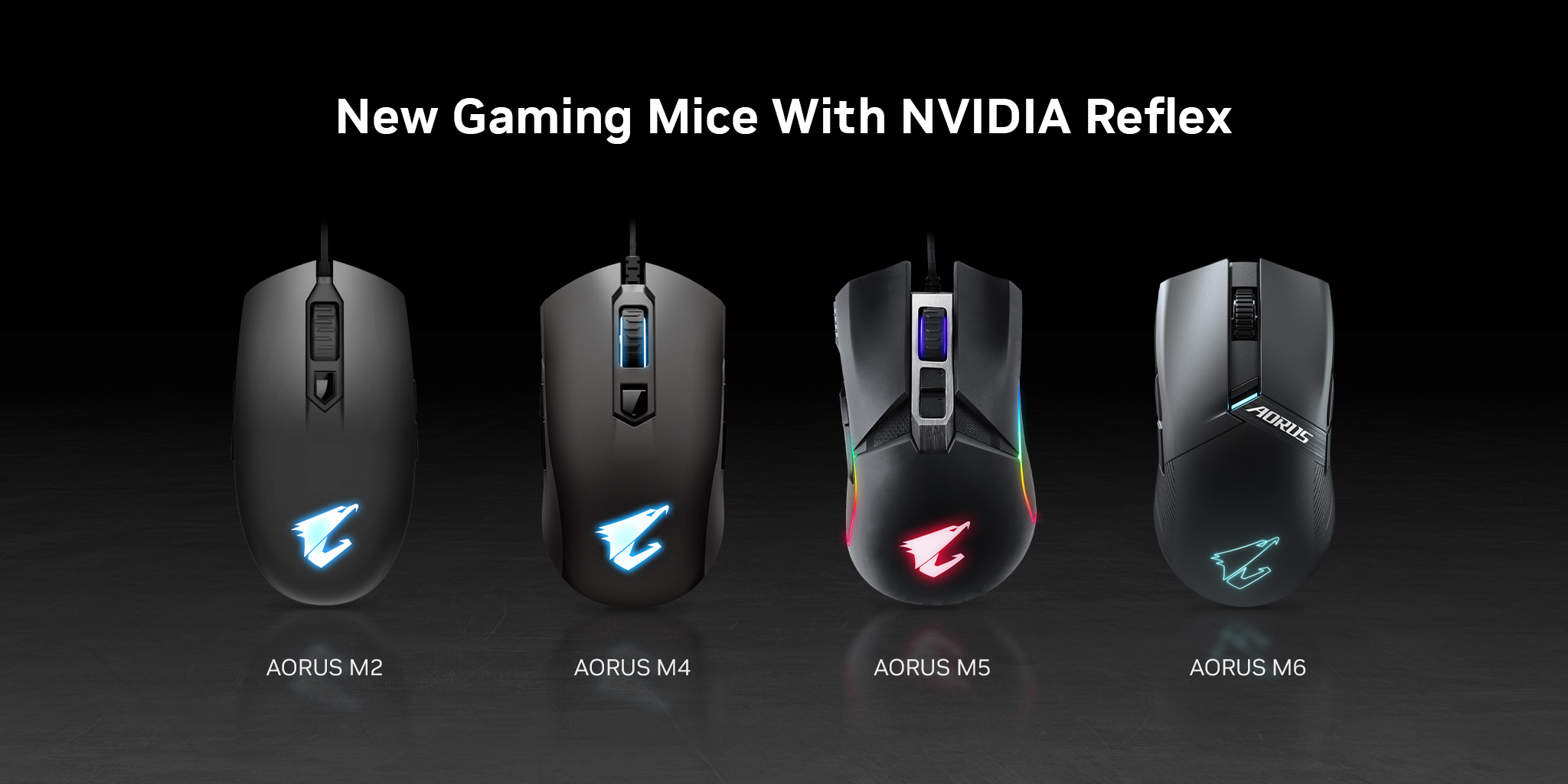 To learn more about measuring system latency with compatible NVIDIA Reflex accessories, follow our guide here.
New NVIDIA Reflex LG UltraGear G-SYNC Gaming Monitor Released
NVIDIA Reflex has become synonymous with esports - Reflex is present in the best competitive games, G-SYNC Monitors with Reflex have the highest refresh rates with excellent image clarity, and Gaming Mice with Reflex are primed to up your game. To fully measure end-to-end system latency, from click to game, to display, you need a Reflex game, monitor, and mouse.
This month, LG Is launching the new UltraGear 25GR75FG in select markets, following its debut as the official display of the League of Legends 2023 EMEA Championship.
The UltraGear 25GR75FG is a 24.5" 1920x1080 IPS monitor with a 360 Hz refresh rate, 1 millisecond gray-to-gray (GTG) response time, VESA Display HDR 400 certification, and official support for G-SYNC and Reflex Analyzer.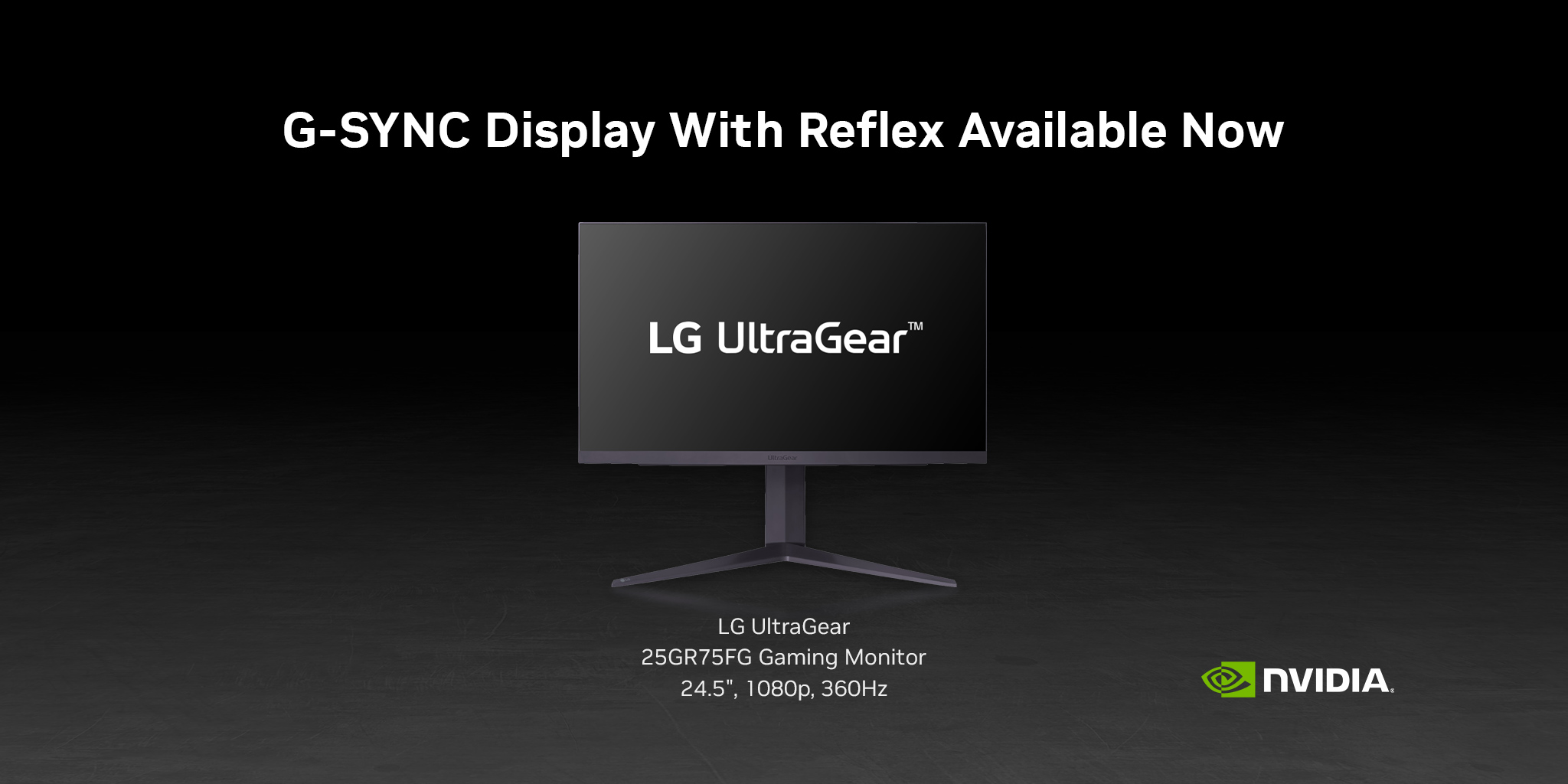 If you'd like a full list of Reflex-compatible G-SYNC gaming monitors and displays, head here.
More To Come Soon
Even more new NVIDIA Reflex games, monitors, and mice are on the way, so stay tuned to GeForce.com to see the news when it drops. Check out the complete list of currently supported games and devices on our NVIDIA Reflex website.