Our latest GeForce Game Ready Driver is here for the new GeForce RTX 4060 Ti, and gets your system ready for The Lord of the Rings: Gollum™, launching May 25th with DLSS 3, Reflex, ray tracing, and other RTX technologies.
Additionally, there's support for 2 new G-SYNC Compatible gaming monitors, and another 7 GeForce Experience Optimal Settings.
To download and install, head to the Drivers tab of GeForce Experience or GeForce.com, and read on for further details.
Game Ready For The GeForce RTX 4060 Ti
The GeForce RTX 40 Series is welcoming new additions, beginning May 24th with the GeForce RTX 4060 Ti, a 1080p performance champ that starts at $399.
In July, the GeForce RTX 4060 Ti with 16GB arrives, starting at $499, featuring additional graphics memory but otherwise identical specifications. And rounding out the family is the GeForce RTX 4060, a high-performing 1080p card also available in July that starts at just $299.
The NVIDIA Ada Lovelace architecture offers a substantial upgrade, enabling you to supercharge your performance in the latest games and creative apps.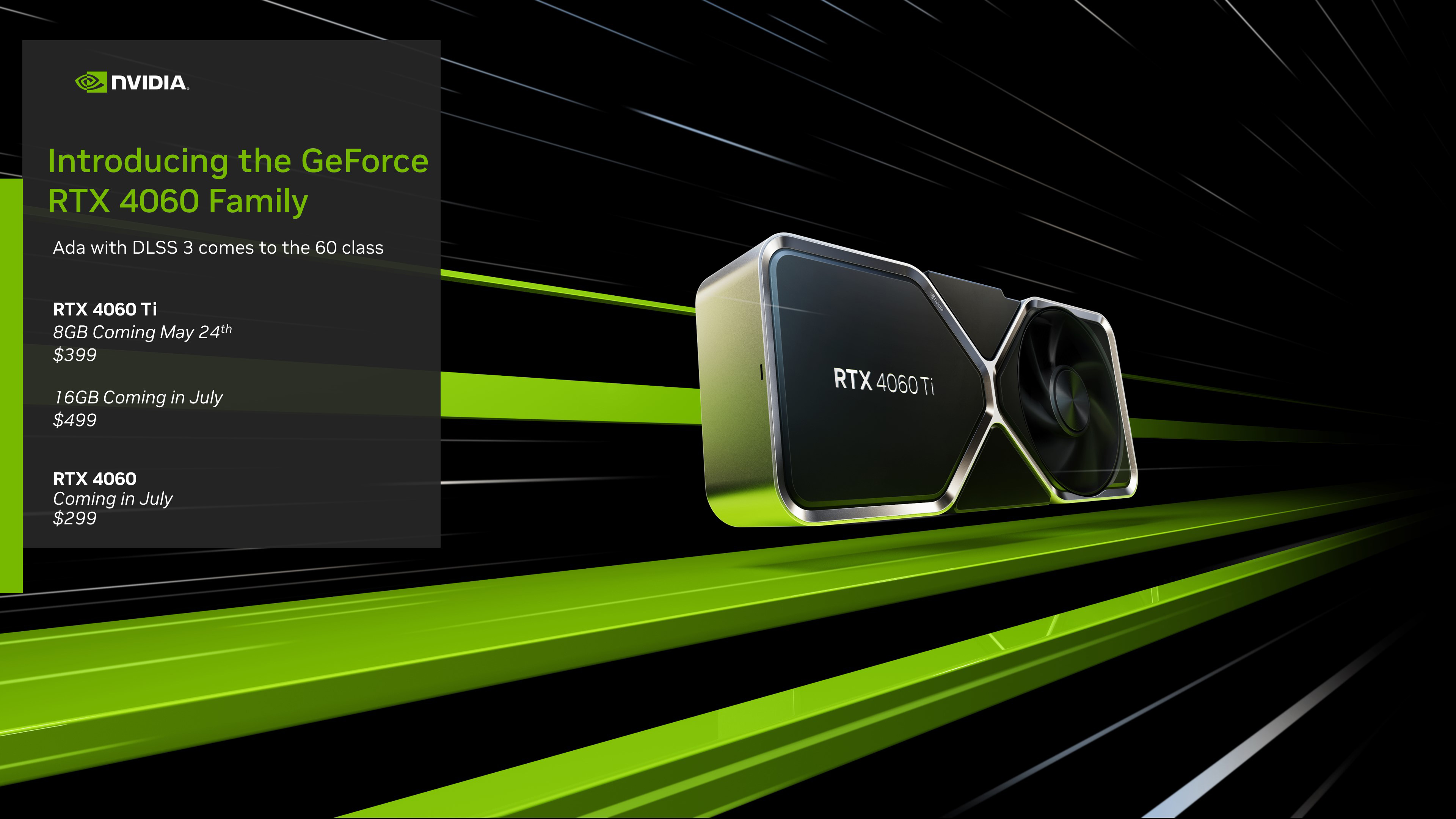 The RTX 4060 Ti is up to 2.6X faster than the RTX 2060 SUPER with Frame Generation, and 1.6X without Frame Generation, thanks to the Ada architecture, Shader Execution Reordering, NVIDIA DLSS 3 and other innovations. Together, they enable the GeForce RTX 4060 Ti to run many of today's graphically advanced games at over 100 FPS with ray tracing enabled: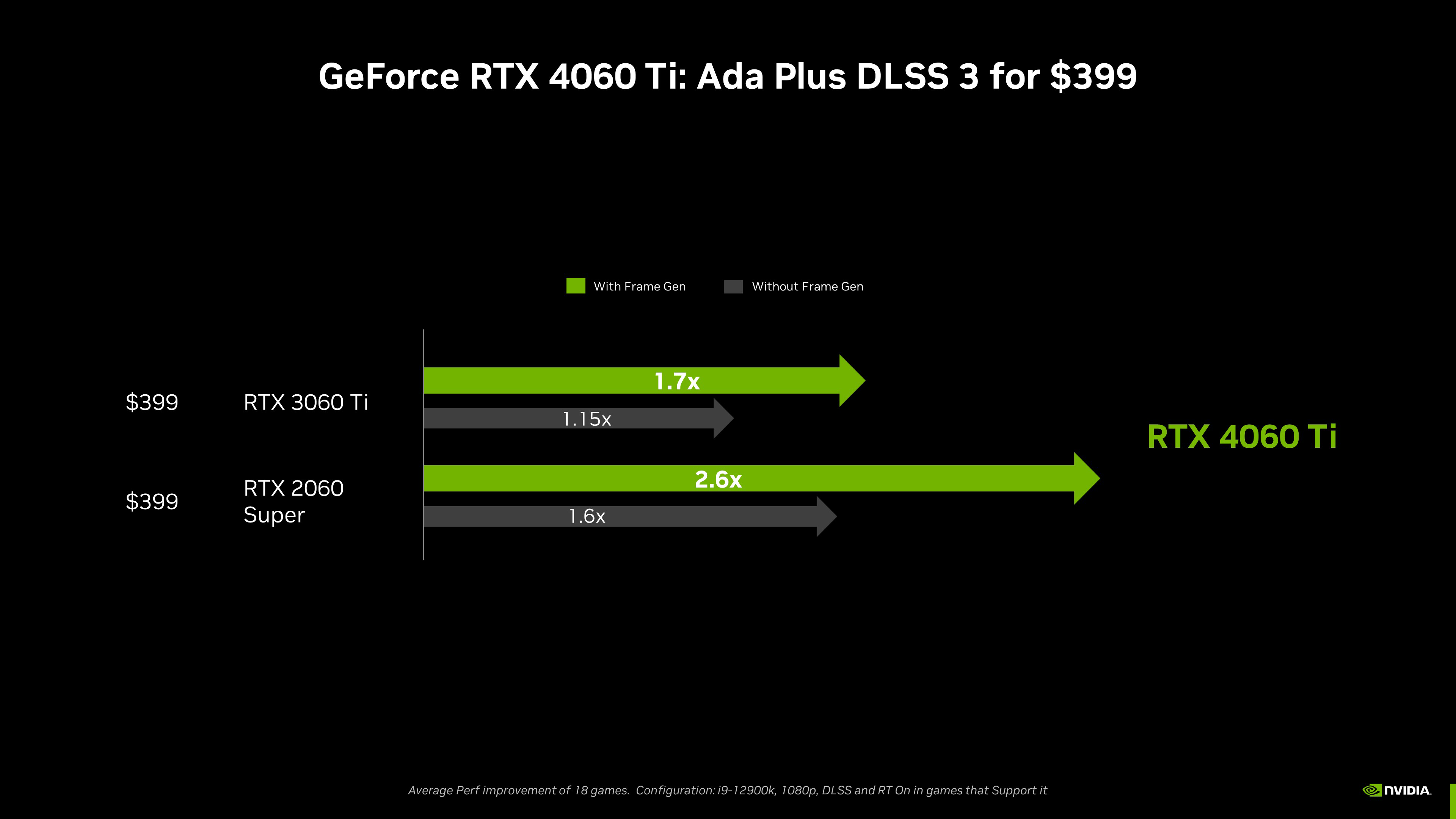 The GeForce RTX 4060 Ti includes all the same advancements, enhancements, and innovations as other GeForce RTX 40 Series graphics cards, granting you access to a massive ecosystem of technologies and features that improve your gaming experiences, productivity, and creativity. And like other GeForce RTX 40 Series cards, it's highly efficient when gaming, and sips power when idling, chatting, or streaming.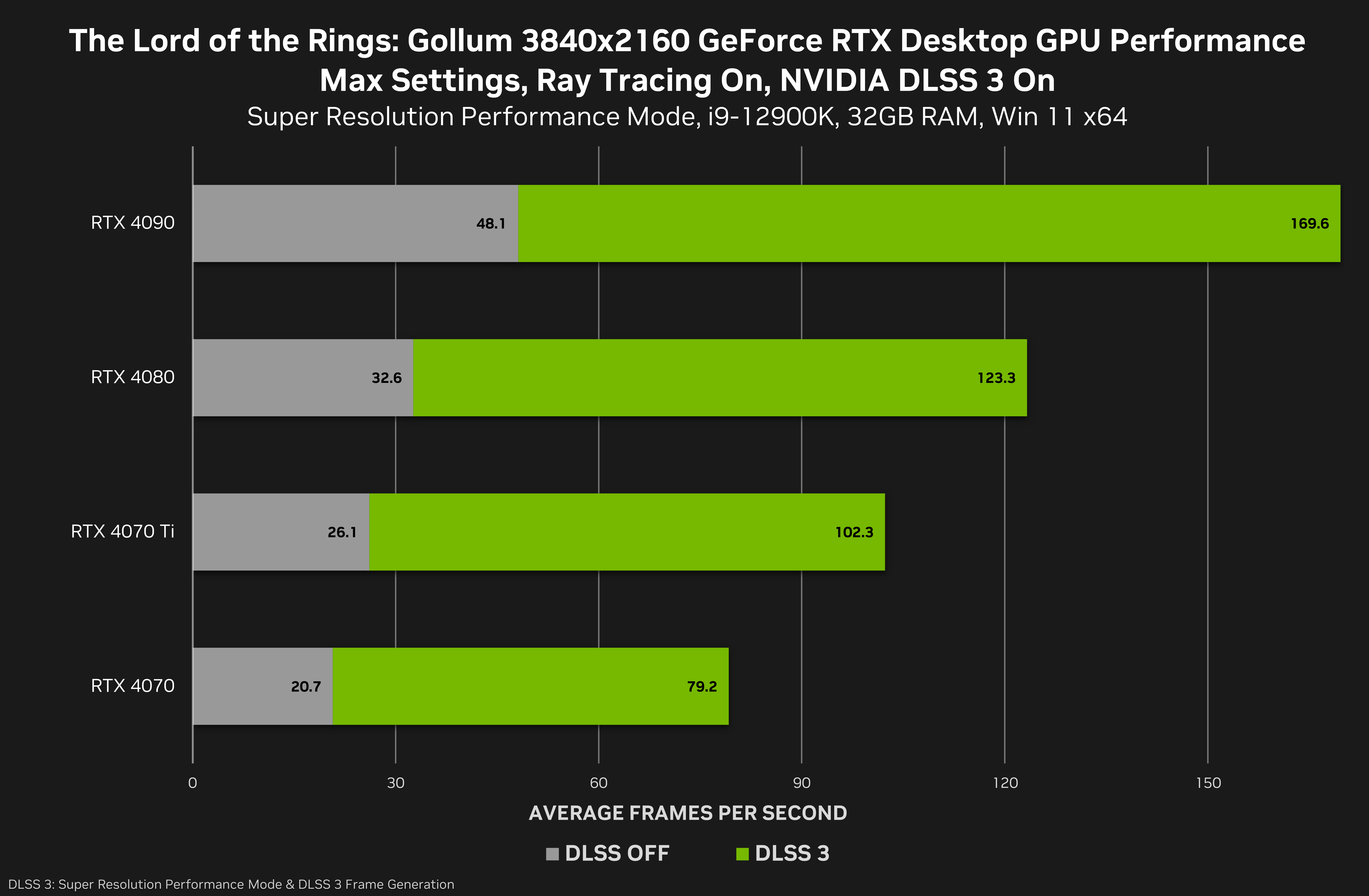 Today, 4 out of the 5 most popular GPUs are GeForce 60-class products, and 77% of gamers play at 1080p or lower resolutions. If you're one of these gamers, the GeForce RTX 4060 Family is a great upgrade, enabling you to enjoy the latest games with fast, fluid frame rates. Reviews agree:
"...we would fully recommend the RTX 4060 Ti for a high-end 1080p gaming PC" - PCMag
"This GPU excels at 1080p, attaining triple-digit performance." - Dexerto
"It's a great 1080p performer that punches well above its weight class even before you enable the black magic that is DLSS 3 in games that support the feature." - MMORPG.com
"…the GeForce RTX 4060 Ti is remarkably efficient while remaining cool and quiet." - TweakTown
"... for anyone that didn't dip their toes into either the RTX 30 or RX 6000-series, the RTX 4060 Ti is going to represent a great mid-range upgrade. Bringing with it the twin pillars of DLSS 3 and Frame Generation, it has the potential to deliver a gaming experience that feels truly next-gen." - PC Gamer
For a complete rundown of the GeForce RTX 4060 Family's capabilities and features, please check out our comprehensive announcement article.
Game Ready For The Lord of the Rings: Gollum™
Based on the books by J. R. R. Tolkien, The Lord of the Rings: Gollum™ is a story-driven stealth adventure game from Daedalic Entertainment, creators of Deponia and many other highly regarded titles. Take on a perilous journey as the deformed and twisted Gollum, chasing the only thing that's precious to him: the One Ring. Available May 25th, The Lord of the Rings: Gollum™ launches with support for DLSS 3, NVIDIA DLAA, NVIDIA Reflex, and ray-traced shadows and reflections.
In The Lord of the Rings: Gollum™, GeForce RTX 40 Series gamers can multiply performance with DLSS 3. At 4K, performance on the GeForce RTX 4090 increases by 3.5X, enabling 169 frames per second with every setting maxed out, and all ray tracing options enabled. The GeForce RTX 4080 can hit 123 FPS, a 3.8X increase; the GeForce RTX 4070 Ti sees a 3.9X speedup, for 100 FPS gameplay; the GeForce RTX 4070 receives a 3.8X boost, giving it a 79 FPS result in our benchmark.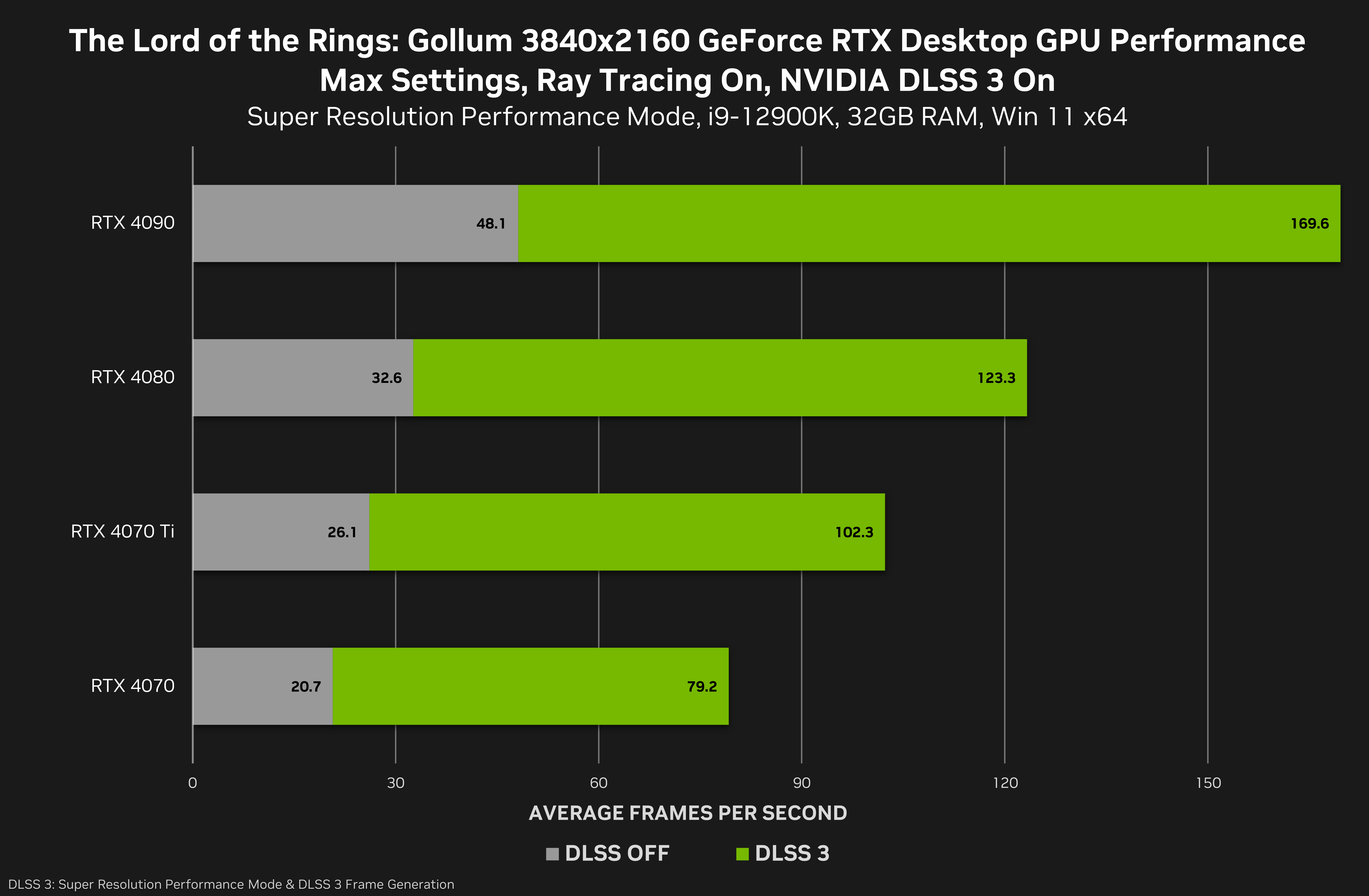 On GeForce RTX 40 Series laptops, DLSS 3 improves performance by an average of 2.5X at 2560x1440 with max settings and ray tracing enabled. At 1080p, DLSS 3 helps all RTX 40 Series laptop GPUs to run at over 90 FPS, with the flagship GeForce RTX 4090 Laptop GPU topping 200 FPS!
With such fast frame rates on many GPUs, you may want to enhance image quality with NVIDIA DLAA, an AI-based anti-aliasing mode that utilizes the same technology developed for DLSS. DLAA uses a native resolution image to maximize image quality, and in The Lord of the Rings: Gollum™ DLAA can be combined with DLSS Frame Generation for great image quality and excellent performance.
To make gameplay even more responsive, gamers with GeForce RTX or GeForce GTX 900 Series and newer GPUs can enable NVIDIA Reflex. This reduces system latency so your actions occur quicker, making single-player titles more responsive and enjoyable, and increasing your competitiveness in multiplayer matches. In The Lord of the Rings: Gollum™, with Reflex activated, system latency is reduced by up to 56%.
If you want to experience The Lord of the Rings: Gollum™ with all the bells and whistles, or just want to know how it'll perform on your system, here are the official PC system requirements, featuring resolution, preset and frame rate info: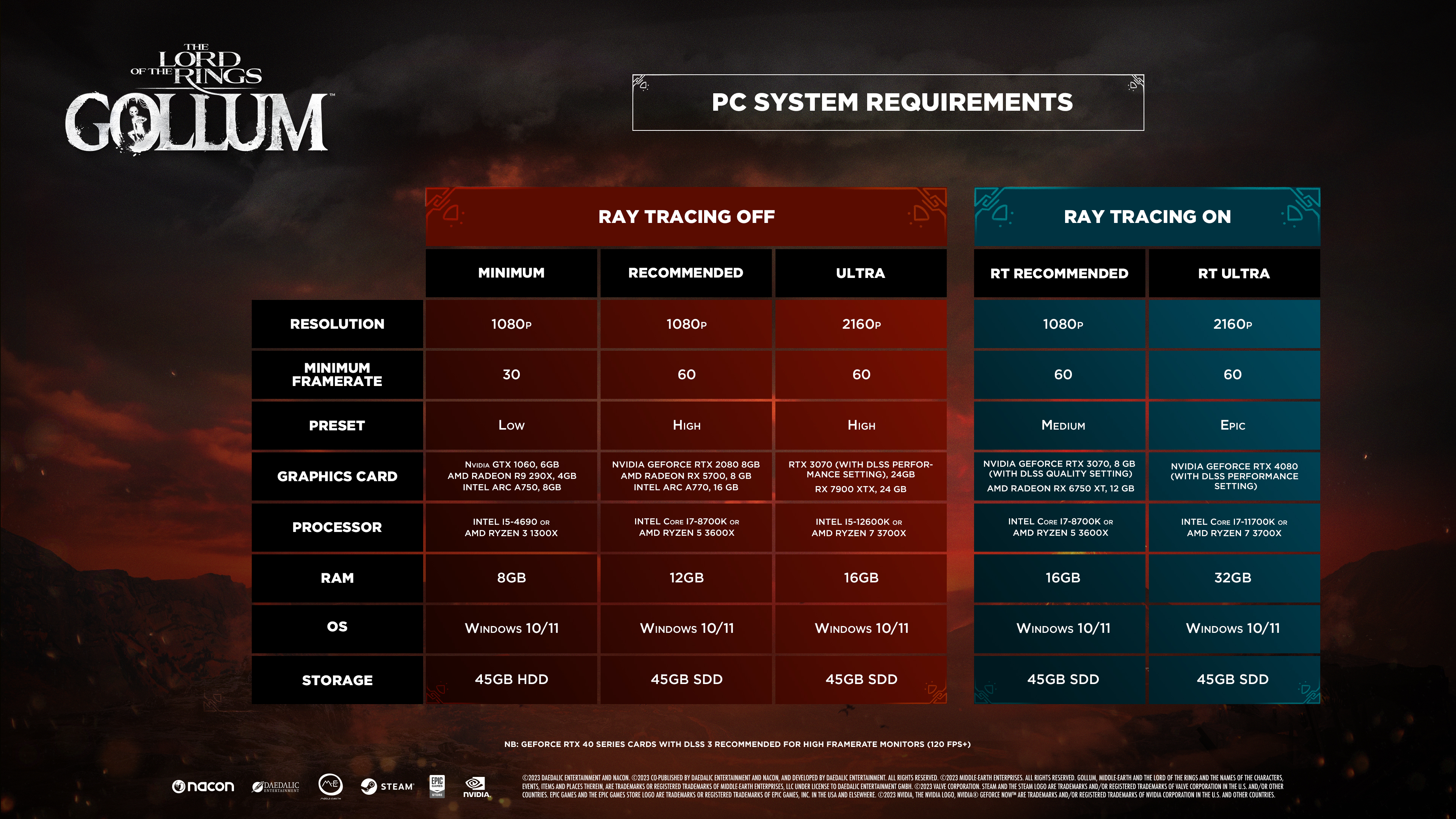 The Lord of the Rings: Gollum™ launches May 25th. Head on over to Steam to Wishlist or pre-order. Learn about the latest developments in the world of DLSS in our newest DLSS article.
AI Optimizations For Developers
At the Microsoft Build conference NVIDIA unveiled new tools for developers that will make it easier and faster to train and deploy advanced AI on Windows 11 PCs with RTX GPUs.
Support For Newly Validated G-SYNC Compatible Displays
Our newest Game Ready Driver adds support for 2 new G-SYNC Compatible displays that deliver a baseline Variable Refresh Rate (VRR) experience that makes your gaming smoother and more enjoyable.
| | | | | | | |
| --- | --- | --- | --- | --- | --- | --- |
| Manufacturer | Model | HDR | Size | Panel Type | Resolution | VRR Range |
| I-O DATA | GC253U | No | 24.5 | IPS | 1920x1080 (FHD) | 59-240Hz |
| I-O DATA | GD271UAX | Yes | 27 | IPS | 1920x1080 (FHD) | 59-240Hz |
These newly-validated monitors give gamers even more choice when searching for a great gaming display. For a complete list of all G-SYNC, G-SYNC ULTIMATE, and G-SYNC Compatible gaming monitors, check out our handy and frequently updated G-SYNC page, which can be sorted and filtered, helping you quickly find the ideal display.
New Games Supported By GeForce Experience's Optimal Settings
GeForce Experience's one-click optimal settings enable you to instantly configure game options for your system's hardware, giving you smooth, optimized gameplay. Over 1000 titles are supported, and since our last driver release we've added support for 7 more:
Age of Wonders 4
Boundary
Crime Boss: Rockay City
Honkai: Star Rail
Redfall
STAR WARS Jedi: Survivor
Stranded: Alien Dawn
GeForce Experience also enables you to capture and stream your gameplay, take screenshots, upload videos to social networks, and more. For all the details, head here.
GeForce Game Ready Driver - Download Now
Learn more about GeForce Game Ready Drivers here; download the new GeForce Game Ready 532.03 WHQL driver through GeForce Experience.
If you experience any technical issues with the new Game Ready drivers please post a detailed report on the GeForce.com Driver Feedback Forum, where our Customer Care team can better assist you. And if you're looking for a full list of fixes in this driver, for previously-reported issues, head here.