The new GeForce RTX 4060 and 4060 Ti give gamers high performance in the latest games at 1080p, the resolution of choice for the majority of Steam gamers. Our new GPUs are loaded with our complete suite of RTX tech, and get even faster thanks to DLSS 3, the performance multiplier.
Performance can increase by up to 2.6X with Frame Generation, and 1.6X without Frame Generation, compared to an RTX 2060 SUPER, enabling you to enjoy the latest games with fast performance. Whether your game of choice is ray traced or rasterized, you'll receive a fantastic experience every time.
You can get the complete breakdown in our GeForce RTX 4060 and 4060 Ti announcement article; to celebrate their unveiling, we're doing something truly unprecedented: we're giving away 460 graphics cards to you, our community, as part of our Summer of #RTXON promotional event.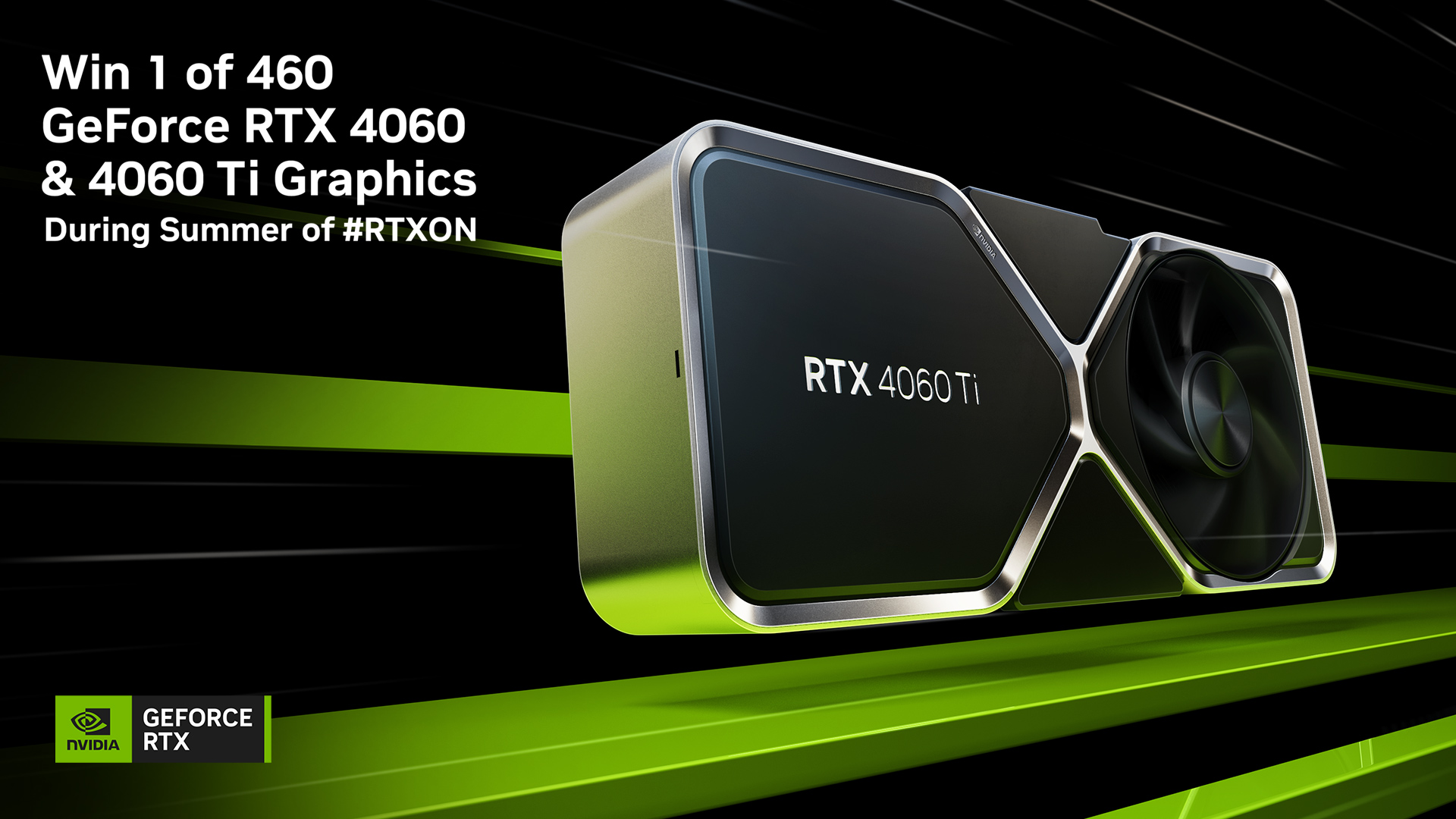 Our promotion kicks off with an exciting twist. We are asking our community to nominate Creators they feel deserve an upgrade from their current setup to a brand new GeForce RTX 4060 Ti Founders Edition graphics card. Not only that, all selected Creators will also receive two GeForce RTX 4060 graphics cards to give to their community. These cards are from our partners: ASUS, Colorful, Gainward, GIGABYTE, Galax, INNO3D, MSI, Palit, PNY, ZOTAC. This is a fantastic opportunity to let your favorite creators know how much you appreciate their hard work and dedication to making games and graphics more fun and rewarding.
Of course, it goes beyond just Creators. Throughout the summer, we are also giving away fantastic prizes as part of the annual sweepstakes you know and love.
How to enter? Simply:
Follow our social channels on Facebook, Twitter, Instagram, and TikTok for key prompts and instructions
As prompted, Like/comment/tag/share posts across social
Use #RTXOn (or any hashtag that is prompted) across any post throughout until September 20, 2023
Be on the lookout for your favorite creators to join in on the celebration, giving you even more chances to win
Entrants will be picked at random to win, and there's also a chance you may win a GeForce RTX 4090 Founders Edition, a GeForce RTX 4080 Founders Edition, a G-SYNC display, a one-of-a-kind PC rig, a custom GPU backplate, RTX On keycaps, game codes, and NVIDIA swag as part of our $150,000 Summer of #RTXON event that will highlight and amplify all the great gaming events and releases over the next few months.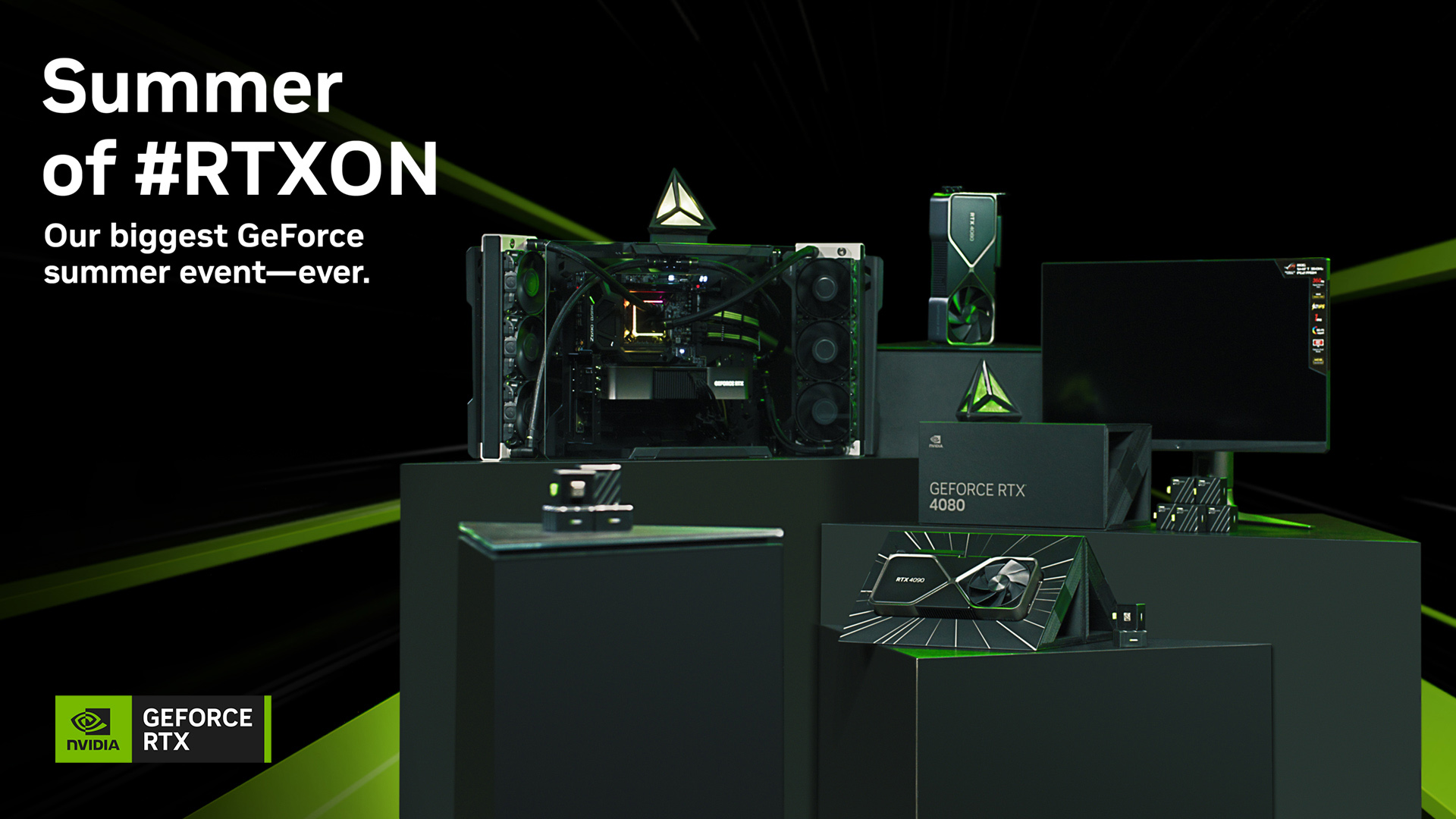 Get all the details about the amazing Summer of #RTXON here, and stay locked to our social media channels for more details about the events and games we'll be highlighting and celebrating.
And for all the news about new RTX games, hardware and technology, stay tuned to GeForce.com.