Each week, we're bringing you news of the latest DLSS and ray tracing integrations in games and apps. Last week at COMPUTEX 2023, we announced that Ash Echoes, Honor of Kings: World, and Legend of Ymir will all launch with DLSS 3, and Party Animals with DLSS 2. And we celebrated the Early Access DLSS 3-enhanced release of Diablo IV, and the launch of System Shock with DLSS 2.
This week, Diablo IV launches for everyone worldwide, Tower of Fantasy has updated to DLSS 3, and Sony announced the July 26th release of Ratchet & Clank: Rift Apart, which will include DLSS 3, ray tracing, Reflex, and DLAA.
Additionally, DLSS 2 is now available in Alone In The Dark Prologue, WILD HEARTS, and Wo Long: Fallen Dynasty, enabling GeForce RTX gamers to get the best possible performance and image quality in even more games.
Diablo IV Available Now With DLSS 3 & Reflex
If you hadn't heard, Diablo IV is launching everywhere today, June 6th. Last week, Early Access began and NVIDIA DLSS 3 was there on day one, multiplying performance by an average of 2.5X at 4K.
Press and players are loving the game and its technology - get the complete lowdown on the game's Diablo IV's GeForce enhancements in our in-depth launch article, and check out the media's impressions below:
If you're a Diablo IV fan, you won't want to miss our new sweepstakes, in which you can snag a GeForce RTX 4080 graphics card featuring a custom Diablo IV backplate. Follow us on social media to learn how to enter and win, see the full terms and conditions here.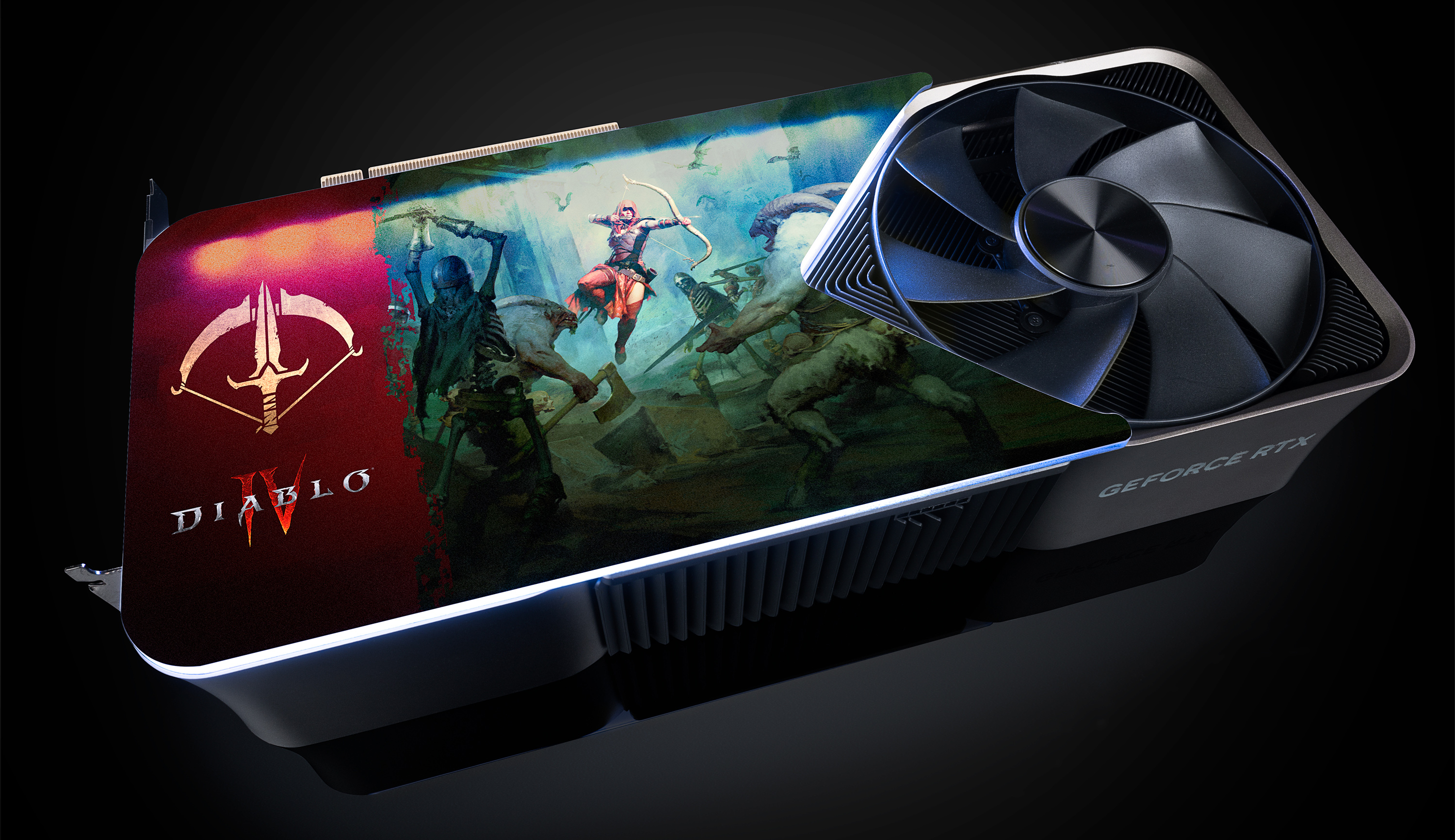 Featuring NVIDIA DLSS 3, NVIDIA DLSS 2, NVIDIA DLAA and NVIDIA Reflex, Diablo IV is at its very best on GeForce RTX graphics cards. And in the future, GeForce RTX gamers will have the fastest possible frame rates when playing Diablo IV with the game's upcoming ray-traced effects. Head here to see how GeForce RTX GPUs will enhance the hundreds of hours you'll spend in Diablo IV.
Ratchet & Clank: Rift Apart Available July 26 With DLSS 3, Ray Tracing & More
The Ratchet & Clank franchise recently celebrated its 20th anniversary, and on July 26th PC gamers can experience the action and humor of the franchise for the first time with the PC release of the critically acclaimed Ratchet & Clank: Rift Apart. Help the beautifully-rendered duo take on an evil emperor from another reality as you jump between action-packed worlds and beyond in this spectacular action-adventure-platformer, developed by acclaimed studio Insomniac Games, and brought to PC by the one and only Nixxes Software.
Building upon their work on other Sony Interactive Entertainment PC conversions, Nixxes is loading Ratchet & Clank: Rift Apart with every possible technology, giving PC gamers an incredible experience that leverages the full capabilities of their systems.
GeForce RTX 40 Series graphics cards and laptops can multiply performance using NVIDIA DLSS 3, while GeForce RTX 20 and 30 Series users can accelerate frame rates with NVIDIA DLSS 2. All GeForce RTX gamers can maximize image quality with NVIDIA DLAA, for the highest possible picture quality. And GeForce GTX 900 Series and newer gamers can make Ratchet & Clank: Rift Apart gameplay even more responsive with NVIDIA Reflex.
Through a process detailed in full in our DLSS 3 article, DLSS 3 combines DLSS Super Resolution and DLSS Frame Generation to reconstruct 7/8ths of the displayed pixels, accelerating performance significantly.
In GPU-limited games, DLSS 2 Super Resolution technology can increase your frame rates by up to 2X. With DLSS 3, we can boost them by up to 4X (compared to brute-force rendering) in fully ray-traced worlds.
Certain games make extensive use of the CPU which can limit performance. DLSS 3 operates on the GPU, bypassing CPU bottlenecks and boosting frame rates.
DLSS 3 games are backwards compatible with DLSS 2 technology - developers simply integrate DLSS 3, and DLSS 2, also known as DLSS Super Resolution, is supported by default. Additionally, integrations of DLSS 3 also include NVIDIA Reflex, reducing system latency for all GeForce RTX users, making games more responsive.

Ratchet & Clank: Rift Apart also features ray-traced reflections with a variety of quality levels to choose from, as well as newly added ray-traced shadows, for natural light in outdoor areas. Gamers with GeForce RTX GPUs can enjoy these at the highest frame rates thanks to their dedicated ray tracing cores that greatly accelerate ray tracing performance.
Additionally, there's support for 21:9, 32:9 and 48:9 resolutions, and triple-monitor Surround gaming. There's the usual assortment of options to ensure you can play the way that best suits your style, and when using a DualSense controller on a wired connection, you can feel in-game actions coming to life in your hands with haptic feedback and dynamic trigger effects.
Ratchet & Clank: Rift Apart launches July 26th on PC - wishlist or pre-order now.
Tower of Fantasy DLSS 3 Update Available Now
Set hundreds of years in the future after humanity has escaped the collapsing environment of earth and fled to the distant planet of Aida, the cross-platform, shared open-world MMORPG action of Tower of Fantasy invites gamers around the world to join in on the thrilling action. Developed by Hotta Studio and published by Level Infinite, the game features an immersive open world, co-operative group and solo adventures, freeform character development, unique simulacrums, and epic combat that allows players to switch weapons and gameplay styles on the fly to unlock their own personal fighting style.
Last year, PC Tower of Fantasy players received an update adding ray-traced reflections and NVIDIA DLSS 2. Now, Tower of Fantasy has upgraded to DLSS 3, multiplying performance for GeForce RTX 40 Series gamers.
Alone In The Dark Launching October 25th With DLSS 2, Prologue Demo Out Now
Return to Derceto Manor in Pieces Interactive's reimagining of Alone in the Dark, the 90's cult classic horror game. Launching October 25th, the new Alone in the Dark stars actors Jodie Comer (Killing Eve, Free Guy) and David Harbour (Stranger Things, Black Widow), who will lend their voices, appearance, and formidable acting skills to the two playable protagonists, Emily Hartwood and Edward Carnby. Set in the gothic American South in the 1920s, Alone in the Dark features a noir setting with classical Lovecraftian horror elements, where the familiar meets the surreal.
Ahead of the game's launch, THQ Nordic and Pieces Interactive have released the Alone in the Dark Prologue, a standalone story that puts you in the tiny shoes of Grace Saunders – an 11-year-old girl delivering a letter, when things go horribly wrong. Experience the unique horror atmosphere of Alone in the Dark, and prepare for the terror that awaits in Derceto Manor later this year.
Both Alone In The Dark and Alone in the Dark Prologue include support for NVIDIA DLSS 2, giving GeForce RTX gamers the best possible experience. Check out the Prologue today, and wishlist or pre-order the full game.
WILD HEARTS DLSS 2 Update Available Now
KOEI TECMO GAMES' WILD HEARTS offers a unique twist on the hunting genre, where technology gives you a fighting chance against fearsome beasts infused with the ferocious power of nature itself. Take on these creatures alone or hunt with friends in seamless co-op.
WILD HEARTS' newest "Lethal Blossoms" update introduces support for DLSS 2, enabling GeForce RTX gamers to max out their frame rates at the highest resolutions and detail levels.
Wo Long: Fallen Dynasty DLSS 2 Update Available Now
KOEI TECMO GAMES' Wo Long: Fallen Dynasty is a dark fantasy Three Kingdoms action RPG from Team NINJA, the developers of Nioh. Featuring a dramatic, action-packed story about a nameless militia soldier fighting for survival in a dark fantasy version of the Later Han Dynasty where demons plague the Three Kingdoms, players fight off deadly creatures and enemy soldiers using swordplay based on the Chinese martial arts, attempting to overcome the odds by awakening the true power from within.
The latest Wo Long: Fallen Dynasty PC game update has introduced support for NVIDIA DLSS 2, accelerating performance for GeForce RTX users.
The Elder Scrolls Online: Necrom Expansion Available Now

The Elder Scrolls Online has been entertaining gamers for 9 years with its engrossing massively multiplayer online role-playing gameplay, and this week the huge game got even bigger with the launch of the Necrom expansion.

Explore the Telvanni Peninsula, home of colossal mushrooms, arcane magic, rocky spires and the capital city of Necrom, and become empowered by the secrets of Apocrypha and the forbidden knowledge of Hermaeus Mora to unlock The Arcanist, a powerful new class capable of destructive, restorative, or defensive magic by channeling the arcane, ancient runes, and lost tomes of power.
The Elder Scrolls Online features support for NVIDIA DLSS 2 and NVIDIA DLAA, ensuring all GeForce RTX gamers receive the definitive experience.
Check Back Next Week For Even More RTX Games
As you can see, there are even more DLSS integrations dropping into the newest blockbusters and latest indie games. Check back next week for a rundown of the next DLSS and RTX games, and head here to see the complete list of over 300 DLSS-enhanced games and apps.