Call of Duty: Black Ops 3 Graphics & Performance Guide
Featured Stories
,
Guides

It's November once more, meaning it's time for another Thanksgiving, more apocalyptic Black Friday shopping scenes, and the latest release in the venerable Call of Duty franchise. This year, Black Ops 3 is the game on deck, bringing 4-player campaign co-op, 4-player co-op survival, 4-player co-op Zombies, the ever-popular multiplayer mode, and a whole bunch of other stuff.
Under the hood there's an upgraded engine, a new renderer, an improved animation systems, new lighting effects, numerous other tweaks, and a whole lot more. For PC gamers, all game modes are now accessible via a single .exe, removing the need to launch separate versions of the game in Steam and swap between .exes every time you change mode. Also worth noting: graphics setting changes no longer force a level reload, or require the .exe to be restarted, making setting configuration a painless process.
In this guide we'll detail Black Ops 3's graphics settings, demonstrate their impact on image quality, reveal their relative performance cost at 1920x1080, the most popular PC gaming resolution, and also look at a couple of enhancements that are possible using NVIDIA software tweaks. So strap in for our latest Graphics and Performance guide.
Guide Contents:
System Requirements
Black Ops 3 developer Treyarch doesn't offer a recommended system configuration for players, but does say that you'll need a Intel Core i3-530, 6GB of RAM, and a GeForce GTX 470 with 1GB of VRAM, at minimum.
Stepping up to the plate, we benchmarked our range of GPUs, searching for cards capable of solid, smooth 60 FPS at a High level of detail in the ever-popular multiplayer mode, which will be the go-to mode for most over the lifetime of Black Ops 3.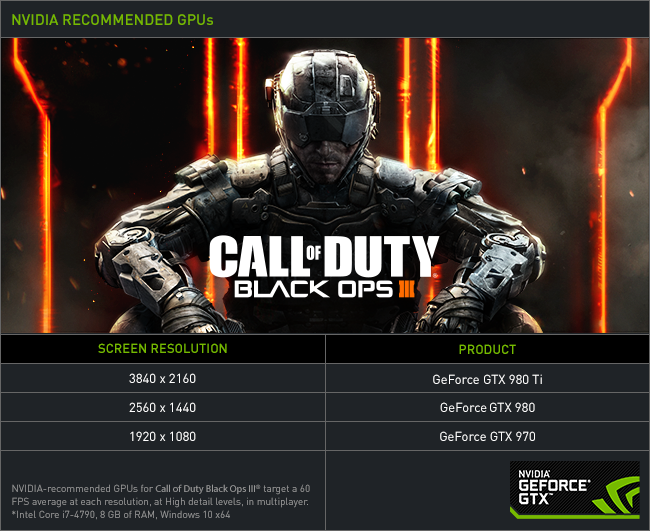 For this guide, we benchmarked the more-demanding single-player mode to demonstrate the maximum performance impact of each setting. At the conclusion, we'll look at overall max-setting performance for those seeking a system capable of the definitive level of image quality.
Call of Duty: Black Ops 3 Graphics Settings
Black Ops 3's twelve graphics settings are for the most part self-explanatory, having a singular purpose that's detailed by the name. Nevertheless, we've thoroughly examined each and demonstrated their image quality and relative performance below.
Ambient Occlusion
Ambient Occlusion (AO) adds contact shadows where two surfaces or objects meet, and where objects block light from reaching another nearby game element. The AO technique used and the quality of the implementation affects the accuracy of AO shadows, and whether new shadows are formed when the level of occlusion is low. Without Ambient Occlusion, scenes appear flat and unrealistic, and objects float on surfaces.
In Call of Duty: Black Ops 3 a custom in-house solution is employed, with four levels of detail. As our following interactive comparisons demonstrate, the Black Ops Ambient Occlusion technique (BOAO) can improve image quality by a good degree.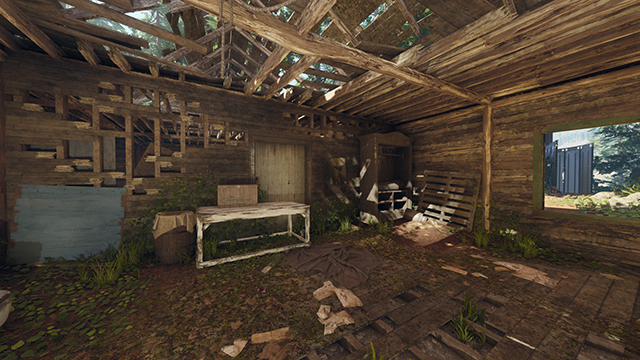 In many locations, however, the improvement is fairly subtle, and we only see a small difference in image quality between each detail level.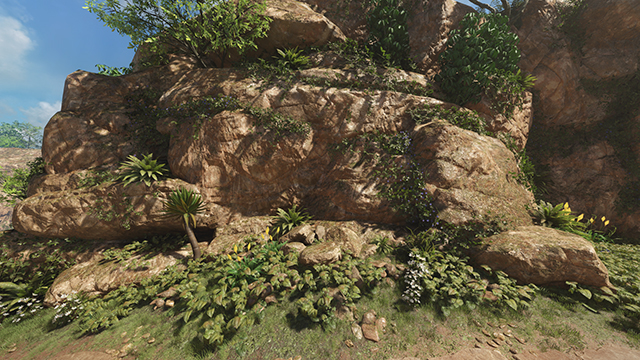 With time of observe the world, the benefits of BOAO are clearly evident, but during a fast-paced multiplayer match filled with gunfire and explosions, will you notice the extra shadows under the seating?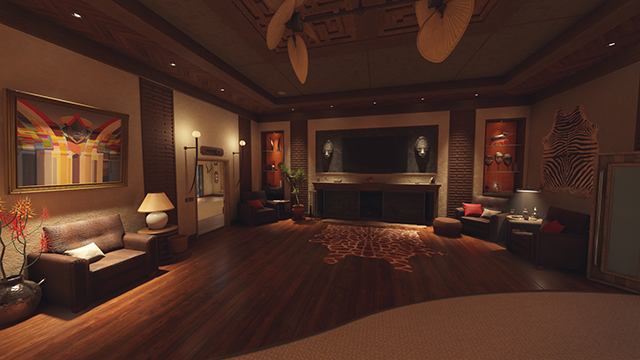 It should be noted that Multi-GPU systems can only be toggled between BOAO On or Off. Evaluating performance, image quality and the config file, it would appear that "On" is the single GPU's "Extra" mode.
Performance: There's a 9 frame per second delta between Extra and Low. In the vast majority of scenes you'll be hard-pressed to notice the difference, and even in the best AO test locations the loss of image quality on Low is... low.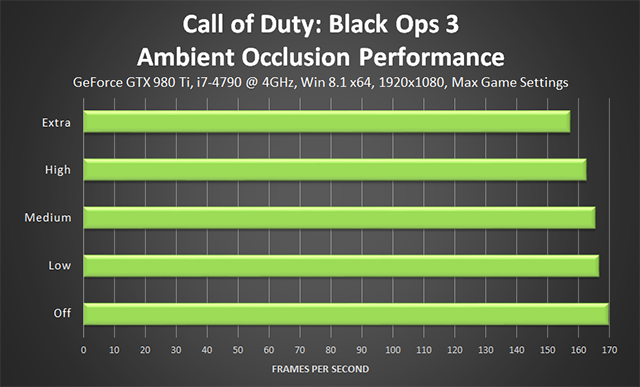 Anti-Aliasing
Black Ops 3 employs the same Post-Process Anti-Aliasing (PPAA) options as last year's Advanced Warfare, giving PC gamers the choice of FXAA, SMAA 1x, SMAA T2x, and "Filmic" versions of each SMAA option, which soften the image.
As in Advanced Warfare and other games sporting the latest implementations of SMAA, SMAA T2x includes a temporal anti-aliasing component, helping reduce the shimmering of anti-aliased edges when they or the camera moves. Like other implementations of the technology the improvement is excellent, and is recommended for anyone who can afford the mode's slightly higher FPS cost.
Even in static shots, SMAA T2x has a significant advantage over SMAA 1x, decreasing the severity of aliasing quite considerably. And in this set of comparisons it even helps rectify aliasing issues around the blackboards. The Filmic variant of SMAA T2x, meanwhile, decreases the severity of the noticeable background aliasing, but increases the degree of aliasing on shadows and other game elements in the scene.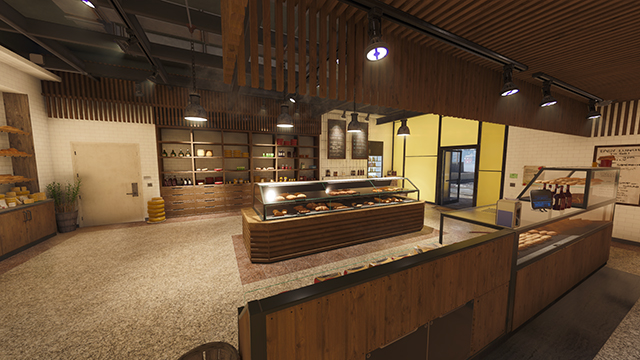 In this second set of images and comparisons you can better evaluate the difference between SMAA T2x, and Filmic SMAA T2x. Note the changes on textures, the loss of clarity on the word "Fire Alarm", the changes in lighting, and the changes to the vibrancy of shiny metal.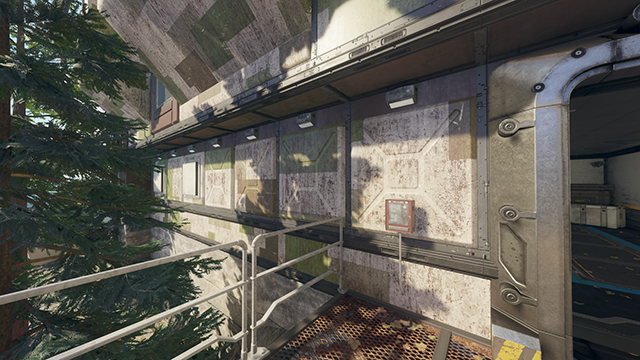 Ultimately, your choice of Anti-Aliasing technique will be personal preference, but overall we'd give the nod to SMAA T2x. Do note, Multi-GPU systems see a reduction in the number of available options. In this case, SMAA T2x and the Filmic versions of both SMAA options are removed, decreasing image quality by a noticeable degree at 1920x1080. At higher resolutions aliasing is less of an issue, and temporal aliasing isn't as noticeable, but it's still a blow for those seeking sky-high framerates and ultimate image quality.
Performance: Despite being post-process options, we see a comparatively high performance cost for Anti-Aliasing in Black Ops 3, with SMAA T2x costing up to 10 frames per second.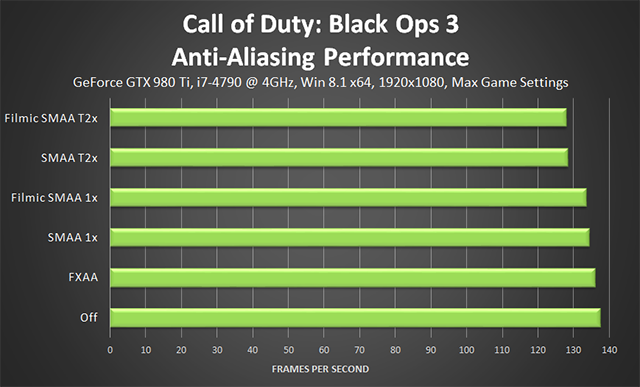 Dynamic Shadows
A simple on-off option, Dynamic Shadows toggles the rendering of shadows from objects and game elements that can move, be that a ceiling fan's blades, a NPC, or a mug on a desk (the fidelity of these shadows is dictated by the Shadow Map Quality setting, which is detailed further down the page).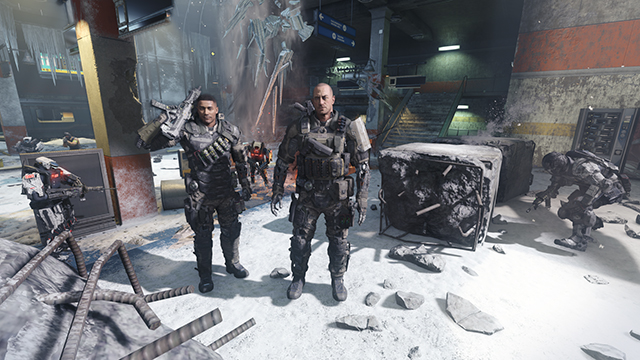 Performance: Given the massive loss of image quality from removing dozens of shadows in every scene, you'll want to enable this setting even on a Potato PC.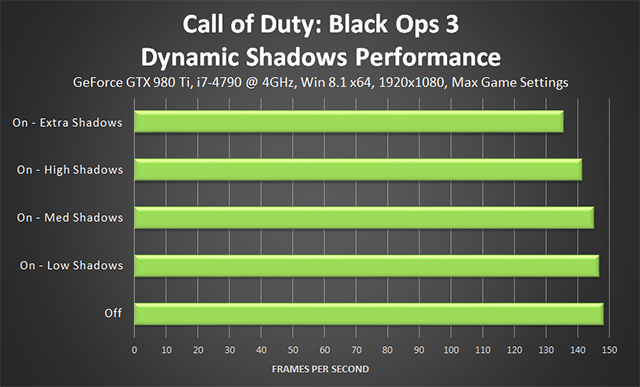 Combined with Extra Quality Shadow Maps, Dynamic Shadows can cost up to 13 frames per second. On lower Shadow Map detail levels the cost is a negligible 3 frames per second, though this will vary with the complexity and action with a scene.
Mesh Quality
The detail level and fidelity of trees, rocks, vehicles, buildings, and other large game elements is controlled by the Mesh Quality setting, as is the visibility of some distant detail. As you'd expect, the level of detail gradually decreases as the setting is turned down, but never do the affected game elements appear an eyesore.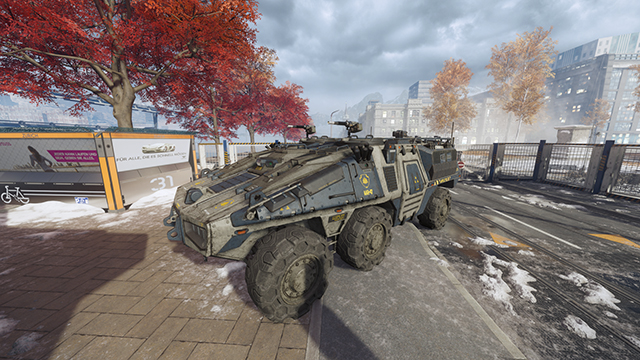 When it comes to terrain, the difference in image quality between detail levels is unnoticeable during gameplay.
Performance: Mesh Quality's cost varies from map to map and level to level, but in general it has a minor impact on performance.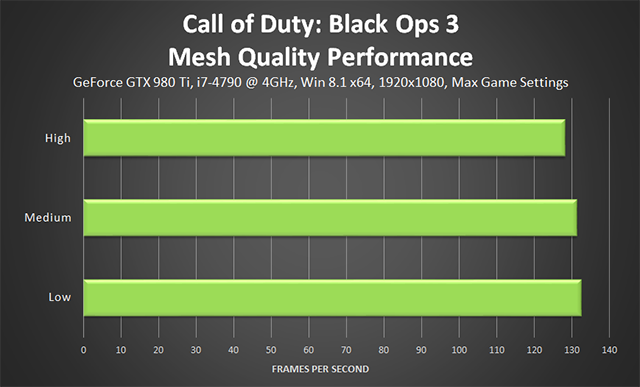 Order Independent Transparency
Call of Duty games have all kinds of action on-screen, and with so much stuff potentially overlapping you need to layer things correctly to prevent glitches and corruption, and general mis-layering, like having a higher layer in Photoshop accidentally occlude something important. This is computationally inexpensive with solid geometry, but with transparencies it's the opposite.
Enter Order Independent Transparency (OIT), which correctly layers transparencies at a comparatively low cost, ensuring transparent smoke correctly renders in front of a window, which renders correctly in front of foliage, for example. Previous methods were view dependent, requiring re-rendering every time the transparencies or the player's viewpoint moved, were constructed from multiple rendering passes, and often produced less-than-perfect results.
As you'll see later, OIT is by no means free, but its performance impact is just a fraction of that required for other less-efficient techniques. And as an added bonus, it also enables players to activate the high-impact Volumetric Lighting setting.
Our first set of comparisons exemplify the function and impact of OIT - with the setting disabled, the glass, the detail on the glass, the waterfall, and the insides of the rooms on the left and right are rendered incorrectly. In other words, game elements are mis-layered or invisible, and image quality is degraded.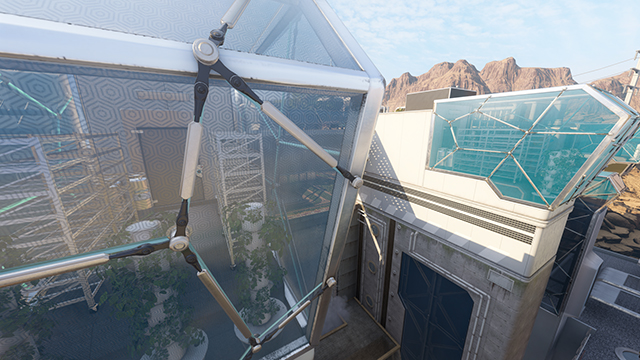 This interesting example demonstrates the loss of fidelity observed on the game's futuristic billboards, which are found throughout the game.
In the course of our testing we found the expected mis-layered and occluded transparencies, as demonstrated above, and also discovered that OIT enabled light to be rendered correctly through transparent surfaces, adding glow and bloom, and brightening the displays of monitors and other tech.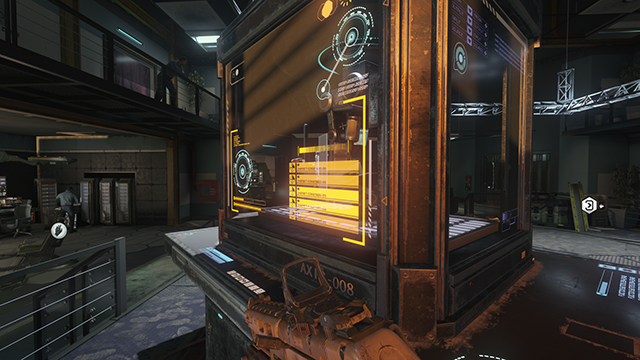 In dozens of tests we observed no differences whatsoever between High and Medium, though that's not to say they don't exist in large, graphically-intensive combat scenes featuring multiple layers of smoke, foliage, and transparencies. Saying that, having played the entire campaign, plus multiplayer, we've yet to note any OIT-related corruption on Medium.
Further examination of the game's file reveals that Medium reduces the maximum number of overlapping transparency layers by half. As stated however, we've yet to note any degradation of image quality even in highly complex scenes.
Performance: At around 8 frames per second OIT isn't free, but it does enable transparencies and light to render correctly. Undoubtedly then, those wanting a high level of fidelity should enable it. And given the complete lack of visible difference between Medium and High, one can safely skip the costlier detail level.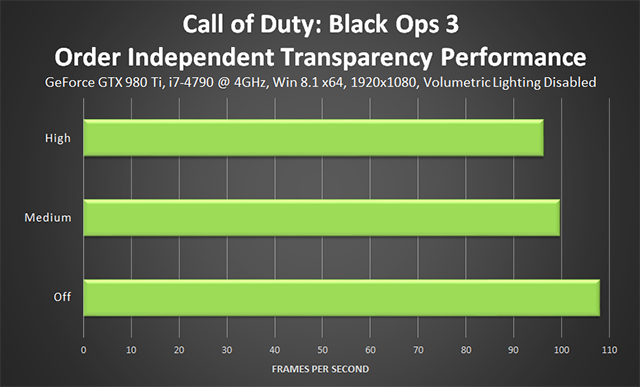 Render Resolution
In Black Ops 3 you select your Screen Resolution for the rendering of menus and the user interface, for instance 1920x1080 on a 1920x1080 monitor, and then select your Render Resolution, which adjusts the resolution of your graphics. This enables players struggling for performance to render graphics at 1600x900 on their 1920x1080 monitor, whilst retaining crisp and clear menus and UI elements, and gamers with performance to spare to increase their Render Resolution all the way to 3840x2160 (4K) for significantly improved image quality. This is commonly referred to as Downscaling and Downsampling, for the reduction and increase, respectively, of rendering fidelity.
When Downsampling, every aspect of a game's graphics is rendered at a higher quality and then shrunk down to your Screen Resolution, creating a more detailed picture with less aliasing. But as most games lack a built-in Downsampling feature we released our free NVIDIA Dynamic Super Resolution (DSR) technology alongside the GeForce GTX 970 and 980, enabling gamers to Downsample in the vast majority of titles.
Because Black Ops 3 does feature a built-in Downsampling option, we can combine the two to increase the effective rendering resolution to an incredible 7680x4320 on a 1920x1080 monitor, creating a playable 'bullshot'. At this level of detail, minute details on surfaces can be easily distinguished, new detail is rendered (most visibly in the distance, and every other element of the game sees an increase in fidelity.
Few will have the necessary hardware to power a 7680x4320 experience, but many do have sufficient gear for 3840x2160 on their 1920x1080 monitors. NVIDIA DSR and the in-game Render Resolution setting are both capable of rendering at this level, so we put them through their paces to discover if either had a performance or image quality advantage of note.
The answer: image quality is a tie, though Render Resolution does gain a minor victory by running a few frames per second faster. In stills, the 4K NVIDIA DSR screenshots of course look better, but in-game they're being dynamically downsampled to 1920x1080 where there's no discernible difference.
For those intending to use these options, here's a look first at Render Resolution. Note the reduced aliasing, the increasing number of flowers, the ever-thicker foliage, the new ground detail rendered on the right of the screen, and the higher-quality background.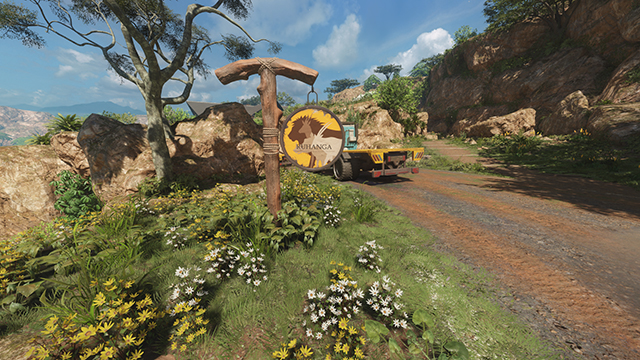 Now our NVIDIA Dynamic Super Resolution screenshots that highlight many of the same items, and also show a massive reduction in aliasing on distant game elements: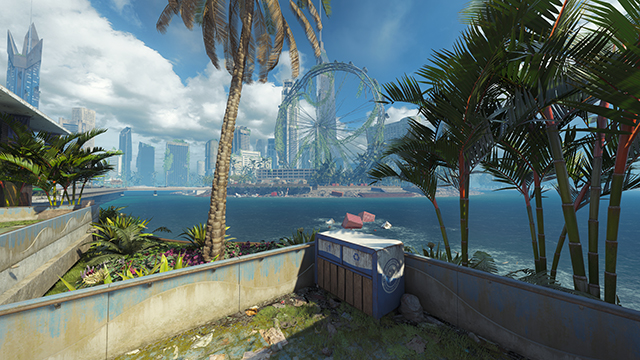 In-game the two modes appear identical to the eye, and under close examination are virtually identical, with Rendering Resolution doing a superior job on some game elements, and NVIDIA Dynamic Super Resolution on others.
Performance: To wrap things up, here's a look at the performance of the two modes.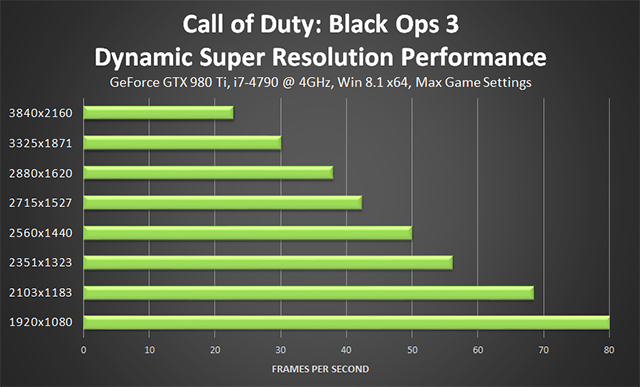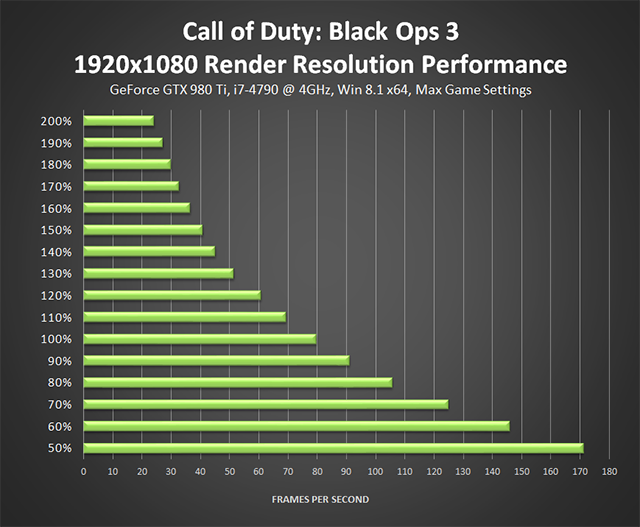 And for fun here's how a pair of GeForce GTX 980 Tis perform when the resolution is set to 3840x2160 and we start cranking up the Render Resolution setting, all the way to an effective 7680x4320.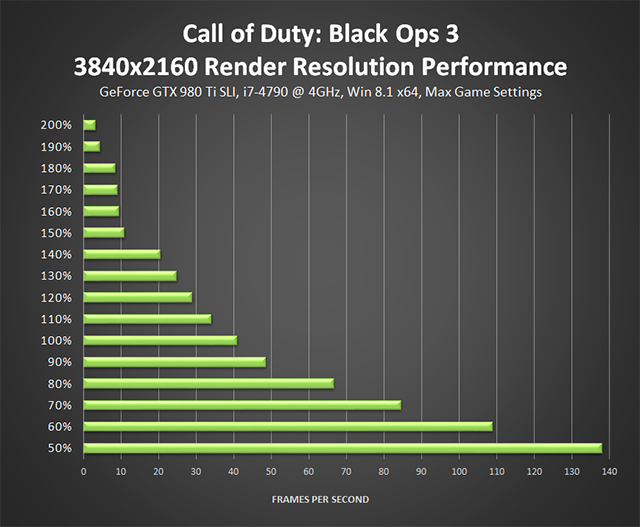 Shadow Map Quality
Also known as "Shadow Quality", you'll be amazed to learn that Shadow Map Quality adjusts the quality of shadows. At their highest detail levels, just about everything is clear and well defined as you'd hope and expect.
In many scenes, and every multiplayer location we tested, "Extra" has no impact on image quality. Investigating further, we discovered it only affects the smallest and most detailed of shadows, such as these: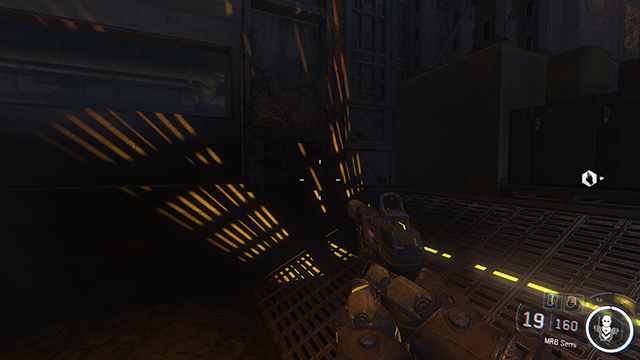 The game's configuration file in C:Program Files (x86)SteamsteamappscommonCall of Duty Black Ops IIIplayers reveals that Extra enables multi-sampled shadow filtering, and steps up the quality of shadows once more. Interestingly, there's room to increase shadow quality even further by doubling SpotShadowTextureSize= to 8192, and quadrupling OmniShadowTextureSize= to 2048. You can also adjust the maximum number of character shadows that are rendered by editing ActorShadows=.
Performance: In single-player, where the Extra shadows are most readily found, the performance and memory requirements can increase considerably.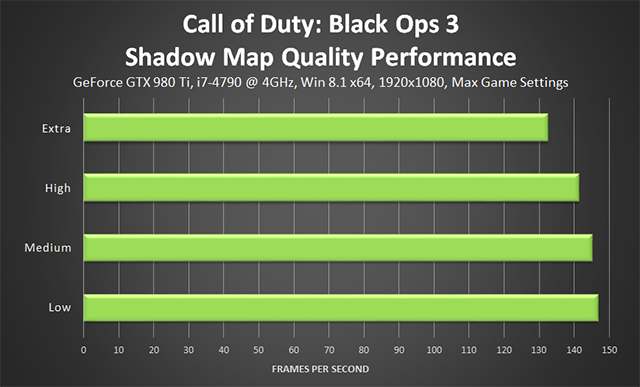 If you're searching for extra performance, drop Shadow Quality to High, but we wouldn't recommend going any lower - on Medium there's an appreciable reduction in shadow quality in all scenes, and Low sees the complete loss of all shadow definition.
Subsurface Scattering
To accurately render skin in games, additional techniques and technologies are required. In real and virtual worlds light bounces from most objects and surfaces, which we can accurately and easily render with any number of technologies. In comparison, light striking skin is absorbed and diffused, with some rays being emitted, though at a lower intensity. Without a suitable technology simulating this effect character skin is uniformly lit, detracting from the quality of the picture.
In Black Ops 3, Subsurface Scattering (SSS) is employed to achieve the desired result, as the following interactive comparison kind of demonstrates.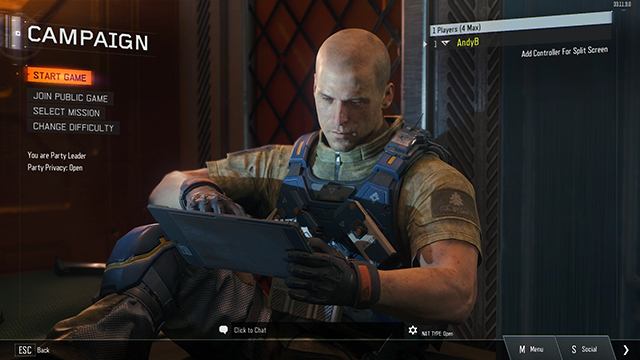 Need a closer look?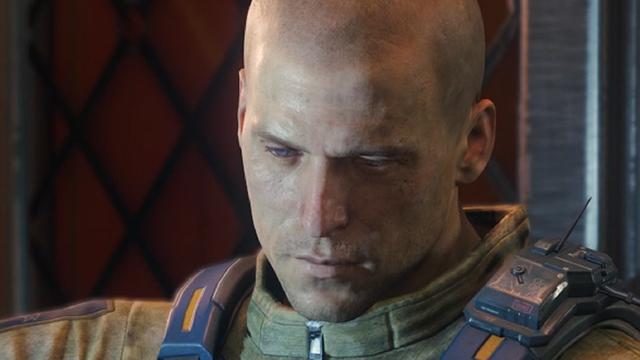 Performance: Subsurface Scattering is a subtle effect that for most folks won't justify its 5 frames per second cost.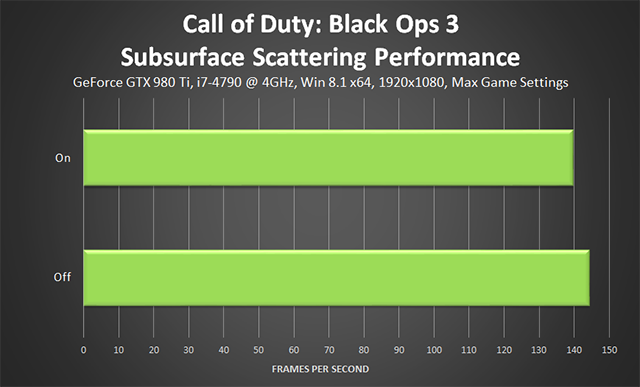 Texture Filtering
As you're likely aware, Texture Filtering, Anisotropic Filtering, and other similarly named options affect the sharpness of textures, especially those in the distance or on the sides of the screen. Without Texture Filtering surfaces appear blurry, and image quality is significantly degraded.
In Black Ops 3, three options are available, though each falls below the fidelity possible with NVIDIA Control Panel Anisotropic Filtering, as we'll show momentarily.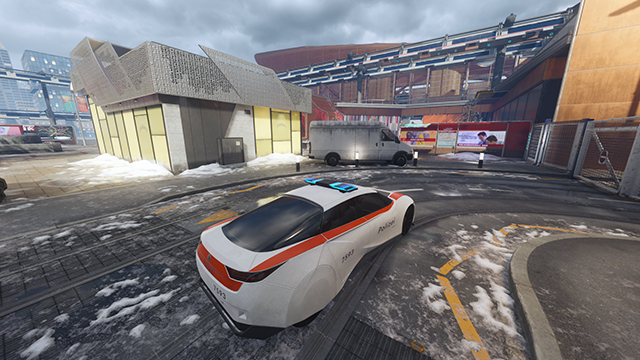 To improve upon the level of in-game Texture Filtering we can forcibly enable Higher Quality Anisotropic Filtering via the NVIDIA Control Panel, like so:
In-game, fine detail on surfaces becomes visible, or is improved, making everything that bit sharper. Having to restart the game for the change to be implemented, our comparison areas are limited. Below, the best 1:1 comparison we could capture is shown - focus on the gap between the three rugs, and the floor tiles in the foreground to observe the improvement.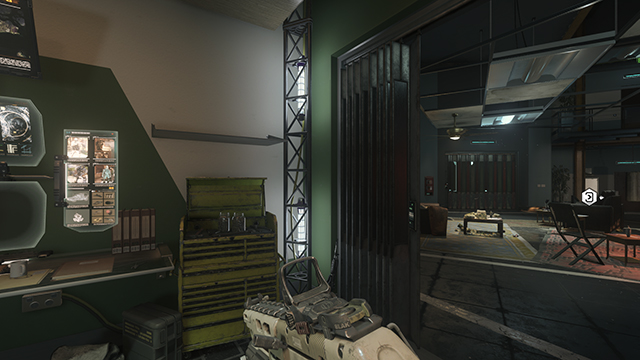 Performance: Typically, Anisotropic has a negligible impact on performance, and that's the case here, too.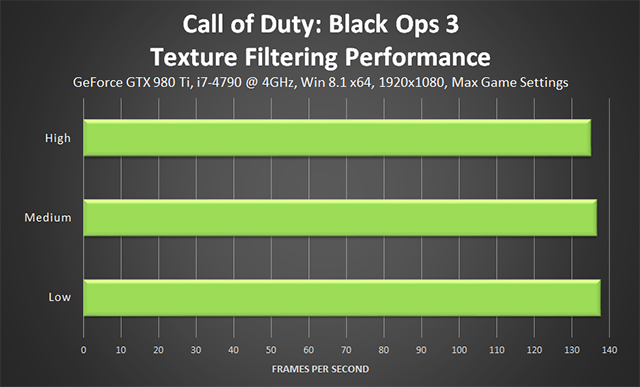 Note: enabling NVIDIA Control Panel Anisotropic Filtering reduces performance by an additional 3 frames per second.
Texture Quality
Call of Duty: Black Ops 3 utilizes a similar texture caching system as Advanced Warfare, enabling the game to store yet-to-be-required textures in Video RAM (VRAM), reducing load times and the chance of seeing texture fade-in when accessing new areas of a level.
Actual usage is impossible to ascertain, but in testing we noted no difference in image quality, texture draw times or frame pacing at 1920x1080 when switching a 12GB card, which was 'using' 8GB, for a 4GB card, on an 17-5960X, 16GB system.
As our interactive comparisons demonstrate, Extra adds a final layer of detail to select textures in the game world, and sharpens up incidental details, like text on an object, or a specular shine on a floor. On Medium, numerous surfaces lose specular detail, glossiness and other properties, and almost all lose a significant amount of texture fidelity. And as you'd expect, Low looks last-gen, serving only as a compatibility mode for those with only 1GB of VRAM.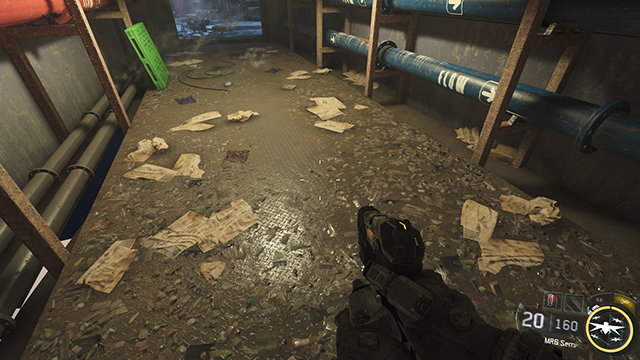 Here, Extra merely sharpens a few small textures, and adds sharpness to the display's graphics. On Medium, pre-baked reflections lose much of their detail and vibrancy, and other textures and surfaces lose additional detail.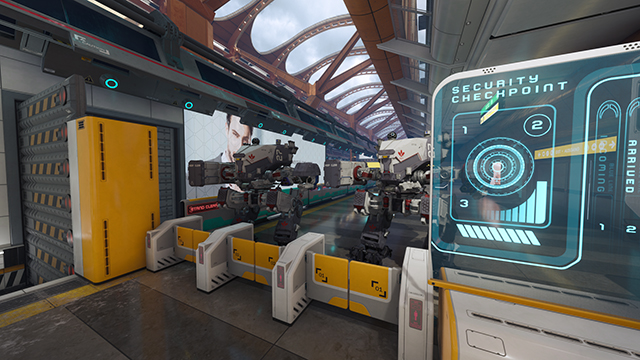 Once again we see Extra adding a final level of detail to select textures, making the text on the glass readable, and increasing the fidelity of the floor.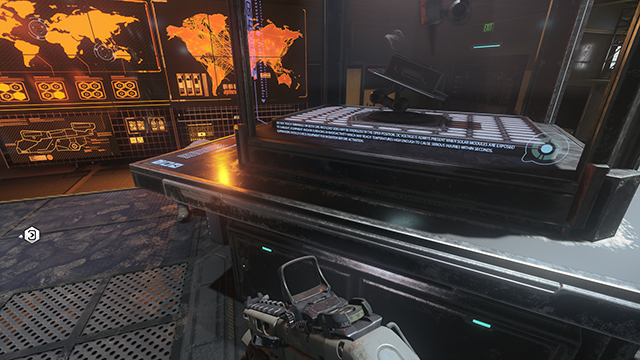 In other locations, Texture Quality has a comparatively minor impact on image quality, but do note the cliff face on the far left of the image as you cycle through the comparisons.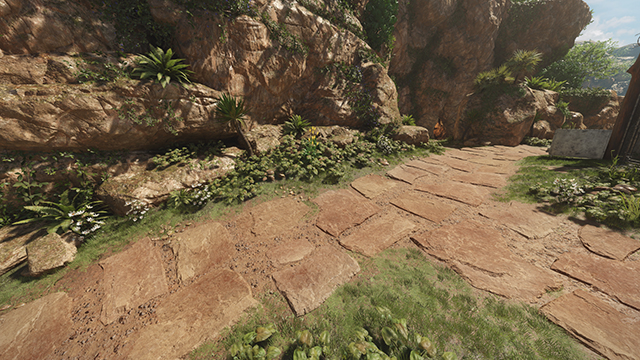 And finally, we see the biggest influence of Extra: the improvement of incidental map and level detail. This digital billboard is out of the line of fire and isn't anything you'd ever focus on during multiplayer, yet it receives a significant upgrade on Extra.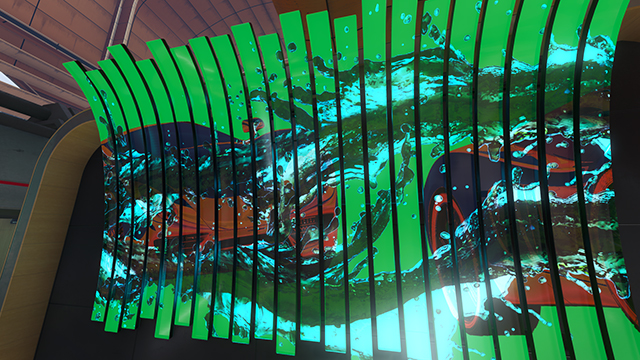 For most folks, High will be sufficient during gameplay. The occasionally blurry texture, like the text on the glass, may stand out, but for the most part you'd be hard-pressed to tell the difference during gameplay.
Performance: A delta of 8 frames per second between the minimum and maximum value is unusually large for a texture setting. The game's files reveal that in addition to affecting the quality of general textures, the setting also adjusts the quality of sun shadow textures, the quality of effect textures, the quality of decal textures, and the quality of the aforementioned reflection textures. And finally, it controls whether textures remain in memory after being rendered, or are streamed in every time they're required.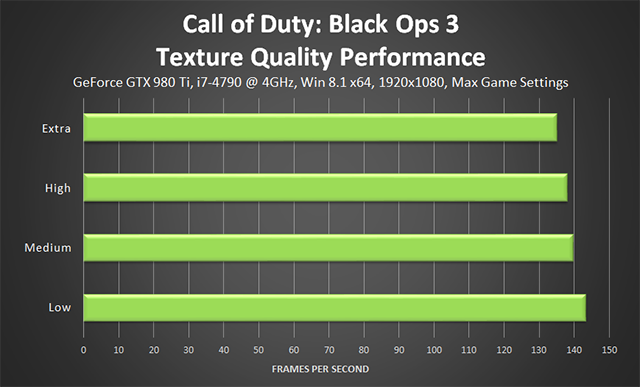 If you've got the VRAM (and RAM?), and are receiving a smooth, stutter-free experience, use Extra for the definitive level of image quality.
Volumetric Lighting
Black Ops 3's final setting enables the rendering of light shafts, typically known as God Rays (also: crepuscular rays, volumetric lighting, sun beams, sun shafts, light shafts). In some levels you'll find God Rays projected in the background as static elements of the skybox, but up close they're the real deal, though you do also need Order Independent Transparency enabled to see them.
In most locations there'll be no observable difference between High and Medium because geometry is wide-open. Above, and more visibly below, geometry and effects complicate the rendering of the light shafts, highlighting the gulf in accuracy between the two detail levels.
In addition to the expected application for God Rays, Treyarch utilizes Volumetric Lighting to enhance display cases, spotlights, overhead lights, displays, and more.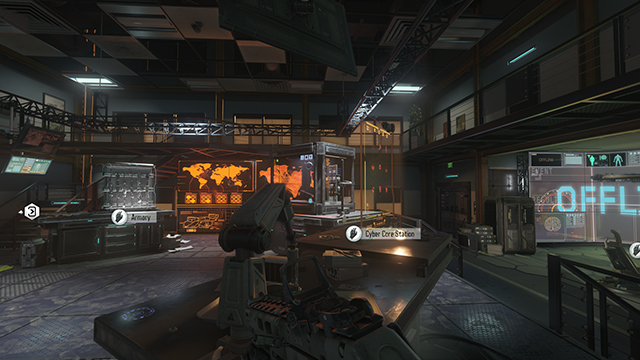 In the campaign, Volumetric Effects are applied throughout, enhancing effects, adding depth to scenes, and emphasizing action.
If you wish to further increase their fidelity load config.ini in C:Program Files (x86)SteamsteamappscommonCall of Duty Black Ops IIIplayers and crank VolumetricLightingMaxSunSamples= and VolumetricLightingMaxLightSamples= up to a maximum of 256. The in-game maximums are substantially lower, so expect a large impact to your performance.
Performance: The performance cost of God Rays and the other Volumetric Lighting effects can be significant, though as High only occasionally makes any noticeable difference you could safely step down to Medium if you're struggling for performance.
Given the pervasive use of Volumetric Lighting effects in the campaign, we'd most certainly recommend enabling them. In other modes you'll have to decide whether you want improved graphics, or faster framerates.
Settings Wrap-Up
In every version of the game we've tested, the single-player and co-op campaign has been considerably more demanding than multiplayer, where use of the most demanding effects is often limited to enable more players to achieve framerates of 60 or more for that Call of Duty 'feel'. At times, the difference in performance is as large as 50%.
But as you can't accurately test multiplayer across multiple runs on numerous graphics cards, all data must come from single-player. With the above in mind, here are our max setting single-player benchmarks, from a repeatable slice of tightly scripted gameplay, for those attempting to attain maximum image quality:
Performance in levels with more randomness, which can't be accurately benchmarked, drops slightly further in our experience, but in general the above is indicative of demanding moments of the campaign.
Overclocking
If you need extra performance, overclocking your CPU and GPU will pay dividends in Call of Duty: Black Ops 3, which can place great demands on your hardware. Learn how with the help of GeForce Garage.
G-SYNC: Eliminating Stutters & Tearing For The Ultimate Experience
NVIDIA revolutionized computer displays in 2013 with the introduction of variable refresh rates, enabling gamers to enjoy highly responsive, tear-free, stutter-free experiences on G-SYNC monitors. Reviews are phenomenal, and gamers everywhere agree that it's painful to play on anything other than a G-SYNC display once you're used to the flawless experience it provides.
With Call of Duty: Black Ops 3's fast-paced action, frame drops, stuttering and screen tearing can put a damper on the experience, strain your eyes, and even lead to headaches over prolonged Prestige sessions. G-SYNC monitors eliminate those issues, letting you go for max level in optical bliss.
Game Ready Call of Duty: Black Ops 3 Driver

For the best Call of Duty: Black Ops 3 experience we recommend updating to the new Call of Duty: Black Ops 3 GeForce Game Ready Drivers. Included are the latest performance optimizations and tweaks for Call of Duty: Black Ops 3, and a SLI profile. Download now via GeForce Experience.
GeForce Experience: Optimal Playable Settings With A Single Click
The best way to automatically configure and apply Call of Duty: Black Ops 3's game settings for a 60 FPS experience is through GeForce Experience, an invaluable tool for all GeForce GTX users. In addition to optimizing over 300 games, the free GeForce Experience application can automatically update drivers and profiles, record and stream gameplay with ShadowPlay, and can wirelessly stream PC games, including Call of Duty: Black Ops 3, to NVIDIA SHIELD devices.
Taking into account your GPU and CPU, as well as many additional factors, GeForce Experience's game recommendations can be applied with a single click, and are updated over time should developer patches and NVIDIA drivers improve performance further still. This one-click solution is perfect for gamers who wish to play instead of fiddling, and for those with little experience in configuring settings for an optimal experience.
The Definitive Call of Duty: Black Ops 3 Experience
Reviews suggest that Call of Duty: Black Ops 3 is the best in the recent times, though some unfortunate bugs have popped up on PC that are negatively affecting peoples' experience. Across our dozens of hours of testing however, none of these have occurred on our 8GB and 16GB RAM Intel i7 machines. When the kinks are ironed out the experience detailed above in this guide should be what you receive.
In terms of image quality, attainable performance, and the future release of map and mod tools, Call of Duty: Black Ops 3 on PC is the definitive edition, and with technologies like G-SYNC it only gets better. In time, hopefully everyone can enjoy problem-free gameplay.