Esports is a competition of milliseconds that requires lightning fast reflexes and incredible timing. That's why esports athletes and competitive gamers depend on the fastest hardware--from peripherals to GPUs, to displays--to perform their best.
Today, NVIDIA and our partners at ACER, Alienware, ASUS and MSI are unveiling new, breakthrough NVIDIA G-SYNC 360Hz esports displays. These displays feature the world's fastest 360Hz refresh rates, hand-tuned esports settings on next-gen IPS technology, high performance Ultra Low Motion Blur (ULMB) tech for superior motion clarity, and support for the NVIDIA Reflex Latency Analyzer, a revolutionary new way to measure system latency.
World's Fastest 360Hz Refresh Rates
360Hz G-SYNC panels are the world's fastest for esports, delivering a 50% refresh rate boost over today's 240Hz competitive displays. This faster refresh enables crystal clear visuals, extremely low system latency for faster reaction times, and the smoothest motion to keep you on target.
And with NVIDIA G-SYNC, variable refresh rates are supported from 1Hz all the way up to 360Hz.
Next-Gen Dual-Driver IPS Panel
NVIDIA and AU Optronics have collaborated to develop the next-generation of IPS panel technology for these 360Hz G-SYNC displays: IPS dual-driver. This new IPS panel technology maintains fast, consistent response times and color levels across the entire panel--even at 360Hz refresh rates.
Compared to other display types, IPS panels also deliver enhanced color expression, giving more punch to visuals, and helping gamers pick out targets from surroundings. While TN panels have historically been used in esports displays for their fast response times, gamers had to sacrifice on color fidelity. With the new dual-driver IPS panel and NVIDIA G-SYNC, they can have the best of both worlds.
NVIDIA Reflex Latency Analyzer
In competitive gaming, PC performance isn't just about FPS; it's also about system reaction time - the latency between when you click your mouse button and the pixels on your screen update. But measuring latency has only been possible with expensive, cumbersome high-speed cameras. Until now.
Our new G-SYNC 360Hz displays feature the world's first in-display latency measurement tool: NVIDIA Reflex Latency Analyzer.
The Reflex Latency Analyzer detects clicks coming from your mouse and measures the time it takes for the resulting pixels (from say, a gun muzzle flash) to change on-screen. Whereas in the past gamers had to estimate their system responsiveness based on throughput metrics such as Frames Per Second (FPS), Reflex Latency Analyzer provides a much more complete and accurate understanding of mouse, PC, and display performance. Now, with the Reflex Latency Analyzer, competitive gamers can start a match with confidence, knowing their system is operating exactly as it should.
The analyzer reports mouse, PC, and display latencies through a new Performance Overlay in GeForce Experience, which is supported by top esports mice from ASUS, Logitech, Razer, and SteelSeries. Learn more about NVIDIA Reflex technologies in our comprehensive article.
G-SYNC Esports Mode
360Hz G-SYNC displays feature a new G-SYNC Esports Mode preset. This mode features hand-crafted settings specifically designed for competitive play in games like CS:GO, VALORANT, and Rainbow Six Siege.
G-SYNC Esports Mode ensures the lowest latency by turning off variable backlight. It also increases black levels with our dark boost technology, and fine tunes gamma levels to offset darker contrast areas, allowing players to better distinguish objects in dark areas.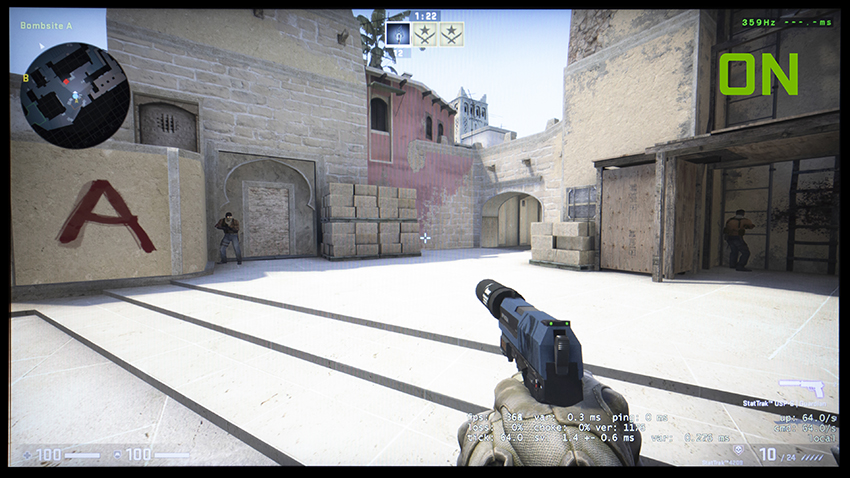 Click to load a fullscreen interactive comparison
These new displays also feature a 240Hz Ultra Low Motion Blur (ULMB) mode - twice as fast as prior ULMB modes. ULMB provides superior clarity in motion, which aids visual comprehension while scrolling in competitive MOBA games. With 240Hz ULMB, gamers can achieve lower latency while getting the maximum visual clarity.
The World's Fastest Esports Displays Arrive This Fall
NVIDIA G-SYNC 360Hz Esports Displays combine with new GeForce RTX 30 Series GPUs to deliver unparalleled 360Hz gameplay. Optimize and measure system latency for faster reaction times with NVIDIA Reflex. And experience practically no ghosting, with the smoothest motion clarity and zero tearing, to help you stay on target.
NVIDIA G-SYNC 360Hz Esports Displays will be available starting this Fall from ACER, Alienware, ASUS, and MSI. Stay tuned to NVIDIA GeForce social channels and GeForce.com for updates on these 360Hz Esports Displays, powered by NVIDIA G-SYNC.