Our latest GeForce Game Ready driver ensures the definitive gaming experience in Marvel's Guardians of the Galaxy, Age of Empires IV, Battlefield 2042 Early Access, Call of Duty: Vanguard, Chivalry 2, DOOM Eternal, Forza Horizon 5, Grand Theft Auto: The Trilogy – The Definitive Edition, Jurassic World Evolution 2, Riders Republic, and The Elder Scrolls Online.
Additionally, we've got support for 6 new G-SYNC Compatible gaming monitors, and 6 new GeForce Experience Optimal Playable Setting profiles.
To download and install on Windows 10 and Windows 11 systems, simply fire up GeForce Experience and click the "Drivers" tab.
Game Ready For Marvel's Guardians of the Galaxy, Enhanced With NVIDIA DLSS and Ray Tracing
Marvel's Guardians of the Galaxy launches today, giving gamers an expansive single-player action-adventure game to explore with Star Lord and his legendary band of misfits. Journey to cosmic locations from the Marvel universe that Eidos-Montréal have brought to life, save the galaxy, rock out to the stellar 1980s soundtrack, and have a whole load of fun along the way.
On PC, players can experience Marvel's Guardians of the Galaxy at up to 8K HDR, with higher levels of detail and uncapped frame rates, and all the other benefits of the PC platform, such as ultrawide, multi-monitor and variable refresh rate G-SYNC gameplay. For the definitive experience, play Marvel's Guardians of the Galaxy on a GeForce RTX desktop or laptop, with RTX ON. Marvel at ray-traced transparent and opaque reflections, and accelerate performance by up to 2x with NVIDIA DLSS.
To get a system capable of delivering this definitive experience, and a copy of the game, grab our Marvel's Guardians of the Galaxy GeForce RTX PC and laptop bundle before the offer ends on November 16.
With a suitable system, glass accurately reflects characters and surroundings, creating a more immersive visual experience. Water has more accurate and detailed reflections. And the many metallic surfaces of the game's alien environments reflect their surroundings and the action, greatly improving image quality throughout the game. Get a first look at Marvel's Guardians of the Galaxy's ray-traced transparent reflections and ray-traced opaque reflections in our exclusive behind the scenes video:
Performant gameplay is key to an enjoyable experience, so of course NVIDIA DLSS is available in Marvel's Guardians of the Galaxy, delivering performance boosts of up to 2x with just a few clicks.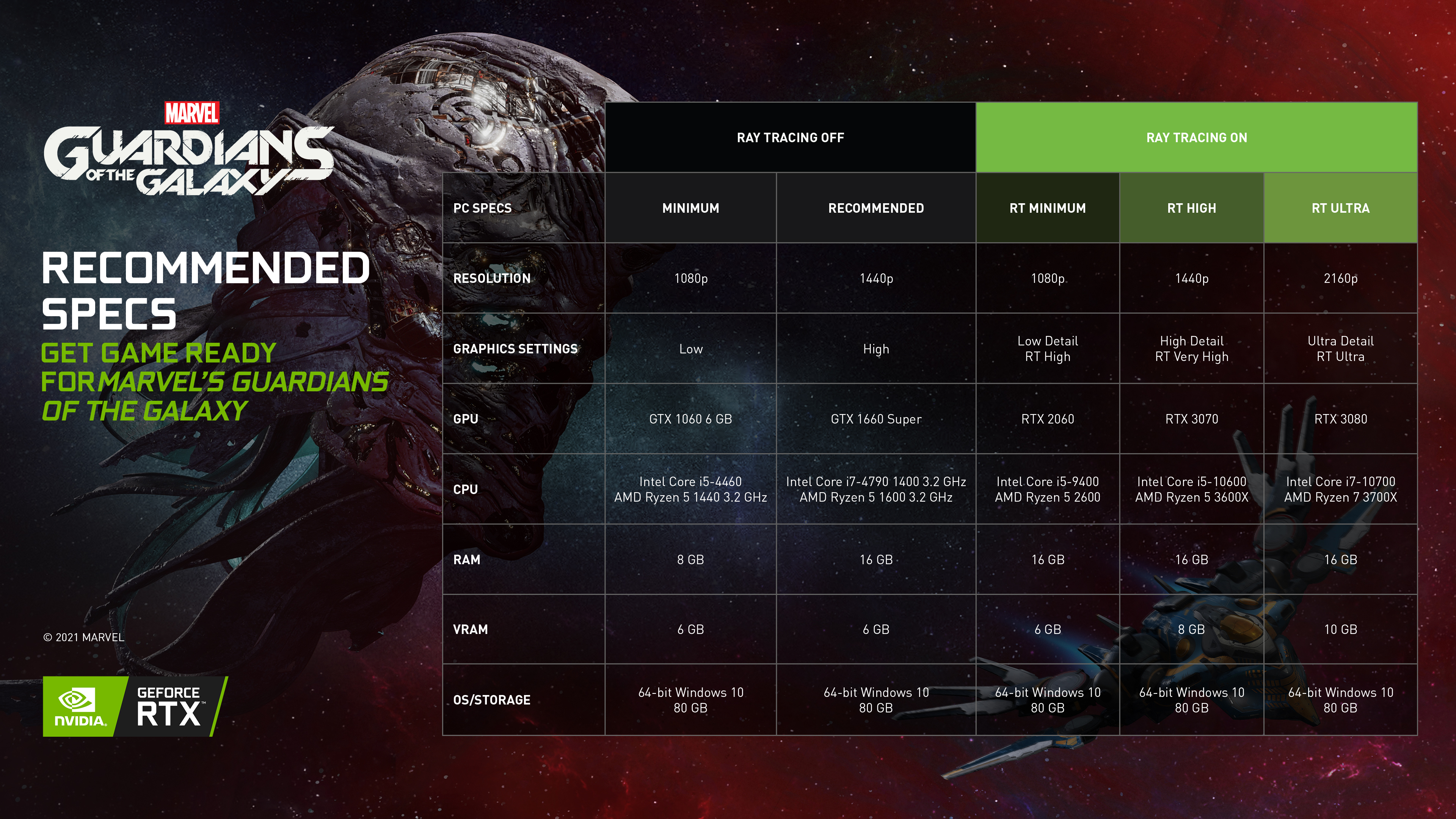 To see the difference NVIDIA DLSS delivers in-game, check out our new Marvel's Guardians of the Galaxy DLSS video:
Download and install our new GeForce Game Ready Driver to ensure you receive the same experience at home, or on the go on your GeForce RTX laptop.
Game Ready For All The Latest Games
Our latest Game Ready Driver also includes optimizations and enhancements for the many games launching in the next few weeks, and supports the addition of NVIDIA DLSS in Chivalry 2.
Age of Empires IV: Following the release of several successful remasters, the beloved Age of Empires franchise is back with a brand new game, launching October 28th.
Battlefield 2042 Early Access: If you buy the Gold or Ultimate editions of Battlefield 2042, or are an EA Play Pro member, you're eligible for Early Access, allowing you to start playing a week early on November 12th. For optimum performance, download and install this new Game Ready Driver.
Call of Duty: Vanguard: The blockbuster franchise returns with a new single-player campaign, new multiplayer modes, new Zombies maps, and more on November 5th.
Chivalry 2: Torn Banner Studios' Chivalry 2 is an incredibly entertaining 64-player PvP melee slasher multiplayer title. Today, Chivalry 2's introducing NVIDIA DLSS in a new update, boosting performance by up to 45%, enabling all GeForce RTX gamers to play at 4K at over 60 FPS, with max settings enabled: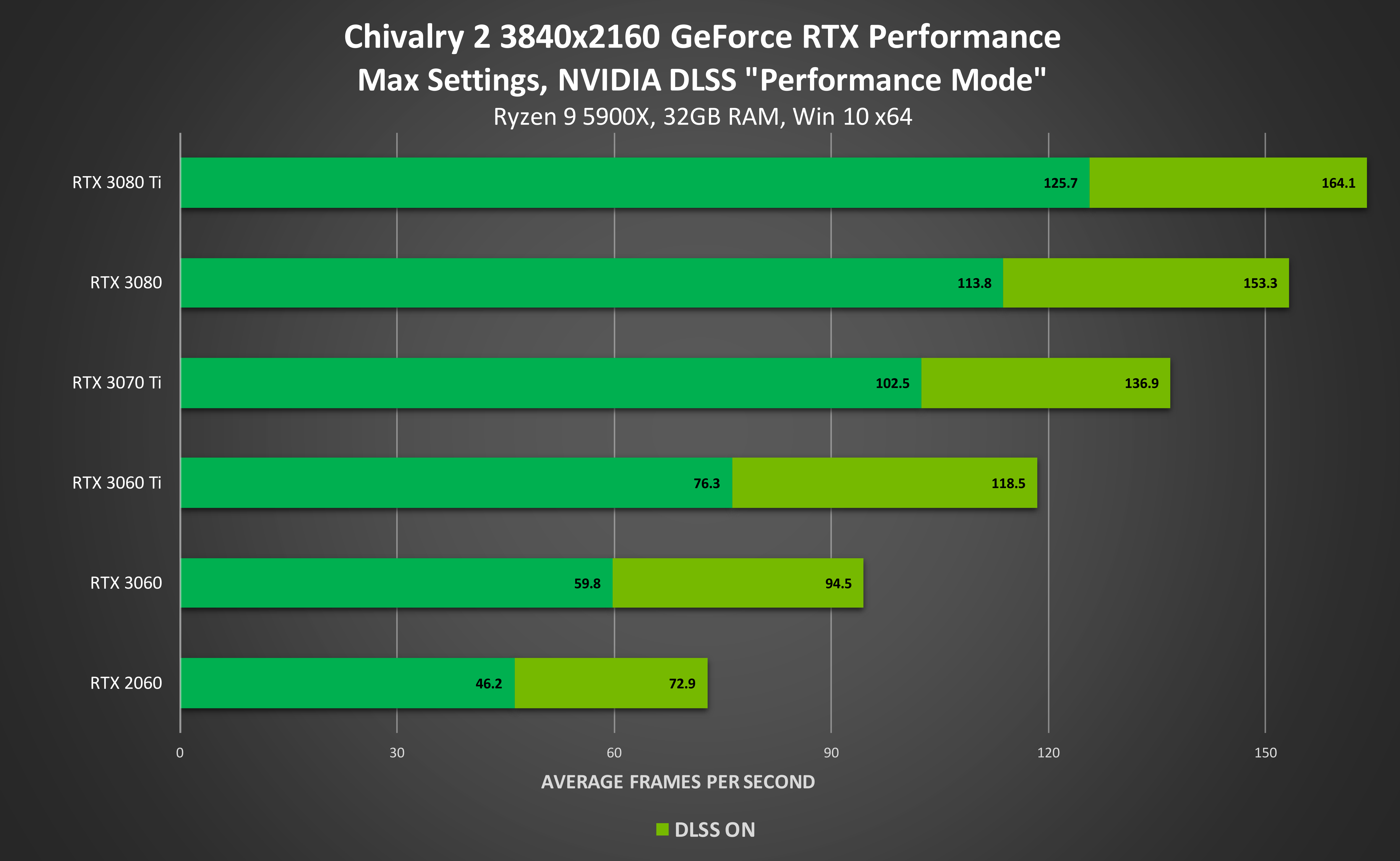 Check it out in action in our new Chivalry 2 NVIDIA DLSS video:
DOOM Eternal: Update 6.66 brings players a new Horde Mode, the latest version of NVIDIA DLSS to further improve image quality, and much more. Head to the DOOM Eternal website to discover all the details, and check out our DOOM Eternal RTX article to learn more about the tech added to the critically acclaimed shooter earlier in the year.
Forza Horizon 5: Microsoft's open-world racing franchise returns on November 5th with a new installment, this time set in a beautifully-rendered, multi-biomed Mexico.
Grand Theft Auto: The Trilogy – The Definitive Edition: On November 11th, experience three iconic cities and three epic stories when Grand Theft Auto: The Trilogy – The Definitive Edition hits the streets. Play the genre-defining classics of the original Grand Theft Auto Trilogy: Grand Theft Auto III, Grand Theft Auto: Vice City and Grand Theft Auto: San Andreas, updated for a new generation, now with across-the-board enhancements including new lighting and environmental upgrades, high-resolution textures, increased draw distances, Grand Theft Auto V-style controls and targeting, and much more, bringing these beloved worlds to life with all new levels of detail.
If you play on PC and have a GeForce RTX graphics card, desktop, or laptop, you can further enhance Grand Theft Auto: The Trilogy – The Definitive Edition with NVIDIA DLSS, our groundbreaking AI rendering technology that's available in over 100 games, which increases graphics performance using dedicated Tensor Core AI processors on GeForce RTX GPUs. By tapping into the power of a deep learning neural network, we boost frame rates significantly, and generate beautiful, sharp images for your games.
Jurassic World Evolution 2: The much-anticipated sequel to Frontier's highly successful Jurassic World Evolution builds upon the groundbreaking and immersive 2018 management simulation. It introduces a compelling, new narrative campaign, incredible new features, and awe-inspiring new dinosaurs brought to life with captivating authenticity.
Riders Republic: Launching October 28th, Ubisoft's Riders Republic is an extreme sports game with races, stunt events, and more, using bikes, wingsuits, skis, and snowboards. And until October 28th you can play 4 hours of the game for free.
The Elder Scrolls Online: Many gamers want higher frame rates, but others have high frame rates already, and instead want to maximize image quality. NVIDIA DLAA (Deep Learning Anti-Aliasing) is a new AI-based anti-aliasing mode for users who have spare GPU headroom and want higher levels of image quality.
DLAA uses the same technology developed for NVIDIA DLSS to enhance native resolution images to maximize image quality, instead of boosting performance. DLAA is currently available on The Elder Scrolls Online's test servers, and comes to the live servers on November 1st. Try it out and let us know your feedback on the Driver Feedback Forum.
Support For Newly Validated G-SYNC Compatible Displays
Our newest Game Ready Driver driver also adds support for 6 new G-SYNC Compatible displays that deliver a baseline Variable Refresh Rate (VRR) experience that makes your gaming smoother and more enjoyable.
| | | | | | | |
| --- | --- | --- | --- | --- | --- | --- |
| MANUFACTURER | MODEL | HDR | SIZE | LCD Type | Resolution | VRR Range |
| AOC | 24G2W1G4 | No | 24" | IPS | 1920x1080 (FHD) | 48-144Hz |
| AOC | AG274QS3R1B+ | Yes | 27" | IPS | 2560x1440 (QHD) | 48-170Hz |
| ASUS | XG27AQM | Yes | 27" | IPS | 2560x1440 (QHD) | 60-240Hz |
| ASUS | VG32AQ1LA | No | 32" | IPS | 2560x1440 (QHD) | 48-144Hz |
| ASUS | XG249CM | Yes | 24.5" | IPS | 1902x1080 (FHD) | 48-270Hz |
| MSI | MPG321QRF-QD | Yes | 32" | IPS | 2560x1440 (QHD) | 60-165Hz |
These newly-validated monitors give gamers even more choice when searching for a great gaming display. For a complete list of all G-SYNC, G-SYNC ULTIMATE, and G-SYNC Compatible gaming monitors, check out our handy and frequently updated G-SYNC page, which can be sorted and filtered, helping you quickly find the ideal display.
New Games Supported By GeForce Experience's Optimal Settings
GeForce Experience's one-click optimal settings enable you to instantly configure game options for your system's hardware, giving you smooth, optimized gameplay. Over 1000 titles are supported, and since our last driver release we've added support for 6 more:
Crysis 2 Remastered

Crysis 3 Remastered

Gas Station Simulator

Marvel's Guardians of the Galaxy

Qian Nv You Hun

Sword and Fairy 7
GeForce Experience also enables you to capture and stream your gameplay, take screenshots, upload videos to social networks, and more. For all the details, head here.
GeForce Game Ready Driver - Download Now
You can download the new GeForce Game Ready 496.49 WHQL driver through GeForce Experience.
If you experience any technical issues with the new Game Ready drivers please post a detailed report on the GeForce.com Driver Feedback Forum, where our Customer Care team can better assist you. And if you're looking for a full list of fixes in this driver, for previously-reported issues, head here.