With 10 more DLSS games coming this October, NVIDIA DLSS is now accelerating performance with uncompromised image quality in 120 games and apps, including today's release of Back 4 Blood. This October also sees the launch of NVIDIA DLSS in Baldur's Gate 3, Chivalry 2, Crysis Remastered Trilogy, Rise of the Tomb Raider, Shadow of the Tomb Raider, Sword and Fairy 7, and Swords of Legends Online. And it's available now in recently released titles Alan Wake Remastered and F.I.S.T.: Forged In Shadow Torch.
Read on to learn about how the AI power of NVIDIA DLSS is boosting frame rates in October's biggest titles.
Back 4 Blood Out Now With NVIDIA DLSS
Back 4 Blood is available now! You and your team of three Cleaners are at the center of a war against the Ridden. These once-human hosts of a deadly parasite have turned into terrifying creatures bent on devouring what remains of civilization. With humanity's extinction on the line, it's up to you and your friends to take the fight to the enemy, eradicate the Ridden, and reclaim the world in a series of co-op campaign levels featuring randomized elements, a unique loadout system, and 8 different characters with their own perks.

To enhance your experience, activate NVIDIA DLSS to boost performance by up to 46%, delivering crisp image quality, and enabling virtually every GeForce RTX gamer to max out Back 4 Blood's graphics at 4K at 60 FPS: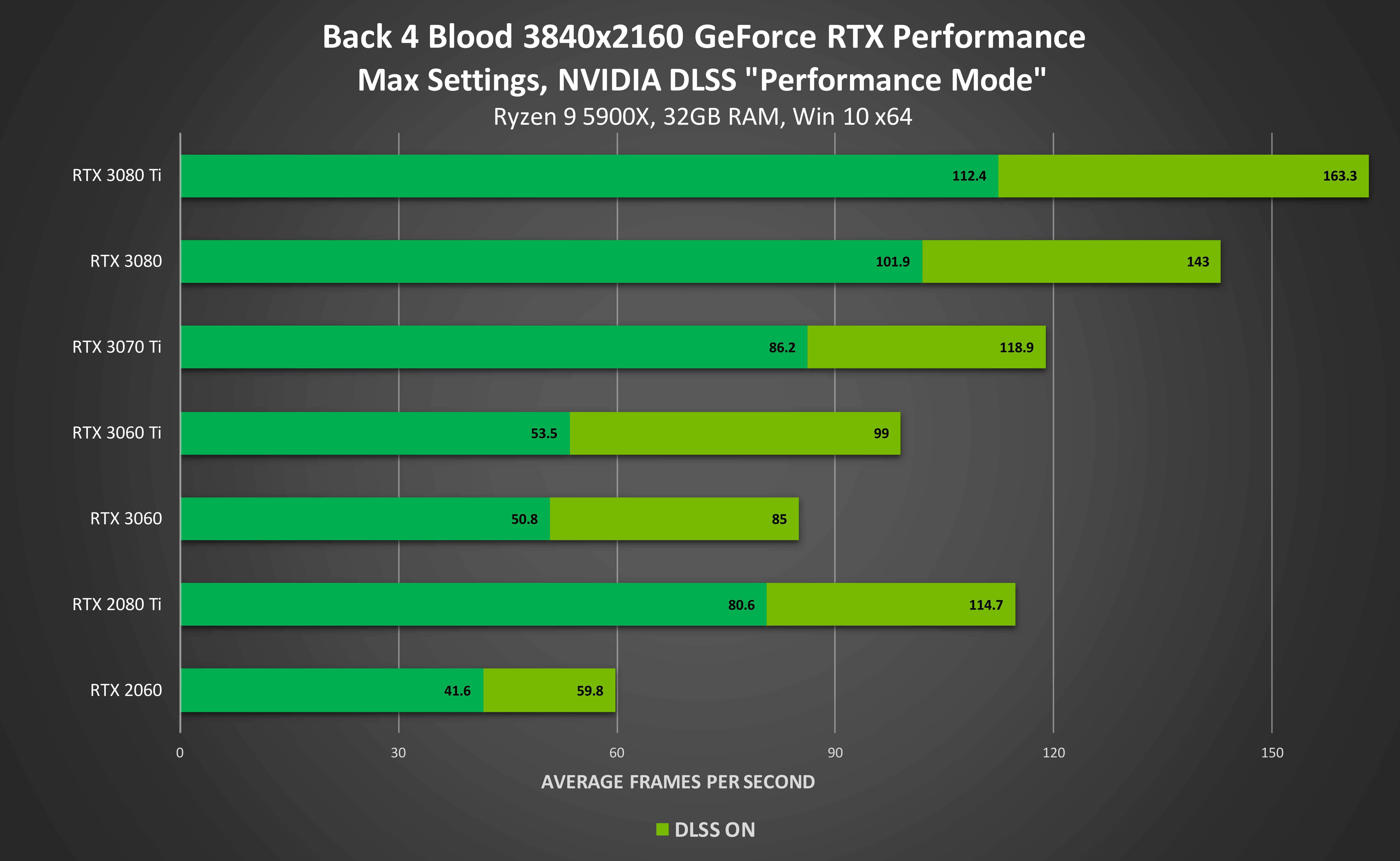 If you're heading into the war against the Ridden, be sure to download our new Game Ready driver, which offers optimizations and enhancements for your PC or laptop, and support for NVIDIA DLSS. It's available now via GeForce Experience and GeForce.com, and can be installed with just a few clicks.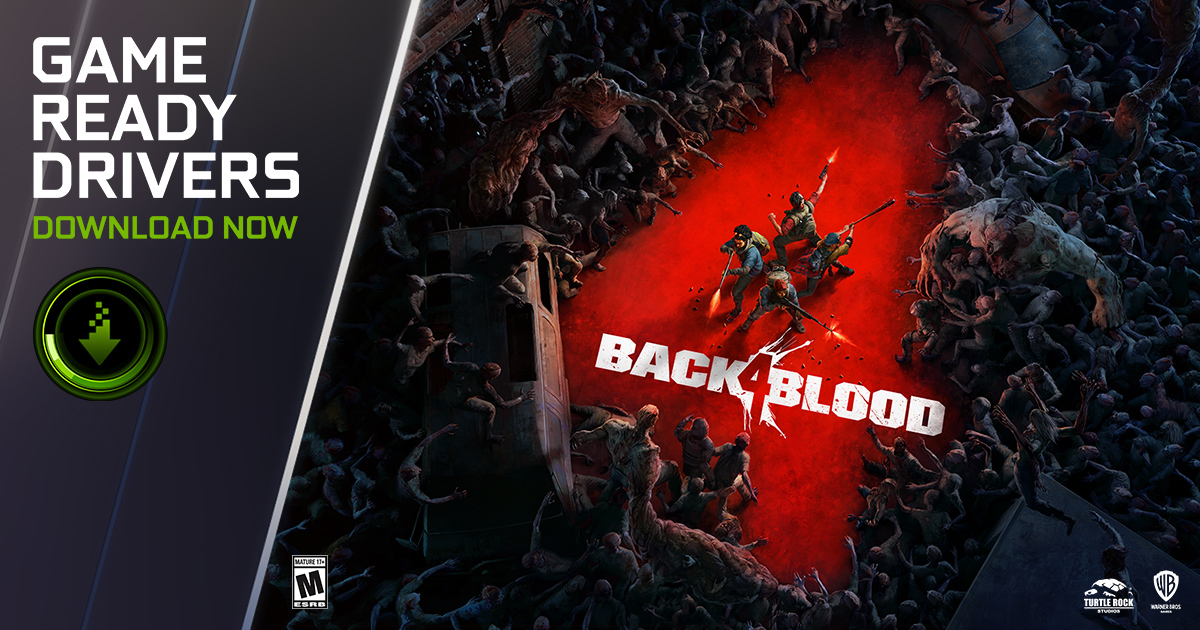 Baldur's Gate 3: Up To 88% Faster With NVIDIA DLSS
For nearly two decades, Belgian developer Larian Studios has been crafting role-playing games in their self-made Divinity universe. Their most recent release, Divinity: Original Sin II, saw the team achieve breakout success, with millions of copies sold, an Overwhelmingly Positive 95% rating from 113,000 Steam reviewers, and a 93% average from over 70 press outlets.
And now there's Baldur's Gate 3, which launched last year in Early Access and has already achieved tremendous success. Larian has continued to improve the game with new updates, new chapters, and player-requested changes, just as they did previously in Divinity: Original Sin II. And this week, the newest Baldur's Gate 3 update arrives on Steam, bringing a massive number of exciting new changes, including NVIDIA DLSS.
With DLSS, and your GeForce RTX GPU's Tensor Cores, performance is boosted by up to 88% at 4K, enabling GeForce RTX 3060 Ti and higher owners to play Baldur's Gate 3 at 4K 60 FPS at max settings: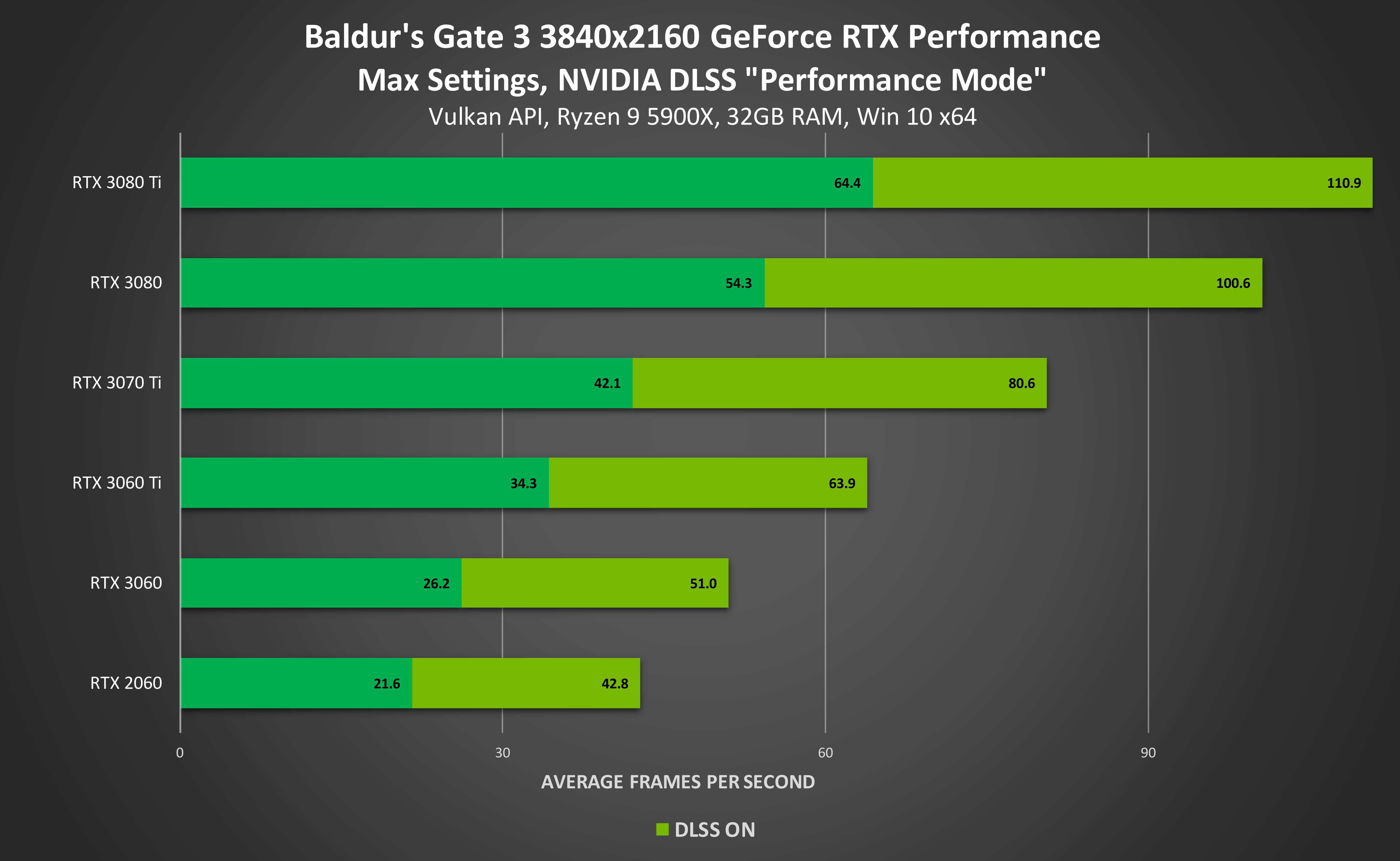 For those exploring Baldur's Gate 3 on a GeForce RTX laptop, NVIDIA DLSS delivers a faster, smoother, more enjoyable experience, running at over 60 FPS: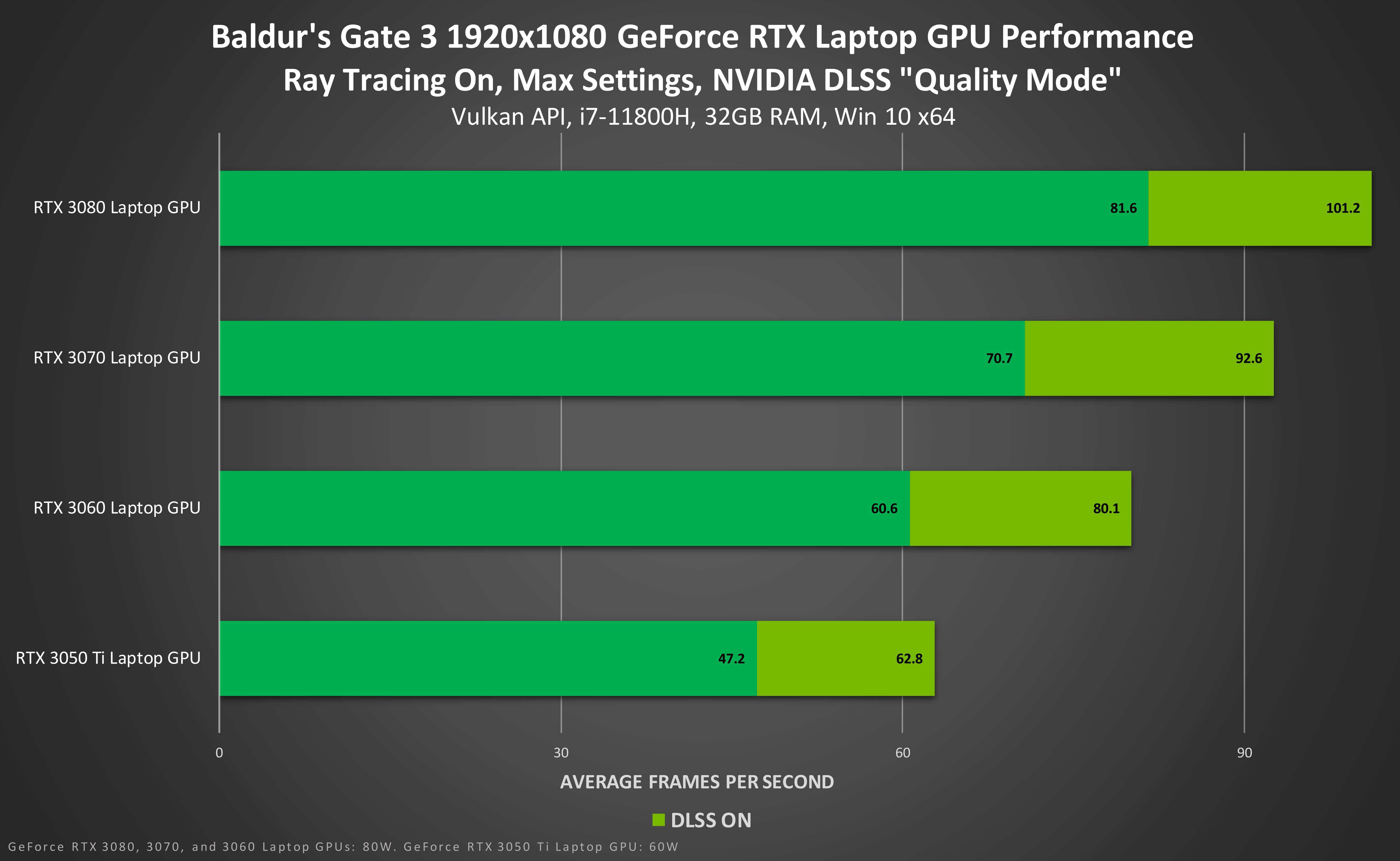 Crysis Remastered Trilogy Launches October 15 With NVIDIA DLSS and Ray Tracing
Following the release of Crysis Remastered last year, which featured both NVIDIA DLSS and ray tracing, Crytek and partner Saber Interactive are readying the release of Crysis Remastered Trilogy. Launching October 15, all three Crysis Remastered games feature NVIDIA DLSS and ray-traced reflections, along with enhanced textures, models, lighting and environments, giving PC gamers the definitive Crysis experience.
Rise of the Tomb Raider Adds NVIDIA DLSS, Shadow of the Tomb Raider Receives A DLSS Upgrade
In 1996, the world was introduced to one of the most famous, enduring, and most popular characters in video games: Lara Croft. This month marks the 25th anniversary of Tomb Raider, and to celebrate, Crystal Dynamics and NVIDIA are continuing their long-running partnership by inviting players to help celebrate this milestone with two NVIDIA DLSS updates.
Shadow of the Tomb Raider was one of the earliest RTX games, adding ultra-quality ray-traced shadows and NVIDIA DLSS 1.0 in early 2019, making the critically acclaimed game even better for those gaming on PC with a GeForce RTX GPU.
On October 18th, Shadow of the Tomb Raider will be updated with the latest version of NVIDIA DLSS, improving both image quality and performance. In addition, NVIDIA DLSS will also come to Rise of the Tomb Raider, the second game in the trilogy, originally released 2016.
Players can Stream both Tomb Raider games when they're away from their rig with GeForce NOW.
In Shadow of the Tomb Raider, NVIDIA DLSS performance more than doubles at 4K, with max settings and ray tracing enabled:
And in Rise of the Tomb Raider, NVIDIA DLSS boosts performance by up to 75%, enabling all GeForce RTX gamers to play at over 60 FPS at 4K, with max settings enabled.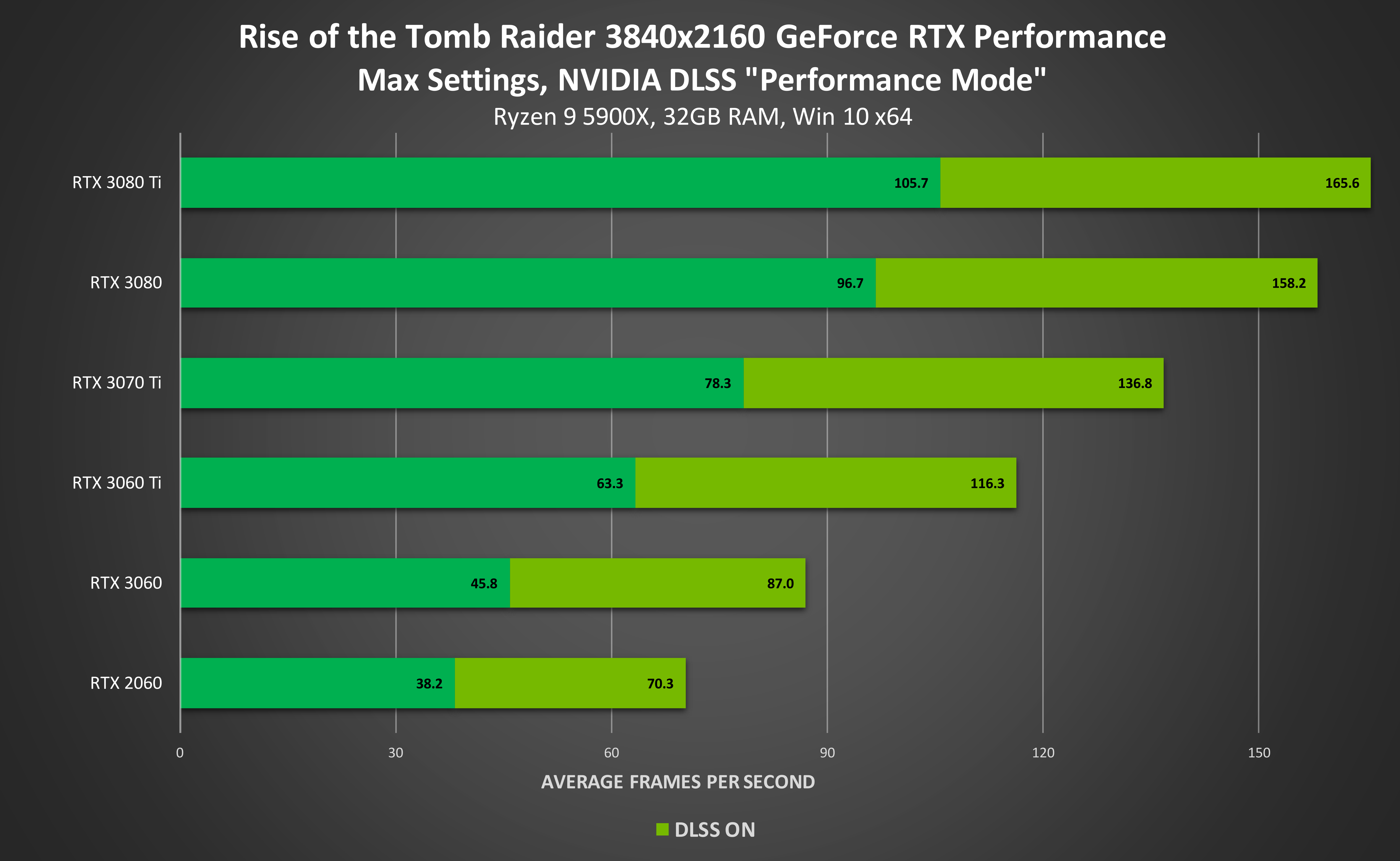 For the definitive experience in each game, enhanced with NVIDIA DLSS, download and install our newest Game Ready Driver.
Chivalry 2 Adding NVIDIA DLSS October 26
Torn Banner Studios' Chivalry 2 is an incredibly entertaining 64-player PvP melee slasher multiplayer title. Pick one of four classes, each with three sub-classes, and head out onto the field of battle in objective and deathmatch modes, outwitting opponents in intense clashes that are as much about strategy as they are video game skill.
On October 26, Chivalry 2's introducing NVIDIA DLSS in a new update, boosting performance by up to 45%, enabling all GeForce RTX gamers to play at 4K at over 60 FPS, with max settings enabled: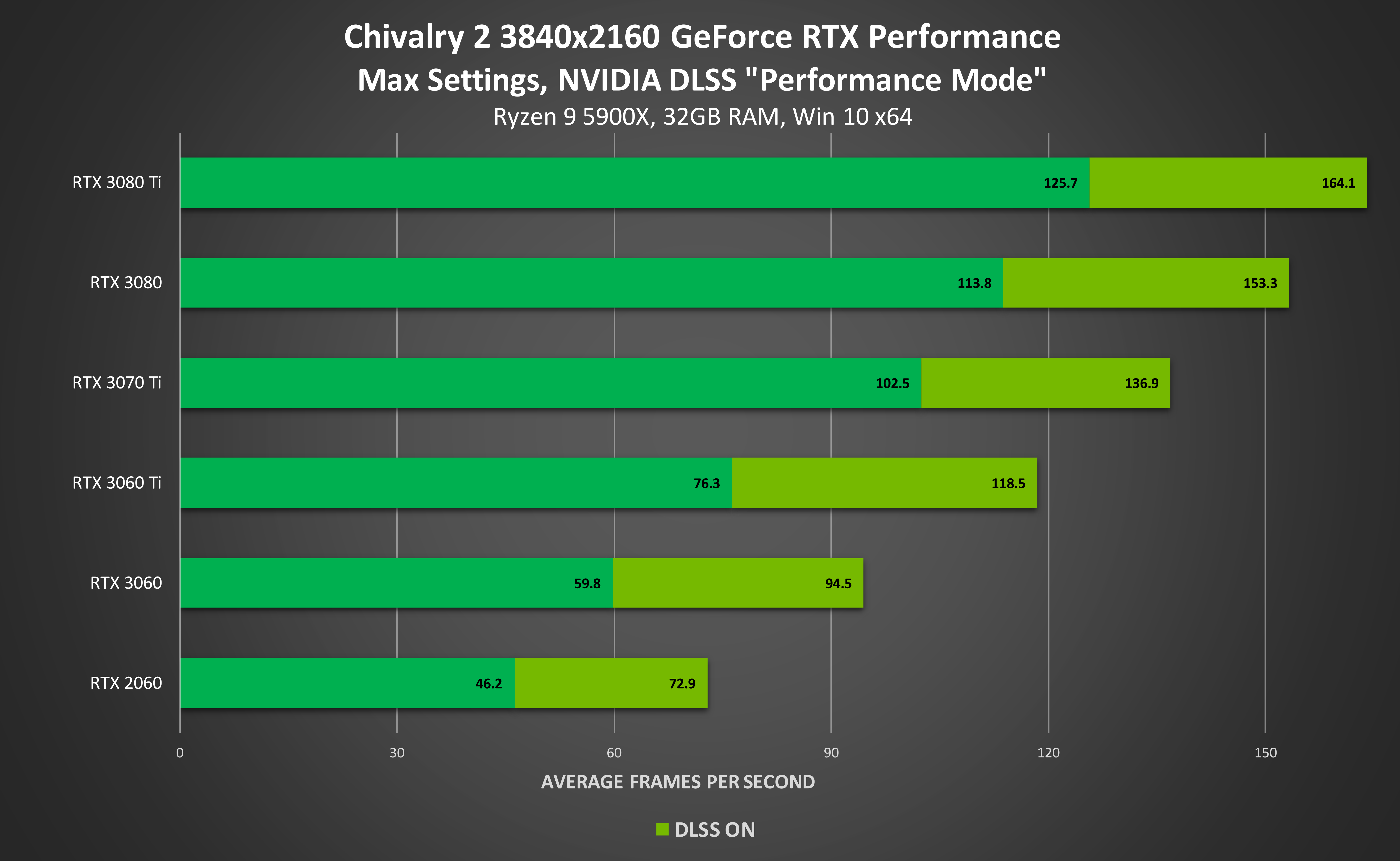 Check it out in action in our new Chivalry 2 NVIDIA DLSS video:
If you lack a GeForce RTX PC or laptop, or are away from your system, you'll also be able to play Chivalry 2 with NVIDIA DLSS support on GeForce NOW.
Sword and Fairy 7 Launches October 21 With NVIDIA DLSS & Ray Tracing
Sword and Fairy is a long-running Chinese RPG franchise that's spawned TV shows, stage plays, over a dozen spin-offs such as games and toys, etc. The franchise's latest mainline title, Sword and Fairy 7, launches at 9pm PDT, October 21st with ray-traced reflections, ray-traced shadows, ray-traced caustics, ray-traced ambient occlusion, and Spatiotemporal Importance Resampling for Many-Light Ray Tracing (ReSTIR) global illumination lighting.
When maxing out your experience with all that ray-traced goodness, activate NVIDIA DLSS to more than double performance.
If you're in the West, Sword and Fairy 7 is available on Steam with translations for the interface and dialogue.
Swords of Legends Online Upgrades NVIDIA DLSS
Wangyuan Shengtang Entertainment Technology Company's Swords of Legends Online launched in July in the West via publisher Gameforge, giving gamers a new fantasy action MMORPG to explore. On October 14th, GeForce RTX-equipped players can enjoy improved image quality and even faster performance thanks to an upgrade to the latest version of NVIDIA DLSS, which delivers performance boosts of up to 60%.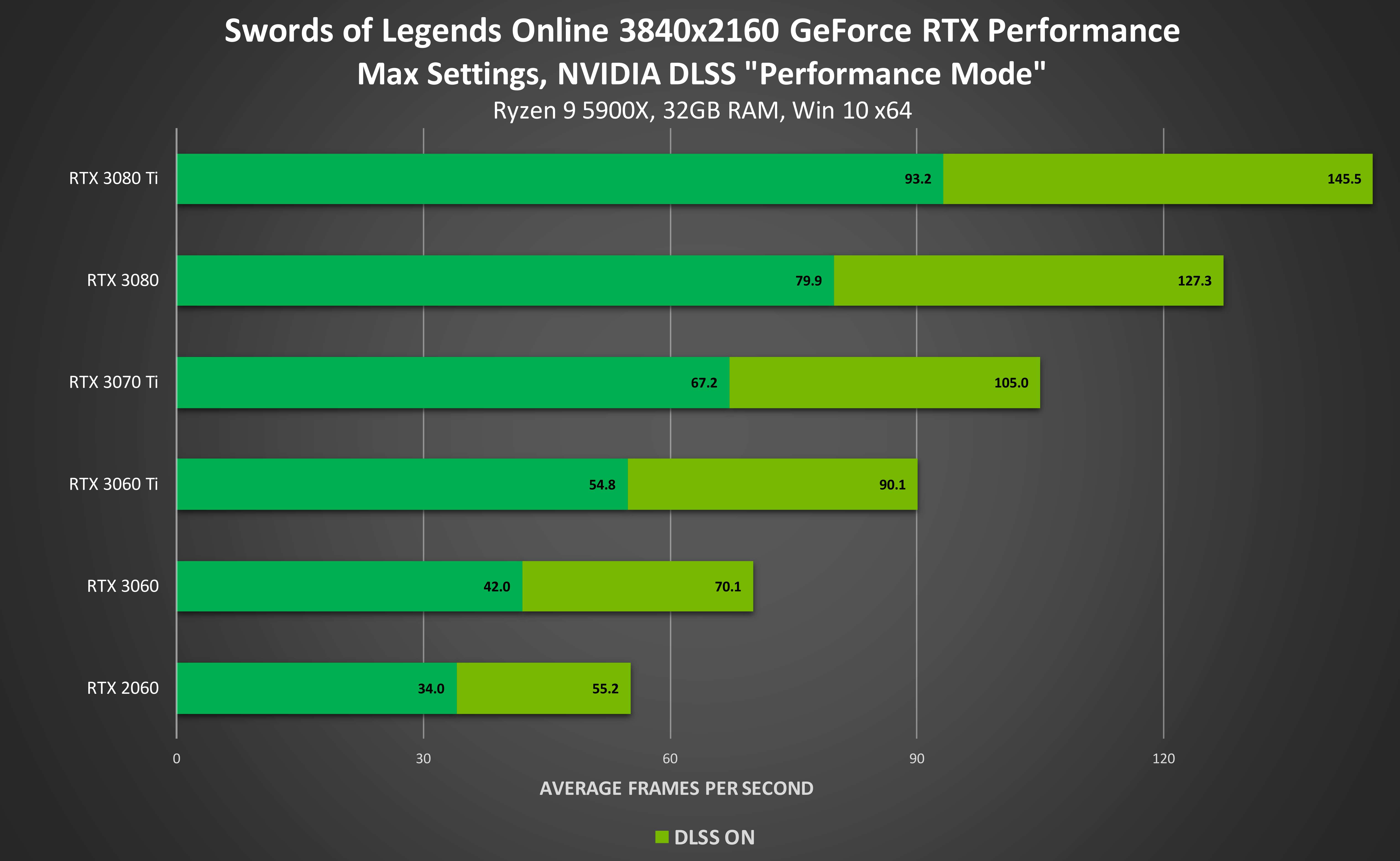 F.I.S.T.: Forged In Shadow Torch Out Now With NVIDIA DLSS & Ray Tracing
If you love Metroidvanias or Dieselpunk, be sure to check out the recently released, well-reviewed F.I.S.T.: Forged In Shadow Torch, which boasts ray tracing, NVIDIA DLSS, and NVIDIA Reflex, courtesy of a technical partnership with NVIDIA.
With everything enabled and maxed out, F.I.S.T.'s graphics feature ray-traced reflections, global illumination lighting, and caustics. System latency is minimized with NVIDIA Reflex for a more responsive experience. And NVIDIA DLSS accelerates performance by a massive 3x.
For full details and performance charts, check out our F.I.S.T.: Forged In Shadow Torch launch article. GeForce Now Founders and Priority members can also stream the game with beautiful RTX features enabled.
Alan Wake Remastered Available Now & Up To 2x Faster With NVIDIA DLSS
Remedy Entertainment's remaster of Alan Wake, their 2010 hit, launched earlier this month with NVIDIA DLSS, which accelerates performance by up to 2x at 4K:
Head to the Epic Games Store to grab a copy of this critically acclaimed action-thriller, which has links to Remedy's RTX masterpiece, Control.
As Always, There's More To Come
With free SDKs and plugins for Unreal Engine and Unity, it's easy for developers to add NVIDIA DLSS to their games. This is why there are over 100 games and apps with support for NVIDIA DLSS, and many more to come this year. Stay tuned to GeForce.com to discover which games are adding GeForce RTX technologies next.