NVIDIA DLSS is accelerating performance in over 55 games, including the highest rated and most played titles such as Call of Duty: Warzone, Control, Cyberpunk 2077, Fortnite, Metro Exodus PC Enhanced Edition, Minecraft for Windows 10, and more.
Today we're announcing DLSS is coming to Facepunch Studios' massively popular multiplayer survival game, Rust, on July 1st, and is available now in Necromunda: Hired Gun and Chernobylite. Tomorrow, with a Linux graphics driver update, we'll also be adding support for Vulkan API DLSS games on Proton.
This is in addition to the 5 recently announced DLSS titles that are coming soon, including LEGO® Builder's Journey on June 22nd, DOOM Eternal on June 29th, and Red Dead Redemption 2. And this month has already seen DLSS released in Rainbow Six Siege, No Man's Sky and The Persistence, and as a plugin in Unreal Engine 5.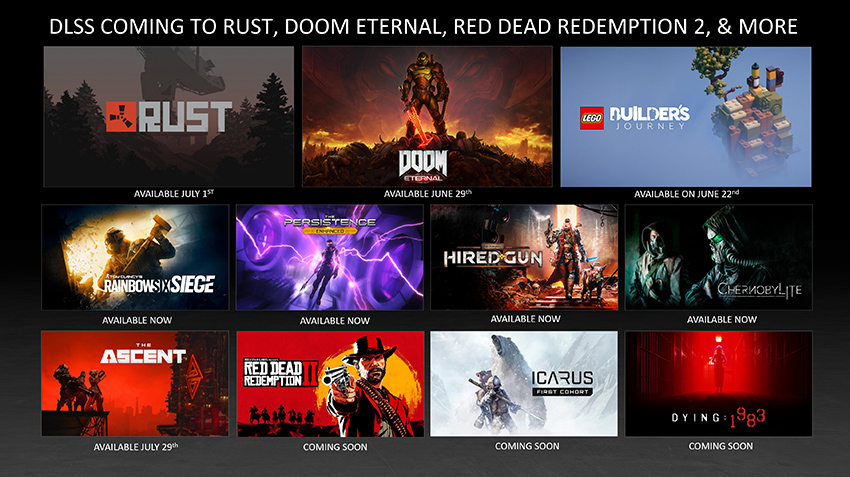 NVIDIA DLSS Now Available In Unreal Engine 5 and Coming To Unity 2021.2
NVIDIA DLSS is available as a free plugin for the industry's most used game engines: our DLSS plugin for Unreal Engine 4 launched in February, support for Unity is upcoming in 2021.2, and our DLSS plugin for Unreal Engine 5 launched on June 17th. Engine integrations make it fast and easy for developers to enable DLSS in their games.
"The Unreal Engine 4 plugin makes light work of adding NVIDIA DLSS to your game, in fact we dropped it in over the weekend," said Matthew Kenneally, Lead Engineer at Night Dive Studios. "Bringing System Shock to a new generation of gamers has been a labor of love for our team, and the impact NVIDIA DLSS will have on the player's experience is undeniable."
Additionally, developers have brought DLSS to a dozen of their own in-house engines, making it even faster for them to bring DLSS to future titles.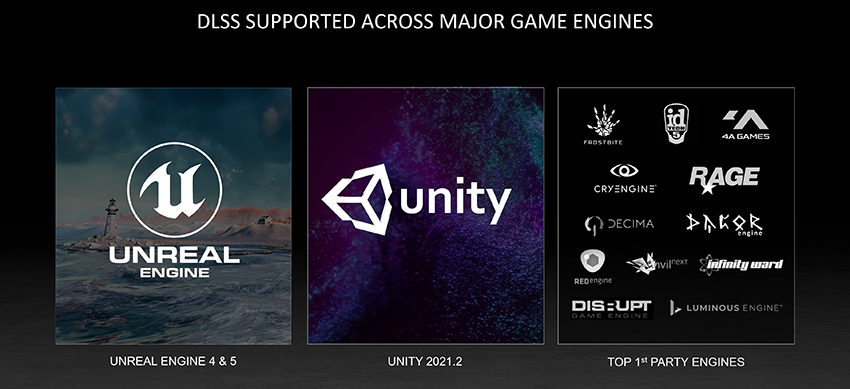 NVIDIA DLSS is widely adopted within the industry because it allows developers to get higher quality experiences into the hands of more gamers. Players can double or in some cases even triple frame rates by enabling DLSS, allowing many more to experience games at the highest resolutions and with beautiful graphics.
NVIDIA DLSS Linux Support For Proton
NVIDIA DLSS support for Vulkan API games will be available from June 22nd on Proton, enabling Linux gamers to use the dedicated AI Tensor Cores of their GeForce RTX GPUs to accelerate frame rates in DOOM Eternal, No Man's Sky, and Wolfenstein: Youngblood. Support for DLSS-enhanced DirectX titles running via Proton will arrive this Fall.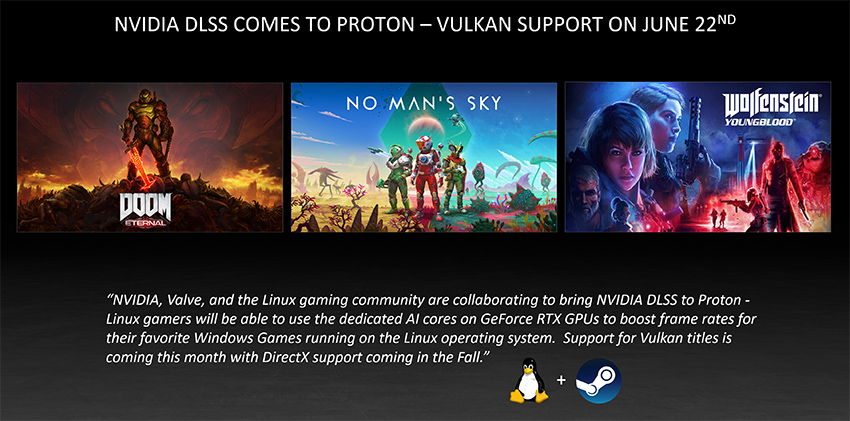 NVIDIA DLSS - How It Works
NVIDIA DLSS is an AI super resolution algorithm accelerated by Tensor Cores on GeForce RTX GPUs. Super resolution is the process of accurately predicting a higher resolution output (e.g. 4K) from a lower resolution input (e.g. 1080p). It allows the game to render at 1080p, improving frame rates, then uses AI and game engine data to deliver the image quality of a native 4K output.
In order to generate a 4K DLSS output (8.2 million pixels) from a 1080p game input (2 million pixels), the algorithm has to predict an additional 6.2 million pixels. The more information the DLSS algorithm can receive about those pixels, the better the resulting 4K output.
DLSS achieves great image quality by using 4 different inputs to determine the final frame seen on your display:
The lower resolution image rendered by the game engine (e.g. 1080p)

The motion vectors of the same image, generated by the game engine. Motion vectors tell the algorithm which direction objects in the scene are moving from frame to frame

The high resolution output of the previous DLSS-enhanced frame (4K)

A large data set of 16K-resolution ground truth images of different types of game content used to train the AI network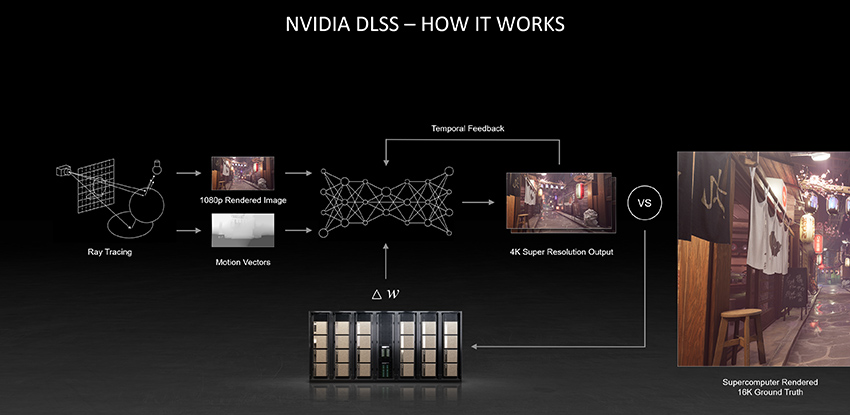 A special type of AI network, called a convolutional autoencoder, takes the low resolution current frame, motion vectors, and the high resolution previous frame, to determine on a pixel-by-pixel basis how to generate a higher resolution current frame.
By looking at motion vectors and the prior high resolution output, DLSS can track objects from frame to frame, delivering stability in motion, and reducing flickering and popping artifacts. This process is known as 'temporal feedback,' as it uses history to inform the future.
With access to prior frames and motion vectors, DLSS can track each pixel, and take multiple samples of the same pixel across frames (known as temporal supersampling), delivering better detail and edge quality than traditional upscaling solutions.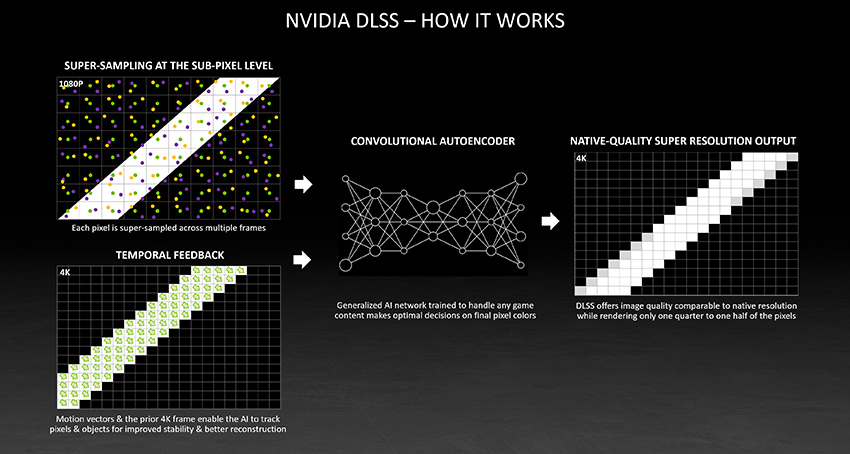 By training against a large dataset of 16K-resolution images, the DLSS algorithm learns to predict high resolution frames with greater accuracy. And through continual training on NVIDIA's supercomputers, DLSS can learn how to deal with new classes of content -- from fire to smoke to particle effects -- at a rate that engineers hand-coding non-AI algorithms simply could not keep up with.
With GeForce RTX Tensor Cores delivering up to 285 teraflops of dedicated AI horsepower, NVIDIA DLSS can be run in real-time simultaneously with an intensive 3D game.
NVIDIA DLSS vs. Upscaling and Sharpening
There are several alternate methods to upscaling resolution, though none have achieved the image quality of DLSS. To better understand how DLSS achieves its excellent results, it is helpful to know how traditional upscaling works.
NVIDIA offers a GPU scaling and sharpening solution called NVIDIA Image Sharpening (NIS), which is available for all games on all GeForce RTX and GeForce GTX GPUs via the NVIDIA Control Panel.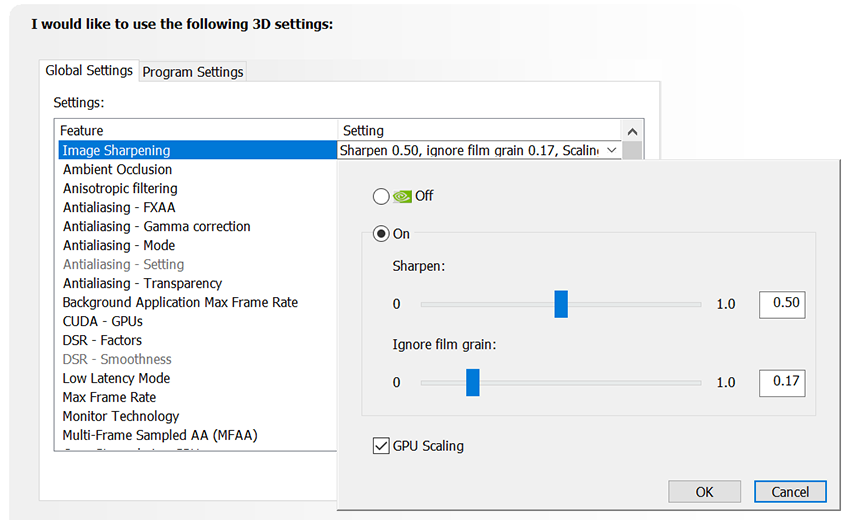 To enable NVIDIA Image Sharpening, open the NVIDIA Control Panel, go to "Manage 3D Settings," and turn on Image Sharpening & select "GPU Scaling". Then set your desired resolution in your game settings, and it will automatically apply NVIDIA's upscaling and sharpening
NVIDIA Image Sharpening upscales images by averaging neighboring pixels (using a 5 tap scaler on GeForce RTX and GeForce GTX 16-Series GPUs) and then using an adaptive sharpening filter (a shader) to enhance edges. In contrast to DLSS, the algorithm is non-AI and non-temporal, using only information from the current low resolution image rendered by the game as an input. While the resulting image quality is often better than typical monitor or in-game resolution scaling options, it lacks the temporal data and AI smarts of DLSS to deliver native resolution detail and robust frame-to-frame stability.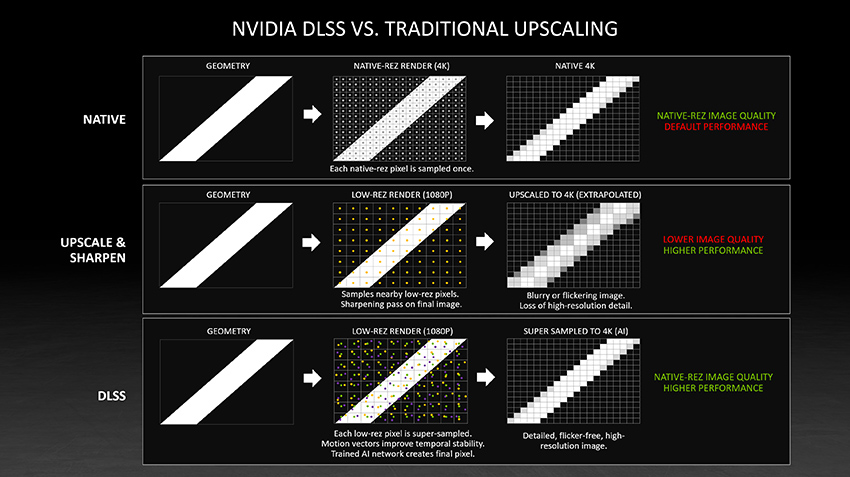 To see this in action, let's look at a comparison between Native, DLSS, and NIS upscaled and sharpened content:
As you can see, DLSS stabilizes the image compared to the upscaled image, and even native resolution. These results are achieved only through a combination of motion vectors, temporal feedback, and the advanced AI algorithm.

To understand the importance of AI in this equation, let's look at a comparison between the initial release of DLSS in Control, which used a non-AI heuristic, and DLSS 2.0, which uses AI. By training across 16K-resolution ground truth images, DLSS 2.0 learned how to capture subtle details and better handle difficult content such as the rotating fan.
Video captured in Control at 1920x1080 with the initial DLSS version released in Control, and with DLSS 2.0
Rust Adds NVIDIA DLSS July 1
Facepunch Studios is bringing NVIDIA DLSS to Rust on July 1st, accelerating performance for GeForce RTX players. This follows the addition of NVIDIA Reflex in May, which reduced system latency by up to 38%, making gameplay more responsive, and players more competitive.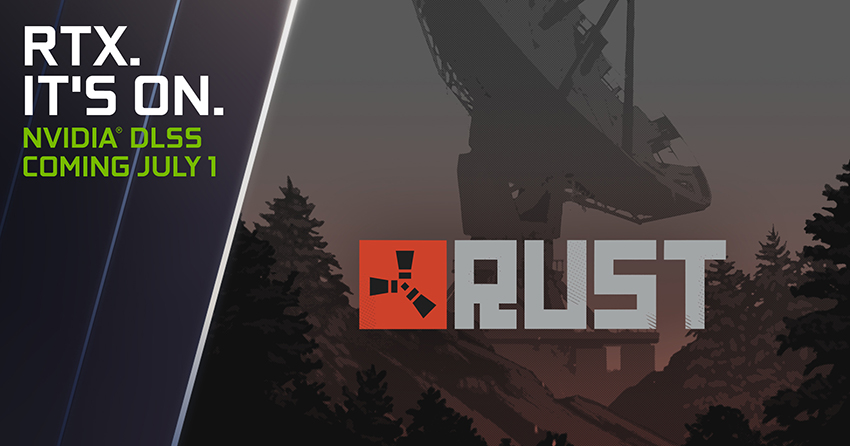 "I'm pleased to announce on July 1st NVIDIA DLSS is available for Rust. In Rust split-second reactions can be the difference between life and death, with NVIDIA DLSS offering our players a performance boost, without sacrificing visual quality and a better overall experience, it's a win-win."- Helk, Rust's Project Lead, Designer & Programmer
With both NVIDIA DLSS and NVIDIA Reflex, GeForce RTX players will receive the definitive Rust experience, with the fastest levels of performance, and most responsive gameplay possible. Check back on July 1st for further details.
LEGO Builder's Journey Launches Tomorrow - June 22 - With Ray Tracing and NVIDIA DLSS
The PC edition of LEGO® Builder's Journey launches June 22nd with a suite of ray-traced effects and NVIDIA DLSS. This aesthetic and atmospheric geometric puzzle game is set in a completely LEGO brick-based environment, and looks truly amazing with its ray-traced effects enabled, and visuals maxed out.
"LEGO bricks are something everyone knows and loves. Ray tracing and NVIDIA DLSS powered by GeForce RTX brings the LEGO world to life, with stunning visuals and smooth performance." - Mikkel Fredborg, Tech Lead, Light Brick Studio
LEGO Builder's Journey features an extensive array of effects, greatly enhancing image quality. Ray-traced global illumination enables realistic bouncing of light, and the transmission of colored light from surface to surface, increasing the vibrancy of the LEGO-based stages.

Ray-traced reflections accurately reflect the entirety of the world's physically based materials, as well its global light sources such as the sun, key lights and fill lights that surround the scene. Rough materials have sparse reflections, while glossy surfaces naturally reflect every detail, revealing intricate undersides of bricks. Rounded edges of bricks and spherical shapes correctly reflect global light as bright slivers of color, and the general look and feel of the world becomes far more realistic.

Ray-traced ambient occlusion ensures nooks and crannies are accurately shadowed where light is blocked, and raises the precision of lighting, preventing over-darkening of areas that should be brightly lit.

And ray-traced shadows reach even the slightest crevasses between bricks, where rasterization limits definition and completeness. The game's brick-built world becomes grounded as shadows hold to their shape and form as in the real world, further improving definition, detail, and realism.
And ray-traced shadows reach even the slightest crevasses between bricks, where rasterization limits definition and completeness. The game's brick-built world becomes grounded as shadows hold to their shape and form as in the real world, further improving definition, detail, and realism.

Using the custom option in the graphics menu, individual ray tracing settings can be turned on and off to see their effect on the game world, and there you can enable NVIDIA DLSS to accelerate performance by up to 92%: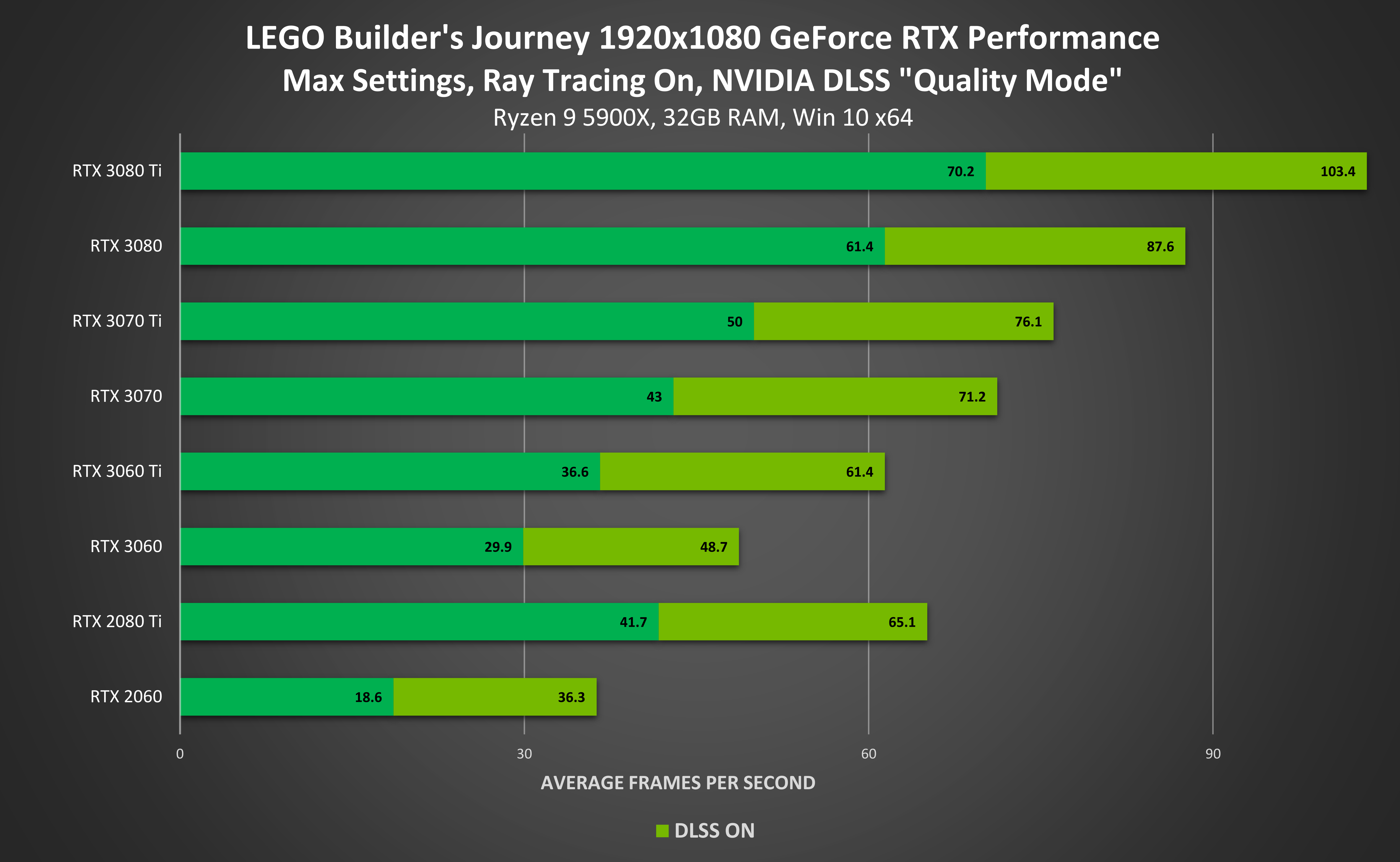 Play LEGO Builder's Journey On GeForce NOW, With Ray Tracing and NVIDIA DLSS
If you don't own a ray tracing-capable PC, you can still experience the beauty of ray tracing in LEGO Builder's Journey on GeForce NOW, NVIDIA's cloud game streaming service. Along with the benefits of ray-traced reflections and DLSS in LEGO Builder's Journey, Founders and Priority members also get priority access to cloud gaming servers and extended session lengths for longer playtimes.
With GeForce NOW, gamers can play their favorite already-owned PC titles, such as LEGO Builder's Journey, from popular digital stores like Steam, Ubisoft Connect, Epic Games Store and GOG.
DOOM Eternal Will Be Enhanced With Ray Tracing and NVIDIA DLSS June 29
At COMPUTEX, we unveiled DOOM Eternal's RTX update, which uses Khronos Vulkan Ray Tracing for reflections, working together with NVIDIA DLSS. In a world premiere trailer, DOOM Eternal was shown running on a GeForce RTX 3080 Ti at 4K with ray tracing enabled, showcasing the game's stunning visual fidelity and frantic action like never before.
Now, we can announce DOOM Eternal's RTX update will launch June 29th. Head back to GeForce.com that day for further info, performance charts, and more.
"DOOM Eternal was built to deliver the very best in engaging first-person-shooter gameplay, stunning visuals and uncompromising performance. With the addition of ray tracing to idTech and support for NVIDIA DLSS, we're pushing the engine in exciting new ways and we can't wait for GeForce RTX gamers to experience it." - Marty Stratton, Studio Director of id Software
Tom Clancy's Rainbow Six Siege NVIDIA DLSS Available Now
At COMPUTEX 2021 earlier this month, we announced Rainbow Six Siege was adding NVIDIA DLSS. Last week, DLSS launched as part of the Year 6 Season 2 North Star update, boosting performance by up to 50% at 4K in the Vulkan version, enabling all GeForce RTX GPUs to game at 100+ FPS at 4K with every setting maxed out.
Reviews are in and DLSS is a hit:
"Rainbow Six Siege just got much better with Nvidia DLSS" - TechRadar
"A big jump in performance" - Hot Hardware
"GeForce gamers are getting the ultimate Rainbow Six Siege PC gaming experience" - Invision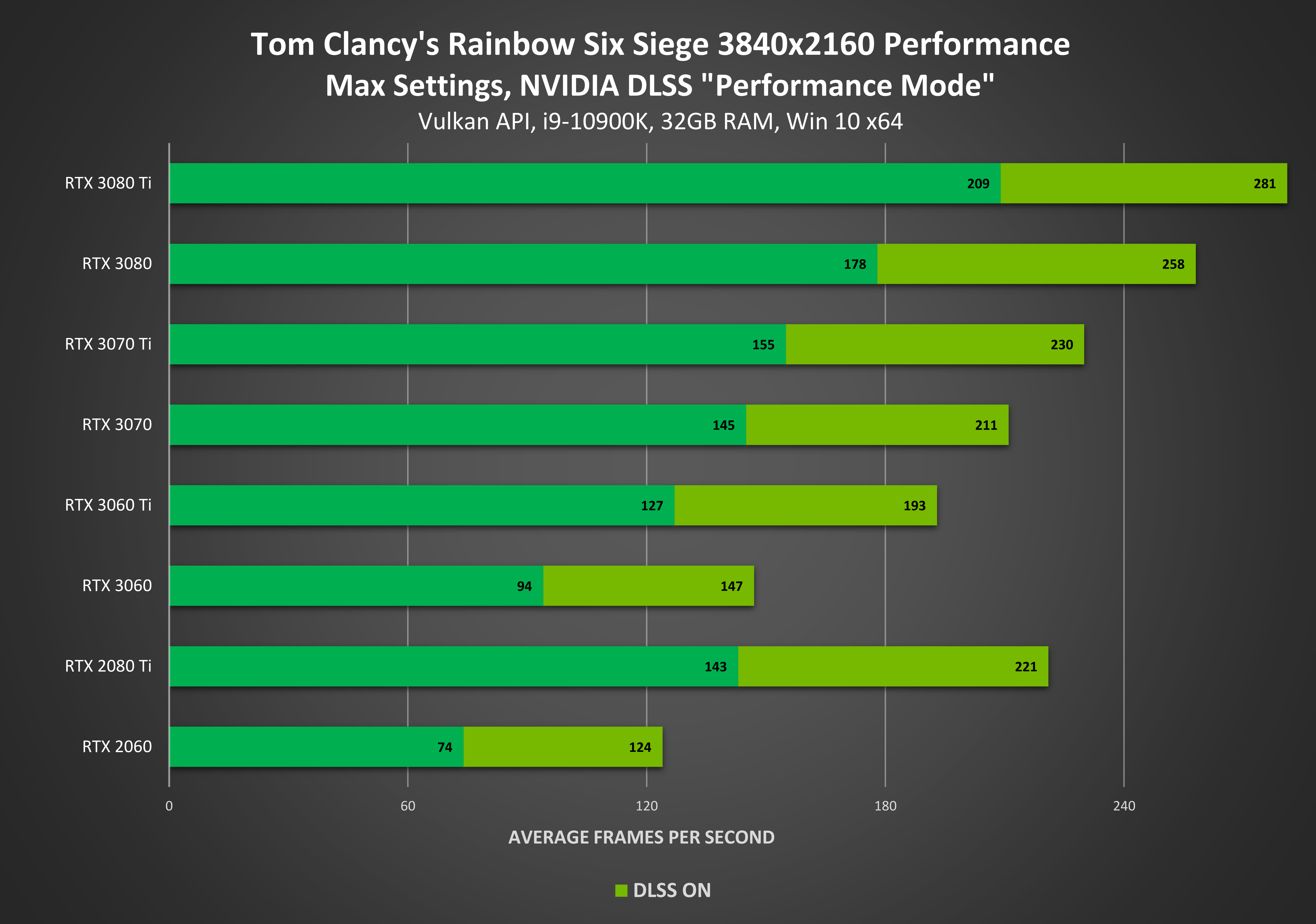 Get more info and learn how to enable DLSS in the game in our dedicated Rainbow Six Siege NVIDIA DLSS article.
Necromunda: Hired Gun Available Now With NVIDIA DLSS
Streum On Studio and Focus Home Interactive's new first person shooter, Necromunda: Hired Gun, launched earlier this month with support for NVIDIA DLSS. The game takes players to the titular Warhammer 40,000 Hive World for a fast-paced, action packed, crime-ridden game, where you play as a merciless hired gun.
NVIDIA DLSS doubles your performance at 4K, allowing all GeForce RTX 30 Series GPU users to game at 60+ FPS: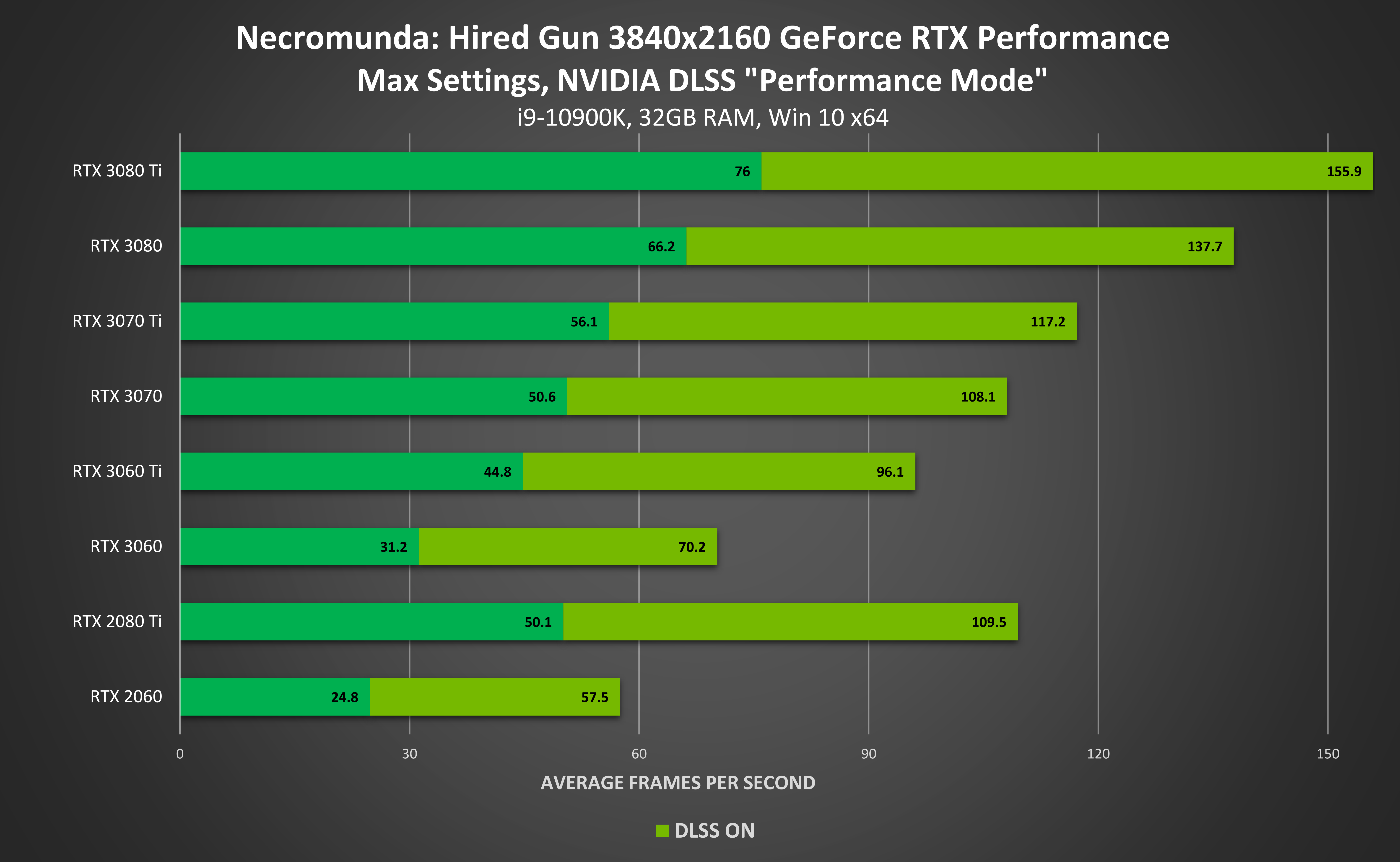 Download and install our latest Game Ready Driver to optimize your experience when using NVIDIA DLSS to accelerate performance.
Chernobylite's Exclusion Zone Receives NVIDIA DLSS
The Farm 51's Chernobylite recreates the Chernobyl Exclusion Zone with 3D scanned photogrammetry, and inserts other wordly elements to create a well-received survival horror game that exits Early Access July 28th.
To accelerate performance, NVIDIA DLSS has been added to the game, enabling you to max out settings at 4K for the definitive Chernobylite experience. With DLSS, performance is boosted by up to 80%, allowing all GeForce RTX GPUs to enjoy the game at 60+ FPS:
No Man's Sky NVIDIA DLSS Available Now
We recently announced that Hello Games' No Man's Sky was to receive a DLSS update that enhances performance on desktops and laptops, and in its immersive Virtual Reality mode.
That update is now available, so fire up your game client of choice to snag the update, and switch on DLSS to boost performance by up to 70%.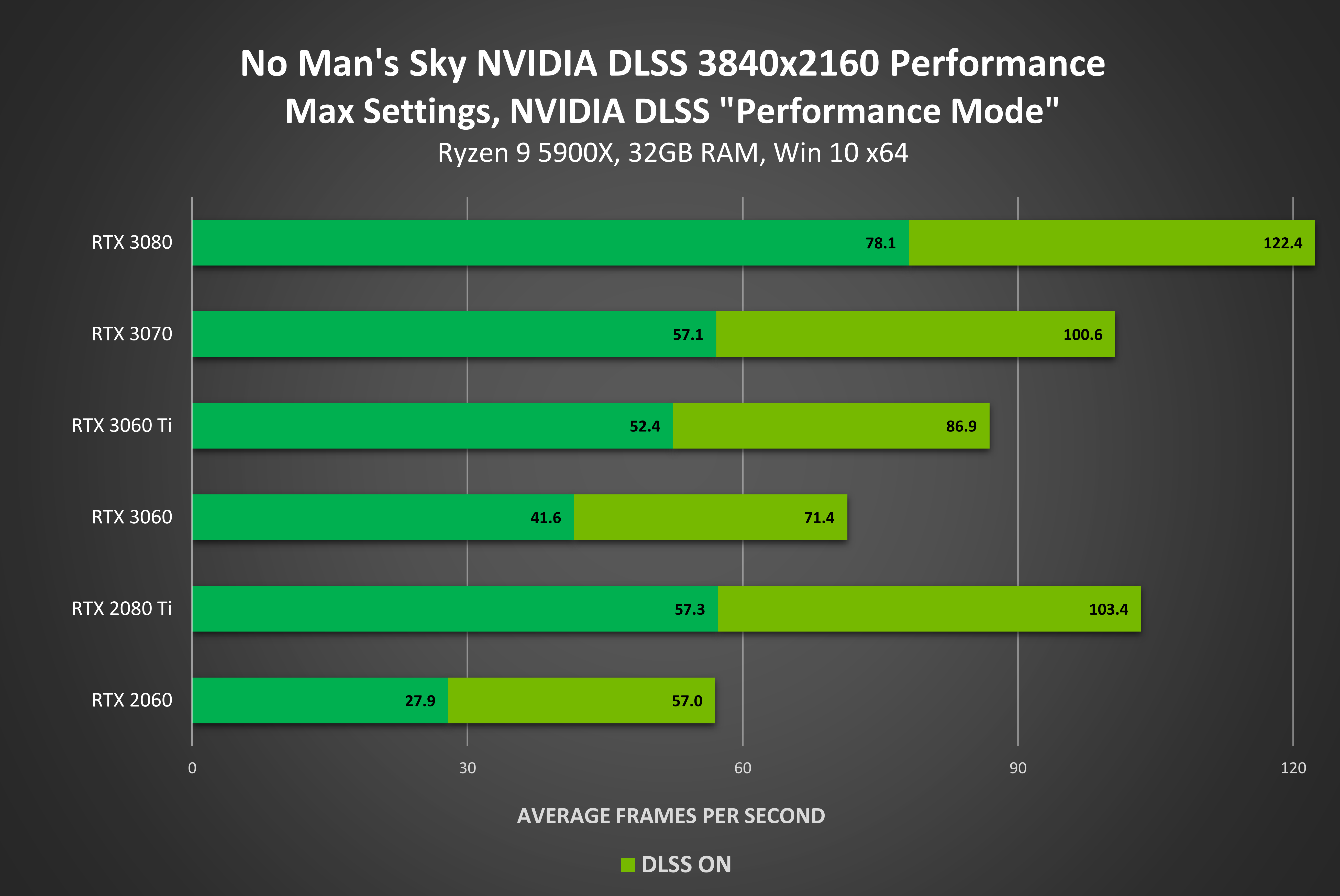 The Persistence: Enhanced Out Now With Ray Tracing and NVIDIA DLSS
We recently revealed that The Persistence was adding several ray-traced effects and NVIDIA DLSS, giving GeForce RTX gamers the definitive experience.
The 'Enhanced' update bringing these features to the game launched last week, so if you're interested in playing a new first-person sci-fi horror shooter roguelike, head on over to Steam to try it out.
As Always, There's More To Come
With the recent release of NVIDIA DLSS for numerous games, there are over 55 available to play today. NVIDIA DLSS is available as a free plugin for the industry's most used game engines like Unreal Engine 4 and 5, and is coming to Unity 2021.2.
As always, stay locked to GeForce.com to get the lowdown on all future DLSS, ray tracing and Reflex announcements.