Our latest GeForce Game Ready driver delivers support for RTX technologies in top-rated games, giving players high-fidelity graphics, faster performance, and reduced system latency. In DOOM Eternal you can marvel at ray-traced visuals and boost performance with DLSS, Escape From Tarkov players can reduce system latency with Reflex, LEGO® Builder's Journey launches with several ray-traced effects and performance-accelerating DLSS, and Rust adds DLSS, following its earlier introduction of Reflex.
Additionally, there's support for the upcoming release of F1 2021, 4 new G-SYNC Compatible gaming monitors, and 4 new GeForce Experience Optimal Playable Setting profiles. To download and install, simply fire up GeForce Experience and click the "Drivers" tab.
For Linux gamers, we're releasing a new driver that includes support for NVIDIA DLSS on Linux systems running Proton. Download here and learn more below.
Game Ready For New NVIDIA DLSS, NVIDIA Reflex and Ray Tracing Enhancements
We're continuously working to bring new implementations of our experience-enhancing technologies to games, and with our new Game Ready driver you'll receive support for NVIDIA DLSS, NVIDIA Reflex and ray tracing in a new batch of critically acclaimed titles.
DOOM Eternal: id Software's much-loved shooter is adding ray-traced reflections and NVIDIA DLSS on June 29th. Check back then for further details.
Escape From Tarkov: NVIDIA Reflex is coming soon, reducing system latency in the high-stakes first-person shooter by up to 38%, making players more competitive.
LEGO Builder's Journey: The aesthetic and atmospheric geometric puzzle game launches today on Steam, replete with a suite of stunning ray-traced effects, and performance-accelerating NVIDIA DLSS technology that boosts performance by up to 92%. Learn more in our latest RTX ON article.
Rust: Facepunch Studios' survival-crafting-action game is one of Steam's top 10 most played games, and following the introduction of NVIDIA Reflex in May, Rust is adding NVIDIA DLSS for players on July 1.
There are over 130 games and applications supporting RTX-accelerated innovations, including GPU-accelerated ray tracing, NVIDIA Deep Learning Super Sampling (DLSS), and AI-powered innovations like NVIDIA Broadcast. And our newest technology, NVIDIA Reflex is now supported in 12 of the top 15 competitive shooters, making gameplay more responsive. To discover which games are adding these features next, stay tuned to GeForce.com.
Game Ready For F1 2021
Codemasters and Electronic Arts' F1 2021 launches next month. For optimum performance, and the best possible experience, download and install our new Game Ready Driver before its release.
GeForce Experience Enhancements
Our free GeForce Experience app includes a ton of great features and enhancements that make gaming better, and enable you to record and share your best moments. Alongside our new Game Ready Driver, we're releasing a new GeForce Experience update that further improves its FPS Counter, One-Click Automatic GPU Tuning, Freestyle filters, and HDR Screenshot Capture features, which are all accessible by pressing Alt+Z once the In-Game Overlay is enabled in the app's settings:
One-Click HDR Screenshot Capture for All GeForce Experience Supported Games

: GeForce Experience has expanded game support for quick HDR screenshot capture from 300+ Ansel-supported games to now over 1000+ GeForce Experience Supported games. Press [Alt+F1] to save your HDR screenshot in JXR format while playing on your HDR monitor. To review the shots, try the free HDR+WCG Image Viewer from the Microsoft Store

New Freestyle Sharpen Filter

: We have added a new and improved Sharpen+ filter for Freestyle which uses depth to enhance quality

FPS Counter

: Based on your feedback, we made adjustments to the new FPS counter, to no longer show "N/A" when FPS is not available

One-Click Automatic GPU Tuning

: We have improved the user experience by adding status messages during the tuning process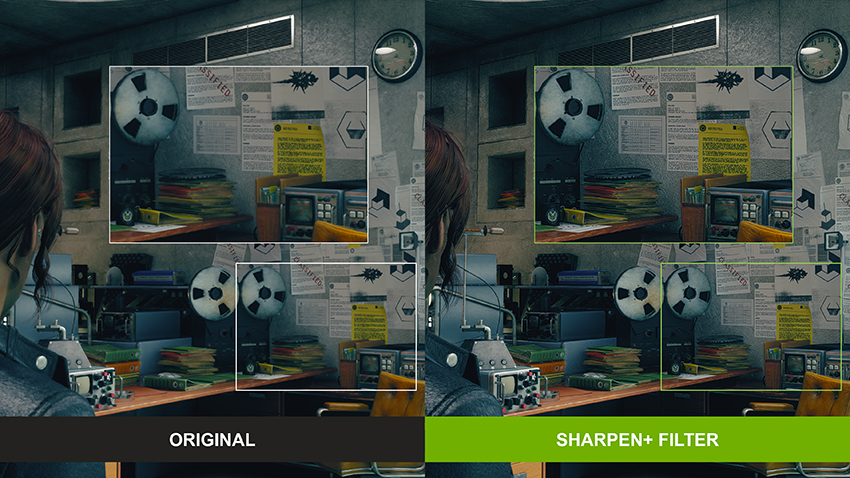 The new GeForce Experience Sharpen+ Freestyle filter
New Games Supported By GeForce Experience's Optimal Settings
GeForce Experience's one-click optimal settings enable you to instantly configure game options for your system's hardware, giving you smooth, optimized gameplay. Over 1000 titles are supported, and since our last driver release we've added support for 4 more:
Blade & Soul

CrossFire HD

Phantasy Star Online 2 New Genesis

The Legend of Heroes: Trails of Cold Steel IV
GeForce Experience also enables you to capture and stream your gameplay, take screenshots, upload videos to social networks, and more. For all the details, head here.
Support For Newly Validated G-SYNC Compatible Displays
Our newest Game Ready Driver driver also adds support for 4 new G-SYNC Compatible displays - gaming monitors that deliver a baseline Variable Refresh Rate (VRR) experience that makes your gaming smoother and more enjoyable.
| | | | | | | |
| --- | --- | --- | --- | --- | --- | --- |
| MANUFACTURER | MODEL | HDR | SIZE | LCD Type | Resolution | VRR Range |
| AOC | AG274US4R6B | Yes | 27" | IPS | 3840x2160 (4K) | 48-144Hz |
| AOC | AG254FWG8R4 | Yes | 24.5" | IPS | 1920x1080 (FHD) | 48-144Hz |
| ASUS | VG28UQL1A | No | 28" | IPS | 3840x2160 (4K) | 48-144Hz |
| LG | 32GN650/32GN63T | Yes | 32" | IPS | 2560x1440 (QHD) | 60-144Hz |
These newly-validated monitors give gamers even more choice when searching for a great gaming display. For a complete list of all G-SYNC, G-SYNC ULTIMATE, and G-SYNC Compatible gaming monitors, check out our handy and frequently updated G-SYNC page, which can be sorted and filtered, helping you quickly find the ideal display.
NVIDIA DLSS Linux Support For Proton
NVIDIA DLSS support for Vulkan API games is now available on Proton, enabling Linux gamers to use the dedicated AI Tensor Cores of their GeForce RTX GPUs to accelerate frame rates in DOOM Eternal, No Man's Sky, and Wolfenstein: Youngblood. Support for DLSS-enhanced DirectX titles running via Proton will follow this Fall.
To enable Proton through your GNU/Linux Steam application, and use NVIDIA DLSS in supported titles:
Install and Launch Steam

At the top of the menu bar, select "Steam" and click on "Settings" in the dropdown menu

To the left of the Settings pop-up window, select "Steam Play" at the bottom of the list

Check "Enable Steam Play for supported titles" and "Enable Steam Play for all other titles"

Next to the "Run other Titles with" category, there is a drop down menu. Choose Proton Experimental

Load and play a supported DLSS game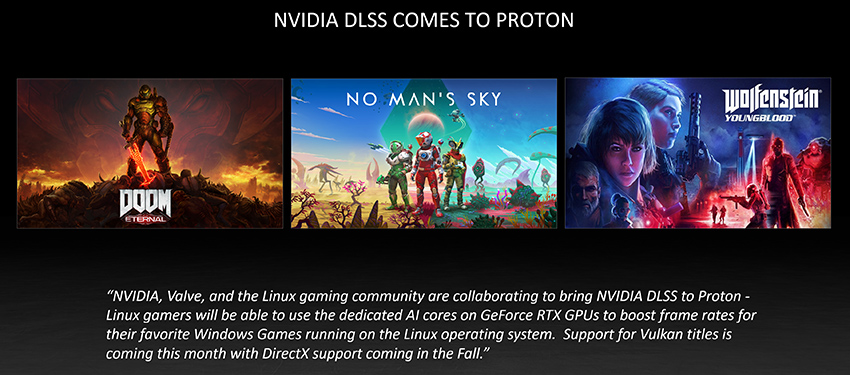 GeForce Game Ready Driver - Download Now
You can download the new GeForce Game Ready 471.11 WHQL driver through GeForce Experience.
If you experience any technical issues with the new Game Ready drivers please post a detailed report on the GeForce.com Driver Feedback Forum, where our Customer Care team can better assist you. And if you're looking for a full list of fixes in this driver, for previously-reported issues, head here.