NVIDIA Reflex is a must-have in multiplayer titles, reducing system latency so your actions occur quicker, making you more competitive. It's available in 20 of the most popular multiplayer and esports games, it's free, it's available for all GeForce graphics cards dating back to the 900 Series, and it takes only a single click to enable.
NVIDIA Reflex Gets Even Better
Recently, NVIDIA Reflex support came to Rust and Escape From Tarkov, two extremely popular multiplayer titles built in the Unity engine. In both, system latency was reduced by up to 38%, but now that number is even higher with the release of the Reflex SDK 1.5 update.
In Escape From Tarkov, a high-intensity first-person shooter, where death can be one bullet away, NVIDIA Reflex now reduces system latency by up to 58%!
In Rust, where players are in a brutal fight for survival in an always-online server, dying can mean the loss of a week's work, so getting the competitive advantage is critical. Now, NVIDIA Reflex reduces system latency by up to 51%, greatly improving responsiveness for all GeForce gamers.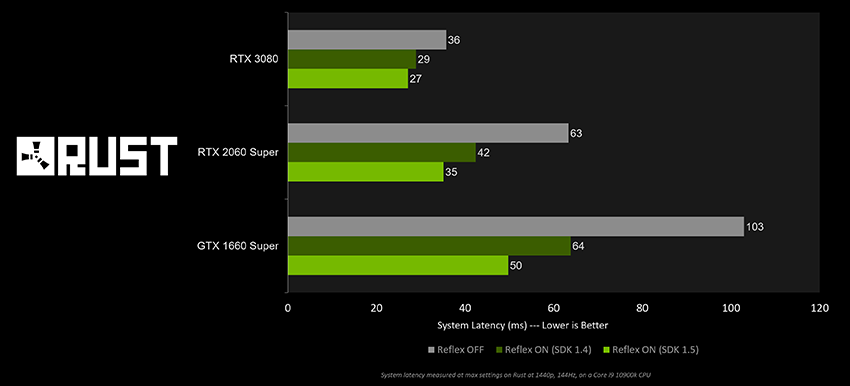 To up your game, simply download the latest updates for each title, and ensure NVIDIA Reflex is enabled in the game's options menu. It's that easy.
NVIDIA Reflex Boost Mode Enhancements
Reflex Boost mode is for gamers whose highest priority is reducing latency. In Reflex Boost mode, Reflex is configured for maximum latency savings - reducing latency in CPU bound scenarios by further pacing the CPU and increasing GPU clocks. In some cases, these optimizations can mean higher power usage or a slight reduction in FPS. This is especially beneficial in CPU-bound titles such as Fortnite and Valorant, where competitive players are running at hundreds of frames per second.
Thanks to further engineering enhancements, Reflex Boost mode has now been improved in GPU bound scenarios, giving players an extra couple milliseconds of responsiveness.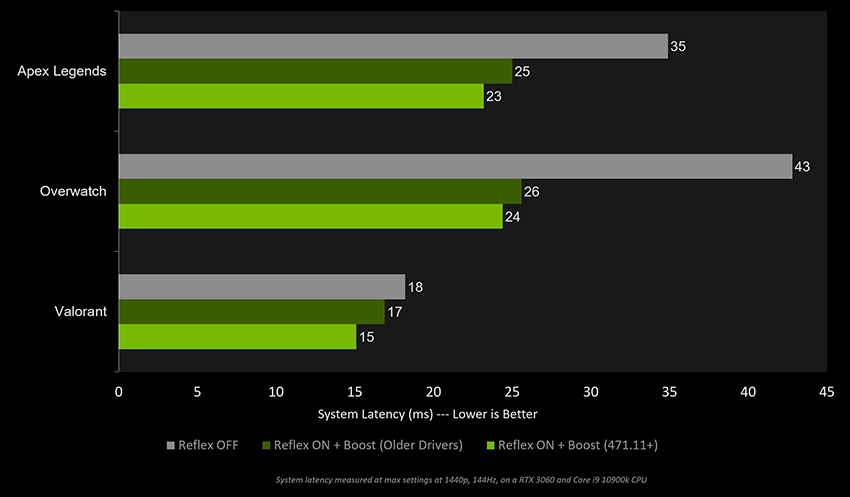 Simply download the latest Game Ready Driver and switch on Boost mode under the Reflex option.
Eight New NVIDIA Reflex Compatible Mice
For competitive players and professionals, we created the NVIDIA Reflex Latency Analyzer, enabling easy, accurate measurement of click-to-photon latency for the very first time. Using GeForce Experience and compatible tech built into Reflex mice and monitors, latency can be measured, players can tweak their setup, then test again to confirm latency is further reduced. When the game is on the line, eliminating any impedance to success is critical.
Plugging a NVIDIA Reflex-compatible mouse into a G-SYNC monitor with NVIDIA Reflex Latency Analyzer technology yields click-to-display system latency measurement. This is the be all and end all of system latency testing, revealing how long it takes for your mouse click to be transmitted through hardware and software before appearing on-screen in the game.
Using any mouse, the Reflex Latency Analyzer can capture PC Latency and Display Latency. But for the most accurate, real-time measurement of mouse latency, we have teamed up with mouse vendors like ROG, AOC, Corsair, MSI, and Razer to dynamically measure per click latency on the fly with the NVIDIA Reflex Latency Analyzer.
Today, eight new mice join the party, giving competitive players and esports professionals 29 esports-ready NVIDIA Reflex Latency Analyzer-compatible mice to choose from:
Pick your compatible mouse and monitor, boot up GeForce Experience, load one of the twenty NVIDIA Reflex games, and follow our guide to start testing your latency with the Latency Analyzer. And to help you further reduce system latency, we've got another guide that's well worth checking out.
For more NVIDIA Reflex announcements, stay tuned to GeForce.com. There are plenty coming down the pipe.