Powered by the ultra-efficient NVIDIA Ada Lovelace, 3rd generation RTX architecture, the GeForce RTX 4080 is beyond fast, delivering ultra performance in games and apps, and features that enthusiast gamers and creators demand. Today, this super fast new graphics card arrives on shelves, along with a new wave of DLSS games. To unlock the full potential of the new GeForce RTX 4080, you'll need our new Game Ready Driver, which is available to download and install on Windows 10 and Windows 11 systems via the "Drivers" tab of GeForce Experience.
You'll also want to download and install this new driver to get your system Game Ready for the launch of Marvel's Spider-Man: Miles Morales on PC on November 18th. Additionally, there's Game Ready support for the launch of Warhammer 40,000: Darktide, enhanced with a full slate of RTX tech, and World of Warcraft: Dragonflight. Plus, support for Monster Hunter Rise's NVIDIA DLAA update, and WRC Generations – The FIA WRC Official Game's DLSS 3 update.
Our new driver also includes support for the HDR10+ GAMING standard, and adds DLSS 3 improvements for G-SYNC and VSYNC, CUDA 12 support, which powers NVIDIA's world-leading AI software development platform for STEM and software developers, 12 new G-SYNC Compatible gaming monitors, and 7 new GeForce Experience One-Click Optimal Playable Settings profiles.
Read on to learn more.
Game Ready For The GeForce RTX 4080
The GeForce RTX 4080 is available now from NVIDIA and top add-in card providers ASUS, Colorful, Gainward, GALAX, GIGABYTE, INNO3D, KFA2, MSI, Palit, PNY and ZOTAC, as well as from gaming system integrators and builders worldwide.
Boasting our 3rd generation RTX architecture, the GeForce RTX 4080 is beyond fast, delivering even-faster performance in rasterized, ray-traced and AI-powered games and apps.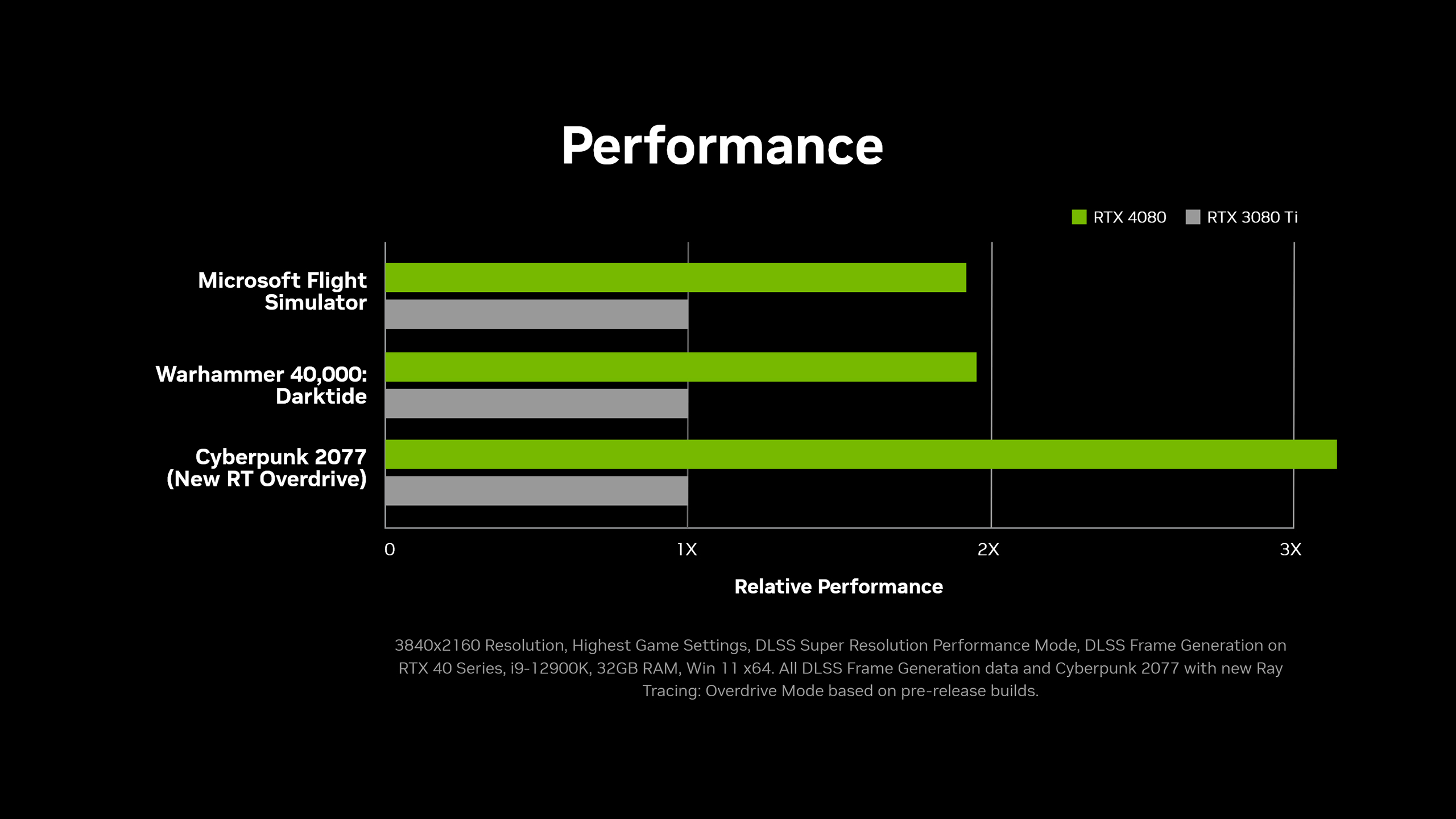 With its many technological enhancements, the GeForce RTX 4080 is up to twice as fast as the GeForce RTX 3080 Ti, and even faster still in fully ray-traced games.
The GeForce RTX 4080 includes all the same advancements, enhancements, and innovations as the GeForce RTX 4090, meaning you can multiply frame rates with NVIDIA DLSS 3, encode video up to 2X faster with dual 8th gen NVIDIA Encoders, stream with 40% better efficiency using AV1, and chew through creative workloads in up to half the time, helping you get more done, faster.
Get the complete lowdown on the capabilities of new GeForce RTX 40 Series graphics cards in our deep dive article. And don't forget, every existing GeForce innovation and enhancement is available for buyers of GeForce RTX 40 Series graphics cards, including G-SYNC, GeForce Experience one-click overclocking and game optimization, Shadowplay recording and streaming, and so much more. See the full list here.
To get started with a newly-purchased GeForce RTX 4080, download and install our new Game Ready Driver, and you'll be ready to enhance your games and accelerate your workloads with all of this tech.
Game Ready For Marvel's Spider-Man: Miles Morales On PC
Following the events of Marvel's Spider-Man Remastered, teenager Miles Morales is adjusting to his new home while following in the footsteps of his mentor, Peter Parker, as a new Spider-Man. But when a fierce power struggle threatens to destroy his new home, the aspiring hero realizes that with great power, there must also come great responsibility. To save all of Marvel's New York, Miles must take up the mantle of Spider-Man and own it in Marvel's Spider-Man: Miles Morales, launching on PC November 18th.
Playing Marvel's Spider-Man: Miles Morales on a GeForce RTX PC, laptop or graphics card enables you to experience the game at its very best, enhanced with NVIDIA DLSS 2 Super Resolution, NVIDIA DLAA, NVIDIA Reflex, and upgraded ray-traced effects that run fastest on GeForce RTX thanks to the dedicated RT Cores found on each RTX GPU. And if you play with a GeForce RTX 40 Series graphics card, you can experience Marvel's Spider-Man: Miles Morales with game-changing NVIDIA DLSS 3, which accelerates performance at 4K by over 2X, giving you the fastest, highest-fidelity experience possible.
For DLSS performance numbers, a new DLSS 3 video, and further details about the game's tech features, return to GeForce.com on November 18th to read our Marvel's Spider-Man: Miles Morales PC launch article.
Game Ready For Warhammer 40,000: Darktide
Fatshark's Warhammer: End Times - Vermintide and Warhammer: Vermintide 2 are phenomenally successful, much-loved four-player co-op action games set in the End Times of the Warhammer Fantasy franchise. On November 30th, Fatshark leaps thousands of years into the grimdark future to bring gamers Warhammer 40,000: Darktide, the hotly-anticipated follow-up set in the 41st millennium.
Head to the industrial city of Tertium to combat the forces of Chaos, using Vermintide 2's lauded melee system and a range of deadly Warhammer 40,000 weapons. Personalize your playstyle with a character creation system, and delve deep into the city to put a stop to the horrors that lurk.
On November 17th, all PC players with a digital pre-order from Steam and the Windows Store will receive an invite to the Warhammer 40,000: Darktide Pre-Order Beta, which will transition into the full game come November 30th. When this Pre-Order Beta launches, it will be loaded with game-enhancing technologies that give GeForce RTX gamers the definitive experience.
NVIDIA DLSS 3 will accelerate performance significantly, NVIDIA Reflex will reduce system latency, making gameplay more responsive, and ray-traced reflections and global illumination lighting will take your graphics to the next level.
See the difference a GeForce RTX graphics card makes in our new, exclusive Warhammer 40,000: Darktide RTX ON video:
Game Ready For WRC Generations – The FIA WRC Official Game's DLSS 3 Update
WRC Generations from KT Racing and Nacon is the FIA's official World Rally Championship game, and this new iteration of the venerable franchise introduces the WRC's first hybrid cars, shaking up the sport significantly. Rise to all the challenges of the most comprehensive, realistic and demanding rally simulation ever developed, and attempt to conquer the new six-stage Swedish rally.
On November 3rd, WRC Generations launched with DLSS 2, and on November 16th it will update with support for DLSS 3, accelerating frame rates on GeForce RTX 40 Series graphics cards.
Game Ready For Monster Hunter Rise's NVIDIA DLAA Update
Capcom's critically acclaimed Monster Hunter Rise runs at ridiculously high frame rates for many GeForce RTX gamers, so the developers are adding NVIDIA DLAA in an update launching this month.
DLAA uses the same technology developed for DLSS, but works on a native resolution image to maximize image quality instead of boosting performance. With NVIDIA DLAA, Monster Hunter Rise and the Sunbreak expansion will look even more detailed.
Game Ready For World of Warcraft: Dragonflight
Available November 28th, World of Warcraft's ninth expansion pack sends players to the Dragon Isles. Learn more on the game's official website.
Official DLSS 3 Support For VSYNC On G-SYNC and G-SYNC Compatible Monitors & TVs
Our new Game Ready Driver offers official DLSS 3 support for VSYNC on G-SYNC and G-SYNC Compatible monitors and TVs, so gamers can enjoy a responsive, tear-free experience when playing or capturing their game.
DLSS 3 uses its NVIDIA Reflex technology to limit the output frame rate to slightly below the refresh rate of the G-SYNC monitor. This enables tear-free gaming while avoiding large back pressure and high latency caused by VSYNC. To enable this feature:
Enable G-SYNC: NVIDIA Control Panel --> Display --> Setup G-SYNC

Turn VSYNC On: NVIDIA Control Panel --> 3D Settings --> Manage 3D Settings
Use the Global Settings tab to apply the options in every game, or on a per-game basis in the Program Settings tab
Turn on DLSS Frame Generation in a supported game
Stay tuned for more DLSS 3 updates and improvements in the future.
NVIDIA RTX IO Support For Microsoft DirectStorage 1.1 & Vulkan Extension
NVIDIA RTX IO, a suite of technologies that enable rapid GPU-based loading and game asset decompression, is now supported in our new Game Ready Driver for DirectStorage 1.1 and RTX IO Vulkan Extensions on GeForce RTX GPUs.
RTX IO employs an NVIDIA-developed, open source lossless compression technology called GDeflate which delivers near instantaneous game loading, lower CPU utilization by offloading compression work to RTX GPUs, and highly compressed assets for smaller game install package sizes.
Stay tuned as developers enable RTX IO through DirectX and Vulkan game integration. Developers interested in learning more can visit here.
HDR10+ GAMING Standard Now Supported On GeForce Graphics Cards & Laptops
With the launch of our new Game Ready Driver, the HDR10+ GAMING standard is now supported on GeForce RTX and GeForce GTX 16 Series graphics cards and laptops. Using our new NVAPI v2 HDR instructions, developers can add HDR10+ to their games, enabling compatible displays to take advantage of more accurate color and brightness reproduction.
HDR10+ is especially beneficial as games and other content can query HDR luminance and color information directly from the display to perform dynamic tone mapping that is optimal for each display's HDR capabilities, helping to faithfully reproduce the artistic intent of content creators, and consistently deliver great HDR experiences for GeForce gamers.
HDR10+ GAMING is a royalty-free standard supported on 2022 TVs and HDR gaming monitors from Samsung, and on TVs from Amazon, Panasonic, TCL, Vizio, and other manufacturers. Check manufacturers' websites for further information on display compatibility.
Support For Newly Validated G-SYNC Compatible Displays
Our newest Game Ready Driver also adds support for 12 new G-SYNC Compatible displays that deliver a baseline Variable Refresh Rate (VRR) experience that makes your gaming smoother and more enjoyable.
| | | | | | | |
| --- | --- | --- | --- | --- | --- | --- |
| Manufacturer | Model | HDR | Size | Panel Type | Resolution | VRR Range |
| AOC | AG275QX | Yes | 27" | IPS | 2560x1440 | 60-170Hz |
| AOC | AG325QX | Yes | 32" | IPS | 2560x1440 | 48-170Hz |
| AOC | PD27S | Yes | 27" | IPS | 2560x1440 | 50-170Hz |
| AOC | Q32G3WG3 | Yes | 32" | IPS | 2560x1440 | 48-165Hz |
| ASUS | PG42UQ | Yes | 42" | OLED | 3840x2160 | 48-120Hz |
| ASUS | VG249QM1A | Yes | 24" | IPS | 1920x1080 | 55-240Hz |
| ASUS | XG32UQ | Yes | 32" | IPS | 3840x2160 | 48-144Hz |
| Corsair | 32QHD240 | No | 32" | IPS | 2560x1440 | 60-240Hz |
| Eve | ES07D02 | Yes | 27" | IPS | 2560x1440 | 48-280Hz |
| Philips | 27M1N5900 | Yes | 27" | IPS | 3840x2160 | 50-144Hz |
| Philips TV | FTV OLED907 | Yes | 65", 55", 48" | OLED | 3840x2160 | 48-120Hz |
| Philips TV | FTV OLED937 | Yes | 77", 65" | OLED | 3840x2160 | 48-120Hz |
These newly-validated monitors give gamers even more choice when searching for a great gaming display. For a complete list of all G-SYNC, G-SYNC ULTIMATE, and G-SYNC Compatible gaming monitors, check out our handy and frequently updated G-SYNC page, which can be sorted and filtered, helping you quickly find the ideal display.
New AI Tools & Resources For Students On GeForce RTX
In order to prepare for careers, students studying popular STEM disciplines like computer science, data science, information sciences, economics, and related fields need access to the same technology that is used by research and industry. And with today's Game Ready Driver, it gets easier than ever for students to learn these in-demand skills, all with GeForce RTX.
The new Game Ready driver includes support for the latest CUDA release, CUDA 12, which powers NVIDIA's world-leading AI software development platform. As part of this platform, we're announcing support for a core software package and a key learning resource. These were previously only available on Linux, but now come to Windows 11 running on Windows Subsystem for Linux (WSL):
NVIDIA RAPIDS - NVIDIA's open-source software libraries and APIs for GPU accelerated data science, including data analytics, graph analytics, geospatial analytics, signal analytics and traditional machine learning. RAPIDS is based on the popular PyData stack.
Learning Deep Learning - Fundamental training content from the NVIDIA Deep Learning Institute (DLI) that students and learners can use to augment or direct their learning of these powerful techniques.
Bringing this technology to Windows 11 PCs powered by GeForce RTX significantly lowers the bar for students to take advantage of it, and gives students more options for how and where to study.
See our blog post to learn more and get started.
New Games Supported By GeForce Experience's Optimal Settings
GeForce Experience's one-click optimal settings enable you to instantly configure game options for your system's hardware, giving you smooth, optimized gameplay. Over 1000 titles are supported, and since our last driver release we've added support for 7 more:
A Plague Tale: Requiem

Call of Duty: Modern Warfare II

Dakar Desert Rally

Diablo Immortal

Marauders

PC Building Simulator 2

UNCHARTED: Legacy of Thieves Collection
GeForce Experience also enables you to capture and stream your gameplay, take screenshots, upload videos to social networks, and more. For all the details, head here.
GeForce Game Ready Driver - Download Now
Learn more about GeForce Game Ready Drivers here; download the new GeForce Game Ready 526.98 WHQL driver through GeForce Experience.
If you experience any technical issues with the new Game Ready drivers please post a detailed report on the GeForce.com Driver Feedback Forum, where our Customer Care team can better assist you. And if you're looking for a full list of fixes in this driver, for previously-reported issues, head here.