The demand for laptops has exploded in recent years. Today's models deliver the performance to play the latest games at high detail levels and accelerate workloads in creative and science applications. They can connect to multiple high-resolution displays when you're at home or in the office, and when you're on the go have excellent battery life.
For anyone wanting to game or work in a broad range of applications, GeForce laptops have been the go-to for the longest time. And NVIDIA innovations such as DLSS, hardware-accelerated ray tracing, AI, and NVIDIA Broadcast have raised demand to record levels. In the last year alone, there's been a 35% growth in GeForce gaming laptop sales, and a 3X leap in sales of NVIDIA Studio laptops targeted at creatives and professional users of GPU-accelerated apps.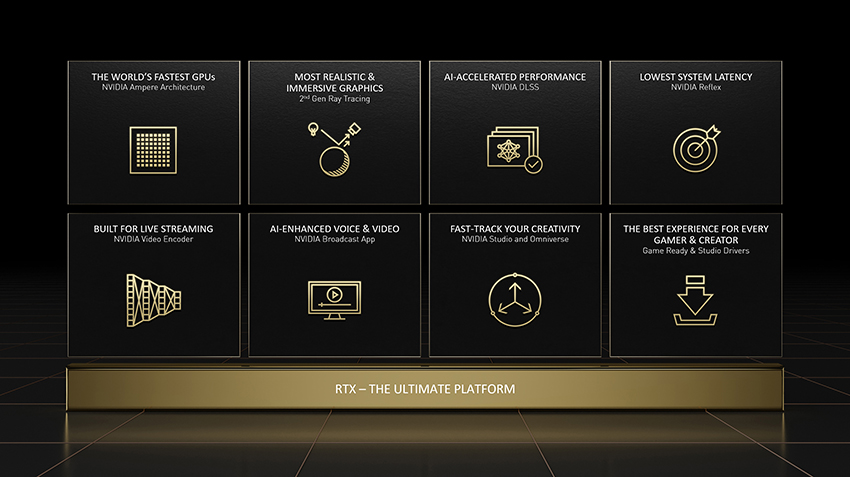 There are now over 180 laptop models for gamers and creators that feature our GeForce RTX 30 Series GPUs and Max-Q technologies, covering every price point and use case, enabling every user to find the perfect laptop for their needs.
Each GeForce RTX and NVIDIA Studio laptop boasts a massive array of technology that unlocks new possibilities, makes games faster, allows you to work more efficiently, and makes laptop use even better.
First and foremost, our suite of AI-powered NVIDIA Max-Q technologies gives the very best laptop experience, automatically optimizing and regulating your laptop's CPU, GPU, power usage, and fans. Max-Q will optimize battery life and performance, manage fan acoustics for a more pleasant user experience, and enable you to get more done each day.
NVIDIA RTX unlocks performant ray tracing with industry-leading denoising, enabling you to experience the highest-fidelity games with ray tracing, and to ray trace in applications like Blender, giving you higher-fidelity, more realistic results. And NVIDIA DLSS accelerates performance in over 180 games and apps, allowing you to game at much higher, more enjoyable framerates, and to render your application workloads at significantly higher speeds.
For gamers, we've also invented NVIDIA Reflex, which enables developers to greatly reduce system latency on PCs and laptops. With lower system latency, you can aim and react faster to in-game events, and gameplay gets perceptively smoother and more responsive.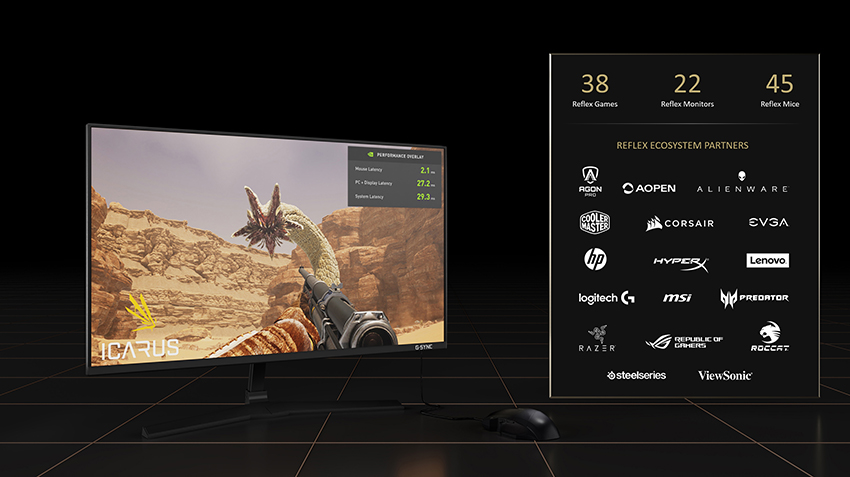 When gaming or working, you'll often be communicating with others, and at those times there's nothing more annoying and disruptive than loud background noise. Using the power of AI and the Tensor Cores found exclusively inside RTX GPUs, the free NVIDIA Broadcast app eliminates distractions. The app now comes pre-installed in creator laptops from Gigabyte, MSI, and ASUS.
The future of content creation is AI. And time-saving AI features — like the new depth map, object selection, and surface tracking in DaVinci Resolve 18 — require high-performance GPUs to deliver the best results.
Our NVIDIA Studio platform collaborates with app developers to ensure maximum stability, optimize performance, and leverage NVIDIA technologies. Render faster, make more calculations per minute, and crunch bigger datasets; work more efficiently, get more done every day, and finish your coursework faster.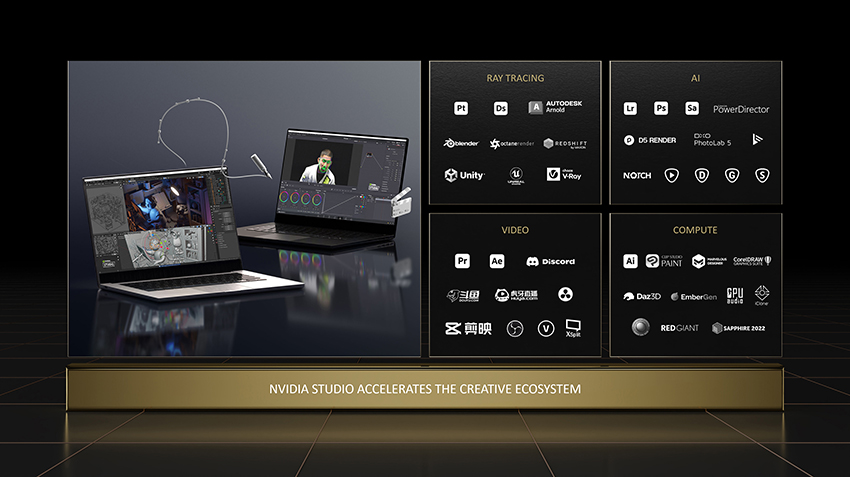 NVIDIA Studio is an end-to-end approach, starting from our GPUs that include dedicated hardware to accelerate ray tracing for 3D editors, AI features to simplify content creation, high-performance encoders, and decoders to accelerate video editing, and CUDA for compute intensive tasks like image processing and simulation.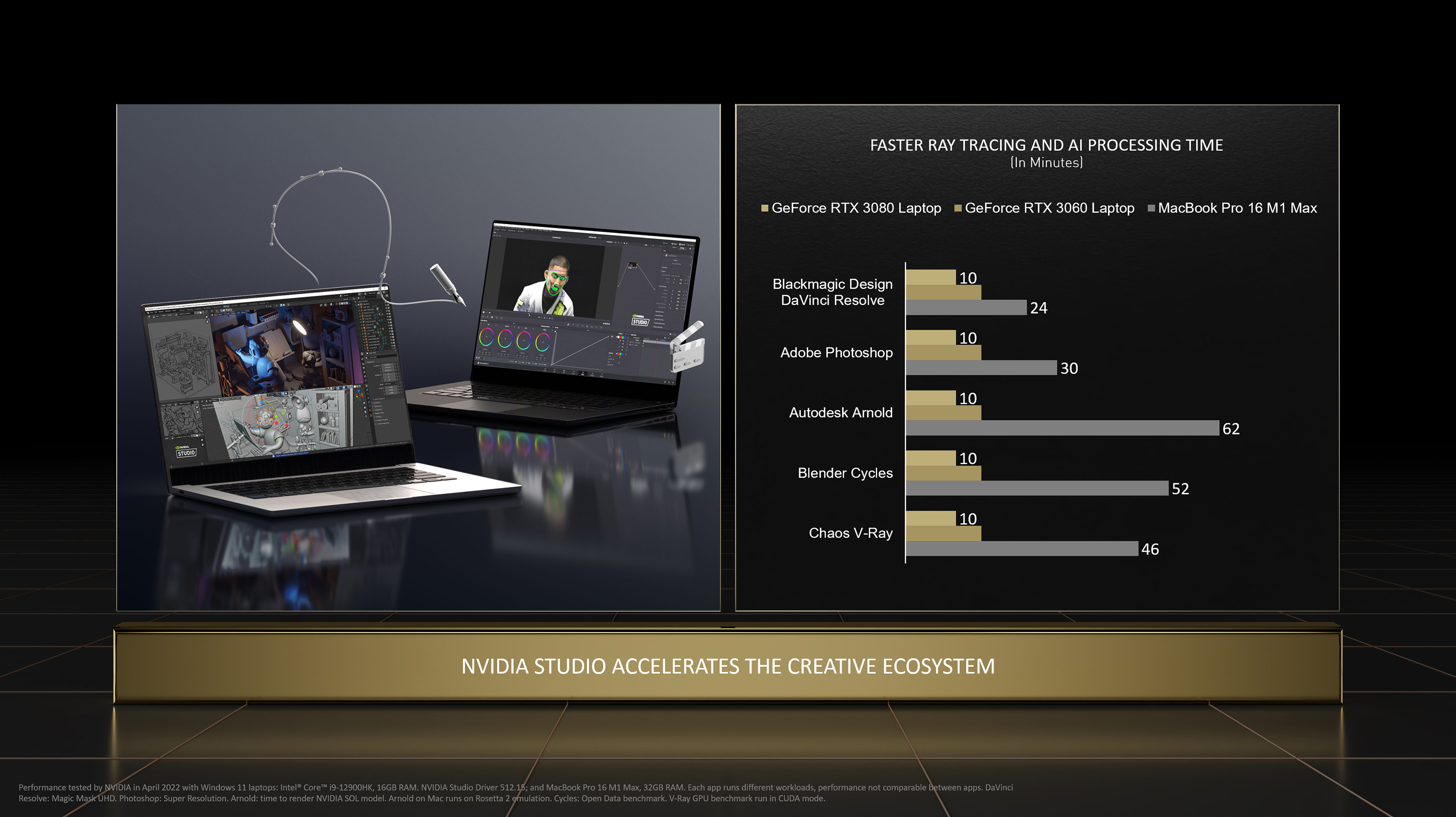 There are now over 200 NVIDIA accelerated apps, including 75 apps accelerated for RTX, delivering significant performance advantages for NVIDIA Studio users.
New Flagship Gaming Laptops Announced At COMPUTEX 2022
The GeForce RTX 3080 Ti, GeForce RTX 3080 and GeForce RTX 3070 Ti Laptop GPUs are our most powerful yet, enabling owners to play at the highest resolutions and settings, with ray tracing and NVIDIA DLSS enabled, for the definitive experience. Laptops boasting the GeForce RTX 3080 Ti also include the fastest CPUs, RAM and SSDs, giving you a portable machine capable of tackling any challenge, playing any game, and running blisteringly fast in creative applications.
If you're searching for the very best laptop, consider these three new portable powerhouses that have just been announced at COMPUTEX 2022.
MSI Raider GE67 HX
MSI's new flagship laptop can be configured with GPUs up to the GeForce RTX 3080 Ti, which are paired with Intel's new 12th Gen Alder Lake-HX CPUs. These feature up to 16 CPU cores, plus support for 128GB of DDR5-4800 RAM and PCI Express Gen5 16x, for future hyper-fast SSDs. And each CPU in the range is unlocked for overclocking.
The MSI Raider GE67 HX also boasts a world first: a 240Hz OLED laptop display, ensuring you can watch content and play games at high frame rates with phenomenal clarity.
GIGABYTE AORUS 17X
GIGABYTE unveiled a new GeForce RTX 3080 Ti flagship, the AORUS 17X. By almost entirely eliminating the display's bezels, GIGABYTE has squeezed a 17.3" 1920x1080 360Hz screen onto a 15" laptop chassis, which contains a new Alder Lake-HX i9-12900HX CPU and up to 64GB of DDR5-4800 RAM.
The AORUS 17X also boasts Wi-Fi 6E, DTS sound, Windows Hello video cam login, Thunderbolt 4 for external high-speed storage and displays, and more.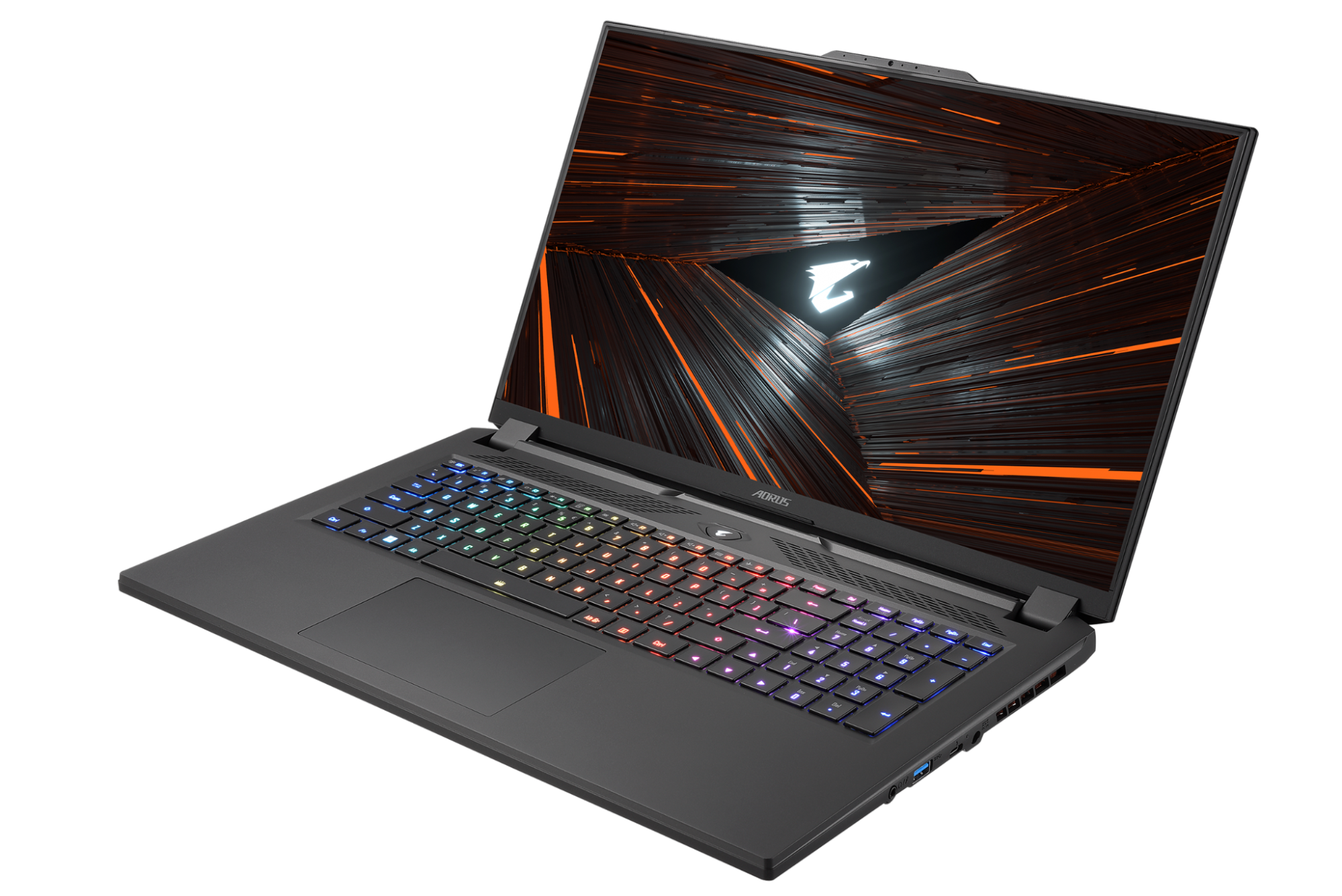 ASUS ROG Flow X16
At COMPUTEX 2022, ASUS unveiled the ROG Flow X16, an upgraded new version of its well-received X13, which increases the screen real estate to 16", the internal GPU to a GeForce RTX 3070 Ti, and the CPU to an AMD Ryzen 9 6900HS.
The ROG Flow X16 also introduces a new Mini-LED screen, which runs at 165Hz, hits 1100 nits peak brightness, and is DCI-P3 100% for perfect color accuracy. And to ensure you can charge it up quickly, there's super fast USB-C charging for its 90Wh battery.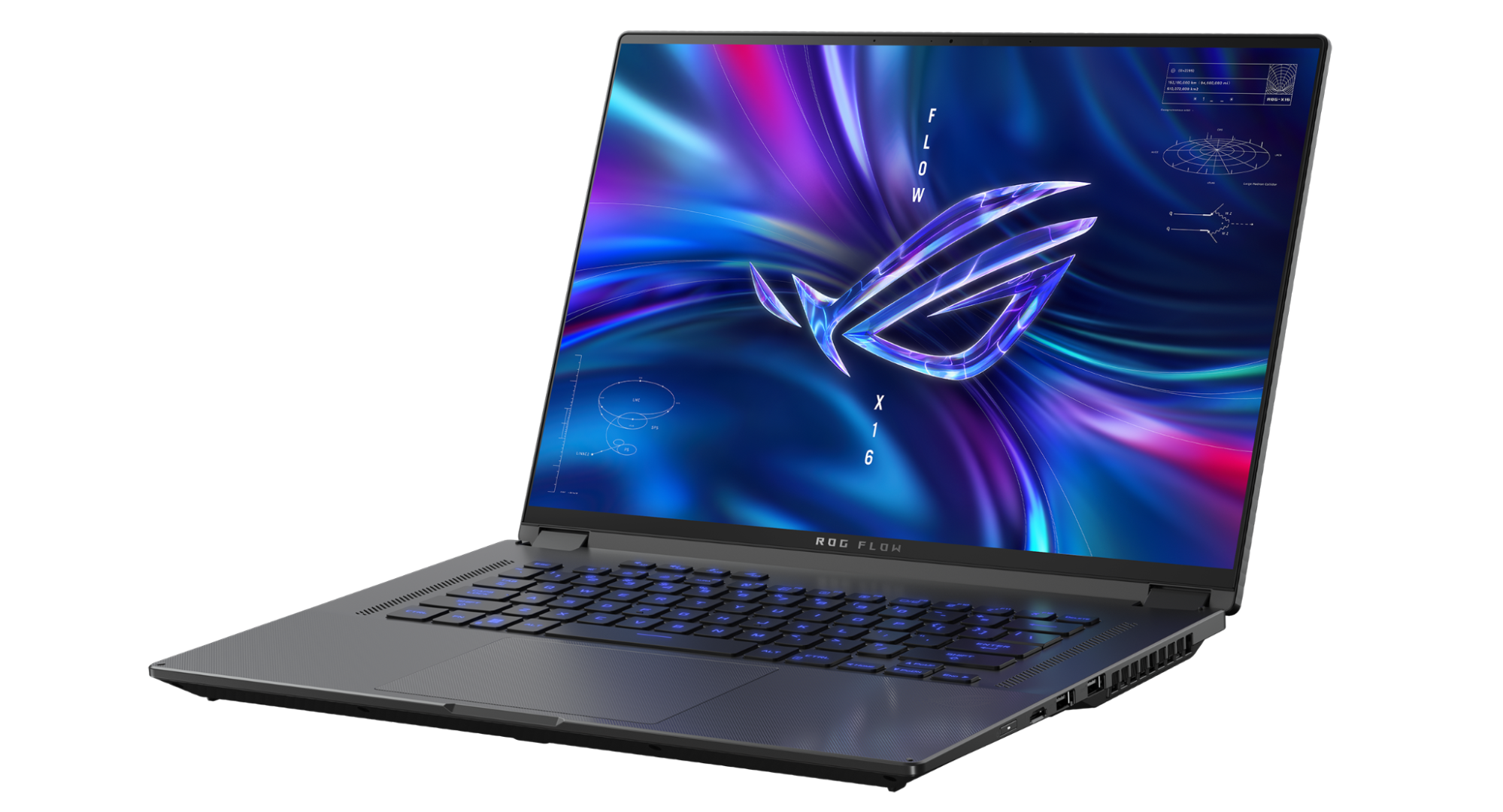 New Studio Laptops For Creators
This month we saw the launch of many new NVIDIA Studio laptops, loaded with GeForce RTX and NVIDIA RTX GPUs for creatives and other pros who benefit greatly from AI, video, and ray-traced app acceleration. Here are three of the highlights.
ASUS Zenbook Pro 16X
The brand new Asus Zenbook Pro 16X was designed with creators in mind. It combines elegant aesthetics, a fantastic display, and a GeForce RTX 3060 Laptop GPU. The 16:10 4K HDR OLED display will allow you to create with full color accuracy, and the touch and pen input-capable touchscreen allow you to create beautiful pieces of digital art. The display also allows you to switch between sRGB, Adobe RGB, and 100% DCI-P3 with a touch of a button.
For creators that use Adobe Creative Cloud apps, there's an innovative new dial input device that allows fine grained, rapid control of widgets and options. Plus, there's a haptic feedback in-chassis numpad for those times you need to type in values. And even though it's got all this tech, it's just 16.9mm thin, thanks in part to an aluminum-alloy body.
If your work or college course requires lots of Adobe use, the ASUS Zenbook Pro 16X could well be the perfect laptop for you.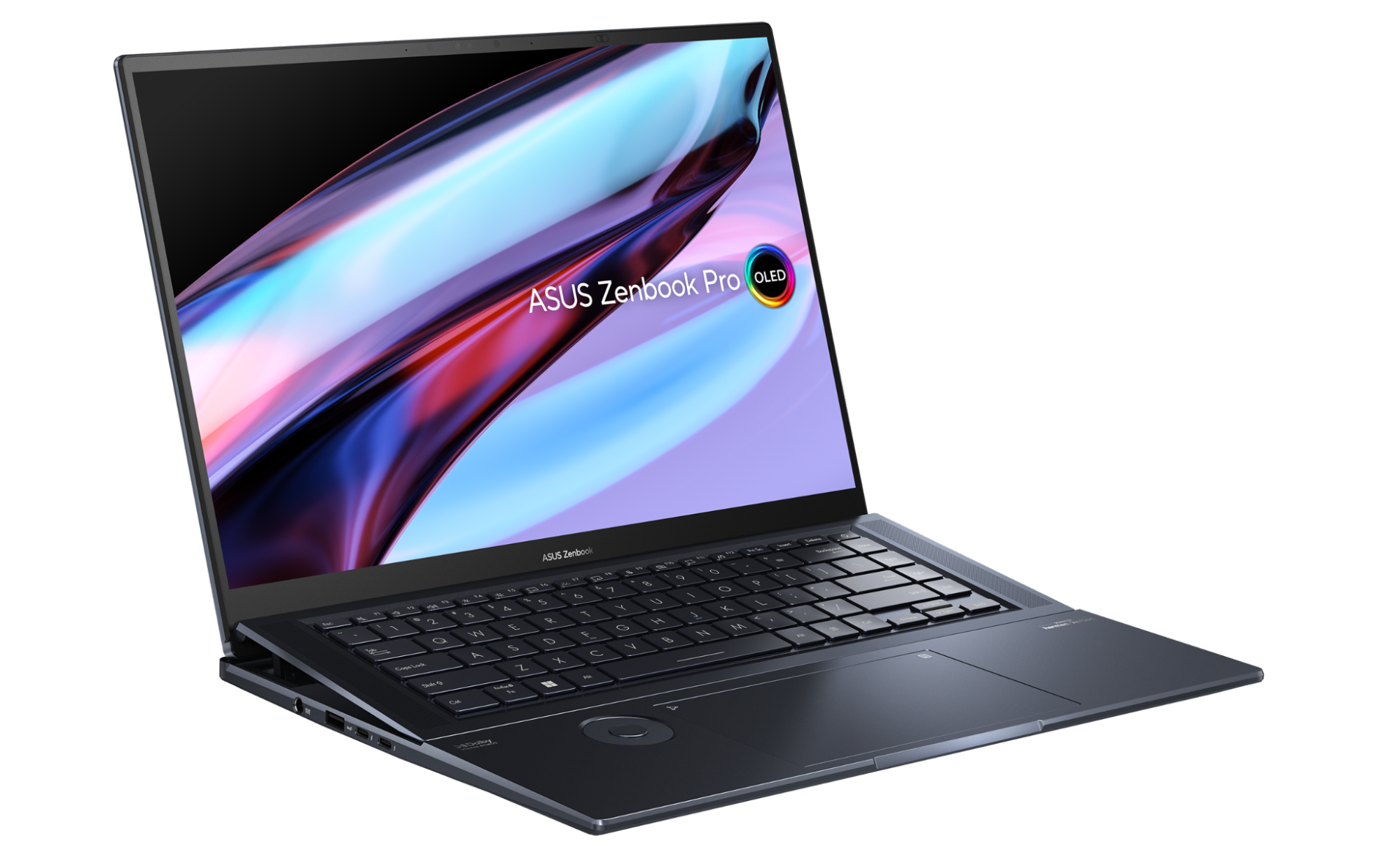 Acer ConceptD 5
The new Acer Concept D 5 and D 5 Pro can be configured with a GeForce RTX 3060 and mighty NVIDIA RTX A5500 Laptop GPUs.
The accompanying specs tick all the boxes for professional-grade productivity, with a factory-calibrated 16-inch, 3072x1920, 16:10 display featuring 100% DCI-P3 gamut and Pantone color accuracy validation, as well as a massive 99.98 Wh battery, USB-C, Thunderbolt 4, HDMI 2.1, and a SD 7.0 Card Reader.
Lenovo Yoga Slim 7i Pro X
The Lenovo Yoga Slim 7i Pro X is one of the smallest and lightest 14" laptop NVIDIA Studio laptops, weighing in at just 1.45kg. And for the first time, it includes a GeForce RTX Laptop GPU, enabling ray tracing, AI and video acceleration.
Despite its diminutive size, the Pro X packs in a 14.5", 3072x1920, 120Hz, 16:10, 100% DCI-P3, IPS screen with a Delta E of under 1, along with a GeForce RTX 3050 Laptop GPU, an i7-12700H, 32GB of DDR5-6000 RAM, a M.2 PCIe Gen 4 SSD, USB-C, Thunderbolt 4, HDMI, and a 70Wh battery.
The GeForce RTX 3050 Laptop GPU is great for 2D and video editing, and together with the impressive portability, make the Pro X a great new option for mobile professionals.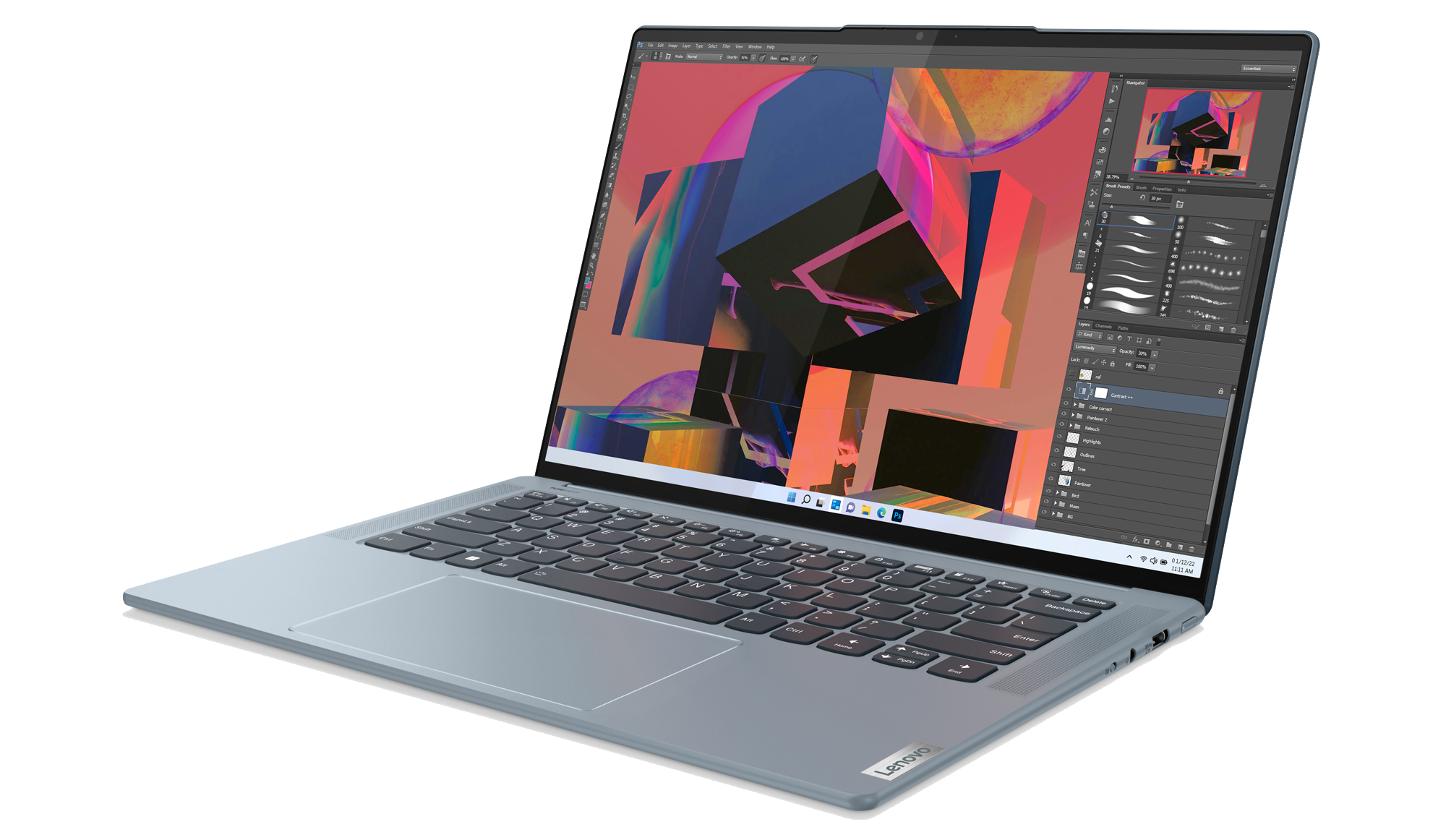 More Models Coming Soon
If you want the best possible laptop experience, for work, play, or creative endeavors, GeForce RTX and NVIDIA Studio laptops with 4th Gen Max-Q technologies are the laptops for you. NVIDIA DLSS, NVIDIA Omniverse, NVIDIA Reflex, NVIDIA RTX, NVIDIA Studio, Broadcast… the list goes on - only GeForce RTX and NVIDIA Studio laptops transform your experience with so many incredible features.
Learn more about GeForce RTX laptops here, and NVIDIA Studio laptops here. And stay tuned to GeForce.com to learn about future games, technologies and enhancements for GeForce RTX laptops.
Also, be sure to check out our COMPUTEX 2022 News Roundup. We've announced new NVIDIA DLSS and NVIDIA RTX games, new NVIDIA Reflex games, and next-gen 500Hz gaming monitors.