Our latest Game Ready driver delivers the definitive day-one experience in Alan Wake 2, which features full ray tracing, DLSS 3.5, Ray Reconstruction and Reflex.
There's also support for Ghostrunner 2, which launches later today with DLSS 3.
To download and install, head to the Drivers tab of GeForce Experience or GeForce.com.
Game Ready For Alan Wake 2
Tomorrow, October 27th, Alan Wake 2 launches with incredible fully ray-traced graphics, accelerated and enhanced by NVIDIA DLSS 3.5's complete suite of AI-powered technologies. GeForce RTX 40 Series gamers will receive the definitive day-one experience: frame rates are multiplied by an average of 4.5X at 4K, ray tracing is even more immersive thanks to Ray Reconstruction, and Reflex makes gameplay even more responsive.
"The new Ray Reconstruction feature in DLSS 3.5 renders our fully ray-traced world more beautifully than ever before, bringing you deeper into the story of Alan Wake 2" - Tatu Aalto, Lead Graphics Programmer Remedy Entertainment
Full ray tracing, also known as path tracing, accurately simulates light throughout an entire scene. It is used by visual effects artists to create film and TV graphics that are indistinguishable from reality, but until the arrival of GeForce RTX GPUs with RT Cores, and the AI-powered acceleration of NVIDIA DLSS, full ray tracing in real-time video games was impossible. Throughout Alan Wake 2 you'll witness spectacular scenes and jaw-dropping set pieces that leverage the power of GeForce RTX 40 Series GPUs and NVIDIA DLSS 3.5 to deliver the definitive experience.
Alan Wake 2 includes the complete suite of DLSS technologies, maximizing frame rates and image quality using the power of AI. DLSS Super Resolution enables all GeForce RTX gamers to significantly accelerate frame rates. DLSS Frame Generation multiplies performance on GeForce RTX 40 Series graphics cards, desktops and laptops by up to 4.5X. Reflex reduces system latency, making gameplay even more responsive. And our newest groundbreaking feature, DLSS Ray Reconstruction, replaces several hand-tuned ray tracing denoisers with a new unified AI model, elevating the image quality of ray-traced effects and full ray tracing to new heights.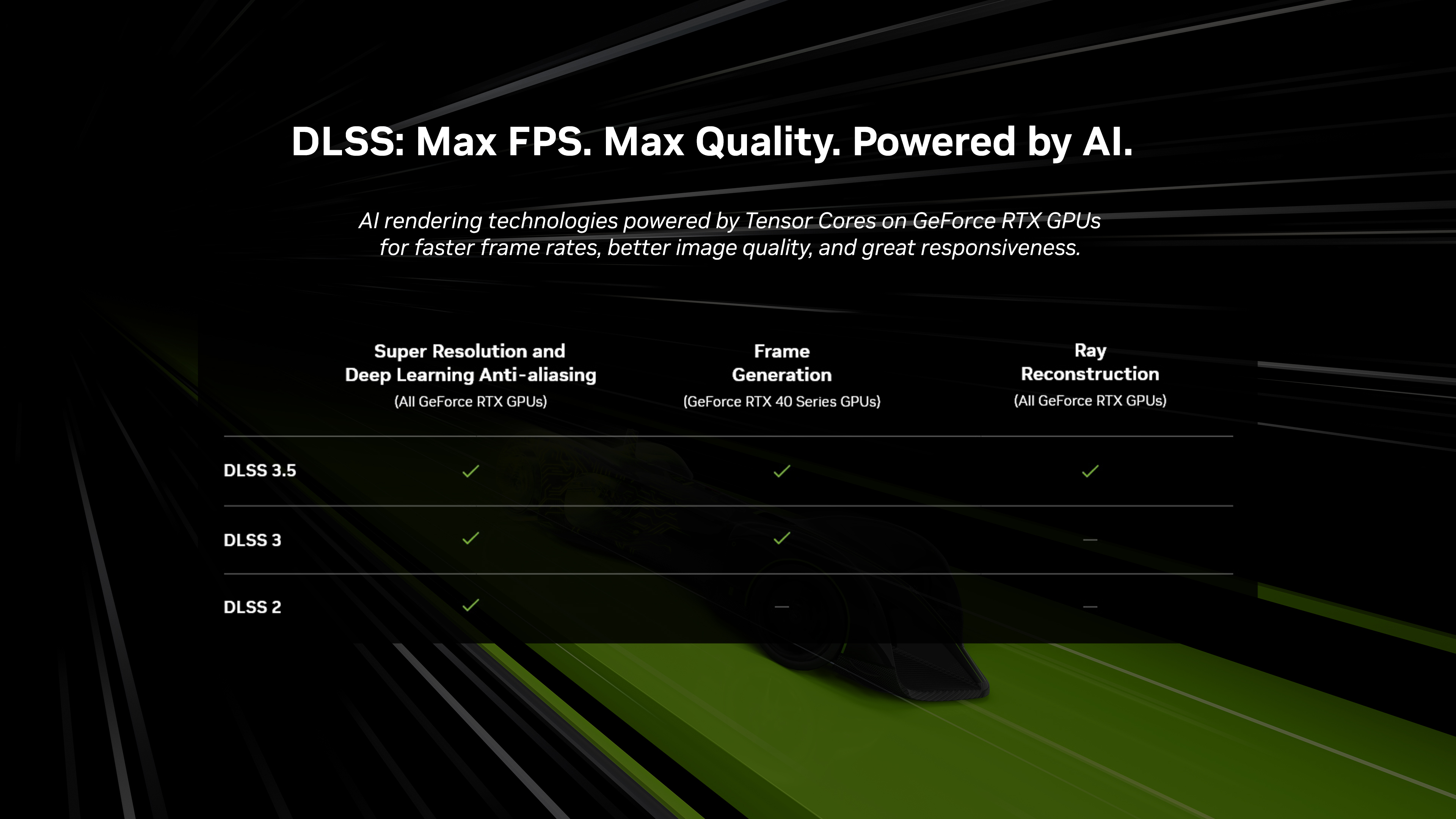 Activating ray tracing and DLSS in Alan Wake 2 on a GeForce RTX GPU automatically enables Ray Reconstruction, replacing two denoisers with a unified AI model that enhances the quality of ray tracing, making gameplay more immersive, and graphics more realistic. In addition, Ray Reconstruction runs up to 14% faster in our benchmarks, further accelerating performance for GeForce RTX gamers.
Bryan Catanzaro, NVIDIA Vice President of Applied Deep Learning Research gives you the rundown on Ray Reconstruction in his DLSS Tech Talk
Ray Reconstruction enhances every second of gameplay, while also increasing your performance. This free upgrade is the latest in a long list of AI enhancements that make GeForce RTX GPUs the only option for gamers wanting the very best experiences at the highest resolutions, with cutting-edge features like full ray tracing.
Battling the supernatural at the absolute highest settings will demand the very best hardware, and DLSS' AI acceleration.
To enable DLSS, head to Options > Graphics, scroll to Resolution Upscaling, select DLSS, and then pick the performance mode you want to use under "Render Resolution". We recommend Quality for 1080p, Balanced or Quality for 1440p, and Performance for 4K.
At 4K, with every setting maxed and full ray tracing enabled, activating Frame Generation, Ray Reconstruction and Super Resolution sees frame rates multiply astronomically. On the GeForce RTX 4090, performance multiplies by 4.1X, enabling owners to play Alan Wake 2 at its very best at over 120 FPS at 4K. And the GeForce RTX 4080 and GeForce RTX 4070 Ti see their performance multiplied by 4.7X, for max setting 4K gameplay at 100 FPS and 80 FPS, respectively.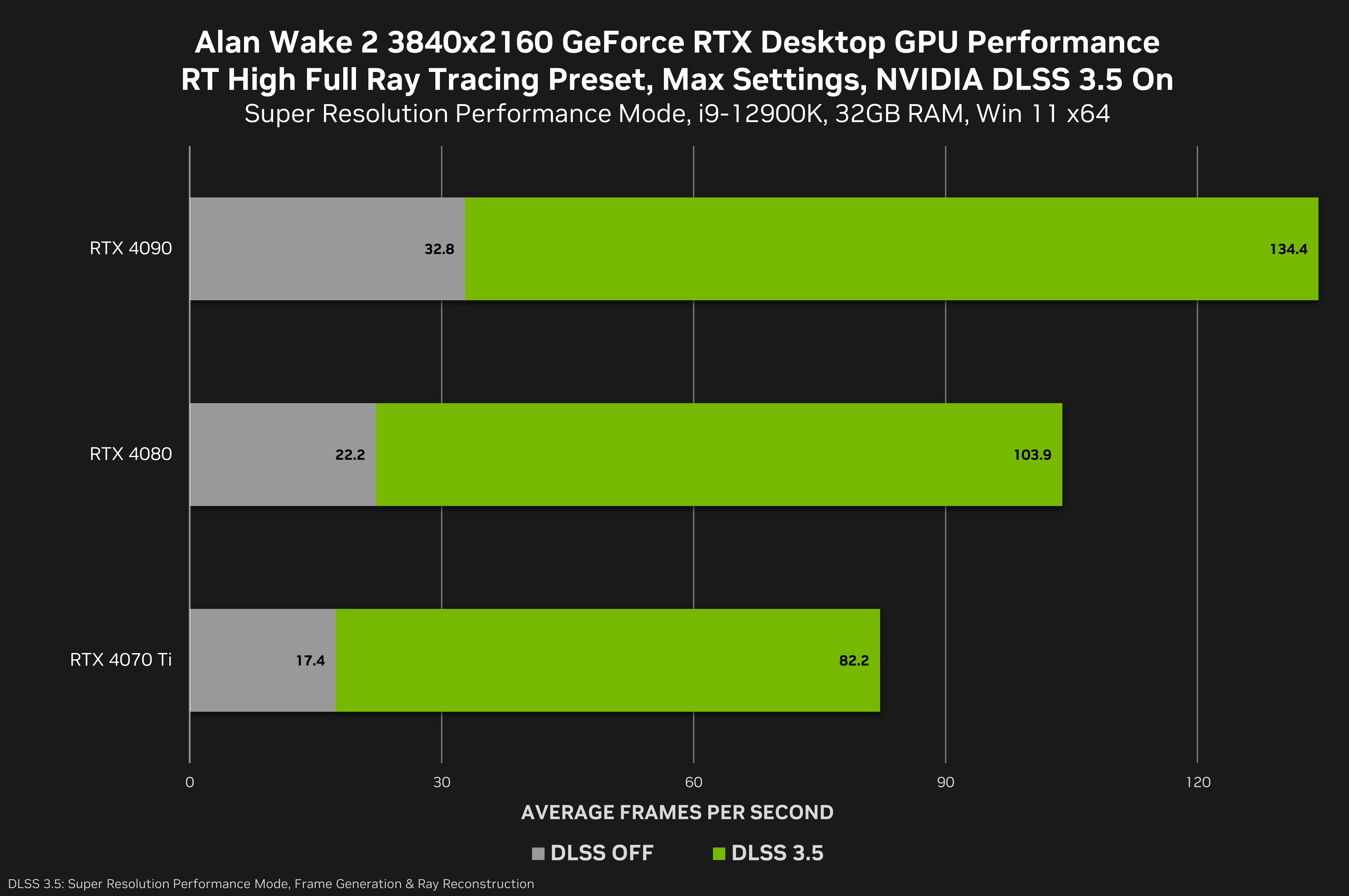 All performance captured on pre-release build
At 1440p, GeForce RTX 40 Series frame rates multiply by an average of 3X with full ray tracing and every other setting maxed out, enabling 80 FPS+ gameplay on the GeForce RTX 4070 and above: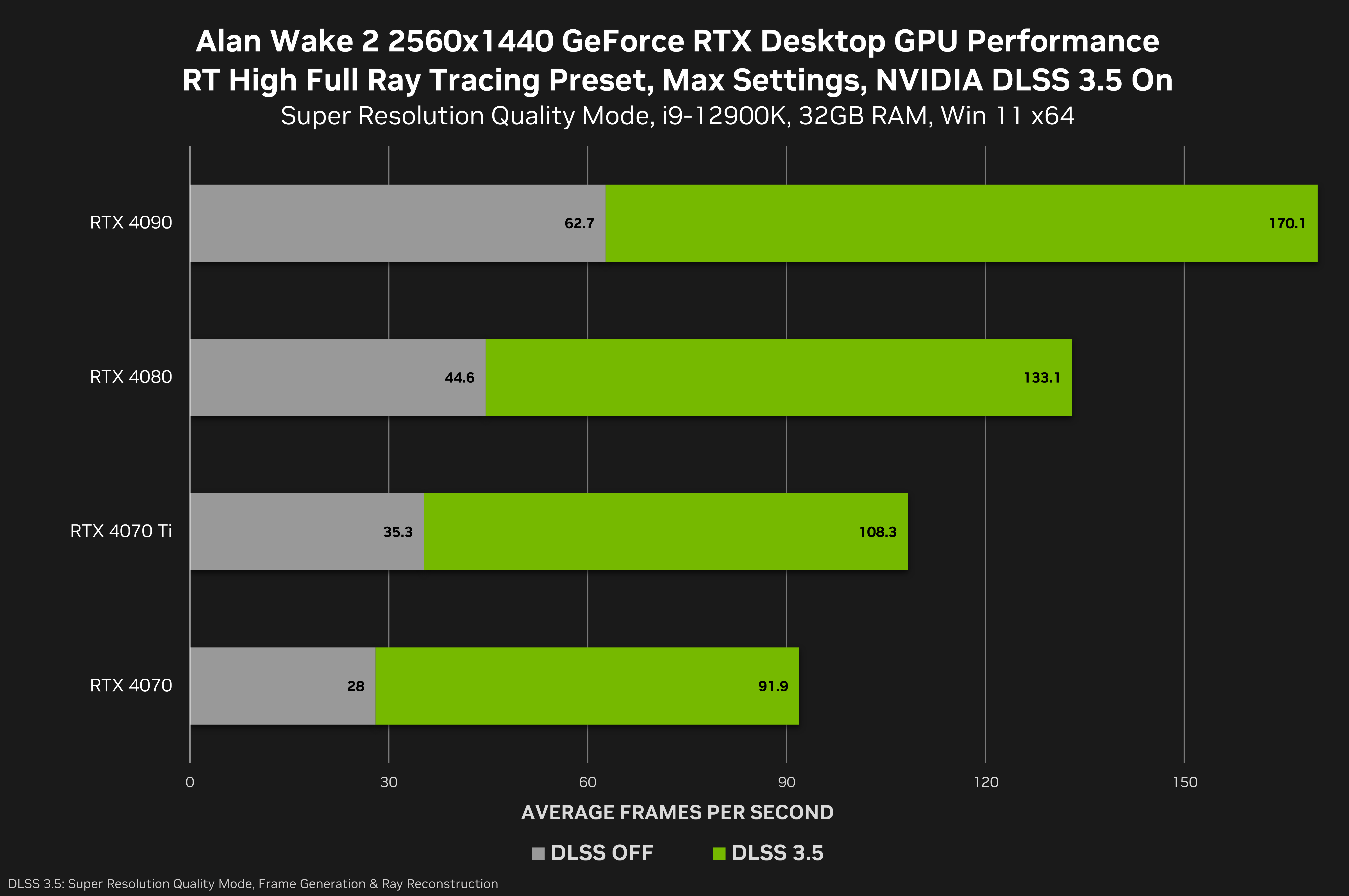 At 1080p, the most popular gaming resolution, performance multiplies by 2.7X on average, enabling owners of faster cards to play at up to 190 FPS:
If you want to upgrade to the GeForce RTX 40 Series to experience Alan Wake 2 with maxed out fully ray-traced effects, check out our Alan Wake 2 GeForce RTX 40 Series bundle, available until November 13th.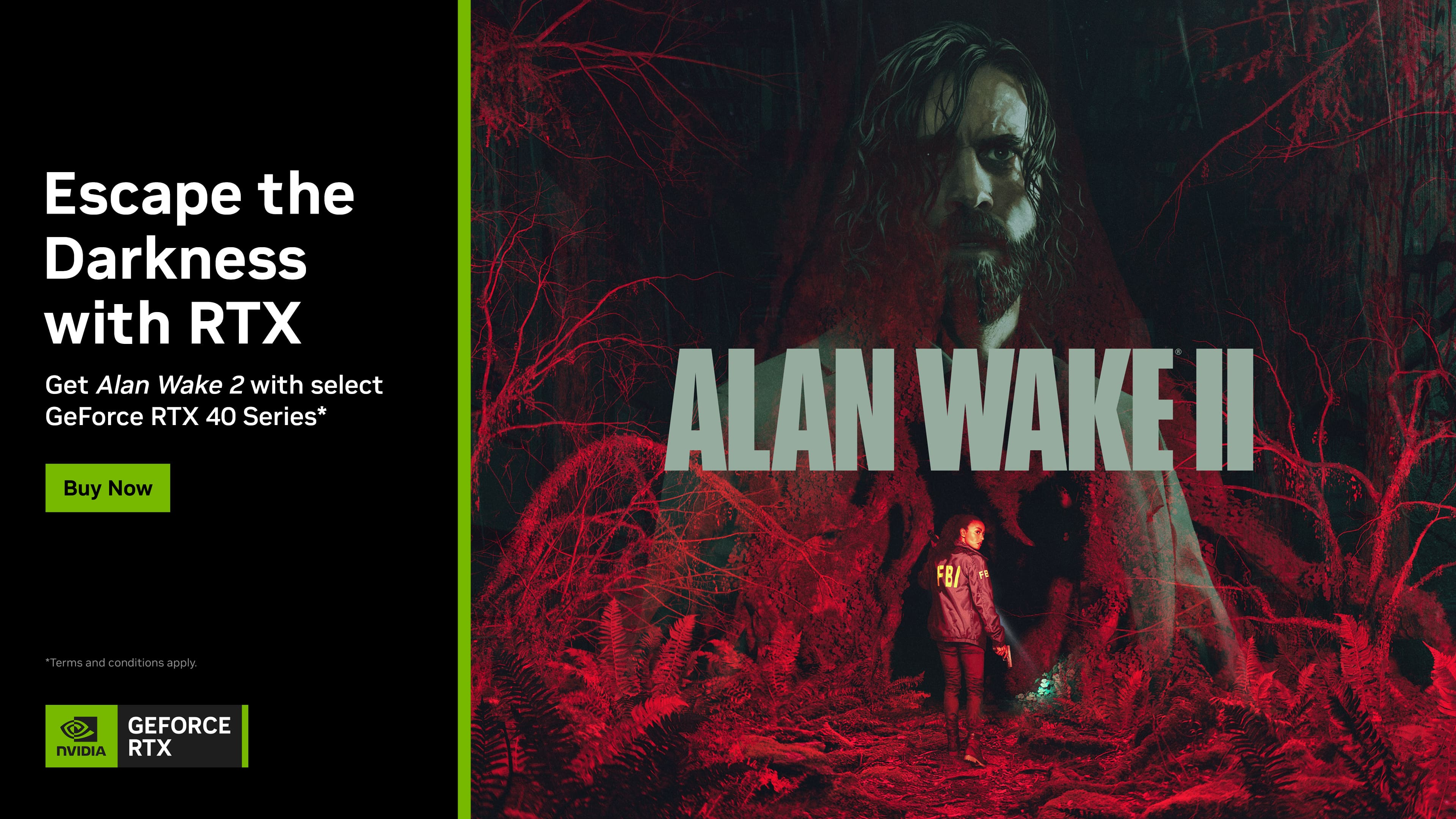 Buyers of eligible GeForce RTX 4070, 4070 Ti, 4080 and 4090 graphics cards and desktop PCs, or a laptop with a GeForce RTX 4090 Laptop GPU, RTX 4080 Laptop GPU, or RTX 4070 Laptop GPU from select retailers and etailers will receive a digital copy of the game*, to play when released on October 27th. To see the complete list of participating partners in your country, head to the Alan Wake 2 bundle homepage.
New Games Supported By GeForce Experience's Optimal Settings
GeForce Experience's one-click optimal settings enable you to instantly configure game options for your system's hardware, giving you smooth, optimized gameplay. Over 1000 titles are supported, and since our last driver release we've added support for 3 more:
Alan Wake 2
Assassin's Creed Mirage
Lords of the Fallen
GeForce Experience also enables you to capture and stream your gameplay, take screenshots, upload videos to social networks, and more. For all the details, head here.
GeForce Game Ready Driver - Download Now
Learn more about GeForce Game Ready Drivers here; download the new GeForce Game Ready 545.92 WHQL driver through GeForce Experience.
If you experience any technical issues with the new Game Ready drivers please post a detailed report on the GeForce.com Driver Feedback Forum, where our Customer Care team can better assist you. And if you're looking for a full list of fixes in this driver, for previously-reported issues, head here.
*While supplies last. Bundle applies for qualifying GeForce RTX 4090, GeForce RTX 4080, GeForce RTX 4070 Ti, GeForce RTX 4070 desktop or graphics card or laptop with a GeForce RTX 4090 Laptop GPU, GeForce RTX 4080 Laptop GPU, or GeForce RTX 4070 Laptop GPU. Please see Terms & Conditions for a full list of qualifying partner products. Games must be redeemed via GeForce Experience™ application on a qualifying graphics card, desktop or laptop. Customers must meet the age requirement for the game to redeem. Regional/Country Requirements: Some coupons require that they be redeemed in specific regions or countries. Please redeem the code in the appropriate region/country.
Alan Wake 2 is developed by Remedy Entertainment Plc and published by Epic Games Inc. Copyright © Remedy Entertainment Plc 2023. "Alan Wake" is trademark of Remedy Entertainment Plc, registered in the United States and other countries. All rights reserved.