NVIDIA DLSS has revolutionized graphics rendering, using AI to boost frame rates while delivering crisp, high quality images. GeForce RTX gamers can accelerate performance with DLSS in over 270 games and apps, with another 7 games adding support in March, and today, we are announcing that Diablo IV and Redfall will both launch with DLSS 3.
DLSS 3's Frame Generation multiplies performance in 28 released games and has been adopted 7X faster than DLSS 2 in the first 6 months. DLSS' groundbreaking features, exceptional performance, and ease of integration are key to its rapid adoption by developers. With the DLSS 3 Frame Generation plugin becoming publicly available at GDC for developers, and a DLSS 3 plugin coming soon for Unreal Engine 5.2, it will be even easier for developers to enhance the next generation of games.
Keep reading for further details about the addition of NVIDIA DLSS to Deceive Inc., Diablo IV, Forza Horizon 5, Gripper, Redfall, Smalland: Survive the Wilds, and THE FINALS Closed Beta.
NVIDIA DLSS 3 Multiplies Frame Rates
Powered by new hardware capabilities of the NVIDIA Ada Lovelace architecture, DLSS 3 generates entirely new high quality frames, rather than just pixels.
Through a process detailed in full in our NVIDIA DLSS 3 article, DLSS 3 combines DLSS Super Resolution technology and DLSS Frame Generation to reconstruct 7/8ths of the displayed pixels, multiplying performance.
In GPU-limited games, DLSS 2 Super Resolution technology can increase your frame rates by up to 2X. With DLSS 3, we can increase performance even further with new frames.
Certain games make extensive use of the CPU which can limit performance. DLSS 3 operates on the GPU, bypassing CPU bottlenecks and boosting frame rates. In Microsoft Flight Simulator, for example, DLSS 3 boosts frame rates by up to 2X.
DLSS 3 games are backwards compatible with DLSS 2 technology - developers simply integrate DLSS 3, and DLSS 2, also known as DLSS Super Resolution, is supported by default. Additionally, integrations of DLSS 3 also include NVIDIA Reflex, reducing system latency for all GeForce RTX users, making games more responsive.

DLSS Frame Generation Publicly Available for Developers at GDC
NVIDIA will make DLSS Frame Generation publicly available for developers to integrate into their games and applications at GDC. The public release of our DLSS Frame Generation plugins will allow even more developers to adopt the framerate-boosting technology.
DLSS Frame Generation will be available to access via NVIDIA Streamline, an open-source, cross-vendor framework that simplifies the integration of super resolution technologies in 3D games and apps.
DLSS technology is always improving through ongoing training on NVIDIA's AI supercomputer; and the public release will incorporate the latest DLSS enhancements made earlier this year, including:
DLSS Frame Generation takes better advantage of game engine data, improving UI stability and image quality during fast movement
DLSS Super Resolution improves Ultra Performance mode, with finer detail stability and overall better image quality
DLAA improves image quality, reduces ghosting, and improves edge smoothness in high-contrast scenarios
NVIDIA DLSS 3 Coming Soon To Unreal Engine 5.2
Unreal Engine is an open and advanced real-time 3D creation tool, enabling game developers and creators the freedom and control to deliver cutting-edge real-time 3D content, interactive experiences, and immersive virtual worlds.
In February 2021 we released our free DLSS 2 plugin for Unreal Engine, making it a cinch for any developer to accelerate the performance of their game or app, further accelerating adoption of DLSS. In the near future, DLSS 3 will be released as an Unreal Engine Marketplace plugin for Unreal Engine 5.2, allowing all Unreal Engine developers and creators to take full advantage of DLSS 3's AI-powered performance multiplier.
"NVIDIA DLSS 3 introduces truly impressive frame generation technology and the Unreal Engine 5.2 plugin will offer developers a great choice for increased quality and performance of their games." - Nick Penwarden, Vice President of Engineering at Epic Games.
Diablo IV Launches June 6th With DLSS 3
The demon Lilith and the angel Inarius united to create the world of Sanctuary in their desire to escape the Eternal Conflict between High Heavens and Burning Hells. But now, decades after the events of Diablo III: Reaper of Souls, they are bitter enemies who have resorted to war against each other with their respective followers. The lands of Sanctuary have become plagued with ceaseless demons, and only the most steadfast of heroes will be able to hold in the face of darkness.
Players will enter the world of Diablo IV with their choice of five classes—the shapeshifting Druids, agile Rogues, elemental Sorceresses, brutal Barbarians, and cunning Necromancers. As players grow in power, they can build their gameplay experience in directions that appeal to them, experimenting with skill trees to showcase complimenting spells and abilities.
Previously, Blizzard announced that ray tracing will be added to Diablo IV post-launch to enhance your endless battles. Today, we can reveal that Diablo IV will include support for DLSS 3 when it launches June 6th! GeForce RTX 40 Series gamers can multiply frame rates, other GeForce RTX gamers can accelerate performance with DLSS 2, and several generations of GeForce gamers can reduce system latency with NVIDIA Reflex. Check out our DLSS 3 Diablo IV announce video:
"Supporting smooth gameplay in Diablo IV is a priority for Blizzard. We're excited by the high frame rate of Diablo IV running on NVIDIA GeForce RTX 40 Series hardware and DLSS 3." - Michael Bukowski, Technical Director, Diablo IV, Blizzard Entertainment
If you pre-order, you can battle through Diablo IV's Prologue and first act, accelerated by DLSS 2, between March 17th to 19th. Then, from March 24th to 26th, everyone can participate in the Open Beta on Battle.net. For further details, head to Blizzard's Diablo IV Open Beta Guide.
Redfall Launches May 2nd With DLSS 3
NVIDIA and Bethesda have partnered to bring our full slate of game-changing technologies to Redfall, an open-world, co-op FPS from Arkane Austin, the award-winning team behind Prey and Dishonored. In Redfall, the island town is under siege by a legion of vampires who have blocked out the sun and cut the citizens off from the outside world. Explore the open world, ally yourself with a handful of survivors against the creatures threatening to bleed the town dry, and immerse yourself in a deep story campaign as you unravel the mystery behind the vampires' appearance.
NVIDIA DLSS 3 will accelerate performance significantly, NVIDIA Reflex will reduce system latency, making gameplay more responsive, and ray-traced effects arriving post-launch will take your graphics to the next level, further enhancing your experience.
To celebrate our technical partnership, buyers of select GeForce RTX 40 Series graphics cards, desktops and laptops will receive a digital copy of Redfall Bite Back Edition, a $99.99 value.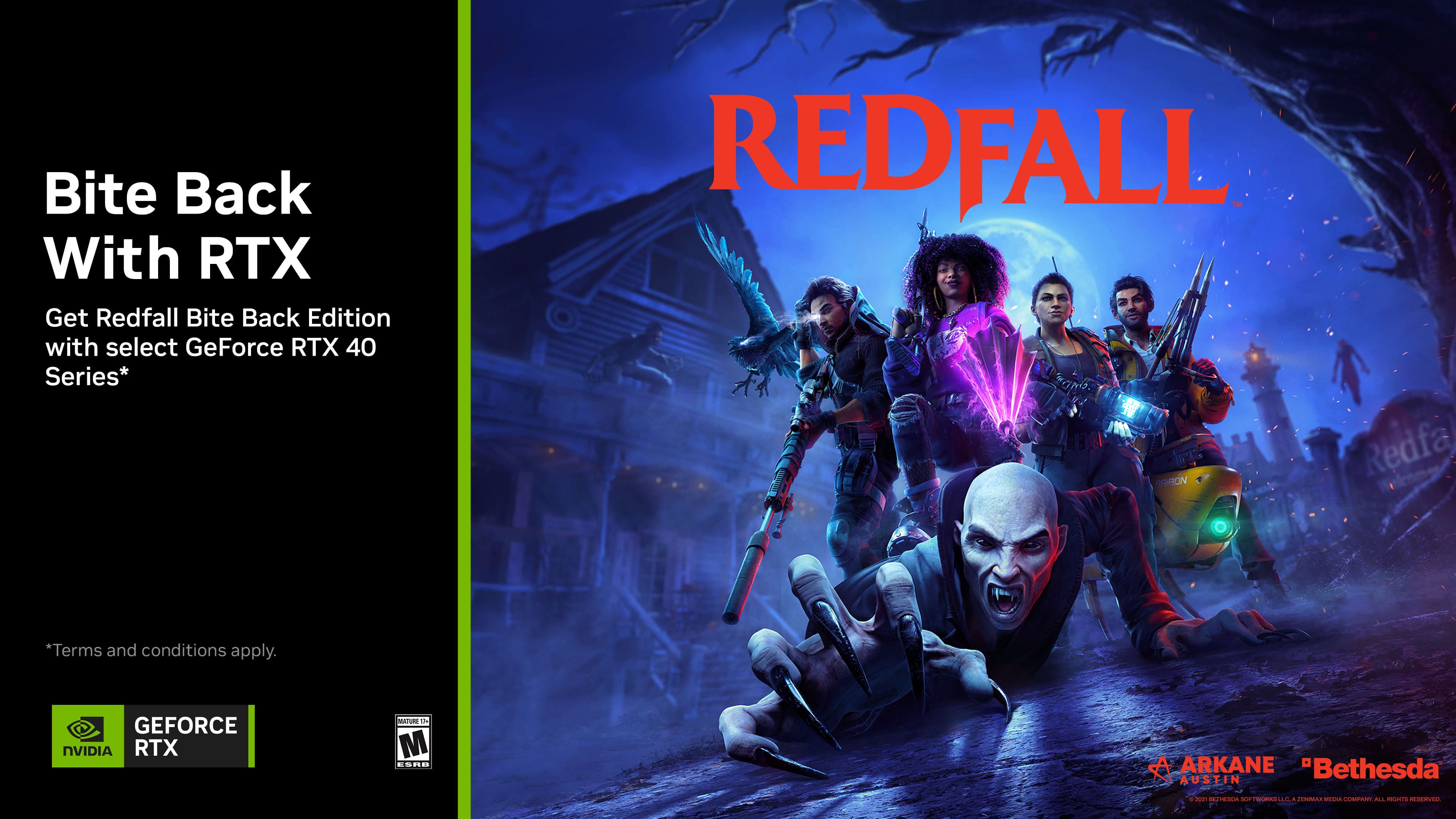 The new Redfall Bite Back Edition GeForce RTX 40 Series Bundle is available now until April 11th. For further details, head on over to our Redfall Bite Back Edition bundle announcement article.
Forza Horizon 5: DLSS 3 Races Onto PCs March 28th
Playground Games' Forza Horizon 5 is one of the best-rated open-world racing games of all time, enabling players to blast through a highly-detailed and authentic Mexico setting, in everything from everyday vehicles to the world's greatest hypercars.
On March 28th, a new update races onto PCs everywhere, bringing with it support for NVIDIA DLSS 3 and NVIDIA Reflex. When activated, DLSS 3 enables GeForce RTX 40 Series GPUs to break the 120 FPS barrier at 4K.
See DLSS 3's power for yourself in our new Forza Horizon 5 NVIDIA DLSS 3 performance comparison video:
THE FINALS: Closed Beta Available Now, Featuring DLSS 3 & Ray Tracing
Embark Studios' THE FINALS is a free-to-play shooter set in a highly destructive world, making each match unique. Players form teams of three and enter tournaments that begin with multiple teams duking it out simultaneously to progress to the next round. The goal is to collect, carry, and bank boxes of cash - the team with the most cash at the end of the round wins. But team wipes and steals see the pendulum of success swing widely from moment to moment, putting contestants on the edges of their seats each and every match.
On March 7th, a two-week closed beta began, giving gamers a chance to sample THE FINALS before its launch later this year. To participate, simply head to the game's Steam page, and sign up via the button near the top of the page. Once your participation is confirmed, you'll be able to download the game client via your Steam Library.
Selected players will discover support for NVIDIA DLSS 3, NVIDIA Reflex and hardware-accelerated RTXGI ray tracing.
With the beta's buildings being destroyed during the course of each match, the world's lighting needs to react realistically to ever changing conditions. To make this a reality, NVIDIA RTXGI is used to accurately calculate light and shadow as buildings are blown open, and walls come crashing down.
But with a GeForce RTX GPU in your PC or laptop, RTXGI can leverage hardware-accelerated ray tracing to produce richer and more realistic global illumination on the fly. When enabled, you'll experience light realistically bouncing around the environment, reacting to destruction, and interacting with volumetric fog and smoke.
For further information, head to GeForce.com's THE FINALS Closed Beta article, and to ensure your system takes full advantage of our technology, download and install the new Game Ready Driver.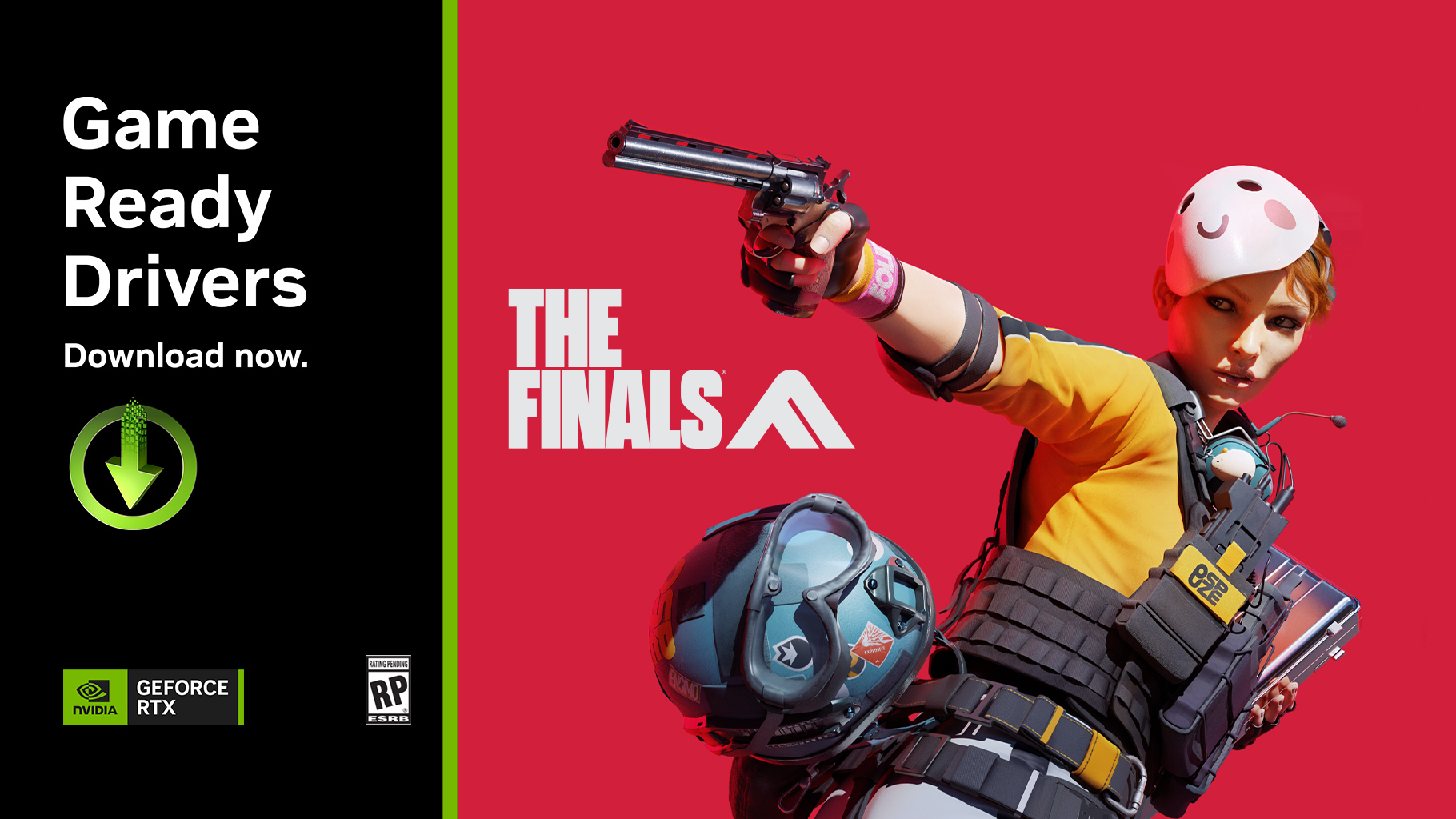 Deceive Inc. Sneaks Onto PCs March 21st, With DLSS 2
Go undercover as the world's greatest spies in Sweet Bandits Studios' tense multiplayer game of subterfuge. Disguise as anyone, deploy an arsenal of high-tech gadgets to sneak your way to success, or neutralize the competition. As long as you extract with the objective, no trick is too dirty when you work for Deceive Inc.
When Deceive Inc. launches on March 21st, it'll feature DLSS 2 from day one, giving GeForce RTX gamers maximum performance.
Gripper Rolls Out March 29th, Featuring DLSS 2 & Ray Tracing
Enter the burnout seat of None, a cyber biker who is stuck inside a collapsing world. Race through post-apocalyptic landscapes connected by treacherous tunnels. Explore dead lands with the help of your mechanized cat buddy. Ride, slide and dodge as you master the Gripper's unique bike movement and combat mechanics. Go wheel-to-wheel with murderous monster trucks, giant arachnids, mechanized titans, and screen-shattering snakes. Crush them, rip out their weapons and turn the tables using your new destructive arsenal.
In-game, Gripper's graphics are upgraded with ray-traced reflections, ray-traced ambient occlusion, and ray-traced shadows, and to accelerate performance, GeForce RTX gamers can activate NVIDIA DLSS 2. When enabled, frame rates are more than doubled at 4K, enabling turbo charged max setting gaming on many GeForce RTX GPUs: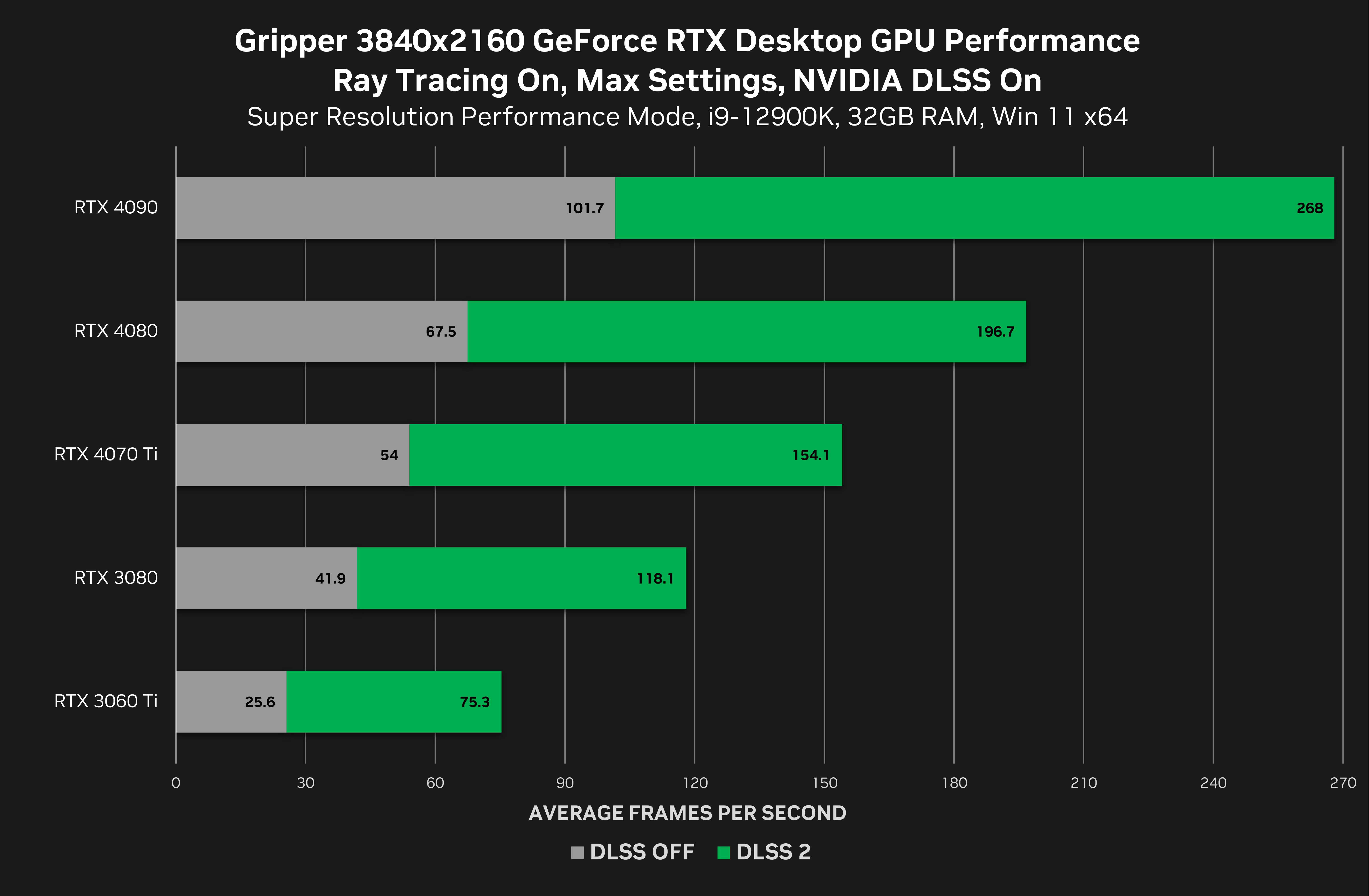 Smalland: Survive the Wilds Enters Early Access March 29th With DLSS 2
Experience a big adventure on a tiny scale, in Merge Games' Smalland: Survive the Wilds, a single-player and co-op survival and building game set in a world where you're even smaller than an insect, making you a tempting meal. Craft weapons and armor, tame and ride creatures, build encampments and explore the strange new land, with up to 10 players in co-op.
When Smalland: Survive the Wilds enters Early Access on March 29th, GeForce RTX gamers can supersize their frame rates using NVIDIA DLSS 2.
As Always, There's More To Come
NVIDIA DLSS is supported in over 270 released games and apps, and each month that number grows ever higher.
Now, there's NVIDIA DLSS 3 and its new Frame Generation technology that multiplies performance, whether bottlenecks are a result of the CPU or GPU. With DLSS 3, you'll have ultimate performance in every supported game.
Stay tuned to GeForce.com for further information about the release of NVIDIA DLSS for the latest and greatest games, because there are many more to come in the near future.