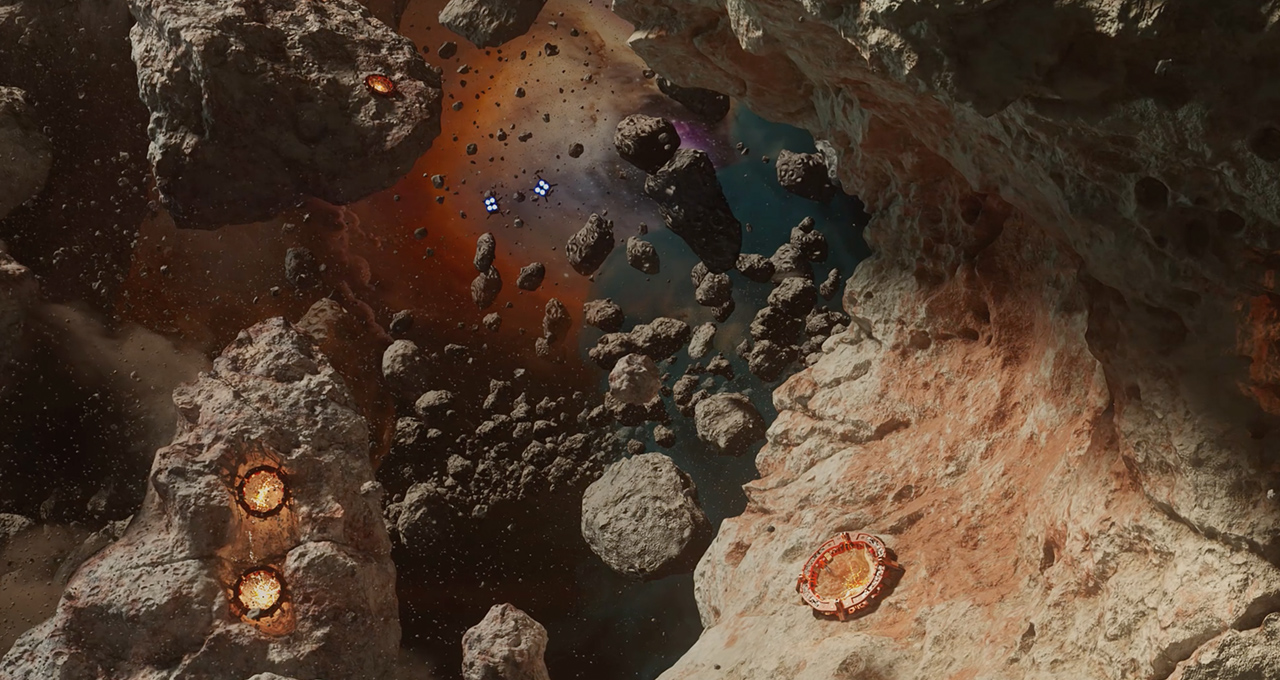 Editor's note: This post is part of our weekly In the NVIDIA Studio series, which celebrates featured artists, offers creative tips and tricks, and demonstrates how NVIDIA Studio technology improves creative workflows. We're also deep diving on new GeForce RTX 40 Series GPU features, technologies and resources, and how they dramatically accelerate content creation.
The GeForce RTX 4070 GPU, the latest in the 40 Series lineup, is available today starting at $599.
It comes backed by NVIDIA Studio technologies, including hardware acceleration for 3D, video and AI workflows; optimizations for RTX hardware in over 110 popular creative apps; and exclusive NVIDIA Studio apps like Omniverse, Broadcast, Canvas and RTX Remix.
VLC media player added RTX Video Super Resolution to automatically upscale video to 4K resolution and beyond. GeForce RTX 40 and 30 Series GPU owners will immediately benefit from improved virtual fidelity.
The RTX Remix runtime for remastering classic games is now available as open source on GitHub. It empowers the mod development community to extend Remix's game compatibility and feature set.
Creators can install the new April NVIDIA Studio Driver, supporting these latest updates and more, available for download today.
Plus, see how NVIDIA's Hauler piece came to life using the Omniverse USD Composer app, this week In the NVIDIA Studio.
A Creator's Dream
The GeForce RTX 4070 joins NVIDIA's lineup of GPUs, featuring 12GB of ultra-fast GDDR6X VRAM with advancements of the NVIDIA Ada Lovelace architecture, primed to supercharge all content-creation workflows.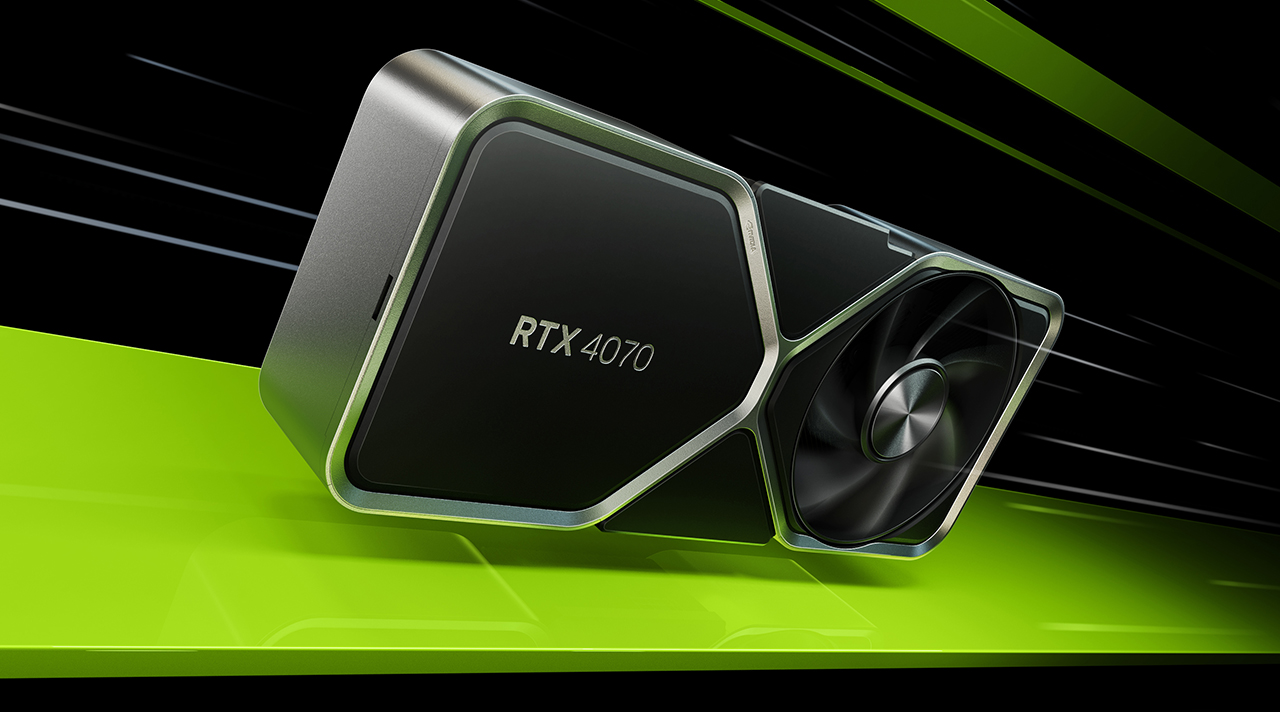 Introducing the GeForce RTX 4070.
Like other GeForce RTX 40 Series GPUs, the GeForce RTX 4070 is much more efficient than previous-generation products, using 23% less power than the GeForce RTX 3070 Ti. Negligible amounts of power are used when the GPU is idle, or used for web browsing or watching videos, thanks to power-consumption enhancements in the GeForce RTX 40 Series.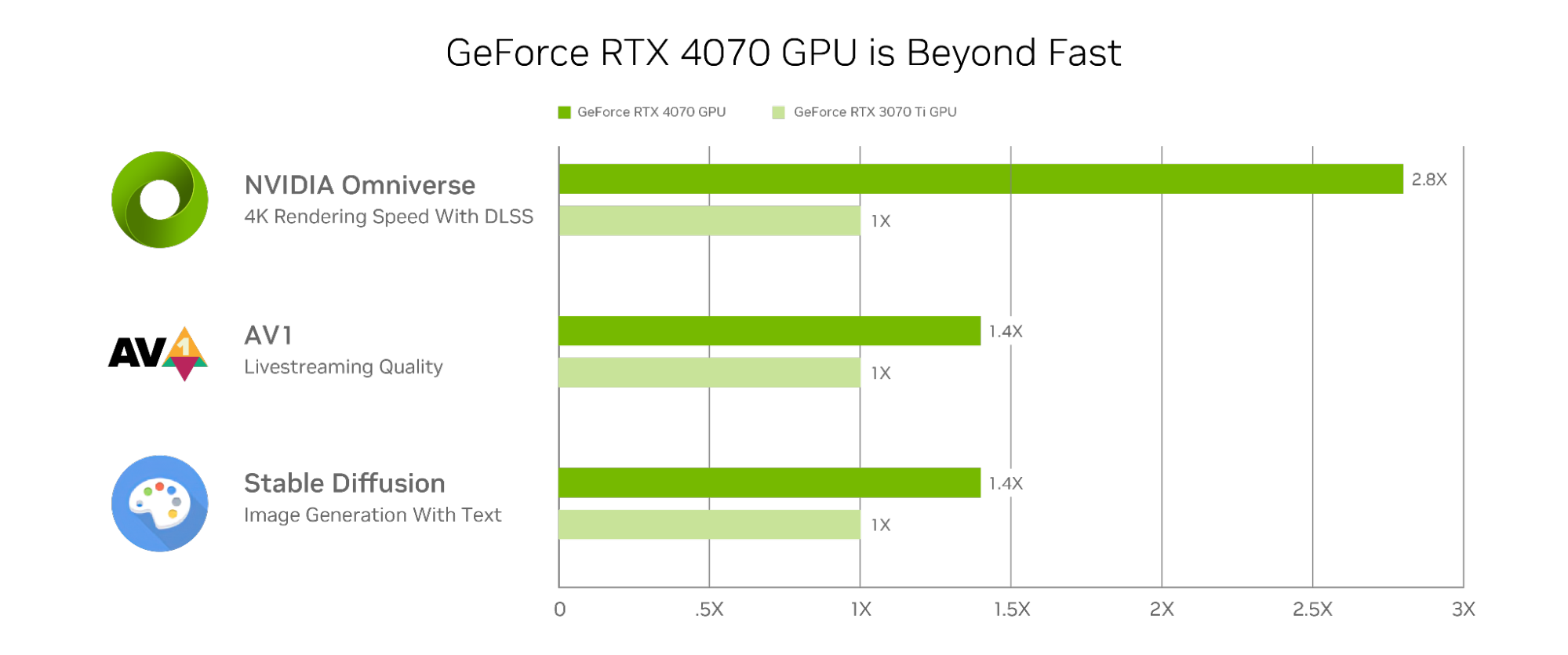 Tested on NVIDIA GeForce RTX 4070 and 3070 Ti GPUs. Omniverse testing measured FPS of 2K viewport average across 5 different scenes. Livestreaming quality measured as BD-SNR using NVENC 7th Gen with H.264, and NVENC 8th Gen with AV1, both using P7 (max quality) preset. Stable Diffusion testing measured number of images generated within 2 minute time frame for each GPU.
3D modelers rendering 4K scenes with the AI-powered DLSS 3 technology in NVIDIA Omniverse, a platform for creating and operating metaverse applications, can expect 2.8x faster performance than with the GeForce RTX 3070 Ti.
Broadcasters deploying the eighth-generation NVIDIA video encoder, NVENC, with support for AV1, will enjoy 40% better efficiency. Livestreams will appear as if bitrate was increased by 40% — a big boost in image quality for popular broadcast apps like OBS Studio.
Plus, AI enthusiasts using the Stable Diffusion deep learning model can generate detailed images conditioned on text descriptions 1.4x faster with the GeForce RTX 4070.
RTX Video Super Resolution Comes to VLC Media Player
VLC media player, a popular, free and open-source multimedia player for Windows PCs, has added RTX Video Super Resolution to intelligently upscale video to 4K resolutions and beyond.
Owners of RTX 40 and 30 Series GPUs can now play local video on VLC with crisper edges and noticeably reduced compression artifacts.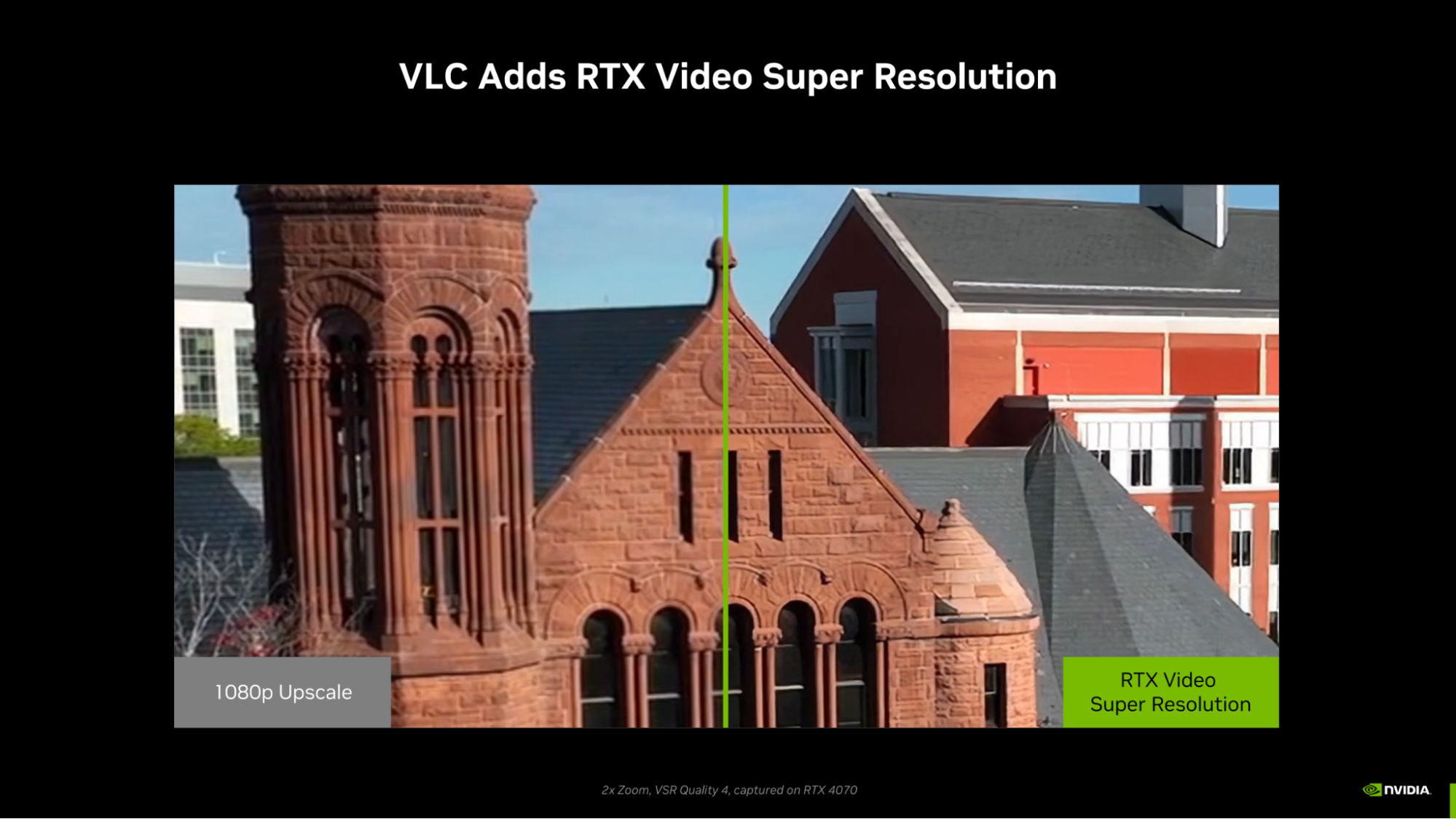 RTX 30 and 40 Series GPU owners will immediately benefit from improved virtual fidelity in VLC.
Access is quick and easy. Begin by downloading the full version of VLC. Once installed, open the NVIDIA Control Panel, navigate to Adjust video image settings and enable Super Resolution under RTX video enhancement.
Ready for RTX Remix Runtime
RTX Remix, the newest app in the NVIDIA Studio suite, is a revolutionary modding tool used to enhance classic DirectX 8 and 9 games with full ray tracing, AI-enhanced textures and other graphics improvements.
Remix is composed of two core components: a creator toolkit and a custom, open-source runtime.
The Remix creator toolkit, built on Omniverse and used to develop the hit remastered game Portal With RTX, allows modders to assign new assets and lights within their scene and use AI tools to rebuild the look of any asset. The RTX Remix creator toolkit will be available in early access soon.
Remix runtime captures every element of a game scene, replacing assets at playback and injecting RTX technologies, such as path tracing, DLSS 3 and Reflex, into the game. Mod developers are already using the RTX Remix runtime from Portal With RTX to create experimental remastered scenes in numerous classic games.
Remix runtime is ready to download on GitHub. Learn more about Remix runtime and its potential to transform game development.
The Remarkable Rocket Man
NVIDIA's project Hauler launched to test the sheer amount of instancing that could occur in a unified project.
Instancing, aka referencing, refers to the mass duplication of a model with minor variations, essential for populating massive 3D worlds with many detailed objects while maintaining realism. It's useful for creating scenes, say, in a forest with hundreds of trees, or in this instance, in outer space with thousands of asteroids.
Lead NVIDIA artist Rogelio Olguin, who has over 25 years of experience in the gaming industry, teamed up with colleagues to build a massive scene, rich with asteroids. Olguin loves a good challenge.
"I feel that one of the trappings of artists at times is that if you lose exploration and learning, you will just get stuck," said the artist. "It's important to explore and work on areas you're not good at as an artist to improve."
Key concept art for Project "Hauler."
The team gathered reference materials from movies, shows and anime before putting it all together in a shared board for the team to add and edit. The collaborative board included thumbnail sketch storyboards made in Adobe Photoshop and preliminary concept art.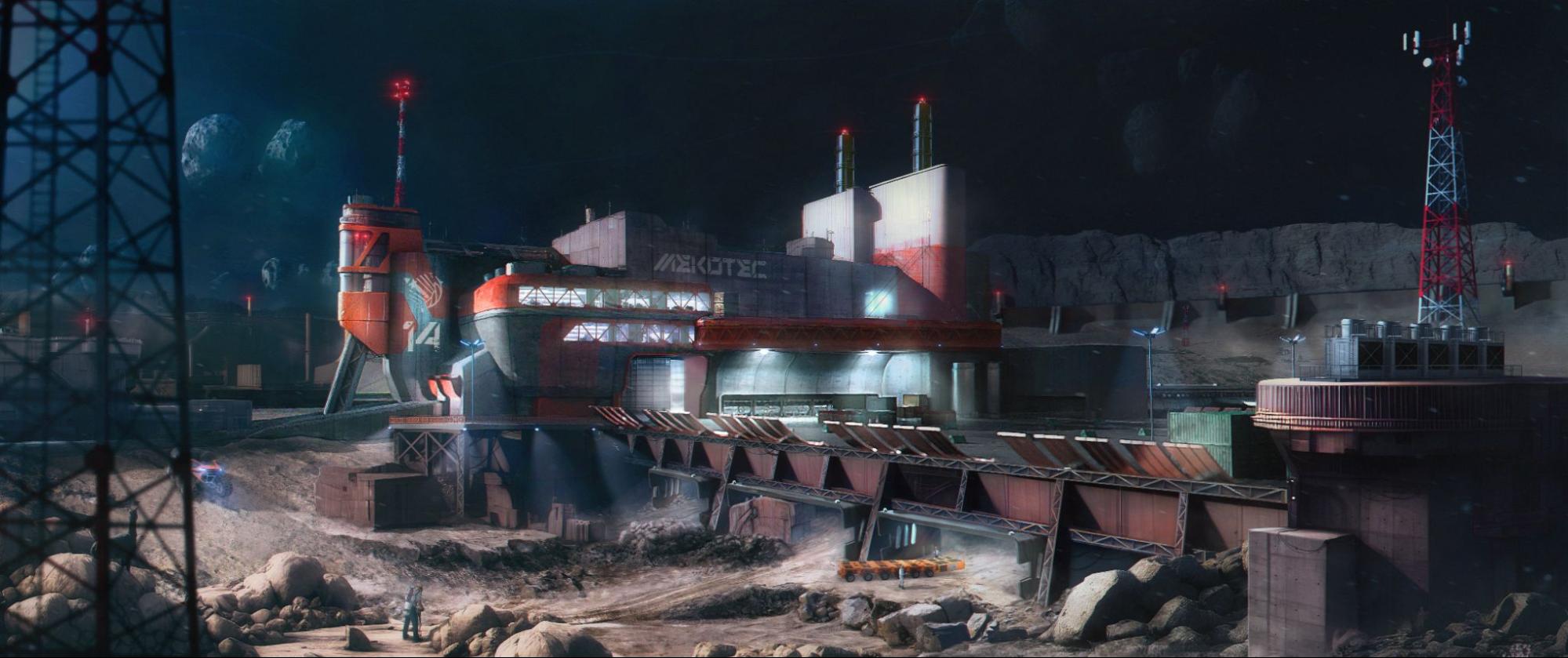 Concept art started in USD Composer and completed in Adobe Photoshop.
The vast number of asteroids were procedurally created in SideFX Houdini, taking advantage of the RTX-accelerated Karma XPU renderer, which enables fast rendering of complex 3D models and simulations. It was all made possible by his GeForce RTX GPU.

It takes incredible skill and patience to model a single asteroid, much less several hundred.
Next, Maxon's ZBrush was used to sculpt the main asteroids. The Drop 3D function was especially helpful in increasing the density of local meshes while maintaining high-resolution details.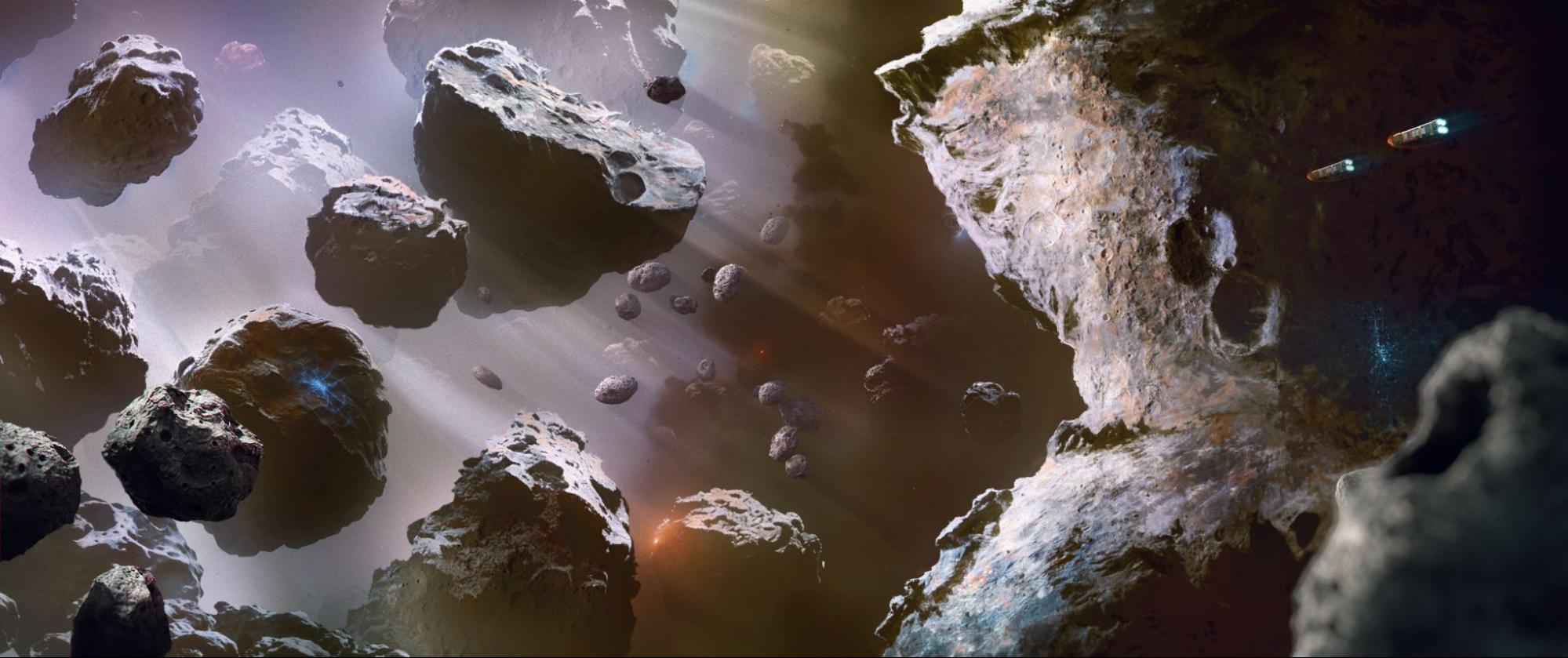 "Hauler" concept art features realistic shadows, textures and lighting.
Then came the animation phase in SideFX Houdini, building animations of the large and tiny cloud-based asteroids alike to ensure constant movement and rotation.
< embed: >
Olguin stressed the importance of his GeForce RTX 40 Series GPU. "Virtually every part of the process relied on RTX GPU technology, including path-traced rendering," he said. "Without RTX acceleration, this piece would have been impossible."

"Hauler" was brought together in Omniverse USD Composer.
With all components in place, the team worked in Omniverse USD Composer (formerly known as Create) to assemble complex, physically accurate simulations. They collaboratively edited 3D scenes in real time with ease.
"The primary benefit of using Omniverse USD Composer was being able to quickly see what I was doing, and place and compose our shots quickly, which made this so simple to work on," said Olguin.
"Having a beast of a machine has sped up what I can do. I would dread going back to a slower machine." — Rogelio Olguin.
USD Composer works with the Universal Scene Description (USD) format, enabling artists to choose their 3D app of choice. It supports Autodesk Maya, SideFX Houdini, Trimble SketchUp and more. It also removes pipeline bottlenecks, so there's no need for artists to constantly download, reformat, upload and download again.
After all, using USD Composer to collaborate in 3D is just comet sense.
Stay tuned for more updates on Hauler. For more artistic inspiration from Olguin, check out his ArtStation page.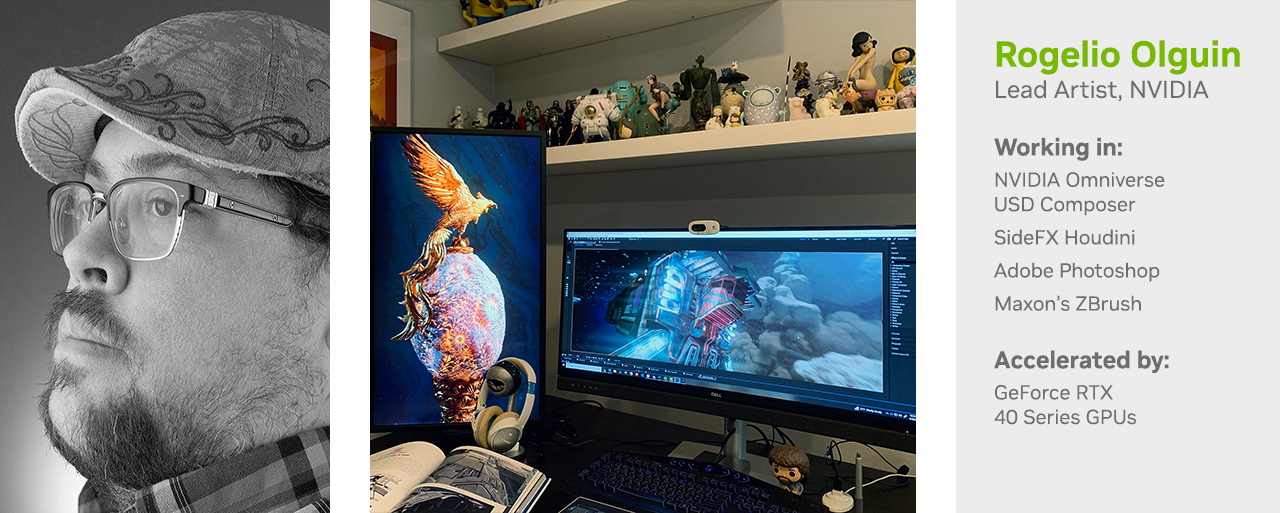 Lead NVIDIA artist Rogelio Olguin.
AV1 encoding support is coming to YouTube via OBS. GeForce RTX GPU owners broadcasting on YouTube can expect increased streaming quality. This feature is currently in beta and will be available as a general release in the near future.
Follow NVIDIA Studio on Instagram, Twitter and Facebook. Access tutorials on the Studio YouTube channel and get updates directly in your inbox by subscribing to the Studio newsletter. Learn more about Omniverse on Instagram, Medium, Twitter and YouTube for additional resources and inspiration. Check out the Omniverse forums, and join our Discord server and Twitchchannel to chat with the community.