In recent years, NVIDIA has transformed the competitive gaming landscape. GeForce RTX graphics cards have delivered previously unfathomable frame rates, our work with panel partner AU Optronics created ultra-high refresh rate, tear-free G-SYNC Esports monitors, and NVIDIA Reflex revolutionized the measurement and reduction of system latency with a suite of innovative tools for gamers and developers. Now, virtually all esports pros use GeForce RTX graphics cards and 240Hz+ esports monitors.
Progress never stops, however, and competitive players always seek a new advantage. Today, that arrived with the launch of our new, beyond fast GeForce RTX 40 Series graphics cards, which have the performance to deliver 360 FPS on 1440p 360Hz monitors arriving this fall, with as low as 10ms of system latency in top esports titles.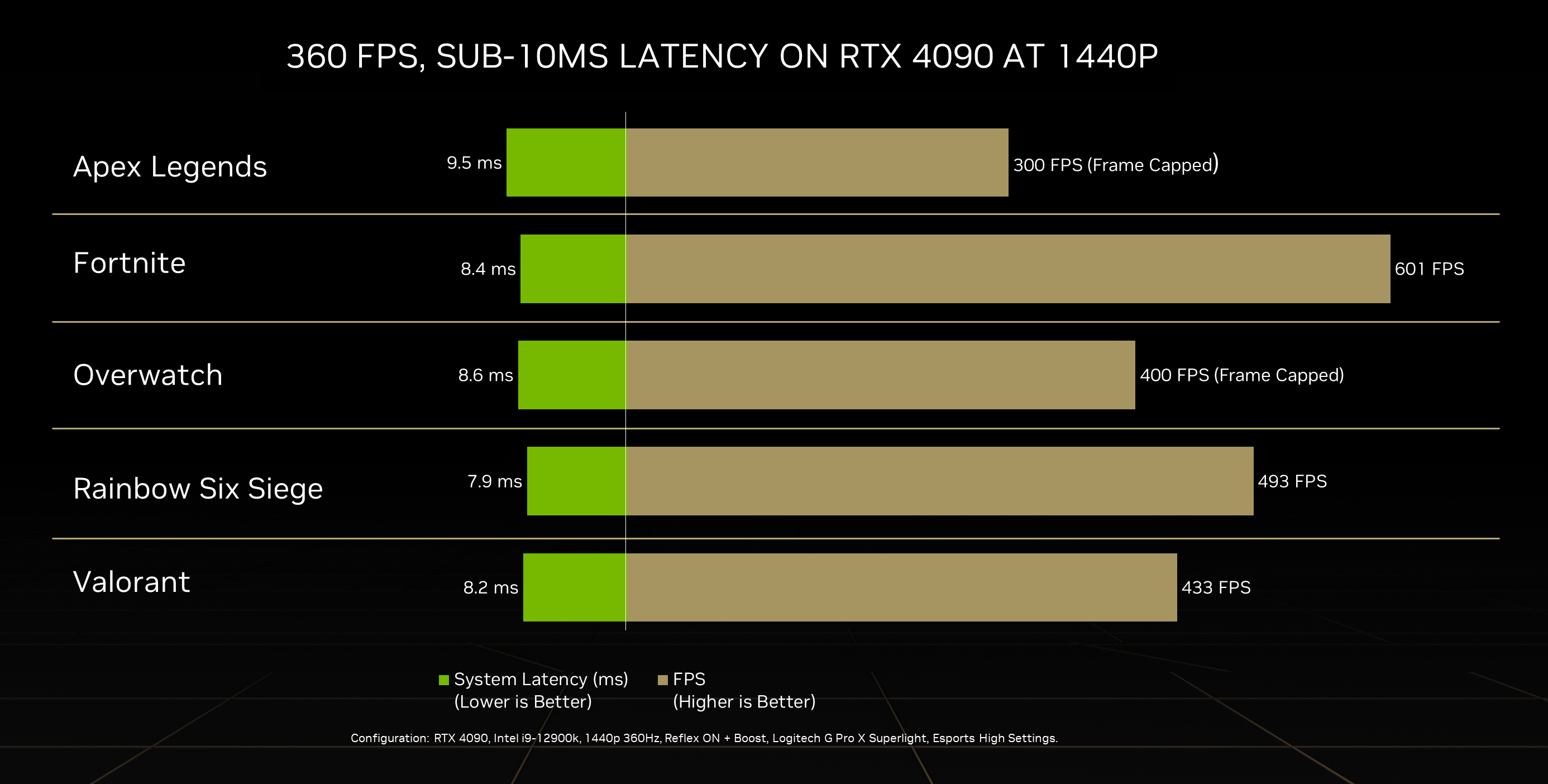 Whether you game on a GeForce PC or laptop, NVIDIA Reflex reduces system latency in over 40 games, including 8 of the top 10 competitive shooters. Another 8 Reflex games were just announced, including Overwatch 2, Cyberpunk 2077, Warhammer 40,000: Darktide, Destroy All Humans! 2 - Reprobed, Loopmancer, Scathe, SUPER PEOPLE, and there are many more in the pipeline. Read on for all the details.
GeForce RTX 40 Series GPUs & NVIDIA Reflex Make 1440p Competitive Gaming A Reality
Higher rendering resolutions make graphics clearer and sharper, making enemies easier to identify and attack. Our research found that 1440p 27" displays can improve aiming by up to 3% over traditional 1080p 24" displays, when aiming at small targets, such as an enemy's head. For competitive gamers and esports professionals, 3% can mean the difference between victory and defeat.
But if 1440p is better, why hasn't everyone stepped up to the higher resolution? Simply, performance wasn't as high at 1440p, reducing responsiveness and display smoothness, negating the benefits 1440p offered.
With the launch of our new GeForce RTX 40 Series graphics cards, frame rates are beyond fast, delivering 1440p 360Hz performance in leading esports games. Additionally, NVIDIA Reflex helps keep latency low and responsiveness high across a wider range of frame rates.
If you're ready to step up your game, head to our NVIDIA Reflex compatible products page for a list of NVIDIA Reflex gaming monitors, NVIDIA Reflex-compatible mice, and already-released NVIDIA Reflex games. To learn more about NVIDIA Reflex itself, check out our in-depth guide, and learn how to optimize other parts of your system to further reduce system latency.
NVIDIA Reflex Coming To The Most Popular & Anticipated Games
NVIDIA Reflex is already available in over 40 games. In each, end to end system latency is reduced by an average of 20%, giving players a more responsive experience that improves reaction times, target acquisition, aim precision, and your chance of victory. In the near future, NVIDIA Reflex is coming to another 8 games, and adoption is set to expand with NVIDIA DLSS 3 utilizing the power of NVIDIA Reflex.
New NVIDIA Reflex Games
To learn about the next wave of games adding NVIDIA Reflex in the future, stay tuned to
GeForce.com
for all the details.
New NVIDIA Reflex Gaming Mice Available Now
NVIDIA Reflex has become a staple for esports - Reflex is present in the best competitive games, G-SYNC Monitors with Reflex have the highest refresh rates with excellent image clarity, and Gaming Mice with Reflex are primed to up your game. To fully measure end-to-end system latency, you need a Reflex game, monitor, and mouse.
New monitors and mice launch regularly, and this month we've seen the launch of three new NVIDIA Reflex-compatible mice: the Lenovo Legion M600s Wireless Gaming Mouse, Lenovo Legion M600s Qi Wireless Gaming Mouse, and ROCCAT Kone XP Air Gaming Mouse. Head to their respective websites to learn about each.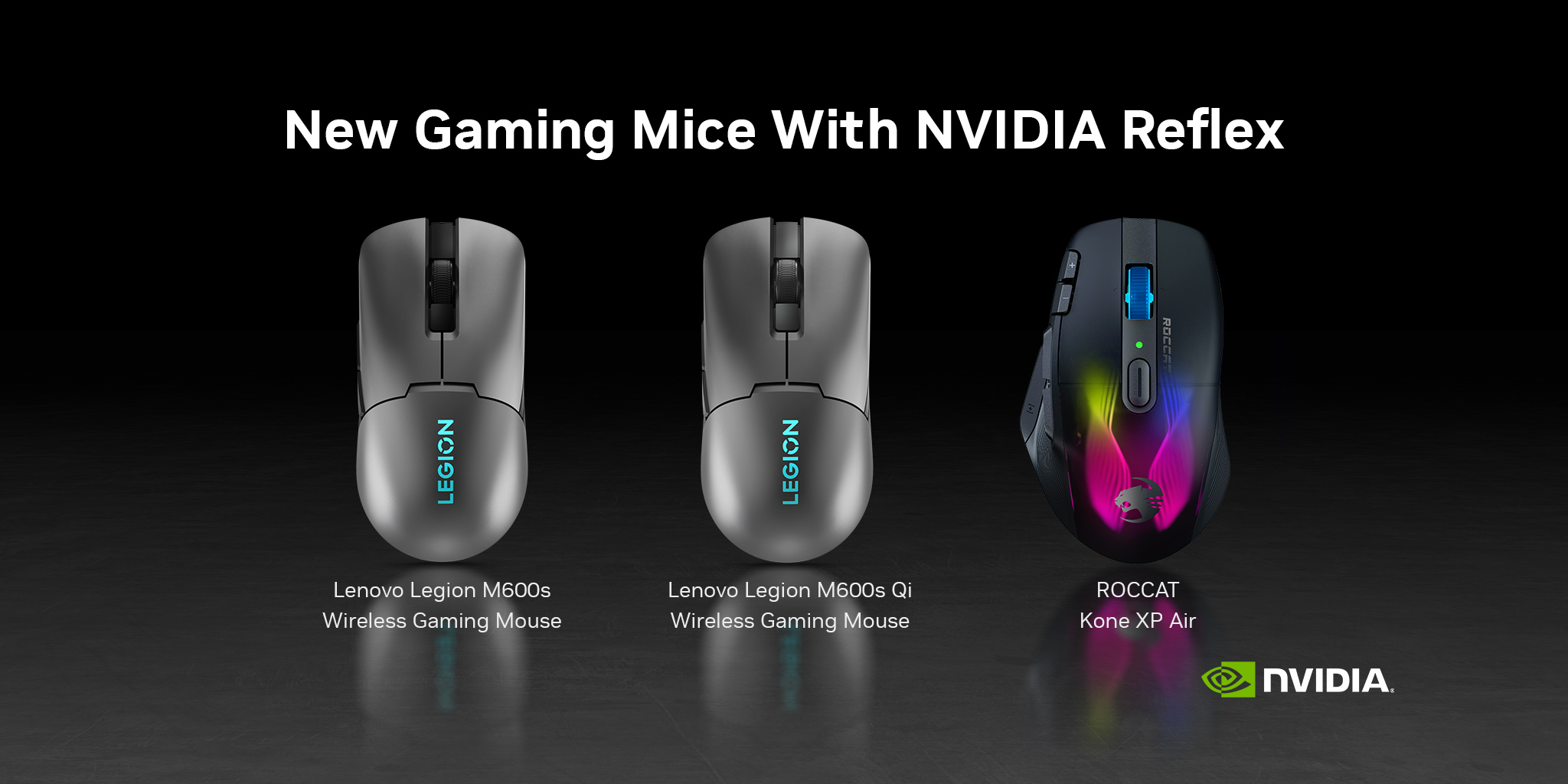 To learn more about measuring system latency with compatible NVIDIA Reflex accessories, follow our guide here.
GeForce Esports Platform
The NVIDIA Ada Lovelace architecture is here with huge advancements for competitive gamers and esports enthusiasts: 1440p 360 FPS GeForce RTX 40 Series graphics card performance, new NVIDIA Reflex games and mice, and 360Hz 1440p monitors coming this fall.
Head to GeForce.com to learn more about everything new, to get your hands on our new graphics cards when they start launching on October 12th.