NVIDIA DLSS uses AI and GeForce RTX Tensor Cores to boost frame rates while maintaining great image quality. In October, we released DLSS 3, adding new Frame Generation technology that enables DLSS performance boosts of up to 4X over native rendering.
DLSS 3 is already available in 17 games, with another 33 games and apps on the way soon. And GeForce RTX users can now enable AI-powered performance boosts of DLSS in over 250 released games and creative apps.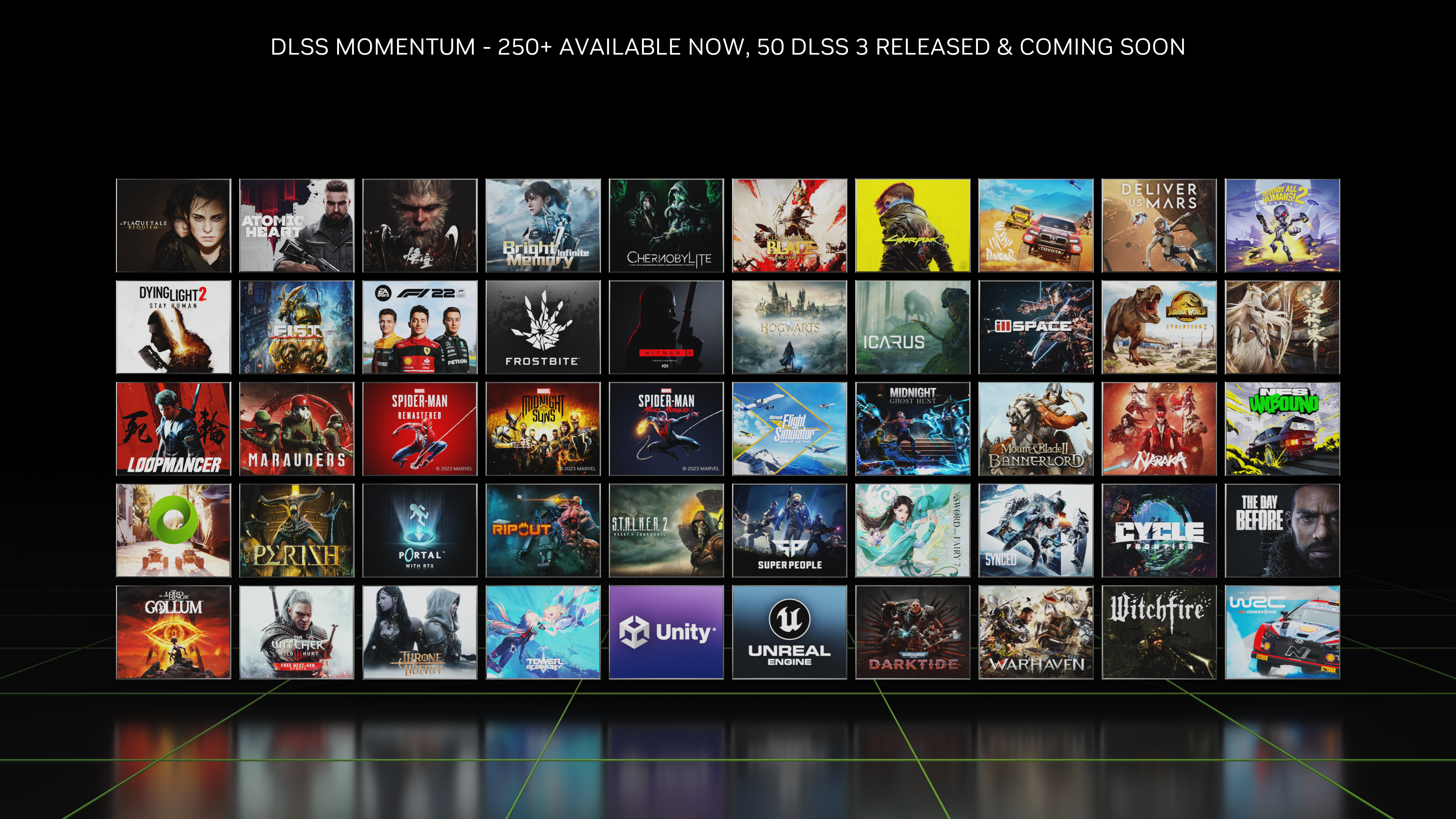 In December, we brought DLSS 3 to Portal with RTX, The Witcher 3: Wild Hunt, and other popular titles. Today, we're announcing that DLSS 3 will be multiplying performance in Atomic Heart, Dakar Desert Rally, Marvel's Midnight Suns, The Day Before, Warhaven, Witchfire, and even more anticipated 2023 games. Additionally, there's a fresh batch of DLSS 2 games coming soon, including Dead Space.
And because NVIDIA DLSS is always learning, an upcoming update will deliver improvements to DLSS Super Resolution, DLAA, and DLSS Frame Generation.
For all the details and brand new #RTXON game trailers, read on.
NVIDIA DLSS 3 Multiplies Frame Rates
NVIDIA Deep Learning Super Sampling (DLSS) is a groundbreaking revolution in AI-powered graphics, increasing performance on GeForce RTX GPUs using dedicated Tensor Cores.
Powered by new hardware capabilities of the NVIDIA Ada Lovelace architecture, DLSS 3 generates entirely new high quality frames, rather than just pixels.
Through a process detailed in full in our DLSS 3 article, DLSS 3 combines DLSS Super Resolution and DLSS Frame Generation to reconstruct 7/8ths of the displayed pixels, accelerating performance significantly.
In GPU-limited games, DLSS 2 Super Resolution technology can increase your frame rates by up to 2X. With DLSS 3, we can boost them by up to 4X (compared to brute-force rendering) in fully ray-traced worlds.
Certain games make extensive use of the CPU which can limit performance. DLSS 3 operates on the GPU, bypassing CPU bottlenecks and boosting frame rates. In Microsoft Flight Simulator, for example, DLSS 3 boosts frame rates by up to 2X.
DLSS 3 games are backwards compatible with DLSS 2 technology - developers simply integrate DLSS 3, and DLSS 2, also known as DLSS Super Resolution, is supported by default. Additionally, integrations of DLSS 3 also include NVIDIA Reflex, reducing system latency for all GeForce RTX users, making games more responsive.

NVIDIA DLSS is Always Learning, New Improvements Coming Soon
DLSS continues to improve through ongoing training on NVIDIA's AI Supercomputer, and a new update delivers improvements to DLSS Super Resolution, NVIDIA DLAA, and DLSS Frame Generation. Since DLSS 3 games are backwards compatible with DLSS 2 technology, all GeForce RTX gamers will also benefit.
Upcoming DLSS improvements include:
AI network enhancements for DLSS Frame Generation that better take advantage of game engine data, improving UI stability and image quality during fast movement.
An updated AI network for DLSS Super Resolution Ultra Performance mode, improving fine detail stability and overall image quality.
An updated AI network for NVIDIA DLAA that improves image quality, reduces ghosting, and improves edge smoothness in high contrast scenarios.
Cyberpunk 2077, The Witcher 3: Wild Hunt, and Portal with RTX will be the first to update with these new features in upcoming game patches.
Let's take a look at a few examples below.
The Day Before Launching With DLSS 3 & Ray Tracing
FNTASTIC and MyTona's The Day Before is an open-world, massively multiplayer, survival, PvPvE action game set in a post-pandemic America overrun with flesh-hungry zombies, and treacherous humans killing one another for food, weapons, vehicles, and generally anything they can get their hands on.
When The Day Before launches later this year, performance will be accelerated by NVIDIA DLSS 3, and its detailed world will be enhanced with ray-traced reflections. Check out the video below for an exclusive The Day Before RTX ON trailer:
For further updates on The Day Before, wishlist the game on Steam, and stay tuned to GeForce.com.
And even if you don't have a GeForce RTX PC or laptop, you can still enjoy The Day Before with support for NVIDIA RTX and DLSS by streaming it from the cloud with NVIDIA GeForce NOW on the day it releases.
THRONE AND LIBERTY Launching With DLSS 3
NCSoft's THRONE AND LIBERTY is a new, next-generation massively multiplayer online role-playing game, launching this year. Players pick a faction, and go to war in huge PvP battles, while also following an intricate story, and participating in raids against screen-filling bosses.
At launch, THRONE AND LIBERTY will support NVIDIA DLSS 3, and you get a first look at the game in our new THRONE AND LIBERTY trailer:
See more THRONE AND LIBERTY gameplay in NCSoft's previous trailer.
Warhaven Coming Soon With DLSS 3
This year, enter battle in NEXON Korea's Warhaven, a visceral 16 vs. 16 third-person medieval-fantasy combat action game created by the minds behind Durango: Wild Lands and Vindictus. Choose among a diverse roster of melee-weapon and magic-based combatants to storm battlegrounds as you see fit. Transform into powerful heroes called Immortals to wield supernatural skill sets, and experience team-based sword-and-magic gameplay like never before.
When Warhaven launches, performance can be accelerated to new heights with NVIDIA DLSS 3. Check out a new DLSS 3 gameplay video below, and stay tuned for further game updates.
Witchfire Launching Later This Year With DLSS 3
The Astronauts' Witchfire is a roguelite first-person shooter from the creative leads behind Painkiller, Bulletstorm, and The Vanishing of Ethan Carter. Desperate for a chance to triumph in the deadly war against witches, the Church calls on forbidden pagan magic to turn willing sinners into immortal witch hunters called preyers. Armed with powerful spells and fearsome firearms conjured by the best Vatican sorcerers, your mission is to find the infamous witch of the Black Sea, destroy the phantom army that protects her, and retrieve a mysterious artifact that can finally turn the tide of war.
Like The Astronauts' previous title, The Vanishing of Ethan Carter, Witchfire uses photogrammetry technology to achieve stunning visuals in its grim, immersive dark fantasy world. And on GeForce RTX PCs and laptops those visuals will be accelerated by NVIDIA DLSS 3.
Stay tuned for Witchfire updates, and in the meantime, watch an exclusive gameplay reveal trailer below:
Atomic Heart Available February 21 With DLSS 3
In Focus Entertainment and Mundfish's Atomic Heart, humans live in a utopia full of wonders, in harmony with their loyal and fervent robots. But with the upcoming launch of a new robot control system mere days away, mutant creatures, terrifying machines and superpowered robots rise up against their creators, and only you can save Atomic Heart's idealized world.
Using the combat abilities granted by your experimental power glove, and your arsenal of blades and cutting-edge weaponry, fight for your life in explosive and frenetic encounters. Adapt your fighting style to each unique opponent. Combine your skills and resources, and use the environment and upgrade your equipment to overcome challenges and fight for good.
When Atomic Heart launches February 21st, its beautifully rendered madcap world will get even better on GeForce RTX graphics cards thanks to the inclusion of performance-accelerating NVIDIA DLSS 3.
Marvel's Midnight Suns Upgrading To DLSS 3 This January
From the creators of the critically-acclaimed tactical XCOM series comes Marvel's Midnight Suns, where the rich story, character relationships, customization and progression of an RPG combines with the tactical strategy and combat mechanics of a card-based tactics game. Set in the darker side of the Marvel Universe, you will forge unbreakable bonds with legendary Marvel Super Heroes and dangerous supernatural warriors in the fight against the world's greatest threat yet… the demonic forces of Lilith and the elder god Chthon.
Launched last month to critical acclaim, VGC awarded Marvel's Midnight Suns with a 5 out of 5, calling it a "modern strategy classic;" PC Gamer said it was "completely brilliant" and scored it an 88 out of 100, and Rock Paper Shotgun called it "one of the best superhero games full stop."
At launch, Marvel's Midnight Suns boasted immersive, ray-traced ambient occlusion and ray-traced reflections effects, improving the fidelity and spectacle of battles, and adding detail to your exploration of the heroes' home base. To ensure the highest levels of performance, NVIDIA DLSS 2 was available alongside ray tracing, and in January Marvel's Midnight Suns is upgrading to NVIDIA DLSS 3, further accelerating performance for GeForce RTX 40 Series gamers.
Dakar Desert Rally DLSS 3 Update Arrives In January
Take to the desert to compete in the world's most demanding rally race, replicated in unprecedented detail by developer Saber Porto. Compete offline, or in online multiplayer races, using motorbikes, cars, trucks, quads and side-by-side vehicles in Dakar Desert Rally.
Having launched with DLSS 2 and NVIDIA Reflex in October, Dakar Desert Rally is upgrading to DLSS 3 this month, increasing performance on GeForce RTX 40 Series graphics cards. Check out a new DLSS 3-enhanced gameplay video below to see DLSS 3 in action:
The Cycle: Frontier DLSS 3 Update Arriving This January
The Cycle: Frontier, from YAGER, is a free-to-play PvPvE Extraction Shooter driven by suspense and danger. Prospect for resources and other riches on an abandoned alien world ravaged by a deadly storm, inhabited by monsters and other ambitious Prospectors.
The Cycle: Frontier already supports NVIDIA DLSS 2, and this January YAGER will upgrade to DLSS 3, introducing Reflex for all GeForce RTX players, and giving GeForce RTX 40 Series gamers even faster frame rates. See it in action in our latest DLSS 3 gameplay video:
Conqueror's Blade Adds DLSS 3 This January
Be a true warlord and forge your legend in battle in Conqueror's Blade, a free-to-play tactical action MMO developed by Booming Tech, and published by MY.GAMES and Poros. Commanding medieval troops in epic 15 vs. 15 siege battles, conquering cities with allies in the open world or fighting against players from all over the world – it's you who make the choice.
As part of a new game update this January, Booming Tech is bringing DLSS 3 to Conqueror's Blade, enabling GeForce RTX gamers to increase performance in the game's massively multiplayer battles.
Tower of Fantasy DLSS 3 Update Arrives In April
Set hundreds of years in the future after humanity has escaped the collapsing environment of earth and fled to the distant planet of Aida, the cross-platform, shared open-world MMORPG action of Tower of Fantasy invites gamers around the world to join in on the thrilling action. Developed by Hotta Studio and published by Level Infinite, the game features an immersive open world, co-operative group and solo adventures, freeform character development, unique simulacrums, and epic combat that allows players to switch weapons and gameplay styles on the fly to unlock their own personal fighting style.
Last year, PC Tower of Fantasy players received an update adding ray-traced reflections and NVIDIA DLSS 2. In April, players can expect a new update adding NVIDIA DLSS 3. Check out accelerated performance of DLSS 3 in this new gameplay video.
ILL Space Early Access Begins Later This Year, With DLSS 3 & Ray Tracing
CoolAndGoodGames' ILL Space is a survival space station sim, with elements of tower defense. Construct your stations with different modules, and grow them into fully-fledged autonomous mining colonies. Mine asteroids, manage colonists and crew, and defend against the ever increasing cosmic threat. Creativity is key, or enemies will soon overwhelm you. Will you spread your resources to create a fleet of smaller rigs with designated roles, or will you construct a bulky and slow station with some serious firepower - the choice is yours!
ILL Space enters Steam Early Access later this year, boasting gorgeous ray-traced reflections that greatly enhance the appearance of your sprawling space stations. And to ensure gameplay remains fast and fluid during even the most hectic of encounters, NVIDIA DLSS 3 is available from day one, accelerating performance for all GeForce RTX gamers.
Check out the DLSS 2 and RT-enhanced ILL Space demo on Steam today, giving you a great idea of how ILL Space plays. Like what you see? Wishlist to be notified when ILL Space Early Access begins.
Dead Space Launches January 27 With DLSS 2
The sci-fi survival-horror classic Dead Space returns, completely rebuilt from the ground up to offer a deeper, more immersive experience. This remake brings jaw-dropping visual fidelity, suspenseful atmospheric audio, and improvements to gameplay while staying faithful to the original game's thrilling vision.
Isaac Clarke is an everyman engineer on a mission to repair a vast mining ship, the USG Ishimura, only to discover something has gone horribly wrong. The ship's crew has been slaughtered and Isaac's beloved partner, Nicole, is lost somewhere on board.
To ensure you can experience Dead Space with maximum immersion, at the highest levels of detail, activate NVIDIA DLSS 2 on your GeForce RTX PC, laptop or graphics card.
Judgment & Lost Judgment DLSS 2 Update Available Now
SEGA and Ryu Ga Gotoku Studio's critically acclaimed action-adventure games, Judgment and Lost Judgment, now include support for NVIDIA DLSS 2! The two Overwhelmingly Positively-rated games follow Takayuki Yagami, a disgraced defense attorney turned detective, who claws his way through Kamurocho, Japan's underground crime network to uncover the truth behind grisly crimes.
Tap into Yagami's arsenal of private eye tricks to gather clues, and master Yagami's unique, combo-heavy martial arts styles to overcome any situation, from group ambushes to single-target takedowns. Plus, expand your arsenal with street signs, bicycles, and more to pack an even bigger punch.
Be sure to also check out SEGA's Yakuza franchise, which is set in the same world as Yagami's games.
As Always, There's More To Come
Since its launch, NVIDIA DLSS has transformed gaming, enabling developers to craft more detailed and immersive games that run smoothly on today's hardware. Over 250 released games and apps are supported, and each month that number grows ever higher.
Now, there's NVIDIA DLSS 3 and its new Optical Multi Frame Generation technology that multiplies performance, whether bottlenecks are a result of the CPU or GPU.
Stay tuned to GeForce.com for further information about the release of NVIDIA DLSS 3 for the latest and greatest games, because there are many more to come in the near future.