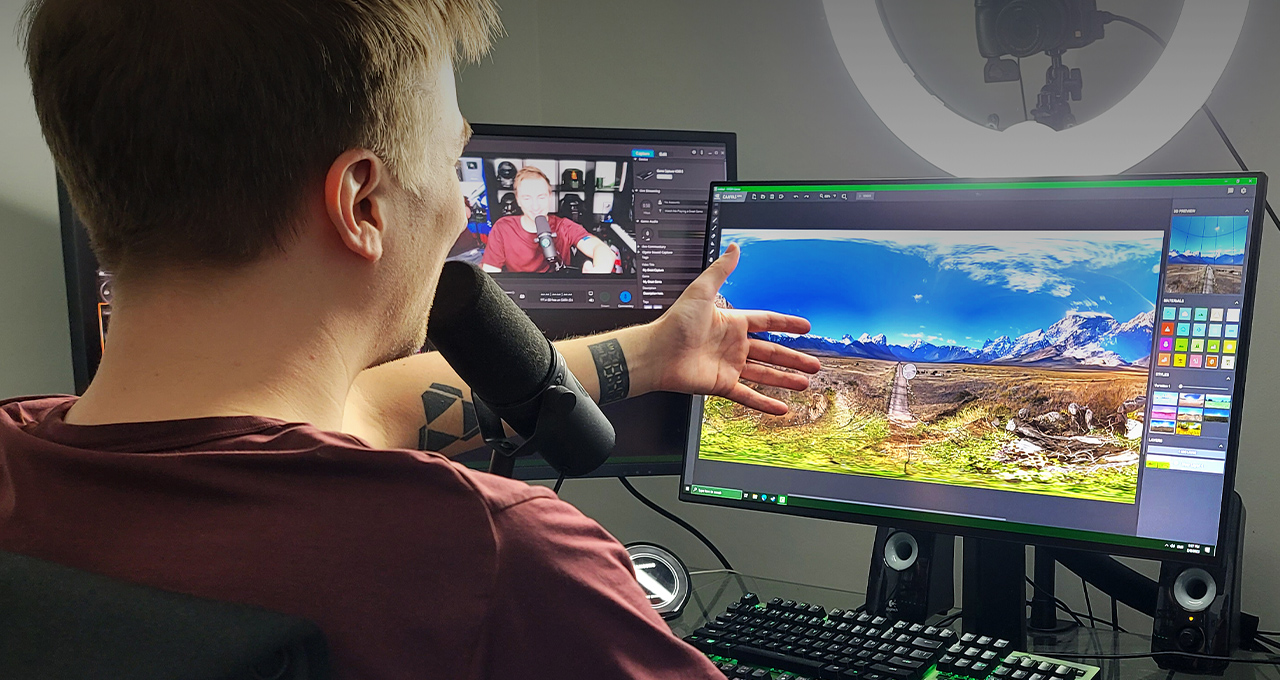 Editor's note: This post is part of our weekly In the NVIDIA Studio series, which celebrates featured artists, offers creative tips and tricks, and demonstrates how NVIDIA Studio technology improves creative workflows. We're also deep diving on new GeForce RTX 40 Series GPU features, technologies and resources, and how they dramatically accelerate content creation.
An update is now available for NVIDIA Canvas, the free beta app that harnesses the power of AI to help artists quickly turn simple brushstrokes into realistic landscapes.
This version 1.4 update includes a new Panorama mode, which 3D artist Dan "Greenskull" Hammill explores this week In the NVIDIA Studio.
The #GameArtChallenge charges ahead with this sensationally scary The Last of Us-themed 3D animation by @Noggi29318543.
Share game-inspired art using the #GameArtChallenge hashtag through Sunday, April 30, for a chance to be featured on the @NVIDIAStudio or @NVIDIAOmniverse channels.
Panorama Comes to Canvas
NVIDIA Canvas 1.4 adds Panorama mode, allowing for the creation of 4K equirectangular landscapes for 3D workflows. Graphic designers will be able to apply Canvas AI-generated scenes to their workflow, allowing for quick and easy iterations.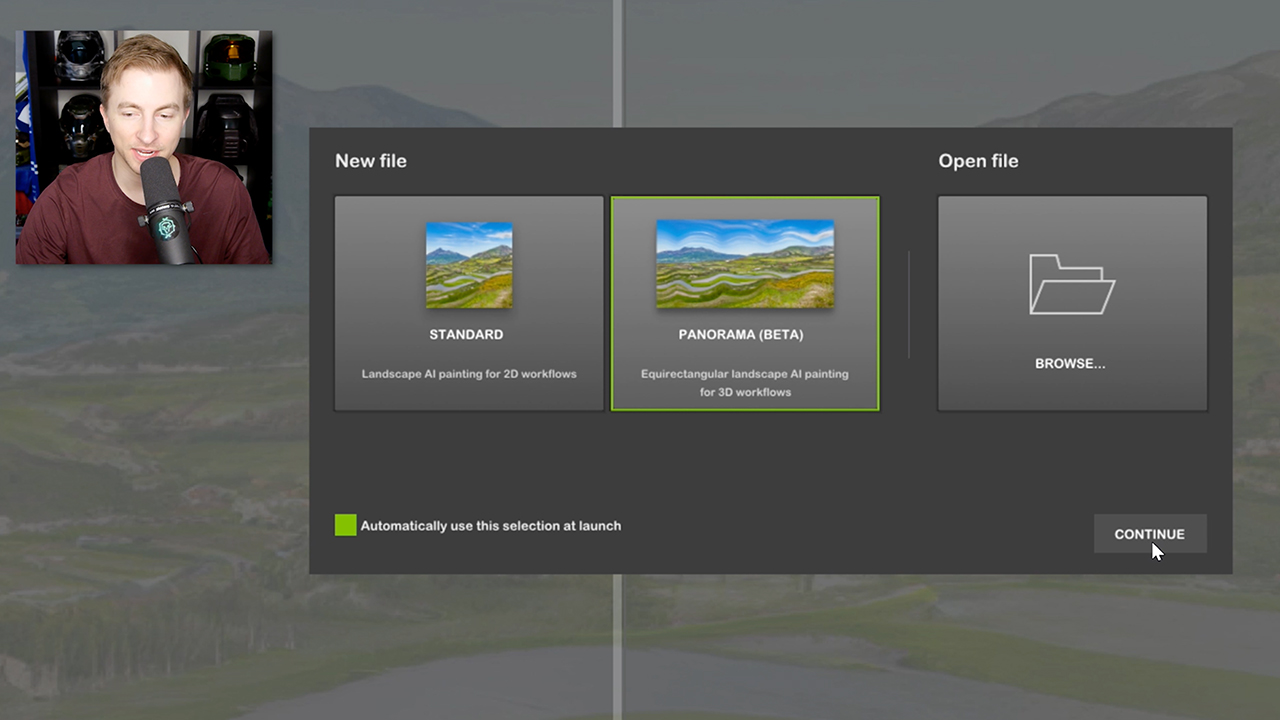 Users can select between Standard and Panorama workspace each time they open or create a new file.
For 3D artist and AI aficionado Dan "Greenskull" Hammill, Canvas technology invokes an intentional change of tone.
"The therapeutic nature of painting a landscape asks me to slow things down and let my inner artist free," said Greenskull. "The legendary Bob Ross is a clear inspiration for how I speak during my videos. I want the viewer to both be fascinated by the technology and relaxed by the content."
For a recent piece, called "The Cove," Greenskull took a few minutes to create his preferred landscape — an ocean view complete with hills, foliage, sand and darker skies for a cloudy day — with the few strokes of a digital pen in Canvas, all accelerated by his GeForce RTX 4090 GPU.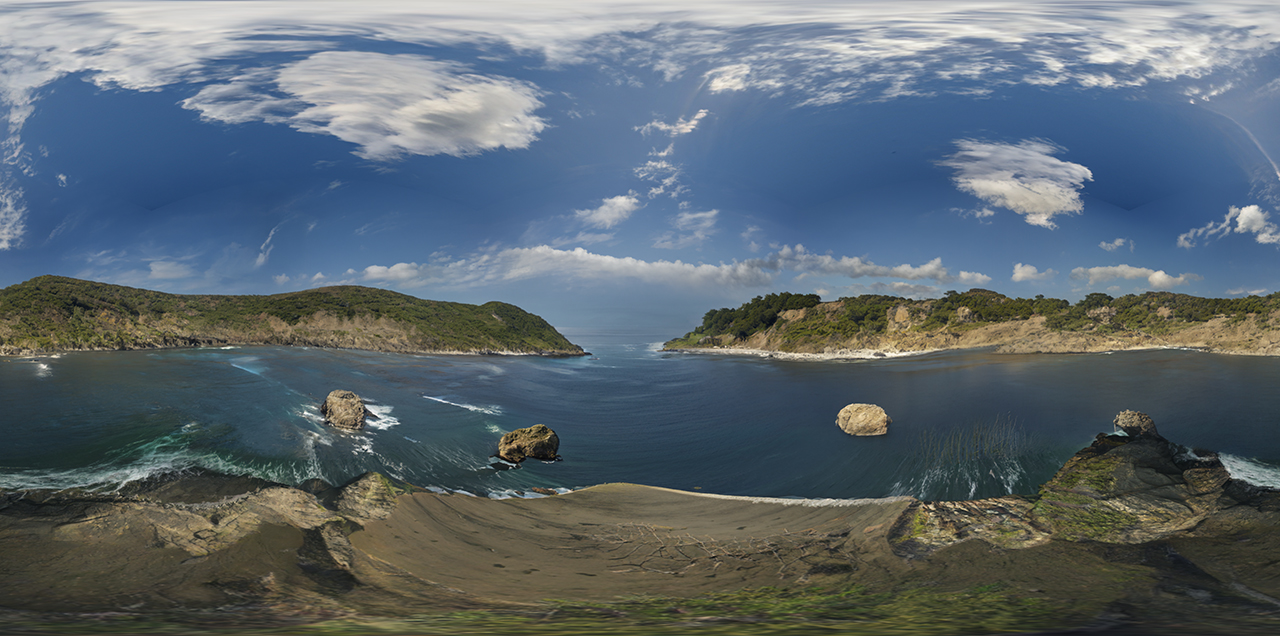 'The Cove' was created in NVIDIA Canvas and completed in mere minutes.
The artist refined his landscape in even more detail with an expanded selection of brush-size options included in the Canvas 1.4 release. Once satisfied with the background, Greenskull reviewed his creation. "I can look at the 3D view, review, see how it looks, and it's looking pretty good, pretty cool," he said.
Greenskull then uploaded his landscape into a video game within Unreal Engine 5 as the skybox or enclosed world. Now his Canvas texture makes up the background.
"This really does open up a lot of possibilities for game designers, especially indie developers who quickly want to create something and have it look genuinely unique and great," Greenskull said.
With his new virtual world complete, Greenskull prepared to create videos for his social media platforms.
"I hit record, run my DSLR through a capture card, record dialog through Adobe Audition, and grab a second screen capture with a separate PC," explained Greenskull.
Greenskull then pieced everything together, syncing the primary video, secondary PC video captures and audio files. He reviewed the clips, made minor edits and exported final videos.
Using his favorite video editing app, Adobe Premiere Pro, Greenskull tapped his NVIDIA RTX 4090 GPU's dual AV1 video encoders via the Voukoder plug-in, cutting export times in half with improved video quality.
"NVIDIA has powered both my casual and professional life for countless years. To me, NVIDIA is reliable, powerful and state of the art. If I'm going to be on top of my game, I should have the hardware that will keep up and push forward." — Dan "Greenskull" Hammill
Download the Canvas beta, free for NVIDIA and GeForce RTX GPU owners.
Check out Greenskull on TikTok.

Dan "Greenskull" Hammill and his epic streaming station.
Learn more about these latest technologies by joining us at the Game Developers Conference. And catch up on all the groundbreaking announcements in generative AI and the metaverse by watching the NVIDIA GTC keynote.
Follow NVIDIA Studio on
Instagram
,
Twitter
and
Facebook
. Access tutorials on the
Studio YouTube channel
and get updates directly in your inbox by subscribing to the
Studio newsletter
.