Introducing the GeForce RTX 4070, available April 13th, starting at $599. With all the advancements and benefits of the NVIDIA Ada Lovelace architecture, the GeForce RTX 4070 lets you max out your favorite games at 1440p.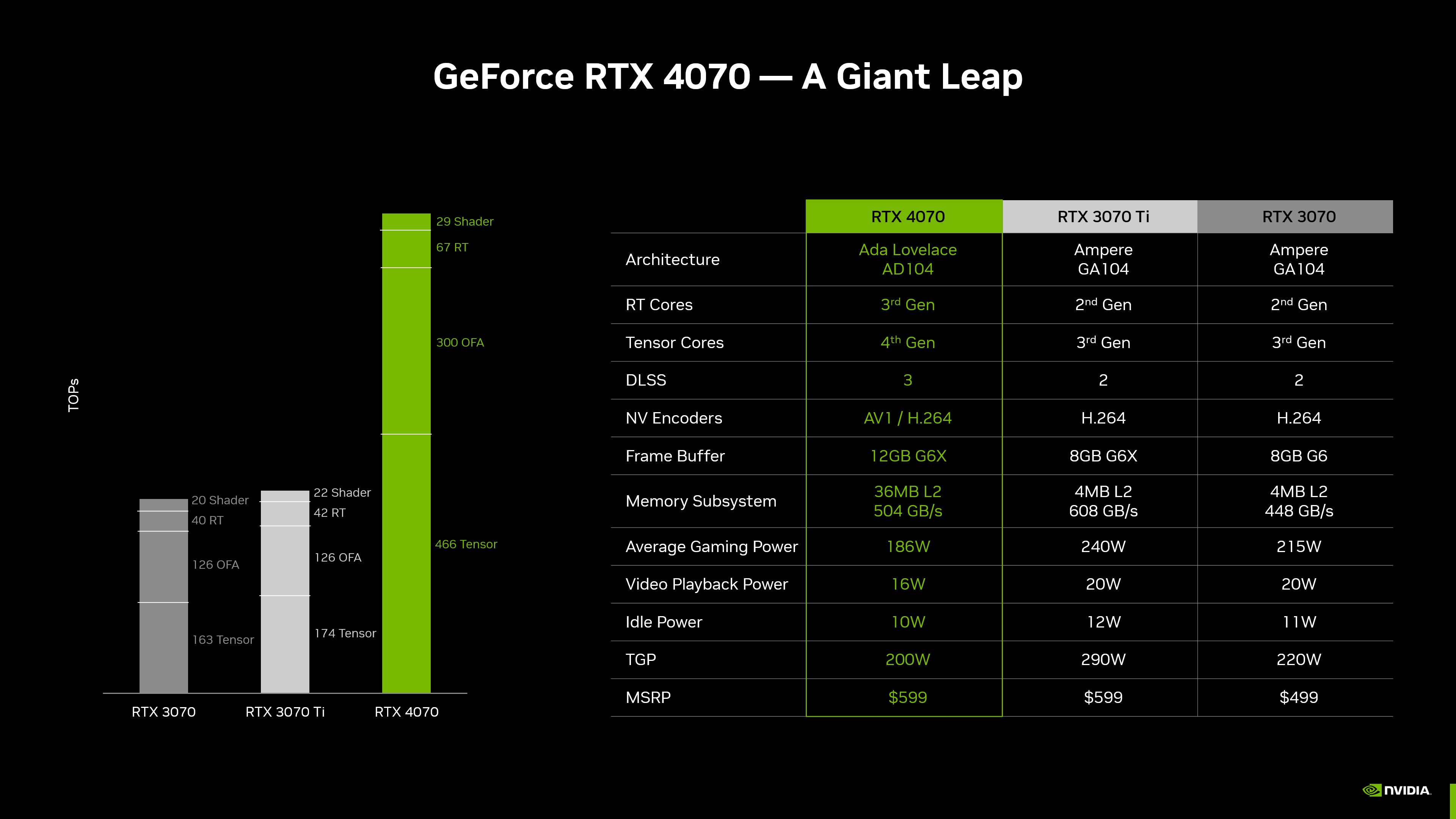 A Plague Tale: Requiem, Dying Light 2 Stay Human, Microsoft Flight Simulator, Warhammer 40,000: Darktide, and other demanding games run at over 100 frames per second thanks to DLSS 3. And so do popular DLSS 2 games, such as Battlefield 2042, Call of Duty: Modern Warfare II, and Marvel's Guardians of the Galaxy.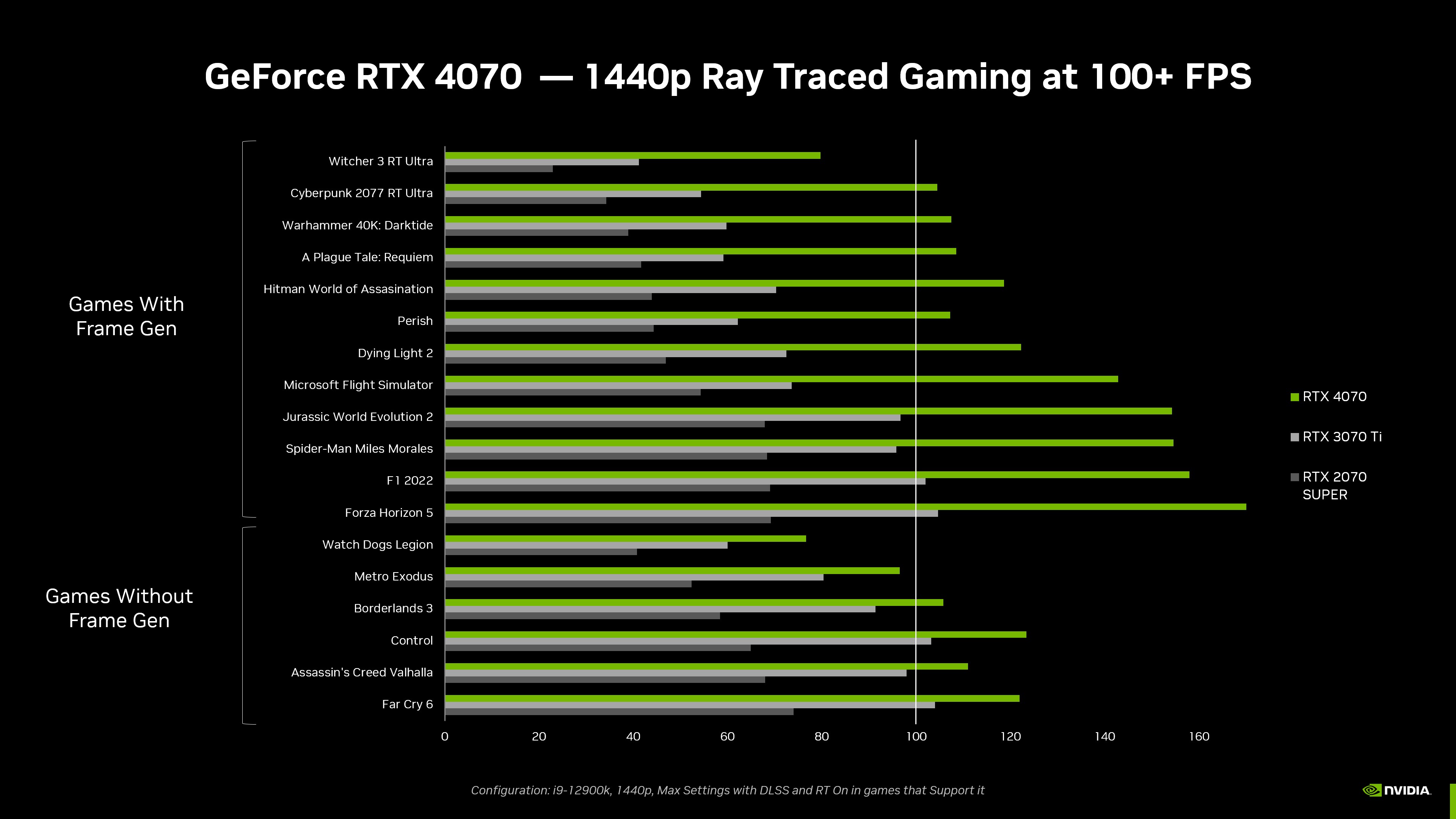 Like other GeForce RTX 40 Series GPUs, the GeForce RTX 4070 is much more efficient than previous generation products, using 23% less power than the GeForce RTX 3070 Ti, while running up to 1.7x faster with DLSS 3 when gaming. And it uses negligible amounts while idle, web browsing, or watching videos thanks to architectural enhancements of the GeForce RTX 40 Series.
| | | | |
| --- | --- | --- | --- |
| | RTX 2070 SUPER | RTX 3070 Ti | RTX 4070 |
| Idle (W) | 11 | 12 | 10 |
| Video Playback (W) | 15 | 20 | 16 |
| Average Gaming (W) | 205 | 240 | 186 |
| TGP (W) | 215 | 290 | 200 |
See these benefits in action, in a clip from A Plague Tale: Requiem, where the GeForce RTX 4070 runs the game much faster, while consuming substantially less power than last-generation's GeForce RTX 3070 Ti.
Compared to the RTX 2070 SUPER, the GeForce RTX 4070 is 2.6x faster with DLSS 3 on average, and the GeForce RTX 4070 is 1.4x faster than the GeForce RTX 3080 with DLSS 3 on average. DLSS 3 provides Ada GPUs with a tremendous performance boost, but the GeForce RTX 4070 also excels in traditional games that don't include more advanced features such as ray tracing and DLSS. In these rasterized games, the GeForce RTX 4070 is on par with the GeForce RTX 3080 while running at nearly half the power, and offering an additional 2GB of memory.
RTX ON: GeForce Gamers Embrace Ray Tracing & DLSS
In 2018, we began a gaming revolution with the launch of 1st generation GeForce RTX graphics cards. Since the release of the very first games decades ago, lighting had been faked, and various hacks employed to approximate shadows, reflections, and other real-world properties. GeForce RTX made real-time ray tracing a reality, enabling developers to realistically render reflections and lighting, making their games more immersive and enjoyable. And with DLSS 1.0, we invented a game-changing way for players to accelerate frame rates.
Back in 2018 there were 4 RTX games, 37% of GeForce RTX gamers enabled ray tracing, and 26% activated DLSS 1.0.
Five years later, we're at the 3rd generation of RTX, with the release of GeForce RTX 40 Series graphics cards. Now, DLSS 3 multiplies performance with AI-accelerated Frame Generation in 30 games. DLSS 2 accelerates frame rates in over 280 games and apps with image quality that's as-good, or sometimes even better than native resolution TAA rendering. NVIDIA Reflex reduces system latency for a more responsive and enjoyable experience in over 70 games. And new technologies such as Shader Execution Reordering (SER), Opacity Micromaps (OMM), NVIDIA RTX Direct Illumination (RTXDI), and RTX Global Illumination (RTXGI) enable developers to create incredible ray-traced effects with performant frame rates and far less effort.
Among gamers, the massive strides RTX has made are well known, and the latest integrations are used by the majority of RTX owners. Of the millions of GeForce RTX desktop GPU owners, 83% of 40 Series gamers enabled ray tracing, and 79% of 40 Series gamers accelerated performance with DLSS in RTX capable games.
The popularity and adoption of ray tracing and DLSS has outpaced other advancements and technologies, such as 4K, which is used by 28% of gamers, and 144Hz+ high refresh rate gaming monitors, which are used by 62% of GeForce RTX 40 Series desktops GPU owners.
Overwatch 2 Ultimate Battle Pass Bundle Available Until May 8th
If you purchase a participating GeForce RTX 4090, 4080, 4070 Ti, or 4070 graphics card or desktop PC before May 8th, 2023, you'll receive the new Overwatch 2 Ultimate Battle Pass Bundle plus an additional 1,000 OW2 coins.
Season 4 Ultimate Battle Pass Bundle Includes:

Season 4 Premium Battle Pass
2,000 OW2 Coins
20 Tier Skips
Infinite Guard: 76 Legendary Skin
Infinite Ace D.Va Epic Skin
Infinite Airwings Weapon Charm

1,000 Additional OW2 Coins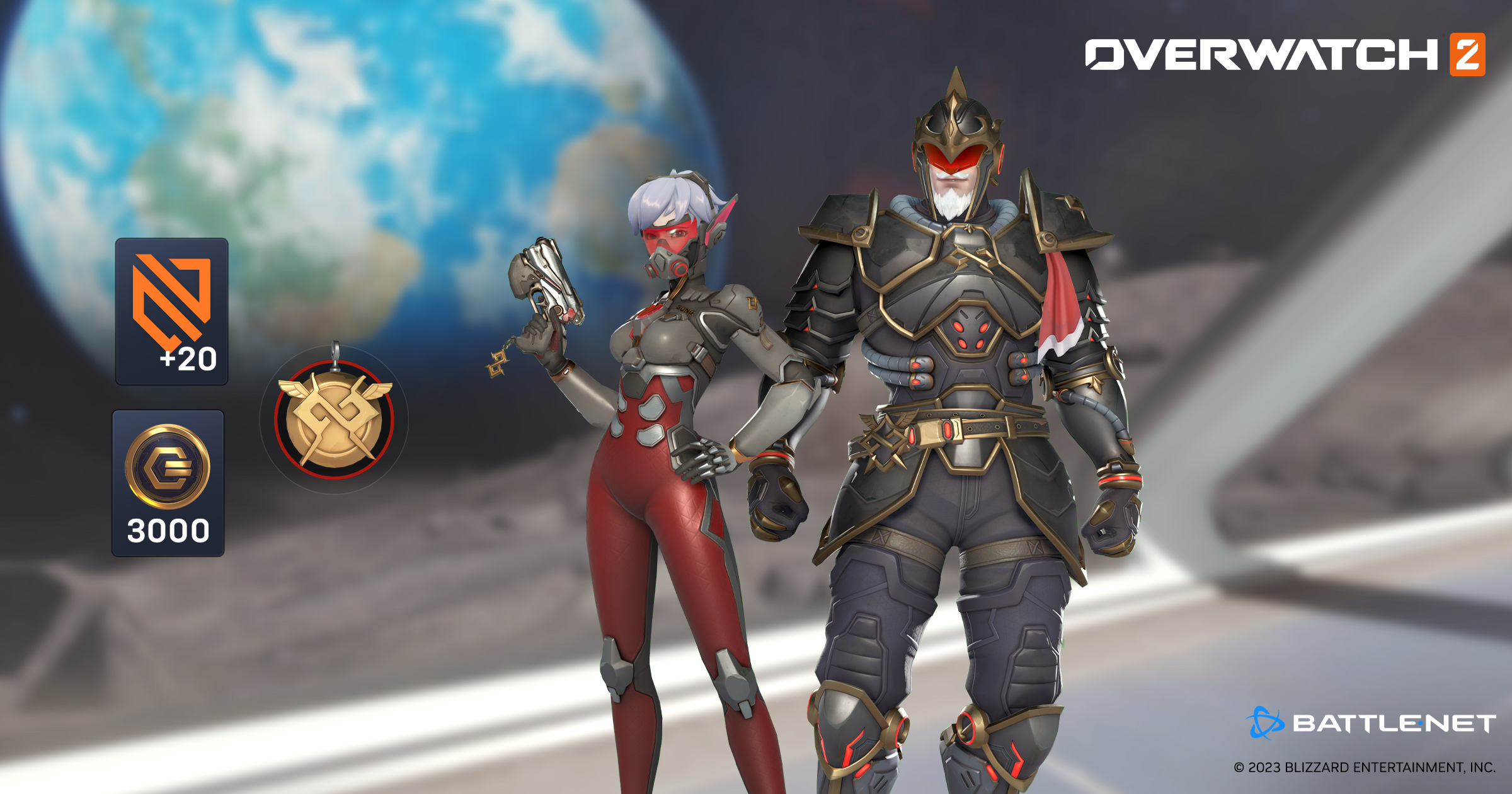 Using one of our participating GeForce RTX 40 Series GPUs, barriers to your success are eliminated, with actions occurring virtually without delay, and performance so high that you'll see the action at its best with maximum clarity.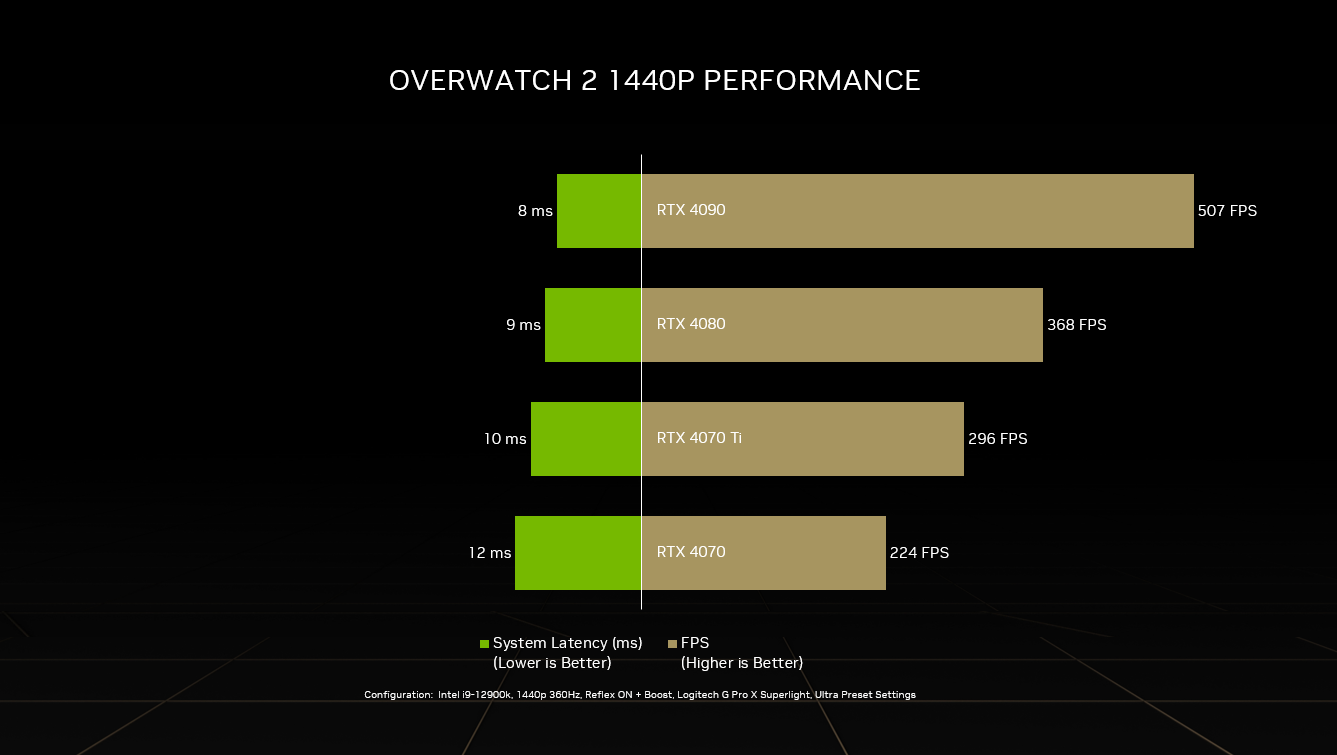 For all the details, head to our Overwatch 2 bundle announcement article.
Counter-Strike 2 Features NVIDIA Reflex
Valve has announced Counter-Strike 2, a graphical and technological update that'll upgrade Counter-Strike: Global Offensive to the Source 2 engine. The latest edition leverages newer graphics APIs for improved fidelity and responsiveness. NVIDIA is collaborating with Valve to ensure latency is at an absolute minimum with the addition of NVIDIA Reflex.
NVIDIA Reflex optimizes the render pipeline to reduce system side latency by up to 35%! This results in improved response times and minimizing peeker's advantage in online gameplay.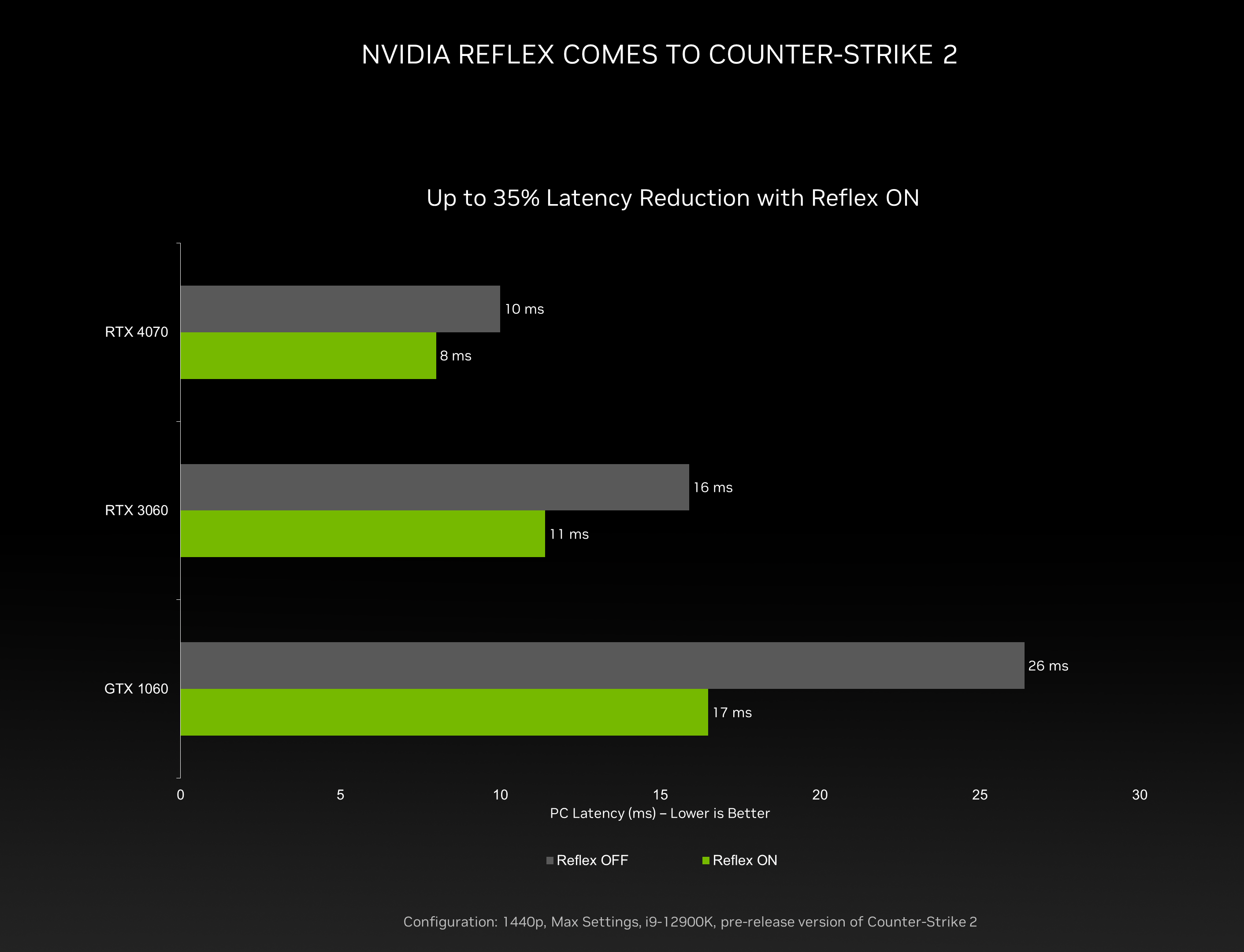 Stay locked and loaded for more information on Counter-Strike 2 and NVIDIA Reflex as we get closer to the game's launch.
RTX Remix Runtime Open Source Available Now
RTX Remix is a revolutionary modding tool used to enhance classic DirectX 8 and 9 games with path tracing, NVIDIA DLSS, AI-enhanced textures, and user created assets.
RTX Remix, part of the NVIDIA Studio suite of apps, is composed of two core components that work together to enable modders to remaster classic PC games: the RTX Remix creator toolkit, and a custom RTX Remix runtime.
The RTX Remix creator toolkit, built on NVIDIA Omniverse and used to develop Portal with RTX, allows modders to assign new assets and lights within their remastered scene and use AI tools to rebuild the look of any asset. The RTX Remix creator toolkit Early Access is coming soon.
The RTX Remix runtime captures a game scene, and replaces assets at playback while injecting RTX technology, such as path tracing, DLSS 3 and Reflex, into the game. Already, mod developers have been using the RTX Remix runtime from Portal With RTX to create experimental ray traced scenes in numerous classic games.
To further empower the mod development community to extend Remix's game compatibility and feature set, NVIDIA is releasing the RTX Remix runtime as open source on GitHub today.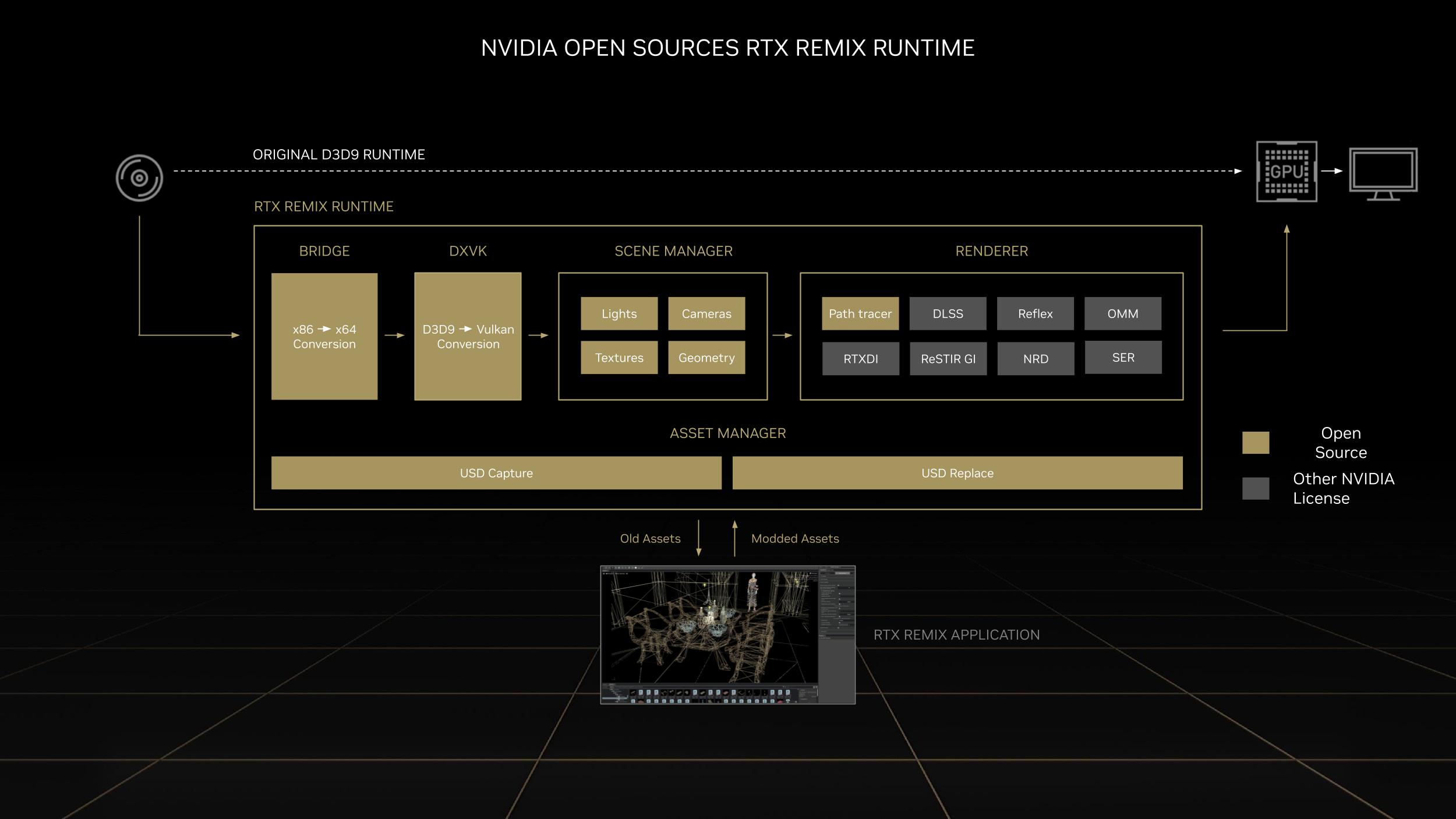 The RTX Remix runtime is open source with a permissive MIT license, which unlocks numerous possibilities to extend the feature set of the Remix runtime. A few examples of projects that advanced mod developers might tackle via source code access include making more of their favorite games compatible with Remix, modernizing the fluid simulation to render smoke and fire with realistic volumetrics, or incorporating virtual reality support into the renderer.
Get all the details about the open source release, and learn how to download and use it in our dedicated NVIDIA RTX Remix Runtime Open Source article.
Boost Live Streaming Video Quality With AV1
NVIDIA is partnering with YouTube and OBS to level-up streaming video quality in a big way. For the first time ever, streamers will be able to broadcast their content live with AV1 encoded video. The AV1 codec is up to 40% more efficient in data compression!
For broadcasters and viewers, this means watching higher fidelity video streams with a noticeable reduction in blocky compression artifacts commonly seen on live broadcasts. Best of all, with AV1, streamers can now broadcast at full 4K resolution and 60 frames per second, delivering a new level of richness and quality to their eager audience.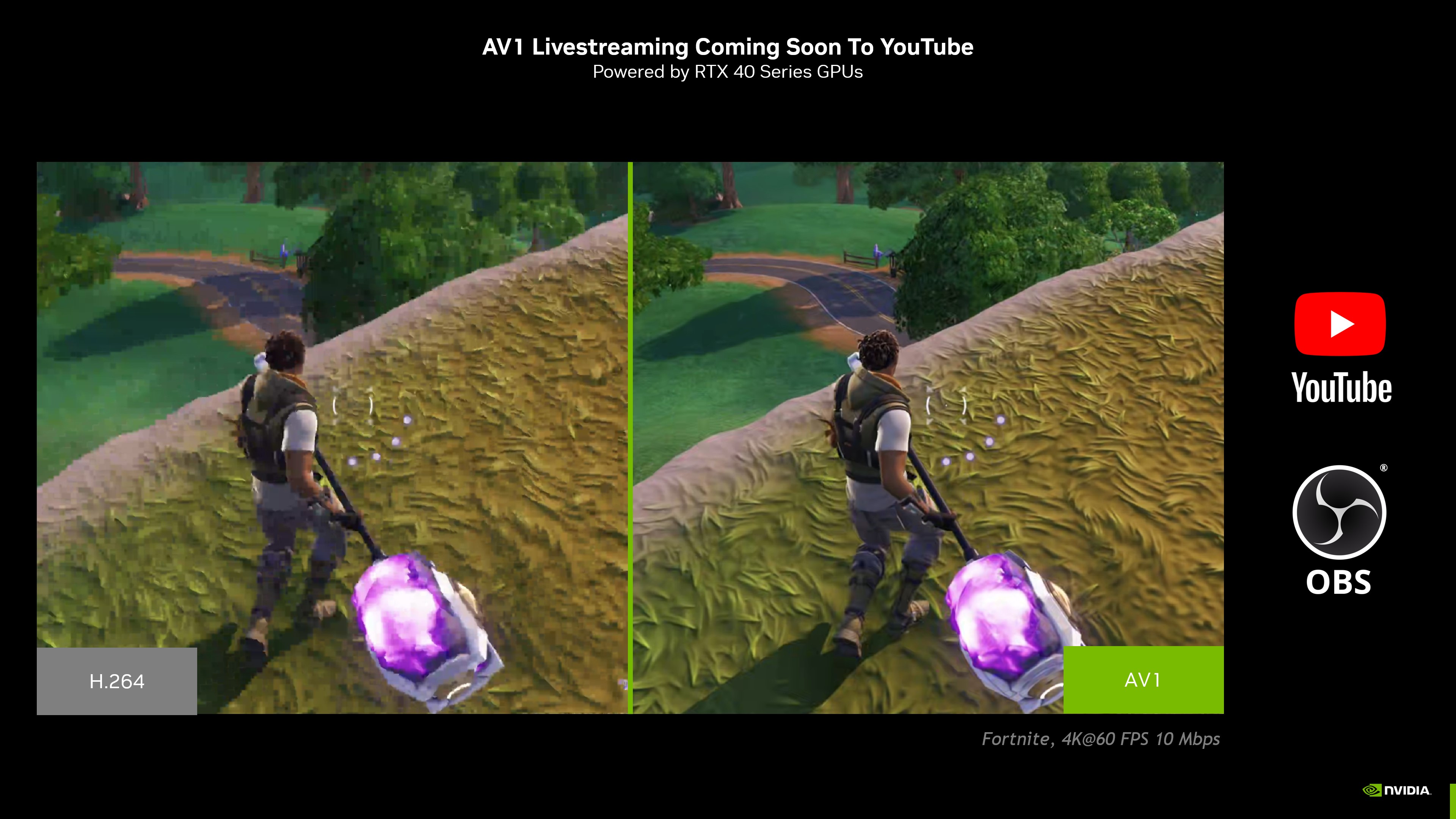 All GeForce RTX 40 Series GPUs, including the new GeForce RTX 4070, support hardware accelerated AV1 encoding. When released, OBS will let streamers and gamers use their GeForce RTX 40 Series GPU to encode their stream to AV1 and live stream directly to YouTube. Every viewer will see huge improvements in visual quality, even if they don't have AV1 compatible hardware. YouTube will transcode and stream video to deliver the best visual experience.
Now available in beta, AV1 support in OBS 29.1 and YouTube will be available in full release soon.
GeForce RTX 4070 Is Perfect For Streamers & Creators
The NVIDIA Studio platform enables creators, including livestreamers and video editors, to work faster and smarter with RTX acceleration and AI tools. It's a platform for content creators that supercharges 110 creative apps with RTX GPUs, provides lasting stability with NVIDIA Studio Drivers, and includes a powerful suite of Studio apps, such as NVIDIA Omniverse, Canvas, Broadcast and RTX Remix.
AV1 is also enabled in the top video editing apps, including Adobe Premiere Pro (via the Voukoder plugin), DaVinci Resolve, and Jianying (the top video editing app in China). Along with the improved quality that AV1 delivers, the GeForce RTX 4070 features an 8th Generation NVIDIA Encoder, enabling up to 20% faster video export speed.
NVIDIA Broadcast, part of the NVIDIA Studio suite, also provides livestreamers the ability to transform any room into a home studio. The latest 1.4 update brings two new effects, Eye Contact and Vignette to enhance any livestream for RTX 4070 GPU owners.
3D creators see up to 40% increase in performance compared to the GeForce RTX 3070 Ti in the most popular apps — like Blender, Unity, Unreal Engine and Chaos V-Ray. They also unlock creative freedom by unifying 3D assets, libraries, and tools in NVIDIA Omniverse.

And all creators can benefit from the new 4th generation Tensor Cores for AI tools, providing up to 2X increased performance compared to last gen.
The GeForce RTX 4070 Supports Our New RTX Video Super Resolution Technology
Last month saw the launch of RTX Video Super Resolution (RTX VSR), a new feature that combines the power of NVIDIA Tensor cores with state of the art AI image processing techniques to improve the quality of streamed 1080p video on your higher resolution display. RTX VSR intelligently sharpens and enhances features and edges while removing distracting compression artifacts on most video played in Chrome or Edge, whether it's your favorite streamer on twitch.tv or YouTube, or subscription content from Netflix, Disney+, or Hulu. Learn how to enable it here.
What's even more exciting is that VLC, the #1 rated video app on PC, adds support for RTX Video Super Resolution. Go to the VLC site and find the VLC with RTX Video Super Resolution download link and start AI upscaling videos from your personal library. Give your home video library a 4K facelift with VLC and RTX Video Super Resolution.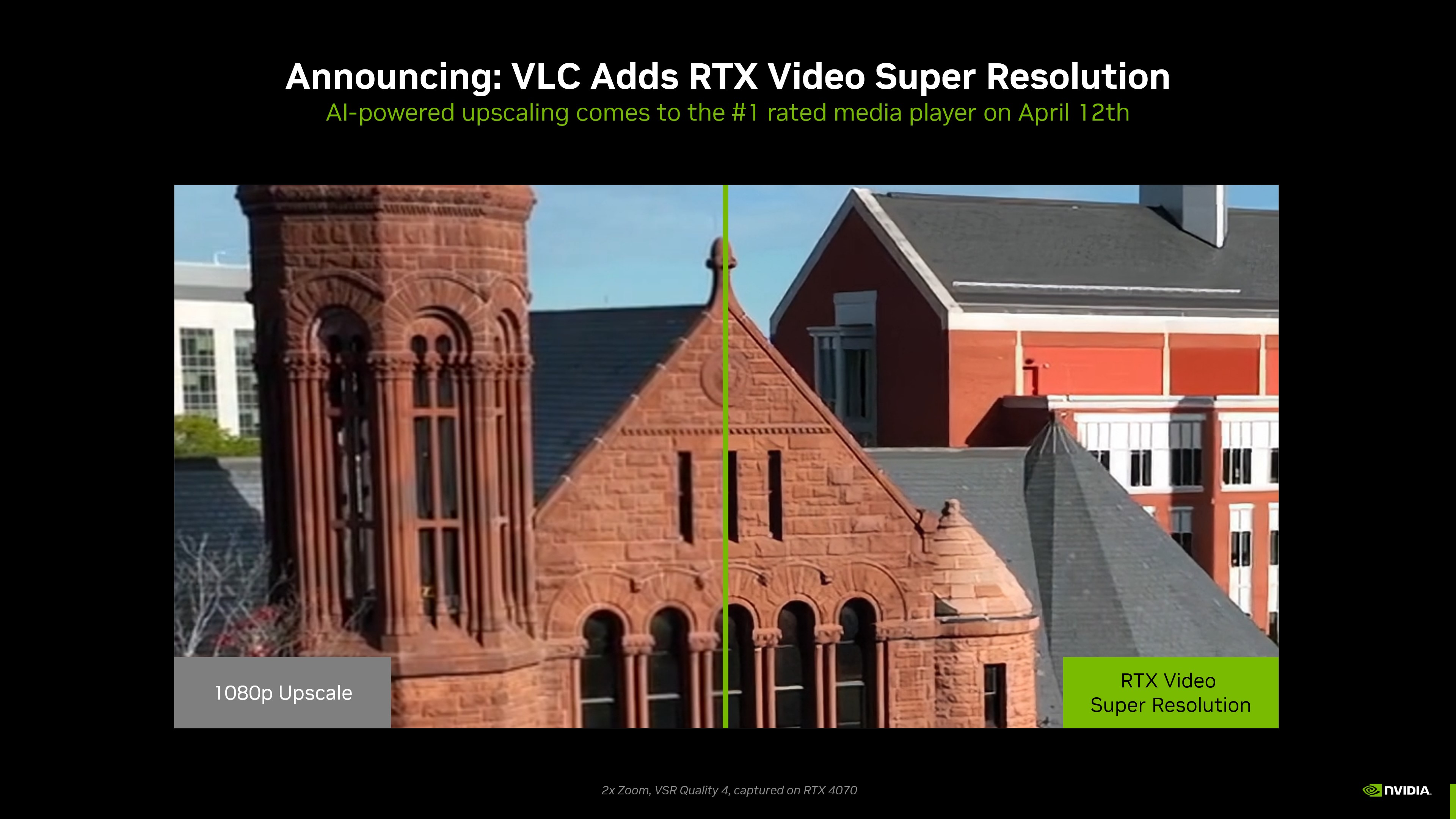 GeForce RTX 4070 Available April 13th
With the leading ray tracing performance of the Ada architecture, NVIDIA DLSS 3, Reflex, and a ton of other cutting edge tech, the GeForce RTX 4070 is a great max settings 1440p gaming GPU, and a perfect entry point GPU for creators, video editors, and STEM students.
If you want to add the GeForce RTX 4070 to your system, or want a pre-built with the beyond fast graphics card, head over to our Product Finder from April 13 at 6 a.m. Pacific Time to see what's available in your region.
The GeForce RTX 4070 will be available with our in-house Founders Edition design from select retailers, as well as from top add-in card providers such as ASUS, Colorful, Gainward, GALAX, GIGABYTE, INNO3D, KFA2, MSI, Palit, PNY and ZOTAC, and in desktops from leading system builders worldwide.
To learn more about all of the RTX-enhanced games and apps that you can play and use on your new GeForce RTX 4070, head to GeForce.com.