Each week, we're bringing you news of the latest DLSS and ray tracing integrations in games and apps. Last week, The Lord of the Rings: Gollum™ launched with DLSS 3 and ray tracing, and more DLSS 2 games were released.
This week, at COMPUTEX 2023, we've announced that Ash Echoes, Honor of Kings: World, and Legend of Ymir will all launch with DLSS 3, and Party Animals with DLSS 2. And we're celebrating the release of Diablo IV with DLSS 3, and System Shock with DLSS 2.
Read on for all the details.
NVIDIA DLSS Now Available In Over 300 Released Games & Apps
NVIDIA DLSS uses AI and GeForce RTX Tensor Cores to boost frame rates while maintaining great image quality. With DLSS 3, AI-powered frame generation creates new, high-quality frames for smoother gameplay. Combined with our Super Resolution technology, DLSS 3 can render seven out of every eight pixels in a scene with AI. Adoption continues to accelerate and NVIDIA DLSS is now delivering AI-accelerated performance in over 300 games and applications.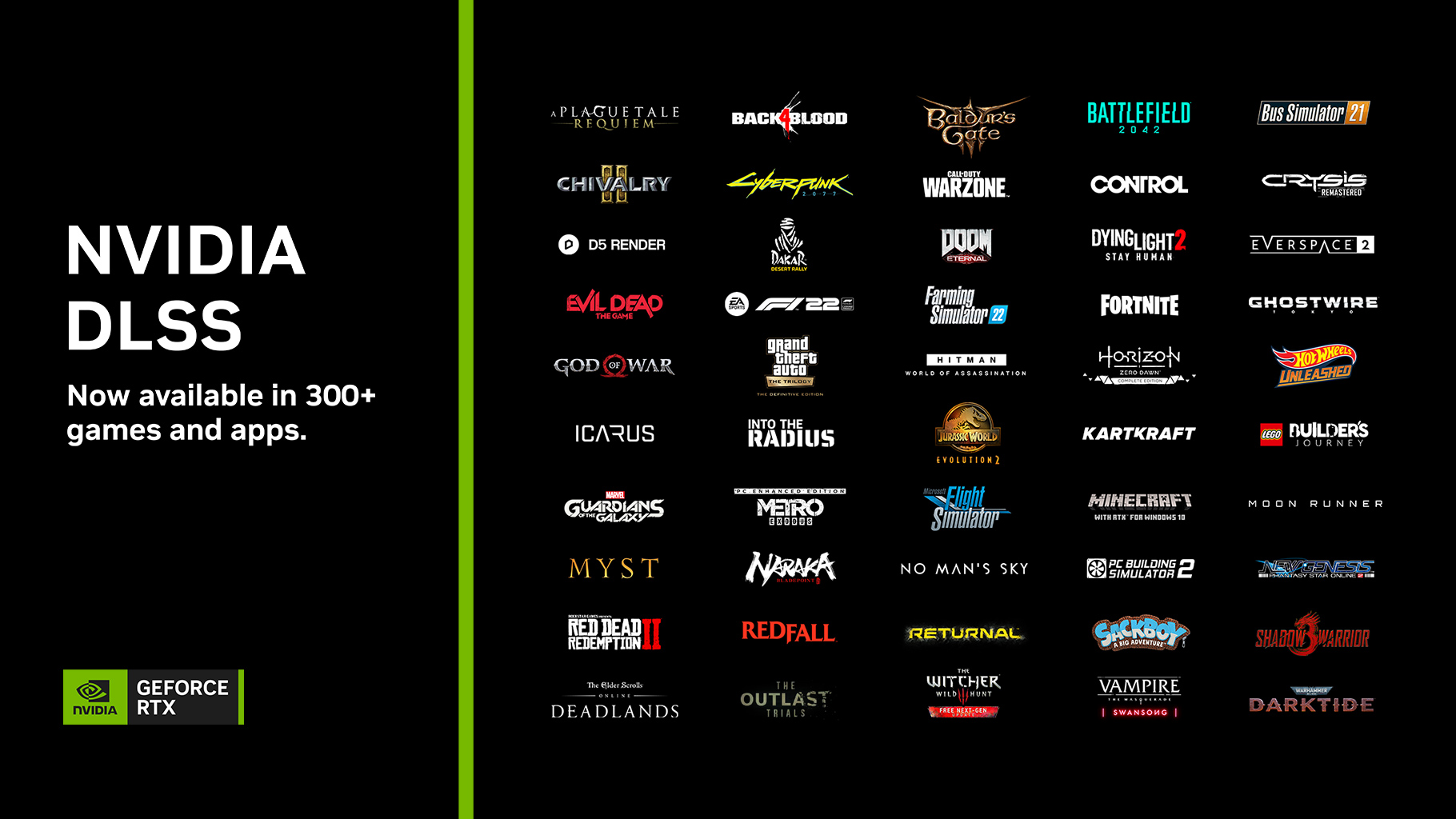 Examine the complete list of RTX games and apps here
To discover which games and apps are adding DLSS next, return to GeForce.com each week.
Diablo IV Available This Week With NVIDIA DLSS 3
The demon Lilith and the angel Inarius united to create the world of Sanctuary in their desire to escape the Eternal Conflict between the High Heavens and Burning Hells. But now, decades after the events of Diablo® III: Reaper of Souls®, they are bitter enemies who have resorted to war against each other with their respective followers. The lands of Sanctuary have become plagued with ceaseless demons, and only the most steadfast of heroes will be able to hold strong in the face of darkness in Diablo® IV.
Diablo IV officially launches June 6th, though Digital Deluxe and Ultimate Edition buyers can begin playing up to four days early*. To give GeForce gamers the definitive PC experience, Blizzard and NVIDIA have partnered to bring our game-changing technologies to Diablo IV.
GeForce RTX 40 Series gamers can max out frame rates with NVIDIA DLSS 3 Frame Generation, and other GeForce RTX users can accelerate performance with DLSS 2's critically acclaimed Super Resolution technology.
In Diablo IV, DLSS 3 helps GeForce RTX 40 Series gamers multiply performance at 4K by an average of 2.5X. In our action-filled benchmark, performance on the GeForce RTX 4090 increased by 2.4X, enabling us to play at 229 frames per second with every single setting maxed out. The GeForce RTX 4080 hit 177 FPS, the GeForce RTX 4070 Ti ran Diablo IV at 139 FPS, and the GeForce RTX 4070 113 FPS.
At 2560x1440, DLSS 3 enables the GeForce RTX 4070 to play Diablo IV at over 170 frames per second, with frame rates hitting 335 FPS on the GeForce RTX 4090. And at 1920x1080 all GeForce RTX 40 Series graphics cards can play at over 200 FPS.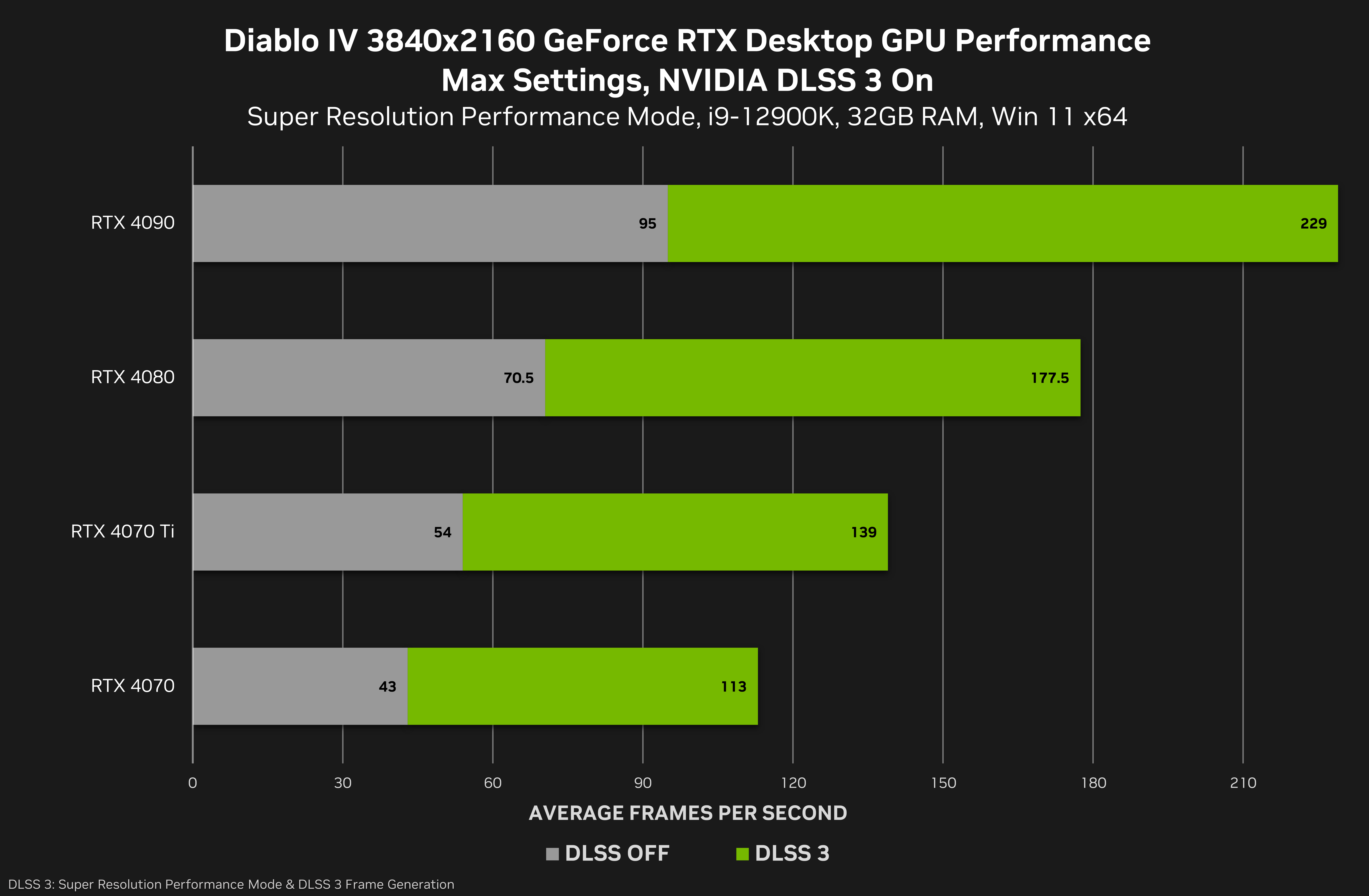 On GeForce RTX 40 Series laptops, DLSS 3 improves performance by an average of 1.8X at 2560x1440, enabling all laptop GPUs to play Diablo IV at over 80 FPS with max settings enabled. At 1080p, DLSS 3 helps all laptop GPUs to run at over 120 FPS, with the power house GeForce RTX 4090 Laptop GPU topping 280 FPS.
GeForce gamers can improve responsiveness in Diablo IV by enabling NVIDIA Reflex. NVIDIA Reflex is a must-have in games, reducing system latency so your actions occur quicker, giving you a competitive edge. Reflex is available in many single-player games and 9 out of 10 of top competitive shooters, is used by over 50 million players each month, and is activated by 90% of GeForce gamers in the 70+ supported titles.
Using Reflex, system latency is reduced by up to 67% in Diablo IV, helping you vanquish the forces of evil, delivering responsiveness in intense battles, helping you stay alive in Hardcore mode, and providing you the ultimate experience against human foes in PvP.
Additionally, we can confirm that ray tracing will come to Diablo IV at a later date, enhancing Sanctuary's detailed world, and making battles even more spectacular.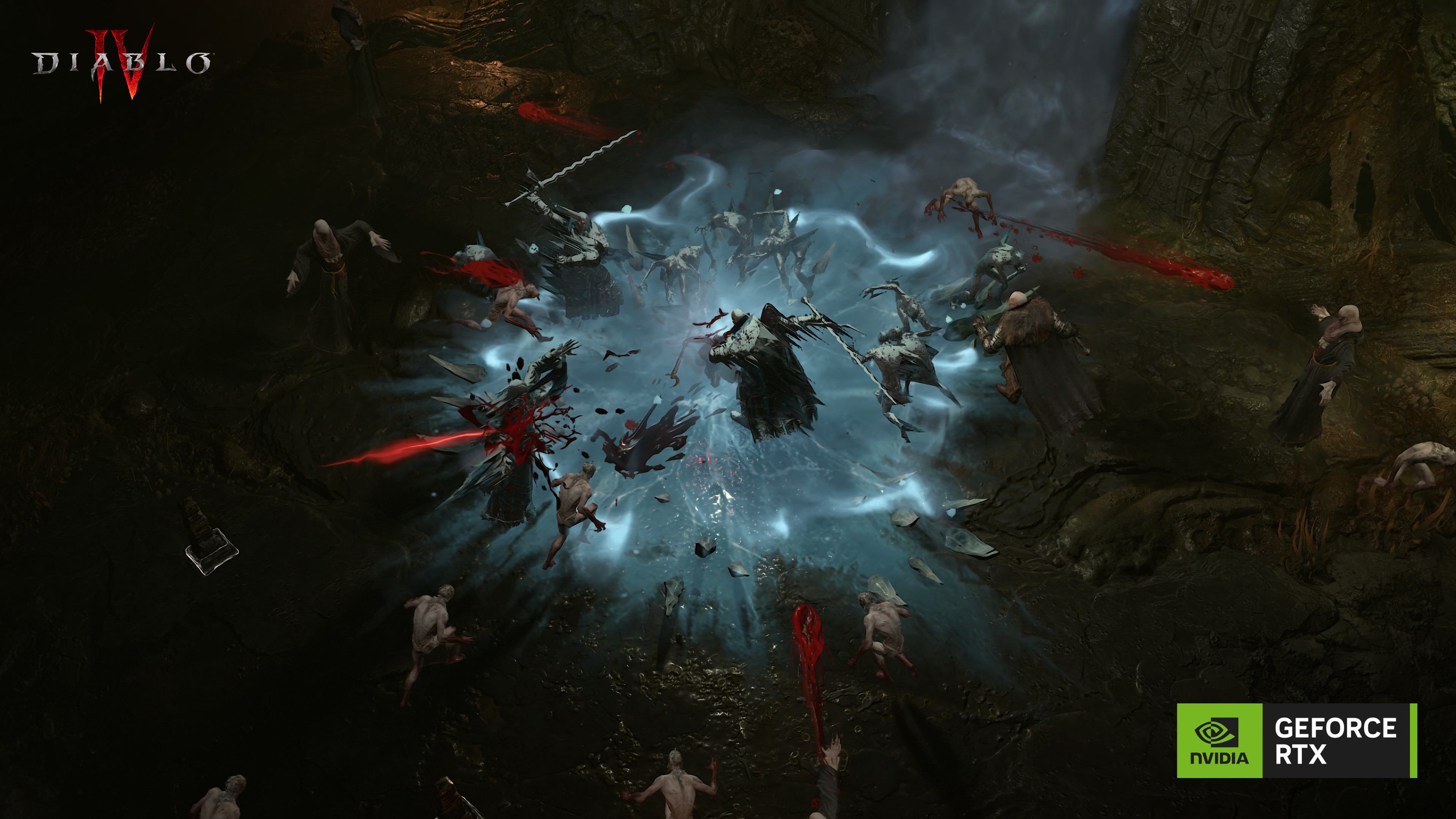 If you intend to upgrade your system for Diablo IV, act fast: the Diablo IV GeForce RTX 40 Series Bundle is only available until June 13th. Buyers of eligible GeForce RTX 4070, 4070 Ti, 4080 and 4090 graphics cards and desktop PCs from select retailers and etailers will receive a Battle.net copy of Diablo IV and four cosmetic items. Learn more here.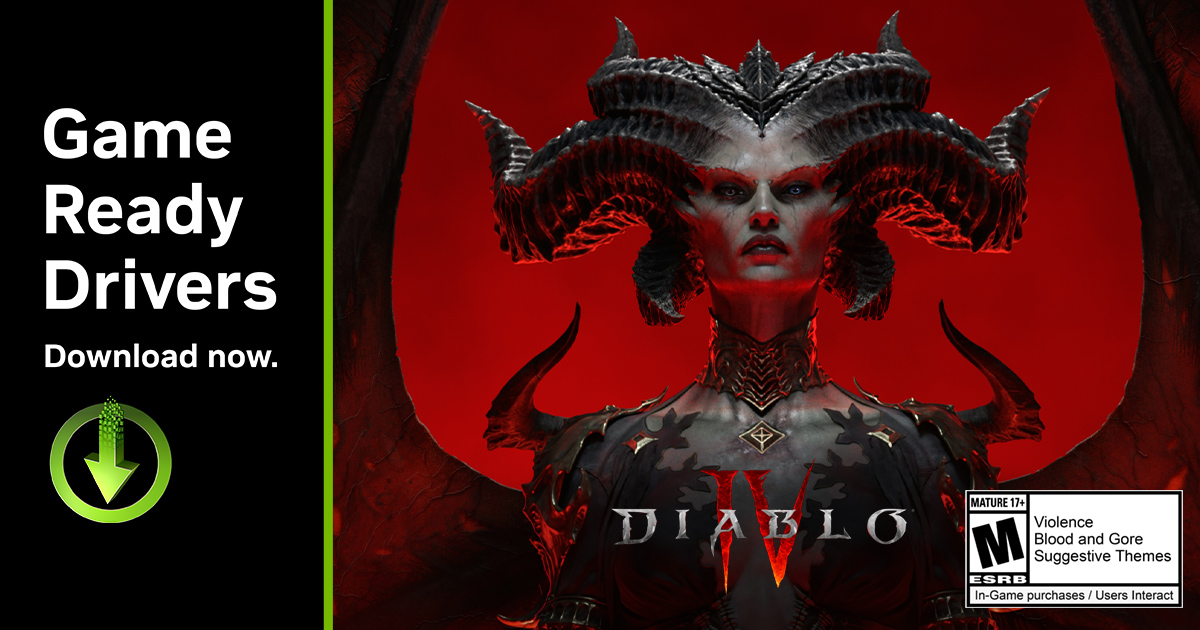 The Journey Of RTX With Cyberpunk 2077
Full ray tracing, otherwise known as path tracing, is currently the most computationally demanding workload in real-time graphics rendering. To make it a reality in today's detailed games, like Cyberpunk 2077, new software innovations were developed by NVIDIA.
In a new video, we'll demonstrate how RTX Direct Illumination, RTX Global Illumination, NVIDIA Real-Time Denoisers, Shader Execution Reordering, and DLSS were all used to make the technology preview of Cyberpunk 2077's Ray Tracing: Overdrive Mode possible, and how they combine to deliver fast, enjoyable frame rates on current-generation GPUs.
Honor of Kings: World Will Launch With DLSS 3 & Ray Tracing
Honor of Kings: World is a new, upcoming open-world action RPG developed by Tencent's TiMi Studio Group. In this world, you'll encounter your acquainted heroes and immerse yourself in unique adventures across wondrous landscapes as the protagonist.
At launch, GeForce RTX GPU performance will be accelerated thanks to the inclusion of NVIDIA DLSS 3, and image quality will be enhanced with immersive ray-traced effects. Get an exclusive first look in our new RTX ON gameplay trailer:
Ash Echoes To Launch With DLSS 3 & Ray Tracing
Ash Echoes is an anime-style, isometric real-time tactics game with a wide array of characters to collect, rank up, and incorporate into your squads. Formulate your strategy, unleash your squad on enemies, and pick the opportune time to activate each characters' devastating abilities.
At launch, Ash Echoes will enhance your experience with NVIDIA DLSS 3 and ray-traced effects. Get an exclusive first look in our new RTX ON gameplay trailer:
Legend of Ymir Launching With DLSS 3 & Ray Tracing
WEMADE's Legend of Ymir is a massive multiplayer online role-playing game reinterpretation of North European Norse mythology. Players will set out to save the realm of Ymir from Ragnarok, the world ending apocalypse.
Created using Unreal Engine 5, Legend of Ymir will push the boundaries of what's possible in MMORPGs with Nanite geometry, hardware-accelerated Lumen lighting, ray-traced reflections, and stunningly rich textures. All of which will be accelerated by NVIDIA DLSS 3 at launch.
Get an exclusive first look at Legends of Ymir with RTX ON in our new gameplay trailer:
Party Animals Will Launch With DLSS 2 & Reflex
Battle with your friends as puppies, kittens and other cuddly creatures in Party Animals, developed by Recreate Games. Engage in paw-to-paw combat with your friends online. Interact with the world using a realistic physics engine and take advantage of interactive elements in each unique level to emerge victorious in every brawl.
Upon the release of Party Animals, GeForce RTX gamers can boost performance with DLSS 2 and reduce system latency with NVIDIA Reflex, giving them a competitive edge over other critters with less responsive systems.
Take a look at the new gameplay trailer for a glimpse of Party Animals' paw-some action:
System Shock Out Today, Enhanced With DLSS 2
1994's System Shock is one of the most influential 'immersive sim' first person games of all time, leading to the creation of popular franchises such as Deus Ex, Prey, Thief and BioShock. Set in a space station governed by SHODAN, a sinister AI, System Shock was an amazing, transformative experience.
Nightdive Studios has remade the entirety of System Shock in Unreal Engine 4, so a new generation of players can try to topple SHODAN - doing so on a GeForce RTX GPU unlocks support for DLSS 2, which can more than double your frame rate at 4K max settings.
System Shock launches today, so you won't have long to wait to experience one of gaming's classic titles in an entirely new light.
Check Back Next Week For More
As you can see, there are even more DLSS integrations dropping into the newest blockbusters and latest indie games. Check back next week for a rundown of the next DLSS games, and head here to see the complete list of over 300 DLSS-enhanced games and apps.
*Up to 4 days based on estimated access; actual play time subject to possible outages and applicable time zone differences.