GeForce Garage: How to Build a Solid Gaming Rig for YouTube & Twitch
GeForce Garage
,
Videos
,
Guides
Here in the GeForce Garage, we know a thing or two about content creation. It takes dedication, creativity and reliable, efficient hardware. Amazingly, many YouTubers and Twitch streamers get by using only a laptop. It's true, and shows the amazing commitment content creators possess all in an effort to better inform us, the hungry gaming community.
Joshua " Jovenshire " Ovenshire is among these tireless and undaunted streamers, creating hilarious and engaging content for both Smosh Games and his own YouTube channel, aptly titled " Jovenshire " and it's done all from his laptop. Still, we felt Joven deserved better and wanted to see what he could do with some real GeForce power. So the GeForce Garage is building him a blazing fast PC that can churn out clean and smooth gameplay as well as reduce rendering times and speed up his video editing.
To make it all happen we have enlisted Jorge Percival from CybertronPCs . For over a decade, Jorge has worked with some of the biggest names is modding and boutique PCs. Let's see what components Jorge has planned for Joven's Solid Gaming Rig for YouTube & Twitch!
PC Specs
Component

Product

Price*

Graphics Card

2x GeForce GTX 1080 with HB SLI Bridge

CPU

Intel i7-6800K 3.40Ghz

Motherboard

ASUS Strix X99 Gaming

RAM

Corsair Dominator 32GB (4 x 8GB) DDR4 3000MHz

Storage

Sandisk 960GB SSD

Storage

Seagate Barracuda 5TB HDD

PSU

EVGA SuperNOVA 1300W G2

Chassis

In Win 909

Total Price
*Please note: All prices are those at the time of writing.
Graphics Cards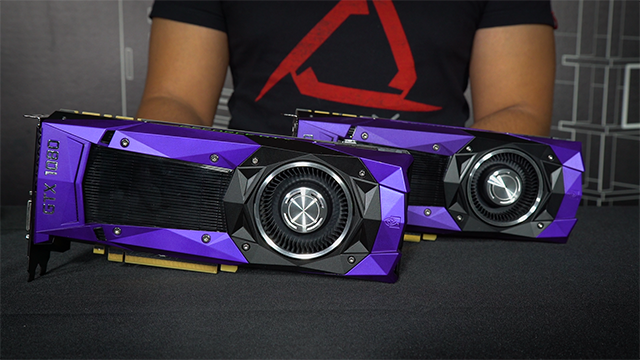 2-Way SLI GeForce 1080s
Our GTX 1080 video card is based on NVIDIA's Pascal architecture with a hardcore gamer's mandate for incredible performance while maxing out in-game settings
To ensure Joven has the graphic crunching muscle to tackle even the most demanding games, we are anointing his new rig with a pair of GeForce GTX 1080 video cards for a 2-way SLI setup. The 1080s feature a base clock of 1607MHz which boosts to a beastly 1733MHz. Moreover, a pair of 1080s gives Joven 5120 CUDA cores total (2560 cores each), which will significantly reduce his rendering and processing times for his created videos. The GTX 1080 holds an 8GB framebuffer of GDDR5X memory, which can reach speeds of 10Gbps. It's that sizeable memory buffer that makes 4K gaming and VR shine on the 1080.
The GTX 1080 also leaves Joven with plenty of display options with connections for DisplayPort 1.4, HDMI 2.0b and DL-DVI. On the software side of things, the 1080 is supported by a battalion of cutting-edge software to enhance his gaming and game capturing needs, including NVIDIA GameStream , Ansel , G-SYNC , DSR , MFAA and more. Most of these are found within GeForce Experience, our companion software for all our GTX video cards. Within are tools for capturing and sharing gameplay, taking screenshots and even streaming direct to Twitch, YouTube or Facebook.
CPU
i7-6800K 3.4 GHz
Born form Intel's Broadwell-E line of processor, an i7-6800K will make most gaming enthusiasts NVIDIA-green with envy. This is a 6-core processor with 12 threads that holds a base clock of 3.4GHz, which boosts to 3.8GHz using Intel's Turbo Boost 2.0 and Hyper-Threading technology.
Six cores coupled with all the system memory we have planned will allow Joven to run multiple programs without hampering system speed or performance. Plus the 6800K is a proven overclocker, lending itself to significant gains using stock cooling with more substantial performance allowances when higher performing exotic cooling is used.
Motherboard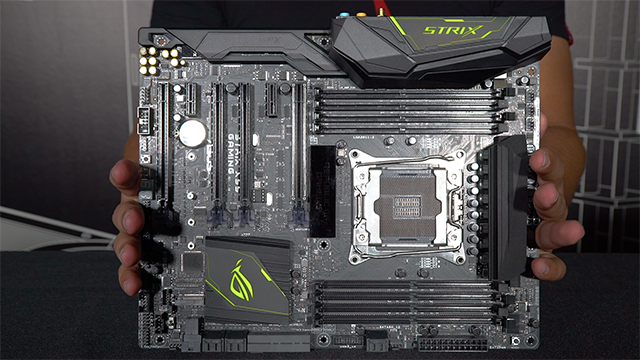 ASUS Strix x99 Gaming
Overclocking requires a strong platform, which is why our motherboard of choice is no slouch. From camp Asus the ROG Strix X99 Gaming motherboard is weighted down with features and next-gen components. Key among them is the company's patented OC Socket, which uses extra pins on the 2011-v3 socket to access more voltage to the CPU for enhanced stability when overclocking.
Additionally, this board sports 8x DIMM slots to support a staggering 128GB of DDR4 quad-channel system memory (16GB DIMMs per slot) as well as a multitude of storage options such as 8x SATA III, 1 SATA Express, 1x M.2. On this board, Joven is also setup with support for 3 x PCIe 3.0/2.0 x16 slots, 1x PCIe 2.0 x16 slot, and 2 x PCIe 2.0 x1 slots. USB options include 1x USB 3.1 Type-C port and 1x USB 3.1 Type-A port for blistering 10Gb/s. Included on the board are 8x USB 3.0 ports and support for a ThunderboltEX2 add-in card.
RAM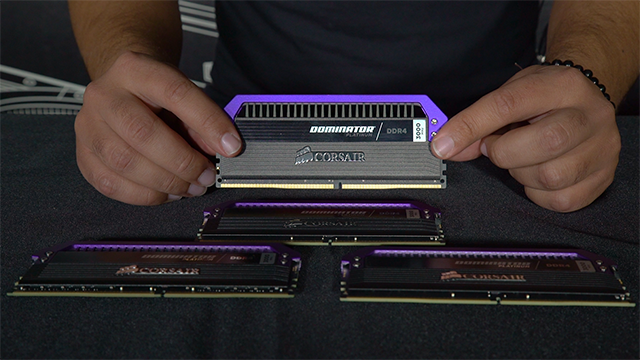 Corsair Dominator Platinum 4x8 32GB 3000MHz
Corsair has designed these kits specifically for the X99 platform – rigorously testing them across numerous X99 series motherboards on the market to leverage DDR4's enhanced clock speed, bandwidth and larger capacity over previous DDR3 memory solutions. By installing a hefty 32GB Jorge provides Joven with enough capacity to edit videos with ease. The kit also features a number of system monitoring options through the included Corsair Link software support.
Storage
Sandisk 960 Ultra II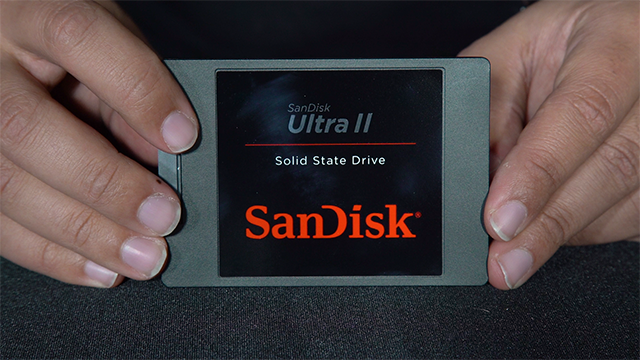 As a content creator, Joven generates a high volume of large capacity files. To speed things up he's we're installing a couple solutions to address both the requirements for speed and high capacity storage.
The Sandisk 960 Ultra II SSD is perfect for Joven's speed requirements, with read and write speeds ringing in at 550MBps each thereby slashing load times in games and his content creation programs. Jorge has also added a 5TB Seagate physical platter HDD to provide that much needed deep well of storage space for all the content Joven will crank out.
PSU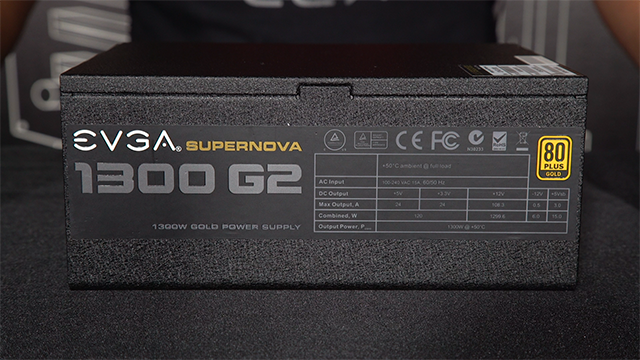 EVGA G2 1300W
Powering it all, we have an EVGA SuperNOVA 1300 G2 powers supply, with its continuous power delivery at 90% efficiency. Jorge will use only the necessary cables he requires, thanks to the PSU's modular design, keeping a Spartan and arid design within. Moreover, the unit is made with the best components for long-lasting reliability and stable overclocking including over and under voltage and current protection and for added confidence it's all backed by a 10yr EVGA warranty.
Cooler
Asetek 591LX 120mm
A PC of this caliber, governed by Joven's work ethic, is sure to get toasty inside. To keep the CPU adequately cooled and aid with interior airflow and ventilation, we are equipping the rig with a 591LX Ultimate Liquid CPU Cooler. Its radiator is thin and accommodating at 27mm. Yet it is also very long and employs 3x 120mm fans for substantial cooling. Being an AIO unit, Joven will not have to worry about cleaning or refilling the sealed loop.
Chassis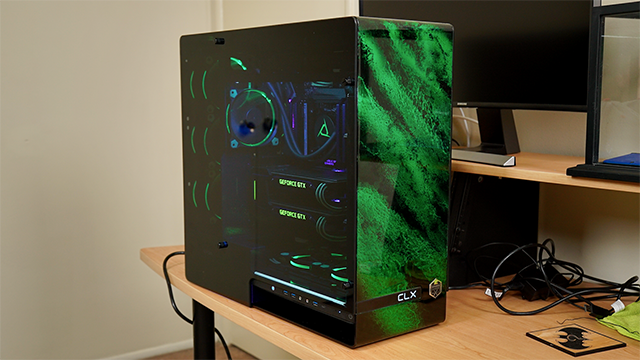 InWin 909
This E-ATX chassis is one of the most elegant and stylishly designed enclosures on the market. It's spacious with plenty of room for Jorge to dress it down with our selected components. The aluminum shell was finished with a custom paint job and features smooth contours with a cutout back panel for strategic cable management of the rear I/O cables.
Some of the more cutting-edge features include a reversible USB Type-C port, connecting to our motherboard header via the included 19-pin connector. The case offers up a magnetic aluminum dust filter for the front intake fan, for easy installation and removal. The tempered glass side panel is made from tinted glass and reveals our awesome component configuration inside.
Conclusion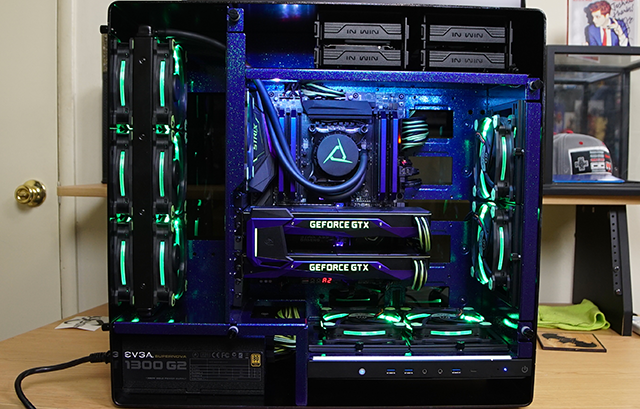 This is the end of the line for this build, which marks a new beginning for Joshua and his Solid Gaming Rig for YouTube & Twitch. Mr. Jovenshire can now capture high resolution video, quickly chop it up to his standards and game at an enthusiast level all on a single PC armed with NVIDIA Pascal GPUs.