Our latest GeForce Game Ready driver brings you day-one support for Mortal Shell's RTX update, which introduces NVIDIA DLSS, boosting performance by up to 130% at 4K.
Also included is support for 6 new G-SYNC Compatible displays, a new NVIDIA Reflex feature in Valorant, and support for AI-powered NVIDIA Noise Removal in OBS Studio. To download and install, simply fire up GeForce Experience and click the "Drivers" tab. And to learn more about everything included, keep reading.
Game Ready For Mortal Shell's NVIDIA DLSS and Ray Tracing Update
Mortal Shell, a single-player Souls-like action-RPG from Cold Symmetry, was developed by just 15 people and first launched last August to critical acclaim. Now, the devs are back with a next-gen RTX game update, launching April 15th, which adds ray-traced shadows, and NVIDIA DLSS for GeForce RTX players.
By activating NVIDIA DLSS in Options --> Graphics, performance rockets by up to 130% at 4K: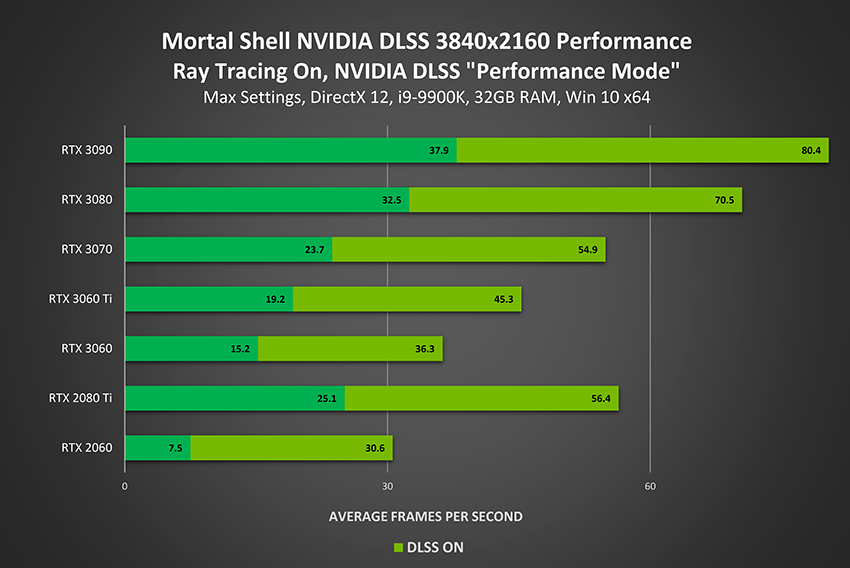 To see Mortal Shell's new ray tracing and NVIDIA DLSS technology in action, check out our DLSS video below:
Game Ready For Valorant's NVIDIA Reflex Update
NVIDIA Reflex reduces system latency in over a dozen games, including 7 of the top 10 competitive shooters. When enabled, responsiveness improves on several generations of GeForce GTX and RTX GPUs; shots fire faster, you can react faster to enemy attacks, and peeker's advantage is minimized, giving you a greater chance of victory in competitive games.
In each NVIDIA Reflex title, users can optionally enable "Boost Mode" to improve Reflex's effectiveness in CPU-bound scenarios, increasing GPU clock speeds, allowing the GPU to submit frames to the display faster and further reduce latency.
With a new NVIDIA Reflex SDK update, Boost Mode further reduces system latency in certain CPU-bound scenarios where the render submission thread is the limiting factor. These types of CPU bound scenarios can occur when there are many objects to render on the screen at once.
Games already supporting NVIDIA Reflex have to be updated to introduce this feature, and following its introduction in Fortnite last week, Valorant has now incorporated the Boost Mode upgrade. When enabled, gamers in CPU bound scenarios can benefit from up to a 16% reduction in system latency, further improving responsiveness:
Download and install our new Game Ready Driver and the latest game updates to use this new Boost Mode enhancement. And learn more about NVIDIA Reflex here.
NVIDIA Broadcast Noise Reduction Now Built-In To OBS
Open Broadcaster Software (OBS) is the most popular broadcasting tool for streamers, giving them full control of their streams with a massive suite of powerful features, for free. And NVIDIA Broadcast is an essential companion app, eliminating background noise, removing backdrops without the need for a physical green screen, and keeping the streamer in frame with automatic tracking.
Now, OBS has incorporated NVIDIA Broadcast's Noise Removal feature natively into their own app, enabling all OBS GeForce RTX users to automatically eliminate loud keyboard typing, annoying microphone static, and just about any other unwanted noise with the touch of a button.
You can start using this feature with the new beta version of OBS Studio 27, by downloading and installing the NVIDIA Broadcast Audio Effects SDK, our new Game Ready Driver, and the release client for OBS Studio 27. Or you can wait for OBS Studio's full release, coming soon.
To use the new feature, open OBS, right click on your audio source in the Audio Mixer, select "Filters", click on the "+" on the lower left of the new Filters window, pick the "Noise Suppression" filter, enter a name, click on the new filter in the list, expand the "Method" dropdown, select "NVIDIA Noise Removal", tweak the intensity based on how loud your background noises are, then close the Filters window. NVIDIA Noise Removal is now active.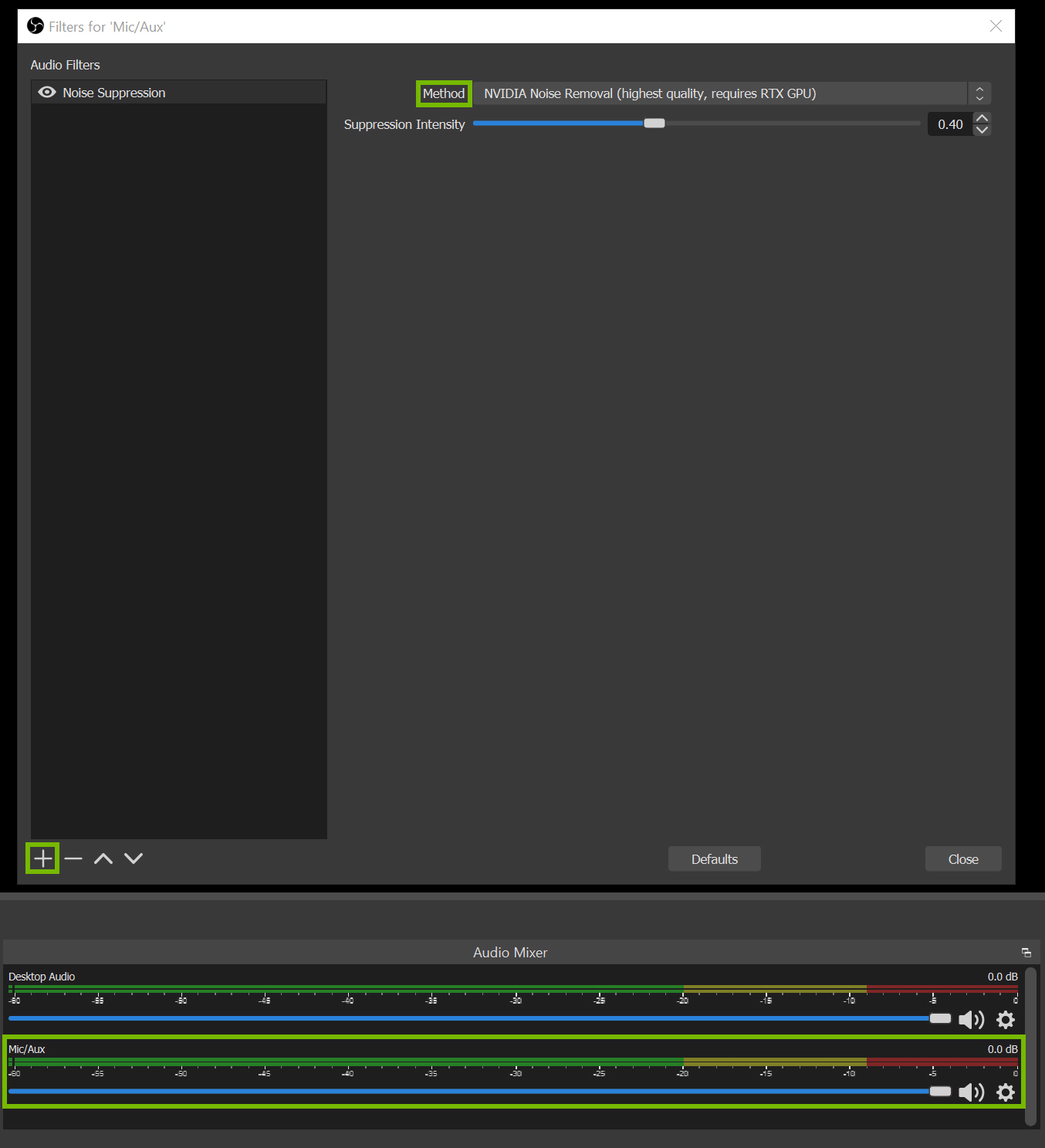 Our AI-powered Broadcast and Augmented Reality technologies are also available in Notch Builder, SteamFX, VoiceFX and XSplit Broadcaster. And it's now possible to add these technologies to virtual collaboration and content creation apps with the release of NVIDIA Maxine, a new software development kit. Learn more here.
NVIDIA GPU Technology Conference Introduces New Tools and SDKs For Game Developers
Software Development Kits (SDKs) and ready-made tools enable game developers to quickly and easily introduce new technologies and features to their games, giving players better graphics, faster performance, and superior experiences.
Most recently, NVIDIA brought a DLSS plugin to Unreal Engine 4, enabling devs to add our performance boosting tech with less than a day's work, and we've just announced that DLSS is coming to Unity, too.
In fact, if you head on over to our Developer portal, you'll find hundreds of SDKs, tools and solutions for various aspects of development, and at our recent GPU Technology Conference (GTC) a whole load more were announced.
Each helps developers make better games, and saves them precious time and money. Highlights include RTX Direct Illumination, to add millions of dynamic lights to environments with ease, RTX Global Illumination, to calculate and add realistic bounced indirect lighting, and NVIDIA Omniverse, a RTX-accelerated simulation and collaboration platform for 3D content creators, currently in open beta.
For a complete rundown of everything, check out our developer blog. And stay tuned to GeForce.com to hear about games that utilize and incorporate these powerful features, giving GeForce gamers the definitive experience.
Support For Newly Validated G-SYNC Compatible Displays
Our newest Game Ready Driver driver also adds support for 6 new G-SYNC Compatible displays, including 2021 LG TVs, which deliver a baseline Variable Refresh Rate (VRR) experience that makes your gaming smoother and more enjoyable:
| | | | | | | |
| --- | --- | --- | --- | --- | --- | --- |
| MANUFACTURER | MODEL | HDR | SIZE | LCD Type | Resolution | VRR Range |
| LG | 27GP950 | Yes | 27" | IPS | 3840x2160 (4K) | 60-144Hz |
| LG | 2021 B1 4K Series | Yes | 77"/ 65"/ 55" | OLED | 3840x2160 (4K) | 40-120Hz |
| LG | 2021 C1 4K Series | Yes | 83"/ 77"/ 65"/ 55"/ 48" | OLED | 3840x2160 (4K) | 40-120Hz |
| LG | 2021 G1 4K Series | Yes | 77" / 65" / 55" | OLED | 3840x2160 (4K) | 40-120Hz |
| LG | 2021 Z1 8K Series | Yes | 88" / 77" | OLED | 3840x2160 (4K) | 40-120Hz |
| MSI | MAG301RF | Yes | 30" | IPS | 2560x1080 (WFHD) | 60-200Hz |
These newly-validated monitors and TVs give gamers even more choice when searching for a great gaming display. For a complete list of all G-SYNC, G-SYNC ULTIMATE, and G-SYNC Compatible displays, check out our handy and frequently updated G-SYNC page, which can be sorted and filtered, helping you quickly find the ideal display.
New Games and Apps Supported By GeForce Experience's Optimal Game Settings
GeForce Experience's one-click optimal settings enable you to instantly configure game options for your system's hardware, giving you smooth, optimized gameplay. Over 1000 titles are supported, and since our last driver release we've added support for 2 more:
It Takes Two

Rogue Heroes: Ruins of Tasos
For creators, GeForce Experience now optimizes creative applications like Blackmagic Design's DaVinci Resolve and Adobe Lightroom by automatically enabling GPU acceleration settings in these apps, ensuring artists are using the maximum GPU acceleration available, all with a single button click. We're releasing with 34 supported creative apps, with more on the way.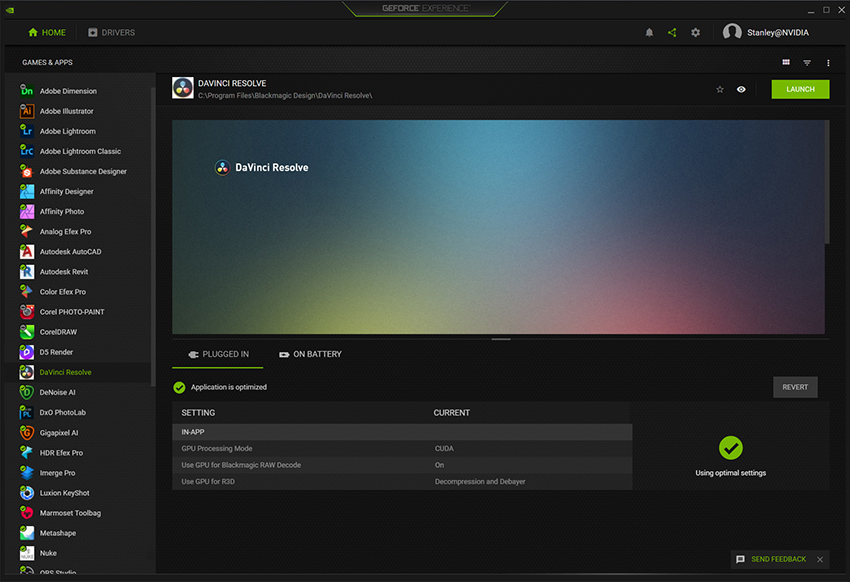 GeForce Experience also enables you to capture and stream your gameplay, take screenshots, upload videos to social networks, and more. For all the details, head here.
GeForce Game Ready Driver - Download Now
You can download the new GeForce Game Ready 466.11 WHQL driver through GeForce Experience.
If you experience any technical issues with the new Game Ready drivers please post a detailed report on the GeForce.com Driver Feedback Forum, where our Customer Care team can better assist you. And if you're looking for a full list of fixes in this driver, for previously-reported issues, head here.