NVIDIA DLSS has revolutionized graphics rendering, using AI and GeForce RTX Tensor Cores to boost frame rates while delivering crisp, high quality images that rival native resolution. And with the introduction of DLSS 3 in October, performance can now be accelerated by up to 4X in fully ray-traced games.
Along with the launch of Portal with RTX on December 8th, this holiday season we're also celebrating a major milestone - the addition of DLSS to over 250 released games and apps! Few technologies have been adopted as quickly by developers across the world, and integrated into every publicly available game engine, allowing budding developers and small indie studios to add DLSS to their projects with just a few clicks.
DLSS adoption is continually accelerating, and this month it's coming to December's biggest releases, including the aforementioned Portal with RTX, plus The Witcher 3: Wild Hunt and Marvel's Midnight Suns. And Jurassic World Evolution 2's existing integration of DLSS 2 gets upgraded to DLSS 3, giving GeForce RTX 40 Series owners even faster performance at the highest resolutions and detail levels.
NVIDIA DLSS 3 Multiplies Frame Rates
NVIDIA Deep Learning Super Sampling (DLSS) is a groundbreaking revolution in AI-powered graphics, increasing performance on GeForce RTX GPUs using dedicated Tensor Cores.
Powered by new hardware capabilities of the NVIDIA Ada Lovelace architecture, DLSS 3 generates entirely new high quality frames, rather than just pixels.
Through a process detailed in full in our NVIDIA DLSS 3 article, DLSS 3 combines DLSS Super Resolution technology and DLSS Frame Generation to reconstruct 7/8ths of the displayed pixels, accelerating performance to previously unimaginable degrees.
In GPU-limited games, DLSS 2 Super Resolution technology can increase your frame rates by up to 2X. With DLSS 3, we can boost them by up to 4X (compared to brute-force rendering) in fully ray-traced worlds.
Certain games make extensive use of the CPU which can limit performance. DLSS 3 operates on the GPU, bypassing CPU bottlenecks and boosting frame rates. In Microsoft Flight Simulator, for example, DLSS 3 boosts frame rates by up to 2X.
DLSS 3 games are backwards compatible with DLSS 2 technology - developers simply integrate DLSS 3, and DLSS 2, also known as DLSS Super Resolution, is supported by default. Additionally, integrations of DLSS 3 also include NVIDIA Reflex, reducing system latency for all GeForce RTX users, making games more responsive.

Warhammer 40,000: Darktide Out Now With DLSS 3 & Ray Tracing
Fatshark's Warhammer: End Times - Vermintide and Warhammer: Vermintide 2 are phenomenally successful, much-loved four-player co-op action games set in the End Times of the Warhammer Fantasy world. In the newly released Warhammer 40,000: Darktide, Fatshark leaps thousands of years into the grimdark future to bring gamers a hotly-anticipated follow-up set in the 41st millennium.
Head to the industrial city of Tertium to combat the forces of Chaos, using Vermintide 2's lauded melee system and a range of deadly Warhammer 40,000 weapons. Personalize your playstyle with a character creation system, and delve deep into the city to put a stop to the horrors that lurk.
NVIDIA DLSS 3 accelerates performance, NVIDIA Reflex reduces system latency, making gameplay more responsive, and ray-traced reflections and global illumination lighting take your graphics to the next level.
For further details about the incredible tech in Warhammer 40,000: Darktide, head on over to our launch article.
Need for Speed™ Unbound Available Now With DLSS 3
Need for Speed Unbound, the latest edition in the Need for Speed franchise from Electronic Arts and Criterion Games, puts players in the driver's seat of their own street racing fantasy as they outsmart cops and prove they have what it takes to win The Grand, Lakeshore's ultimate street racing challenge. Need for Speed Unbound features an all-new, unique visual style blending elements of street art with the most realistic looking cars in the franchise's history. The innovative single player campaign delivers thrills and consequences through an immersive narrative that engages players in the city of Lakeshore as they race, collect, upgrade, and customize the world's hottest performance cars on their way to the top of the scene.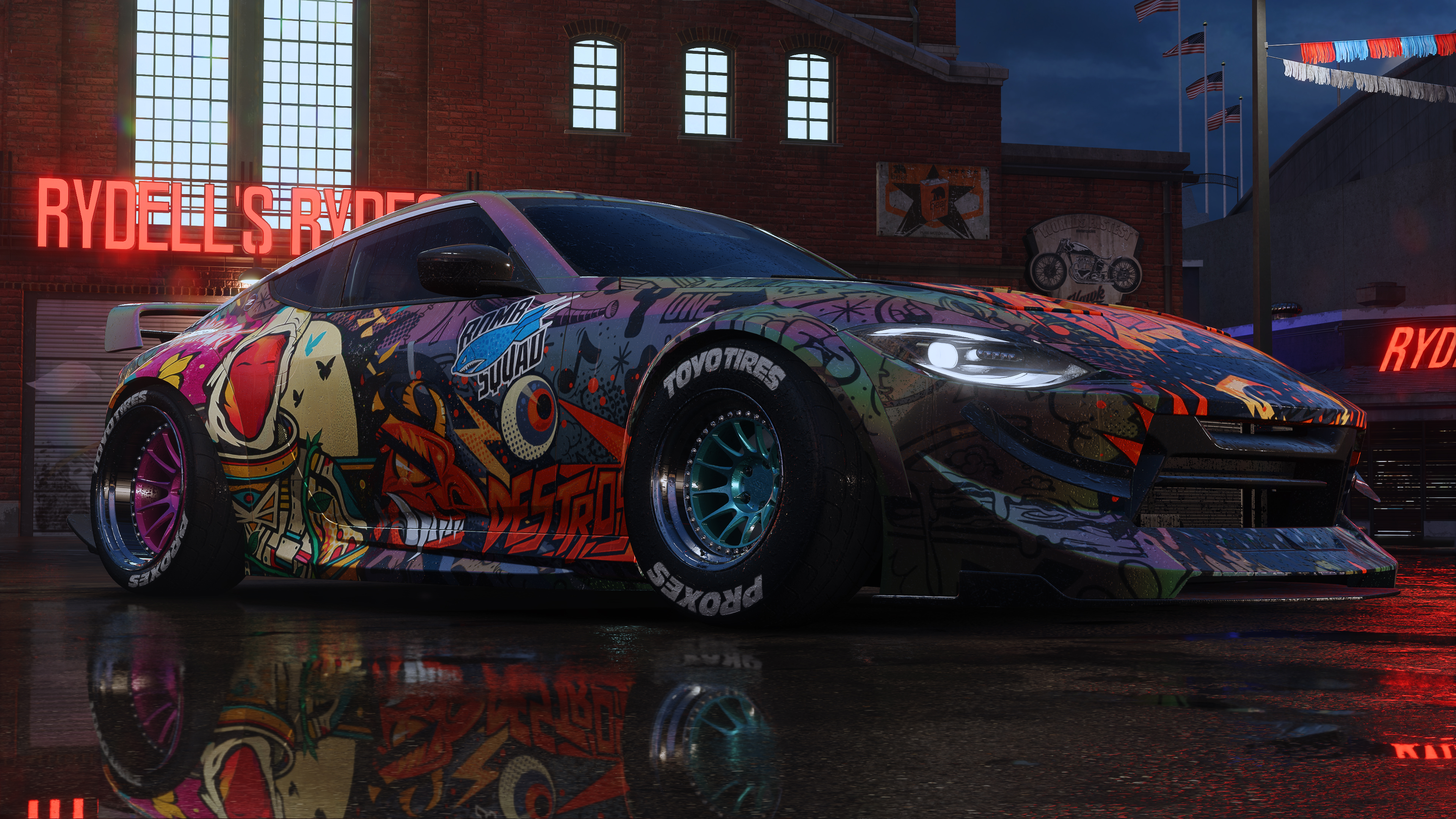 Need for Speed Unbound is out now, and on PC GeForce RTX 40 Series gamers can give their performance a nitrous boost with DLSS 3.
Portal with RTX Launches December 8th
Portal with RTX is launching as a free DLC December 8th, bringing ray tracing and DLSS to one of the best video games of all time. Wishlist on Steam now.
Free for all Portal owners, Portal with RTX reimagines Valve's 2007 classic using today's cutting edge technology. Full ray tracing illuminates, shades and shadows each test chamber with unparalleled quality. Remade hi-res textures and models react realistically to ray tracing. And NVIDIA DLSS 3 delivers the performance to play Portal with RTX at 4K on GeForce RTX 40 Series graphics cards, with all options maxed out.
For a complete rundown of the incredible tech bringing Portal with RTX to life, head to our Portal with RTX announcement article. It talks you through the new RTX features and GeForce RTX 40 Series technologies that are leveraged, explains how our developers built Portal with RTX using RTX Remix, and system requirements.
For Portal with RTX system requirements, and details of our launch party, which will give away GeForce RTX 40 Series graphics cards, head on over to our new Portal with RTX launch date announcement article.
Jurassic World Evolution 2 Expansion & DLSS 3 Update Available December 8th
Frontier Developments, in collaboration with Universal Games and Digital Platforms, is releasing the Jurassic World Evolution 2: Dominion Malta Expansion on December 8th.
Set before the epic events of Universal Pictures and Amblin Entertainment's Jurassic World Dominion, the Jurassic World Evolution 2: Dominion Malta Expansion will task players with helping to lead a brand-new enterprise in Malta. Working alongside Cabot Finch and a star-studded cast of characters, including Kayla Watts (voiced by DeWanda Wise), Soyona Santos (voiced by Dichen Lachman), Barry Sembène (voiced by Omar Sy), and Lewis Dodgson (voiced by Campbell Scott) players will set up parks across three stunning Mediterranean locations.
Available alongside the paid DLC is a free update for all existing players, which includes DLSS 3, and a range of new features, including attacking and eating behaviors for smaller species, five campaign levels now available to play as challenge maps, a range of new skin and pattern colors for select dinosaur variants, and a range of Quality of Life enhancements.
With DLSS 3 enabled, your dinosaur parks will be rendered at even faster frame rates, giving you the headroom to max out graphics and crank up the resolution.
The Witcher 3: Wild Hunt DLSS 3 & Ray Tracing Upgrade Arrives December 14th
On December 14th, all The Witcher 3: Wild Hunt PC players will receive a free update that adds various gameplay changes, new quest content, and new graphics features that take full advantage of the latest PCs and laptops.
Here's what to expect:
RTX Global Illumination (RTXGI) adds more immersive and realistic outdoor ray-traced lighting

Ray-traced ambient occlusion improves shading around objects occluding light

Ray-traced shadows improve the fidelity, clarity and visibility of shadows

Ray-traced reflections increase the accuracy and quality of reflections on bodies of water and other suitably reflective surfaces
On top of that, Ultra+ settings increase draw distances, foliage density, background character detail, asset quality, and more. Texture resolutions are increased and environments gain new geometric detail. The list goes on!
To accelerate your performance when all of these features are enabled and maxed out, The Witcher 3: Wild Hunt's next-gen update also introduces support for NVIDIA DLSS 3, enabling GeForce RTX 40 Series gamers to multiply performance. All other GeForce RTX gamers can accelerate their frame rates with NVIDIA DLSS 2. And everyone can reduce system latency with NVIDIA Reflex.
To get these next-gen upgrades, simply download and install The Witcher 3: Wild Hunt. On December 14th, CD PROJEKT RED will launch the free update, and your game will be automatically enhanced. Stay tuned to their social media pages for further updates and the complete set of patch notes.
Minecraft with RTX: New Worlds Available For Free December 6th
Minecraft with RTX has been delighting GeForce RTX gamers with its stunning path-traced worlds since December 2020. Millions of players have played in and created their own path-traced worlds, and build teams have crafted incredible showcases demonstrating the power of Minecraft and the path-traced ray tracing powered by GeForce RTX.
By searching for "NVIDIA" on the in-game Minecraft Marketplace, players have been able to download 15 mind blowing showcase worlds that were sponsored by NVIDIA. On December 6th, we're bringing you another four, once again for free!
World: Alien Encounter
Creator: Syclone Studios
Type: Adventure
You arrive at the Polaris research station only to find it abandoned and systems disabled. Escape if you can survive an encounter with deadly aliens. Alien Encounter is a beautifully crafted sci-fi world showcasing the power of ray tracing.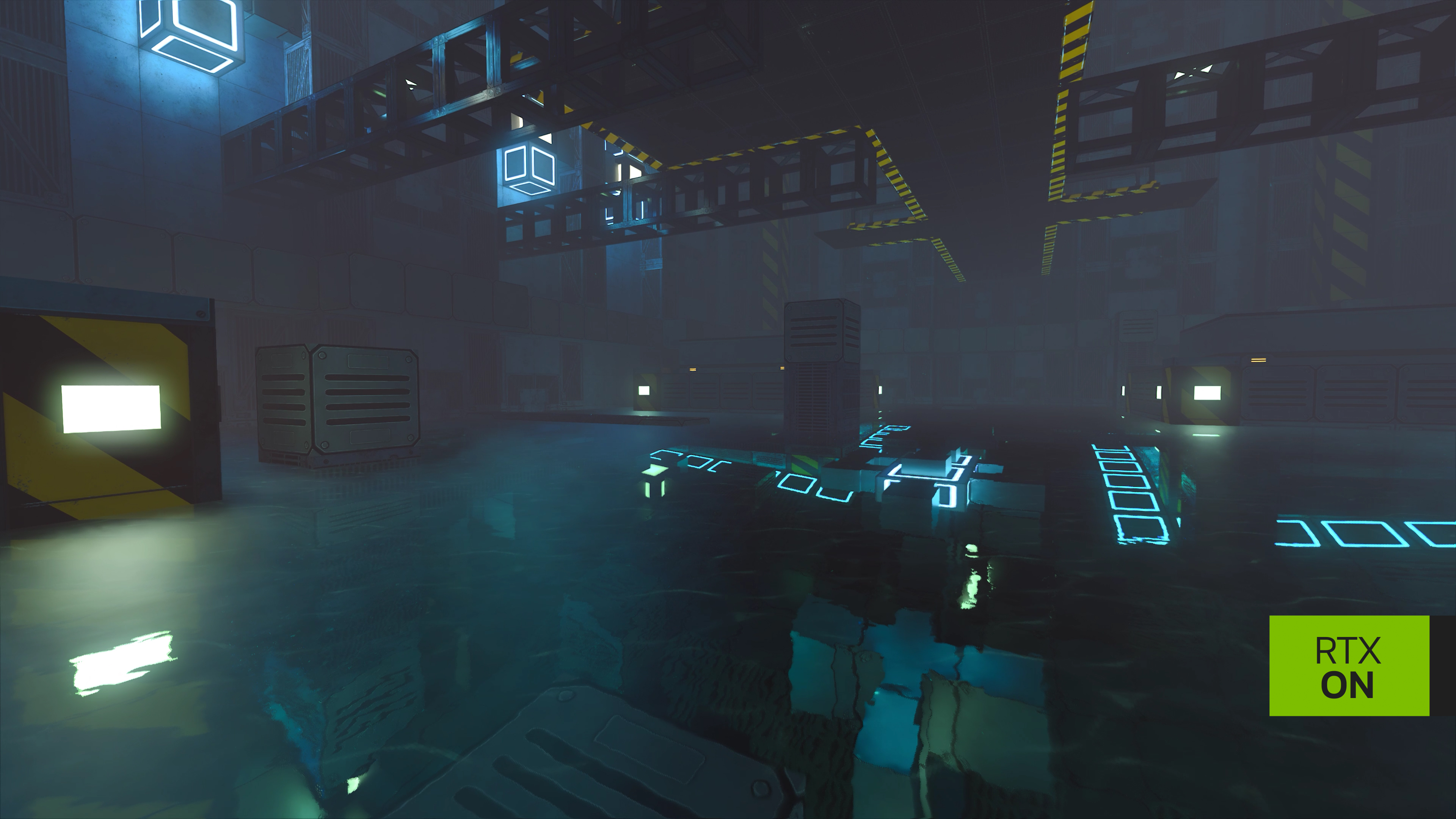 World: The Redstone Temple
Creator: Gamemode One
Type: Puzzle Adventure
Your world is crumbling. Lost in the endless expanse of sand and sun, the only place left is the radiant Redstone Temple. You've crossed the Desert of Dust and finally arrived. Guided by a mysterious voice, work your way through a gauntlet of glowing puzzles. But what awaits you deep in the depths? Perhaps it was better left lost forever...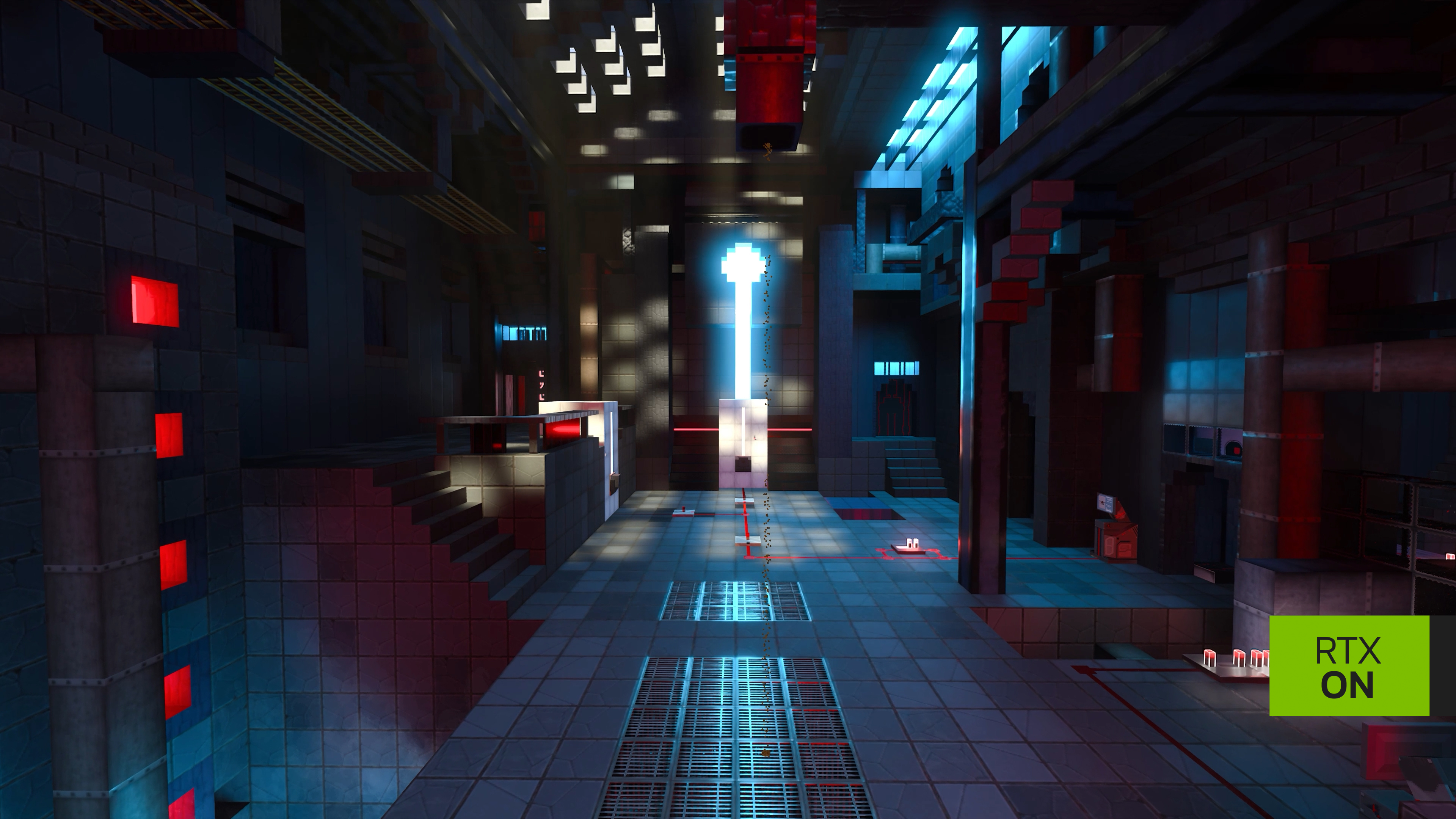 World: A Spirit's Journey
Creator: Everbloom Games
Type: Story-Driven Puzzle Adventure
Journey to a magical world of spirits filled with wonder! Use your powers of colormancy to phase through objects and solve puzzles! Befriend a spirit named Ki in your quest to reunite her with her parents in this one-of-a-kind story-driven map.
World: The Isles of Whimsy
Creator: Shaliquinn's Schematics
Type: Open World Survival
Once, long ago, there existed a utopian kingdom far out to sea known as the Isles of Whimsy. On the isles, mystical creatures and mysterious races lived together in harmony. Time, however, wears away at all nations and the isles were lost and forgotten. Now you have discovered them anew. Delve their depths and return this once proud kingdom to its former glory!
On December 6th, head to the Minecraft Marketplace and search for "NVIDIA" to find and download the four new spectacular worlds.
Requires Minecraft for Windows (Bedrock Edition), a DirectXⓇ capable GPU such as NVIDIA GeForce RTX GPUs. Content and features subject to change.
Firefighting Simulator - The Squad Available Now With DLSS 2
Firefighting Simulator - The Squad, from Chronos Unterhaltungssoftware and astragon Entertainment, lets you experience what it means to fight fires up close as an active part of a major US city's firefighting team. Discover over 30 diverse deployment locations and complete exciting missions that span a 15k-acre large townscape inspired by the North American West Coast. Operate faithfully reproduced Rosenbauer America fire trucks, extinguish fires, and rescue civilians in need – together with up to three friends in the co-op multiplayer, or with the help of AI team members in the single player mode.
If you sign up to fight fires in Firefighting Simulator, your fire engine will be equipped with DLSS 2, enabling you to accelerate frame rates and see the game's fires at the highest detail levels.
Marvel's Midnight Suns Launching December 2nd With DLSS 2 & Ray Tracing
From the creators of the critically-acclaimed tactical XCOM series comes Marvel's Midnight Suns, the ultimate crossover event, which combines the rich story, character relationships, customization and progression of an RPG, with the tactical strategy and combat mechanics of a card-based tactics game. Set in the darker side of the Marvel Universe, you will forge unbreakable bonds with legendary Marvel Super Heroes and dangerous supernatural warriors in the fight against the world's greatest threat yet… the demonic forces of Lilith and the elder god Chthon.
Marvel's Midnight Suns has already been met with critical acclaim, with VGC awarding it at 5 out of 5, calling it a "modern strategy classic;" PC Gamer said it was "completely brilliant" and scored it an 88 out of 100, and Rock Paper Shotgun called it "one of the best superhero games full stop."
Ahead of the game's December 2nd launch, NVIDIA, Firaxis Games and 2K Games have formed a technical partnership to deliver the definitive Marvel's Midnight Suns experience to GeForce RTX gamers on Windows PC, enhancing their battles against evil with NVIDIA DLSS 2 and advanced ray tracing effects.
Ray-traced reflections, and ray-traced ambient occlusion will take visual fidelity to the next level. And DLSS 2 will give you the performance to enable these effects at the highest resolutions, for the best possible experience when playing Marvel's Midnight Suns on PC.
If you don't have a GeForce RTX gaming PC or laptop, you can still experience Marvel's Midnight Suns with #RTXON by streaming it from the cloud thanks to NVIDIA GeForce NOW. Members can play over 1400 full PC games they already own from Steam, Epic Games Store, Ubisoft Connect, and GOG.com, and with GeForce NOW's RTX 3080 Membership, you get the power of a GeForce RTX 3080-class PC in the cloud, enabling streaming sessions at up to 1440p on PC and Mac, 4K HDR on NVIDIA SHIELD, and up to 120 FPS on select mobile devices.
Head over to the GeForce NOW website to learn more.
Choo-Choo Charles Leaves The Station December 9th With DLSS 2
Two Star Games' Choo-Choo Charles is an original and unique concept: an evil spider train, the eponymous Charles, stalks the night, terrorizing the world's inhabitants. Having discovered an old train, you're going to stand up to Charles, assuming you can find the necessary resources to upgrade your train's capabilities on the game's open world island. Help fellow citizens in quests, go exploring, and finally face off against Charles.
At launch on December 9th, Choo-Choo Charles will include support for DLSS 2, enabling GeForce RTX gamers to max out settings for the spookiest experience possible.
BLACKTAIL Launches December 15th With DLSS 2
Become the guardian of the woods or the terror nightmares are made of. Forge the legend of Baba Yaga and live out its origins in Focus Entertainment and THE PARASIGHT's BLACKTAIL, a one-of-a-kind blend of intense archery combat, magic and dark storytelling set in a vibrant fairy tale world.
At launch, BLACKTAIL will include DLSS 2, enabling all GeForce RTX gamers to crank up game details, or simply enjoy a much faster frame rate.
As Always, There's More To Come
Since its launch, NVIDIA DLSS has transformed gaming, enabling developers to craft more detailed and immersive games that run smoothly on today's hardware. Over 250 released games and apps are supported, and each month that number grows ever higher.
Now, there's NVIDIA DLSS 3 and its incredible new Optical Multi Frame Generation technology that multiplies performance, whether bottlenecks are a result of the CPU or GPU. With DLSS 3, you'll have ultimate performance in every supported game.
Stay tuned to GeForce.com for further information about the release of NVIDIA DLSS 3 for the latest and greatest games, because there are many more to come in the near future.