The original Dying Light was a technical tour de force, and the long awaited sequel that's available now is no different, boasting multiple ray tracing effects that enhance its massive open areas, and NVIDIA DLSS, giving GeForce RTX gamers the definitive experience.
Dying Light 2 Stay Human takes us to one of the last surviving cities, 15 years after the mutant outbreak in Harran. As Aiden, an especially-gifted outsider, you'll have to navigate across the streets and rooftops dodging and fighting bandits and special infected, helping Survivors and Peacekeepers, until circumstances force you to take a side, irrevocably changing the lives of everyone.
Learn everything you need to know about PC edition's exclusive enhancements, and get your system ready for Dying Light 2 Stay Human by installing our new Game Ready Driver.
Dying Light 2 Stay Human PC Ray Tracing
If you've got a GeForce RTX graphics card, desktop or laptop, or are playing on GeForce NOW, you can amp up your Dying Light 2 Stay Human experience with five DirectX 12 Ultimate ray-traced effects that further enhance the graphics of Techland's new title.
Ray-Traced Global Illumination
Electricity is a scarce commodity, and as such is reserved for life saving UV lights that keep infection and the beasties at bay. That makes the sun and moon the primary light sources in Dying Light 2 Stay Human, and with ray tracing the quality of the illumination they offer can be improved.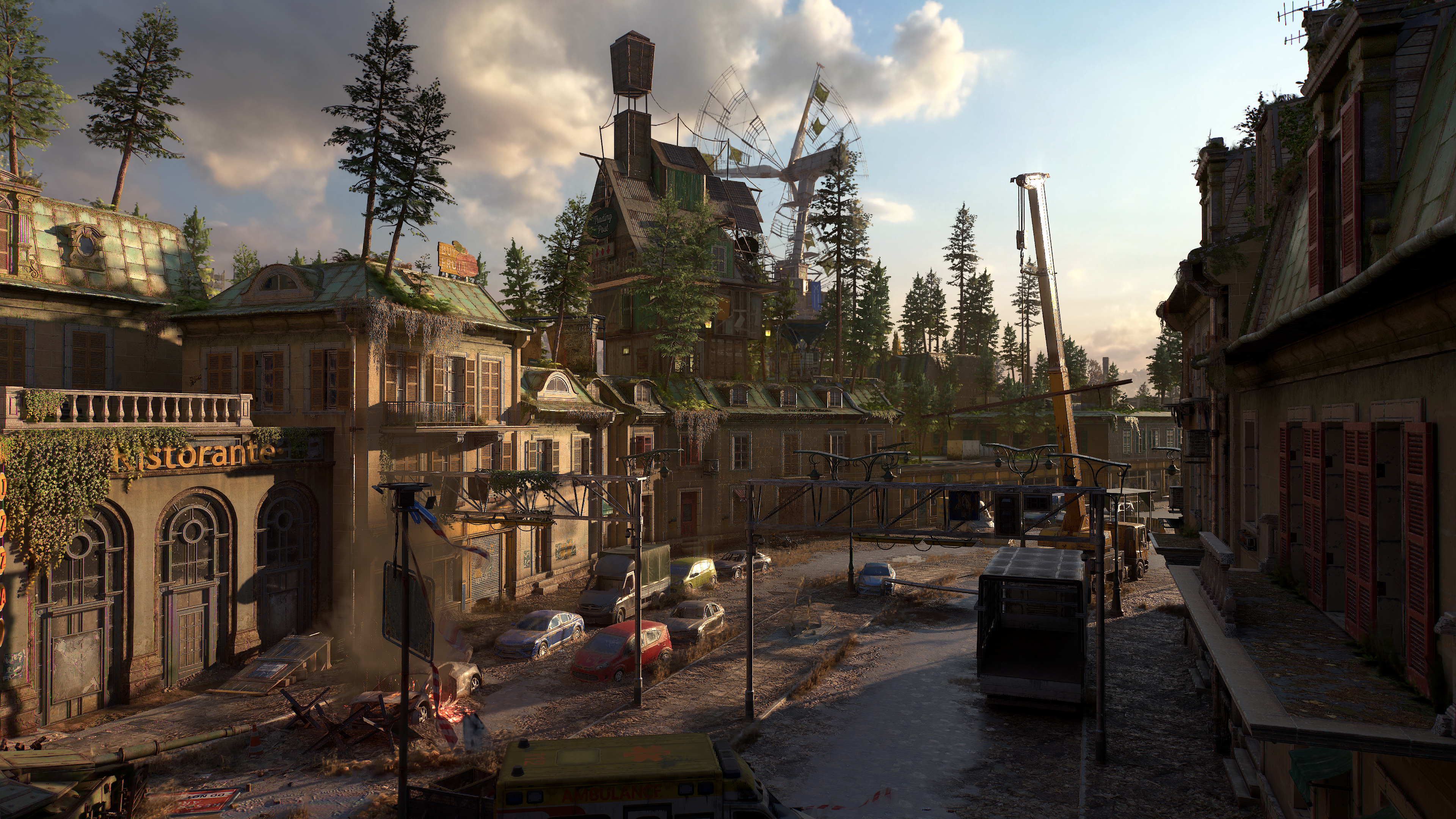 Outdoors locations are more accurately illuminated, with colored lighting bouncing and naturally changing the appearance of the terrain and objects. And indoor areas are realistically illuminated and darkened by the presence and absence of light, respectively, to the extent that your flashlight becomes absolutely necessary, ramping up the tension, and the horror when you get jumped by a hidden special infected.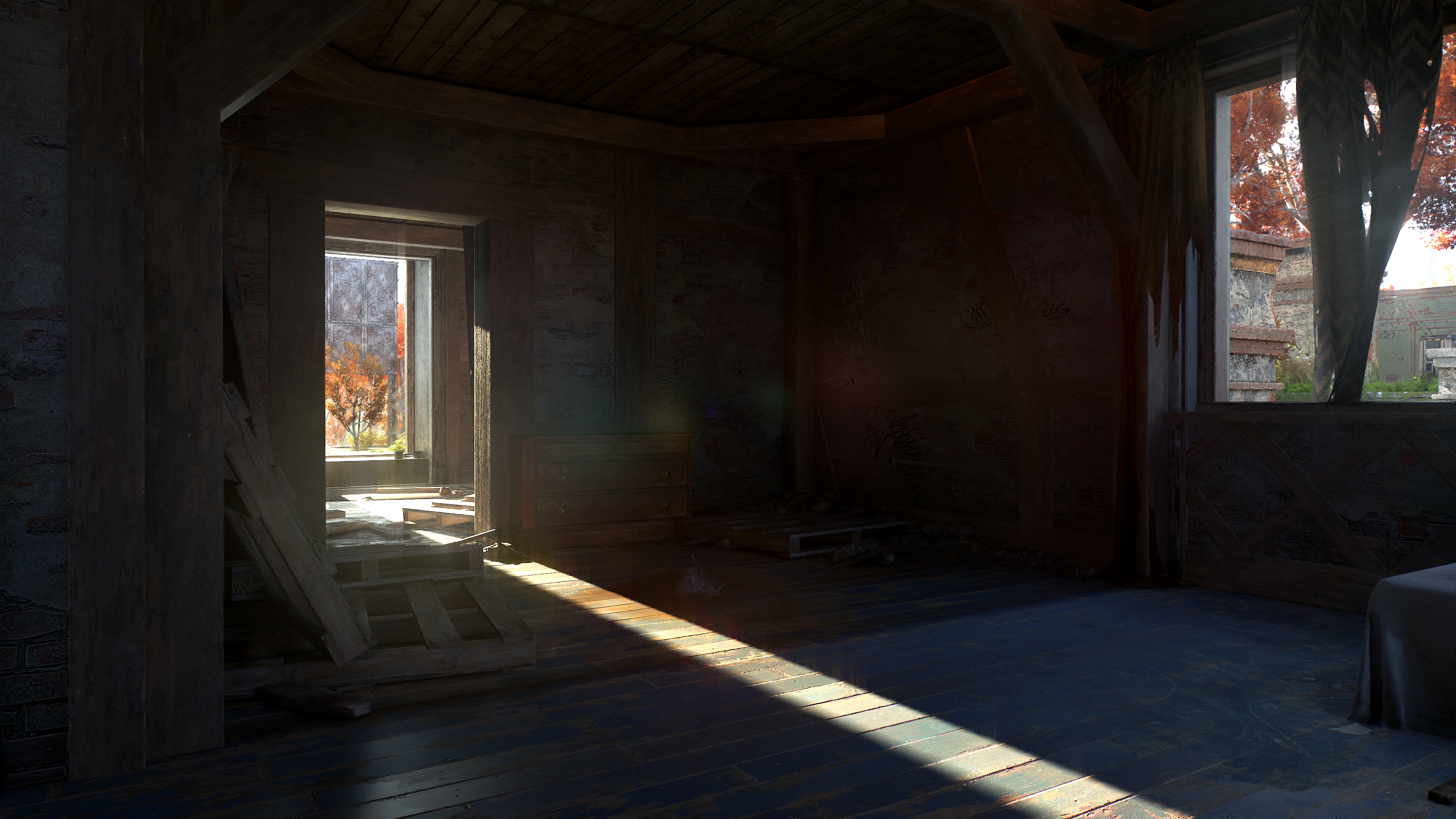 With ray tracing, Dying Light 2 Stay Human's global illumination is greatly refined, giving GeForce RTX players a more natural, more realistic graphical presentation that immerses you in the action.
Ray-Traced Sun Shadows
Dying Light 2 Stay Human's sun and moonlight is used to cast dynamic shadows from all game elements. By enabling ray tracing, the quality of these shadows are improved, giving players realistic contact hardening and softening, and greater shadow detail. Shadow aliasing is eliminated, shadow draw distance is increased, and overall everything looks better.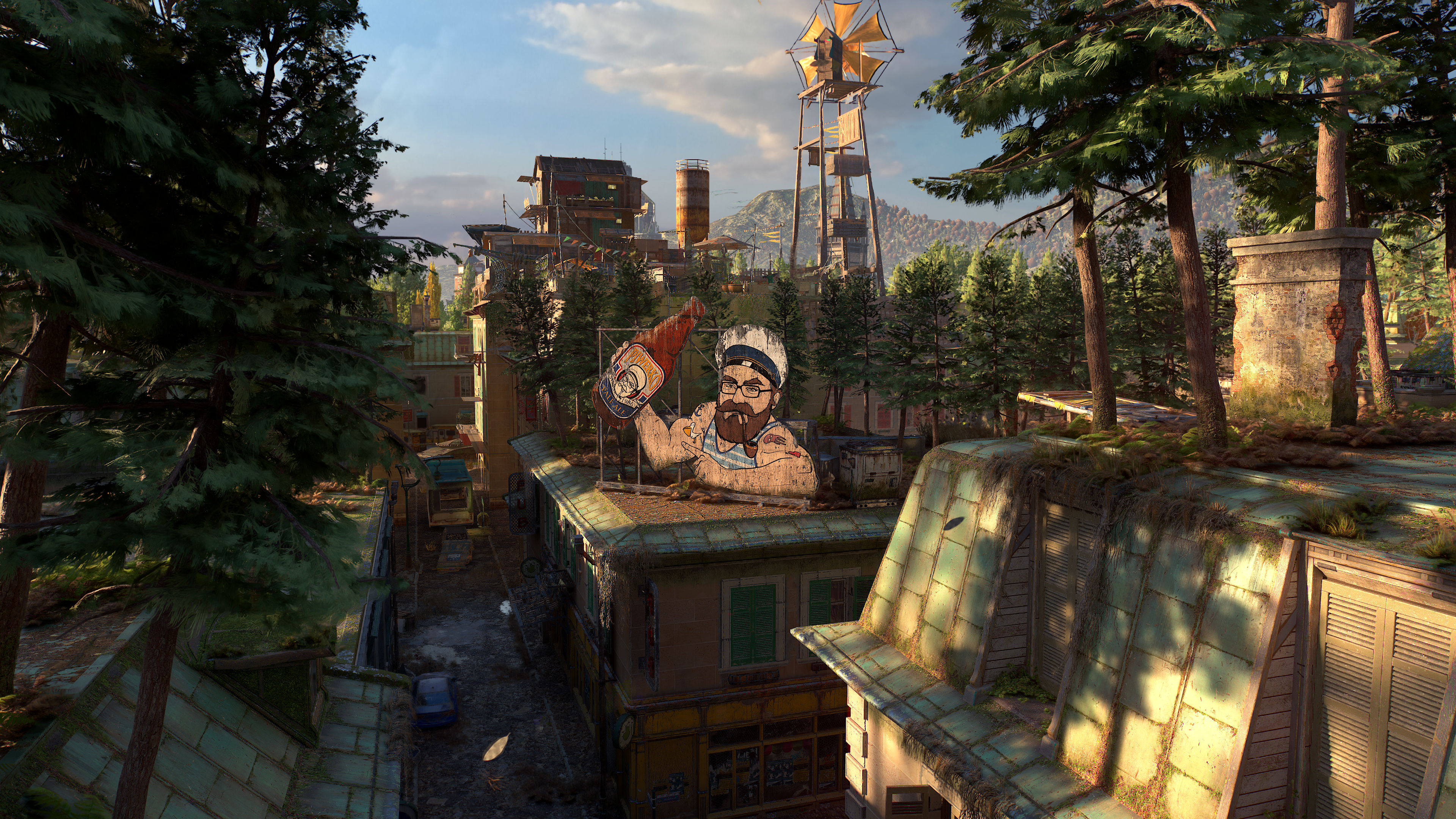 Ray-Traced Reflections
Enabling ray-traced reflections enhances almost all of Dying Light 2 Stay Human's metallic and glass surfaces with improved reflectivity that dynamically affects their appearance based on the time of day and actions occurring in the world around them.
With much of the world in ruins, pixel-perfect mirror-like reflections aren't on the cards, though you can see geometry and Aiden's model reflected on surviving, albeit filthy windows.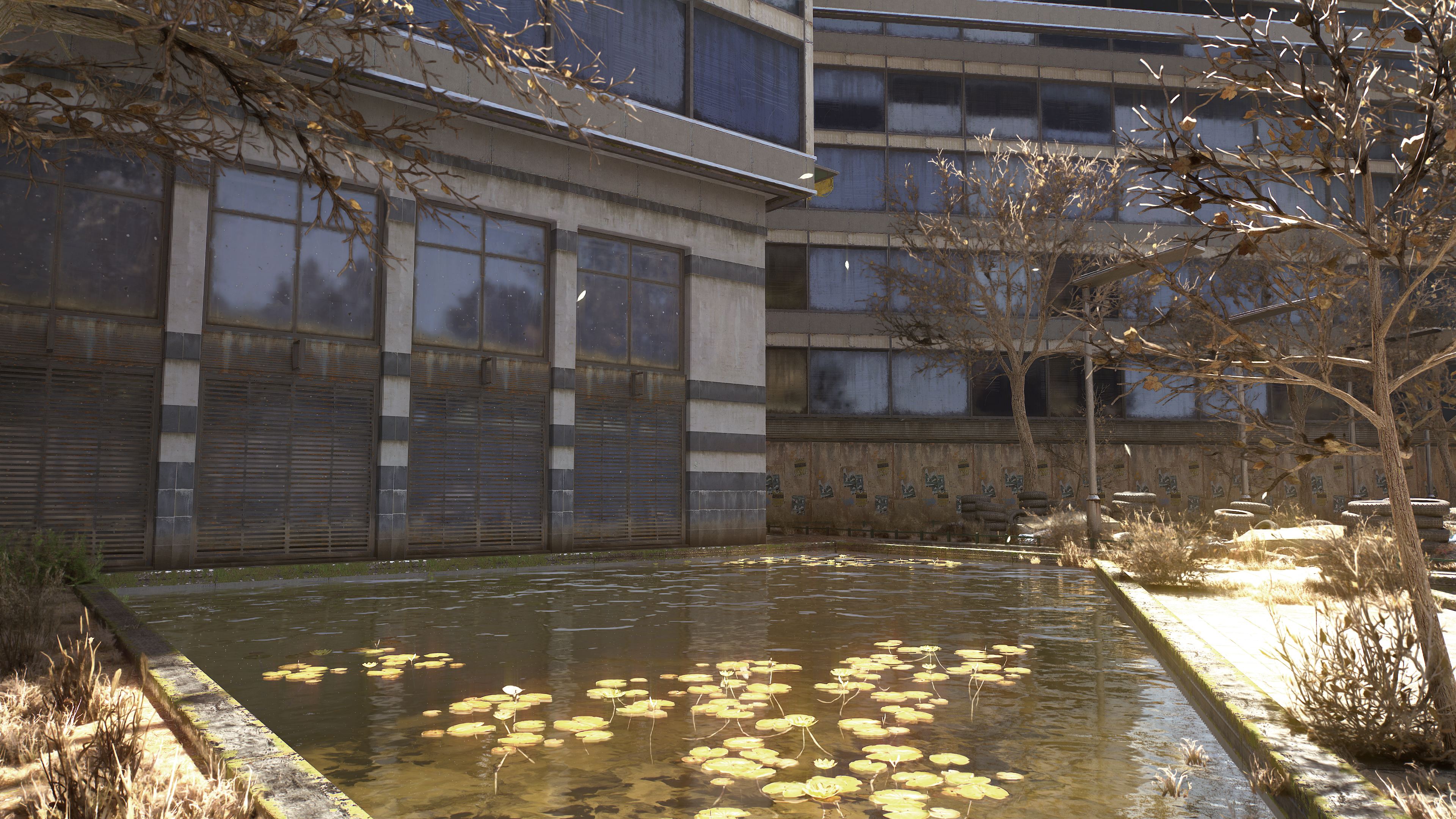 Mainly, ray-traced reflectivity makes decayed metal surfaces far more realistic, with visuals that match their surroundings, further refining graphics for a more immersive experience. Natural lighting, a subtle sheen, a smidge of reflectivity; it all helps when crafting a realistic world for players to explore for 80 hours or more.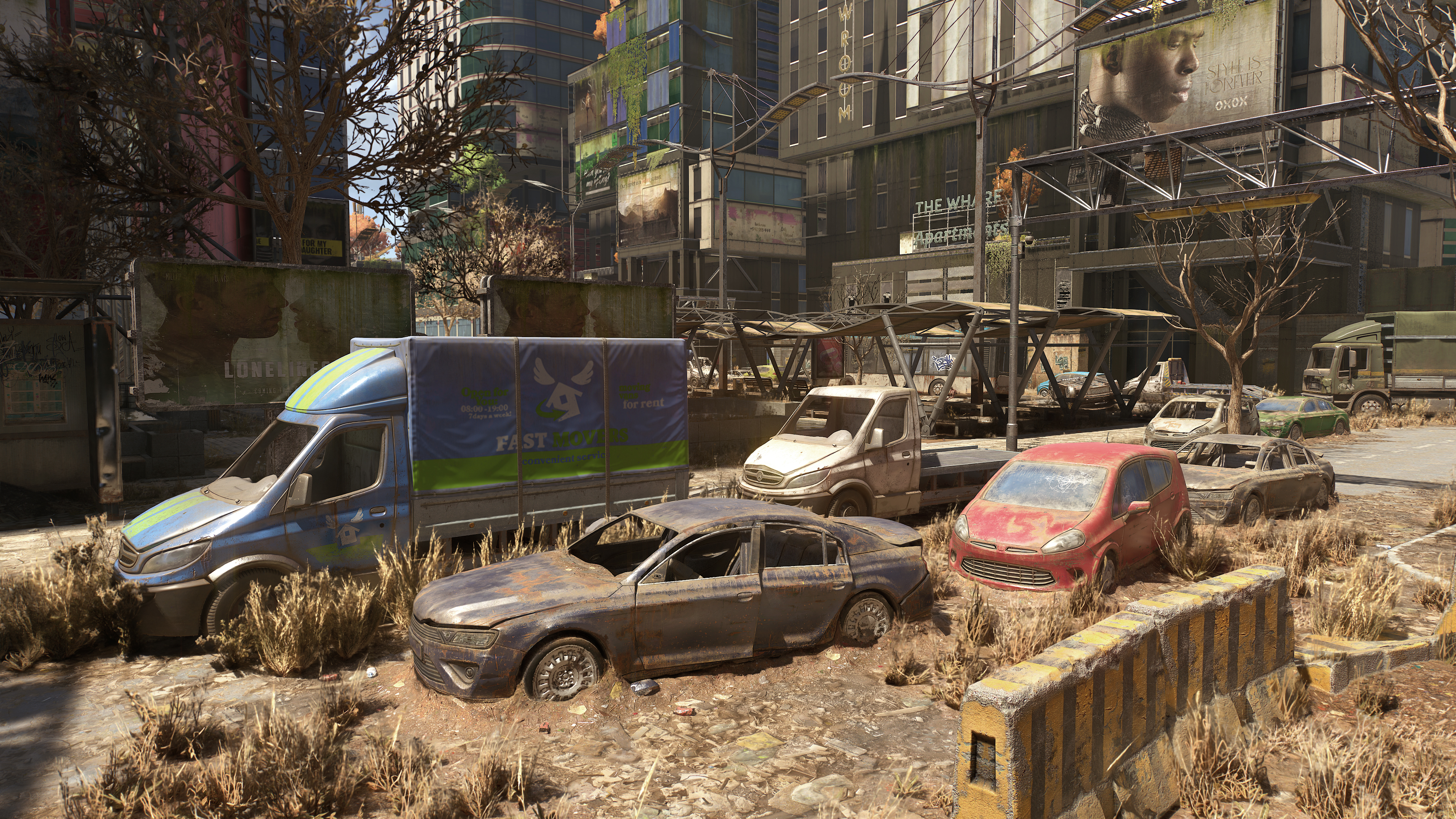 Ray-Traced Ambient Occlusion
Ambient occlusion is an important if often overlooked effect, adding natural shadowing between where light is occluded, between objects and where objects intersect with a surface, for instance. With ray tracing, the quality of the effect can be greatly improved, once again refining the image.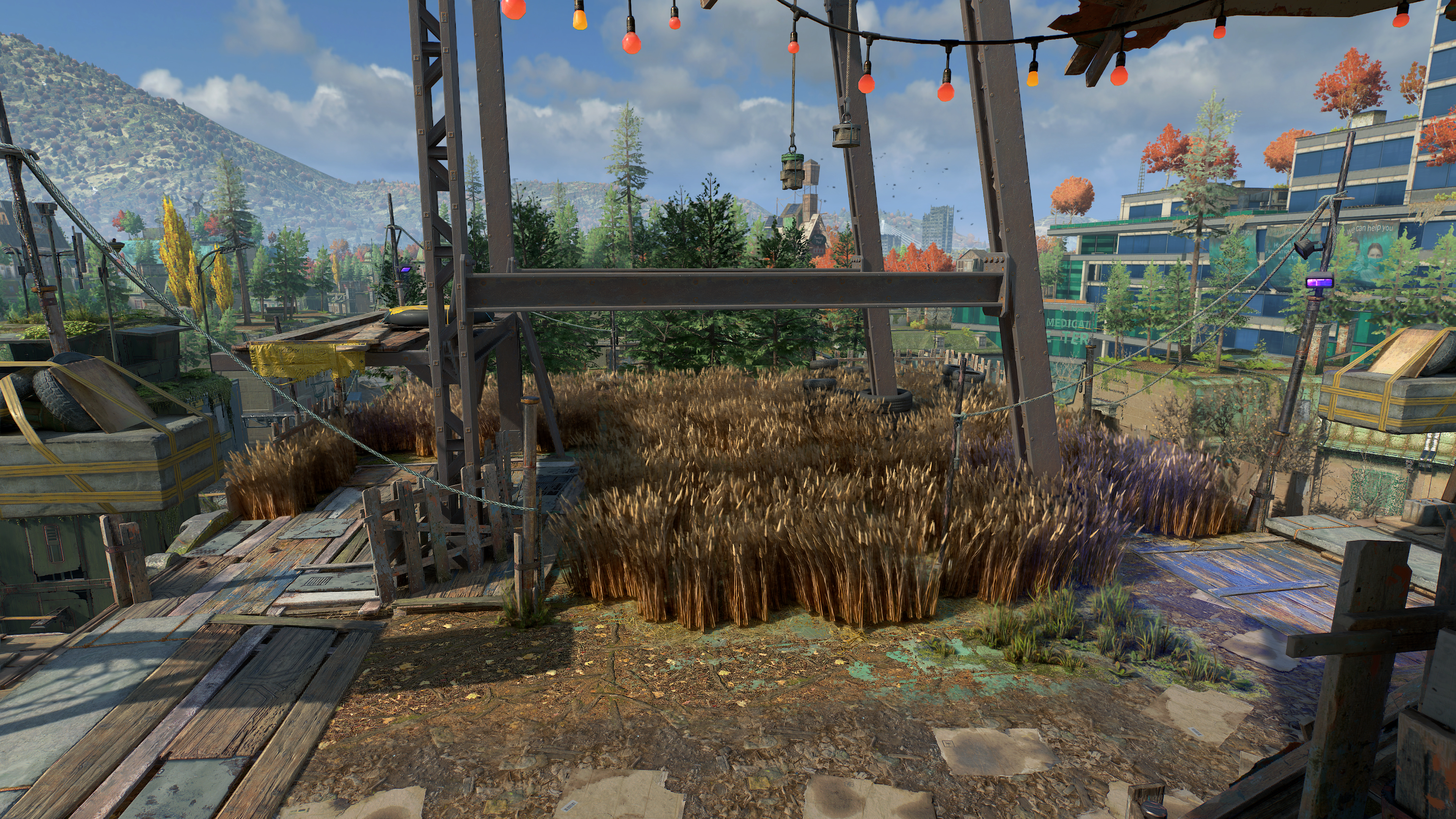 In a massive city, ray-traced ambient occlusion is visible in every scene, enhancing visuals every second. Whether around a vehicle, on a bush, or on a character's clothing, this ray-traced effect makes a massive difference to the quality of the image.
Ray-Traced Flashlight
Almost every videogame flashlight illuminates a small cone exclusively where the player looks. In reality, much of a room is illuminated to some degree, and intensely bright rays from the flashlight's main beam bounce whenever they strike a surface, adding extra illumination.
Using ray tracing, reality can now be recreated, adding a transformative effect to Dying Light 2 Stay Human that illuminates entire rooms, helping you spot lurking enemies and approaching foes.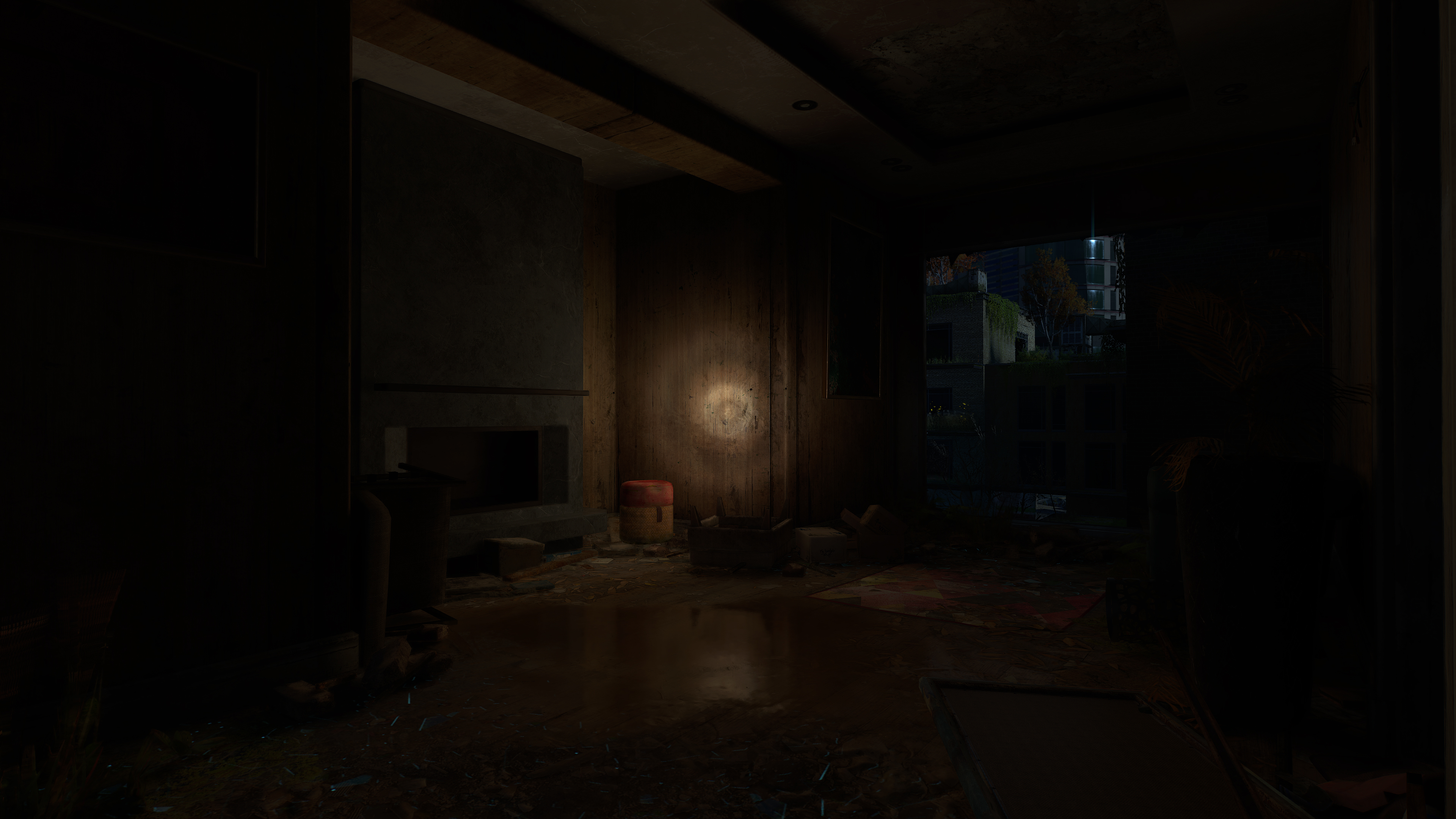 Click here for a fullscreen comparison
Quickly survey entire areas using your full field of view, and get the upper hand on the dastardly enemies of Dying Light 2 Stay Human.
Altogether, the five ray tracing options deliver a massive boost to Dying Light 2 Stay Human's graphics, giving GeForce RTX gamers the ultimate experience.
NVIDIA DLSS: Accelerate Dying Light 2 Stay Human Frame Rates By Up To 2x
Maxing out Dying Light 2 Stay Human's graphics, cranking the resolution, and enabling all that ray-traced goodness will tax even the best system. Which is why Techland are launching Dying Light 2 Stay Human with full support for NVIDIA DLSS, enabling GeForce RTX gamers to more than double frame rates.
With NVIDIA DLSS, you get the highest levels of image quality without sacrificing performance. For example, DLSS can add better-than-native reconstruction on thin objects with fine lines. For instance, note the reconstruction of the chain link fence and how DLSS restores the fine details in our example below.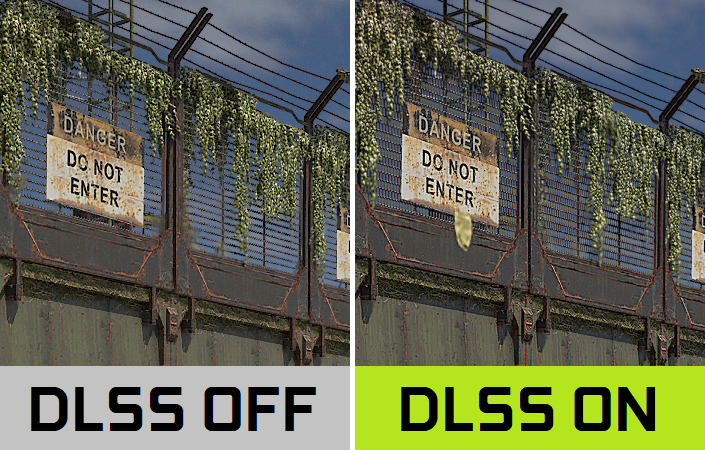 Dying Light 2 Stay Human Game Ready Driver: Get Your System Ready
GeForce Game Ready Drivers deliver the best experience for your favorite games. They're finely tuned in collaboration with developers and extensively tested across thousands of hardware configurations for maximum performance and reliability. Game Ready Drivers also allow you to optimize game settings with a single click and empower you with the latest NVIDIA technologies that make your experiences even better.
Before Dying Light 2 Stay Human launches on February 4th, download and install our new Dying Light 2 Stay Human Game Ready Driver to get your system optimized and ready for Techland's epic game.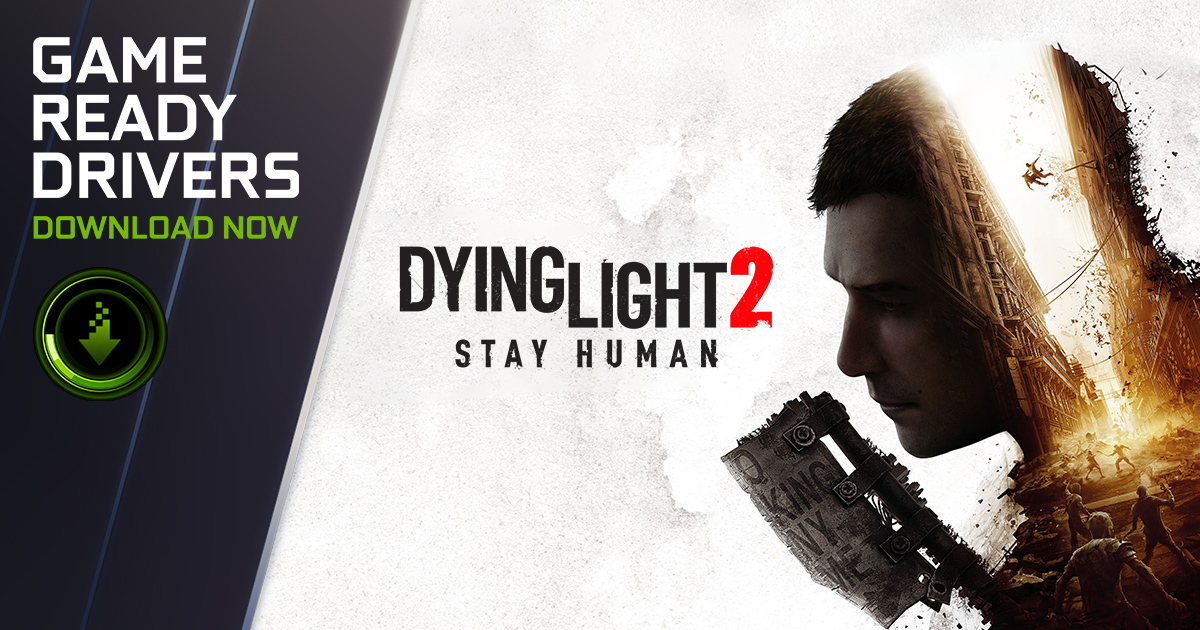 You can download from our website, or simply install with a couple of clicks via GeForce Experience, our free app that allows you to optimize game settings, record and stream gameplay, and amp up visuals with NVIDIA Freestyle filters. Get Game Ready today so you can start playing Dying Light 2 Stay Human the second it goes live.
GeForce NOW: Play Dying Light 2 Stay Human In The Cloud With RTX ON
Even if you don't have a GeForce RTX PC or laptop, you can still enjoy Dying Light 2 Stay Human with #RTXON by streaming it from the cloud thanks to NVIDIA GeForce NOW. Members can play over 1,000 of the real and full PC versions of games they already own from Steam, Epic Games Store, Ubisoft Connect, and GOG.com.
GeForce NOW's RTX 3080 Membership gives you the power of a GeForce RTX 3080-class PC in the cloud, enabling streaming sessions at up to 1440p on PC and Mac, 4K HDR on NVIDIA SHIELD, and up to 120 FPS on select android devices. Better yet, GeForce NOW RTX 3080 members can experience Dying Light 2 Stay Human with NVIDIA DLSS and all ray-traced effects enabled for the best graphic quality across nearly all their devices.
Head over to the GeForce NOW website to learn more.
Dying Light 2 Stay Human Get The Ultimate Experience With GeForce RTX
Thanks to NVIDIA DLSS and the power of GeForce RTX graphics cards, desktops and laptops, GeForce gamers will receive the definitive Dying Light 2 Stay Human. Parkour across the city in the hopes of saving our humanity, and the human race, without skipping a beat, enhanced by breathtaking ray tracing effects.
For more on the 200+ RTX games, and all the titles launching in 2022, head over and bookmark GeForce.com.