Our new GeForce RTX 40 Series graphics cards are beyond fast, giving gamers our highest ever gen-to-gen frame rate boost. This quantum leap in performance comes courtesy of the NVIDIA Ada Lovelace architecture's many innovations, and NVIDIA DLSS 3, which accelerates performance by up to 4X in next-gen games with full ray tracing. With a GeForce RTX 4090 or GeForce RTX 4080 in your system, games will run at unbelievable frame rates, and you'll have the power to experience richer, more immersive gaming.
It's only been a month since the launch of DLSS 3, and already 10 games support the groundbreaking technology, including fan favorites such as A Plague Tale: Requiem, F1Ⓡ 22, F.I.S.T.: Forged In Shadow Torch, Justice, Marvel's Spider-Man Remastered, Microsoft Flight Simulator and SUPER PEOPLE. In the next 15 days, DLSS 3 comes to 4 more games, including Need for Speed Unbound, Marvel's Spider-Man: Miles Morales, WRC Generations – The FIA WRC Official Game, and Warhammer 40,000: Darktide.
In each, GeForce RTX 40 Series gamers will enjoy unparalleled performance thanks to DLSS 3, while previous-generation GeForce RTX gamers can enhance these blockbuster titles with DLSS 2.
Altogether, over 240 released games and apps use the power of AI to accelerate performance with NVIDIA DLSS, giving millions of GeForce RTX gamers the fastest frame rates and beautiful, sharp graphics. Developers love the performance boosts that DLSS gives to their players, and with DLSS 3 the benefits get even better. Check out the video below to see CD PROJEKT RED, Fatshark and Nixxes talk about how RTX and DLSS help them enhance their fan-favorite games:
Read on to discover which games are giving GeForce gamers an even-better experience this month, and check back soon for even more DLSS announcements.
NVIDIA DLSS 3 Multiplies Frame Rates
NVIDIA Deep Learning Super Sampling (DLSS) is a groundbreaking revolution in AI-powered graphics, increasing performance on GeForce RTX GPUs using dedicated Tensor Cores.
Powered by new hardware capabilities of the NVIDIA Ada Lovelace architecture, DLSS 3 generates entirely new high quality frames, rather than just pixels.
Through a process detailed in full in our NVIDIA DLSS 3 article, DLSS 3 combines DLSS Super Resolution technology and DLSS Frame Generation to reconstruct 7/8ths of the displayed pixels, accelerating performance to previously unimaginable degrees.
In GPU-limited games, DLSS 2 Super Resolution technology can increase your frame rates by up to 2X. With DLSS 3, we can boost them by up to 4X (compared to brute-force rendering) in fully ray-traced worlds, like those seen in the incredible Portal with RTX.
Certain games make extensive use of the CPU which can limit performance. DLSS 3 operates on the GPU, bypassing CPU bottlenecks and boosting frame rates. In Microsoft Flight Simulator, for example, DLSS 3 boosts frame rates by up to 2X.
DLSS 3 games are backwards compatible with DLSS 2 technology - developers simply integrate DLSS 3, and DLSS 2, also known as DLSS Super Resolution, is supported by default. Additionally, integrations of DLSS 3 also include NVIDIA Reflex, reducing system latency for all GeForce RTX users, making games more responsive.

Microsoft Flight Simulator NVIDIA DLSS 3 Update Available Now
Microsoft Flight Simulator is a stunning, critically-acclaimed flight simulator that marries realistic recreations of popular planes with an accurate map of our planet, and regular free updates add immersive hand-crafted detail to the world's most visited cities, airports and regions.
The 1:1 real-world recreation of our planet in Microsoft Flight Simulator challenges even the most powerful PCs. To help, Asobo Studio and Microsoft have brought NVIDIA DLSS 3 to the game as part of Update 11, released alongside exciting Microsoft Flight Simulator 40th Anniversary Edition content.
"Creating a lifelike digital twin of our entire planet is incredibly CPU intensive. DLSS 3 is a GPU technology that tackles the performance limitations of the CPU, making it the perfect way to experience Microsoft Flight Simulator." - Jorg Neumann, Head of Microsoft Flight Simulator, Xbox Game Studios
DLSS Super Resolution is effective in boosting performance in GPU bound cases by rendering fewer pixels. However, Microsoft Flight Simulator can be CPU bound even on the highest-end CPUs. In this case, DLSS 3's Optical Multi Frame Generation is able to alleviate CPU bottlenecks and boost FPS by up to 2X by creating entirely new frames that never touch the CPU.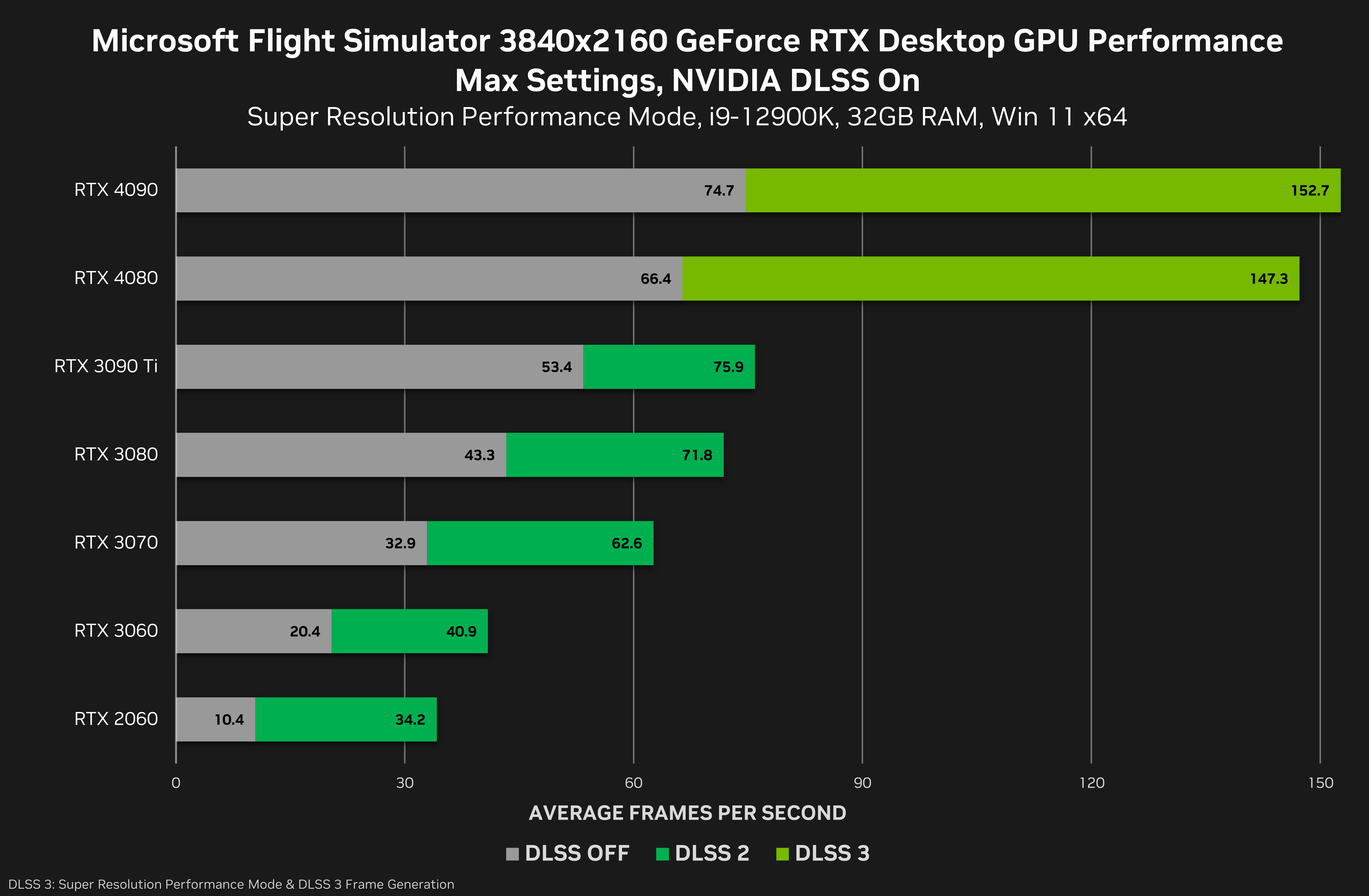 Justice: DLSS 3 Now Available Game-Wide
Justice, NetEase's martial arts MMO, leads the way in its native China, with engrossing gameplay set in ancient China during the time of the Northern Song Dynasty, a 36 million-strong player base, and a continually-upgraded, internally-developed engine called Night Blaze that's at the forefront of tech. In October, Justice added the stunning 'Fuyun Court' path tracing showcase, which was accelerated by NVIDIA DLSS 3.
Now, DLSS 3 is available to use across the entirety of Justice's massive game world, doubling performance, giving GeForce RTX 40 Series users 120 FPS gameplay at 4K, with all settings maxed.
Destroy All Humans! 2 - Reprobed NVIDIA DLSS 3 Update Available Now
Following the success of 2020's Destroy All Humans!, which remade the 2005 cult-classic action game, the remake of the 2006 sequel landed on Earth recently. In Destroy All Humans! 2 - Reprobed, head to the swinging '60s to take revenge on the KGB for destroying your mothership, fight massive bosses, and even befriend a few pathetic humans to help you achieve victory.
DLSS 2 launched from the mothership in October, and today Destroy All Humans! 2 - Reprobed has upgraded to DLSS 3, increasing frame rates by up to 2X: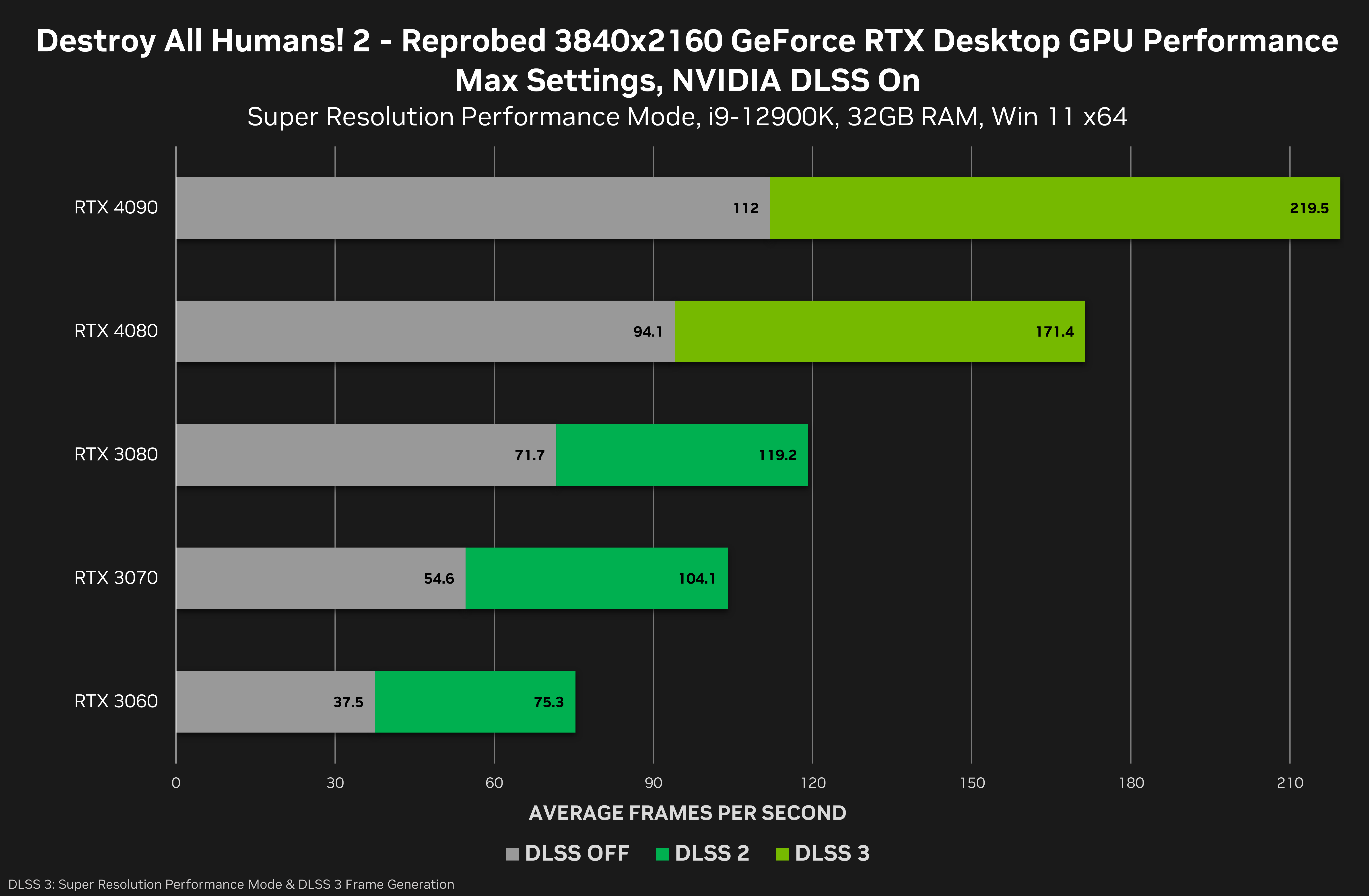 Check out the DLSS 2 Super Resolution-enhanced demo on Steam.
WRC Generations – The FIA WRC Official Game DLSS 3 Update Out November 16th
WRC Generations from KT Racing and Nacon is the FIA's official World Rally Championship game, and this new iteration of the venerable franchise introduces the WRC's first hybrid cars, shaking up the sport significantly. Rise to all the challenges of the most comprehensive, realistic and demanding rally simulation ever developed, and attempt to conquer the new six-stage Swedish rally.
On November 3rd, WRC Generations launched with DLSS 2, and on November 16th it will update with support for DLSS 3, accelerating frame rates on GeForce RTX 40 Series graphics cards.
Warhammer 40,000: Darktide Launches November 30th With DLSS 3 & Ray Tracing
Fatshark's Warhammer: End Times - Vermintide and Warhammer: Vermintide 2 are phenomenally successful, much-loved four-player co-op action games set in the End Times of the Warhammer Fantasy world. On November 30th, Fatshark leaps thousands of years into the grimdark future to bring gamers Warhammer 40,000: Darktide, the hotly-anticipated follow-up set in the 41st millennium.
Head to the industrial city of Tertium to combat the forces of Chaos, using Vermintide 2's lauded melee system and a range of deadly Warhammer 40,000 weapons. Personalize your playstyle with a character creation system, and delve deep into the city to put a stop to the horrors that lurk.
On November 17th, all PC players with a digital pre-order from Steam and the Windows Store will receive an invite to the Warhammer 40,000: Darktide Pre-Order Beta, which will transition into the full game come November 30th. When this Pre-Order Beta launches, it will be loaded with game-enhancing technologies that give GeForce RTX users the definitive experience.
NVIDIA DLSS 3 will accelerate performance significantly, NVIDIA Reflex will reduce system latency, making gameplay more responsive, and ray-traced reflections and global illumination lighting will take your graphics to the next level.
See the difference a GeForce RTX graphics card makes in our new, exclusive Warhammer 40,000: Darktide RTX ON video:
Marvel's Spider-Man: Miles Morales On PC Launches This Week With DLSS 3, Ray Tracing & More
Following the events of Marvel's Spider-Man Remastered, teenager Miles Morales is adjusting to his new home while following in the footsteps of his mentor, Peter Parker, as a new Spider-Man. But when a fierce power struggle threatens to destroy his new home, the aspiring hero realizes that with great power, there must also come great responsibility. To save all of Marvel's New York, Miles must take up the mantle of Spider-Man and own it in Marvel's Spider-Man: Miles Morales, launching on PC November 18th.
Similar to the PC version of Marvel's Spider-Man Remastered, released earlier this year in close collaboration with Insomniac Games, Marvel Games, Nixxes Software, and PlayStation, Marvel's Spider-Man: Miles Morales on PC features many enhancements, including NVIDIA DLSS 3.
With the Marvel's Spider-Man: Miles Morales Game Ready Driver installed, which launches November 16th, all GeForce RTX gamers can use NVIDIA DLSS to increase their frame rates by a significant degree. Players with previous-generation GPUs, using DLSS 2 Super Resolution, will see performance increase by over 2X at 4K, with max settings and all ray-traced settings set to their highest levels. And those with GeForce RTX 40 Series GPUs can leverage the power of DLSS 3 to accelerate the action to more than double frame rates, giving them over 120 FPS at 4K, and the definitive Marvel's Spider-Man: Miles Morales experience.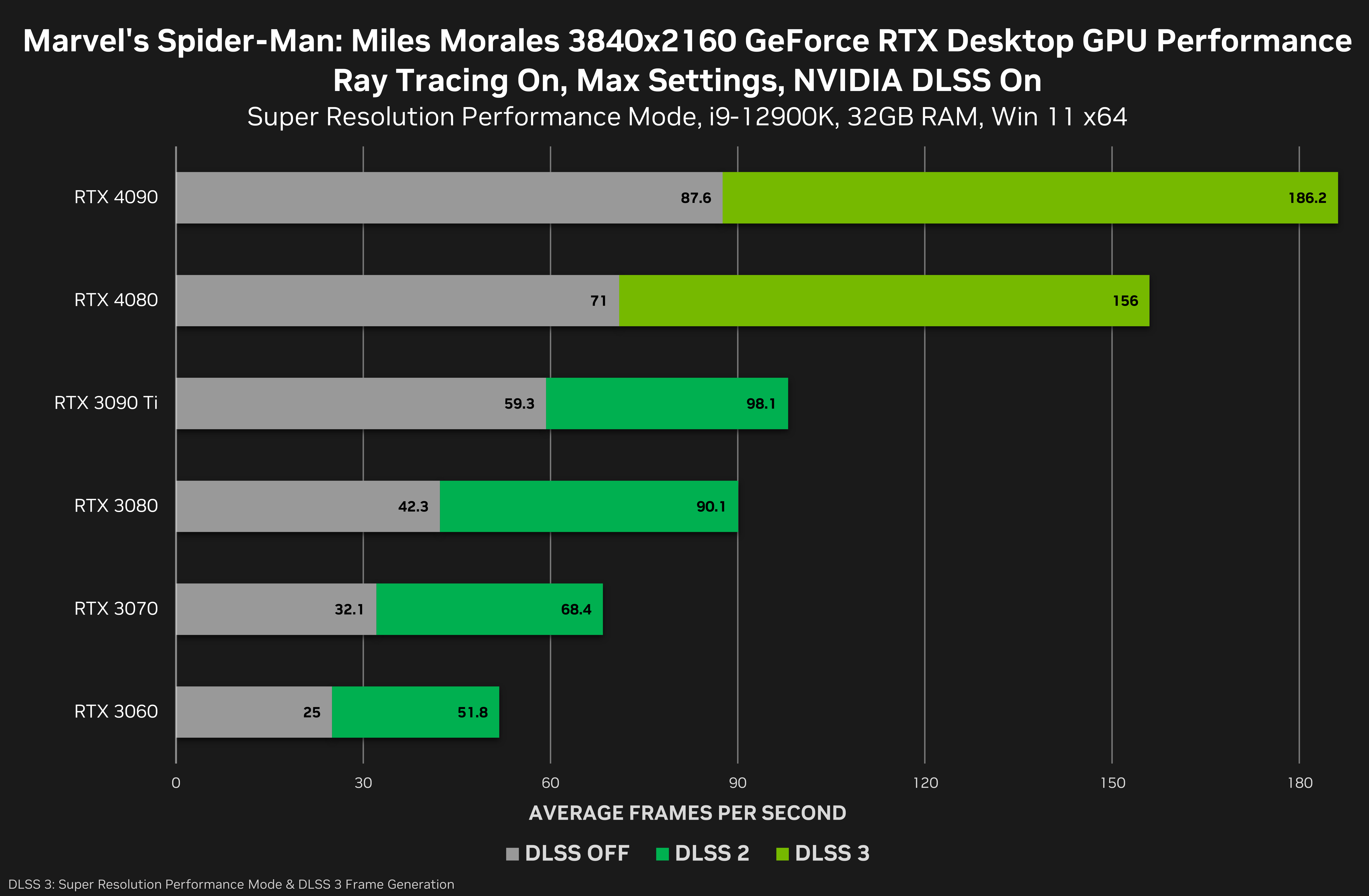 For a new Marvel's Spider-Man: Miles Morales DLSS 3 performance comparison video, and further details about the game's tech features, return to GeForce.com on November 18th to read our Marvel's Spider-Man: Miles Morales PC launch article.
Need for Speed Unbound Races Into Action November 29th With DLSS 3
Need for Speed Unbound, the latest edition in the Need for Speed franchise from Electronic Arts and Criterion Games, puts players in the driver's seat of their own street racing fantasy as they outsmart cops and prove they have what it takes to win The Grand, Lakeshore's ultimate street racing challenge. Need for Speed Unbound features an all-new, unique visual style blending elements of street art with the most realistic looking cars in the franchise's history. The innovative single player campaign delivers thrills and consequences through an immersive narrative that engages players in the city of Lakeshore as they race, collect, upgrade, and customize the world's hottest performance cars on their way to the top of the scene.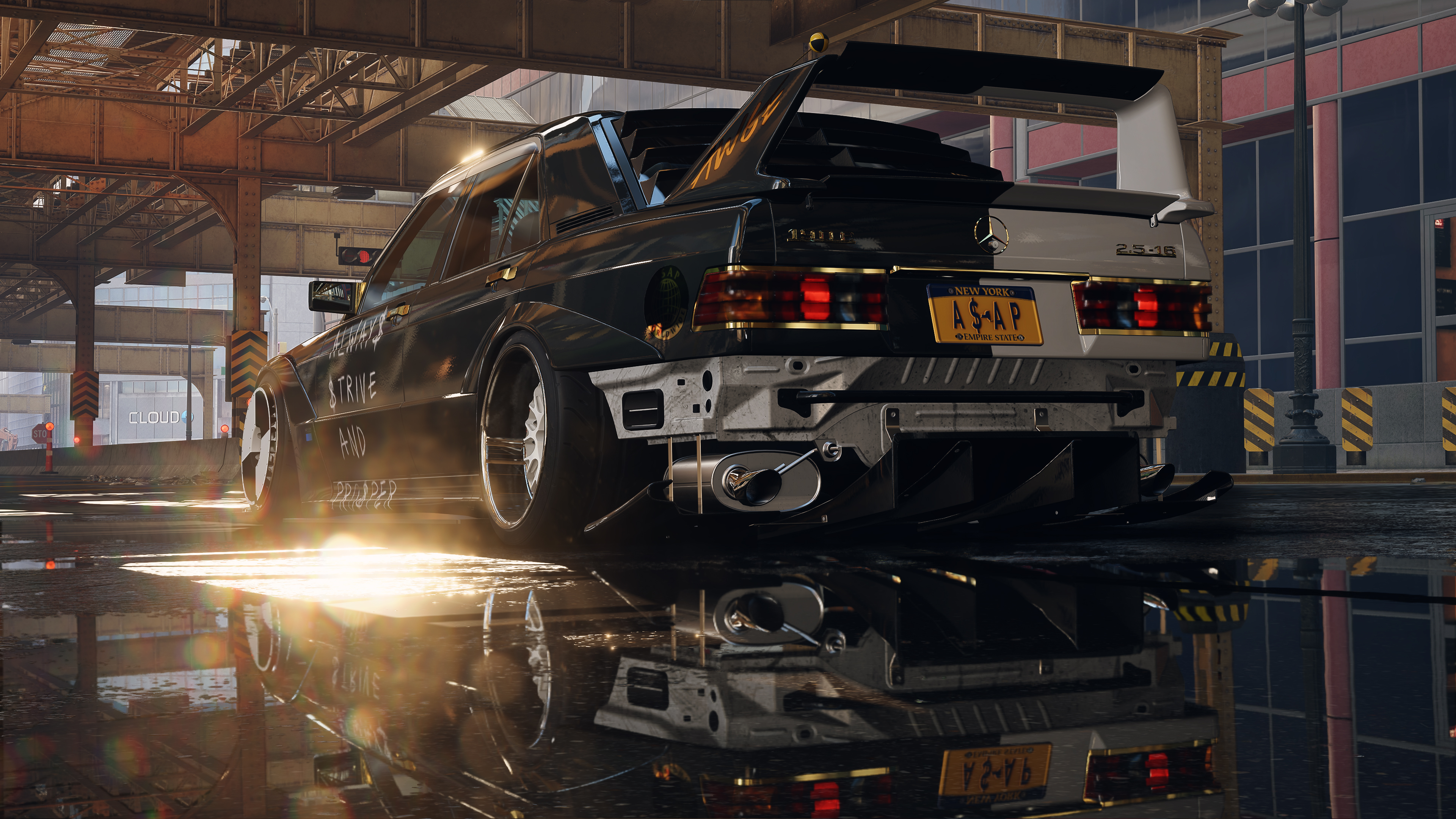 On PC, EA Play members can play Need for Speed Unbound early, with a 10-hour trial starting November 29th, and enjoy recurring in-game benefits. Additionally, EA Play Pro members on PC will receive unlimited access to the Need for Speed Unbound Palace Edition starting November 29th, three days before the game officially launches. The general release follows on December 2nd.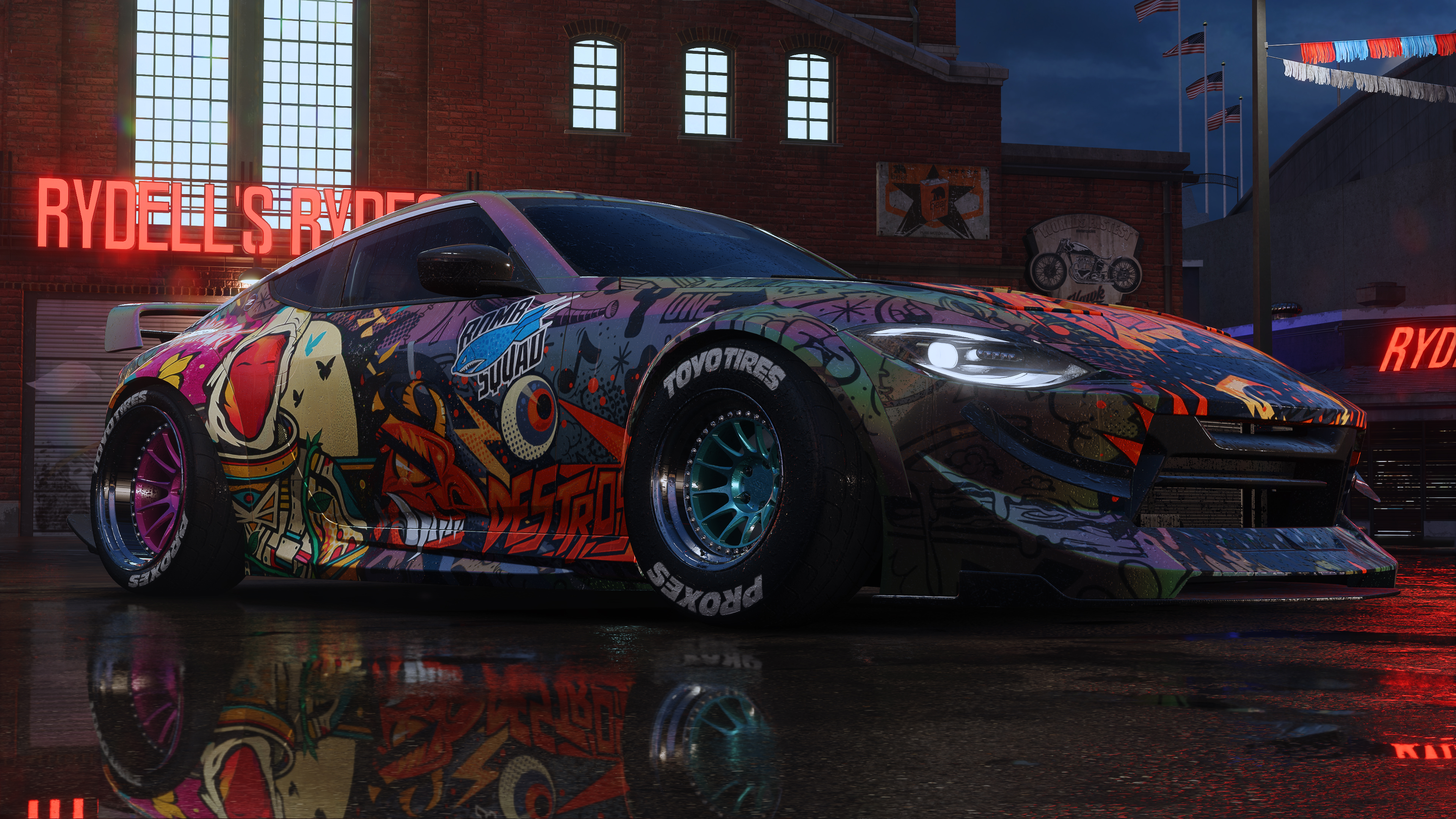 From the moment Need for Speed Unbound races from the starting line on November 29th with the Palace Edition, GeForce RTX 40 Series gamers can leverage DLSS 3 to maximize performance, and all GeForce RTX players can accelerate performance with DLSS 2.
Forza Horizon 5: NVIDIA DLSS AI Super Resolution & Ray Tracing Improvements Available Now
Playground Games' Forza Horizon 5 is one of the best-rated driving games of all time, inviting players to blast through a highly-detailed and vibrant open-world Mexico, while behind the wheel in hundreds of the world's greatest cars.
On November 8th, Playground Games launched a PC update for Forza Horizon 5 that added support for DLSS AI Super Resolution, DLAA, and ray-traced car reflections in Free Roam, Races, and Photo Mode.
With DLSS AI Super Resolution, players can maximize performance, and give themselves the headroom to enable Extreme ray-traced car reflections at the highest resolutions and settings. DLAA, meanwhile, uses the same technology developed for DLSS, but works on a native resolution image to maximize image quality instead of boosting performance. If your performance is already high, consider enabling DLAA for even better image quality.
Titan Station Available Now With DLSS 2 & Ray Tracing
Far into the future, in the year 1999, David, a systems operator, runs from his troubles by taking a job on a space station. After arriving, his mundane work turns into a struggle for his very life as he makes a shocking discovery in Joakim Larsen's Titan Station, a single-player first-person mystery set in a retro sci-fi universe.
Available now on Steam, Titan Station is at its best when experienced on a GeForce RTX-powered PC or laptop thanks to the inclusion of NVIDIA DLSS 2. Players' performance will be boosted significantly with DLSS, and even more so when enabling Titan Station's ray-traced reflections and ray-traced ambient occlusion effects, which are further accelerated by the Ray Tracing Cores found on each GeForce RTX GPU.
Valkyrie Elysium Launches With DLSS 2 On PC
In Square Enix's Valkyrie Elysium, a young Valkyrie is entrusted with the fate of the world by the All-Father, the highest of gods and ruler of all creation, who will face various enemies on her quest and must utilize a variety of weapons, magic and the power of her allies to prevent Ragnarok—the destruction of the world.
Square Enix's action-RPG is available now, and GeForce RTX owners can enhance their experience by enabling NVIDIA DLSS 2.
Ballads of Hongye Launches November 15th With DLSS 2
Amazing Seasun's Ballads of Hongye is a fast-paced unique strategy city builder game which will be released on Steam on November 15. As the local magistrate, you must carefully plan and act to complete the various challenges in different environments to earn the right to rule the lands. Build a thriving city and revive Hongye County as you discover a unique story.
For the best city building experience possible, you'll want to crank resolution and detail levels to the max, and with NVIDIA DLSS 2 you can do just that. Head to Steam to learn much more about Ballads of Hongye.
Frozen Flame Early Access Available November 17th, Accelerated By DLSS 2
Dreamside Interactive and Ravenage Games' Frozen Flame is a single-player and co-op survival RPG set in the vast world of Arсana, an ancient land once governed by the Dragons. Recruit allies, build your keep, gear up with dozens of craftable options and get exploring in search of ancient artifacts left by the ancients. No journey is like any other in this realm: bound by magic, the shape of the world is unique for every playthrough, with islands, floating in the air, changing the layout in an unpredictable way.
At launch, GeForce RTX gamers can accelerate their performance in Frozen Flame with NVIDIA DLSS 2.
Evil West Available November 22nd With DLSS 2
A dark menace consumes the Old West. In solo or coop, fight against the darkness with style in visceral, explosive combat versus bloodthirsty monstrosities. Eradicate the vampiric hordes with your lightning-fueled gauntlet and become a Wild West Superhero in Flying Wild Hog and Focus Entertainment's Evil West, launching November 22nd.
Battle the forces of evil at the highest frame rates, resolutions and detail levels with NVIDIA DLSS 2, which will aid you in your fight from the second Evil West rides out.
Gungrave G.O.R.E Launches With DLSS 2 November 22nd
The Gungrave franchise began back in 2002, and spawned anime TV series, before going on hiatus after the release of Gungrave: Overdose in 2004. Now, Grave, the Gunslinger of Resurrection is back in action in Gungrave G.O.R.E, a stylish third-person action shooter by IGGYMOB, published by Prime Matter, launching November 22nd.
For the best possible experience, with the highest frame rates at high resolutions, with settings maxed out, play Gungrave G.O.R.E on a GeForce RTX GPU, and enable NVIDIA DLSS 2, which will be available at launch.
Monster Hunter Rise Adds NVIDIA DLAA In November Title Update 3
Capcom's critically acclaimed Monster Hunter Rise runs at ridiculously high frame rates for many GeForce RTX gamers, so the developers are adding NVIDIA DLAA as part of November's Title Update 3.
DLAA uses the same technology developed for DLSS, but works on a native resolution image to maximize image quality instead of boosting performance. With NVIDIA DLAA, Monster Hunter Rise and the Sunbreak expansion will look even more detailed.
As Always, There's More To Come
Since its launch, NVIDIA DLSS has transformed gaming, enabling developers to craft more detailed and immersive games that run smoothly on today's hardware. Over 240 released games and apps are supported, and each month that number grows ever higher.
Now, there's NVIDIA DLSS 3 and its incredible new Optical Multi Frame Generation technology that multiplies performance, whether bottlenecks are a result of the CPU or GPU. With DLSS 3, you'll have ultimate performance in every supported game.
Stay tuned to GeForce.com for further information about the release of NVIDIA DLSS 3 for the latest and greatest games, because there are many more to come in the near future.