NVIDIA Reflex is a must-have in games, reducing system latency so your actions occur quicker, making you more competitive in multiplayer matches, and making single-player titles more responsive and enjoyable. Reflex is available in the most popular multiplayer and esports games, is supported on GeForce graphics cards dating back to the 900 Series, and only takes a single click to enable.
NVIDIA Reflex is used by over 20 million players each month, and game adoption is ever increasing. So read on to discover which games have added NVIDIA Reflex since our last update, and to get details about new Reflex-compatible gaming mice that'll help you up your game and accurately measure system latency.
NVIDIA Reflex Available Now In Even More Games
Almost 50 released games support NVIDIA Reflex, enabling GeForce players to reduce system latency by up to 50%, for the most responsive gaming experience possible on any platform. Since our last Reflex update, several massively popular games have added Reflex technology for their players: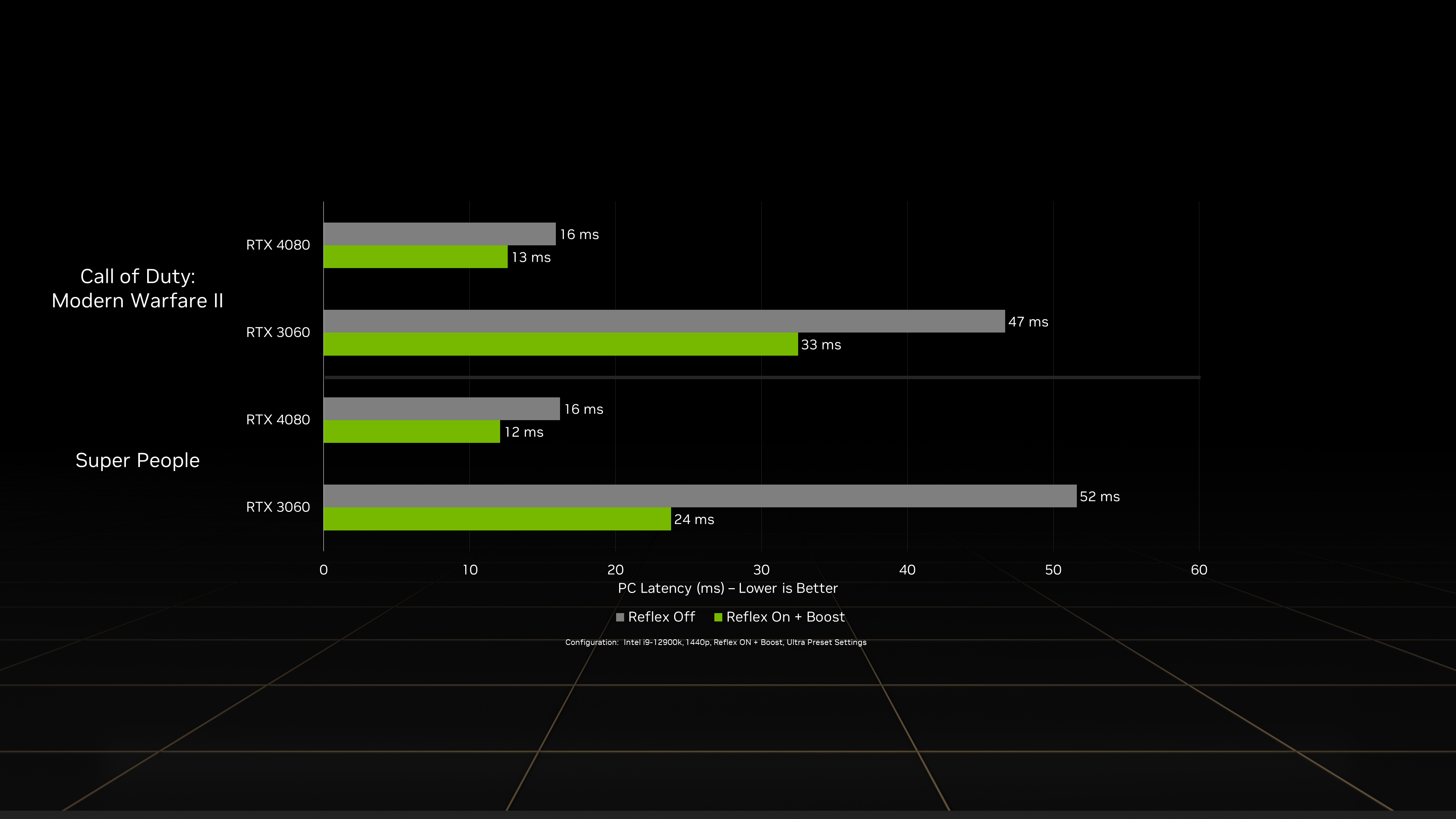 And in case you missed the news, Reflex was also added in recent weeks to NetEase Justice, Sony's Marvel's Spider-Man Remastered, and WRC Generations – The FIA WRC Official Game, from KT Racing and Nacon.
In each title, enter the video options and enable NVIDIA Reflex to reduce system latency on your system. For even lower latency, select "On + Boost", and optimize other parts of your system to further reduce system latency.
Download & Install Our New Game Ready Driver
Game Ready Drivers deliver the best experience for your favorite games. They're finely tuned in collaboration with developers and extensively tested across thousands of hardware configurations for maximum performance and reliability. When playing any of the new NVIDIA Reflex games, we recommend downloading and installing our newest driver.
You can grab our latest release for Windows 10 and Windows 11 systems via the "Drivers" tab of GeForce Experience, or download it directly from our website.
New Mice With NVIDIA Reflex Analyzer Support Available Now
November also sees the release of seven new NVIDIA Reflex-compatible mice, which work in concert with GeForce Experience and NVIDIA Reflex gaming monitors to measure end-to-end system latency, from the click of a mouse, to the action incurring in the game, to that being shown on your display.
AOC now offers the AOC AGM 600, AOC GM 300, and AOC GM 530.
From ASUS, there's the ROG Keris Wireless Aimpoint, ROG Gladius III Wireless Aimpoint, and ROG Strix Impact III.
And Logitech introduces support for Reflex with their G705 Wireless Gaming Mouse.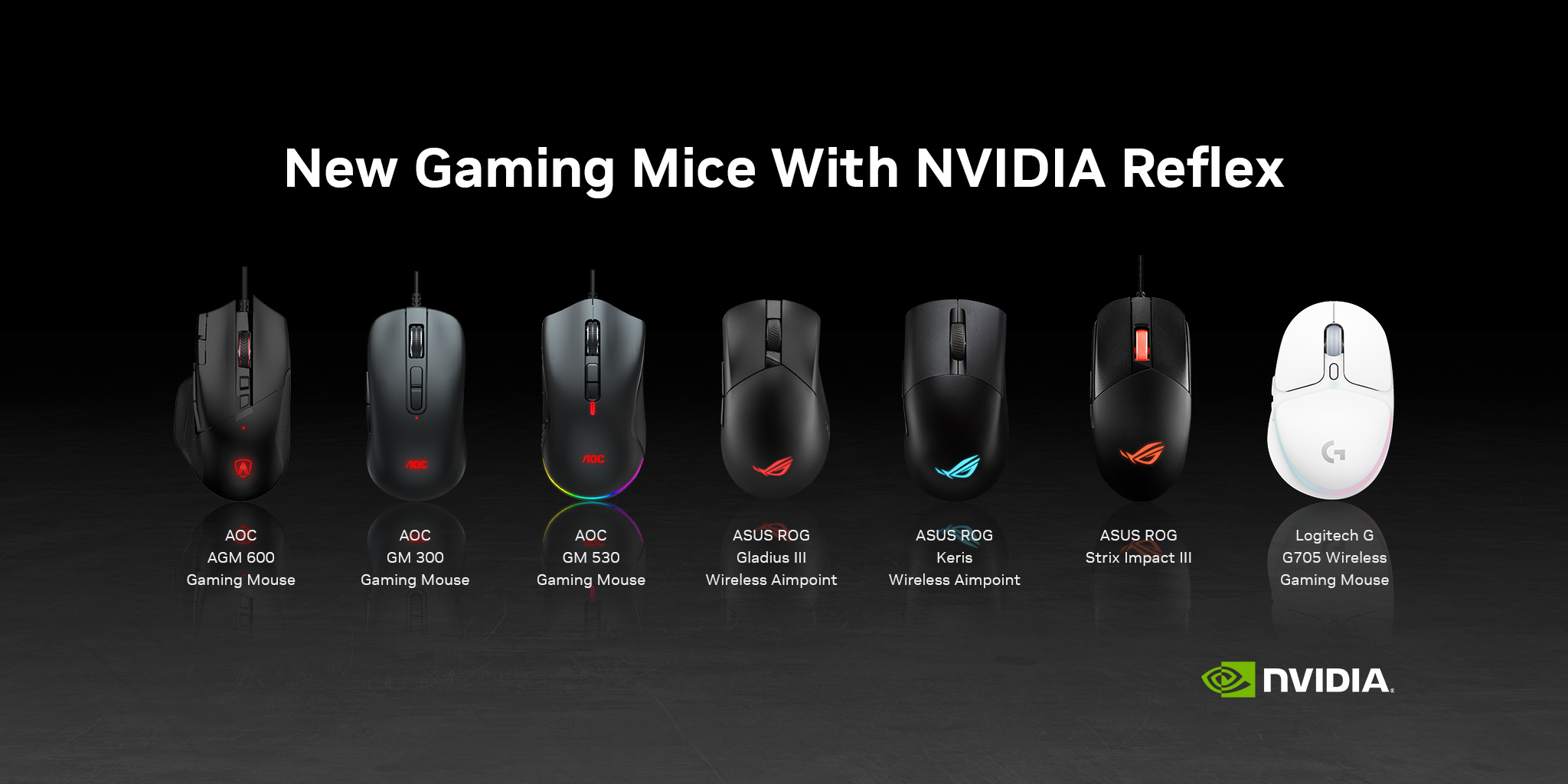 To learn more about measuring system latency with compatible NVIDIA Reflex accessories, follow our guide here.
More To Come In December!
Even more new NVIDIA Reflex games, monitors, and mice are on the way, so stay tuned to GeForce.com to see the news when it drops. Check out the complete list of currently supported games and devices on our NVIDIA Reflex website.