Our new GeForce RTX 40 Series graphics cards are beyond fast, giving gamers our highest ever gen-to-gen frame rate boost. This quantum leap in performance comes courtesy of the NVIDIA Ada Lovelace architecture's many innovations, and NVIDIA DLSS 3, which accelerates performance by up to 4X in next-gen games with full ray tracing. With a GeForce RTX 4090 or GeForce RTX 4080 in your system, games will run at unbelievable frame rates, and you'll have the power to experience richer, more immersive gaming.
Over 35 DLSS 3 games and apps have already been announced, and 8 are already available, including fan favorites such as A Plague Tale: Requiem, F1Ⓡ 22, Marvel's Spider-Man: Remastered, Microsoft Flight Simulator and SUPER PEOPLE. And we also have new DLSS 2 titles coming this month, too.
Altogether, over 240 released games and apps use the power of AI to accelerate performance with NVIDIA DLSS, giving millions of GeForce RTX gamers the fastest frame rates and beautiful, sharp graphics. Developers love the performance boosts that DLSS gives to their players, and with DLSS 3 the benefits get even better. Check out the video below to see CD PROJEKT RED, Fatshark and Nixxes talk about how RTX and DLSS help them enhance their fan-favorite games:
Read on to discover which games are giving GeForce gamers an even-better experience this month, and check back soon for even more DLSS announcements.
NVIDIA DLSS 3 Multiplies Frame Rates
NVIDIA Deep Learning Super Sampling (DLSS) is a groundbreaking revolution in AI-powered graphics, increasing performance on GeForce RTX GPUs using dedicated Tensor Cores.
Powered by new hardware capabilities of the NVIDIA Ada Lovelace architecture, DLSS 3 generates entirely new high quality frames, rather than just pixels.
Through a process detailed in full in our NVIDIA DLSS 3 article, DLSS 3 combines DLSS Super Resolution technology and DLSS Frame Generation to reconstruct 7/8ths of the displayed pixels, accelerating performance to previously unimaginable degrees.
In GPU-limited games, DLSS 2 Super Resolution technology can increase your frame rates by up to 2X. With DLSS 3, we can boost them by up to 4X (compared to brute-force rendering) in fully ray-traced worlds, like those seen in the incredible Portal with RTX.
Certain games make extensive use of the CPU which can limit performance. DLSS 3 operates on the GPU, bypassing CPU bottlenecks and boosting frame rates. In Microsoft Flight Simulator, for example, DLSS 3 boosts frame rates by up to 2X.
DLSS 3 games are backwards compatible with DLSS 2 technology - developers simply integrate DLSS 3, and DLSS 2, also known as DLSS Super Resolution, is supported by default. Additionally, integrations of DLSS 3 also include NVIDIA Reflex, reducing system latency for all GeForce RTX users, making games more responsive.

F1Ⓡ 22 DLSS 3 Update Available Now
EA SPORTS F1Ⓡ 22 from Codemasters and Electronic Arts already boasts immersive ray-traced opaque reflections, transparent reflections, ambient occlusion, and shadows, and DLSS Super Resolution. And now, with the launch of a new patch, you can play the high-speed racer at 4K at over 120 FPS thanks to the power of GeForce RTX 40 Series graphics cards, and the addition of NVIDIA DLSS 3.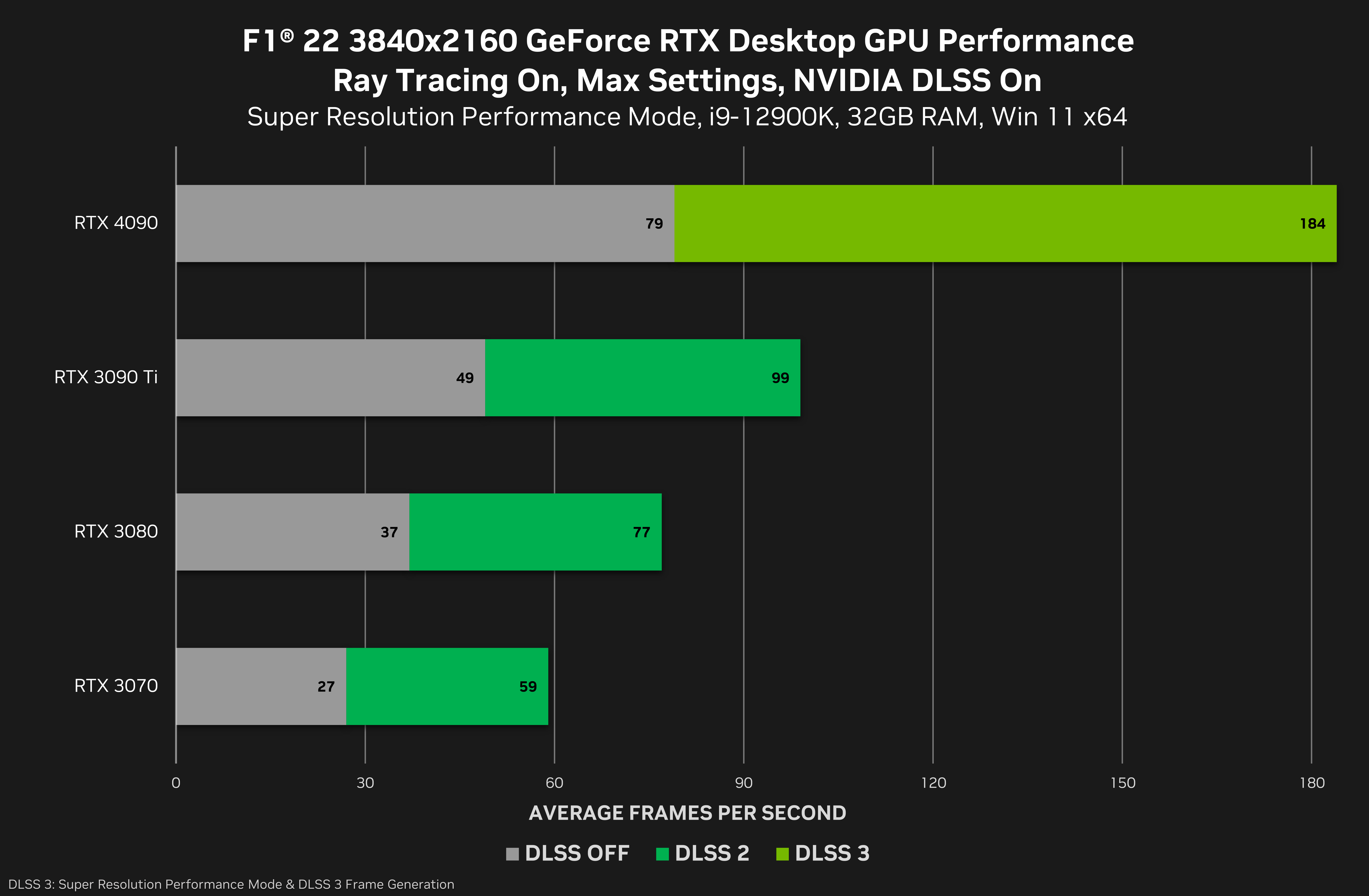 With performance boosted by up to 2.5X, DLSS 3 gives GeForce RTX 40 Series users the definitive F1Ⓡ 22 experience at 4K, with every setting maxed out. See for yourself in our DLSS comparison video:
Destroy All Humans! 2 - Reprobed NVIDIA DLSS 3 Update Lands November 15th
Following the success of 2020's Destroy All Humans!, which remade the 2005 cult-classic action game, the remake of the 2006 sequel landed on Earth recently. In Destroy All Humans! 2 - Reprobed, head to the swinging '60s to take revenge on the KGB for destroying your mothership, fight massive bosses, and even befriend a few pathetic humans to help you achieve victory.
DLSS 2 launched from the mothership in October, and on November 15th Destroy All Humans! 2 - Reprobed upgrades to DLSS 3, increasing frame rates by up to 2X:
Check out the DLSS 2 Super Resolution-enhanced demo on Steam.
Microsoft Flight Simulator's NVIDIA DLSS 3 Update Takes-Off November 11th
Microsoft Flight Simulator is a stunning, critically-acclaimed flight simulator that marries realistic recreations of popular planes with an accurate map of our planet, and regular free updates add immersive hand-crafted detail to the world's most visited cities, airports and regions.
The 1:1 real-world recreation of our planet in Microsoft Flight Simulator challenges even the most powerful PCs. To help, Asobo Studio and Microsoft have brought NVIDIA DLSS 3 to the game.
"Creating a lifelike digital twin of our entire planet is incredibly CPU intensive. DLSS 3 is a GPU technology that tackles the performance limitations of the CPU, making it the perfect way to experience Microsoft Flight Simulator." - Jorg Neumann, Head of Microsoft Flight Simulator, Xbox Game Studios
DLSS Super Resolution is effective in boosting performance in GPU bound cases by rendering fewer pixels. However, Microsoft Flight Simulator can be CPU bound even on the highest-end CPUs. In this case, DLSS 3's Optical Multi Frame Generation is able to alleviate CPU bottlenecks and boost FPS by up to 2X by creating entirely new frames that never touch the CPU.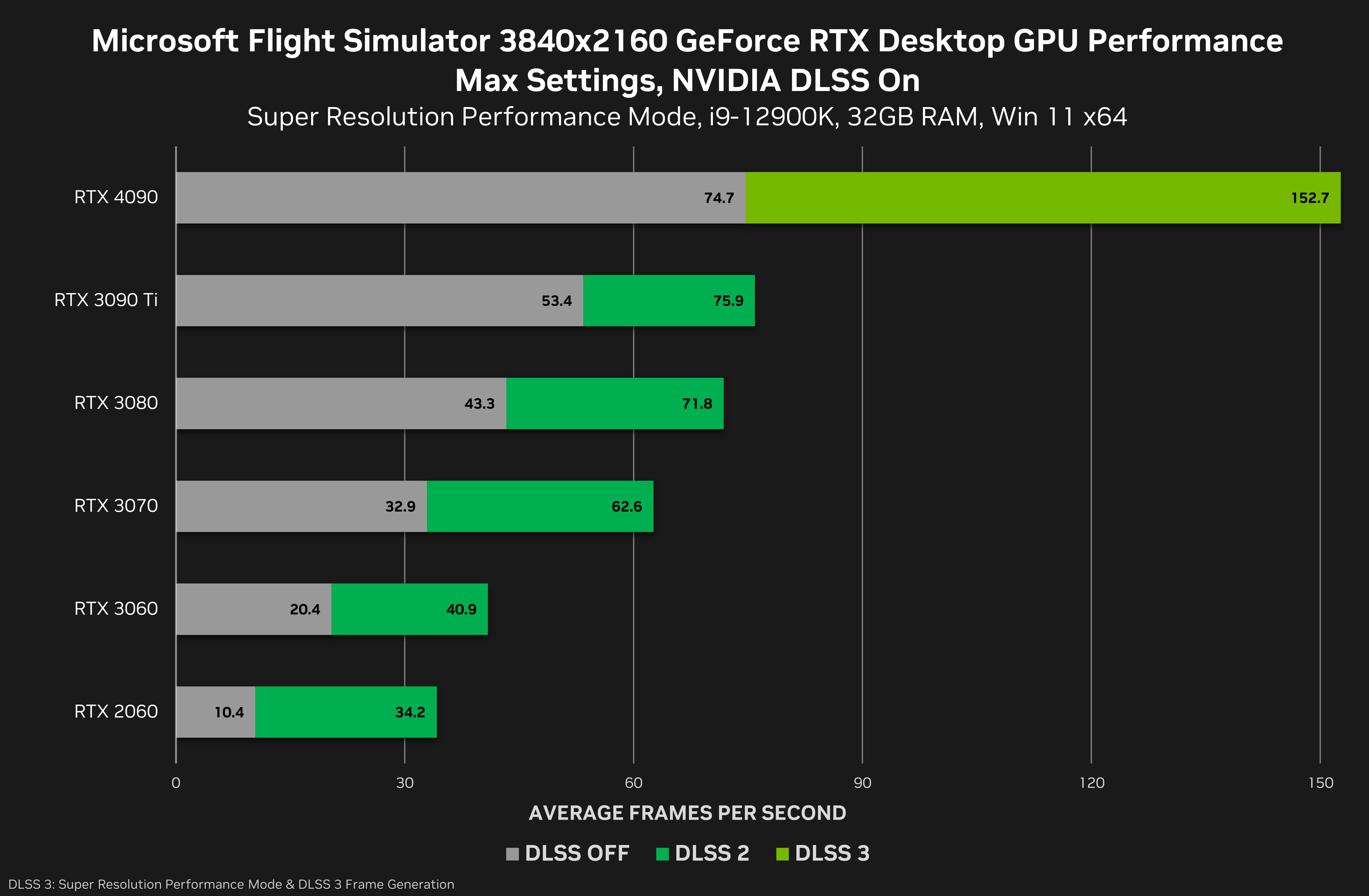 NVIDIA DLSS 3 for Microsoft Flight Simulator arrives November 11th alongside the launch of Microsoft Flight Simulator Sim Update 11 and the game's new, much-anticipated Microsoft Flight Simulator 40th Anniversary Edition. Microsoft is currently running a DLSS 3-enhanced beta that owners of the game can help test.
Follow the instructions to install, and once your game is updated, NVIDIA DLSS 3 will be available to use in-game, increasing your performance by up to 2X.
Marvel's Spider-Man: Miles Morales On PC: DLSS 3 & Ray Tracing Launching November 18th
Marvel's Spider-Man Remastered on PC has been positively received by press and fans since its release in August 2022.
The great gameplay is married with a fantastic set of PC features, great performance, and GeForce RTX enhancements, including DLSS 3, DLSS 2, NVIDIA Reflex, NVIDIA DLAA, and RT Core-accelerated ray tracing, enabling players to see the game at its very best, at 4K, with max settings enabled.
On November 18th, PC players can take up the mantle of Miles Morales in Marvel's Spider-Man: Miles Morales, following on from the events of Marvel's Spider-Man Remastered. Head back to Marvel's New York to experience a new story and Miles' unique powers, which will help him overcome the challenges threatening his home. Like Marvel's Spider-Man Remastered, Marvel's Spider-Man: Miles Morales is loaded with enhancements and PC-specific features, and this time that bumper list of additions also includes new ray-traced shadows that further enhance image quality and immersion.
To enjoy the definitive experience when playing Marvel's Spider-Man: Miles Morales on PC, grab a GeForce RTX graphics card and activate NVIDIA DLSS. Combined with the RT Cores of your GeForce RTX GPU, you'll accelerate the game's incredible tech to the fastest possible speeds. And with NVIDIA DLSS 3, you can turbo charge performance at 4K, giving you the fastest, highest-fidelity experience possible.
Stay tuned for further details, and for the release of our Marvel's Spider-Man: Miles Morales GeForce Game Ready Driver.
F.I.S.T.: Forged In Shadow Torch DLSS 3 Update Out November 7th
TiGames' F.I.S.T.: Forged In Shadow Torch is a fantastic Metroidvania-esque adventure that we've previously looked at in-depth. Thanks to a technical partnership with NVIDIA, GeForce RTX gamers got to enjoy F.I.S.T. with high-fidelity ray-traced effects, DLSS Super Resolution, and NVIDIA Reflex.
On November 7th, F.I.S.T.: Forged In Shadow Torch upgrades to DLSS 3, boosting performance by over 2X at 4K with ray tracing and every other setting cranked to the max: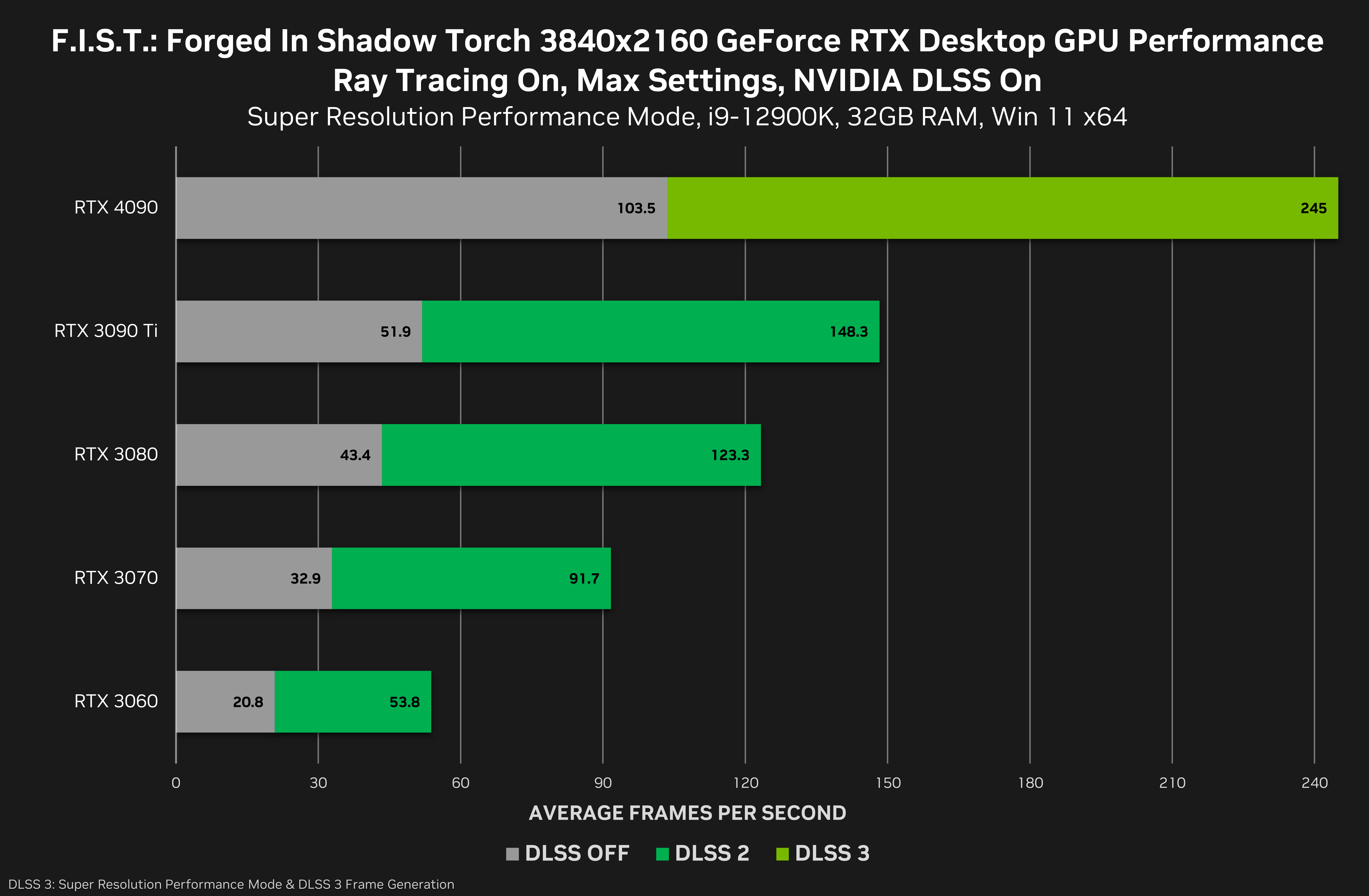 Sackboy: A Big Adventure Available Now On PC With DLSS 2 & Ray Tracing
That's right! PlayStation's iconic woolen hero is now available on PC, starring in Sackboy: A Big Adventure! The dastardly Vex has kidnapped Sackboy's friends and forced them to build his Topsy Turver. This most terrifyingly twisted device will transform Craftworld from a fantastical land of pure imagination and innocent dreams… into a torrid, barren eyesore of nightmares. Set off alone or with your bravest friends on a whirlwind of capers across the snowiest mountains, the leafiest jungles, the wettest underwater realms and the, uh, spaciest of space colonies. Take down Vex. Save the sack-folk. Save the day.
By playing on PC with a GeForce RTX graphics card, you can enhance your adventures across Craftworld with NVIDIA DLSS 2, also known as DLSS Super Resolution. Sackboy: A Big Adventure features ray-traced reflections, ray-traced shadows, and ray-traced ambient occlusion effects, testing the mettle of systems. At 4K, with max settings and every ray-traced option enabled, DLSS Super Resolution accelerates frame rates by up to 2.5X.
For further details about Sackboy: A Big Adventure on PC, head over to the PlayStation Blog.
WRC Generations – The FIA WRC Official Game Launches With DLSS 2 On November 3rd
WRC Generations from KT Racing and Nacon is the FIA's official World Rally Championship game, and this new iteration of the venerable franchise introduces the WRC's first hybrid cars, shaking up the sport significantly. Rise to all the challenges of the most comprehensive, realistic and demanding rally simulation ever developed, and attempt to conquer the new six-stage Swedish rally.
By playing WRC Generations – The FIA WRC Official Game on a GeForce RTX GPU, desktop or laptop, you can enhance your racing with DLSS Super Resolution and NVIDIA Reflex.
The Chant Launches With DLSS 2 On November 3rd
Brass Token and Prime Matter's The Chant is a single-player, third person horror action-adventure game set on a remote island spiritual retreat. A peaceful weekend soon turns to dread after a group chant opens The Gloom, a psychedelic dimension of terror that feeds off negative energy. Interact with a recurring cast of characters, untangle the complex history of the island, and witness terrifying revelations about the cosmos. Only you can fight off the creatures, reason with the survivors, and unravel the legacy of a cult from the 1970s to reverse the ritual.
The Chant releases on November 3rd, and NVIDIA DLSS 2 will be available at launch.
PGA TOUR 2K23 Available Now With DLSS 2
Hit the links in 2K Games and HB Studios' PGA TOUR 2K23, an officially licensed golf game that allows you to play on the world's most famous courses, with and against top male and female professional golfers, online and locally. Build your own golf courses, create your own golfer in MyPLAYER, and play online tournaments against friends and random opponents.
At launch, PGA TOUR 2K23 featured NVIDIA DLSS 2, accelerating performance by up to 70% at 4K, with graphics maxed out. On new GeForce RTX 40 Series graphics cards, DLSS Super Resolution pushed performance way past 200 FPS, giving players the fastest, smoothest golfing experience possible.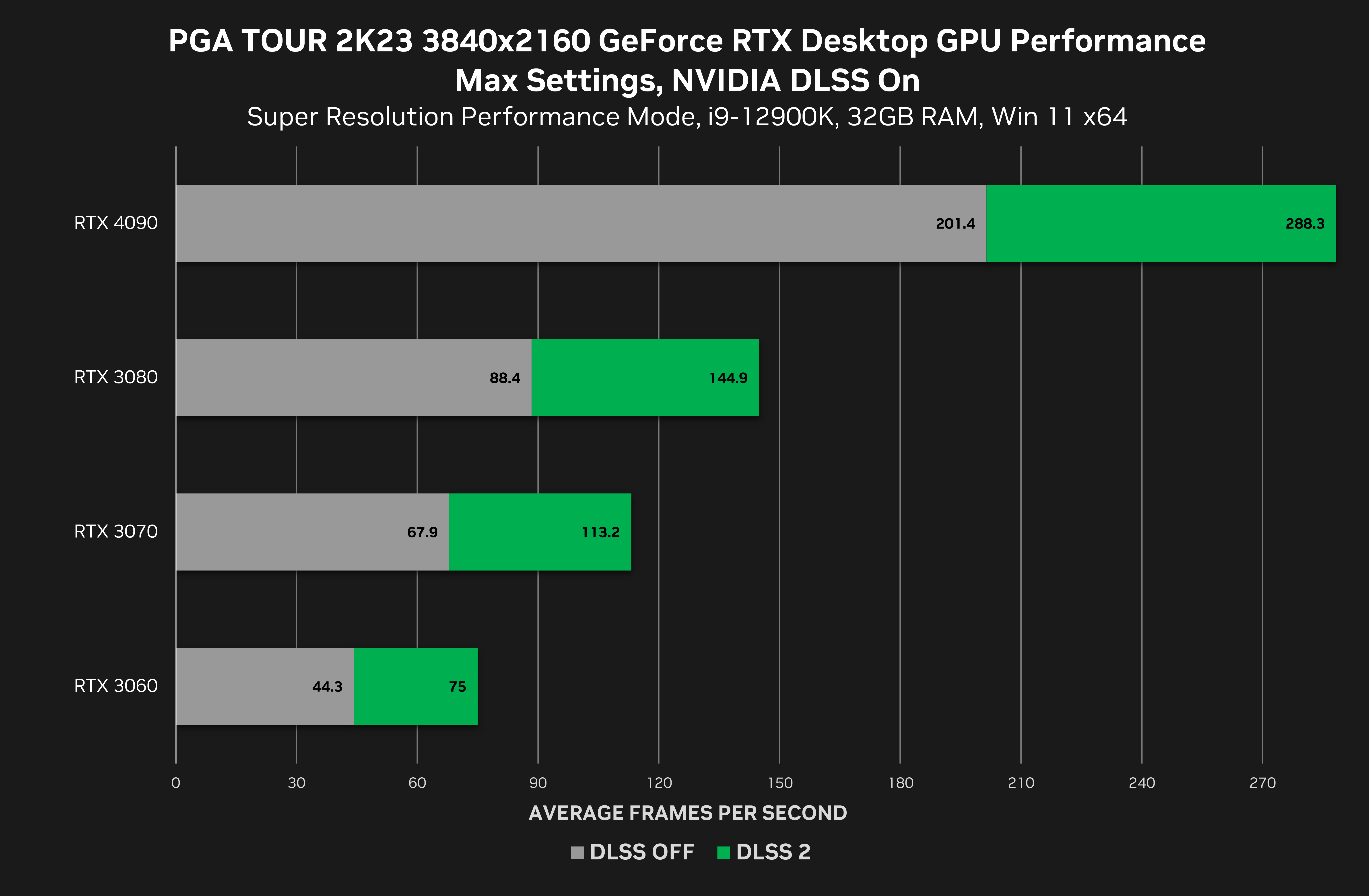 Crossout: Supercharged DLSS 2 Update Released
Crossout is Targem Games and Gaijin Entertainment's post-apocalyptic MMO Action game in which you can craft your unique battle vehicles from a myriad of interchangeable parts, ride them directly into combat and destroy your enemies in explosive PvP online battles. Mere days ago, the developers launched the Supercharged update, adding Global Illumination, Contact Shadows, Local Screen Space Reflections, Post-Processing effects, and a ton of gameplay updates and changes.
Included in the update is support for DLSS 2, which supercharges your frame rates as you can see in this Crossout DLSS 2 comparison video:
For a deep dive on all of the changes in this massive update, check out this video.
As Always, There's More To Come
Since its launch, NVIDIA DLSS has transformed gaming, enabling developers to craft more detailed and immersive games that run smoothly on today's hardware. Over 240 released games and apps are supported, and each month that number grows ever higher.
Now, there's NVIDIA DLSS 3 and its incredible new Optical Multi Frame Generation technology that multiplies performance, whether bottlenecks are a result of the CPU or GPU. With DLSS 3, you'll have ultimate performance in every supported game, and the power to enjoy the most demanding fully ray-traced next-gen games, such as Portal with RTX, and Cyberpunk 2077 with its upcoming Ray Tracing: Overdrive mode enabled.
Stay tuned to GeForce.com for further information about the release of NVIDIA DLSS 3 for the latest and greatest games, because there are many more to come in the near future.