NVIDIA DLSS uses AI and GeForce RTX Tensor Cores to boost frame rates while maintaining great image quality. With DLSS 3, AI-powered frame generation creates new, high-quality frames for smoother gameplay. Combined with our Super Resolution technology, DLSS 3 can render seven out of every eight pixels in a scene with AI. Adoption continues to accelerate and NVIDIA DLSS is now delivering AI-accelerated performance in over 300 games and applications.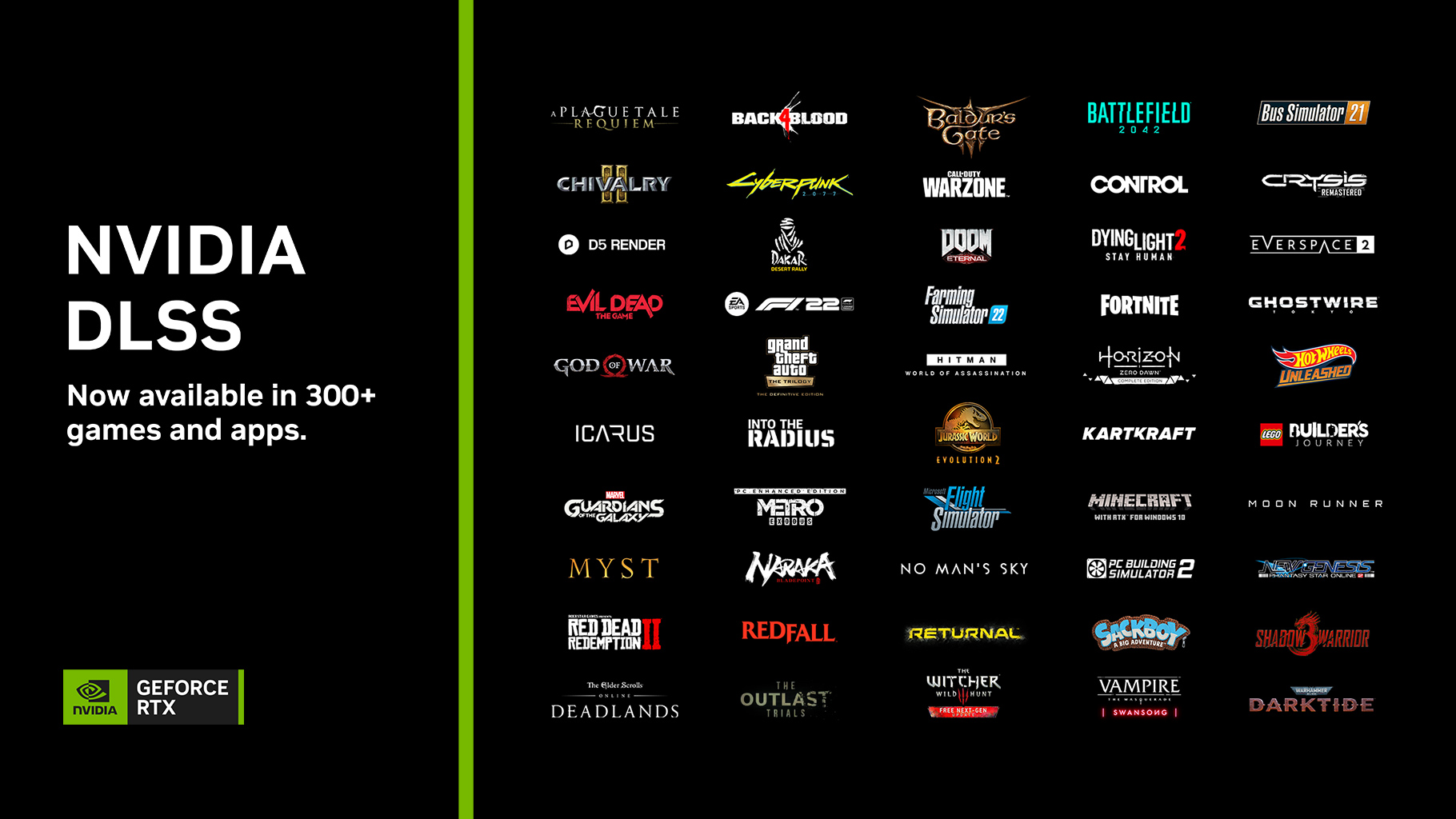 This week, D5 Render, the real-time ray tracing renderer for architects, landscape, interior designers, engineers and other 3D professionals, introduces support for DLSS 3, multiplying performance. DLSS 3 significantly enhances the real-time rendering experience of D5, allowing creators to work with larger scenes and higher-quality models and textures, without sacrificing speed or interactivity.
For gamers, The Outlast Trials launches today with DLSS 2, and Bus Simulator 21 has been updated with support for DLSS 2.
Looking to the future, we can reveal that Ashfall, NetEase's post-apocalyptic MMORPG, will launch with DLSS 3 - check out a new, exclusive gameplay trailer below, and get further details on all of our announcements.
To discover which games and apps are adding DLSS next, return to GeForce.com each week.
NVIDIA DLSS 3 Multiplies Frame Rates
Powered by new hardware capabilities of the NVIDIA Ada Lovelace architecture, DLSS 3 generates entirely new high quality frames, rather than just pixels.
Through a process detailed in full in our NVIDIA DLSS 3 article, DLSS 3 combines DLSS Super Resolution technology and DLSS Frame Generation to reconstruct 7 out of every 8 of the displayed pixels, multiplying performance.
In GPU-limited games, DLSS 2 Super Resolution technology can increase your frame rates by up to 2X. With DLSS 3, we can increase performance even further with new frames - in the technology preview of Cyberpunk 2077's Ray Tracing: Overdrive Mode, 4K performance on a GeForce RTX 4090 is boosted by up to 4.6X.
Other games make extensive use of the CPU, which can limit performance. DLSS 3 operates on the GPU, bypassing CPU bottlenecks and boosting frame rates. In Microsoft Flight Simulator, DLSS 3 boosts frame rates by up to 2X.
DLSS 3 games are backwards compatible with DLSS 2 technology - developers simply integrate DLSS 3, and DLSS 2, also known as DLSS Super Resolution, is supported by default. Additionally, integrations of DLSS 3 also include NVIDIA Reflex, reducing system latency for all GeForce RTX users, making games more responsive.

D5 Render Multiplies Performance With NVIDIA DLSS 3 Update
The latest update to D5 Render multiplies performance with the addition of DLSS 3 support. The industry-leading software enables users to see every modification to a scene in real-time, and is compatible with popular modeling software like SketchUp, 3ds Max, Revit, Archicad, Rhino, C4D, and Blender.
D5 Render, one of the RTX-accelerated apps in the NVIDIA Studio platform for creators, previously integrated DLSS 2, our AI feature that allows apps to render a smaller version of the image and super res it with AI, providing virtually the same level of quality at significantly higher performance.
Now, support for DLSS 3 on GeForce RTX 40 Series GPUs has been added to D5, boosting real-time viewport frame rates even further. DLSS 3 uses AI to interpolate frames - boosting framerates and enabling a smoother experience when editing on the viewport or presenting work to clients. For users dealing with large, photorealistic archviz projects, this makes a massive difference, turning a lagging viewport into a smooth, responsive one.
"We are excited to integrate DLSS 3 into D5, which will greatly enhance the real-time performance for our users," said Jessie Huang, VP of Marketing & Operations, D5. "With this integration, we believe that D5 will continue to lead the way in real-time rendering and provide our users with an unparalleled creative experience."
Ashfall Will Launch With NVIDIA DLSS 3
NetEase and Legendary Star Studio's Ashfall is a post-apocalyptic MMORPG shooter set far in the future. Remnants of humanity survived the world-ending rain of nukes by hunkering down in bunkers, but now you need to head out into the wasteland to save what's left of humankind, fighting your way through mutated animals, raiders, and other hazards.
At launch, GeForce RTX gamers can enhance their experience with NVIDIA DLSS 3. For full details, check back before Ashfall's release. For now, click below to watch a brand new Ashfall gameplay trailer.
Ahead of Ashfall's official release, gamers can dive into a beta test this July. To sign up for the beta, visit the Ashfall website, wishlist the game on Steam, and stay tuned to the game's official social media channels.
The Outlast Trials Launches Today With DLSS 2
Red Barrels' survival horror franchise, Outlast, is beloved by gamers. On May 18th, The Outlast Trials enters Early Access, inviting players to survive hellish 'therapies', either alone or in co-op. Choose tools, perks and upgrades to give yourself an advantage, and to delay the horrors that chase you through the Murkoff Corporation's testing site.
From your first fright, you'll have the fastest gaming experience possible thanks to the day-one inclusion of NVIDIA DLSS 2. Head to the game's Steam page to join the trials today with up to three friends.
Bus Simulator 21 Update Available Now With DLSS 2
Experience the daily life of a bus driver in two open world cities either in the USA or Europe, in stillalive studios' Bus Simulator 21. Drive up to 30 licensed buses by international manufacturers, including double-decker and e-buses. Take your passengers to their destinations safely and on time - either in single or multiplayer mode, and become the city's best bus driver.
Now, bus aficionados can download the big Bus Simulator 21 Next Stop update, which introduces a new mountainous nature reserve in the Angel Shores map, new campaign missions, animal crossings, and new driving challenges. Additionally, there's a completely new career mode, which combines sandbox mode with the campaign's economic system, enabling you to build a bus empire from the ground up, with access to all buses, stops and more from the second you start driving. Check out the game's Steam page for further details.
And finally, for GeForce RTX gamers there's DLSS 2 support, enabling you to max out your graphics and increase frame rates, for the definitive Bus Simulator 21 experience.
Voidtrain Early Access Available Now, Enhanced With DLSS 2
Trains are cool. Steam trains that travel along floating tracks in the void are cooler. Become a crew member of an interdimensional express and discover a new mysterious world inhabited by amazing creatures, dangers and surprises. Upgrade your train, gather new materials and build better weapons in a single-player and co-op campaign, playable with up to 4 people.
HypeTrain Digital's Voidtrain left the terminus and entered Early Access last week on Steam. Passengers traveling with GeForce RTX GPUs can get the first class treatment, with accelerated performance courtesy of NVIDIA DLSS 2.
More Games Available Now With DLSS 2
DLSS 2 can be added to many games with just a few clicks thanks to engine plugins, giving GeForce RTX gamers faster performance and an even better experience. On Steam, there are dozens of indie games leveraging DLSS 2 and its plugins; here are another two DLSS-enhanced titles worth checking out:
KartKraft: Design and build your own kart racer and vie for the top spot on real circuits
Moon Runner: Perform urgent maintenance on the moon in this free game
GeForce RTX 4060 & 4060 Ti Announced
The GeForce RTX 40 Series family is welcoming new additions, beginning May 24th with the GeForce RTX 4060 Ti, a 1080p performance champ that starts at $399.
In July, the 16GB version arrives, starting at $499, featuring additional graphics memory but otherwise identical specifications. And rounding out the family is the GeForce RTX 4060, a high-performing 1080p card also available in July that starts at just $299.
The NVIDIA Ada Lovelace architecture offers a substantial upgrade, enabling you to supercharge your performance in the latest games and creative apps.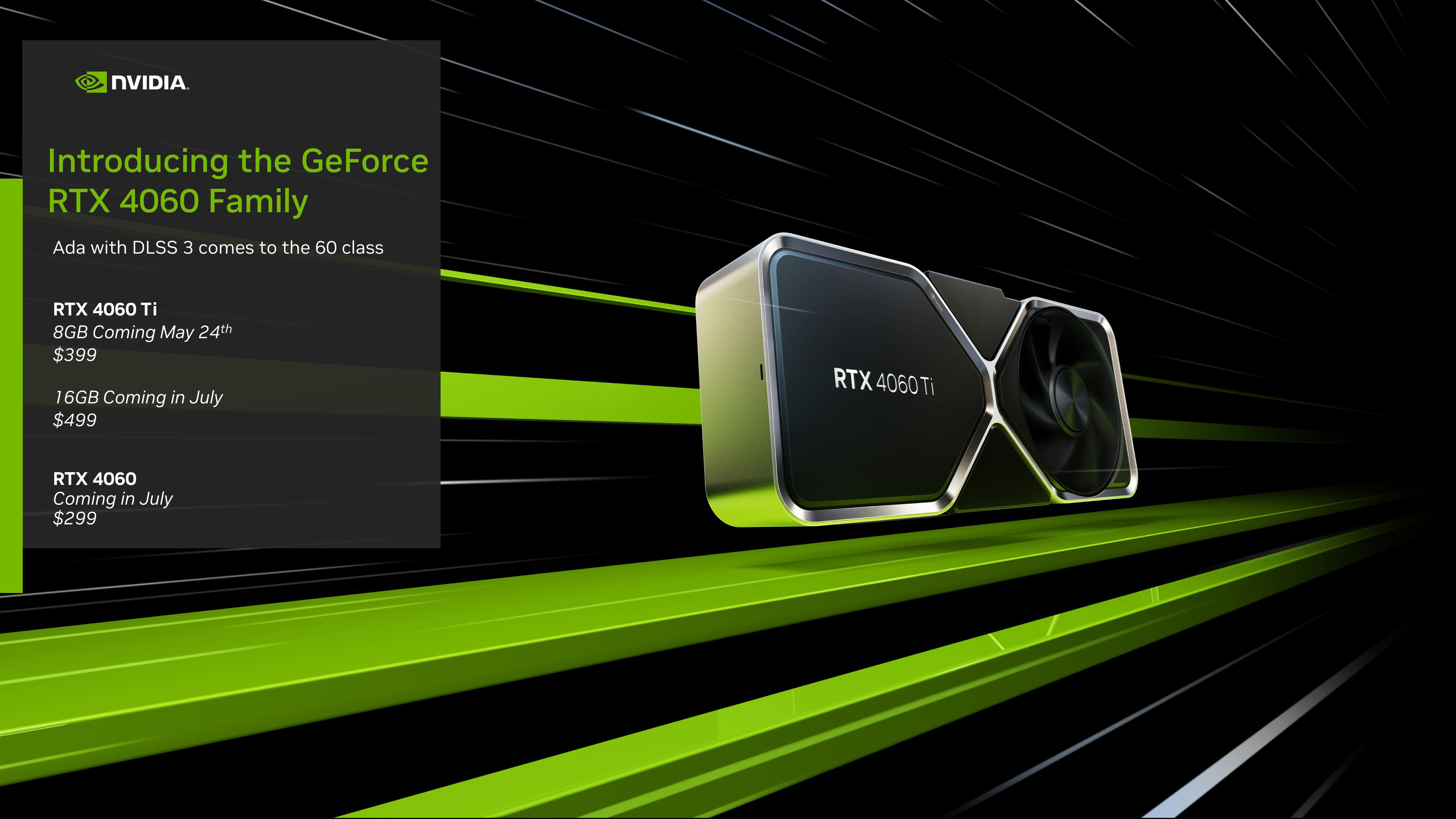 The RTX 4060 Ti is up to 2.6X faster than the RTX 2060 SUPER with Frame Generation, and 1.6X without Frame Generation, thanks to the Ada architecture, Shader Execution Reordering, NVIDIA DLSS 3 and other innovations. Together, they enable the GeForce RTX 4060 Ti to run many of today's graphically advanced games at over 100 FPS with ray tracing enabled: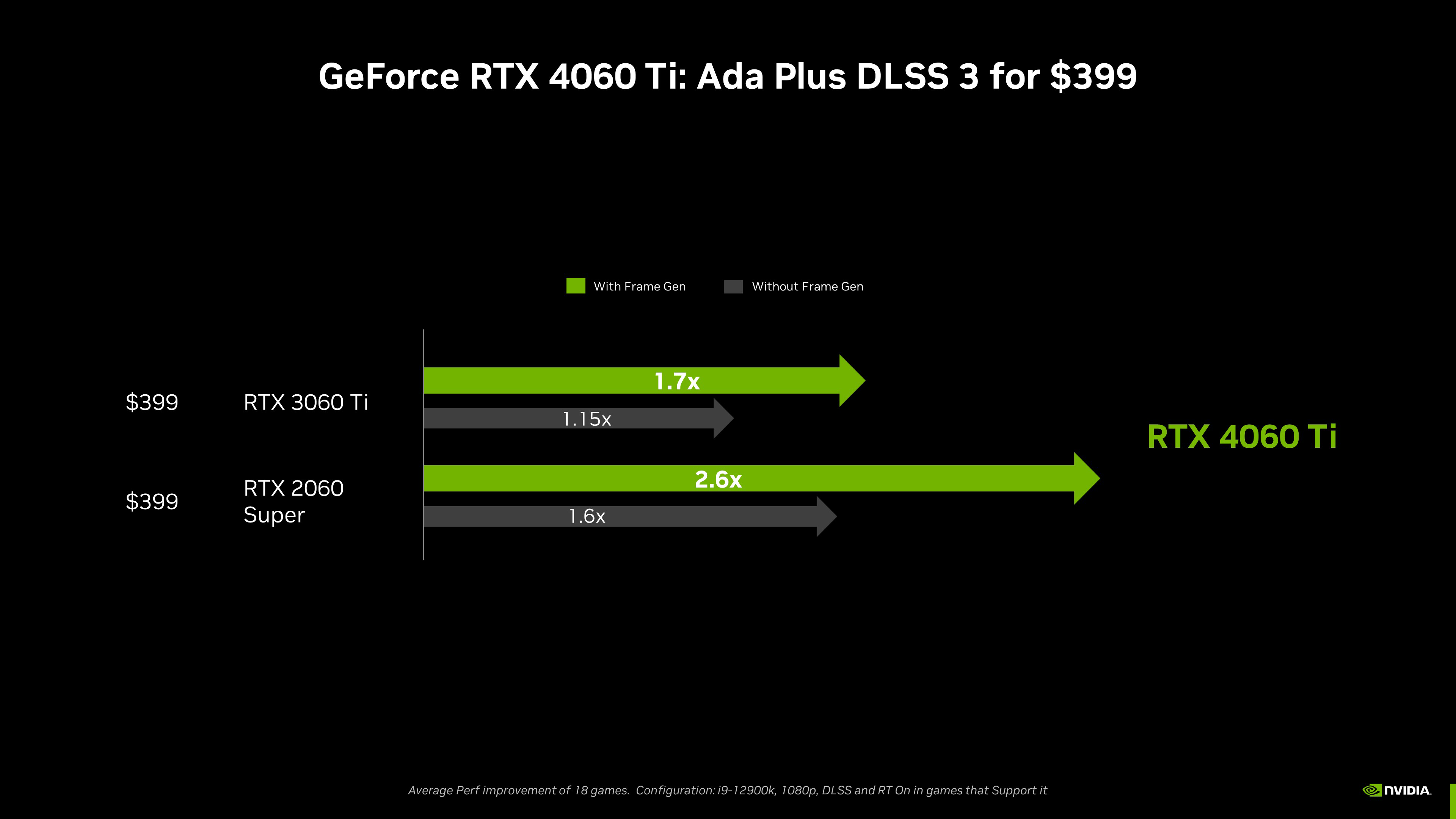 The GeForce RTX 4060 Ti includes all the same advancements, enhancements, and innovations as other GeForce RTX 40 Series graphics cards, granting you access to a massive ecosystem of technologies and features that improve your gaming experiences, productivity, and creativity. And like other GeForce RTX 40 Series cards, it's highly efficient when gaming, and sips power when idling, chatting, or streaming.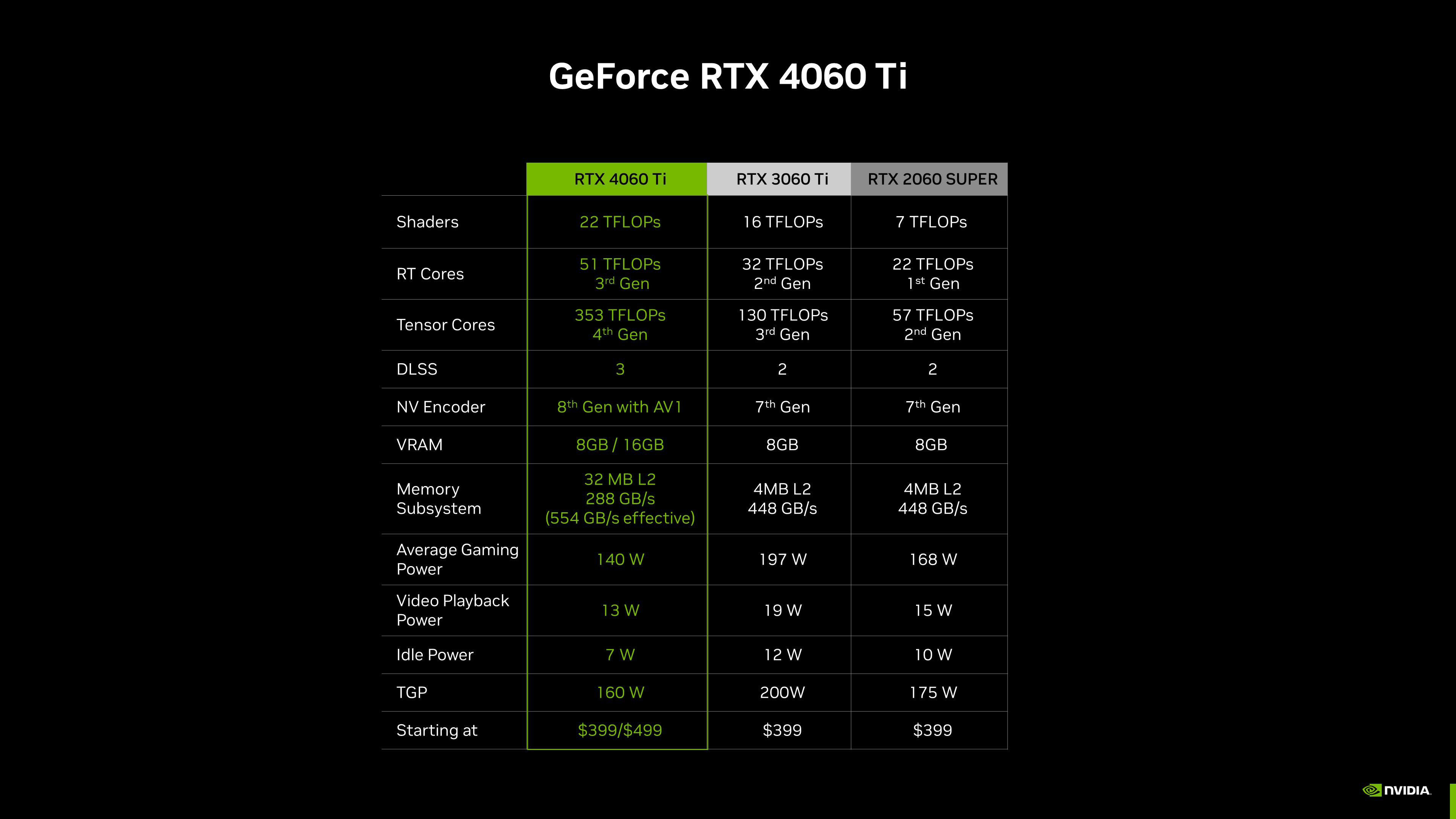 Today, 4 out of the 5 most popular GPUs are GeForce 60-class products, and 77% of gamers play at 1080p or lower resolutions. If you're one of these gamers, the GeForce RTX 4060 Family is a great upgrade, enabling you to enjoy the latest games with fast, fluid frame rates.

For a complete rundown of the GeForce RTX 4060 Family's capabilities and features, please check out our comprehensive announcement article.
Check Back Next Week For More
As you can see, there are even more DLSS integrations dropping into the newest blockbusters and latest indie games. Check back next week for a rundown of the next DLSS games, and head here to see the complete list of over 300 DLSS-enhanced games and apps.