The demon Lilith and the angel Inarius united to create the world of Sanctuary in their desire to escape the Eternal Conflict between the High Heavens and Burning Hells. But now, decades after the events of Diablo® III: Reaper of Souls®, they are bitter enemies who have resorted to war against each other with their respective followers. The lands of Sanctuary have become plagued with ceaseless demons, and only the most steadfast of heroes will be able to hold strong in the face of darkness in Diablo® IV.
Enter the world of Diablo IV with your choice of five classes—the shapeshifting Druids, agile Rogues, elemental Sorcerer, brutal Barbarians, and cunning Necromancers. Grow in power, build your class in numerous ways, experimenting with skill trees to showcase complimenting spells and abilities, and take the battle to the demon Lilith.
Diablo IV On GeForce RTX: The Definitive Way To Play
Press and players love Diablo IV and its technology, having fought their way through Act 1 in the two DLSS 2-enhanced betas, and now in the final game, featuring DLSS 3, DLAA and Reflex:
Keep reading to see how DLSS 3 can multiply your frame rates by up to 2.5X.
DLSS 3: Day One Support In Diablo IV
Diablo IV officially launches today, June 6th, having previously enabled Digital Deluxe and Ultimate Edition buyers to fight their way through Sanctuary since June 1st. To give GeForce gamers the definitive PC experience, Blizzard and NVIDIA partnered to bring our game-changing technologies to Diablo IV.
GeForce RTX 40 Series gamers can max out frame rates with NVIDIA DLSS 3 Frame Generation, and other GeForce RTX users can accelerate performance with DLSS 2's critically acclaimed Super Resolution technology.
Powered by new hardware capabilities of the NVIDIA Ada Lovelace architecture, DLSS 3 generates entirely new high quality frames, rather than just pixels.
Through a process detailed in full in our NVIDIA DLSS 3 article, DLSS 3 combines DLSS Super Resolution technology and DLSS Frame Generation to reconstruct 7 out of every 8 of the displayed pixels, multiplying performance.
DLSS 3 accelerates frame rates in both GPU and CPU bound scenarios, ensuring your performance is always maxed out, and all DLSS 3 games are backwards compatible with DLSS 2 technology - developers simply integrate DLSS 3, and DLSS 2, also known as DLSS Super Resolution, is supported by default.

In Diablo IV, DLSS 3 helps GeForce RTX 40 Series gamers multiply performance at 4K by an average of 2.5X. In our action-filled benchmark, performance on the GeForce RTX 4090 increased by 2.4X, enabling us to play at 229 frames per second with every single setting maxed out. The GeForce RTX 4080 hit 177 FPS, the GeForce RTX 4070 Ti ran Diablo IV at 139 FPS, and the GeForce RTX 4070 113 FPS.
At 2560x1440, DLSS 3 enables the GeForce RTX 4070 to play Diablo IV at over 170 frames per second, with frame rates hitting 335 FPS on the GeForce RTX 4090. And at 1920x1080 all GeForce RTX 40 Series graphics cards can play at over 200 FPS.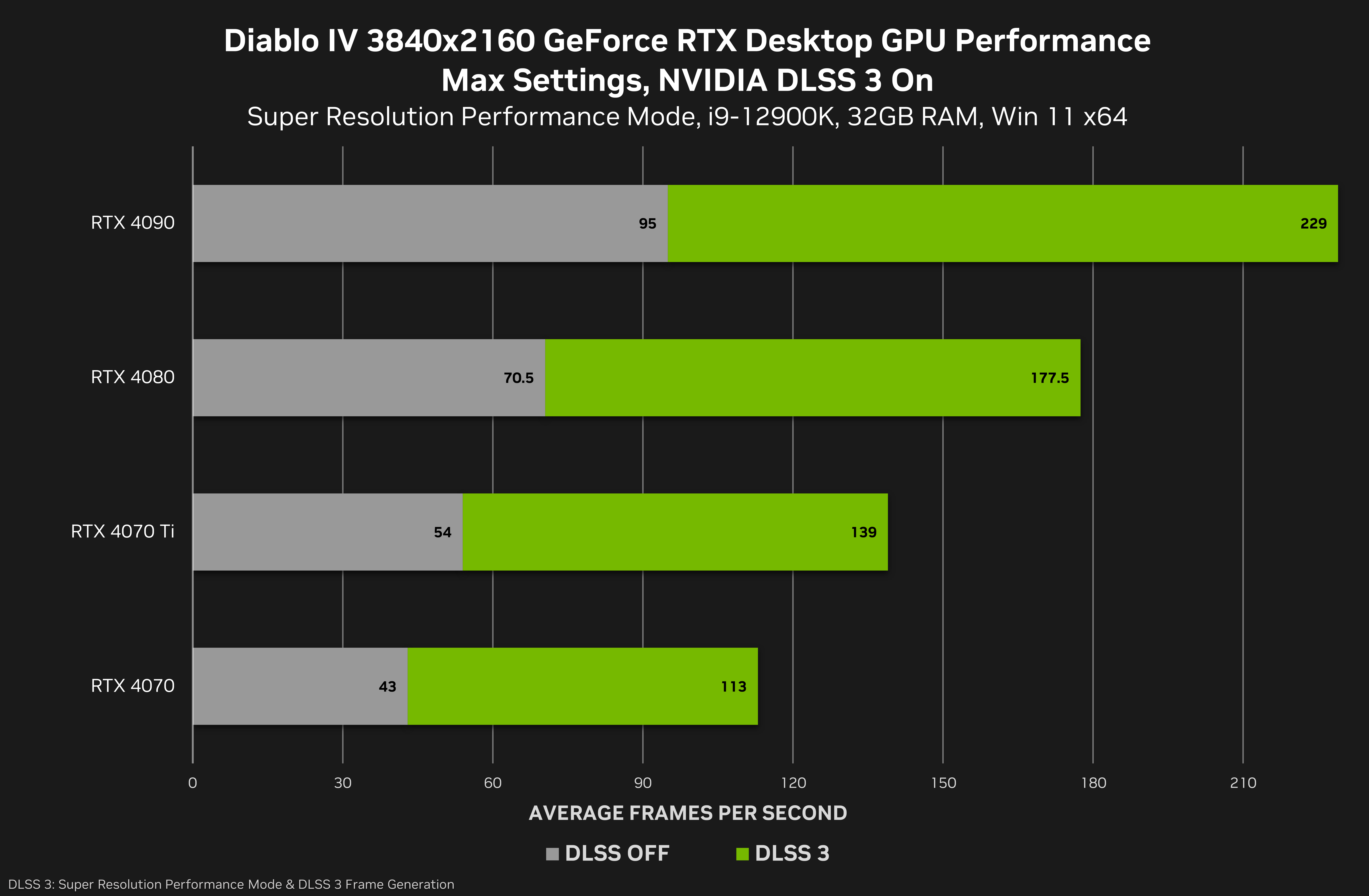 On GeForce RTX 40 Series laptops, DLSS 3 improves performance by an average of 1.8X at 2560x1440, enabling all laptop GPUs to play Diablo IV at over 80 FPS with max settings enabled. At 1080p, DLSS 3 helps all laptop GPUs to run at over 120 FPS, with the power house GeForce RTX 4090 Laptop GPU topping 280 FPS.
With such fast frame rates on many GPUs, you may want to supercharge image quality with NVIDIA DLAA, an AI-based anti-aliasing mode that utilizes the same technology developed for DLSS. DLAA uses a native resolution image to maximize image quality, rather than boosting performance, though in Diablo IV, DLAA can be combined with DLSS Frame Generation for the highest possible image quality, and excellent performance.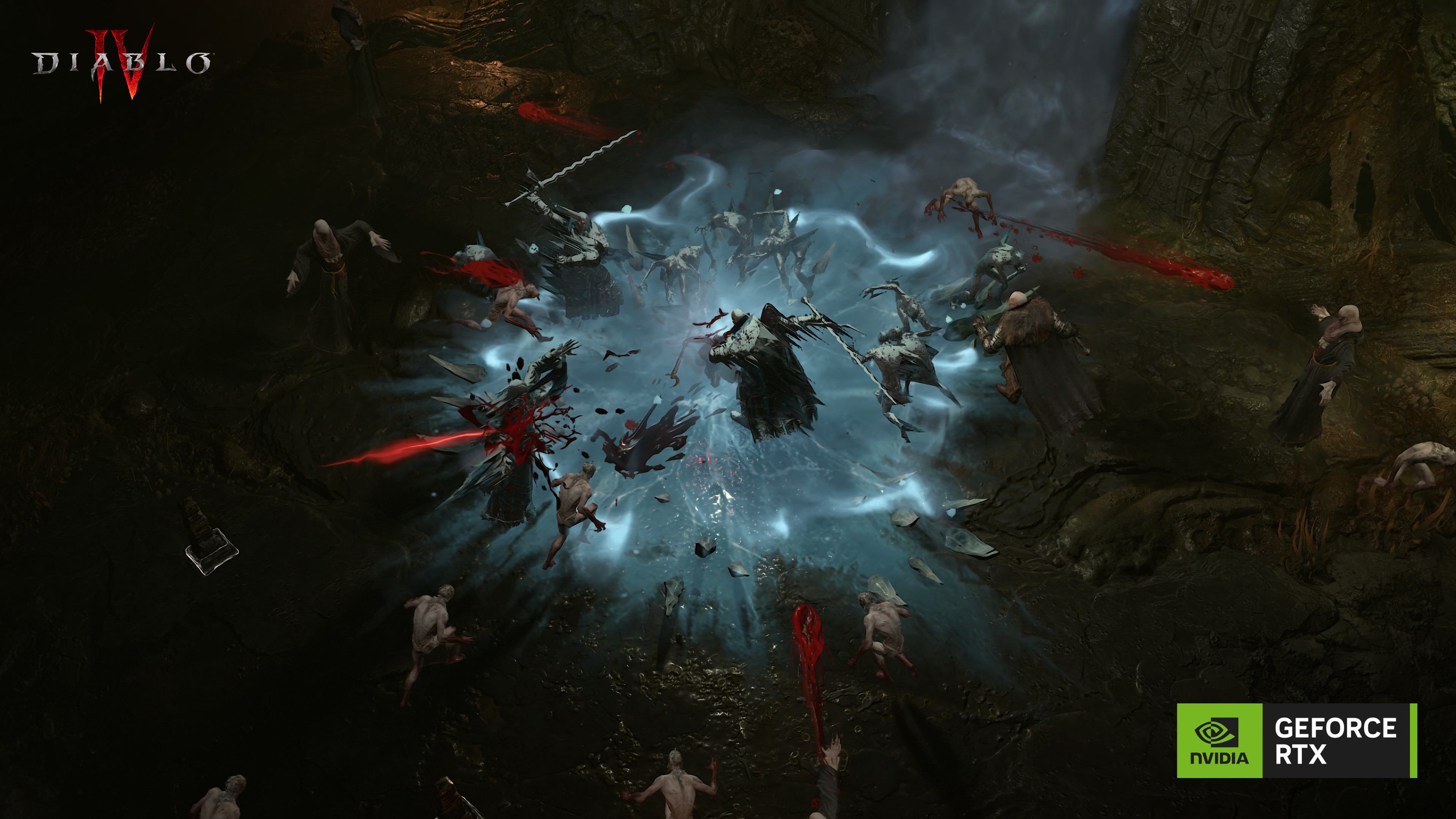 Minimize System Latency With NVIDIA Reflex
GeForce gamers can improve responsiveness in Diablo IV by enabling NVIDIA Reflex. NVIDIA Reflex is a must-have in games, reducing system latency so your actions occur quicker, giving you a competitive edge.
Reflex is available in many single-player games and 9 out of 10 of top competitive shooters, is used by over 50 million players each month, and is activated by 90% of GeForce gamers in the 70+ supported titles.
Using Reflex, system latency is reduced by up to 67% in Diablo IV, helping you vanquish the forces of evil, delivering responsiveness in intense battles, helping you stay alive in Hardcore mode, and providing you the ultimate experience against human foes in PvP.
Ray Tracing Is Coming To Diablo IV
Coming in a post-launch update, Diablo IV's detailed world will be further enhanced through the addition of ray-traced reflections. Sanctuary will be more visually stunning, dungeons will be moodier and more atmospheric, and battles will become even more spectacular.
And thanks to NVIDIA DLSS and the dedicated ray tracing cores found on GeForce RTX GPUs, all GeForce RTX gamers will have the best possible experience when activating the upcoming effects.
For further details about Diablo IV's ray tracing update, stay tuned to GeForce.com.
Diablo IV Game Ready Driver: Download & Install Now
GeForce Game Ready Drivers deliver the best experience for your favorite games. They're finely tuned in collaboration with developers, and extensively tested across thousands of hardware configurations for maximum performance and reliability. Game Ready Drivers also allow you to optimize game settings in GeForce Experience with a single click, and empower you with the latest NVIDIA technologies. That's what we call Game Ready.
Our Diablo IV GeForce Game Ready Driver is now available for download via the Drivers tab of GeForce Experience or GeForce.com. Install now to ensure your experience in Diablo IV is optimized from the first click.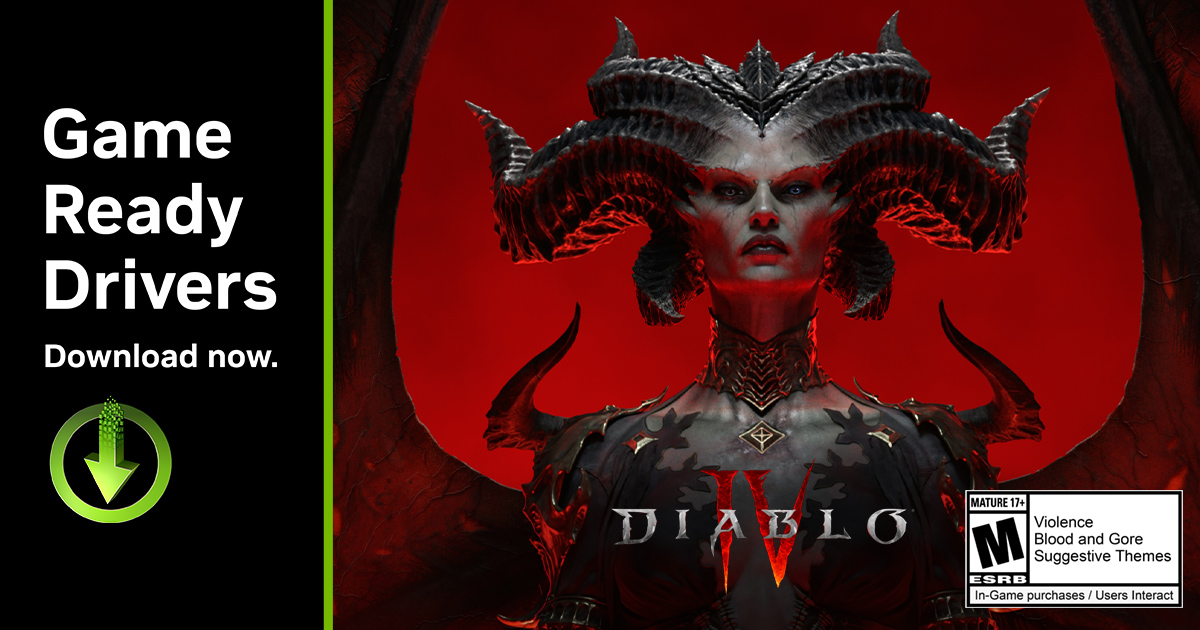 Diablo IV Bundle Available Until June 13th
To celebrate Diablo IV's release and RTX tech integration, we've launched the Diablo IV GeForce RTX 40 Series Bundle, available now until June 13th. Buyers of eligible GeForce RTX 4070, 4070 Ti, 4080 and 4090 graphics cards and desktop PCs from select retailers and etailers will receive a Battle.net copy of Diablo IV**. Additionally, you'll also receive the:
Light-Bearer Mount and Caparison of Faith Armor***
Diablo® III Inarius Wings and Inarius Murloc Pet****
World of Warcraft® Amalgam Rage Mount****
And Diablo Immortal® Umber Winged Darkness Cosmetics Set****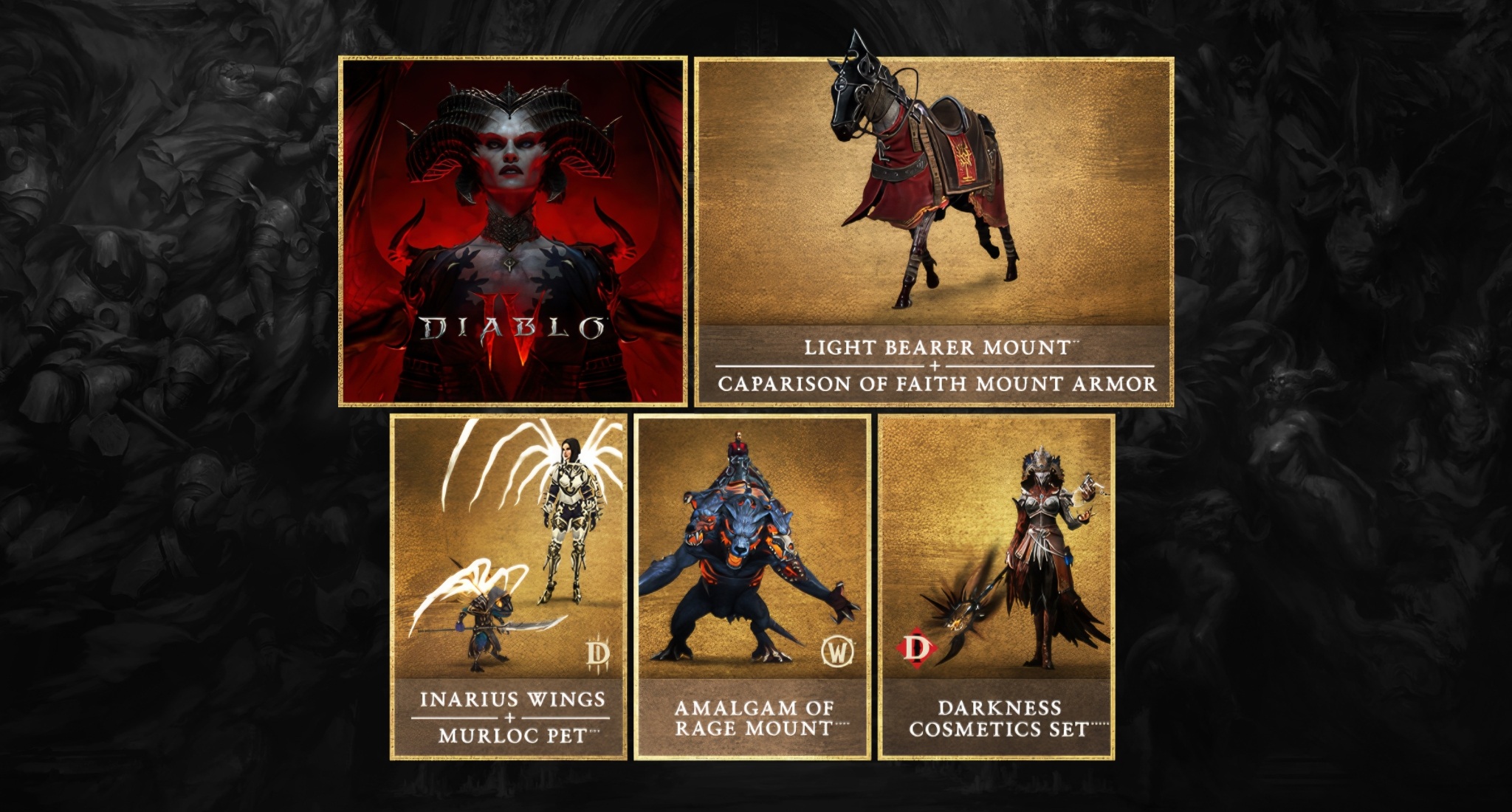 You'll find eligible GPUs and desktops at numerous system builders and retailers worldwide; for a full list of participating partners in your country, head to the Diablo IV bundle homepage.
Once you've bought any qualifying product, you'll receive email instructions on how to redeem your bundle, and just a few clicks later you'll instantly add Diablo IV to your Battle.net account.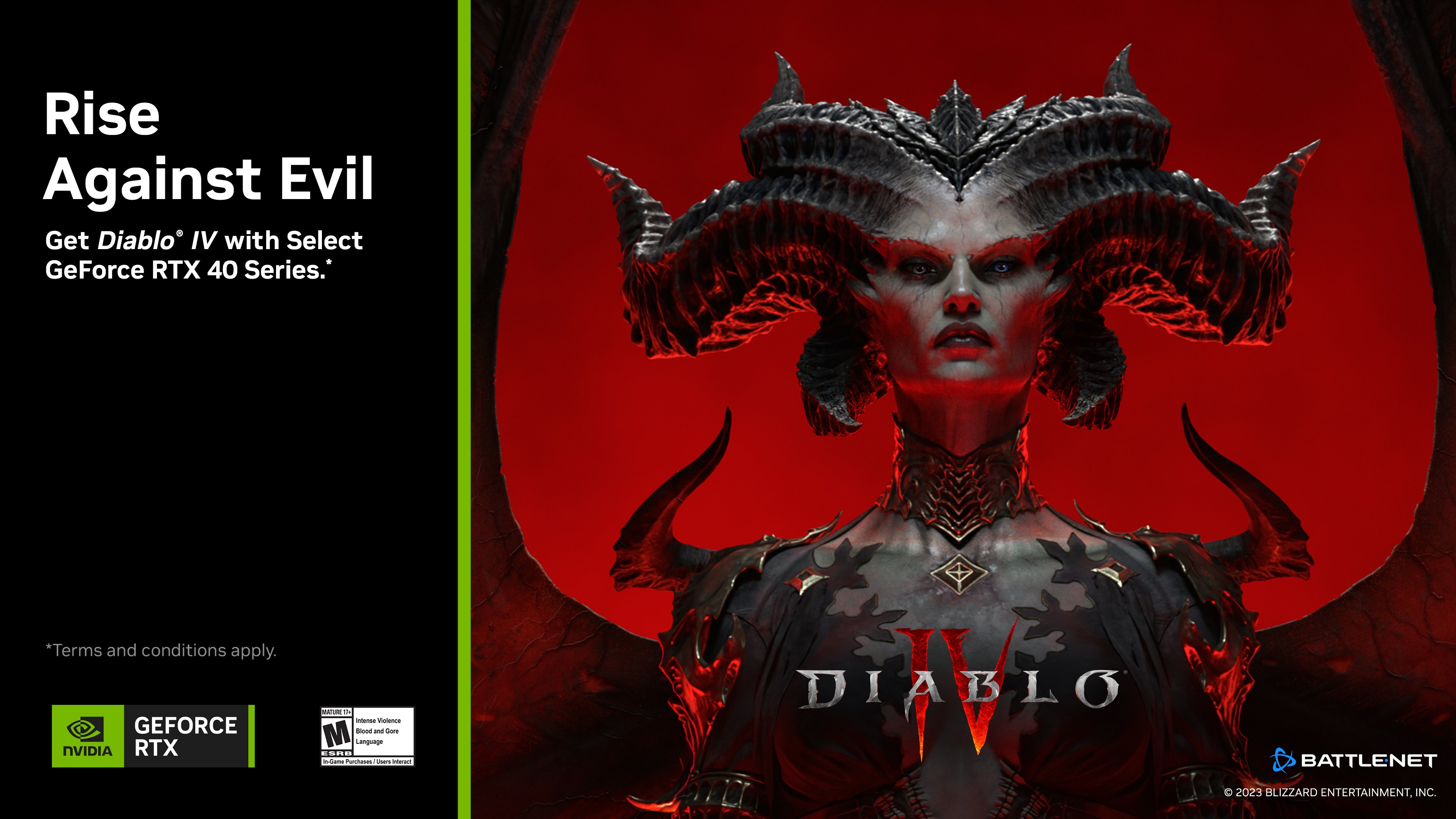 Diablo IV One Of A Kind GeForce RTX 4080 Giveaway
If you're a Diablo IV fan, you won't want to miss our new sweepstakes, in which you can snag a GeForce RTX 4080 graphics card featuring a custom Diablo IV backplate. Follow us on social media to learn how to enter and win, see the full terms and conditions here.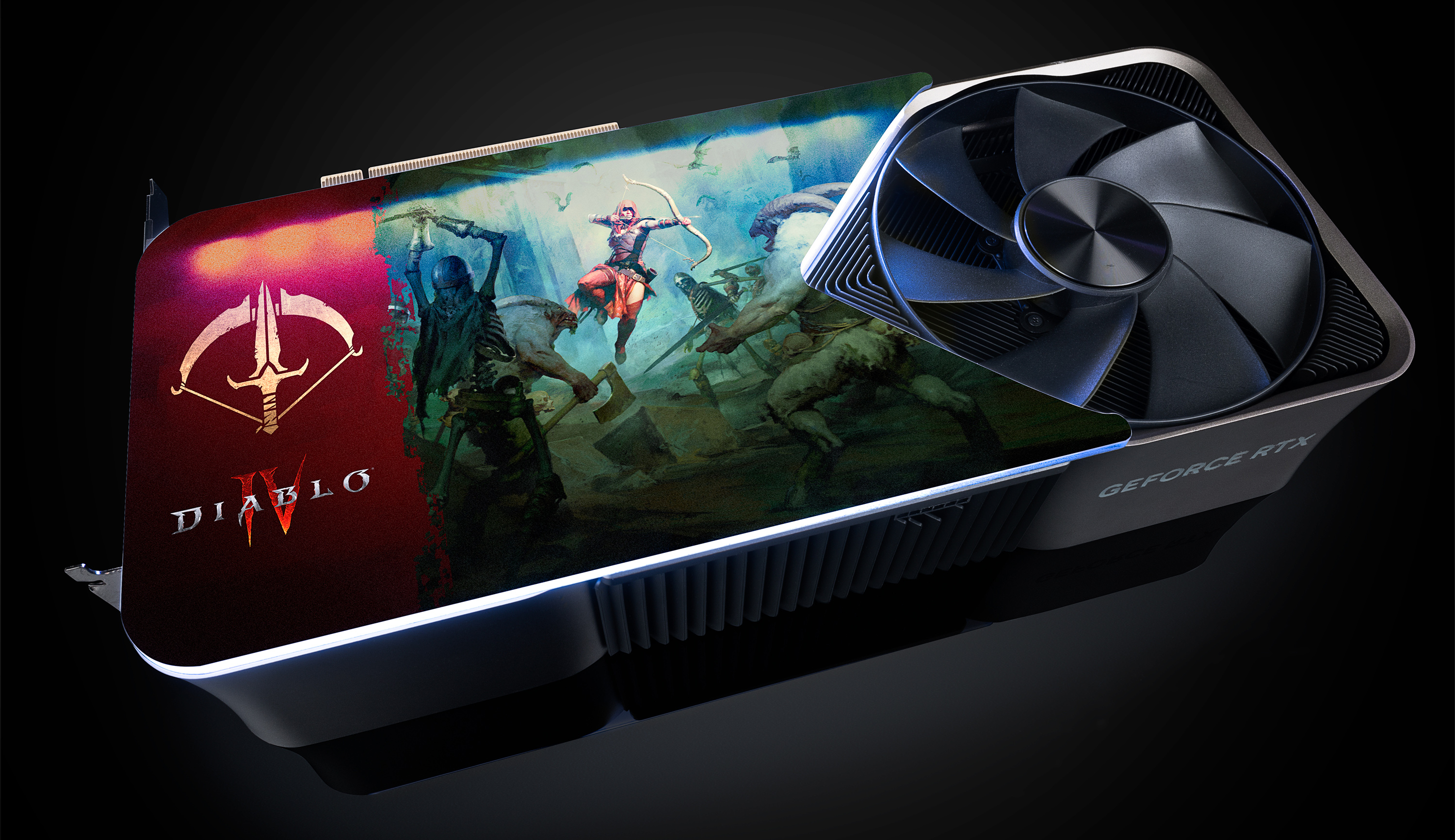 For More On RTX-Enhanced Games…
Stay locked to GeForce.com. We recently celebrated a new benchmark: the addition of DLSS to over 300 games and apps. Each week we'll let you know about the newest integrations of DLSS and RTX technologies, and you'll also get to hear about new RTX hardware, new drivers, new innovations, and other game and experience enhancing features.
©2023 BLIZZARD ENTERTAINMENT, INC.. Blizzard Entertainment, Diablo, Reaper of Souls, Diablo Immortal, World of Warcraft, and Battle.net and their respective logos are trademarks or registered trademarks of Blizzard Entertainment, Inc. in the U.S. and/or other countries.
© 2023 NVIDIA Corporation. All rights reserved. NVIDIA, the NVIDIA logo, and GeForce RTX are trademarks and/or registered trademarks of NVIDIA Corporation in the U.S. and other countries. Other company and product names may be trademarks of the respective companies with which they are associated.
*Up to 4 days based on estimated access; actual play time subject to possible outages and applicable time zone differences.
**While supplies last. Bundle applies for qualifying graphics cards and desktops: GeForce RTX 4090, GeForce RTX 4080, GeForce RTX 4070 Ti, and GeForce RTX 4070. Please see Terms & Conditions for a full list of qualifying partner products. Game must be redeemed via GeForce Experience™ application on a desktop PC with qualifying graphics card installed.Customer must meet the age requirement for the game to redeem. Regional/Country Requirements: Some coupons require that they be redeemed in specific regions or countries. Please redeem the code in the appropriate region/country.
***Mount access must be unlocked in-game before using mounts.
****Downloaded separately. Diablo III sold separately / World of Warcraft / Diablo Immortal downloaded separately.