Assassin's Creed Syndicate Graphics & Performance Guide
Featured Stories
,
Guides
,
NVIDIA GameWorks

Assassin's Creed Syndicate takes to the PC streets today, building upon its prior console launch with enhanced graphics, higher rendering resolutions, and technically-advanced NVIDIA GameWorks effects that raise the bar for graphical fidelity.
In this guide we'll examine Syndicate's PC-only upgrades, explain how they work, show comparisons that highlight their benefits, reveal their relative performance cost at 1920x1080, the most popular PC gaming resolution, and show you how to further enhance Syndicate's image quality with a simple NVIDIA software tweak.
Article Contents:
System Requirements
The official Assassin's Creed Syndicate system requirements call for a GeForce GTX 760 with 4GB of VRAM, which will enable you to run the game at around 30 frames per second at 1920x1080, with detail levels incorporating a mix of Medium and High settings. However, as you'll see in this guide, Assassin's Creed Syndicate features plenty of detail, high-fidelity graphics, and NVIDIA GameWorks technology, which enhances anti-aliasing, ambient occlusion, and shadows for the duration of the massive game.
For a system capable of enabling these effects and making of the most of the PC-version's enhancements you'll need to build your new PC, or upgrade your old system, with the GeForce GTX 970, which will enable a High level of detail with HBAO+.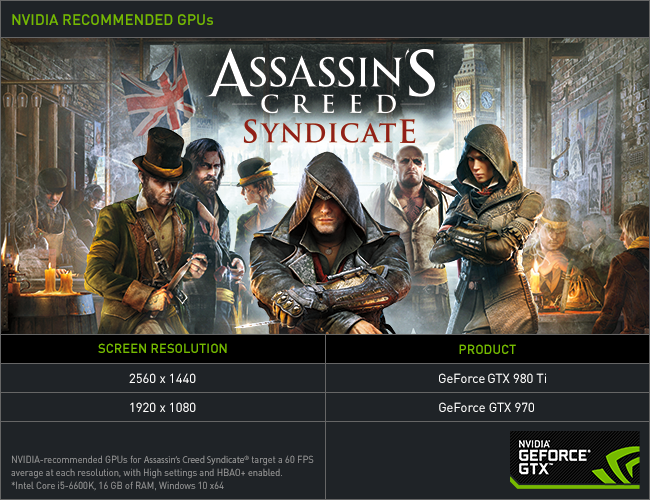 As you'll see in this guide, for a maxed out 1920x1080 experience you'll require a high-end CPU and GPU combo, and per Ubisoft you'll need at least 8GB of RAM and 50GB of disk space, too.
Assassin's Creed Syndicate PC-Exclusive Graphics Enhancements
Playing Assassin's Creed Syndicate on a high-end PC gives you the grunt to render Syndicate's many PC-exclusive features, effects and technologies, which include NVIDIA HBAO+, NVIDIA PCSS, and NVIDIA TXAA. For detailed explanations of each, and demonstrations of their capabilities, keep reading. For a first look, check out the Assassin's Creed Syndicate GeForce GTX Technology Trailer below:
In addition to our GameWorks effects, Syndicate pushes the vast majority of its rendering features to even-higher detail levels on PC, further improving image quality.
NVIDIA HBAO+ Ambient Occlusion
Ambient Occlusion (AO) adds contact shadows where two surfaces or objects meet, and where an object blocks light from reaching another nearby game element. The AO technique used and the quality of the implementation affects the shadowing's accuracy, and whether new shadows are formed when the level of occlusion is low. Without Ambient Occlusion scenes look flat and unrealistic, and objects appear as if they are floating.
In Assassin's Creed Unity and Assassin's Creed Syndicate, the Ambient Occlusion option enables players to upgrade from the console-quality SSAO technique to NVIDIA HBAO+, which is faster, more detailed and more precise, adding extra depth and quality to AO shadows, and eliminating the halo effect occasionally seen around objects and characters.
For the release of Assassin's Creed Syndicate we're debuting a new "HBAO+ Ultra" option that adds separate passes for static and moving objects, with a larger occlusion radius for deeper, more detailed, more accurate shadowing on buildings, and a smaller radius for better high-contrast occlusion on characters.
In addition to improving image quality in the immediate vicinity, HBAO+ Ultra's larger radius for building AO enables the generation of HBAO+ ambient occlusion on buildings further into the distance, improving the image quality of industrial-era London from every angle. And on characters, AO shadows are visible from greater distances, whilst also being more detailed.
Below, a series of interactive screenshot comparisons demonstrate these benefits, highlighting the dramatic improvement in image quality when upgrading from the console-quality SSAO technique to NVIDIA HBAO+, and once more to HBAO+ Ultra.
In the comparisons directly below, HBAO+ Ultra's improved character and object shadowing is exemplified, most evidently on the right-hand side platform where entirely new shadows are rendered.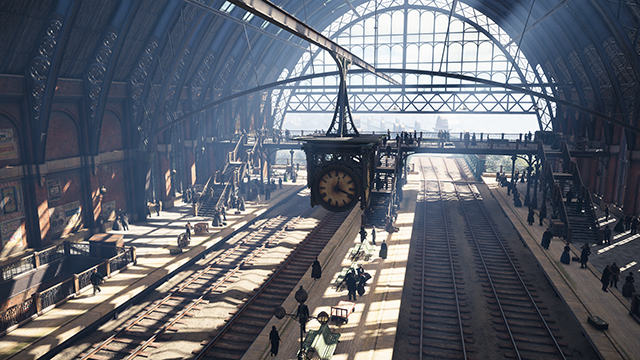 In these captures and comparisons showing only Ambient Occlusion shadowing, you can clearly see the substantial improvements delivered by the new HBAO+ Ultra rendering mode.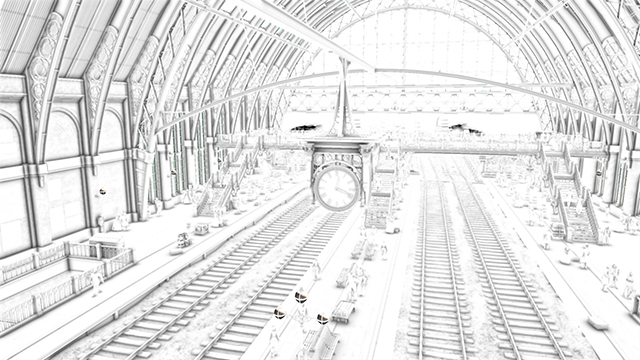 Below, HBAO+ Ultra's increased rendering distance is highlighted, revealing how even distant scenery benefits from the upgraded mode.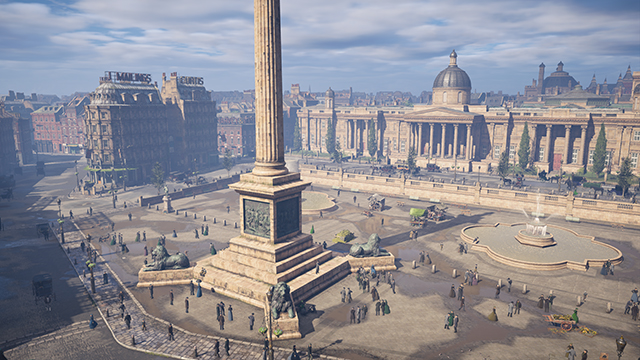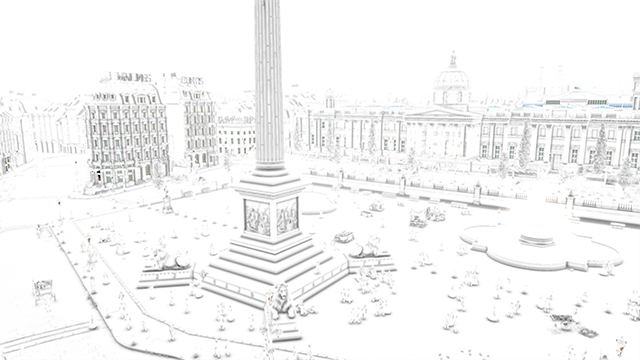 On the streets, HBAO+ Ultra's image quality enhancements are immediately evident.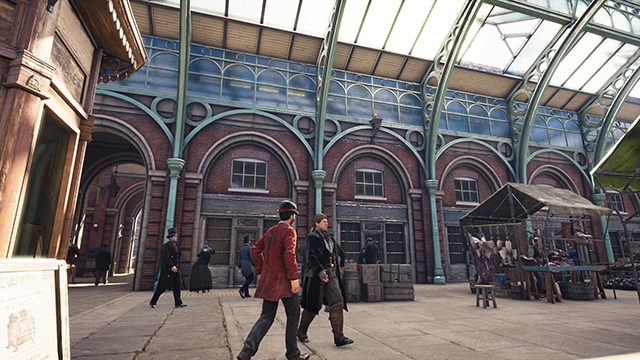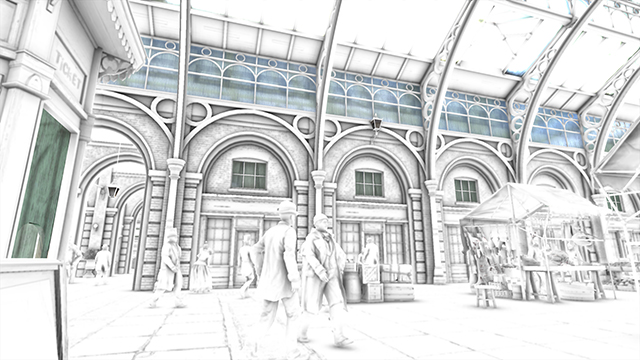 HBAO+ was renowned for its impressive capabilities, and HBAO+ Ultra improves upon those capabilities in every single way.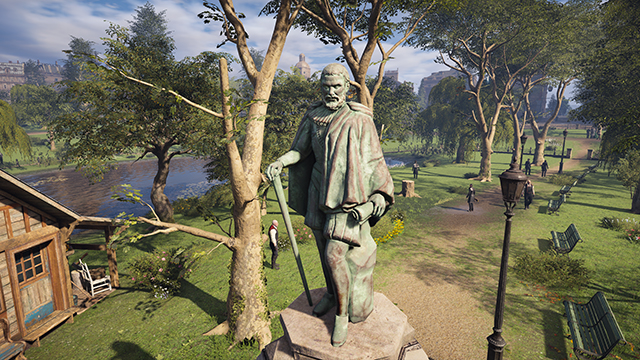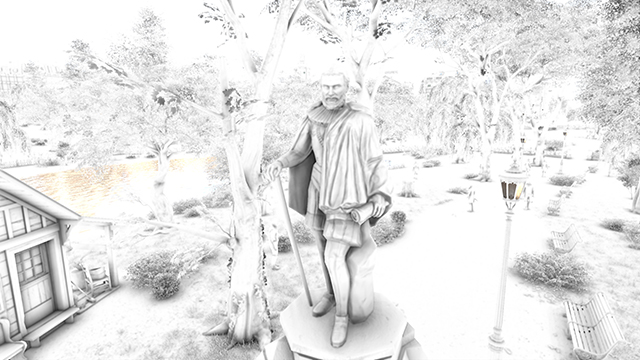 Elizabeth Tower, commonly referred to as "Big Ben", is a monument with worldwide recognition. Assassin's Creed Syndicate faithfully recreates the tower-and-clock-combo, and with HBAO+ Ultra all the nooks and crannies are realistically shadowed, adding a final layer of detail.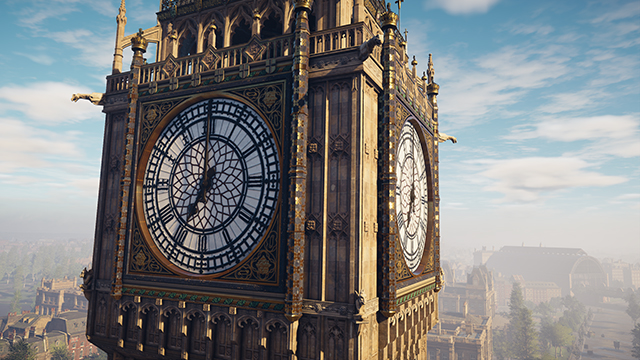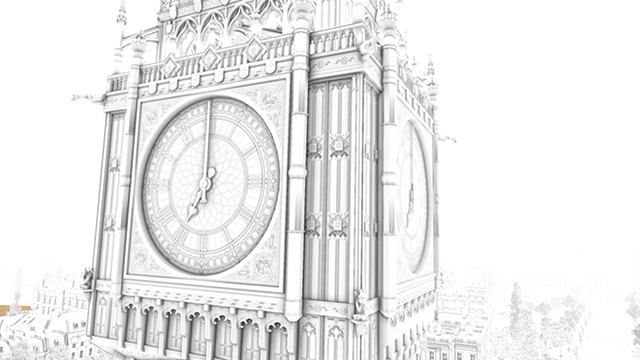 Wider street scenes benefit too, with considerable detail being added. And with HBAO+ Ultra the accuracy of AO shadowing is improved immensely; here, additional tufts of grass are accurately shadowed by ambient occlusion.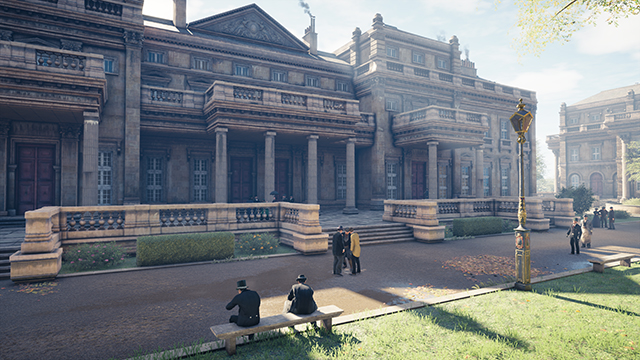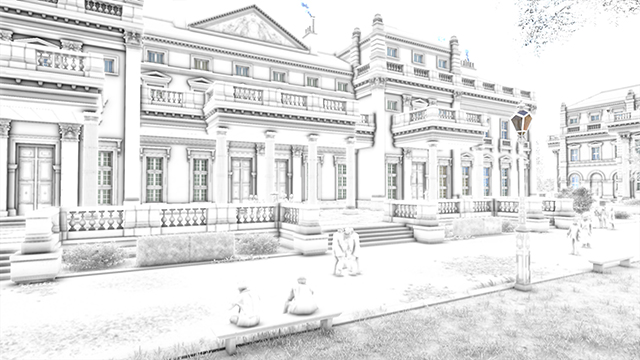 HBAO+ Ultra is equally adept at shadowing the smallest details, like the individual pieces of wood on this floor, bringing additional depth to scenes.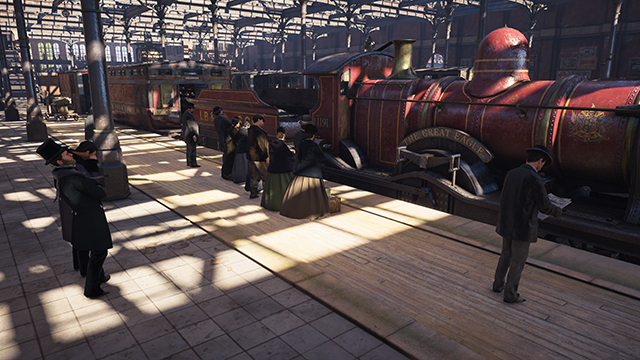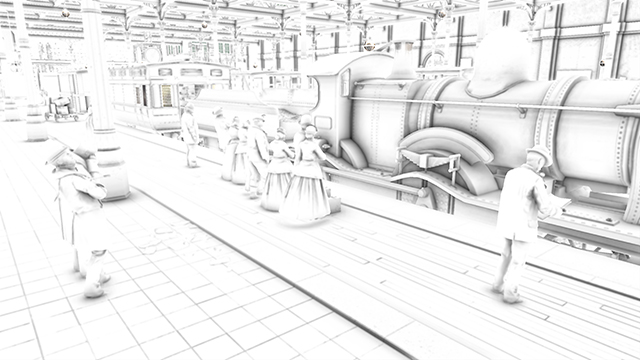 As the interactive comparisons and screenshots demonstrate, our new HBAO+ Ultra Ambient Occlusion technique improves immensely upon a critically-acclaimed technique that has enhanced numerous games since its introduction two years back. With HBAO+ Ultra every Ambient Occlusion shadow is improved, entirely new shadows are rendered, rendering distances increase, and detail has even greater depth with even the tiniest of details being accurately shadowed.
Performance: HBAO+ costs less than 2 frames per second for a tremendous improvement in image quality, while HBAO+ Ultra costs just 4 frames per second for an even greater improvement, making it a must-have almost all systems.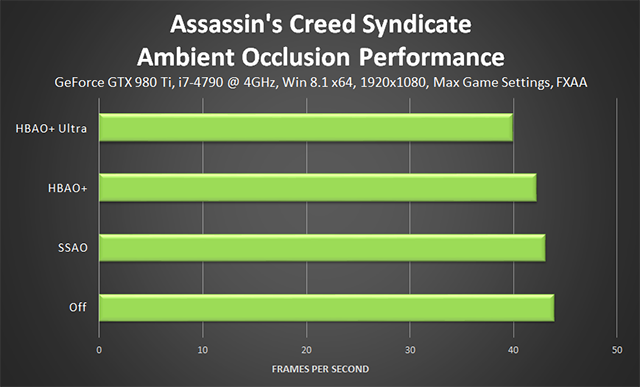 NVIDIA Percentage Closer Soft Shadows
NVIDIA Percentage Closer Soft Shadows (PCSS) are an effective solution for developers wanting to add contact-hardening, realistic soft shadows to their games. As in real life, PCSS shadows progressively soften as the distance from the casting object increases, improving image quality and heightening realism.
In Unity and Syndicate, PCSS also includes NVIDIA Cascaded Shadow Maps and high-quality shadow filtering to further improve the quality of shadowing, and to reduce shadow aliasing. For Syndicate we've taken things up a notch by introducing "PCSS Ultra", which pushes the PCSS technique to its limit by increasing shadow map cascade sizes and resolutions, allowing for wider areas to be covered by PCSS shadows. Furthermore, higher shadow map texel densities are achieved, enabling the rendering of softer and more robust shadows throughout every scene, near and far from the player's viewpoint.
To discover how this affects image quality, check out the interactive screenshot comparisons below.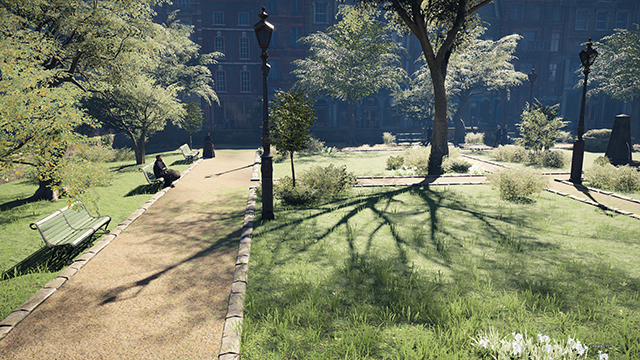 Our first comparison highlights how PCSS soft shadows affect image quality, adding shadows of variable softness throughout Assassin's Creed Syndicate. Our second set of comparisons looks down on the location shown above. With PCSS Ultra enabled, note the accurate softening of all visible shadows, the addition of new shadows, and the higher-quality shadows on surrounding buildings.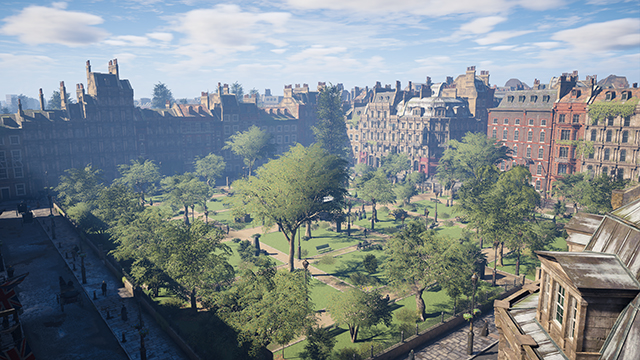 To better observe the increased draw distance of shadows with PCSS Ultra enabled, check out the interactive comparison below.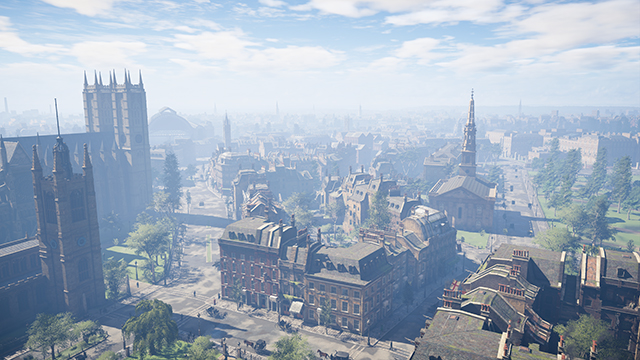 The complex scene shown below features shadows cast from a multitude of distances, in addition to minor and distant shadows that are only rendered with PCSS Ultra. When comparing against High note the uniform blurring of shadows instead of an accurate softening, most visibly around the carriage wheel's shadow which should be hard due to its proximity to the shadow caster (the wheel).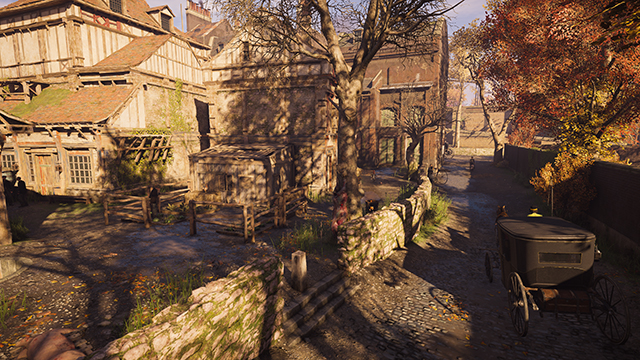 Together, NVIDIA PCSS, NVIDIA PCSS Ultra, NVIDIA Cascaded Shadow Maps, and NVIDIA shadow filtering greatly improve the realism and fidelity of Syndicate's world. Every scene, object, and character benefits, enhancing your experience for the duration of the game.
Performance: Shadows are always an expensive effect to render, and PCSS Ultra is quite possibly the best and most advanced shadowing technique you'll find in any game today. Understandably then it costs 8 frames per second more than the excellent PCSS, which costs 3 frames per second more than High.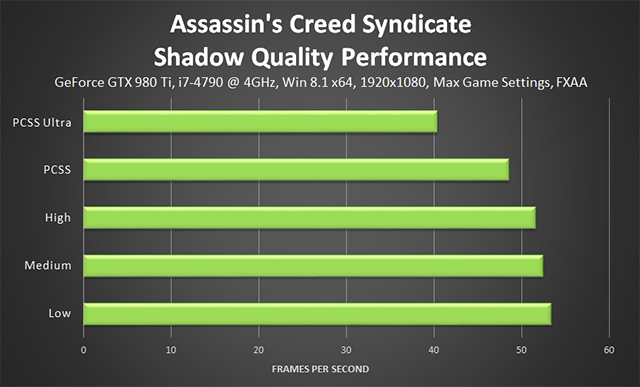 If you're seeking the definitive level of image quality, PCSS Ultra is the way to go. If you 'merely' want an excellent level of image quality, without an additional impact to performance, PCSS is the recommended setting.
If you absolutely have to lower the setting stick to High or Medium to retain some degree of realistic-looking shadowing; Low's lack of simulated softness, along with its low shadow map size and resolution degrade image quality unbearably.
NVIDIA TXAA Anti-Aliasing
NVIDIA TXAA is a custom-developed anti-aliasing technique designed to tackle temporal aliasing, the movement of anti-aliased edges when the player's camera or view point moves. Referred to as crawling and shimmering, this movement is a particular eyesore in games with fine detail, like the expansive urban environments of Assassin's Creed Syndicate.
Combining Multisample Anti-Aliasing (MSAA) with a custom CG movie-style resolve and a temporal filter, TXAA effectively combats temporal aliasing whilst simultaneously anti-aliasing geometry to a degree comparable to 4xMSAA. An example of the technology in action can be seen at 00:43 in our Assassin's Creed Syndicate GeForce GTX Technology Trailer:
In addition to TXAA, Assassin's Creed Syndicate gives players the choice of FXAA and MSAA anti-aliasing modes, though as in previous Assassin's Creed games FXAA is enabled simultaneously alongside MSAA to anti-alias transparent textures, such as those used to render foliage.
As you may have noticed above, Syndicate's addition of FXAA to MSAA and TXAA has been tweaked somewhat, reducing the level of additional blur it traditionally adds, but at the same decreasing the degree of transparency anti-aliasing. For a clear example, compare the trees' leaves on this MSAA vs. FXAA comparison.
Performance: Hardware anti-aliasing can place considerable demands on your performance, and in Assassin's Creed Syndicate that hasn't changed. If you can, opt for a hardware technique; if you can't, FXAA does a decent enough job.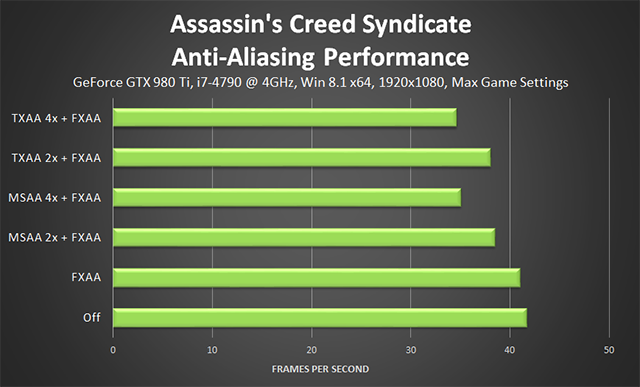 Please note, hardware anti-aliasing requires additional VRAM. Those on lower-capacity cards may wish to instead use FXAA to enable Texture Quality and other settings to be raised as high as possible. Learn more in the Texture Quality section.
Environment Quality
As in last year's Assassin's Creed Unity, Environment Quality adjusts the fidelity of medium and long range details, the density and visibility of foliage, rocks and other terrain features, and the density of close-range bushes. And just like last time it has a relatively minor impact in the predominantly urban environments of Syndicate, which lack the lush foliage and rocky environs of Assassin's Creed IV: Black Flag.
Here, Environmental Quality primarily adjusts the quality and visibility of minor details on street surfaces, such as papers, trash and straw, and the visibility of grass tufts and flowers. Occasionally, window boxes, ladders, and other minor details will be removed at long range, and the quality of some NPC clothing changed, but again the impact on scene quality is inconsequential.
In one of the few foliage-filled environs in Syndicate a clear change in scene quality can be observed at each detail level, and as the setting reaches its lowest levels changes can be noted on Buckingham Palace, too.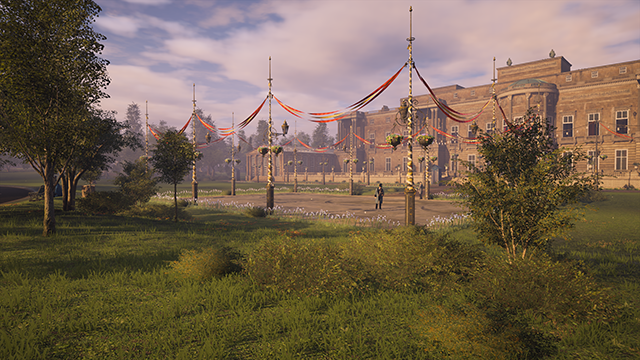 From an elevated position the maximum, relatively minor impact of Environment Quality can be seen.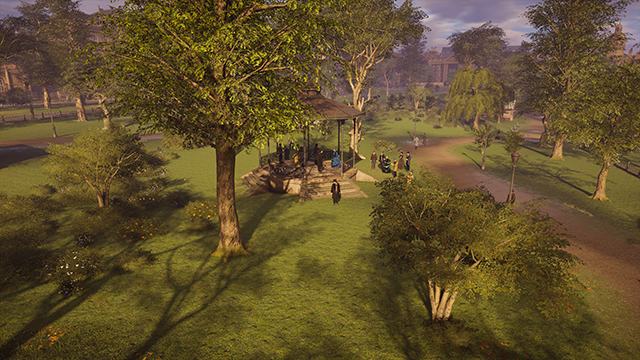 In the predominantly urban areas of Syndicate the differences between detail levels are minuscule, and nigh on impossible to note during gameplay.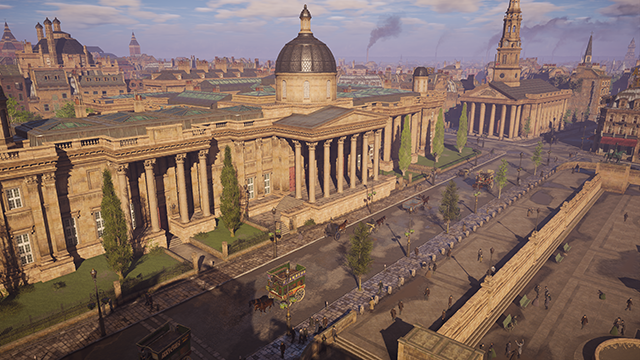 Up close, only the eagle-eyed will successfully play "Spot The Difference"; during gameplay the extra fade-in of detail on the lower detail levels is next to impossible to note.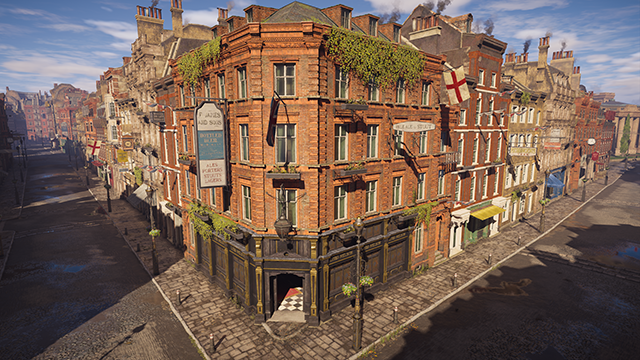 Performance: In the most detailed of locations Environment Quality can have a noticeable impact on performance thanks to the full-detail rendering of all affected game elements, even those that are a great distance from the player. On other detail levels, a gradual increase in the performance cost is noted as the setting is raised.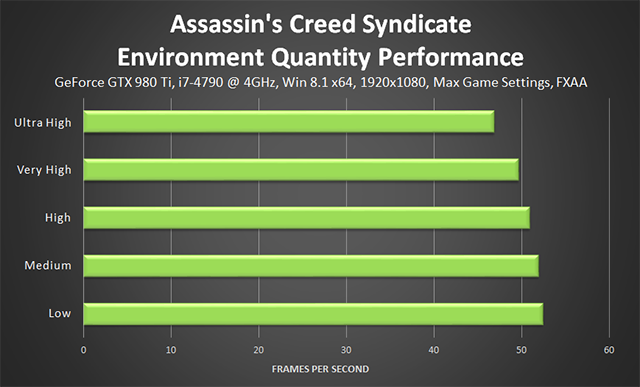 The most visible impact of the Environment Quality setting can be found in object-filled, heavily-populated industrial areas where the additional visible detail results in over 150,000 draw calls. Lower settings generate around 110,000 draw calls, despite image quality being virtually identical to the eye during gameplay (magnified screenshots can reveal some differences). Therefore, for the majority of the game lowering Environment Quality to Very High from Ultra High won't harm image quality to any noticeable degree, and you'll regain a few frames per second as a bonus.
On lower-performance CPUs, and those with few cores or no HyperThreading, Environment Quality can have a far greater performance impact, strangling your CPU and limiting your GPU performance. If you do note your GPU utilization decreasing, lower Environment Quality to attempt to regain frames.
Texture Quality
Texture Quality adjusts the clarity and quality of textures game wide, and in Syndicate three detail levels are on offer. From our comparisons we can see the difference between High and Ultra High is minimal in most scenes, and near-imperceptible during gameplay. The difference between Low and High however is evident, with a major loss in fidelity found on at least one game element in every scene.
In some scenes we see a loss of surface quality, such as on roofs, and in others we see a loss in texture quality on objects. The item, items, or surfaces that suffer vary wildly, but in general the reduction in image quality from Low is noticeable, even during fast-paced gameplay. In general though, building and walls remain untouched, with the loss of fidelity primarily being found on floor surfaces, objects, and detail placed on surfaces.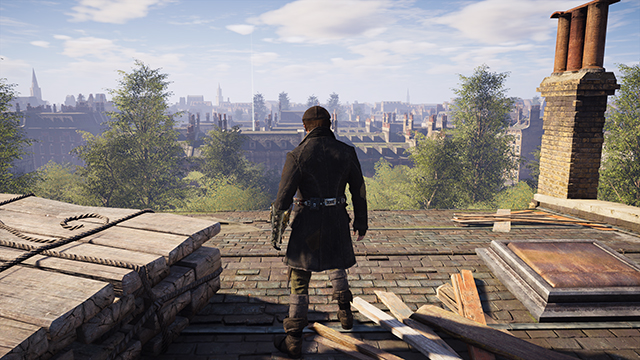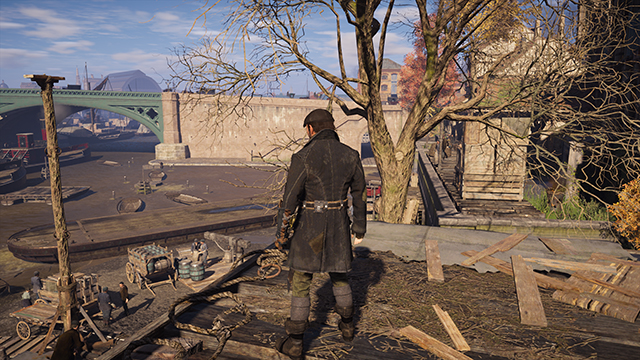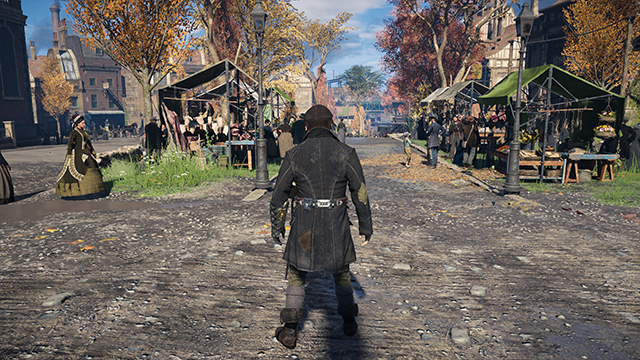 Assassin's Creed Syndicate's in-game menu recommends a 4GB graphics card for High, 3GB for Medium, and 2GB for Low. Contrary to this advice, the in-game VRAM meter shows High-quality textures can be applied on a 3GB card if other settings are dialed back. A 4GB card, meanwhile, can max out the game's settings if FXAA is used; take a look at the table below to learn more.
| | | |
| --- | --- | --- |
| Resolution | Settings | VRAM Usage |
| 1920x1080 | Min Settings | 2064 MB |
| 1920x1080 | Min Settings with Medium Textures | 2225 MB |
| 1920x1080 | Min Settings with High Textures | 2711 MB |
| 1920x1080 | High Preset (No GameWorks, High Environment Quality) | 2761 MB |
| 1920x1080 | Max Settings, FXAA | 3782 MB |
| 1920x1080 | Max Settings, 4xTXAA | 4192 MB |
| 2560x1440 | Min Settings | 2362 MB |
| 2560x1440 | High Preset (No GameWorks, High Environment Quality) | 3073 MB |
| 2560x1440 | Max Settings, FXAA | 4108 MB |
| 2560x1440 | Max Settings, 4xTXAA | 4836 MB |
| 3840x2160 | Min Settings | 3212 MB |
| 3840x2160 | High Preset (No GameWorks, High Environment Quality) | 3963 MB |
| 3840x2160 | Max Settings, FXAA | 5038 MB |
| 3840x2160 | Max Settings, 4xTXAA | 6676 MB |
Finally, here's a breakdown of the memory requirements for each setting and detail level that raises Syndicate's VRAM requirements:
Performance: As in the majority of games, raising the Texture Quality setting has a negligible impact on performance.
With the in-game VRAM meter and the info above, those using a 4GB or lower graphics card can decide which settings to enable.
Settings Wrap-Up
As you've likely gathered by now Assassin's Creed Syndicate can be extremely demanding when every setting is maxed out. You don't have to run at max settings, but many an enthusiast is fascinated to discover what it'll take to gain the definitive level of detail.
Even with the less-demanding FXAA, no configuration can attain 60 FPS at 2560x1440 or 1920x1080: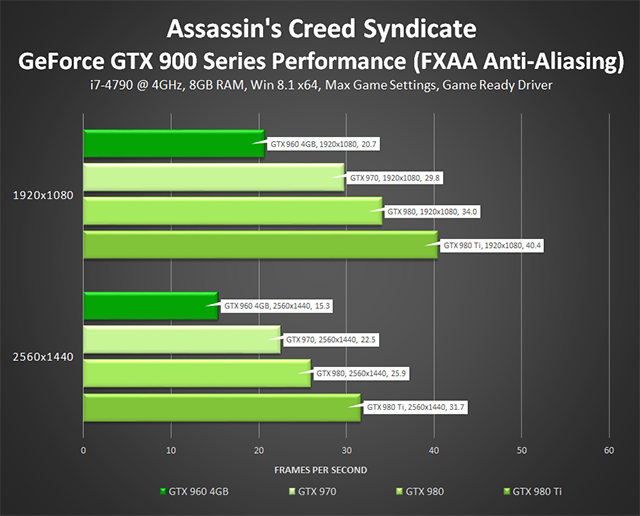 With everything maxed, including 4xTXAA, the only playable config at 1920x1080 is the GeForce GTX 980 Ti, which hits just 33 frames per second in our intensive benchmark scene.
NVIDIA Control Panel Anisotropic Filtering
If you wish to sharpen distant textures and those viewed on an angle, forcibly enable High Quality Anisotropic Filtering (AF) via the NVIDIA Control Panel, like so:
In-game, a clear improvement can be seen on all surfaces, as exemplified by the interactive comparisons below.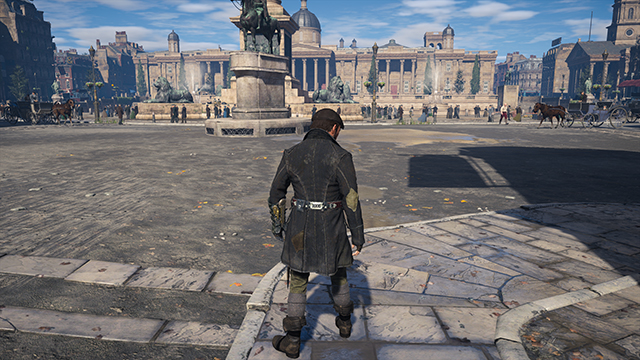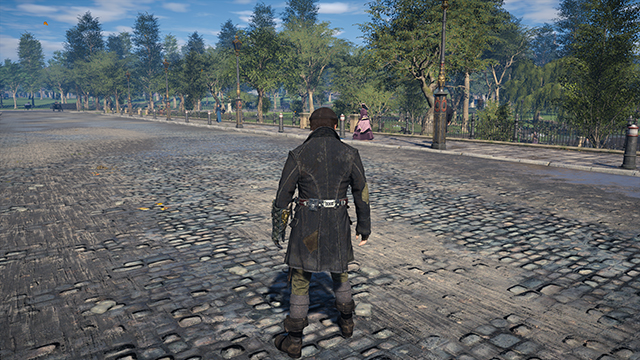 Enabling NVCPLAF costs at most an extra few frames per second; a low price for a significant improvement throughout the course of the expansive game.
NVIDIA Dynamic Super Resolution
To increase the quality of your graphics even further, activate Dynamic Super Resolution (DSR) to receive up to 4K-quality graphics on your HD monitor. How it works is simple: compatible games, such as Assassin's Creed Syndicate, are rendered at a higher, more detailed resolution, and the image intelligently shrunk back down to the resolution of your monitor using a custom-made filter, giving you up to 4K-quality graphics on your screen. The video below explains more, and the images show how to activate the setting in the NVIDIA Control Panel.
With DSR enabled, textures benefit from improved clarity, aliasing is further reduced, objects have better definition, vegetation is more detailed, and distant game elements are clearer. If you've used DSR in other games you'll know of these benefits already, but if you haven't had the chance here's a look at how Assassin's Creed Syndicate's graphics scale with rendering resolutions.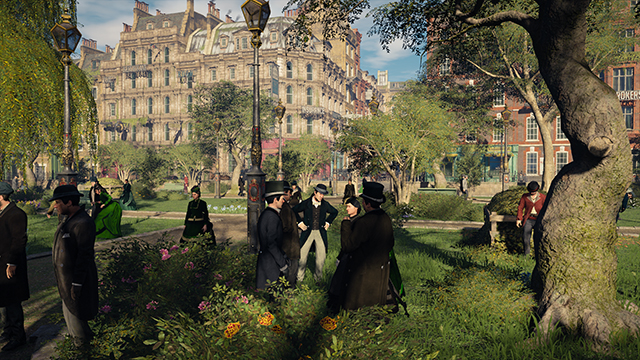 Performance: Using a reference GeForce GTX 980 Ti, the DSR rendering resolution was increased in benchmark that is representative of Syndicate's most demanding moments.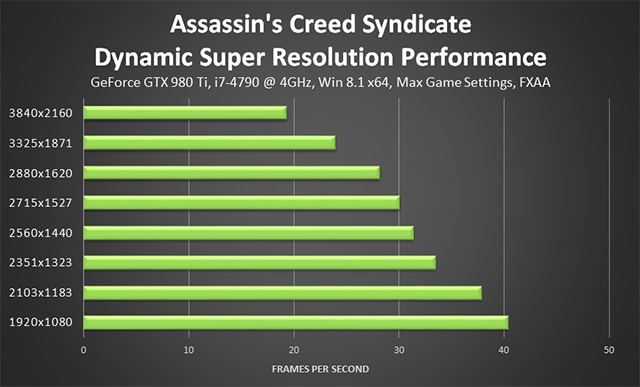 G-SYNC: Eliminating Stutters & Tearing For The Ultimate Experience
NVIDIA revolutionized computer displays in 2013 with the introduction of variable refresh rates, enabling gamers to enjoy highly responsive, tear-free, stutter-free experiences on G-SYNC monitors. Reviews are phenomenal, and gamers everywhere agree that it's painful to play on anything other than a G-SYNC display once you're used to the flawless experience it provides.
With Assassin's Creed Syndicate's fast-paced action and roof-top grappling, frame drops, stuttering and screen tearing can put a damper on the experience, strain your eyes, and even lead to headaches over prolonged assassination sessions. G-SYNC monitors eliminate those issues, letting you liberate London in optical bliss.
Game Ready Assassin's Creed Syndicate Driver

For the best Assassin's Creed Syndicate experience we recommend updating to the new Assassin's Creed Syndicate GeForce Game Ready drivers. Included are the latest performance optimizations and tweaks for Assassin's Creed Syndicate, and a SLI profile. Download now via GeForce Experience.
GeForce Experience: Optimal Playable Settings With A Single Click
The best way to automatically configure and apply Assassin's Creed Syndicate's game settings for a smooth, enjoyable experience is through GeForce Experience, an invaluable tool for all GeForce GTX users. In addition to optimizing over 300 games, the free GeForce Experience application can automatically update drivers and profiles, record and stream gameplay with ShadowPlay, and can wirelessly stream PC games, including Assassin's Creed Syndicate, to NVIDIA SHIELD devices.
Taking into account your GPU and CPU, as well as many additional factors, GeForce Experience's game recommendations can be applied with a single click and are updated over time should developer patches and NVIDIA driver updates improve performance further still. This one-click solution is perfect for gamers who wish to simply play their games, and for those with little experience in configuring settings for an optimal experience.
Overclocking
Assassin's Creed Syndicate can push your CPU and GPU to their limits. If you need extra performance, overclocking these components will pay dividends in Assassin's Creed Syndicate, enabling you to increase performance or enable additional effects. Discover how to overclock with the help of our GeForce Garage guide.
The Definitive Assassin's Creed Syndicate Experience
With the addition of HBAO+, PCSS, TXAA, DSR, G-SYNC, NVIDIA Control Panel Anisotropic Filtering, ShadowPlay, and GeForce Experience, Assassin's Creed Syndicate on PC further extends its advantage over other editions, which began with higher-resolution textures, higher rendering resolutions, higher possible framerates, and an increase of detail on every street corner and on every rooftop.
And though Syndicate is extremely demanding on max settings, a better-than-console experience can be attained on medium-range PCs with a few tweaks to settings. With our guide and GeForce Experience's the one-click Optimal Playable Settings you can quickly and easily configure settings to your taste, and attain a superior experience.
Assassin's Creed Syndicate is launching worldwide this week, and is also included in the Bullets or Blades Bundle alongside Tom Clancy's Rainbow Six Siege. Further details can be found here.