Our new GeForce RTX 40 Series graphics cards are beyond fast, giving gamers our highest ever gen-to-gen frame rate boost. This quantum leap in performance comes courtesy of the NVIDIA Ada Lovelace architecture's many innovations, and NVIDIA DLSS 3, which accelerates performance by up to 4X. With a GeForce RTX 4090 or GeForce RTX 4080 in your system, games will run at unbelievable frame rates, and you'll have the power to experience richer, more immersive fully ray-traced games at 4K.
DLSS 3 is a set of three complementary technologies: Super Resolution, Frame Generation, and NVIDIA Reflex, which combine to deliver great frame rates, latency, and image quality.
If a game already has DLSS 2 Super Resolution, upgrading to DLSS 3 is a simple process and will make both Super Resolution and Frame Generation available. DLSS 3 leverages the same integration points as DLSS 2 (color buffer, depth buffer, engine motion vectors, and output buffers), making upgrades from these existing SDKs easy via our new NVIDIA DLSS 3 Streamline plugin.
DLSS 3 is also coming to the world's most popular game engines, including Unity, Unreal Engine, and Frostbite Engine, making it simple for games based on these engines to flip DLSS 3 on.
Over 35 DLSS 3 games and apps have already been announced, with the first 3 DLSS 3 games shipping this week, and more coming this month. If you own a previous-generation GeForce RTX graphics card or laptop, you can use DLSS 2 Super Resolution in each DLSS 3 game. DLSS Super Resolution is our new name for the award-winning, AI-powered DLSS 2 tech that has to date accelerated performance in over 216 games and apps, and is now part of DLSS 3.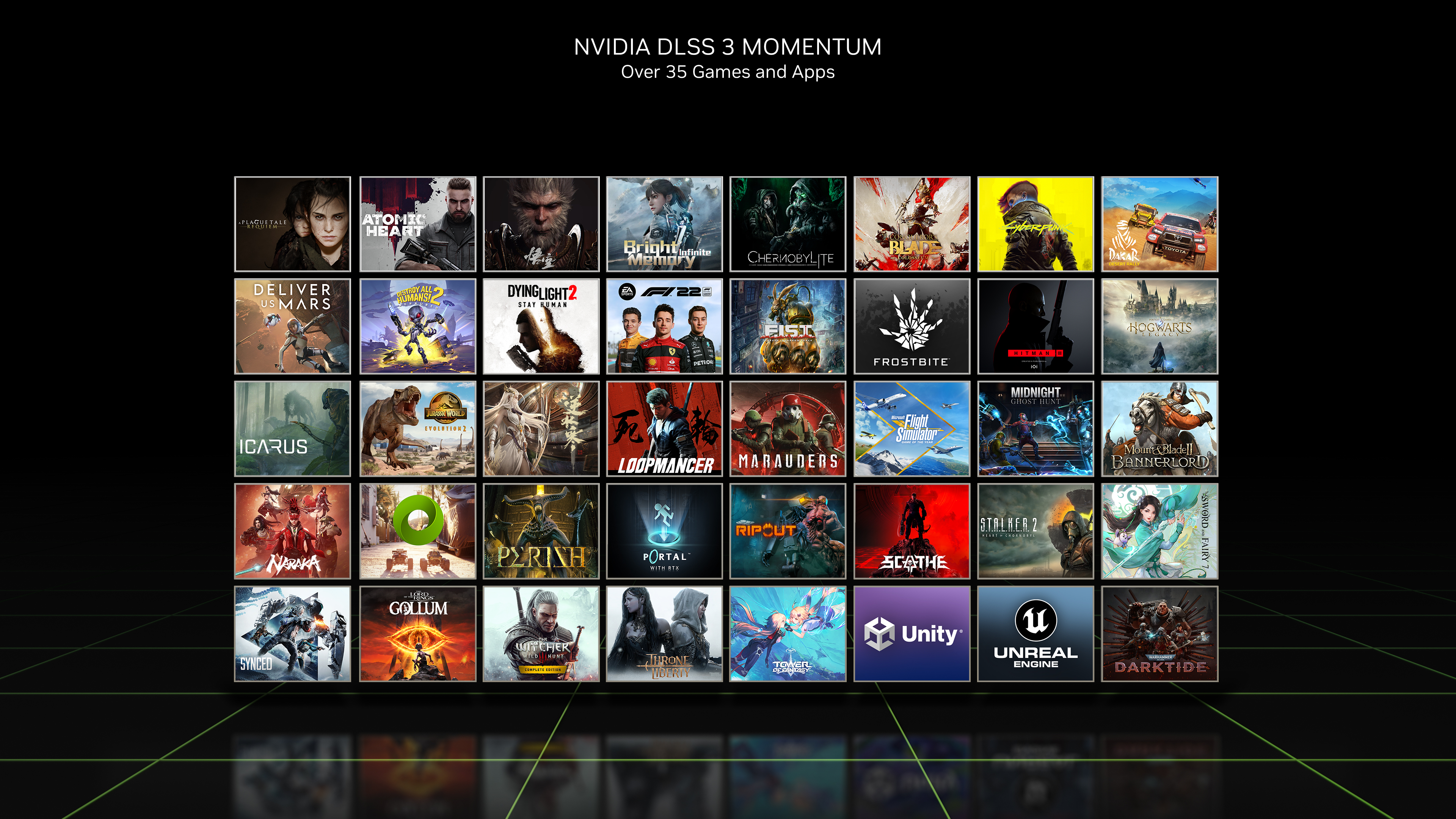 In addition to the exciting new DLSS 3 integrations, over a dozen new games have added DLSS 2, also known as DLSS Super Resolution, giving all GeForce RTX gamers a big bump in performance this October. With plugins and Software Development Kits (SDKs) available for all major game engines, adding DLSS to a title is quick and easy, allowing developers big and small to give millions of GeForce RTX gamers the definitive experience when playing on PC.
Read on to learn about the latest implementations of NVIDIA DLSS, and the latest games to leverage GeForce RTX's RT Cores that accelerate ray tracing workloads to otherwise unobtainable frame rates.
NVIDIA DLSS 3 Multiplies Frame Rates
NVIDIA Deep Learning Super Sampling (DLSS) is a groundbreaking revolution in AI-powered graphics, increasing performance on GeForce RTX GPUs using dedicated Tensor Cores, while generating beautiful, sharp images.
Powered by new hardware capabilities of the NVIDIA Ada Lovelace architecture, DLSS 3 generates entirely new high quality frames, rather than just pixels.
Through a process detailed in full in our NVIDIA DLSS 3 article, DLSS 3 combines DLSS Super Resolution technology and DLSS Frame Generation to reconstruct 7/8ths of the displayed pixels, accelerating performance to previously unimaginable degrees.
In GPU-limited games, DLSS Super Resolution technology can increase your frame rates by up to 2X. With DLSS 3, we can boost them by up to 4X (compared to brute-force rendering) in fully ray-traced worlds like those seen in the incredible Portal with RTX.
Certain games make extensive use of the CPU, limiting the benefit of faster graphics cards and DLSS Super Resolution. DLSS 3 operates on the GPU, bypassing CPU bottlenecks and boosting frame rates. In Microsoft Flight Simulator, for example, DLSS 3 boosts frame rates by up to 2X.
DLSS 3 games are backwards compatible with DLSS 2 technology - developers simply integrate DLSS 3, and DLSS 2, also known as DLSS Super Resolution, is supported by default. Additionally, integrations of DLSS 3 also include NVIDIA Reflex, reducing system latency for all GeForce RTX users, making games more responsive.

A Plague Tale: Requiem Launches October 18 With DLSS 3
After escaping their devastated homeland in the critically-acclaimed A Plague Tale: Innocence, Amicia and brother Hugo venture south of 14th century France, to new regions and vibrant cities. There, they attempt to start a new life and control Hugo's curse. But, when his powers reawaken, death and destruction return in a flood of devouring rats. Forced to flee once more, the siblings place their hopes in a prophesized island that may hold the key to saving Hugo.
See how their tale continues when the highly anticipated A Plague Tale: Requiem launches October 18th. Experience a spectacular, grounded tale, twisted by supernatural forces, using a variety of new tools and mechanics to survive the horrors that await.
In this incredible game, you'll want to crank settings and the resolution for the most immersive experience possible. To help you attain that definitive experience, A Plague Tale: Requiem will launch with NVIDIA DLSS 3, giving GeForce RTX gamers the power to see Asobo's masterpiece at its absolute best.
Activating NVIDIA DLSS 3 in A Plague Tale: Requiem increases non-RT performance by up to 2.5X on GeForce RTX 40 Series graphics cards, enabling you to experience A Plague Tale's rat swarms at the highest frame rates at 4K: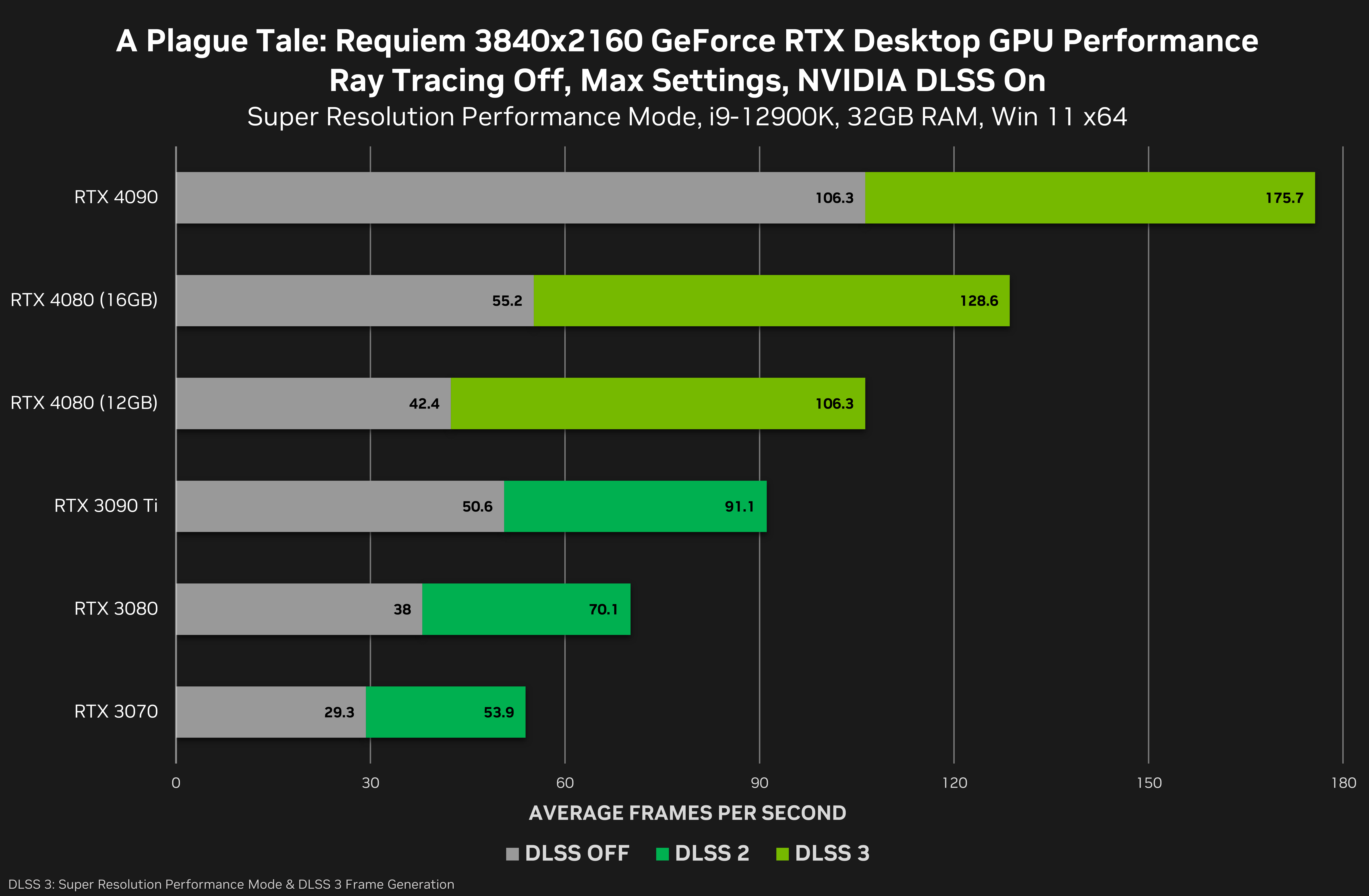 See the power of NVIDIA DLSS 3 for yourself in our new, exclusive A Plague Tale: Requiem NVIDIA DLSS comparison video:
Pre-order and preload on Steam, and head to the official A Plague Tale: Requiem website for gameplay trailers, screenshots, and more. If you don't have a GeForce RTX gaming PC or laptop, you can still experience and marvel at A Plague Tale: Requiem with #RTXON by streaming it from the cloud thanks to NVIDIA GeForce NOW. Members can play over 1400 full PC games they already own from Steam, Epic Games Store, Ubisoft Connect, and GOG.com.
GeForce NOW's RTX 3080 Membership gives you the power of a GeForce RTX 3080-class PC in the cloud, enabling streaming sessions at up to 1440p on PC and Mac, 4K HDR on NVIDIA SHIELD, and up to 120 FPS on select mobile devices. Head over to the GeForce NOW website to learn more.
Microsoft Flight Simulator's Performance Takes Off With NVIDIA DLSS 3
Microsoft Flight Simulator is a stunning, critically-acclaimed flight simulator that marries realistic recreations of popular planes with an accurate map of our planet, and regular free updates add immersive hand-crafted detail to the world's most visited cities, airports and regions.
The 1:1 real-world recreation of our planet in Microsoft Flight Simulator challenges even the most powerful PCs. To help, Asobo Studio and Microsoft have brought NVIDIA DLSS 3 to the game.
"Creating a lifelike digital twin of our entire planet is incredibly CPU intensive. DLSS 3 is a GPU technology that tackles the performance limitations of the CPU, making it the perfect way to experience Microsoft Flight Simulator." - Jorg Neumann, Head of Microsoft Flight Simulator, Xbox Game Studios
DLSS Super Resolution is effective in boosting performance in GPU bound cases by rendering fewer pixels. However, Microsoft Flight Simulator can be CPU bound even on the highest-end CPUs. In this case, DLSS 3's Optical Multi Frame Generation is able to alleviate CPU bottlenecks and boost FPS by up to 2X by creating entirely new frames that never touch the CPU.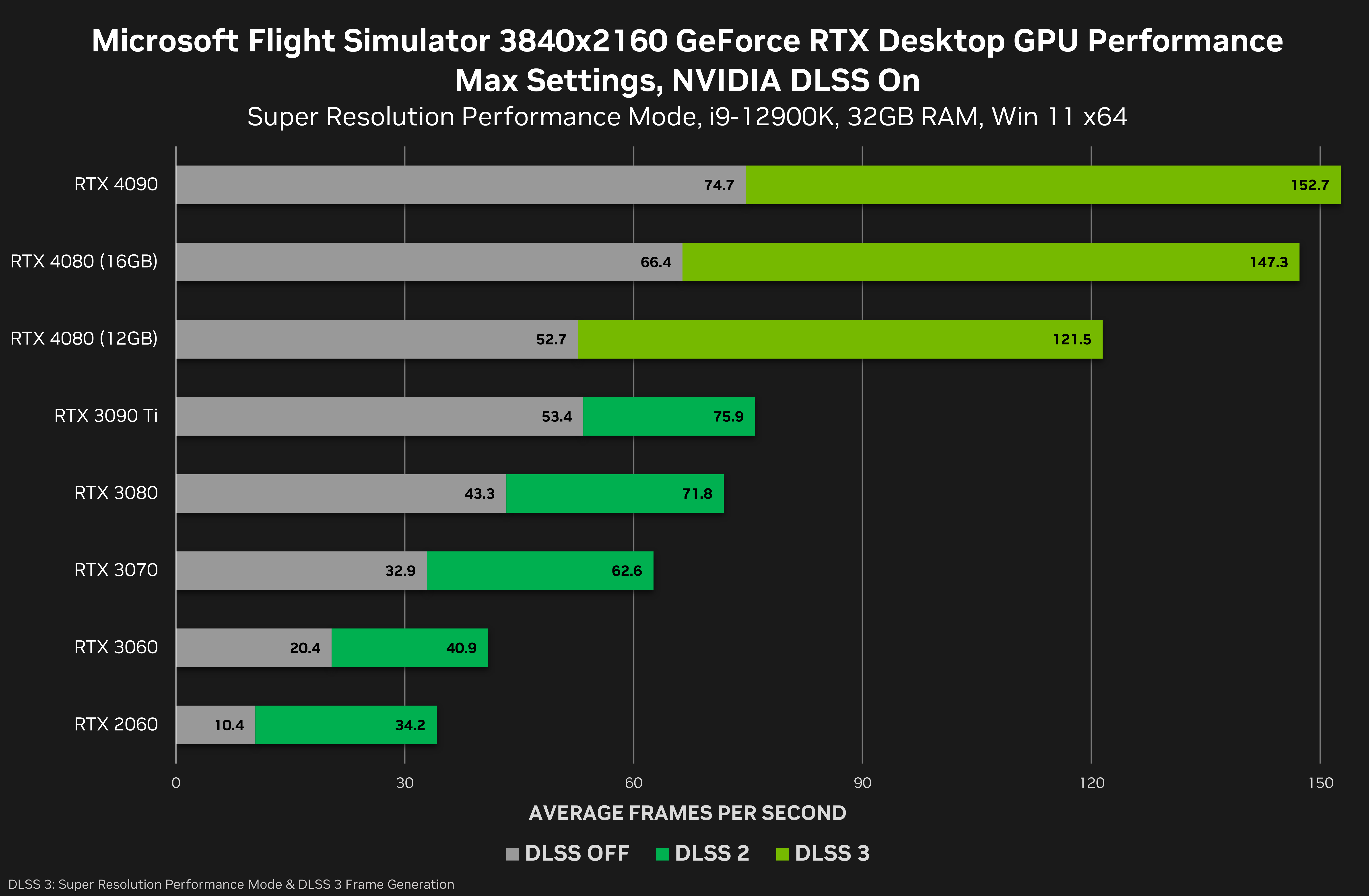 Microsoft Flight Simulator's major updates are publicly tested to ensure maximum performance and stability when they launch to the game's many players. The next update arrives November 11th with DLSS 3 included, but ahead of then you can download and test a DLSS 3-enhanced beta.
To participate in the test on a Microsoft Store or PC Game Pass copy of the game:
Download the "Xbox Insider Hub" app from the Microsoft Store
Sign-in with the account you use to play Microsoft Flight Simulator
Click on "Previews" in the left nav
Click on "Microsoft Flight Simulator Beta" in the list of available Previews
Click "Join" on the new screen
If you would like to leave the pre-release test before it ends and re-install the live build, follow these instructions:
Open the"Xbox Insider Hub" app.
Navigate to "Previews" > Microsoft Flight Simulator Beta
Select "Manage"
On the left side, select "Leave preview"
Wait for the unenrollment to complete, restart your PC, then launch the game
If you're playing Microsoft Flight Simulator on Steam:
Open your Steam Library
Right-click Microsoft Flight Simulator
Click "Properties"
Click "Betas"
Select "flight_sim_beta – Sim Update 11"
To exit the pre-release test before it ends and revert back to the live build, follow steps 1-4, and on step 5 select "None" in the dropdown.
Once your game is updated, NVIDIA DLSS 3 will be available to use in-game, increasing your performance by up to 2X. If you prefer to wait for the official release of DLSS 3, that's arriving on November 11th alongside the launch of Microsoft Flight Simulator Sim Update 11 and the game's new, much-anticipated 40th Anniversary content. Stay tuned to the Microsoft Flight Simulator website for further info and updates.
Marvel's Spider-Man Remastered On PC: DLSS 3 Update Out October 12
InMarvel's Spider-Man Remastered on PC, the worlds of Peter Parker and Spider-Man collide in an original action-packed story. Play as an experienced Peter Parker, fighting big crime and iconic villains in Marvel's New York. Since its initial release, Marvel's Spider-Man Remastered with NVIDIA DLSS 2 has been positively received by press and fans on PC, and on October 12th it gets even better with the launch of NVIDIA DLSS 3.
NVIDIA DLSS 2 already delivers great performance in Marvel's Spider-Man Remastered, and using NVIDIA DLSS 3 on a GeForce RTX 40 Series graphics card, performance increases by up to 2X even in CPU bound scenarios: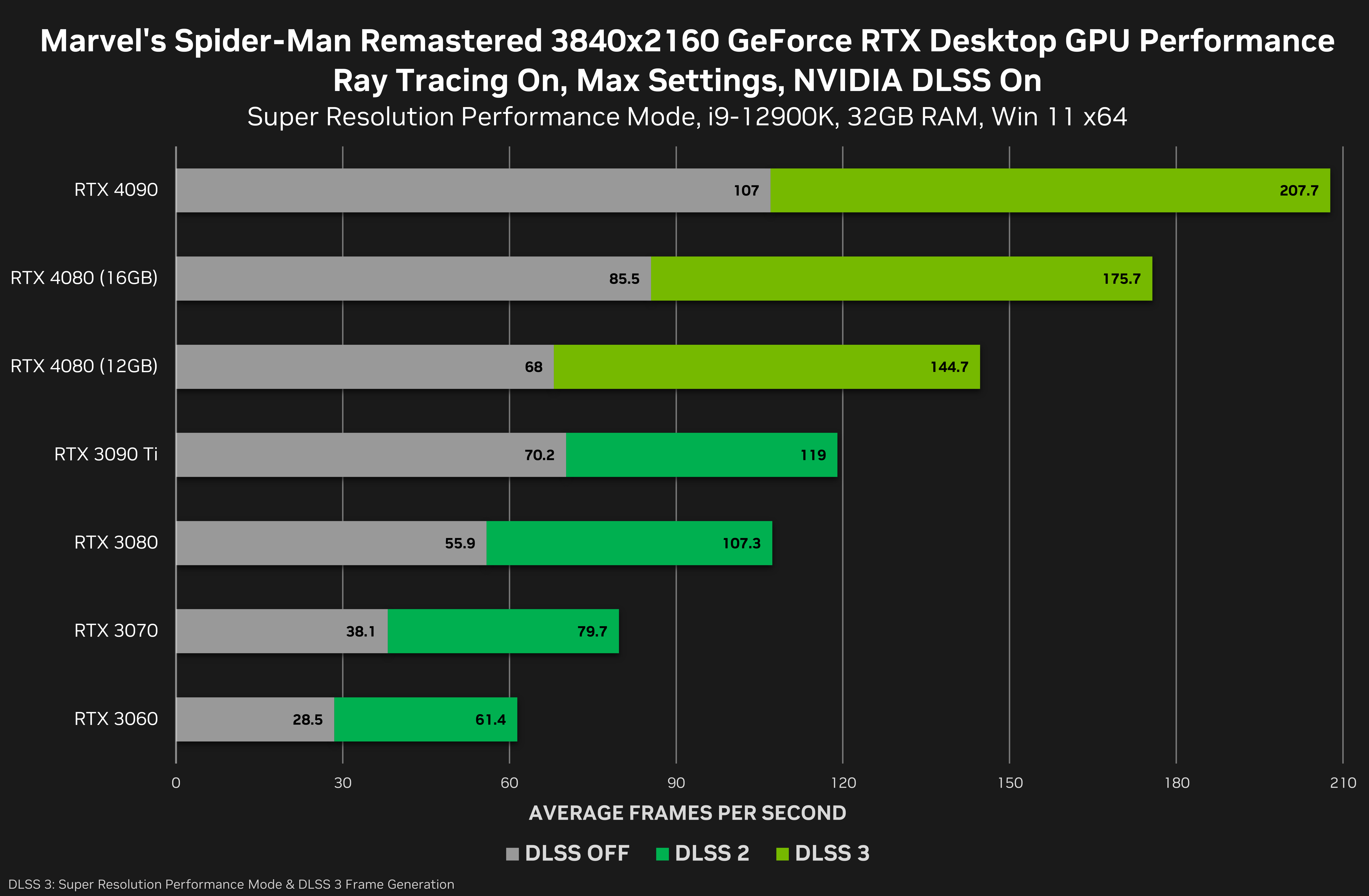 Download the new Marvel's Spider-Man Remastered update on Steam, and install our GeForce RTX 4090 Game Ready Driver for the optimum experience when swinging through Marvel's New York City with DLSS 3. Learn more about the game in our Marvel's Spider-Man Remastered PC tech article.
SUPER PEOPLE Available Now With DLSS 3
Wonder Games' SUPER PEOPLE has been a breakout hit on Steam - initially available for a short beta weekend, hundreds of thousands of gamers instantly flocked to its super-fun super-powered battle royale arenas, convincing the developers to run regular tests to help refine the game.
Now, SUPER PEOPLE has entered into Early Access, enhanced with DLSS 3, following earlier upgrades that added DLSS 2 and NVIDIA Reflex.
Enabling NVIDIA DLSS 3 allows GeForce RTX 40 Series gamers to overcome CPU bottlenecks and accelerate performance up to 400 frames per second in SUPER PEOPLE.
F1Ⓡ 22 DLSS 3 Update Coming Soon
EA SPORTS F1Ⓡ 22 from Codemasters and Electronic Arts already boasts immersive ray-traced opaque reflections, transparent reflections, ambient occlusion, and shadows, and DLSS Super Resolution. Coming soon, you'll be able to play the high-speed racer at 4K at over 120 FPS thanks to the power of GeForce RTX 40 Series graphics cards, and the addition of NVIDIA DLSS 3.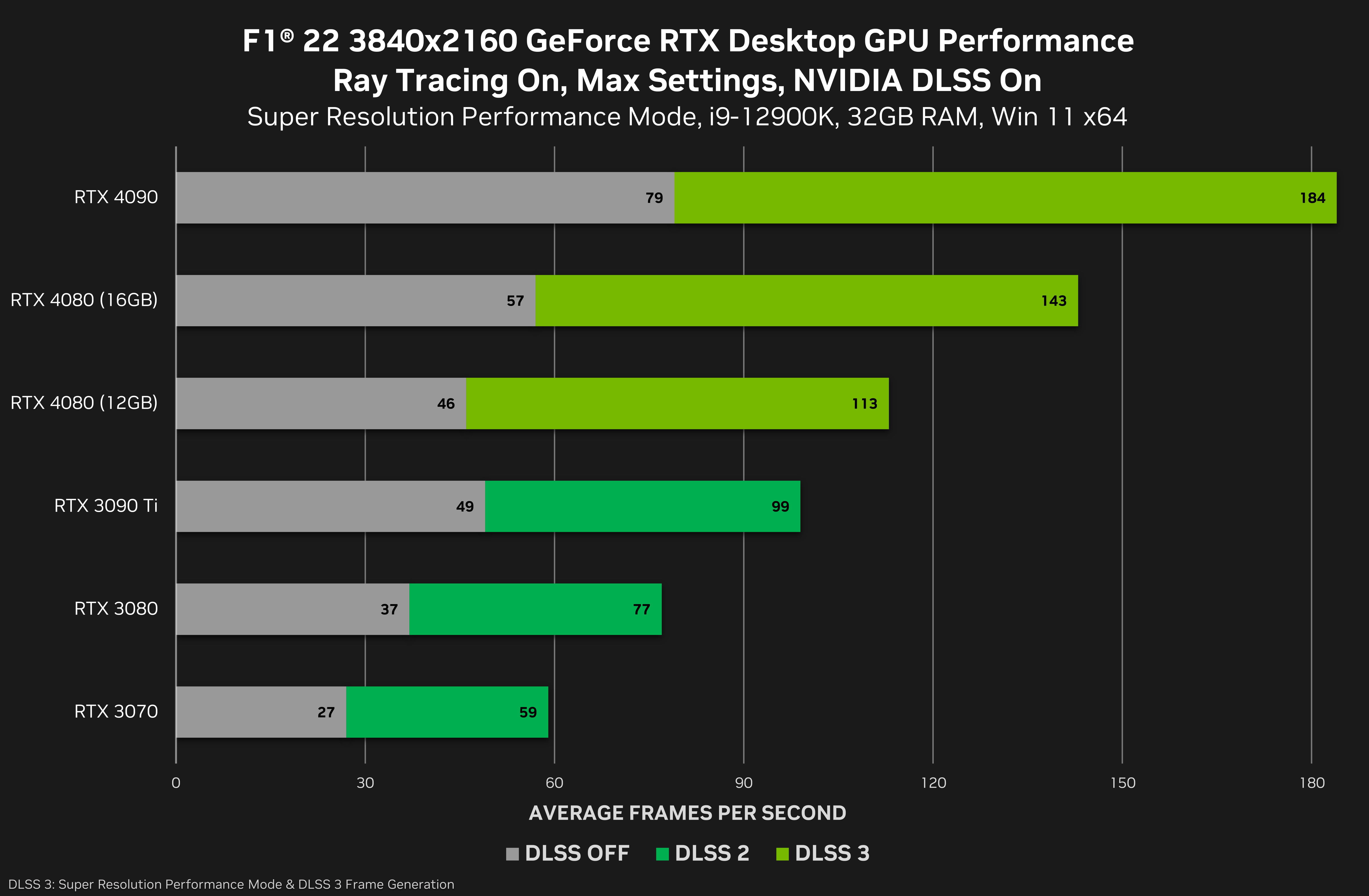 With performance boosted by up to 2.5X, DLSS 3 gives GeForce RTX 40 Series users the definitive F1Ⓡ 22 experience at 4K, with every setting maxed out. See for yourself in our exclusive new video:
DLSS 3 Available In Justice 'Fuyun Court' New Graphics Showcase On October 12
Justice, NetEase's martial arts MMO, leads the way in its native China, with engrossing gameplay set in ancient China during the time of the Northern Song Dynasty, a 36 million-strong player base, and a continually-upgraded, internally-developed engine called Night Blaze that's at the forefront of tech.
In 2018, Justice's Night Blaze engine was one of the first to add ray-traced reflections, shadows and caustics, and NVIDIA DLSS. And now, NetEase is showcasing a path-traced upgrade with the launch of Fuyun Court, a new location that all players can access from October 12th.
"The two technologies that have made the most visual difference in Justice are ray tracing and DLSS, and now we are pushing graphics fidelity to new levels with path tracing. DLSS 3 is giving us performance increases we've never seen before. It can even alleviate CPU bottlenecks for GeForce RTX 40 Series gamers - that's insane." - Dinggen Zhan, Justice Lead Programmer & Senior Expert, NetEase
Path tracing delivers incredible, photo-real detail in Justice, with natural global illumination lighting at day and night, courtesy of NVIDIA Reservoir Spatio Temporal Importance Resampling Global Illumination (ReSTIR GI), accurate lantern light, via NVIDIA RTX Direct Illumination (RTXDI), pixel-perfect shadows, stunning reflections, and previously-unseen water refraction. And as you can see in our 4K comparison screenshots below, surfaces and textures boast incredible physically-based detail, ensuring these effects naturally and realistically interact, for the highest level of image quality and immersion. And to denoise the ray-traced result, Justice leverages NVIDIA Real Time Denoisers (NRD).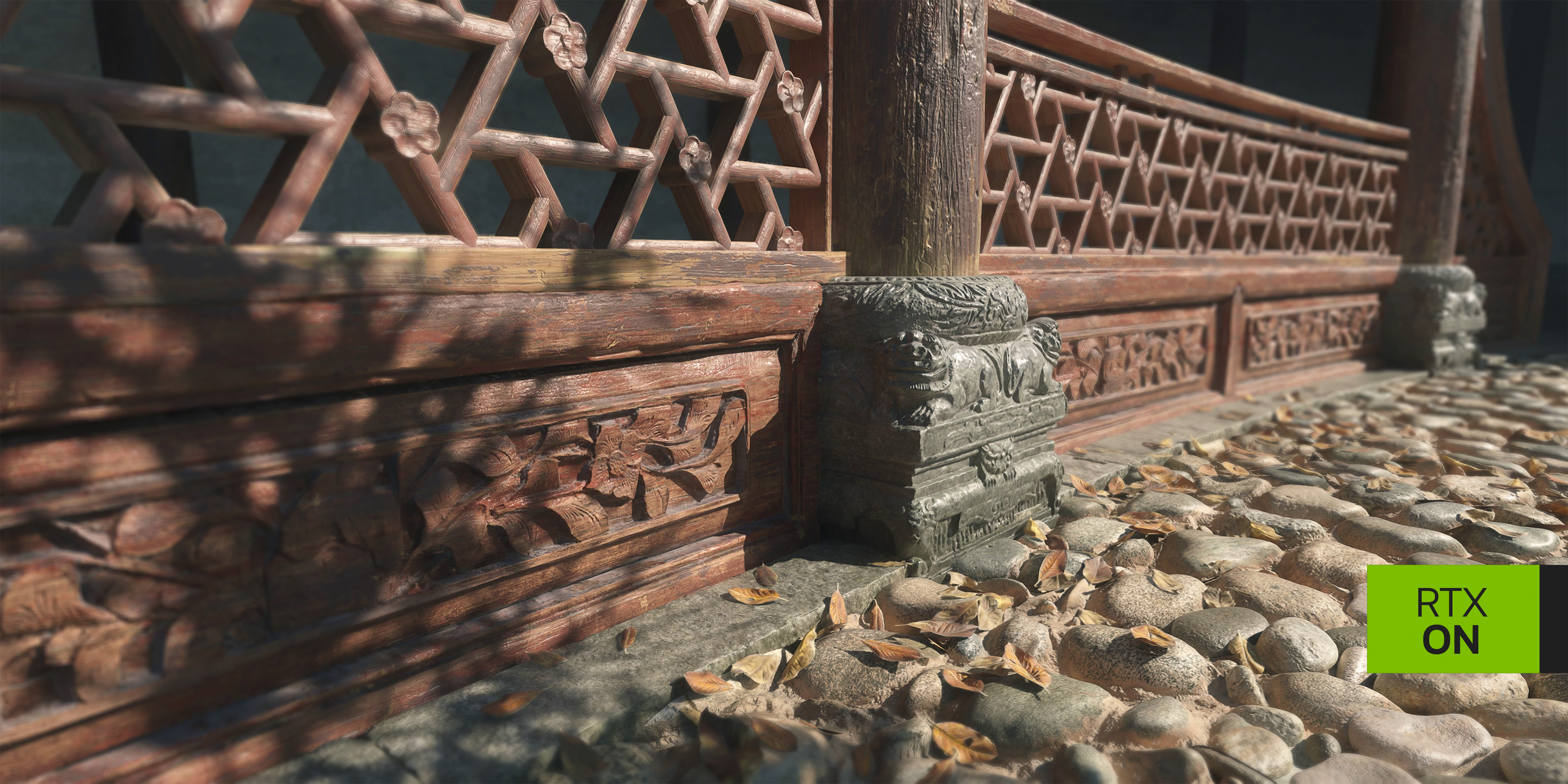 Click each thumbnail to view a 4K, RTX ON-OFF comparison
Justice players with GeForce RTX 40 Series graphics cards can accelerate Fuyun Court using NVIDIA DLSS 3, which launches alongside the path tracing showcase. Additionally, players can benefit from NVIDIA Reflex, for the lowest levels of system latency.
With DLSS 3 enabled, performance in Fuyun Court is accelerated by over 4X, enabling GeForce RTX 40 Series gamers to experience this incredible showcase at 60 FPS and above.
Bright Memory: Infinite Upgrades To DLSS 3 October 12
FYQD-Studio and PLAYISM's Bright Memory: Infinite is a critically-acclaimed first-person shooter we've covered in-depth previously. To recap, its high fidelity visuals are enhanced on PC with five ultra-quality ray-traced effects, and when you play with a GeForce RTX GPU you can accelerate performance with DLSS Super Resolution, and minimize system latency with NVIDIA Reflex.
On October 12th, Bright Memory: Infinite receives a DLSS 3 upgrade, which accelerates frame rates by over 2X, enabling GeForce RTX 4090 owners to experience this stunning shooter at over 200 frames per second at 4K, with every setting and ray tracing maxed out.
Loopmancer DLSS 3 Update Launches October 12
eBrain Studio's Loopmancer puts you in the shoes of a detective caught in a death-loop in this roguelite-platformer action game that recently launched with ray-traced reflections and DLSS Super Resolution.
On October 12th, a new game update will introduce support for DLSS 3, giving players up to 2.7X faster performance, allowing them to max out this fast action game at 4K.
Batora: Lost Haven Available October 20 With DLSS 2 & Ray Tracing
Published by Team 17, Stormind Games' Batora: Lost Haven is an interplanetary action-RPG adventure, with a rich, choice-driven story. Harness the ancient powers of Sun and Moon to take on a variety of unique enemies while solving diverse puzzles and exploring stunning sci-fi worlds, each with its own curious stories, inhabitants, and mysteries.
When Batora: Lost Haven launches on October 20th, GeForce RTX gamers will receive the definitive experience, enhanced with DLSS 2 (also known as DLSS Super Resolution), ray-traced ambient occlusion, and ray-traced reflections. For further information, head to the Batora: Lost Haven official website.
Dakar Desert Rally Available Now With DLSS 2
Take to the desert to compete in the world's most demanding rally race, replicated in unprecedented detail by developer Saber Interactive Porto. Compete offline, or in online multiplayer races, using motorbikes, cars, trucks, quad bikes and side-by-side vehicles in Dakar Desert Rally.
Dakar Desert Rally is available now with DLSS 2 and NVIDIA Reflex, and will add DLSS 3 at a later date. See DLSS 2 in action in our new, exclusive video:
Gotham Knights Out October 21 With DLSS 2 & Ray Tracing
Batman is dead. A new expansive, criminal underworld has swept through the streets of Gotham City. It is now up to the Batman Family - Batgirl, Nightwing, Red Hood, and Robin - to protect Gotham, bring hope to its citizens, discipline to its cops, and fear to its criminals. Take to the streets of this open world action-RPG solo, or team up with friends in online co-op to bring justice to Gotham City.
At launch, Gotham Knights gives GeForce gamers the definitive experience, with ray-traced reflections and performance-accelerating DLSS 2.
Kena: Bridge of Spirits Available Now With DLSS 2
Ember Lab's critically acclaimed story-driven action-adventure game, Kena: Bridge of Spirits, is now available on Steam. Untangle the past as Kena, a young Spirit Guide in search of the sacred Mountain Shrine. Help free the spirits trapped in a forgotten village with the help of the Rot, her adorable (yet powerful) spirit companions.
New features accompanied Kena: Bridge of Spirits' Steam release, and included with the lengthy list of additions is support for DLSS 2, enabling GeForce RTX gamers to further enhance their experience.
PC Building Simulator 2 Out October 12 With DLSS 2
Grow your empire as you learn to repair, build and customize PCs at the next level in PC Building Simulator 2, the sequel to the 2018 smash hit. Experience deeper simulation, an upgraded career mode, and powerful new customization features. And use realistic parts from over 40 hardware brands to bring your ultimate PC to life.
To ensure your frame rates are as high as possible when building virtual computers on your real computer, PC Building Simulator 2 will launch October 12th with out-of-the-box DLSS 2.
Sackboy: A Big Adventure Coming To PC October 27 With DLSS 2
That's right! PlayStation's iconic woolen hero is heading to PC in Sackboy: A Big Adventure! The dastardly Vex has kidnapped Sackboy's friends and forced them to build his Topsy Turver. This most terrifyingly twisted device will transform Craftworld from a fantastical land of pure imagination and innocent dreams… into a torrid, barren eyesore of nightmares. Set off alone or with your bravest friends on a whirlwind of capers across the snowiest mountains, the leafiest jungles, the wettest underwater realms and the, uh, spaciest of space colonies. Take down Vex. Save the sack-folk. Save the day.
By playing on PC with a GeForce RTX graphics card, you can enhance your adventures across Craftworld with DLSS 2, also known as DLSS Super Resolution, enabling you to max out the hand-stitched graphics and play with fast frame rates. For further details about Sackboy: A Big Adventure on PC, head over to the PlayStation Blog.
The Last Oricru Launches October 13 With DLSS 2
The Last Oricru, from GoldKnights and Prime Matter, is a story-driven action-RPG that puts you in the middle of an ongoing conflict between two races, on a partly terraformed planet, isolated from outer space by a protective barrier. Make decisions wisely as many lead to different outcomes, affecting the story, characters and game endings, and also visuals of levels and gameplay.
At launch on October 13th, GeForce RTX gamers can activate DLSS 2 to accelerate their frame rates, ensuring tense, action-packed battles run smoothly.
Blind Fate: Edo no Yami Available Now With DLSS 2 & Ray Tracing
Troglobytes Games and 101XP's Blind Fate: Edo no Yami is a side-scrolling sci-fi samurai action game set in an alt-history future Japan filled with robotic enemies. Available now, Blind Fate: Edo no Yami is experienced at its best on GeForce RTX GPUs, desktops and laptops, which render its ray-traced reflections at the fastest possible frame rates with DLSS 2.
Broken Pieces Out Now With DLSS 2
Broken Pieces is an action-packed adventure and puzzle game set in France, developed by a team of five at Elseware Experience. Broken Pieces puts you in the shoes of Elise, a woman in her thirties who finds herself in the village of Saint-Exil in an imaginary region reminiscent of Brittany. Following an unexplained paranormal phenomenon, Elise is stuck, completely alone and out of time. Solve the mystery of this mystical place and Elise's predicament by putting the pieces of the story back together in this psychological thriller that's available now.
Get the definitive experience in Broken Pieces by playing with DLSS 2, enabling you to crank every setting to its highest:
Destroy All Humans! 2 - Reprobed Has Landed With DLSS 2
Following the success of 2020's Destroy All Humans!, which remade the 2005 cult-classic action game, the remake of the 2006 sequel landed on Earth recently. In Destroy All Humans! 2 - Reprobed, head to the swinging '60s to take revenge on the KGB for destroying your mothership, fight massive bosses, and even befriend a few pathetic humans to help you achieve victory.
DLSS 2 is available now in Destroy All Humans! 2 - Reprobed, and DLSS 3 lands alongside an update arriving at a later date. See how DLSS 2 enhances your Earth-conquering experience in the video below:
Q.U.B.E. 10th Anniversary Available Now With DLSS 2 & Ray Tracing
Entirely rebuilt from the ground up, Q.U.B.E. 10th Anniversary is the ultimate celebration of the decade-old original, bringing refined visuals, completely redesigned and revised gameplay sections, and a whole new chapter to the award-winning, brain-twisting first-person puzzler.
GeForce RTX gamers get the definitive experience when playing Q.U.B.E. 10th Anniversary thanks to the addition of ray-traced reflections and DLSS 2. Take a look in our exclusive video:
Scathe Out Now With DLSS 2
Fans of fast-paced first-person shooters should check out Scathe, a new title from a team of three developers. Battle hordes of enemies and the underworld's deadliest demons as you fight for ascension, but you don't have to struggle alone: Scathe's entire campaign supports drop-in, drop-out co-op, making the action even more intense.
At launch, Scathe included support for DLSS 2, accelerating performance, allowing every GeForce RTX GPU to play at over 60 FPS at 4K, giving RTX gamers the definitive experience when blasting their way through Scathe. Check it out in our DLSS 2 video:
SCP: Secret Files Available Now With DLSS 2
The SCP Foundation collaborative writing project has spawned a new, highly acclaimed game: SCP Secret Files from Pixmain and GameZoo Studio. Join the SCP Foundation as an assistant researcher, investigating a series of paranormal cases that feature a diverse range of gameplay experiences, all accelerated by DLSS 2.
As Always, There's More To Come
Since its launch, NVIDIA DLSS has transformed gaming, enabling developers to craft more detailed and immersive games that run smoothly on today's hardware.
On October 12th, NVIDIA DLSS evolves with the launch of NVIDIA DLSS 3 and its incredible new Optical Multi Frame Generation technology that multiplies performance, whether bottlenecks are a result of the CPU or GPU. With DLSS 3, you'll have ultimate performance in the latest games at 4K, and the power to enjoy the most demanding fully ray-traced next-gen games, such as Portal with RTX, Justice, and Cyberpunk 2077 with its upcoming Ray Tracing: Overdrive mode enabled.
Stay tuned to GeForce.com for further information about the release of NVIDIA DLSS 3 for the latest and greatest games. And be sure to check out our other GeForce RTX 40 Series articles, covering all the new technologies and features that make your experiences even better.