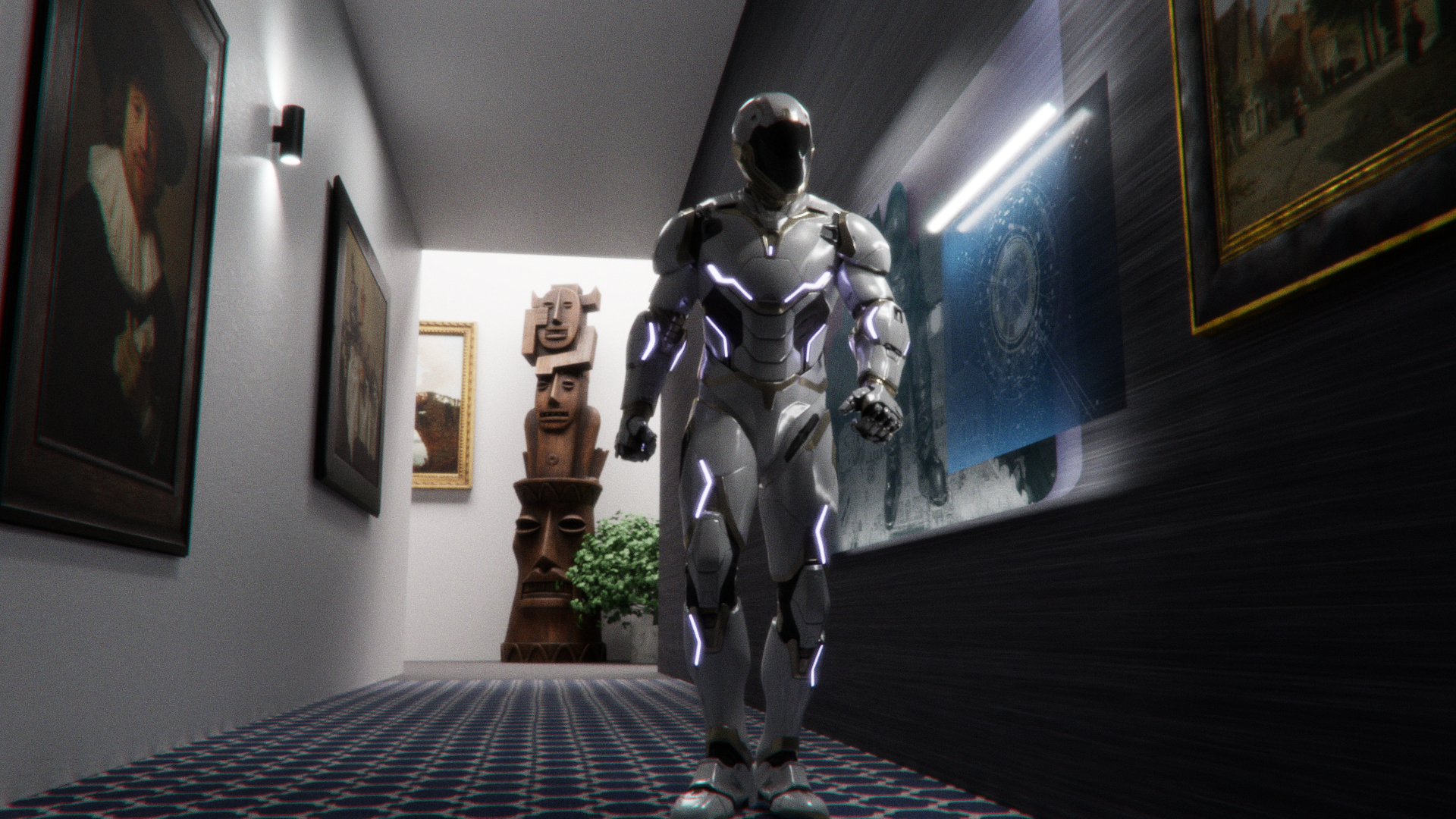 Editor's note: This post is part of our weekly In the NVIDIA Studio series, which celebrates featured artists, offers creative tips and tricks, and demonstrates how NVIDIA Studio technology accelerates creative workflows.
A glimpse into the future of AI-infused virtual worlds was on display at SIGGRAPH — the world's largest gathering of computer graphics experts — as NVIDIA founder and CEO Jensen Huang put the finishing touches on the company's special address.
Announcements included a host of updates to a pillar of the NVIDIA Studio software suite: NVIDIA Omniverse, a platform for 3D design collaboration and world simulation. New features and improvements to apps including Create, Machinima, Audio2Face and Nucleus will help 3D artists build virtual worlds, digital twins and avatars for the metaverse.
Each month, NVIDIA Studio Driver releases provide artists, creators and 3D developers with the best performance and reliability when working with creative applications. Available now, the August NVIDIA Studio Driver gives creators peak reliability for using Omniverse and their favorite creative apps.
Plus, this week's featured In the NVIDIA Studio artist, Simon Lavit, exhibits his mastery of Omniverse as the winner of the #MadeInMachinima contest. The 3D artist showcases the creative workflow for his victorious short film, Painting the Astronaut.
Omniverse Expands
NVIDIA Omniverse — an open platform based on Universal Scene Description (USD) for building and connecting virtual worlds — just received a significant upgrade.
Omniverse Apps — including Create 2022.2 — received a major PhysX update with soft-body simulation, particle-cloth simulation and soft-contact models, delivering more realism to physically accurate virtual worlds. Added OmniLive workflows enable artists more freedom through a new collaboration interface for non-destructive USD workflows.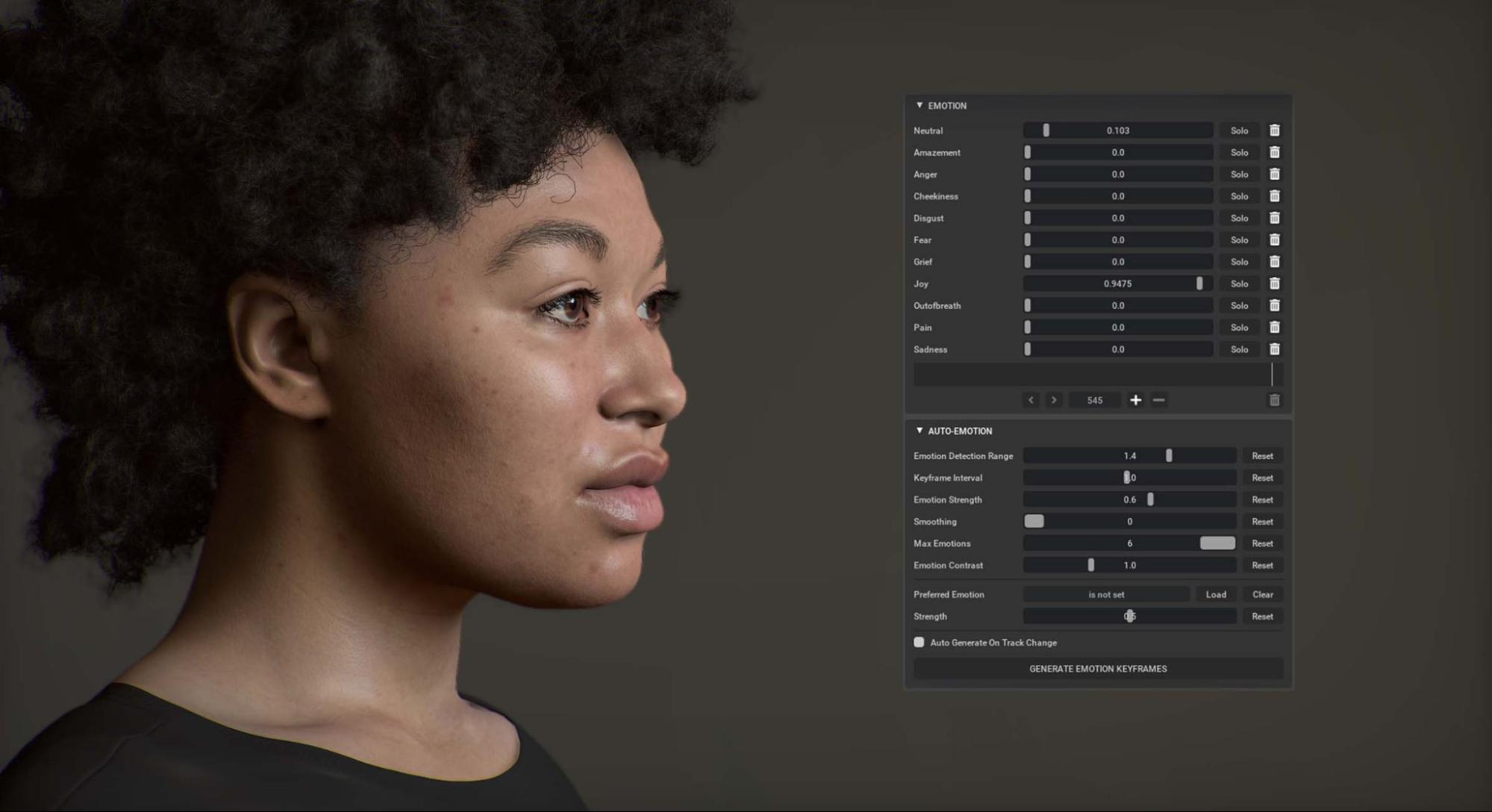 Omniverse users can now add animations and emotions with the Audio2Face app.
Audio2Face 2022.1 is now available in beta, including major updates that enable AI-powered emotion control and full facial animation, delivering more realism than ever. Users can now direct emotion over time, as well as mix key emotions like joy, amazement, anger and sadness. The AI can also direct eye, teeth and tongue motion, in addition to the avatar's skin, providing an even more complete facial-animation solution.
Learn additional details on these updates and more.
Winning the #MadeInMachinima Contest
Since he first held a pen, Simon Lavit has been an artist. Now, Lavit adds Omniverse Machinima to the list of creative tools he's mastered, as the winner of the #MadeInMachinima contest.
His entry, Painting the Astronaut, was selected by an esteemed panel of judges that included numerous creative experts.
Powered by a GeForce RTX 3090 GPU, Lavit's creative workflow showcases the breadth and interoperability of Omniverse, its Apps and Connectors. He used lighting and scene setting to establish the short film's changing mood, helping audiences understand the story's progression. Its introduction, for example, is bright and clear. The film then gets darker, conveying the idea of the unknown as the character starts his journey.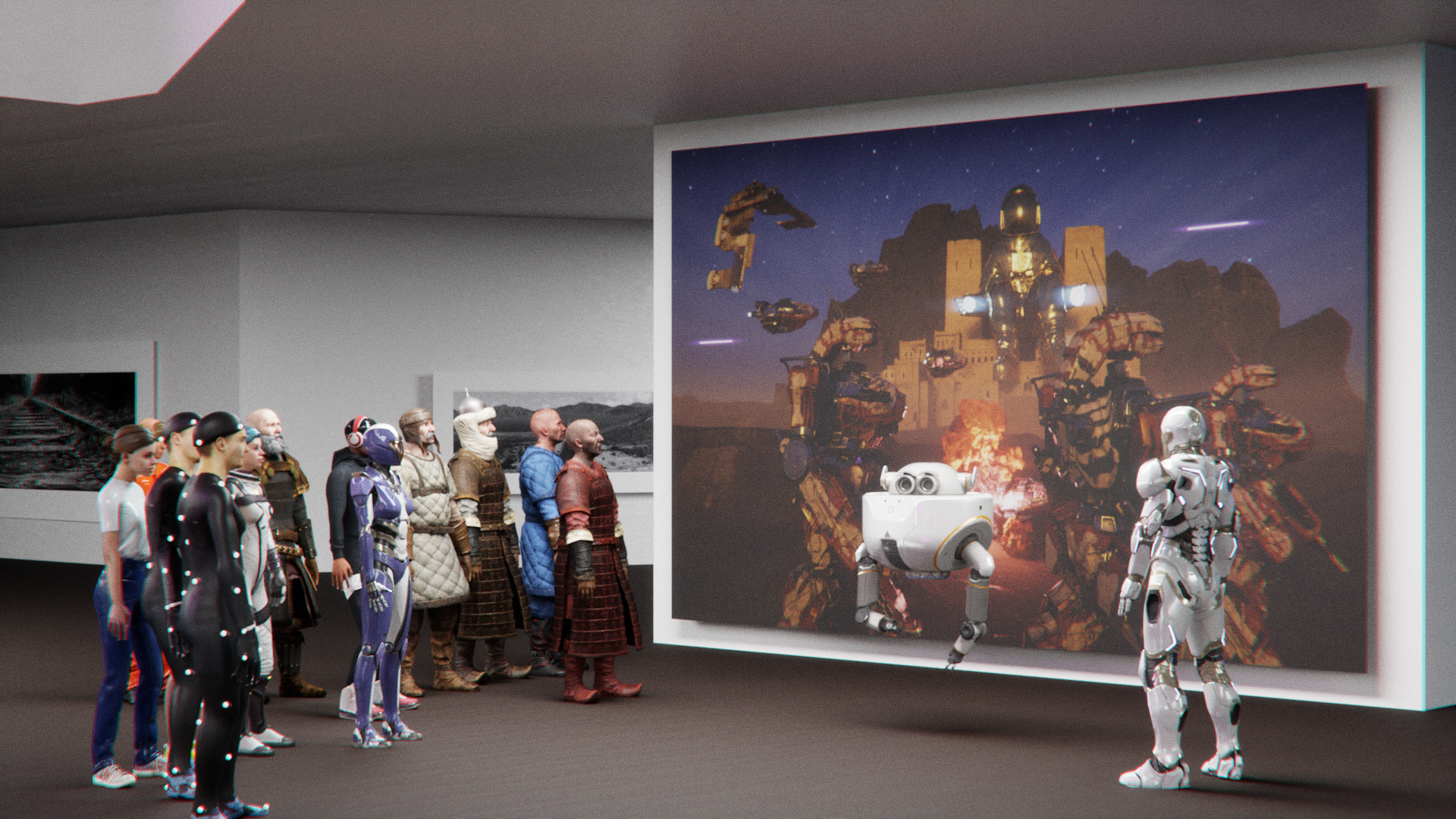 The lighting for "Painting the Astronaut" helps guide the story, with 3D assets from the Omniverse library.
Lavit storyboarded on paper before starting his digital process with the Machinima and Omniverse Create apps. He quickly turned to NVIDIA's built-in 3D asset library, filled with free content from Mount & Blade II: Bannerlord, Mechwarrior 5: Mercenaries, Squad and more – to populate the scene.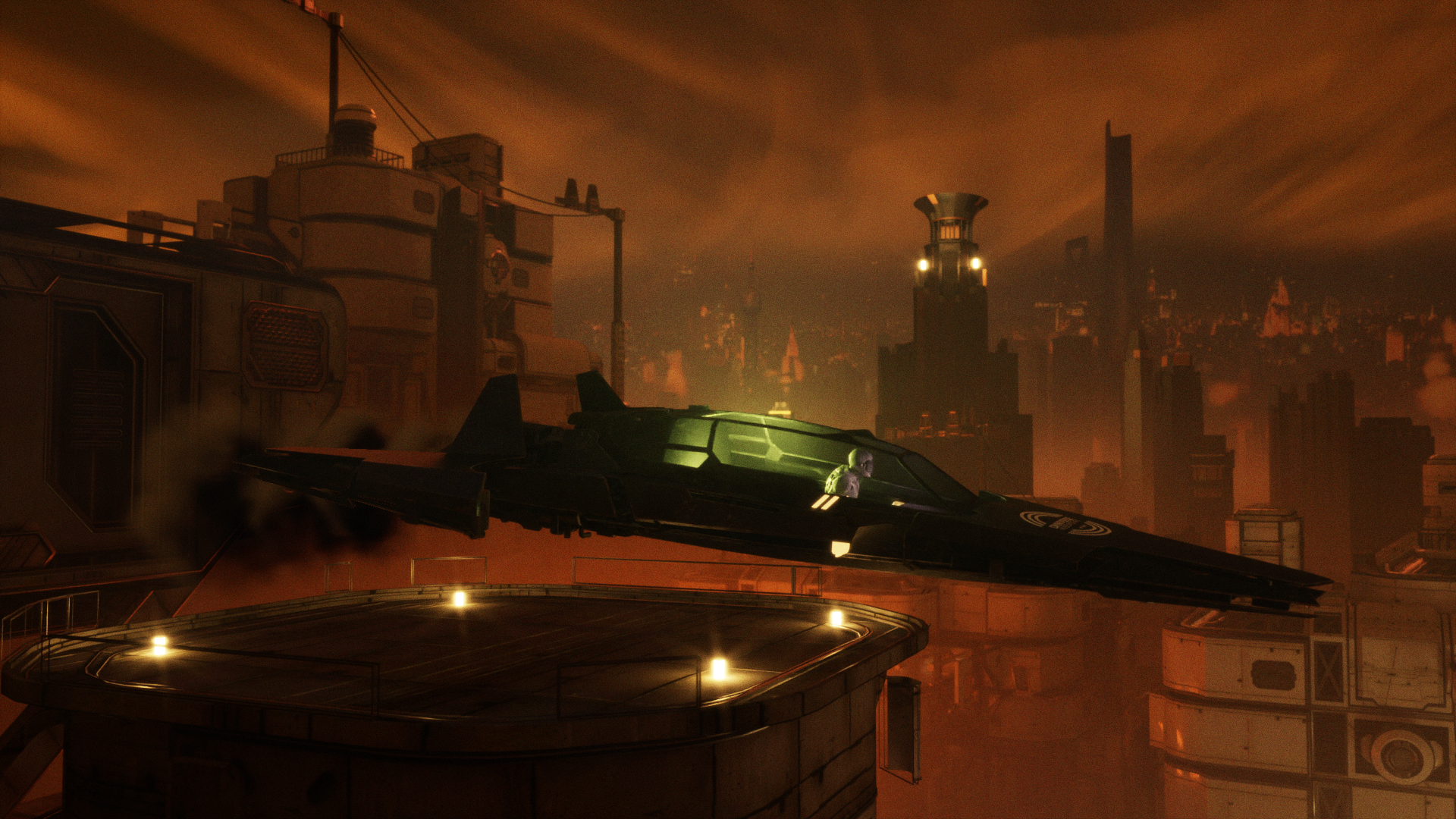 The 3D model for the spaceship was created in Autodesk Maya within Omniverse.
Then, Lavit used Autodesk Maya to create 3D models for some of his hero assets — like the protagonist Sol's spaceship. The Maya Omniverse Connector allowed him to visualize scenes within Omniverse Create. He also benefited from RTX-accelerated ray tracing and AI denoising in Maya, resulting in highly interactive and photorealistic renders.
Next, Lavit textured the models in Adobe Substance 3D, which also has an Omniverse Connector. Substance 3D uses NVIDIA Iray rendering, including for textures and substances. It also features RTX-accelerated light- and ambient-occlusion baking, which optimizes assets in seconds.
Lavit then returned to Machinima for final layout, animation and render. The result was composited using Adobe After Effects, with an extra layer of effects and music. What turned into the contest-winning piece of art ultimately was "a pretty simple workflow to keep the complexity to a minimum," Lavit said.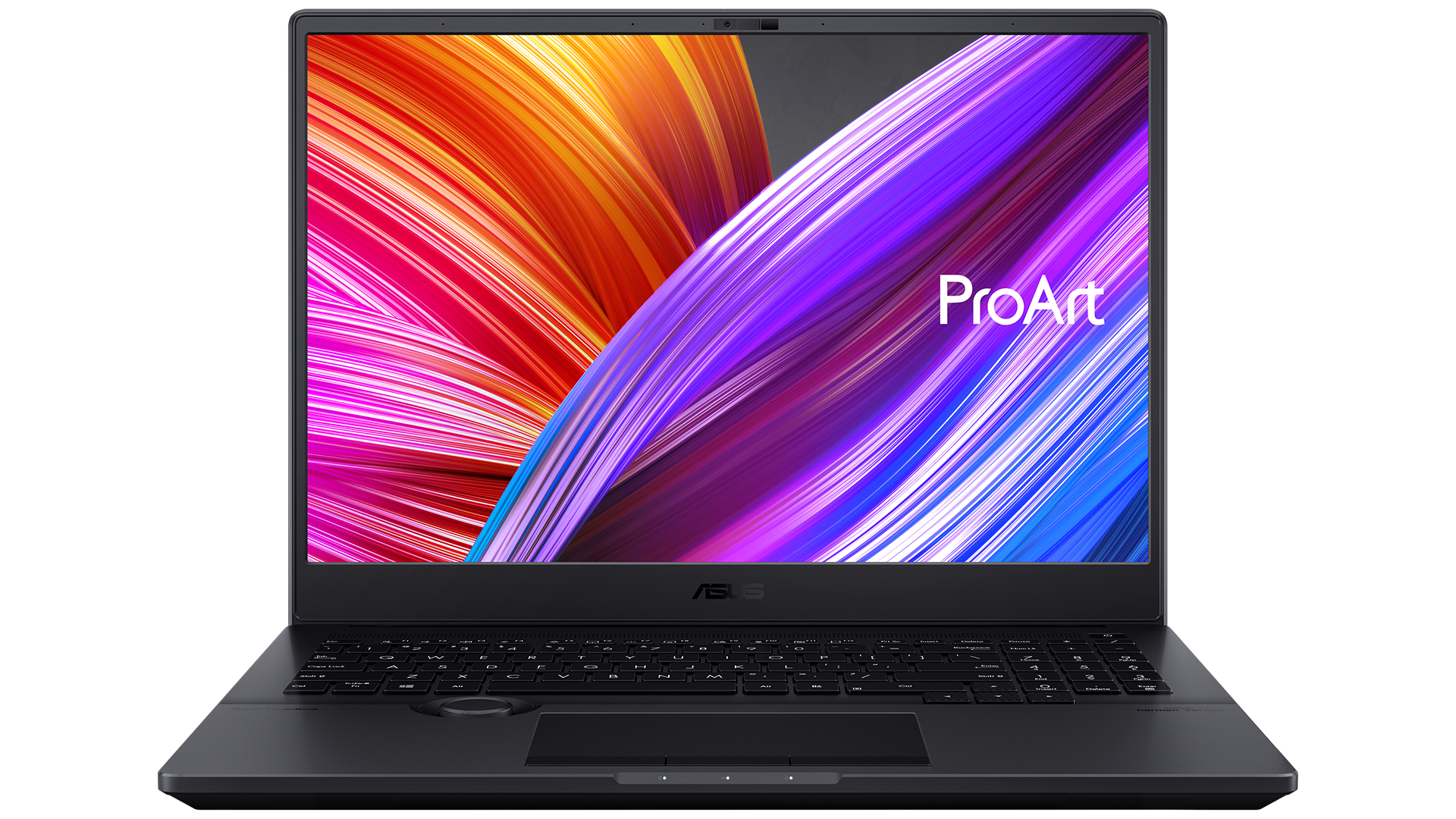 "Painting the Astronaut" netted Lavit a GeForce RTX 3080 Ti-powered ASUS ProArt StudioBook 16.
To power his future creativity from anywhere, Lavit won an ASUS ProArt StudioBook 16. This NVIDIA Studio laptop packs top-of-the-line technology into a device that enables users to work on the go with world-class power from a GeForce RTX 3080 Ti Laptop GPU and beautiful 4K display.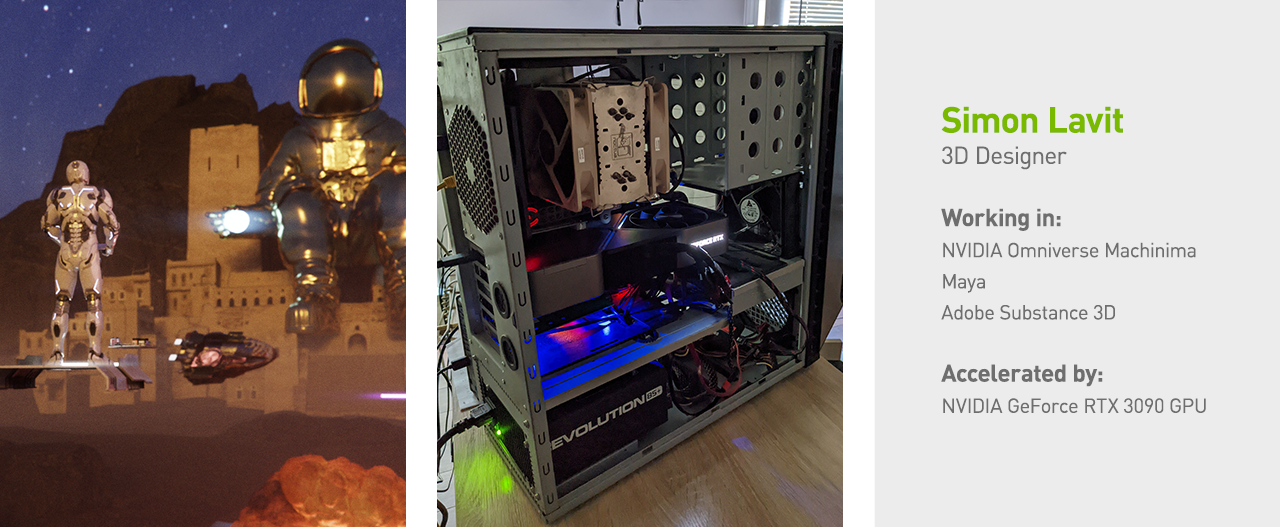 3D artist and #MadeInMachinima contest winner Simon Lavit.
Lavit, born in France and now based in the U.S., sees every project as an adventure. Living in a different country from where he was born changed his vision of art, he said. Lavit regularly finds inspiration from the French graphic novel series, The Incal, which is written by Alejandro Jodorowsky and illustrated by renowned cartoonist Jean Giraud, aka Mœbius.
Made the Grade
The next generation of creative professionals is heading back to campus. Choosing the right NVIDIA Studio laptop can be tricky, but students can use this guide to find the perfect tool to power their creativity — like the Lenovo Slim 7i Pro X, an NVIDIA Studio laptop now available with a GeForce RTX 3050 Laptop GPU.
While the #MadeInMachinima contest has wrapped, creators can graduate to an NVIDIA RTX A6000 GPU in the #ExtendOmniverse contest, running through Friday, Aug. 19. Perform something akin to magic by making your own NVIDIA Omniverse Extension for a chance to win an RTX A6000 or GeForce RTX 3090 Ti GPU. Winners will be announced in September at GTC.
Follow NVIDIA Omniverse on Instagram, Medium, Twitter and YouTube for additional resources and inspiration. Check out the Omniverse forums, and join our Discord server and Twitch channel to chat with the community.
Follow NVIDIA Studio on Instagram, Twitter and Facebook. Access tutorials on the Studio YouTube channel and get updates directly in your inbox by subscribing to the NVIDIA Studio newsletter.