We're at the dawn of the next digital frontier. Creativity is fueling new developments in design, innovation and virtual worlds.
Whether it's a freelance 3D artist building scenes for a game, or a talented livestreamer editing the video of their latest stream, more than 110 million professional and hobbyist creators worldwide are creating content on laptops and desktops.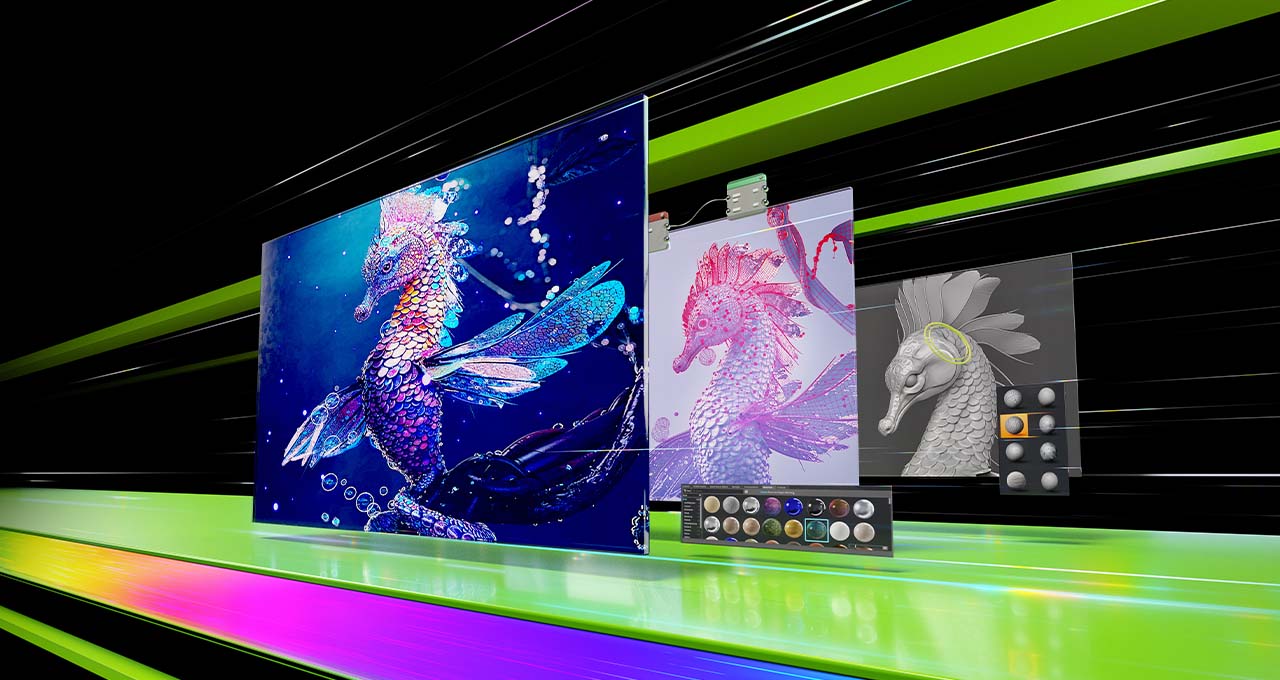 With NVIDIA Studio empowering your workflows, you're free to realize your most ambitious projects yet
For the gamers and creators driving this future, we've built NVIDIA Studio, a fully accelerated platform with high-performance GPUs as the heartbeat for laptops and desktops. This hardware is paired with 110 RTX-accelerated apps, as well as the Studio suite of software, dedicated Studio Drivers for creators, and software development kits to empower artists to create at the speed of their imagination.
On display at the NVIDIA GTC 2022 keynote were new GeForce RTX 40 Series graphics cards and incredible AI tools— powered by the ultra-efficient NVIDIA Ada Lovelace architecture — making content creation faster and easier than ever.
The new GeForce RTX 4090 brings a massive boost in performance, third-generation Ray Tracing Cores, fourth-generation Tensor Cores, dual eighth-generation NVIDIA AV1 Encoders, and 24GB of Micron G6X memory capable of reaching 1TB/s bandwidth. The GeForce RTX 4090 is up to 2X faster than a GeForce RTX 3090 Ti in 3D rendering, AI and video exports.
The GeForce RTX 4080 comes in two variants — 16GB and 12GB — so creators can choose the optimal memory capacity based on their projects' needs. The GeForce RTX 4080 16GB is up to 1.5X faster than the GeForce RTX 3080 Ti.
We've introduced near-magical RTX and AI tools for game modders — the creators of the PC gaming community — with the Omniverse app NVIDIA RTX Remix, which has been used to turn RTX ON in Portal with RTX, a free DLC for Valve's classic hit, Portal.
Live streamers and video producers are getting a massive boost, too. New dual encoders cut video export times in half. And the eighth-generation NVIDIA Encoder adds support for AV1, boosting livestream quality.
Revolutionary AI technology, like AI image generators and new video-editing tools in DaVinci Resolve, are ushering in a new wave of creativity. Beyond-fast GeForce RTX 4090 and GeForce RTX 4080 graphics cards will power the next step in the AI revolution, delivering up to a 2X increase in AI performance over the previous generation.
3D Modder Mania
A new Omniverse application, RTX Remix, is putting powerful new tools in the hands of game modders, including one of the world's most modded games, The Elder Scrolls III: Morrowind. As a test, NVIDIA artists updated a Morrowind scene in stunning ray tracing with DLSS 3 and enhanced assets.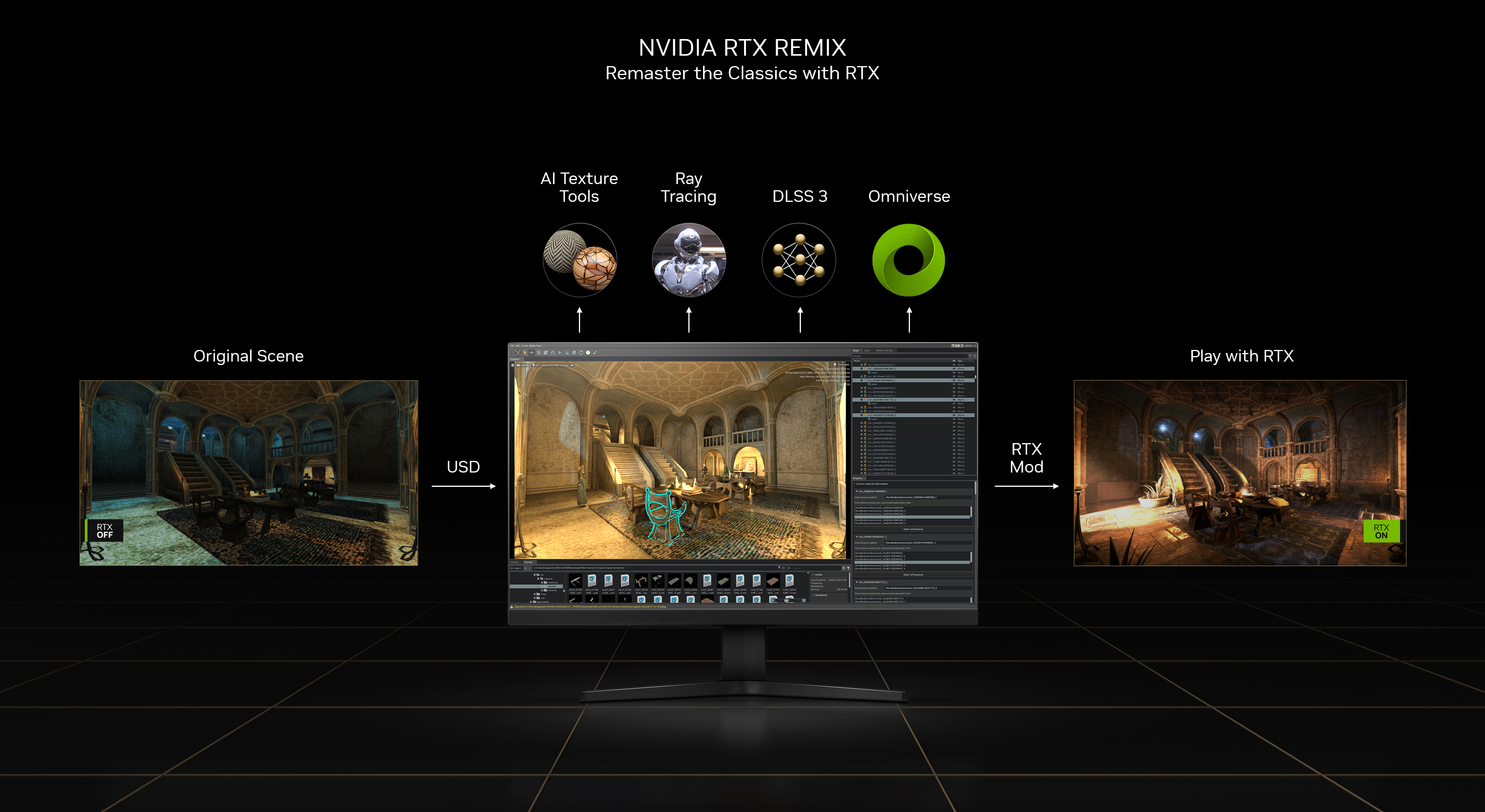 RTX Remix features a state-of-the-art ray tracer, DLSS 3 and more, making it easy to reimagine classics with incredible graphics
The robust capabilities of this new modding platform were also used to create the reimagined Portal with RTX. The reimagined DLC to this classic game from Valve can be wishlisted on Steam, so gamers will be able experience the first-ever RTX Remix modded game in November.
Here's how it works. With one click from the capture tool, modders can capture geometry, materials, lighting and cameras in Universal Scene Description format. AI texture tools then bring assets up to date, with super resolution and physically based materials.
Captured assets are easily customizable in real time using Omniverse Connectors, which are plugins for 3D renderers such as Autodesk Maya, Blender and more.
Modders can collaborate in Omniverse connected apps and view changes in RTX Remix to replace assets throughout entire games. RTX Remix features a state-of-the-art ray tracer, DLSS 3 and more, making it easy to reimagine classics with incredible graphics.
DLSS 3 uses AI-powered fourth-generation RTX Tensor Cores, and a new Optical Flow Accelerator on GeForce RTX 40 Series GPUs to generate additional frames and dramatically increase FPS. This improves smoothness and speeds up movement in the viewport while working in 3D applications such as NVIDIA Omniverse, Unity and Unreal Engine 5. Learn more about how Omniverse works for creators.
These RTX mods work alongside existing mods, meaning a large breadth of content on sites like Nexus mods is ready to be updated with dazzling RTX. Sign up to be notified when RTX Remix is available.
Save Time In The Editing Bay
Video production is getting a significant boost with GeForce RTX 40 Series graphics cards. Gamers will be able to easily record and produce high quality content to share with their communities, without needing extensive production experience. The feeling of being stuck on pause while waiting for videos to export gets dramatically reduced with GeForce RTX 40 Series' new dual encoders, which slash export times in half.
The dual encoders can work in tandem, dividing work automatically between them to accelerate exports up to 2X. And they can also be used to record high-quality 8K 60FPS content in real time, which can be easily captured via GeForce Experience and OBS Studio to make stunning gameplay videos.
AV1 and dual encoding support will be enabled by top editing apps that gamers utilize, including Blackmagic Design's DaVinci Resolve, the popular Voukoder plugin for Adobe Premiere Pro, and Jianying — the top video editing app in China. Expect dual encoder and AV1 availability for these apps in October. And we're working with popular video effects app Notch to enable AV1, and Topaz to enable AV1 and the dual encoder.
AI tools are also changing the speed at which video work gets done. Editors can automate tedious tasks and add stylish effects with ease. Rotoscoping — the process of highlighting a part of motion footage, typically done frame by frame — can now be done nearly instantaneously with the AI-powered "Object Select Mask" tool in DaVinci Resolve. With GeForce RTX 40 Series GPUs, this feature is 70% faster than the previous generation.
"The new GeForce RTX 40 Series GPUs are going to supercharge the speed at which our users are able to produce video through the power of AI and dual encoding — completing their work in a fraction of the time," said Rohit Gupta, director of software development at Blackmagic Design.
Content creators using GeForce RTX 40 Series GPUs also benefit from speedups in top video-editing apps. GPU-accelerated decoding and effects save immeasurable time by enabling work with ultra-high-resolution RAW footage in real time in REDCINE-X PRO, DaVinci Resolve and Adobe Premiere Pro, without the need for proxies.
AV1 Delivers Faster Encoding For Livestreamers
The open video encoding format AV1 is the biggest leap in encoding since H.264 was released nearly two decades ago! GeForce RTX 40 Series graphics cards feature our eighth generation NVIDIA video encoder, NVENC for short, now with support for AV1.
For livestreamers, the new AV1 encoder delivers 40% better efficiency. This means livestreams will appear as if bandwidth was increased by 40% — a big boost in image quality. AV1 also adds support for advanced features like high dynamic range.
NVIDIA collaborated with OBS Studio to add AV1 — on top of the recently released HEVC and HDR support — within its next software release, expected in October. Additional encoding optimizations by OBS will reduce overhead by 35% for all NVIDIA GPUs. The new release will additionally feature the updated NVIDIA Virtual Background AI effect, alongside the existing AI-powered features noise and room echo removal.
We've also worked with Discord to enable end-to-end livestreams with AV1. In an update releasing later this year, Discord will enable its users to use AV1 to dramatically improve screen sharing, be it for gameplay, school work or hangouts with friends.
To make the deployment of AV1 seamless for developers, NVIDIA is making it available in the NVIDIA Video Codec SDK 12 in October. Developers can also access the NVENC AV1 directly with Microsoft Media Framework, through Google Chrome and Chromium, as well as in FFMPEG.
New AI Benefits For Broadcasters
The NVIDIA Broadcast app transforms any room into a home studio. Take your livestreams, voice chats, and video conference calls to the next level with AI-enhanced voice and video.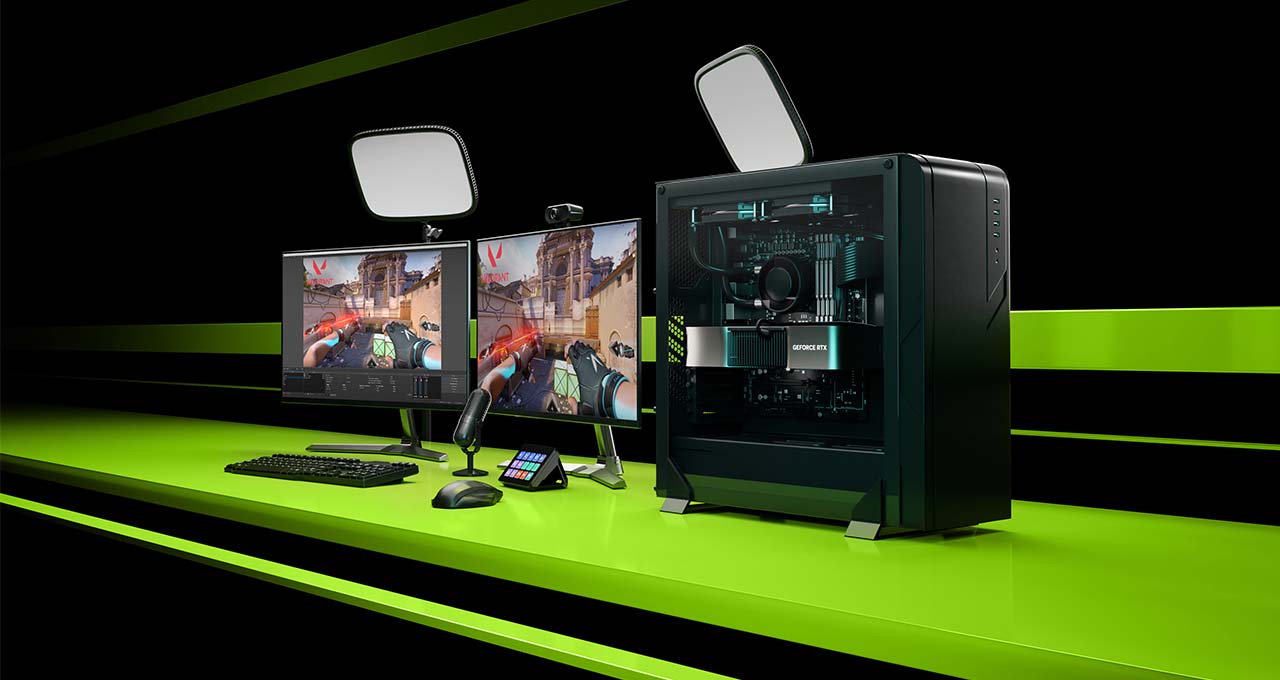 Steal the show with the best live streaming quality, the highest gaming performance, and AI-enhanced microphone and webcam features—powered by GeForce RTX 40 Series and NVIDIA Broadcast AI technology
We have also made available the effects powering the NVIDIA Broadcast app to our partners. And at GTC 2022, NVIDIA updated and introduced new AI-powered effects for developers:
The popular Virtual Background feature now includes temporal information, so random objects in the background will no longer create distractions by flashing in and out. It will be available in the next version of OBS Studio.
Face Expression Estimation is a new feature that allows apps to accurately track facial expressions for face meshes, even with the simplest of webcams. It's hugely beneficial to vtubers and can be found in the next version of VTube Studio.
Eye Contact allows creators like podcasters to appear as if they're looking directly at the camera — highly useful for when the user is reading a script or looking away to engage with viewers in the chat window.
Owners of GeForce RTX desktops and laptops can download the Broadcast app here.
Step "In the NVIDIA Studio" For A Deep Dive On "Racer RTX"
Our weekly 'In the NVIDIA Studio' blog series celebrates creativity in every way, shape, and form, elevating artists and highlighting their inspirational and thought-provoking work, including how GeForce RTX GPUs enable them to go from concept to completion, faster than ever.
In the coming weeks we'll be deep diving on new GeForce RTX 40 Series features, technologies and resources, and how they'll dramatically accelerate your content creation.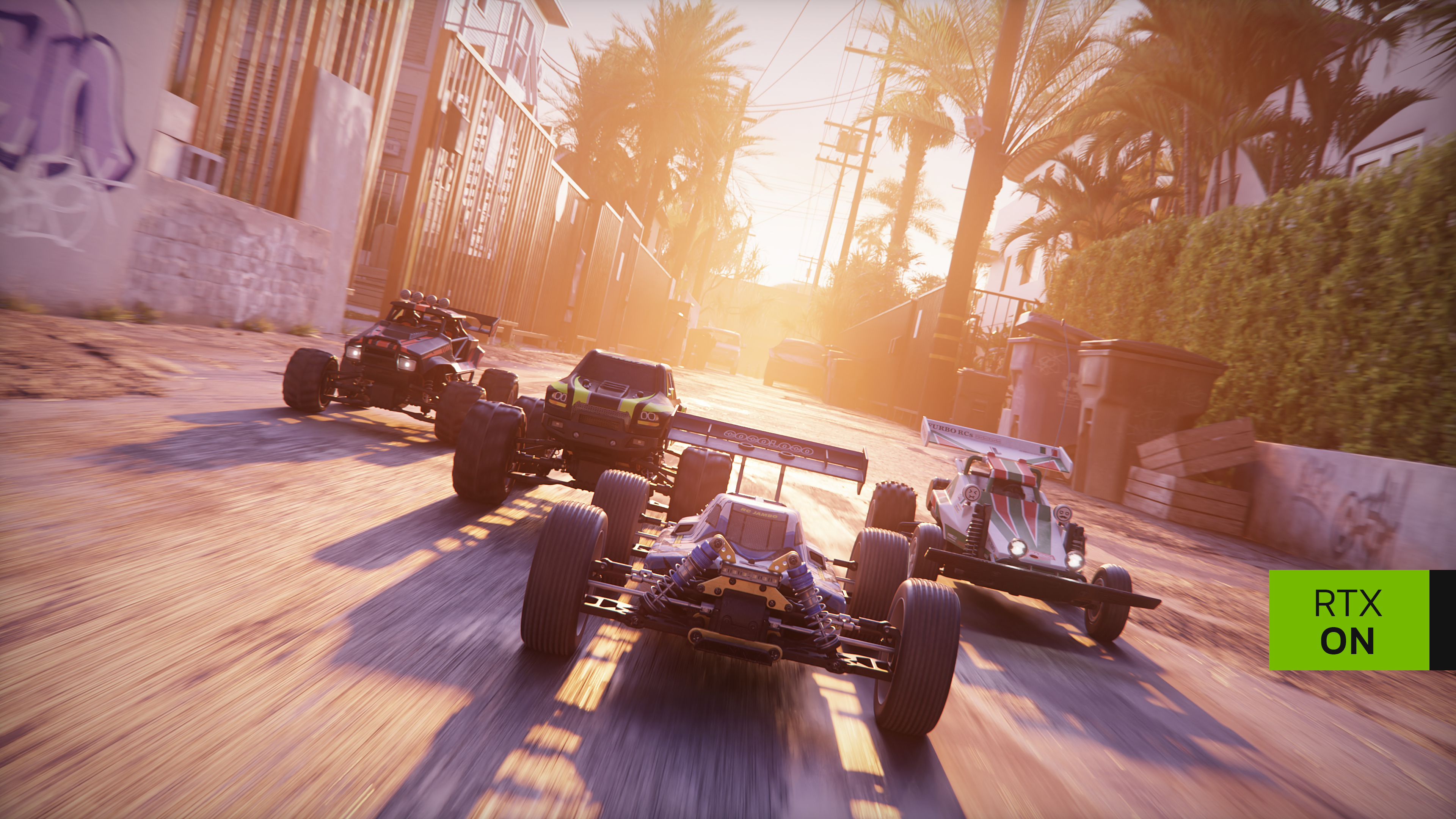 The team recreated city streets in West Los Angeles, turning them into a lifelike radio-controlled (RC) car track.
This week, we'll go behind-the-scenes with Racer RTX – built with a single GeForce RTX 4090 GPU within Omniverse, an open platform for virtual collaboration and real-time photorealistic 3D simulations. Check out the NVIDIA Studio blog to take an inside look on how the demo was made, only In the NVIDIA Studio.
GeForce RTX 4090 GPUs launch October 12th, followed by the GeForce RTX 4080 graphics cards in November. Visit GeForce.com for further information.
Follow NVIDIA Studio on Instagram, Twitter and Facebook. Access tutorials on the Studio YouTube channel and get updates directly in your inbox by subscribing to the NVIDIA Studio newsletter.